How to make traditional Tzatziki at home.
The moment you become a parent, you begin to fret and it doesn't stop. Is the baby eating enough? Is his bum clean? When the baby grows up in a toddler, you fret even more.
What do you feed your children? Do you give them too many sweets? We are constantly being bombarded by the latest "studies" which very often conflict with each other as to what to eat and give our children.
Like most parents I worry about their fruit and vegetable intake. My youngest, Robyn, is quite open minded even though she'll proudly announce "yuck!" and then happily eat what she has been presented with.
On the other hand, my eldest, Gabriel, would run at the sight of any fruit or vegetable, except banana.
When I was pregnant, I swore I wouldn't try to hide vegetables in dishes I prepare because that's just lame. Since then I've been viciously kicked off my high horse and I've joined the legions of mothers already doing it.
I'm guilty of even cooking two separate meals for dinner just so that my conscience can rest at ease at night, knowing that their tummies are full.
So in my ongoing quest to properly nourish my kids and try to get rid of the guilt media likes to smear off on us parents, I've discovered that a good way to get vitamins down their gullets is in the shape of smoothies and dips.
Their favourite meal at the moment is avocado blended with cream cheese and bread sticks. The other day I was jubilant when they actually ate a pea dip – boiled frozen peas with a bit of cream, salt and sugar, all blended together.
If any nutritionist dares to criticise me about the addition of fat and sugar he'll receive the middle finger in return, because damn it, my boy actually ate a vegetable. A small victory, I say.
Although Tzatziki doesn't really contain a lot of vitamins, it is a rich source of calcium and I thought I'd introduce new flavours to the children. Two bites and they turned it down. Hmpf. At least I had the rest all to myself!
If you can't get enough of Greek food, the following cookbooks received plenty of positive reviews:
Adjusting the recipe for Special Diets
Since the yogurt is pasteurised, it's safe for pregnant women to eat. Vegetarians can enjoy it in abundance and the sauce is naturally gluten free.
In its authentic form, tzatziki is made with full fat Greek Yogurt but not everything can enjoy the luxury of all the calories and fat. Although low-fat products are available, nothing can replace the texture and taste of the original. If you are on a low-fat diet and live in the UK, Liberté's 0% Fat Strained Greek Yogurt is an option.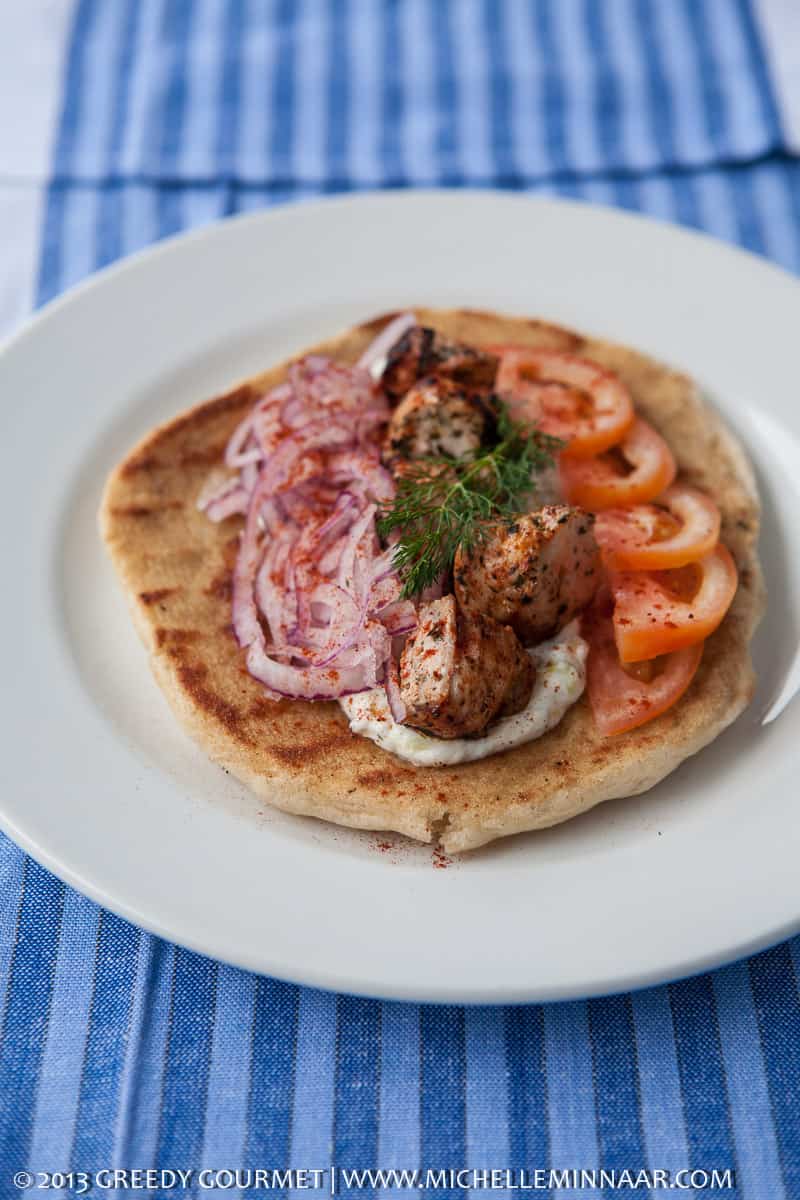 Can you substitute some ingredients?
Let's get this straight, any dip that contains sour cream or mint is not real Tzatziki. That said, there's nothing stopping you from using 50% yogurt and 50% sour cream when creating your own version. You can leave out the dill too!
How to Store Tzatziki
You can't freeze it but it will last up to 3 days in the fridge in an airtight container. If you'd like to make it ahead, it's best to keep the ingredients separate, e.g. the garlic paste can be kept in the fridge for a month, the yogurt will keep a while and you just need to chop and sieve the cucumber at the very last minute. It really is that easy.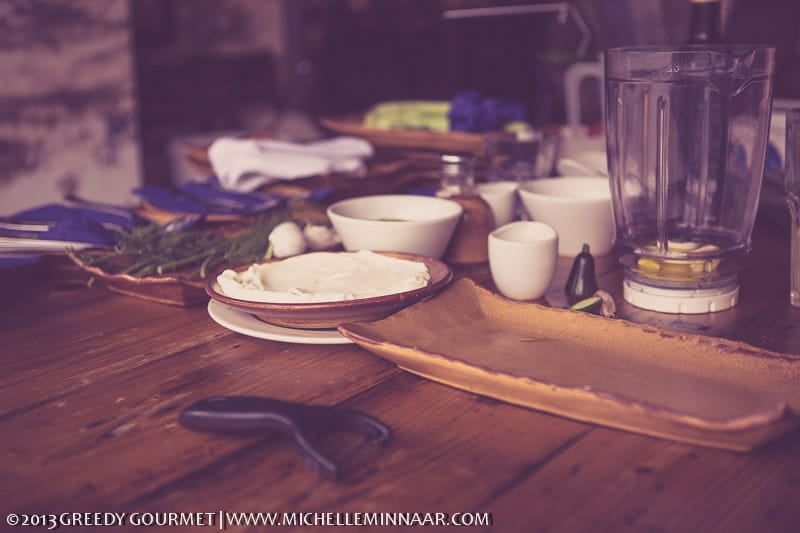 7 Ways you can use Tzatziki
Don't know what to do with the stuff? Here are a few ideas to get you kick started:
Big fat potato chips
Flat bread, or any bread for that matter
Crudités: carrots, cucumber and red pepper work well
In sandwiches, souvlaki or with gyros
Served with any grilled meat, not fish though
Falafels
Cider and beer are fitting drinks
Wine Pairing
However you're eating it, here's a great suggestion for a wine that will match perfectly to all the fresh, cool flavours of Tzatziki. Charly Nicolle Chablis 'Ancestrum' 2010 is a pure expression of the Chardonnay grape in a light, zesty, unoaked style.
It has fresh acidity that works with the piquancy of the yogurt, lime and crunchy green apple notes to compliment the cucumber freshness and a hint of a white pepper tingle on the tongue giving a savoury quality to balance the garlic. Great for enjoying on a warm evening.
More Frequently Asked Questions
Can you use Tzatziki as a marinade? No. Rather use yogurt as a marinade with some paprika and olive oil.
How can I thicken my sauce? Use less cucumber, add more full fate yogurt. It's possible that you didn't drain the cucumber well.
How can I spice up my dip? Use more garlic and black pepper.
If ever I want to learn more about Greek cuisine, I visit The Real Greek. This time the photo shoot took place at the Bankside branch - it's at a stunning location and worth a visit during the summer months.
Last time genial Christos, the proud, 100% Greek operations manager, with the help of the kitchen staff showed us the perfect way to cook pork belly - you can see the recipe here.
Ask him anything about Greek food and he'll answer without blinking. Twenty five years and counting in the restaurant industry, there's not a question that will make him falter.
A special thank you to Christos for patiently answering all my questions in order to write the helpful guide above.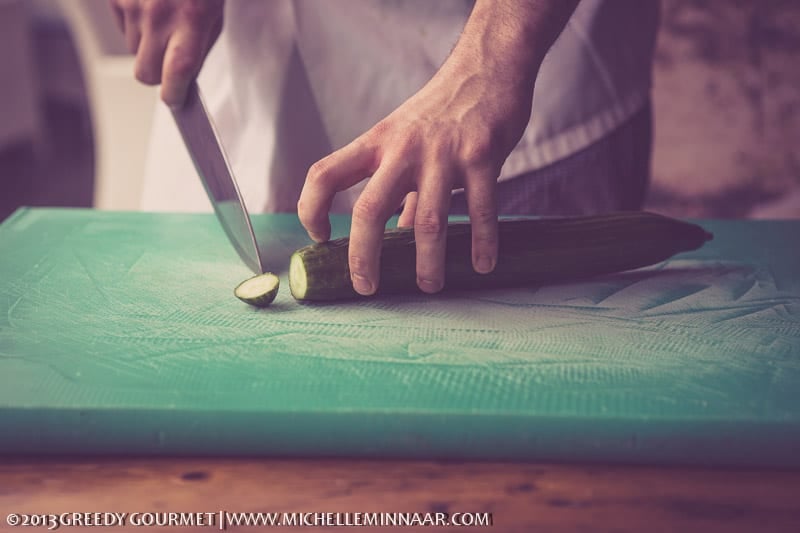 First things first, start with the cucumber!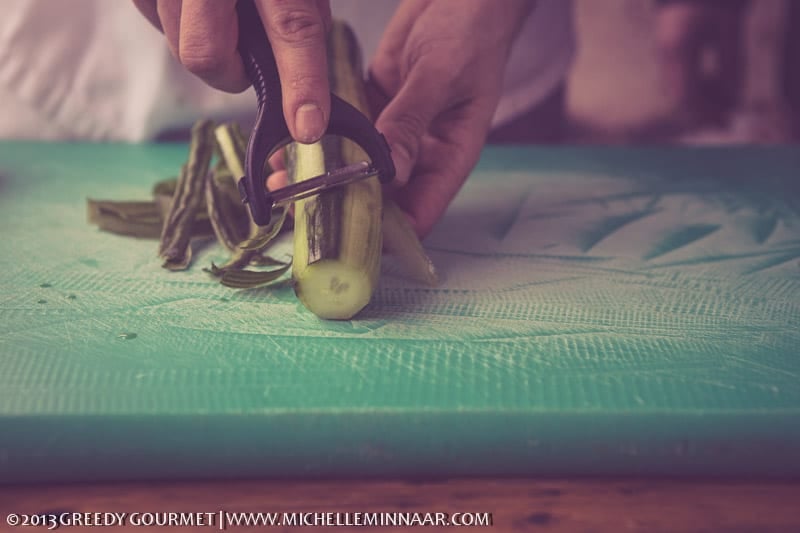 When you've topped and tailed the cucumber, peel it.
I just realised an important step was missed in these photos. To avoid the dip of becoming water, remove the seeds from the cucumber.
Then halve the thing.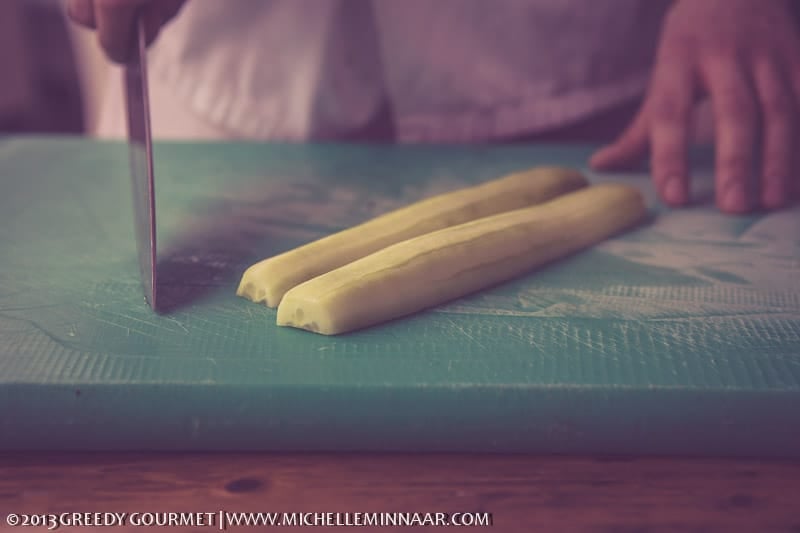 Take each halve and cut it into thin, long strips.
Finely chop the cucumber.
Place the cucumber in a sieve to drain for 5 minutes.
Don't forget to salt it! The latter helps getting the water out of the cucumber.
Give the mixture and stir and leave it for 5 minutes.
Using a glass, cup or even your fist, squeeze out as much water as you can. Now it's ready.
Now to make the garlic paste.
Place the garlic and olive oil in the blender.
Give it a thorough blitz and you'll end up with a smooth, almost creamy garlic paste that will last up to a month in the fridge. It's a good idea to make a big batch to save time if you're an addict.
Beautiful, thick, full fat Greek Yogurt. Christos' wholeheartedly recommends Total Greek Yogurt (available in the UK) which he says is pretty much just like the real deal you would find in his homeland. I have tried the product a few times since then and I can attest to it.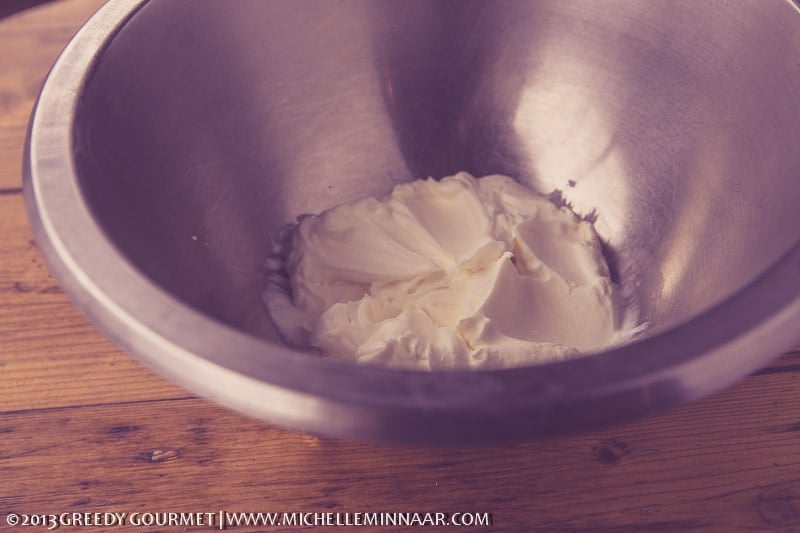 Place the yogurt in a bowl.
Now to finely chop the dill.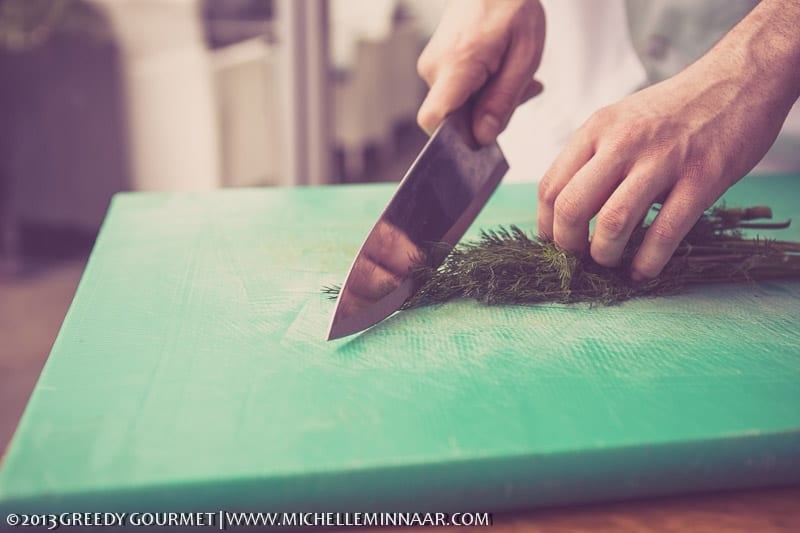 Add the chopped dill to the yogurt.
Remember the sieved cucumber? Now we need it.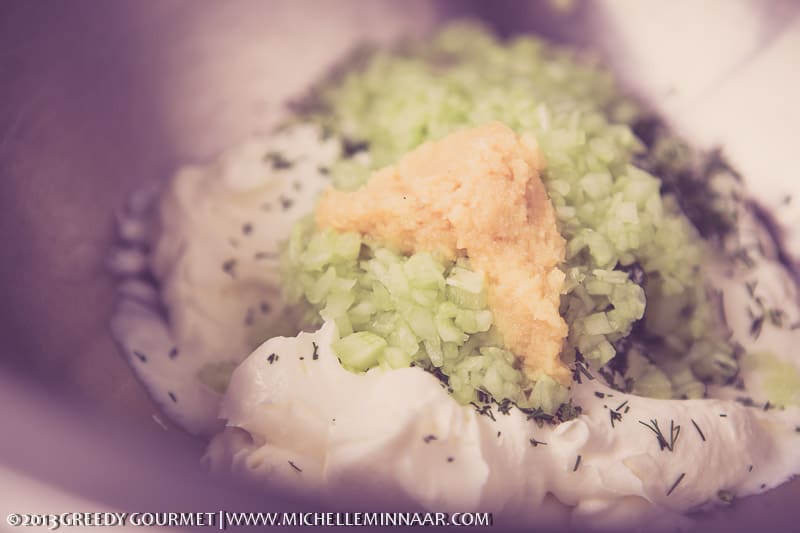 A good dollop of garlic paste would do.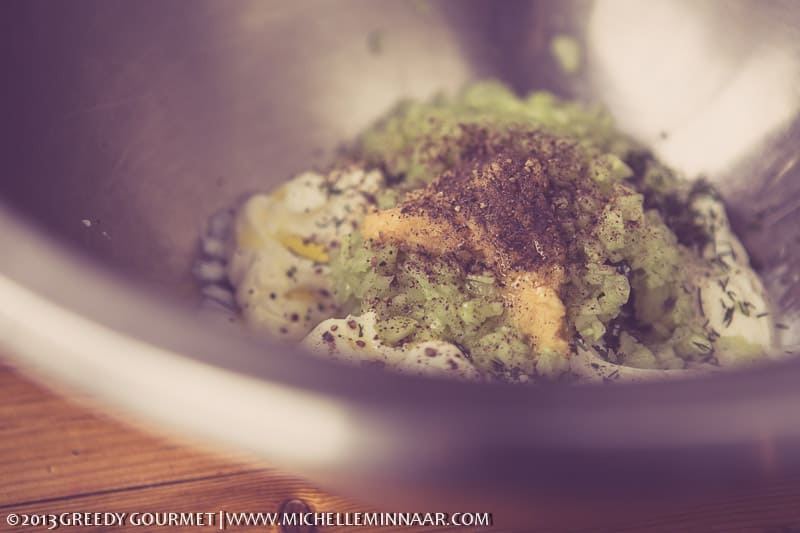 Lastly, no dish is complete without some salt and pepper.
At this point I lifted my head from my camera. Has the chef gone bonkers? Or has the kitchen run out of spoons? Nope, this is the way the Greeks do it.
They mix everything with their hands to ensure all the components are dispersed evenly, not something spoons can easily do.
That's why I love learning about regional cuisines and other cultures - you never know what interesting tidbit will be flung your way!
When everything is mixed thoroughly, serve up.
Garnish with dill and top with olive oil. Enjoy!
Of course, if you're too lazy you can just visit The Real Greek and eat it there instead with a large bowl of chips, htipiti, melitzanosalata and some cider to boot.
For more Mediterranean-style dishes, check out this white bean dip.
Print
Tzatziki
---
250

g

(1/2 lb) cucumber, peeled and finely chopped

2

garlic cloves, peeled

20

ml

(4 tbsp) extra virgin olive oil

40

g

(1 1/2 oz) dill, finely chopped

1

kg

(2 lbs) Greek yogurt
Salt, to taste
Pepper, to taste
---
Instructions
Place the cucumber in a sieve, salt it abundantly and let it stand for 5 minutes.
After the allotted time squeeze all the excess water out of the cucumber.
Add the garlic and olive oil to the food processor and blend until it forms a smooth paste.
Place the cucumber, garlic paste, dill and yogurt in a big bowl along with some salt and pepper. Mix the ingredients with your hands until all the elements have dispersed evenly.
Place the dip in a bowl, drizzle it with olive oil and enjoy.
Prep Time:

20 minutes

Cook Time:

0 minutes

Category:

Starter

Method:

No Cook

Cuisine:

Greek
Nutrition
Calories:

186

Sugar:

Sugars

Sodium:

31 mg

Fat:

9.9 g

Carbohydrates:

19.2 g

Fiber:

Dietary Fiber

Protein:

5.5 g

Cholesterol:

13 mg