Bhindi bhaji is a delicious dish once you have mastered the art of cooking with okra. You won't have to go for an expensive Indian takeaway again because you can now make your own fakeaway which is much better quality. Plus, you can serve it immediately when it's at its best while you save a few pounds in terms of delivery charges and more! If you have not previously cooked with okra you might find it a little tricky at first.
However, I promise you it is worth the effort and you'll learn a lot about handling this ingredient properly. The bhindi bhaji has exceptional textures and flavour, and definitely ranks as a top Indian dish. I've done a lot of research on Maharashtarian recipes online, and I've perfected this one! I would consider this bhindi bhaji recipe a lighter alternative to heavier Indian curries such as the korma, the beef kofta curry or the malai kofta gosht.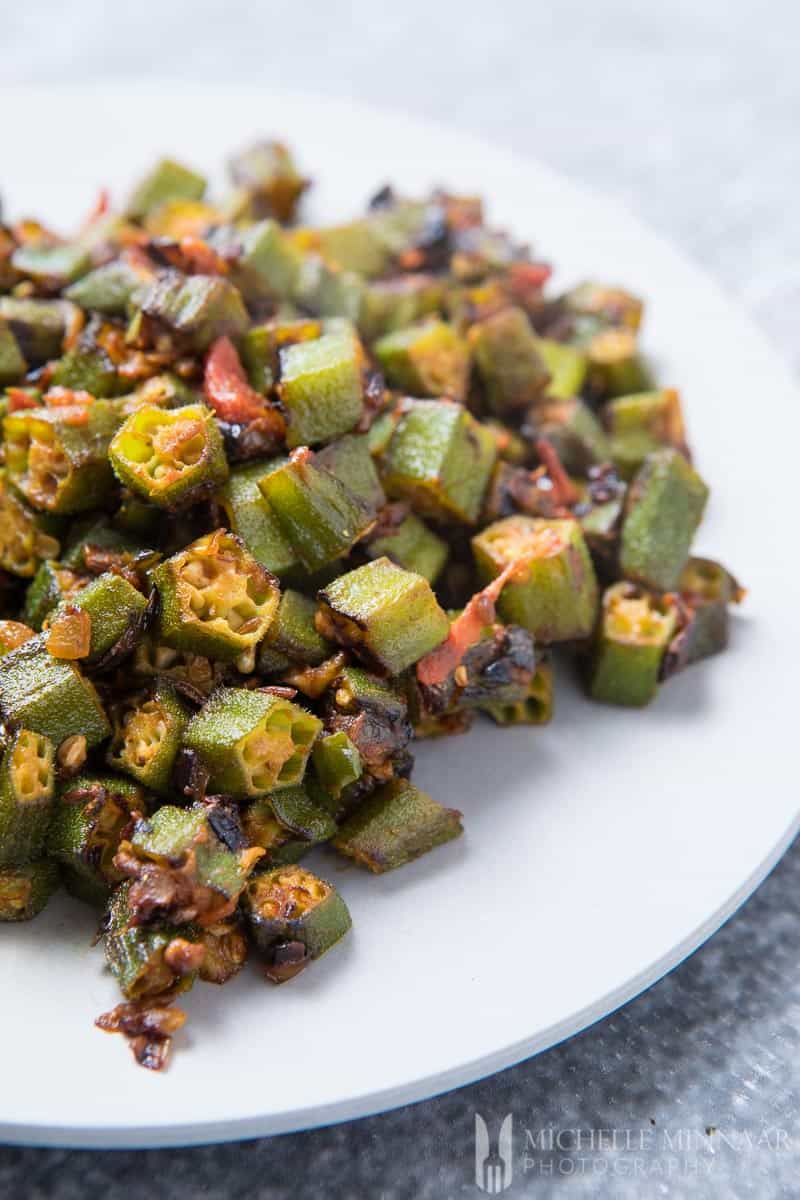 what exactly is bhindi bhaji?
As the word 'bhindi' translates to okra, bhindi bhaji is an Indian curry based on okra. Okra, or okro as it is also known as, is plant that thrives throughout South Asia, Ethiopia and West Africa. The exact origin of the plant is not known. It is widely grown in India as well and a popular ingredient used in curries. Other names for the plant includes okra, ochro, ladies' fingers, or gumbo. In this case it is actually the green seed pods that are the edible part of the plant.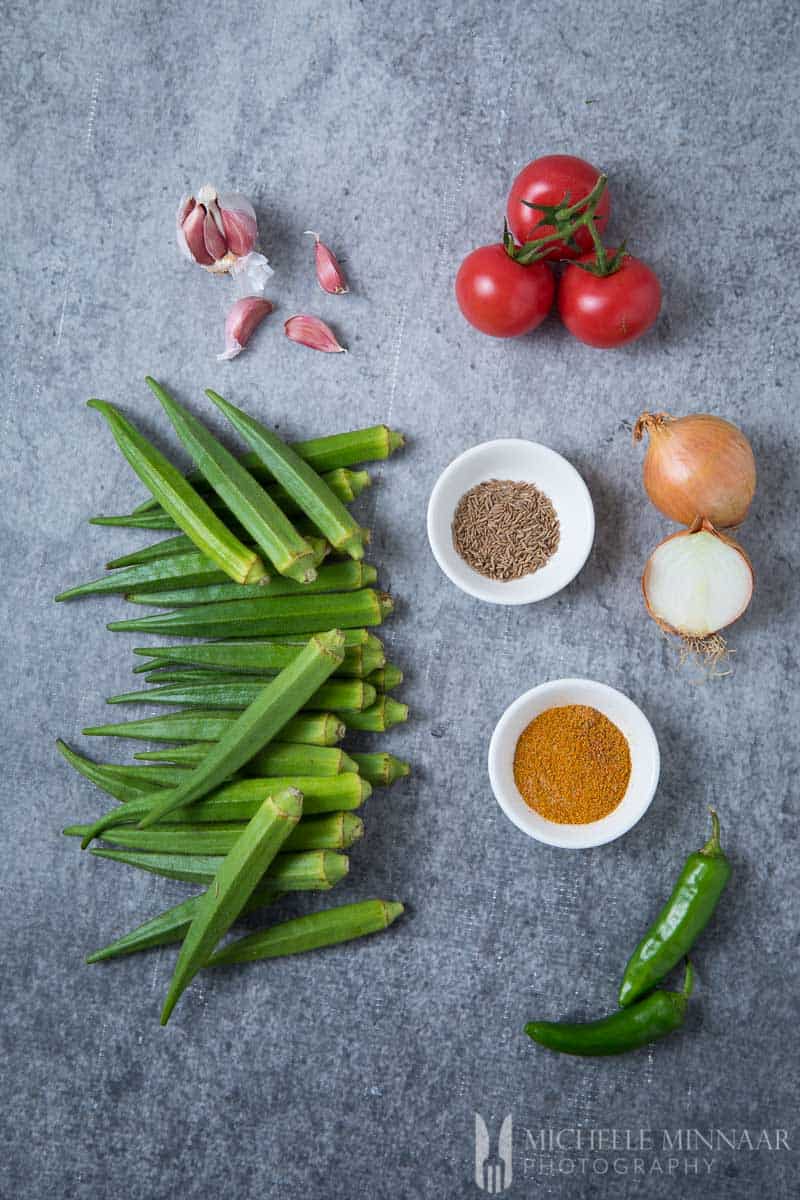 how to pick okra
The seed pods must be harvested while they are still quite young and green in order for them to be edible. As they age, they will get woody and fibrous. You can tell when the cap above the pod is super hard and you can't cut it from the stem.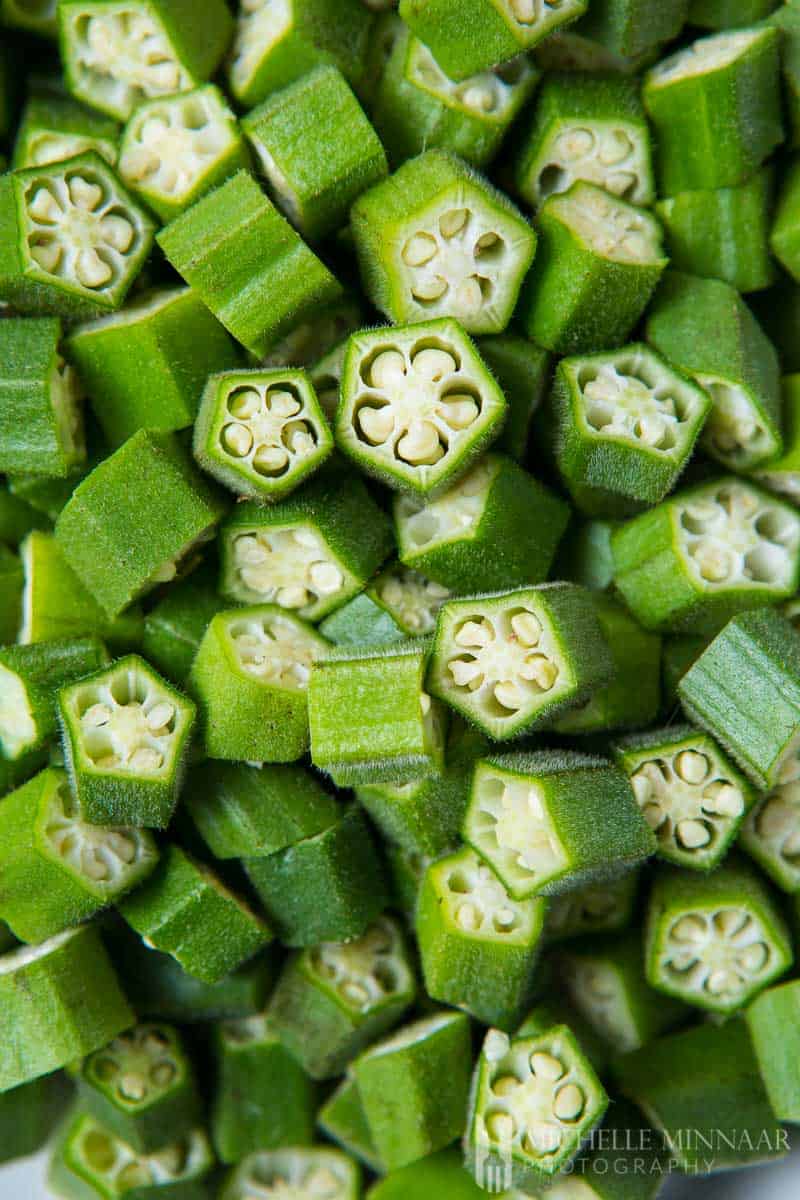 Therefore, when you are shopping for okra, you should look for the smaller ones, i.e. 2- 3 inches long. These will be better in flavour and texture. You can find okra in most Asian stores, or sometimes you can be lucky to find them in well stocked supermarkets. Make sure that they are still relatively firm when you buy them. This is a sign of freshness. They can be a bit sticky on the outside, but that is nothing to be alarmed about since it is perfectly normal.
Chopped or whole, okra or bhindi is not the type of ingredient that should be frozen. Always try to buy fresh ones if you want to cook a good bhindi bhaji.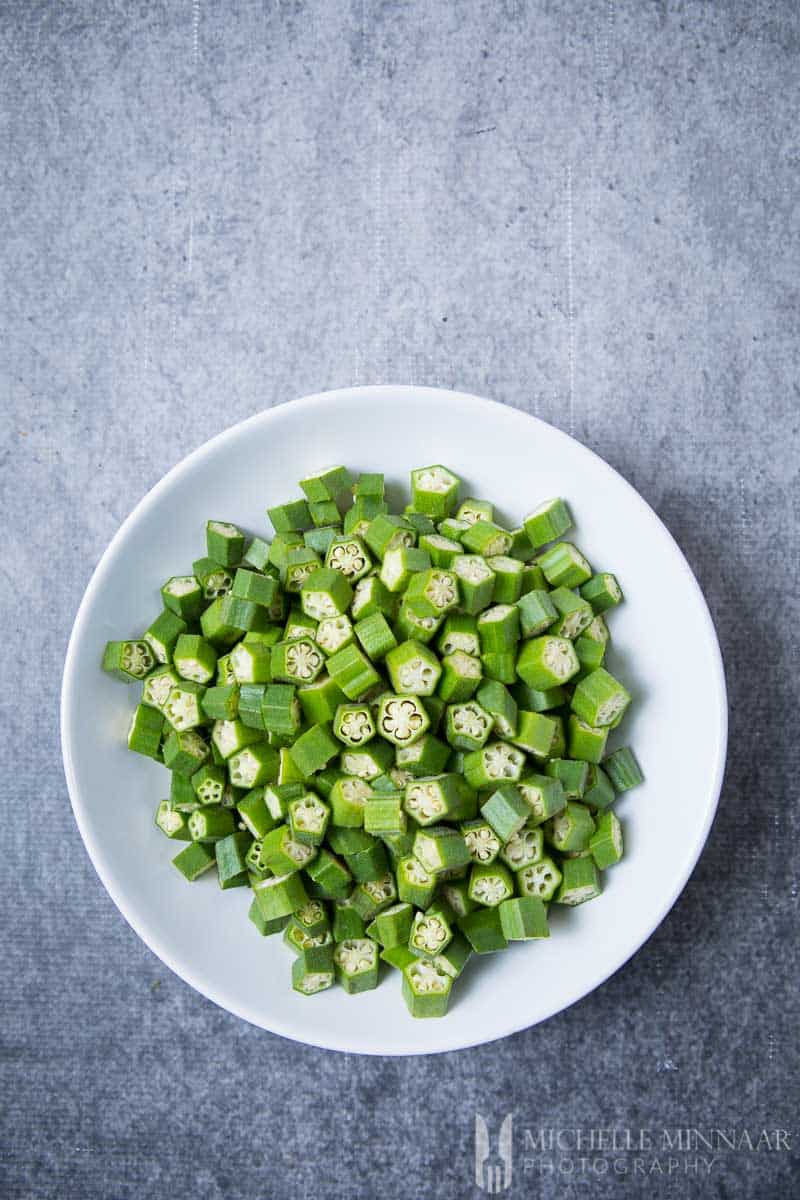 Your own Bhindi Bhaji
I love the Indian cuisine because it is so incredibly broad. You might not think that when you order a chicken curry takeaway but the Indian cuisine has so much to offer. If you must stay with chicken you can try my jeera chicken recipe. I'll be generous and extend the influence a bit to also cover Bangladesh. In this case you can take a look at my prawn puri.
Making your own bhindi bhaji is surprisingly easy. First, it's all about the knife and cutting up the okra or bhindi in equal bits. This bhindi sabzi recipe calls for a lot of okra, so add the chopped bhindi in the quantities of your liking.
Apart from the bhindi, or okra if you like, it is pretty basic in terms of the ingredients you need. We are talking classic Indian spices like turmeric, chili, coriander powder, cumin seeds and garam masala powder. For more impact, don't forget to add the red chilli powder. Also, remember to mix well so that the food is evenly spiced.
The cooking time is only 15 minutes so if you make sure to have okra in the house, there is really no excuse for a delicious meal. You can prepare a restaurant quality meal for the whole family in less than half an hour.
a sticky story
When I first tried cooking with okra years ago, I didn't know exactly what to do with them. I ended with pan filled with slime that was bordering disgusting. Since then, I have done some research on it, and there is a trick to be successful with okra. Whatever you do, do not boil them in water! If you do that you will end up with a sticky, gooey mess. The water reacts with the okra and makes them go sticky. Therefore ,it is also very important that you dry the okras after washing them. Or, that you wait for them to dry off properly before starting to cut them up.
Also, some acidity will help you avoid this sticky situation. A combination with tomatoes is good, as they already contain some acidity. Otherwise you can add lemon juice to the dish you are preparing. If you follow these simple tips, I am sure you will also enjoy cooking and eating okra from now on.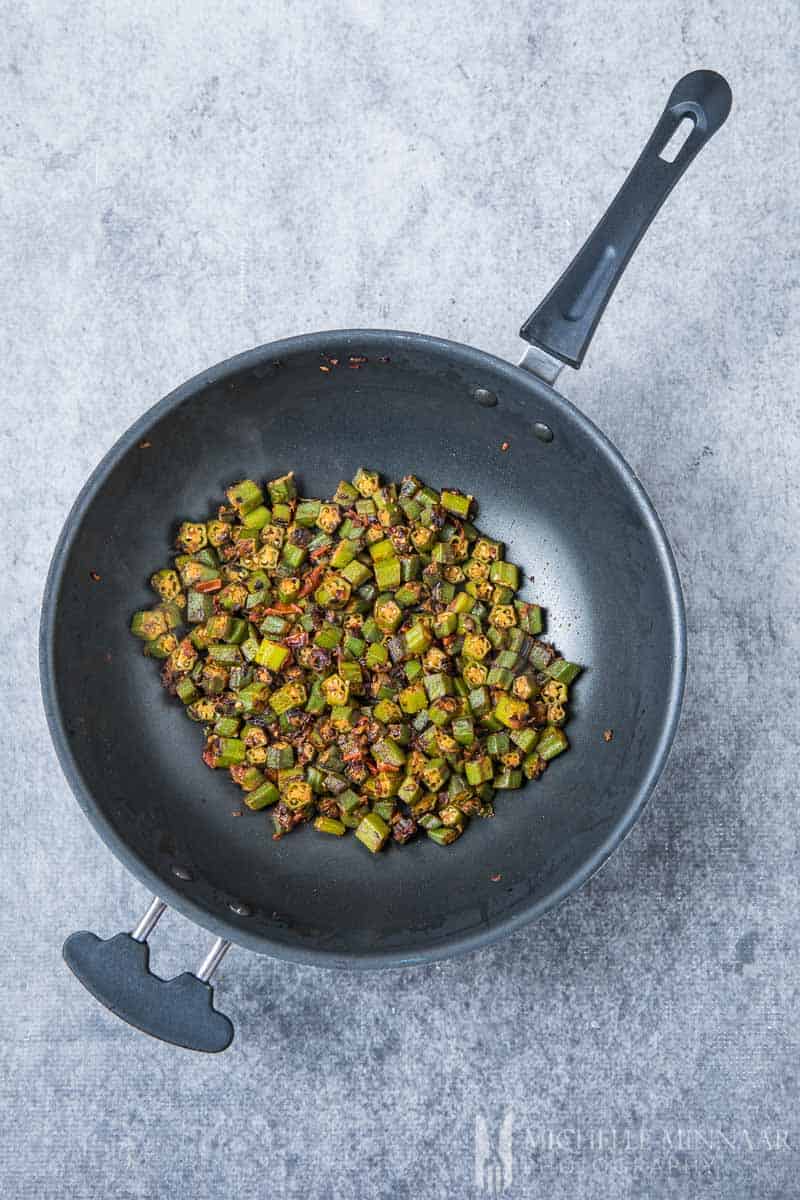 health benefits
Despite the pitfalls when cooking with okra, there are good reasons for you to eat them more. Okra is rich in vitamins, especially A,B, C, E and K. These vitamins help to boost your immunity system, protect your skin and can even lower the blood pressure. The high fibre content of the plant also helps to improve digestion, and avoid bloating or constipation. The high content of vitamin A is also believed to help improve vision, and eliminate wrinkles from your skin. All the more reason to start eating more okra and cook bhindi bhaji soon!
serving
You can serve the bhindi bhaji as a vegetable side dish for other Indian meals. For example you can have it with chana tikki or as a side for meat such as the Indian roast leg of lamb.
Another option is to serve the bhindi bhaji on its own as a sort of vegetable curry. Served simply with some rice or quinoa and you have a complete vegan meal. You might find it to be a little bit on the dry side, as there is no actual sauce like in a normal curry. In that case you could prepare a quick little cucumber raita to go with it. As always, serve with a gentle toss of freshly cut herbs on top. Coriander or parsley is usually the way to go when we are talking about toppings for Indian food.
What is your favourite okra recipe?
Print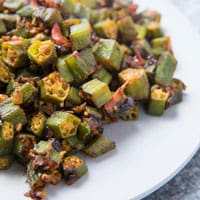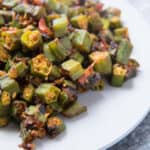 Bhindi Bhaji
---
30

ml (2 tbsp) vegetable oil

5

ml (1 tsp) cumin seeds

1

onion, peeled and finely chopped

4

garlic cloves, peeled and crushed

1

green chilli, washed and finely chopped

450g

(1lb) okra

2.5

ml (½ tsp) turmeric

2.5

ml (½ tsp) chilli powder

2.5

ml (½ tsp) garam masala

5

ml (1 tsp) ground coriander

2

tomatoes, washed and chopped
Salt, season to taste
---
Instructions
Fry the cumin seeds in the oil until they turn slightly darker in curry and release their aroma.
Add the onion, garlic and chilli and fry until softened and slightly browned.
Add the okra and stir while frying.
Place a lid on the pan and let it cook further for 3 minutes.
Add the turmeric, coriander, chilli powder, garam masala and tomato to the okra and stir vigorously until everything is well mixed.
Place a lid on the pan again and let it cook further for 3 minutes.
By this time the okra would have shrunk and changed colour. When it's tender the dish is ready.
Season to taste and serve as side dish with Indian meal.
Prep Time:

15 minutes

Cook Time:

15 minutes

Category:

Side Dish

Cuisine:

Indian
Nutrition
Serving Size:

1 serving

Calories:

129

Sugar:

3.1 g

Sodium:

52 mg

Fat:

7.4 g

Saturated Fat:

1.4 g

Carbohydrates:

13.1 g

Fiber:

4.7 g

Protein:

3 g
save the recipe to your pinterest board