An Indian spice blend with a very unique taste, chaat masala will take a dish from ordinary to extraordinary.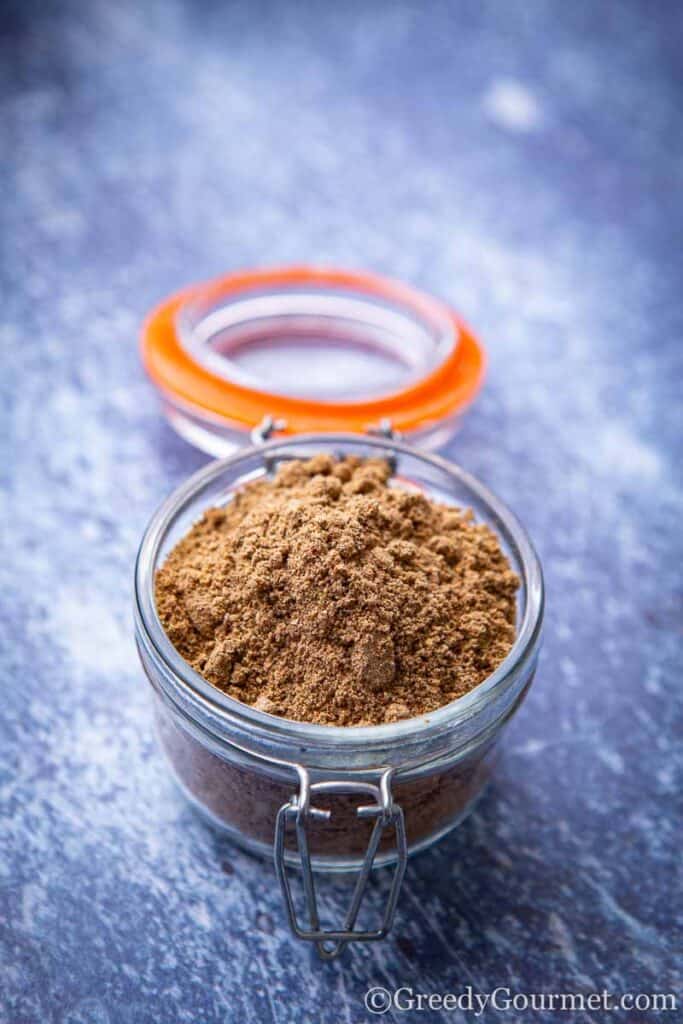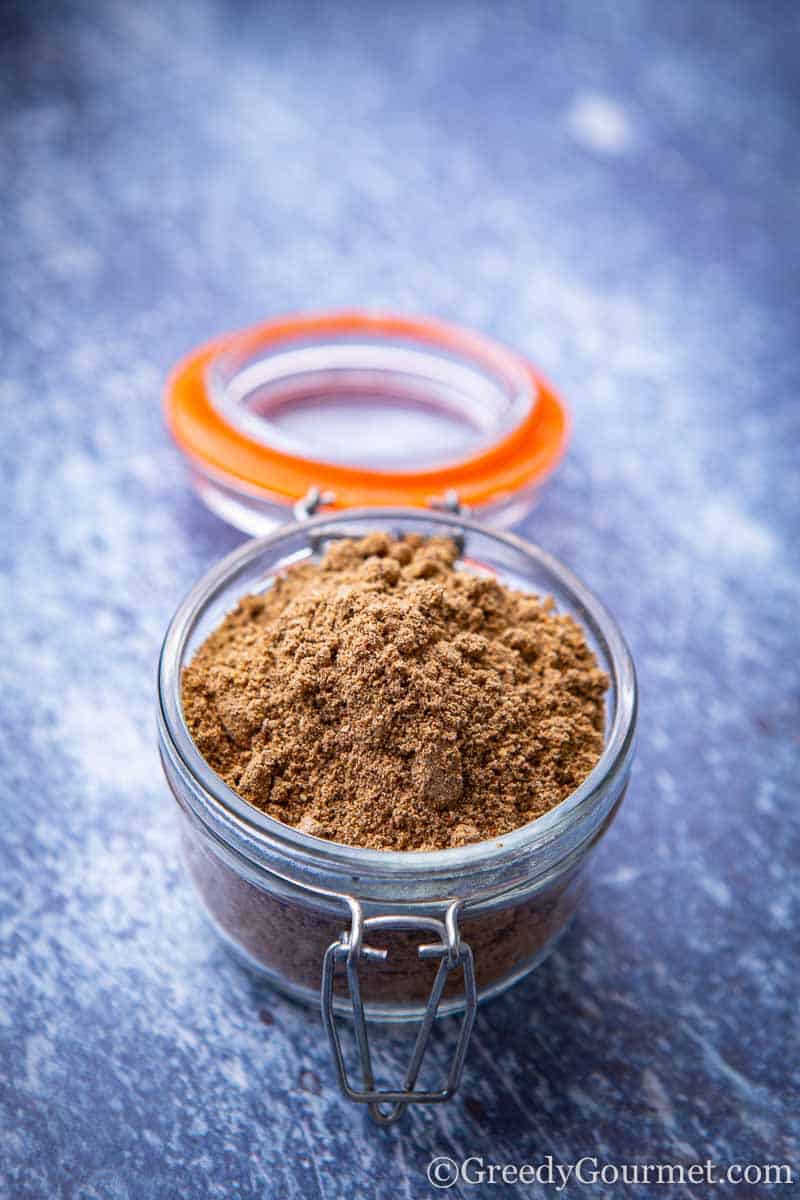 If you're a fan of snack cuisine, Indian style, this brilliant mix of flavours is for you. Chaat masala is a super simple spice mix recipe and will change the way you approach Indian cooking.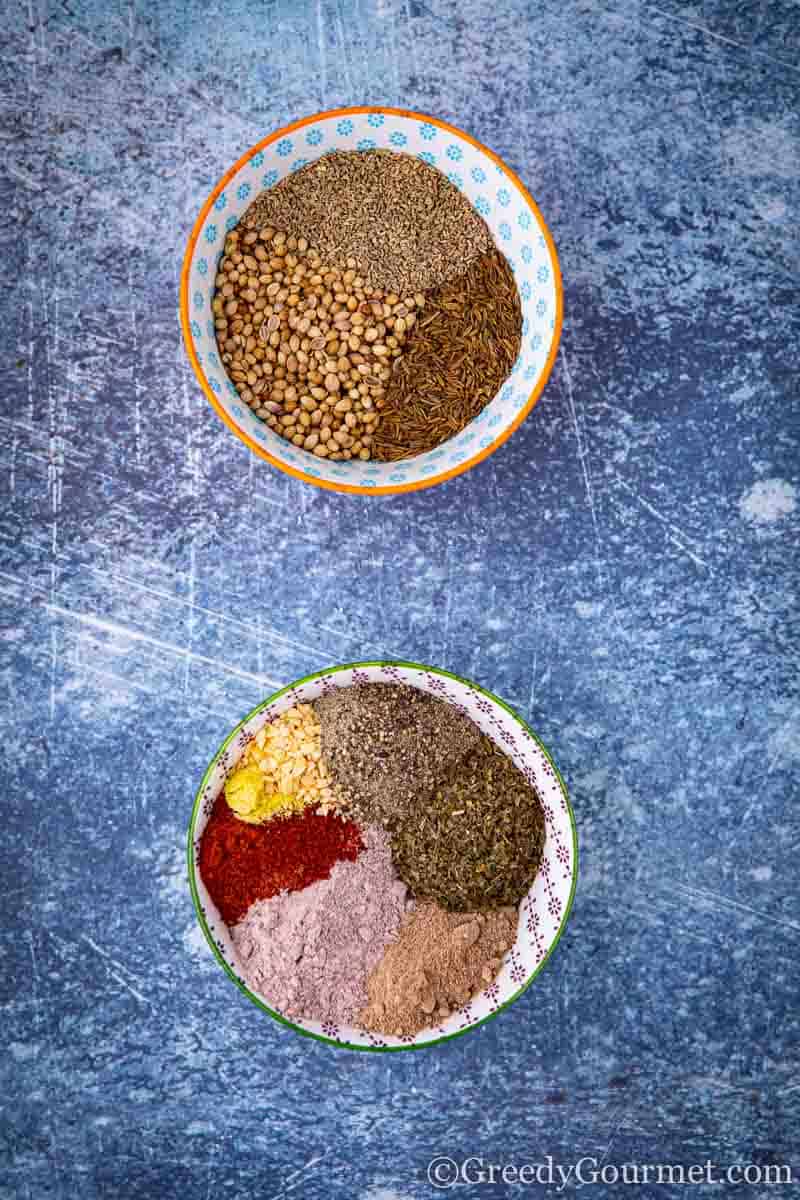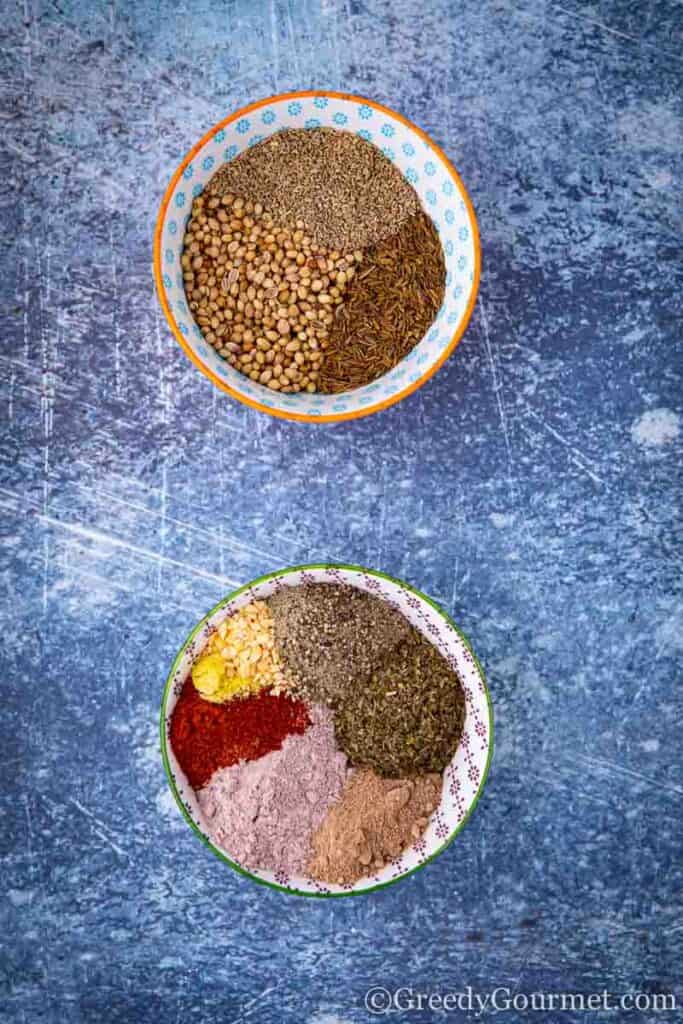 How to make chaat masala
This recipe takes just a few minutes from start to finish. All you need to do is toast a specific selection of spices in a frying pan.
Once toasted, you add the spice mix to a bowl and then whizz them up with the help of a special gizmo…
K-Mojo DigiMaster
While it's good to roll your sleeves up in the kitchen and get stuck in, sometimes you need all the help you can get. I don't know about you, but I'm not a fan of laborious tasks like grinding up spices.
It can be really taxing on the old wrists and I'm often left with big chunks of seed, rather than a fine fragrant powder.
That's where the K-Mojo DigiMaster comes in. A state-of-the-art digital food processor, it's got ten different functions, meaning you can juice, slice, chop, emulsify, knead, blend, grate, shred, whisk or grind till your heart's content!
Of course, with this recipe, we are using the grinder attachment. With this super sleek, powerful gadget, it takes mere minutes to get your special spice mix down to a ground aromatic powder.
Not only is the K-Mojo DigiMaster powerful and effective, it also looks the part. A beautiful, elegant, compact design means it'll slot right into your kitchen.
Power, speed, elegance and control. What else could you wish for in a modern kitchen appliance?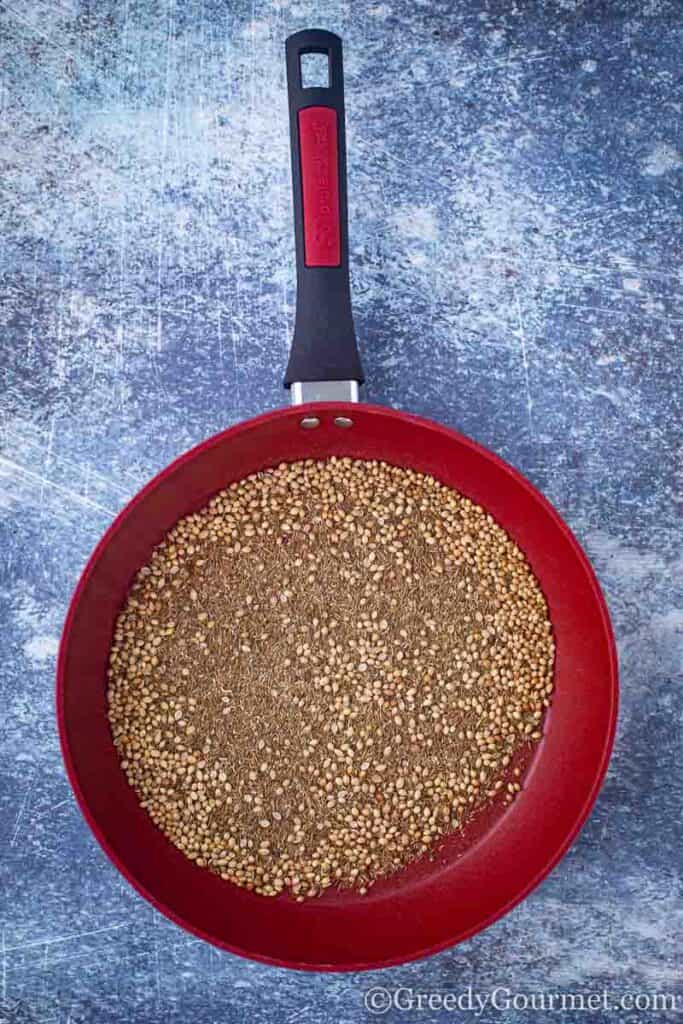 What is chaat masala made of?
Chaat masala is made from a variety of spices, each bringing their own unique taste into the mix.
Mint brings a subtle freshness, which balances well with the earthiness of the spices. Dried garlic, either crushed or powdered, brings its own deep unique flavour.
Ajwain or carom seeds have a very strong flavour – quite bitter. They smell almost like thyme, yet taste a little like oregano, with a slight anise undertone.
Asafoetida is a very strong, aromatic spice. It's from the fennel family, but it brings a similar strong savoury flavour as garlic or onion.
Amchur powder is another crucial element. A lot of people will be wondering "what is amchur powder?" It's actually another name for mango powder and is made from dried unripe mangos. It brings a citrus kick to the spice blend.
Black salt is another key part of chaat masala. Black salt, also known as kala namak or Himalayan black salt, has a sulphur-like smell. It's very pungent and is much more like a spice than regular salt.
Some recipes call for tamarind or lemon juice to bring a sour dimension to the spice blend, both of which you can add to this recipe.
Is chaat masala the same as garam masala?
No, the two are very different. One is used to season curries at the end of cooking and the other is used to flavour savoury snacks. They are made from a very different mix of spices.
What can I substitute for chaat masala?
Many people think that, because of the name similarity, you can swap garam masala in for chaat masala. Chaat masala is pretty unique though, and hard to replace and garam masala is definitely not a good place to start.
Masala is a generic term for the mix of spices. Masala means 'hot', while chaat loosely translates to 'snack.' The two bring totally different flavours.
If you want a substitute for this recipe, your best bet is to start with ground cumin seeds, add some amchoor (dried mango powder), red chilli powder, black pepper and finally a little black salt.
If you only have basic spices, the key parts are cumin, salt, pepper and mango powder or lemon juice.
Is chaat masala healthy?
Yes, it's a great source of vitamins and minerals, inducing iron and calcium. Also, the spices in this recipe contain lots of antioxidants with proven health benefits.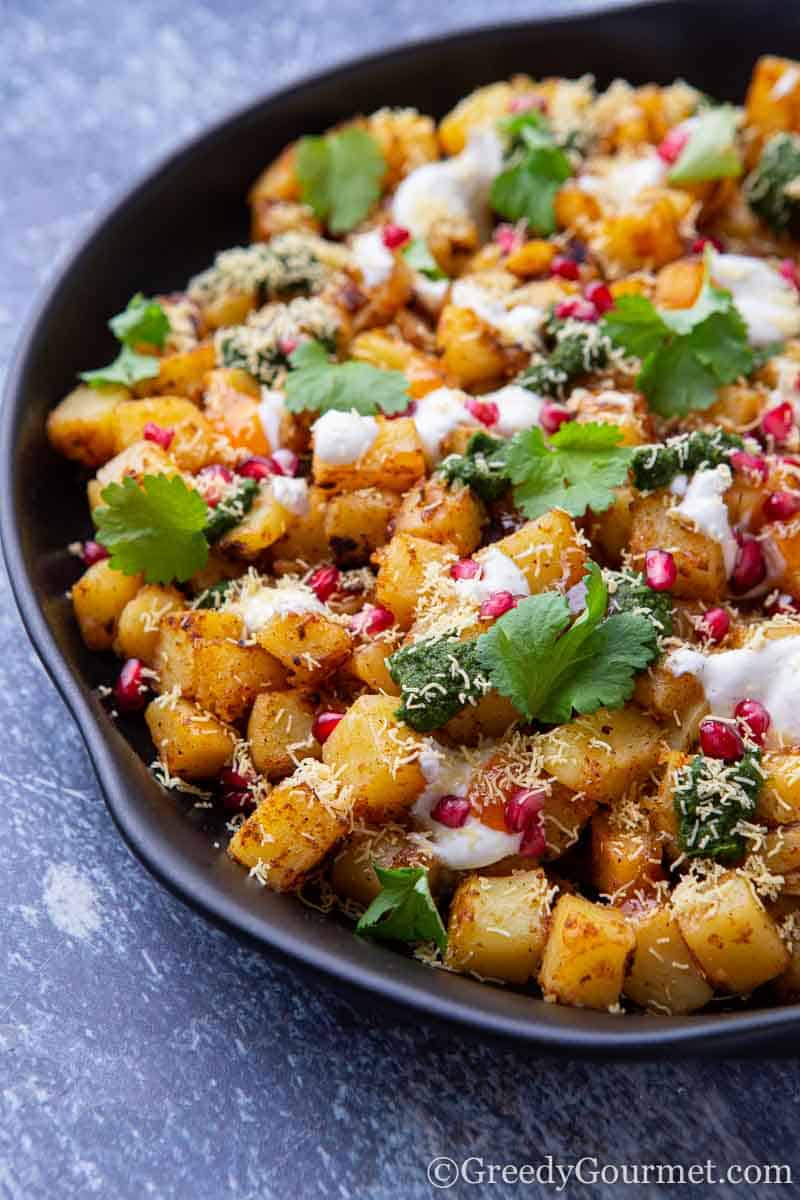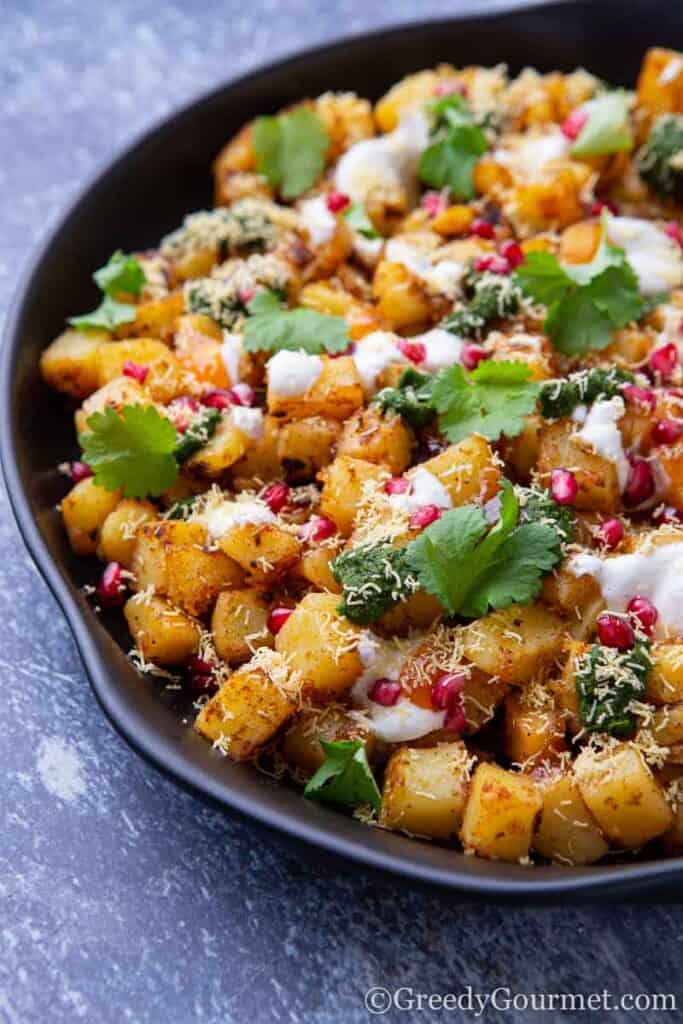 More great Indian recipes
Aloo chaat – add your delicious spice mix to this traditional Indian recipe
Mushroom pakora – this extremely tasty recipe will taste even better with your spice mix added in
Potato bhajis – a classic Indian starter
Mung bean curry – a nutritious and delicious vegan curry
Mixed vegetable curry – if you're a veggie curry lover, this one's for you
Competition Question: What would you make with K-Mojo DigiMaster's grinder attachment?
Print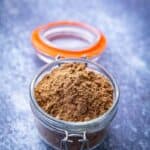 Chaat Masala
---
Author:

Michelle Minnaar

Total Time:

15 minutes

Yield:

Makes

175g

(

1½ cups

)

1

x

Diet:

Vegan
Description
Chaat Masala is a unique spice blend that is commonly used in Indian street food and snack recipes. Learn how to make chaat masala and use it in dishes such as Aloo Chaat. 
---
18g

(

3 tbsp

) cumin seeds

15g

(

3 tbsp

) coriander seeds

5g

(

1 tbsp

) ajwain/carom seeds

5g

(

1 tsp

) red chilli powder

29g

(

4 tbsp

) amchur powder

51g

(

3 tbsp

) fine black salt

7g

(

1 tbsp

) ground black pepper

1g

(

¼ tsp

) asafoetida

10g

(

1 tbsp

) dried mint flakes

10g

(

1 tbsp

) garlic powder
---
Instructions
Using a dry frying pan, roast the cumin, coriander and ajwain seeds over a medium heat. Ensure to continuously move the seeds around with a wooden spatula. After a few minutes, the seeds will release their aromas.
Tip the toasted seeds in a bowl and allow to cool down.
Place the seeds in the K-Mojo DigiMaster spice grinder attachment and process until finely ground.
Add the remaining ingredients with the ground seeds and blend further until all ingredients are well incorporated.
Tip into airtight containers and store in a cool dark place. Use as needed.
Prep Time:

10 minutes

Cook Time:

5 minutes

Category:

Spice Mix

Method:

Grind

Cuisine:

Indian
Keywords: chaat masala, chaat masala powder recipe, homemade chaat masala, how to make chaat masala