One of the most popular curry dishes served up in the UK, chicken pasanda is rich, creamy, spicy and utterly delicious! It requires just a little bit of prep and not too much effort, and the reward is a divine curry that's packed full of flavour.
Is it your hobby to cook delicious food? You will be much more interesting if you have several hobbies. How to find people in Greece with the same hobby as you? It's time to find new friends and new entertainment. We suggest you to spend your time at the casino, playing for real money http://www.cinemainfo.gr . No deposit casino is something that is becoming more and more popular today among players of different countries and ages. And all because here you are waiting for real earnings without any risks.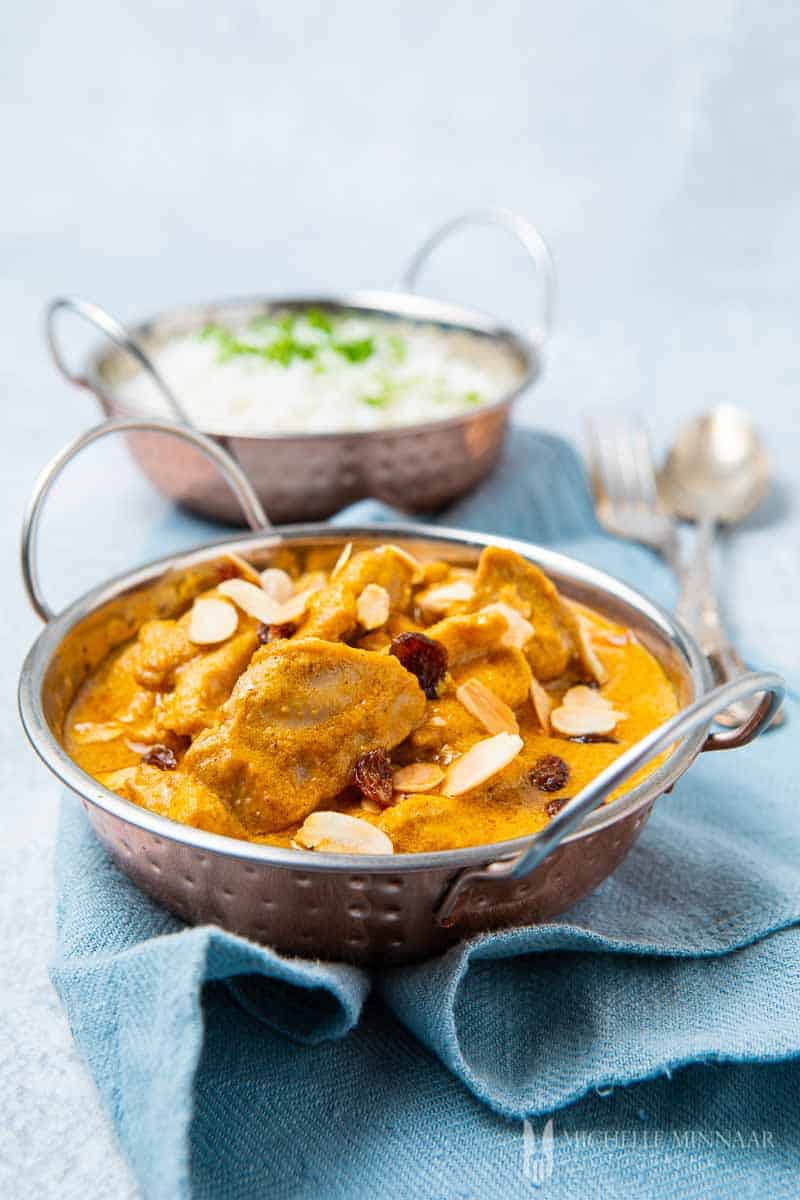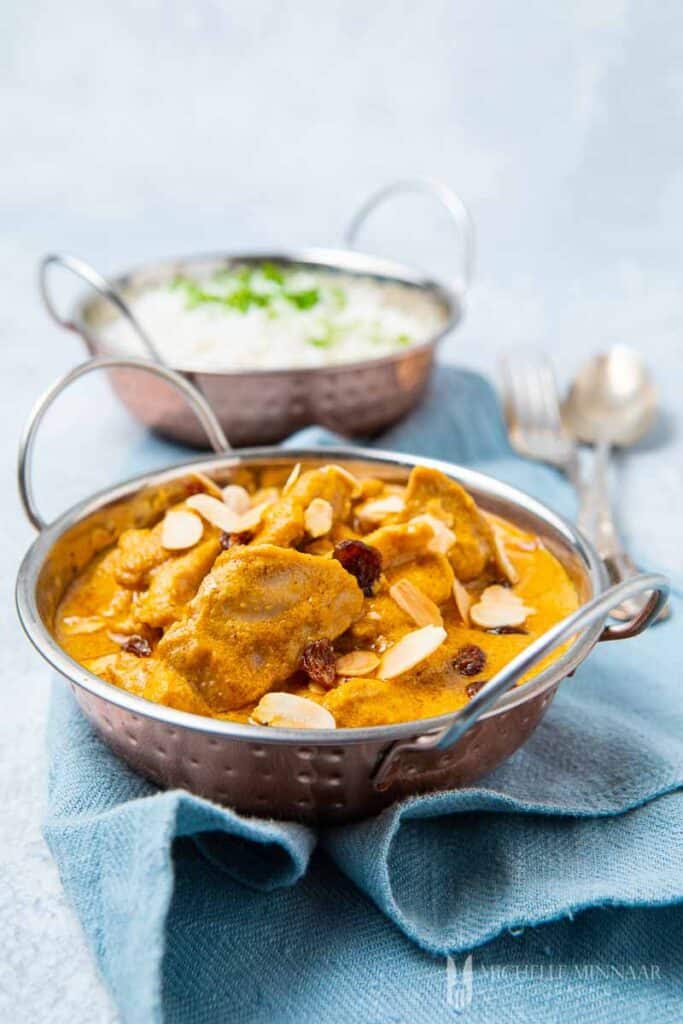 So, whether you're a curry connoisseur or a curious cook, this chicken pasanda recipe is perfect for you! Let's take a look at how to cook this extremely tasty curry dish and find out why it has become one of the nation's favourites.
Equipment you'll need for this recipe
You'll need the following items to make this chicken pasanda recipe:
Recipe for chicken pasanda
This rich curry is normally lightly spiced and cooked in quite a simple way. The creaminess comes from using either yoghurt or cream (sometimes even coconut cream – see our recipe below!) and produces a thick, moreish sauce, which also tenderises the meat as it cooks.
A handful of sultanas adds a little juicy sweetness to the dish, while brown sugar helps to caramelise the sauce. A sprinkling of flaked almonds gives a pleasant nutty crunch and spices such as garam masala add a little earthiness with a deep, yet subtle, flavour. You can even scatter some coriander for a final flourish. This makes the perfect curry dish for all the family.
There's no wonder it's the most popular curry in the UK. It's a great entry curry for those who don't like heat, as the main focus of the dish is the creamy richness. Yet it's also adaptable – for those who like a bit of heat, extra chilli or chilli powder will give it a satisfying extra kick.
The dish derives from the Urdu word "pasande" meaning "favourite", which refers to the prime cut of meat traditionally used in the recipe. Another theory, which I quite like, is that the name was influenced by the dish's all round popularity. Traditionally, Indians and Pakistani's would cook this dish to please the whole family, young and old.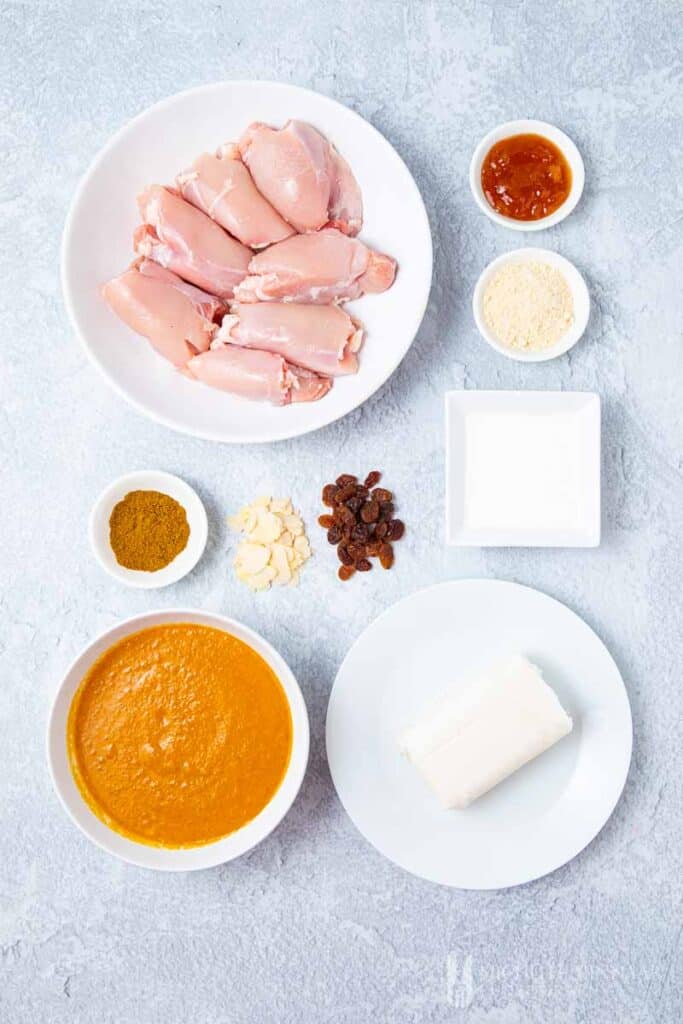 What is pasanda?
Pasanda is an incredibly luxurious curry that has become more and more popular throughout the world. It's no surprise then to discover that it has royal roots.
The dish dates back to the 16th century and the courts of the Mughul emperors, a dynasty that ruled over India for hundreds of years. The emperors would demand that their skilled chefs cook this regal cuisine exactly to their liking.
Over the years, the recipe would change until a favoured version was settled on. Before we arrived at today's much loved version, the recipe would take many different forms, with ingredients being swapped in and out to reflect the tastes of the time.
Chicken wasn't the original choice of meat for the dish. In fact, lamb pasanda curry was the standard. Strips would be flattened, tenderised and marinated, before chefs would cook them in a dish with garlic, ginger, flaked almonds, coriander and other fragrant spices.
Over time, different versions were popularised across various regions. For example, beef became a favourite ingredient in Pakistani pasanda curry, while king prawns and other seafood have put a twist on the original recipe.
Nowadays, chicken is the chosen meat. It lends well to the lightness of the dish and complements the other flavours, especially when using coconut cream, fresh or ground coriander and flaked almonds. A match made in heaven!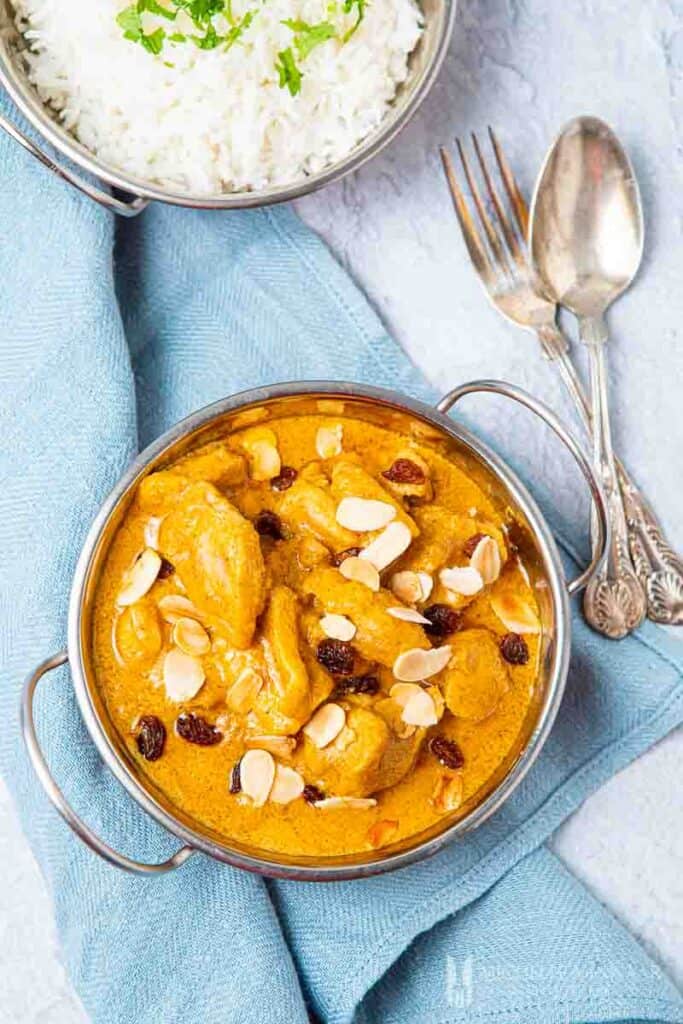 Chicken pasanda with creamed coconut
While yoghurt and double cream are standard additions to a traditional chicken pasanda curry, sometimes you just have to look for an ingredient that's going to elevate your dish and give it that extra wow factor.
One way to take things to the next level is to use coconut cream. Not only does it give the sauce a beautiful velvety texture, it also introduces a delicious coconut taste that blends perfectly with the rich flavours and subtle spices.
Aside from the beautiful creamy consistency that coconut will bring to your curry, it also provides many health benefits. It reduces inflammation and improves good cholesterol, which reduces heart problems.
It also has immune system boosting properties and helps your body to digest more vitamins, minerals and nutrients (just think of all those mineral rich curry spices)!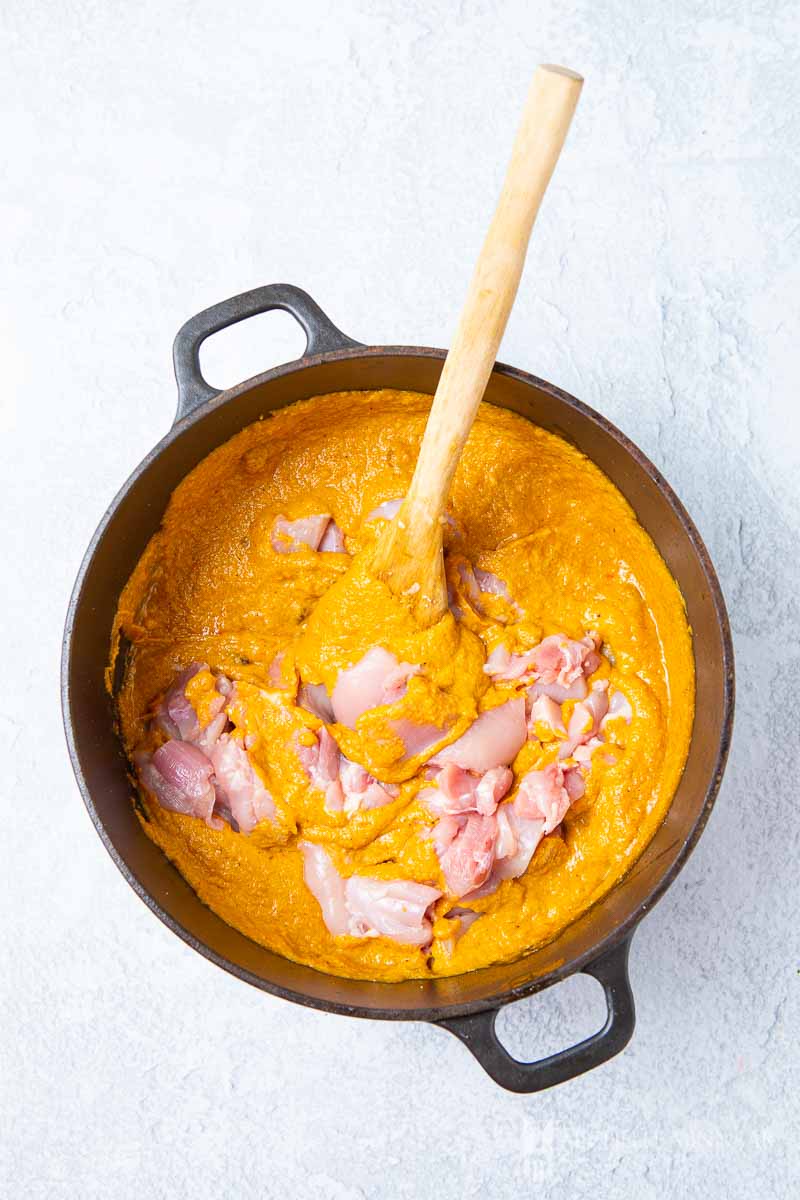 Pasanda sauce
If you have plenty of time to spare, you can always whip up a delicious curry sauce from scratch. Check out my curry base sauce recipe for an authentic Indian taste that will give your curry a delicious base.
It's a blend of a fresh vegetables like onions, peppers, ginger and garlic, chillies (green and red) and ground spices such as curry powder, cumin, turmeric, fenugreek, smoked paprika and ground coriander (you can also use fresh coriander), all cooked together to make up a terrific tasting sauce that can be frozen and used again and again.
When added to the traditional ingredients, such as cream and almonds, you have a wonderful pasanda curry sauce.
If you don't have the time and you need to make your curry in a hurry, don't worry! There are plenty of great ready made sauces available that come close to replicating the taste of a homemade curry sauce .
I recommend this tasty, authentic ready made sauce, which blends select ground spices, peanuts, flaked almonds and ground coriander with a hint of cardamom. It'll save you overall cook time and your curry will still taste wonderful!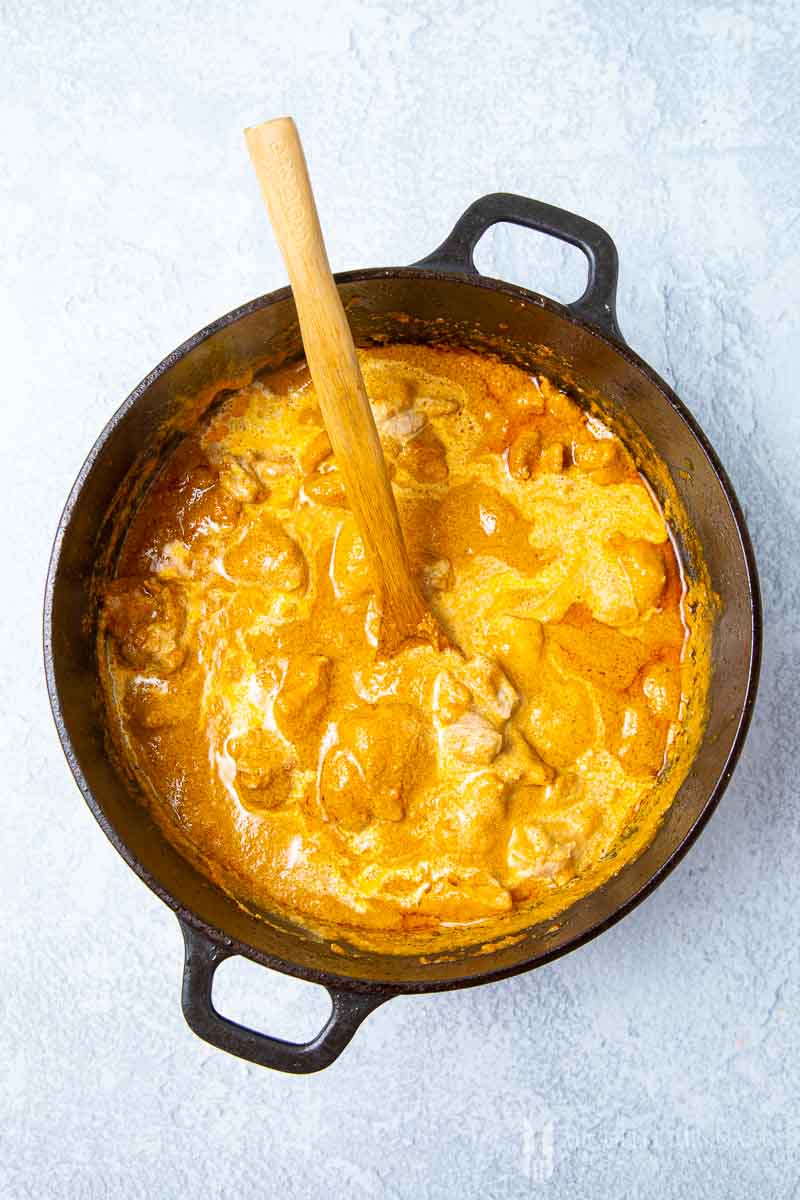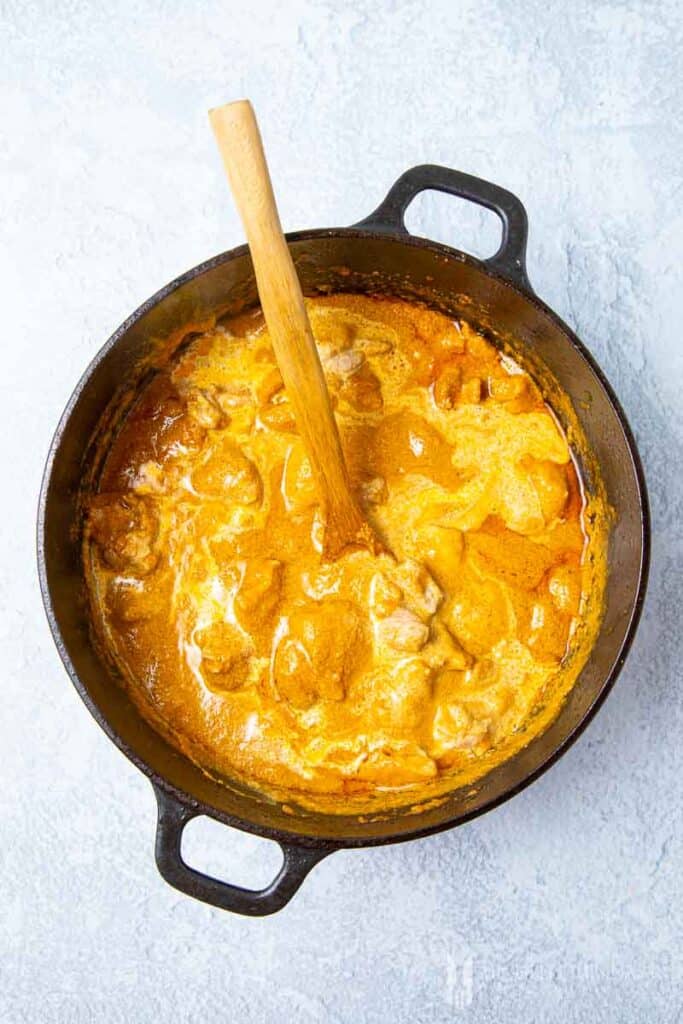 Serving suggestions
The obvious pairing with this delicious chicken pasanda recipe is rice. You can go for plain rice, pilau rice or, if you feel like serving up a feast, check our my keema rice recipe. Whichever you decide, pairing it with rice is the best way to go.
You could also cook up a peshwari naan, for twist on the traditional. Or, how about a wonderfully refreshing cucumber raita, perhaps paired with some samosas as a starter?
Other sumptuous starters include bombay aloo, cauliflower kurma and mushroom pakora, all of which would be a great addition to this dish.
Or, how about a bhaji? If you've never attempted homemade bhajis, now's your chance! Try one of my delicious recipes – take your pick from mushroom bhaji, potato bhaji, bindi bhaji and brinjal bhaji.
Such a wide choice of incredible food! This diversity of flavour is exactly what makes Indian cuisine so respected throughout the world.
Don't forget, you can also add a sprinkle some fresh coriander. As any curry lover already knows, adding coriander as a final flourish immediately elevates the dish, adding an extra freshness that beautifully contrasts with the earthy spiciness of the curry.
How to store chicken pasanda curry
You might be wondering how to store your curry, just in case you haven't managed to polish off the whole lot in one go. Well, there are a few things you'll want to bear in mind when it comes to storage.
Don't put your chicken pasanda curry leftovers in the freezer. This is because it's a cream/yoghurt based dish, which means that the sauce will separate when frozen. This will affect the taste and consistency of your curry in a big way.
Instead, store your leftovers in an airtight container in the fridge. It should keep for up to four days. Reheat over a low to medium heat in a lightly greased frying pan, stirring regularly. Serve when thoroughly heated through.
Don't forget, chicken pasanda curry tastes even better the next day! The flavours have a chance to settle into the sauce and everything has that extra bit of time to mix in together. The result is an even deeper, richer, more complex taste!
So, you don't be stingy and make a big old batch! Why not double the ingredients? You and your family will enjoy this delicious curry even more the second time round.
Alternative chicken curry recipes
If you're a curry lover and you're wondering what to do with the extra meat, why not get inspired with these other extremely tasty curry recipes:
More chicken recipes
So... you've quenched your curry craving and are looking for some extra inspiration. You want to find another delicious dish to try your hand at. A wonderfully tasty, creative recipe to use up your uncooked chicken.
Well, look no further! Here are some of my other mouthwatering chicken recipes you can learn to cook to perfection:
How did your pasanda turn out? Let me know in the comments below!
GIVEAWAY
This week one winner will receive the Quokka Solid Water Bottle.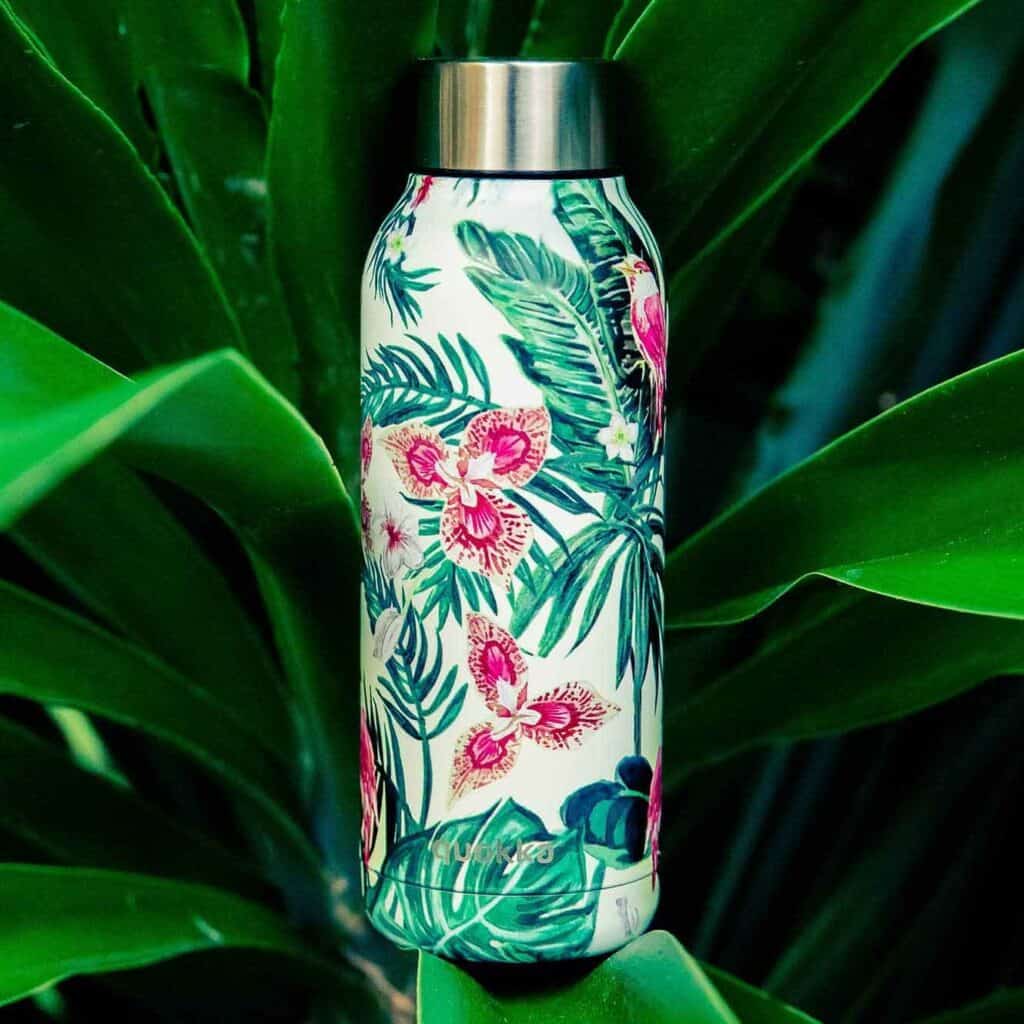 This double walled vacuum insulated water bottle keep drinks warm for 12 hours and cool for 24 hours. Being made from stainless steel if it extremely robust, it is Leak-Proof, High resistance and Rust-resistant with no smell or taste absorption. Also BPA-free this reusable water bottle if most defiantly Hot & Cool. Available from Amazon for £15.71
a Rafflecopter giveaway
Entering is easy, just follow the instructions below.
HELP
Here you can find a tutorial on how to enter with Rafflecopter.
If your form is not showing, try refreshing the page.
Complete the form, otherwise your entries will not count.
Make sure the mandatory entries (e.g. leave a blog comment) are completed first.
Don't forget to come back daily for extra entries via Twitter.
If you're viewing this post by email, please come to the actual webpage to enter.
Competition Question: What is your favourite chicken curry?
Print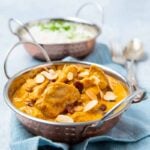 Chicken Pasanda
---
Author:

Michelle Minnaar

Total Time:

30 minutes

Yield:

6

servings

1

x

Diet:

Gluten Free
Description
Chicken Pasanda is rich, creamy and utterly delicious! It doesn't require much effort to make this divine curry that's packed full of flavour. 
---
---
Instructions
Place the almond flakes in a large saucepan and toast gently over a medium heat. Transfer the nuts to a bowl and set aside.
Heat the oil in the same saucepan. 
When it starts to sizzle, add the ground almonds and sugar. 
Pour in the curry base sauce and sultanas. Let it reach a slow simmering point and cook for 5 minutes. 
Add the creamed coconut and stir until it's melted into the sauce. 
Add the chicken and let it simmer for another 15 minutes or until the chicken is cooked. 
Pour in the single cream and add the garam masala. 
Season to taste, sprinkle with the flaked almonds and serve immediately with your favourite Indian accompaniments, such as naan and paratha. Enjoy!
Notes
Instead of plain chicken breast, you can use cooked Chicken Tikka pieces. Proceed with the recipe but add the chicken after the creamed coconut has cooked for 15 minutes.
Prep Time:

10 minutes

Cook Time:

20 minutes

Category:

Curry

Method:

Simmer

Cuisine:

Indian
Keywords: chicken pasanda, pasanda curry recipe, Indian pasanda recipe, creamy almond chicken curry with sultanas