Chicken Tikka, also known as Murgh Tikka, has become a well-known dish all over the world. Not least in Britain, where Indian food has been part our daily lives for decades. To this day, it's still debated where the recipe actually comes from. Some say the Punjab province of India, some say it comes from an Indian restaurant in Glasgow! Whichever story is true, it is certainly a fantastic dish that brings warmth. Furthermore, it is now a must have feature on the menu in just about every Indian restaurant. In fact, on a recent visit to London I had the honour to have the experts at Café Spice Namaste demonstrate to me how to prepare it. As you do!
The best is, if chicken is not your thing, you can also try this amazing paneer tikka.
Café Spice Namasté
Café Spice Namasté is more than just an award-winning restaurant. It is a successful institution, committed to serving delicious and authentic Asian cuisine. This ranges from serving generous meat and vegetarian tikka platters, Parsee Dhaansak and Goan-inspired seafood dishes. Tempted yet? If you're an Indian food lover and are visiting London soon, you should definitely visit this restaurant. Of course, if you live in London you might already be a regular. Don't forget to try the amazing Chicken Tikka.
The venue is excellent for lunch, in-between work or having a cosy dinner with your family. Ideal for tourists, it's only a stroll away from London Tower, and you'll be able to grab a delicious bite and continue sightseeing. You're in for a hearty delight. What I love about Café Spice Namasté is their special menu and they even offer a special tasting menu featuring all their famous seasonal dishes.
In fact, Café Spice Namasté is also known for hosting their famous Khaadraas "Greedy Pigs' Club. The latter is a gourmet showcase of wonderfully Parsee heritage inspired dishes. You will definitely need to bring your appetite along and the next event is coming up very soon, make sure you book as soon as possible.
History of Chicken Tikka
You've probably already had the pleasure of this dish in some version or another. In case you haven't, let me tell you what all the fuss is about. The dish comprises chunks of chicken, which are marinated in spices and yogurt overnight and then roasted in an Indian "tandoor" oven the following day. Don't worry though, you won't need one of those at home to prepare this recipe! Chicken tikka dates back to the days, when tandoor ovens first appeared 5,000 years ago. Emperor Babur of the Mughal dynasty ordered his servants to pick the bones out of the chicken. This technique inspired the term tikka and has been a part of Asian culture ever since.
Oh, those spices!
What gives the dish its distinct Indian flavours is the masala spice mix. Ground cumin, ground coriander, ground turmeric and chili powder are the basic ingredients. However, you can vary the mixture in many ways. Moreover, chicken tikka is not the only dish you can use the masala mix in. For instance, check out the masala grilled aubergine recipe.
You can tweak the spice mixture to your taste. If you like garlic, like I do, add garlic powder into the mixture. You can also use ginger powder or finely chopped fresh ginger. Ground cardamom will also bring an even more distinct aroma to your creation. In order to get maximum amount of flavour out of your dried and ground spices, you should always roast them first. It really makes a difference and takes your dish to the next level. I already described the technique here.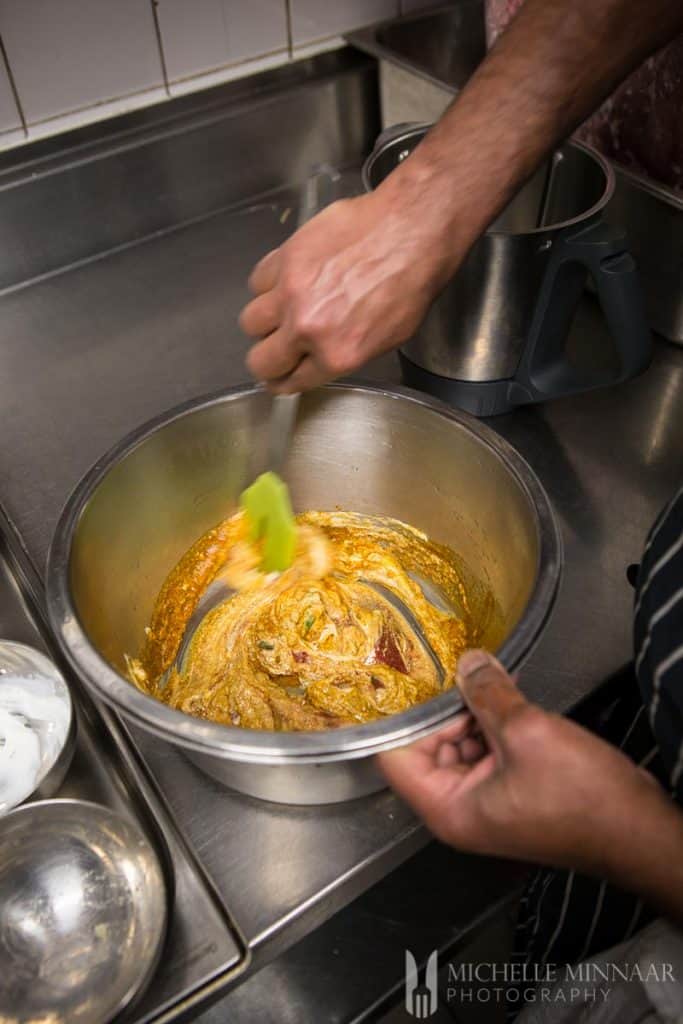 Chilli
Do you like heat? The use of chilli, how much and what kind, is almost a science in itself. Although Indian varieties are desirable, you can use any types of chilies. Just watch out for the different heat each type possesses by checking out the Scoville index to get an indication of just how spicy the chilli is. Many of the chilli products you can buy in the supermarket will have a description of the strength on them. If you don't like the hotness of chilli at all you can substitute with paprika or leave it out altogether.
Sides
The number one side for your chicken tikka is, of course, rice. Almost every type of Indian curry is served with a side of rice. The most common type for Indian cuisine is the basmati rice. This aromatic long grained rice is widely grown in India. In ancient Hindi, the word basmati, quite suitably, means fragrant. If you can't get hold of basmati rice, you can use jasmine rice instead. Jasmine rice is more common in East Asia but has a similar flavour to basmati rice. If you want to go authentic Indian, you should boil the rice with a few pods of green cardamom and a cinnamon stick. This will really give you an exotic tasting rice that pairs well with Chicken Tikka.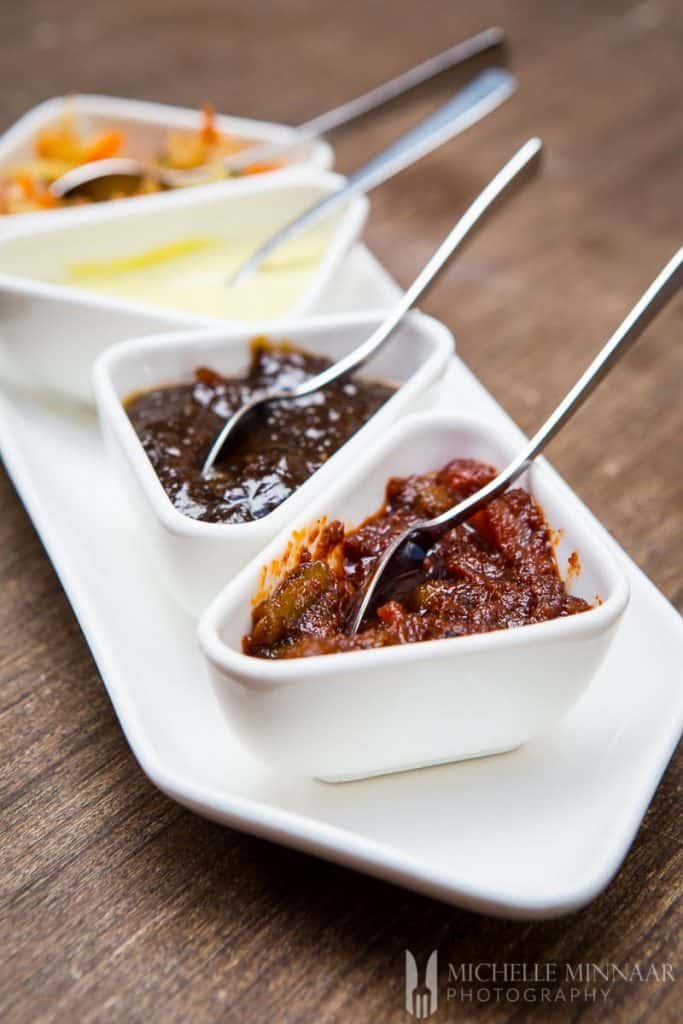 Obviously, no Indian curry would be complete without the side of naan bread. These delightful fluffy flatbreads not only taste fantastic, they are also great for sucking up that yummy masala sauce! Again, there are different varieties. Garlic naan is a popular choice. I love peshwari naan, which is a bit sweeter, and can counter the spices, thereby nicely balancing the dish. Check out my peshwari naan recipe.
Herbs and toppings
To finish off the dish, I enjoy topping it with some freshly chopped herbs. Coriander is the obvious choice for the chicken tikka. However if you're not too keen on the taste of fresh coriander, a little sprinkle of freshly chopped parsley will also do the trick. You can also consider adding some finely sliced white onion, for a bit of texture and freshness. Or why not top the dish with some roasted chickpeas and give it a bit if crunch?
Enjoy!
Print
Chicken Tikka
---
Author:

Michelle Minnaar

Prep Time:

15 minutes

Cook Time:

20 minutes

Total Time:

35 minutes

Yield:

6

1

x
800g

(2lbs) deboned chicken, preferably legs but breast can be used as well

150g

(

5oz

) yogurt

40g

(

1oz

) ginger

40g

(

1oz

) garlic

2.5

ml (½ tsp) cumin seeds

2.5

ml (½ tsp) coriander seeds

2.5

ml (½ tsp) garam masala

1.25

ml (¼ tsp) turmeric powder

30

ml (2 tbsp) lime or lemon juice

60

ml (4 tbsp) mustard or ground nut oil
Salt and white pepper, to taste
---
Instructions
Cut the chicken into 3.5cm x 3.5cm (1½" X 1½) cubes.
Rub salt and pepper into the chicken and set aside.
In a blender add all the other ingredients and half the yoghurt and blend to a smooth paste. When all the spices are well ground remove to a bowl and whisk in the remaining yoghurt. Check here for spiciness to suit your requirements. Add more chilli if you desire.
Mix in the chicken and leave to marinate for at least 4 to 5 hours, but preferably overnight.
There are two ways to cook chicken tikka. It can either be grilled on the barbecue or placed under the grill and finished in the oven. Either way it needs to be basted for that juicy appearance.
Under the grill, if wishing to cook right through, ensure that the grill is not too high and that the meat is on a wire mesh with a drip tray below.
Notes
There are several variations to the original tikka recipe and you can use your own imagination for more interesting kebabs.
Category:

Starter

Cuisine:

Indian
Nutrition
Serving Size:

1 serving

Calories:

459

Sugar:

7.7 g

Sodium:

155 mg

Fat:

19.7 g

Saturated Fat:

4 g

Carbohydrates:

44.1 g

Fiber:

10.4 g

Protein:

38.2 g

Cholesterol:

102 mg
save the recipe to your pinterest board