Veggie puffs is one of my favorite vegetarian puff pastry recipes to make from scratch. The total time it will take you to make this recipe is just a little over an hour, during which you can also prepare other similar recipes such as vegetarian cornish pasties or this vegetable samosa. It's a great way to use up any leftover puff pastry sheets.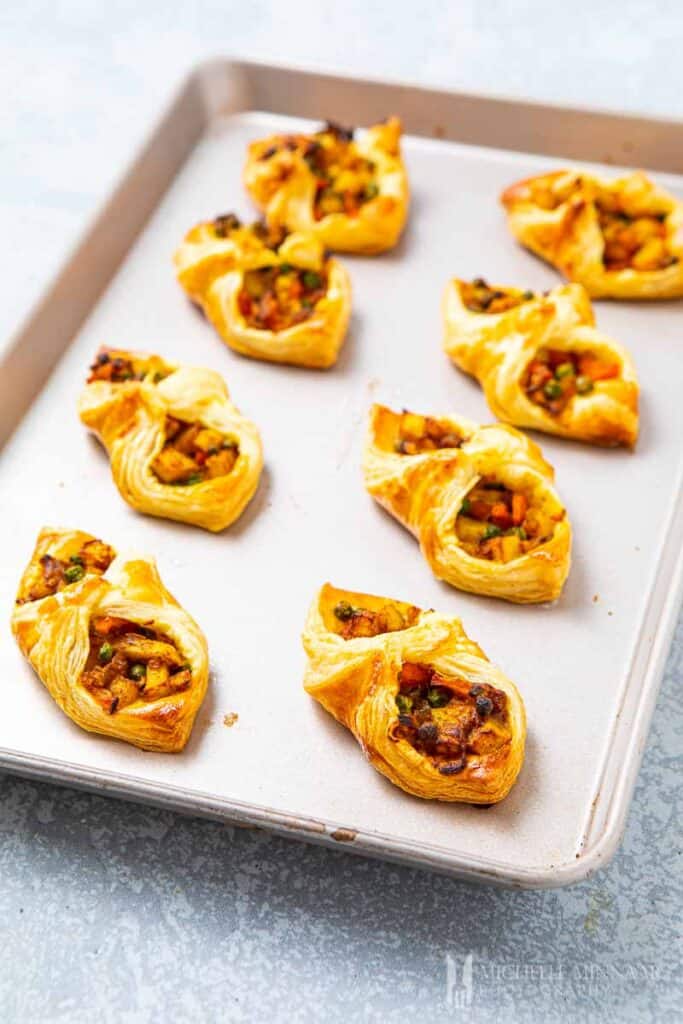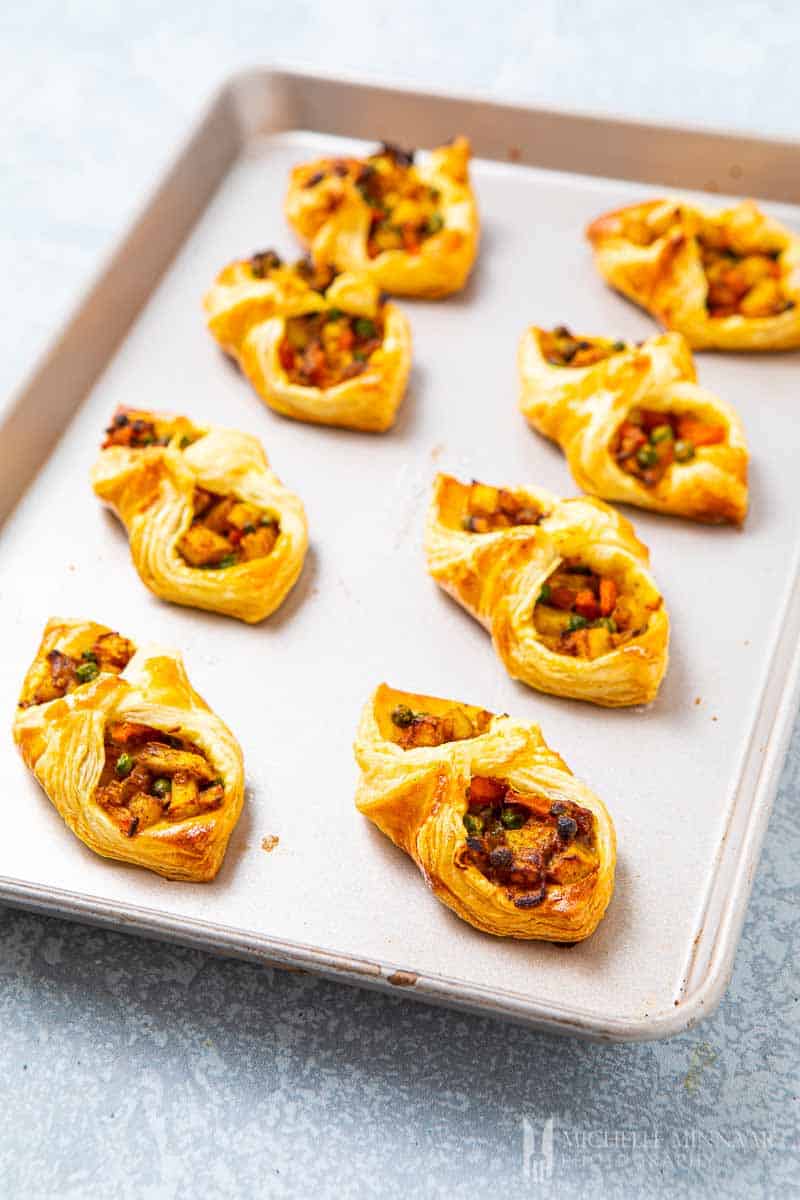 This vegetable puff recipe contains a beautifully spiced filling, with tons of Indian spices such as garam masala and turmeric powder. The filling resembles that of a typical Indian samosa. Naturally, you can tweak the filling completely to your liking.
So, forget spending money on vegetable puffs at your local bakery, when you can make them in a matter of minutes in your own kitchen. Not only will you save a lot of money, but you'll enjoy eating them hot and fresh – straight from the oven. It doesn't get any better than that!
Don't worry, you don't have to make the puff pastry yourself. Simple use store-bought puff pastry sheets and add the filling. They are really simple to make, and the end result is identical to that which you'd find in a bakery.
So, what are you waiting for? Make these bakery-style puffs today and share it with your friends. Enjoy!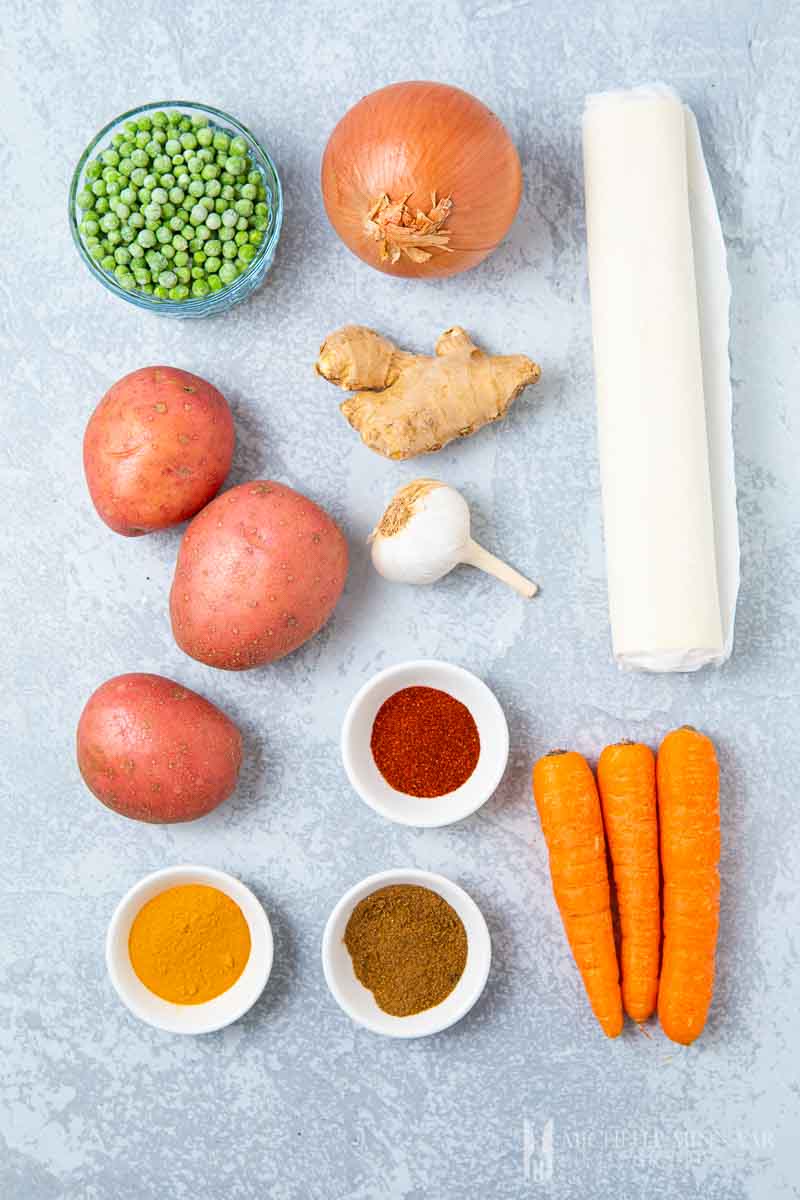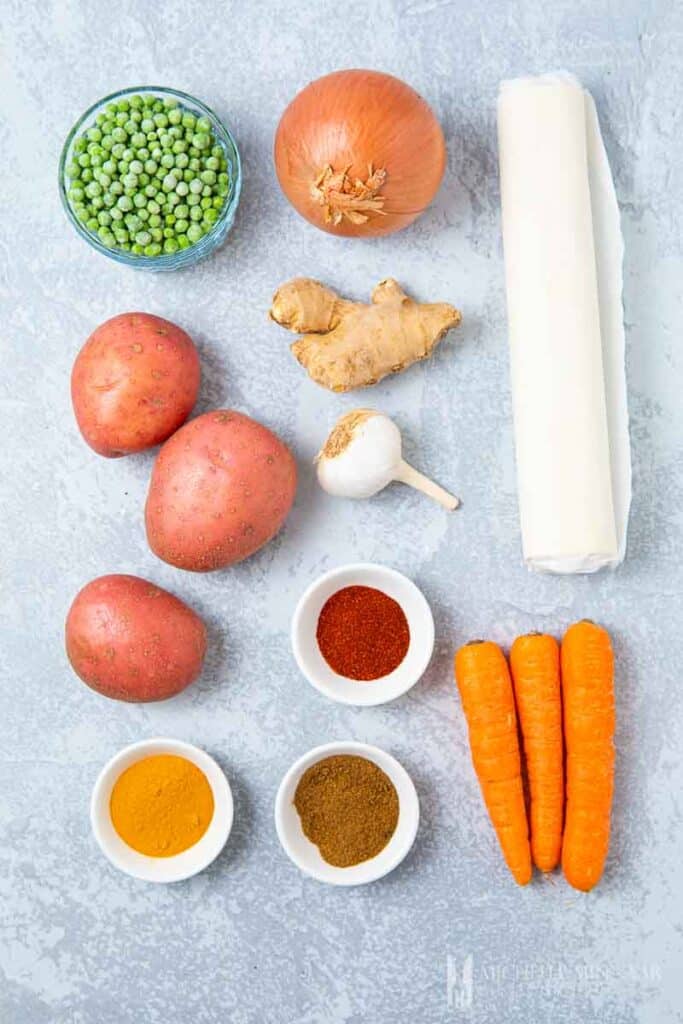 top products for making veggie puffs
This list of the products will help you make the best veggie puffs you've ever made. In addition, you can easily reuse these products for similar recipes in the future. So take a look through your kitchen cabinets. It could be the case that you are missing some of these listed below:
puff pastry sheets – puff pastry sheets can be kept in the freezer and then used for other recipes such as ham & cheese puff pastry tartlets or this delicious game pie
Thermomix – if you would like to make your own puff pastry, there is no better machine for this than the Thermomix! You won't regret getting this ultimate helper in the kitchen. It's definitely worth using it for other recipes as it will cut your cooking time in half.
baking paper – I always bake my ingredients on a sheet of non-stick baking paper. Not only does my food not stick to the baking tray, it also helps me clean up everything faster.
baking brush – you'll need a baking brush for brushing the puffs with eggs for that amazing golden color. Definitely get it if you're a baker at heart.
veg puffs – veg puffs are also a variety of crisps that you can enjoy as a small snack.
Are there any other products you like to use in the kitchen when making a puff recipe? Let me know in the comments section below.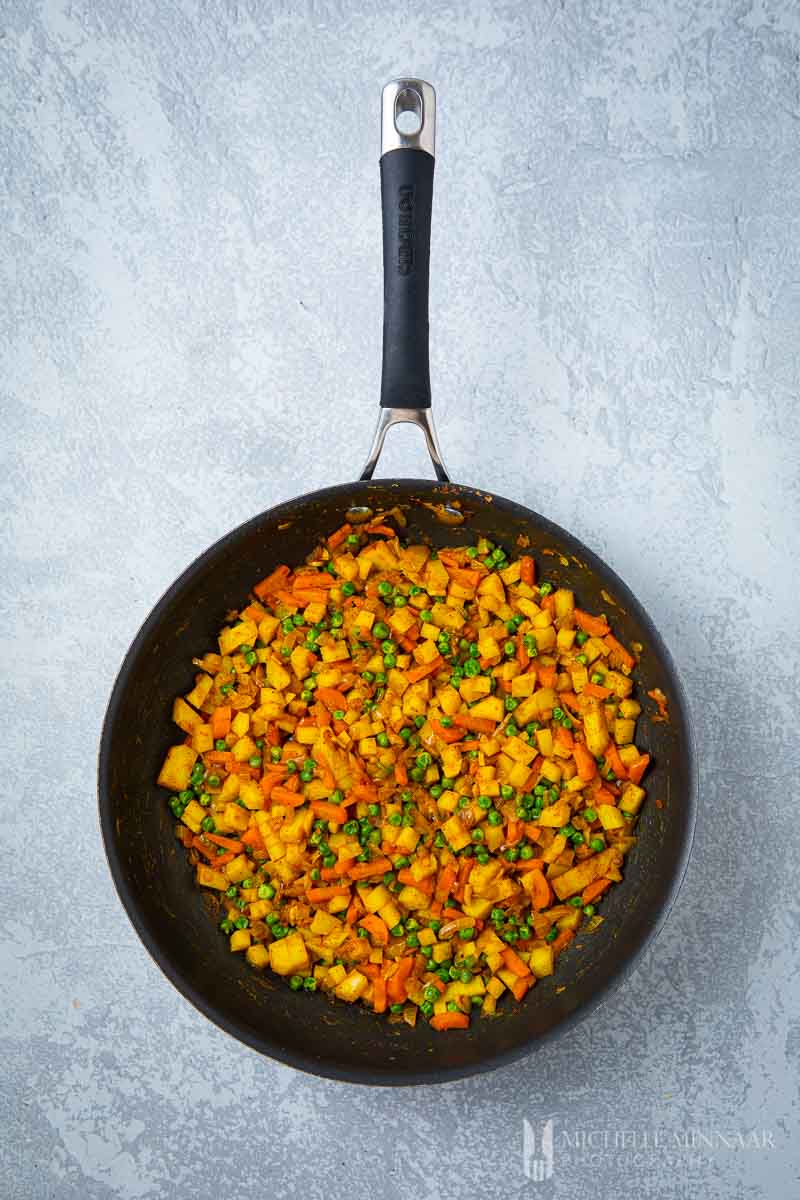 What is veg puff?
A vegetable puff is a small pastry snack, with a crispy and golden layer and a delicious vegetable filling. The outer layer of a vegetable puff is usually flaky and golden. The filling is made with a mix of vegetables, herbs, and spices. My puff recipe is made with Indian spices such as turmeric powder, garam masala, fresh ginger, and chili powder.
A vegetable puff recipe is actually very similar to a cornish pasty.
Mind you, I find that sometimes when I order a vegetable puff from the bakery that the filling is quite bland. Often, I also find that the puff doesn't even have so much filling inside, leaving the whole thing too dry.
Therefore, making a puff recipe from scratch is the way to avoid this situation. You can add as much flavor into the filling as you want. Plus, you can add a larger portion of the filling. However, you might have to also get a larger pastry sheet.
Every time I get the veg puff out of the oven, my taste buds go nuts! It's really hard to wait 15 minutes or so for the pastry to be cooked. But believe me, the end result is totally worth the 15 minutes / 20 minutes, depending on the size of your veg puffs.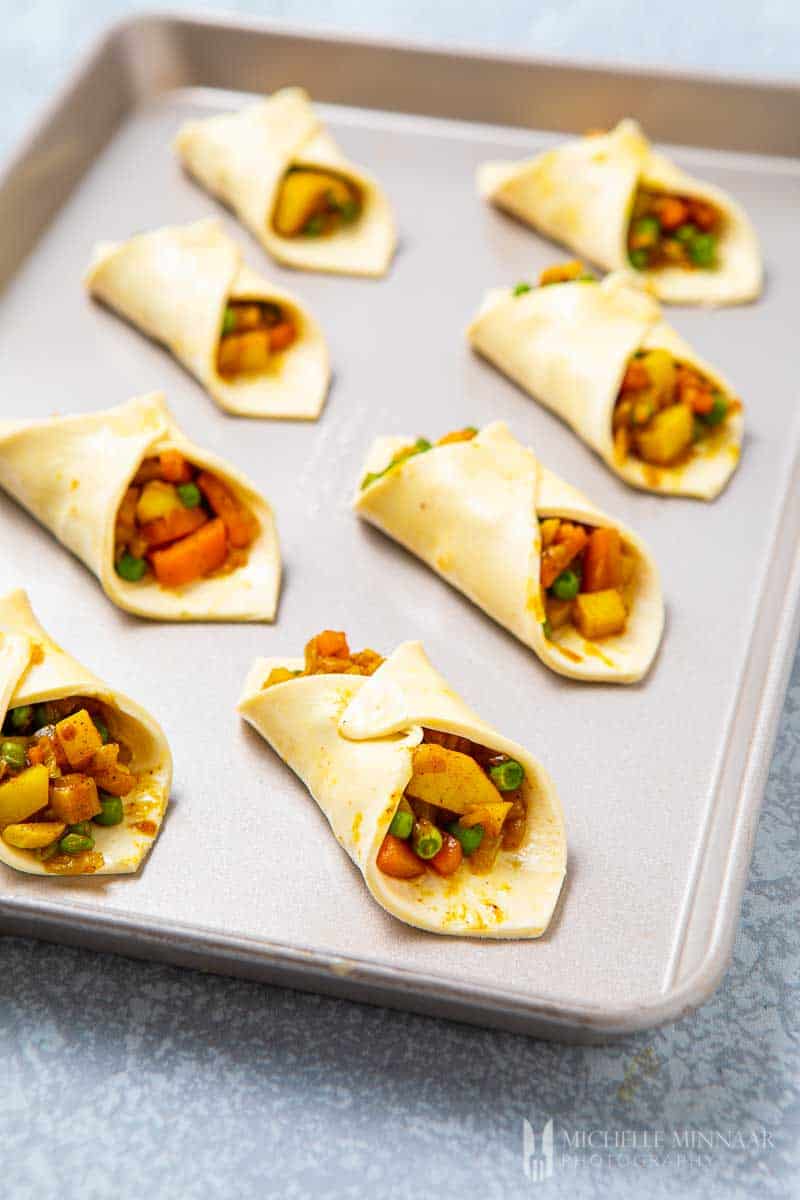 veggie puffs chips
If you ask for veg puffs, you might not always get what you want.
Some people might confuse veg puffs with a certain type of chips / crisps which are deep fried and sold in a package. Sometimes these chips are made out of potatoes, peas, cheddar cheese, cauliflower, and many more.
So don't confuse these pastry snacks with the chips. These two are very different.
what is veg puff made of?
In short, a veg puff is made out of puff pastry sheets. These sheets are basically composed from thin layers of butter and dough. We are talking about paper-thin sheets, and hundreds of them stacked up in between each other.
When you bake the pastry, the liquid between the layers of butter and dough evaporates, making the layers rise. In addition, the butter essentially melts into the dough, making it nice and crispy.
Besides the pastry sheets, a vegetable puff is also made with a vegetable filling, which is composed of all sorts of vegetables and spices. The filling is placed on top of the pastry, which is then folded over to form the shape you want.
It is important to note, that not all fillings inside a vegetable puff are vegetarian-friendly. It could be the case that some fillings also include hints of minced meat.
The last component of a veg puff is the egg wash, which is brushed on top, prior to putting the vegetable puff inside the oven.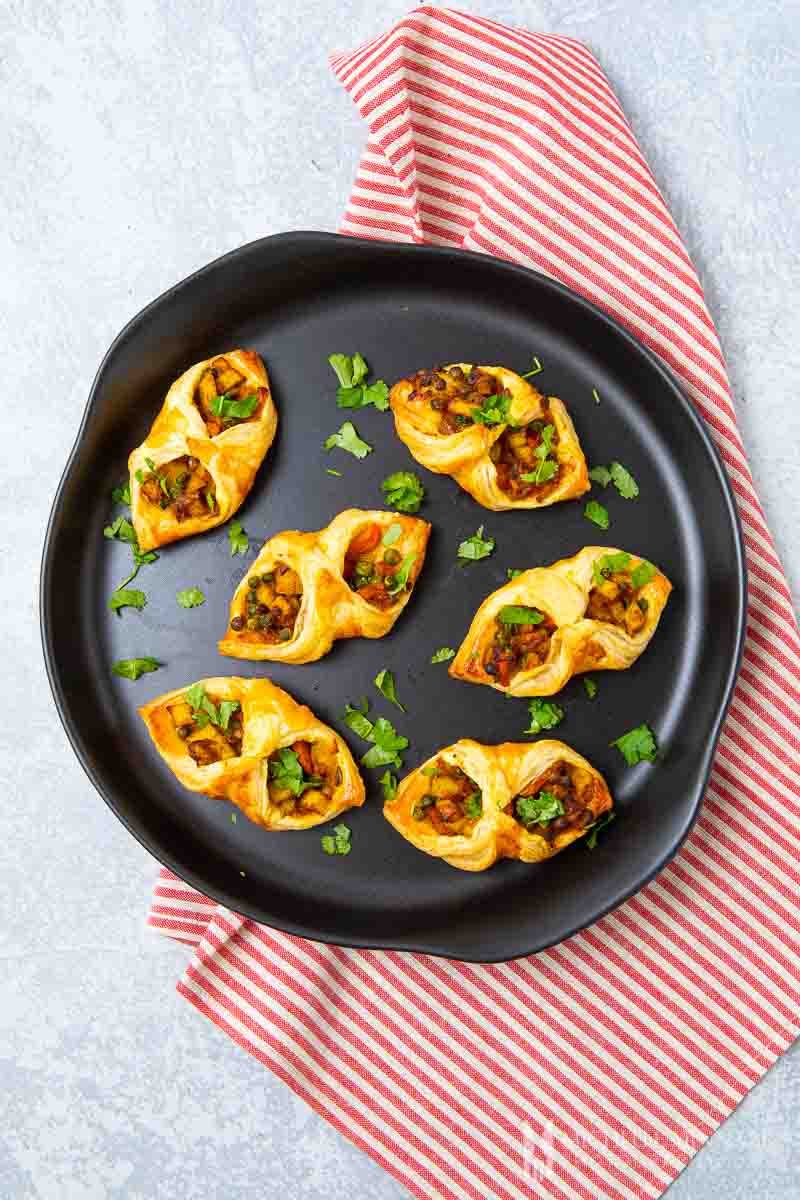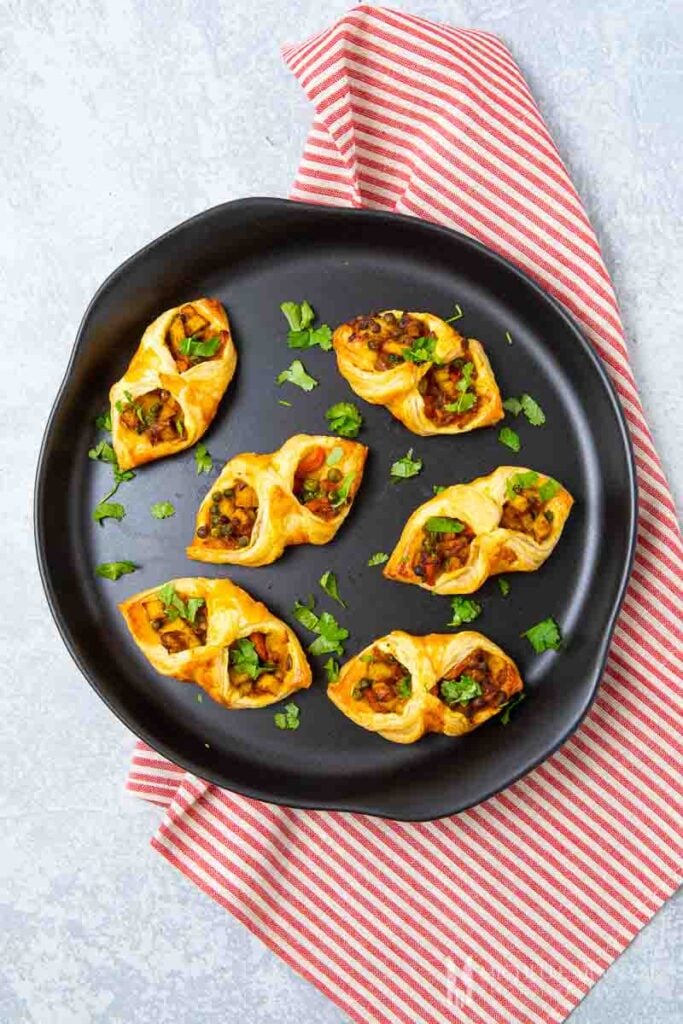 puff pastry recipes
If you love cooking with puff pastry, then tempt yourself with the following recipes:
If you've got leftover puff pastry in the freezer and you want to go beyond making this vegetable puff recipe, then check out these other ways in which you can use puff pastry. Try out these other puff recipes below:
Do you have a favorite vegetable puff recipe? Let me know which type of puff recipe you enjoy the most and share it with me in the comments section below.
is veg puff healthy?
A vegetable puff recipe is made with puff pastry, which includes dough and lots of butter. Hence, there is a considerable amount of carbohydrates as well as fats.
Just consider the fact that a third of puff pastry is made up of fat. So, if you consume the veg puffs in reasonable amounts, there is no reason why a veg puff recipe can't be healthy.
However, I would not recommend this recipe for those following a diet (such as keto) or for those who are trying to slim down in general. Remember, with a keto diet, you'll need to limit your daily intake of carbs to 50 grams, which will be hard if you consume more of these veg puffs.
how many calories are in a veg puff?
If you would like to keep the calorie count low on this vegetable puff recipe, then first things first. Don't include the potatoes in the filling. These are high in carbs and they will not help you keep the calorie count low.
Instead, use either sweet potatoes or add more carrots. Toss in some diced celery. In fact, you can add any type of green vegetable into the filling such as spinach for instance and still keep the calorie count low.
Now, let's imagine that you would want to improvise with a bit of cheese.
If you are thinking about calories, by all means, avoid adding cheese inside the filling. Avoid adding mozzarella or feta. However, if you do decide to add feta, do not add salt as the feta already contains high amounts of salt.
Next, I recommend switching the pastry for a vegan one. This will mean that the pastry won't include butter, which is very fatty. So, start using vegan pastry sheets and cook vegan!
Lastly, avoid pairing the veg puff with a filling side like pasta or rice. Pair this puff recipe with a light salad like this one.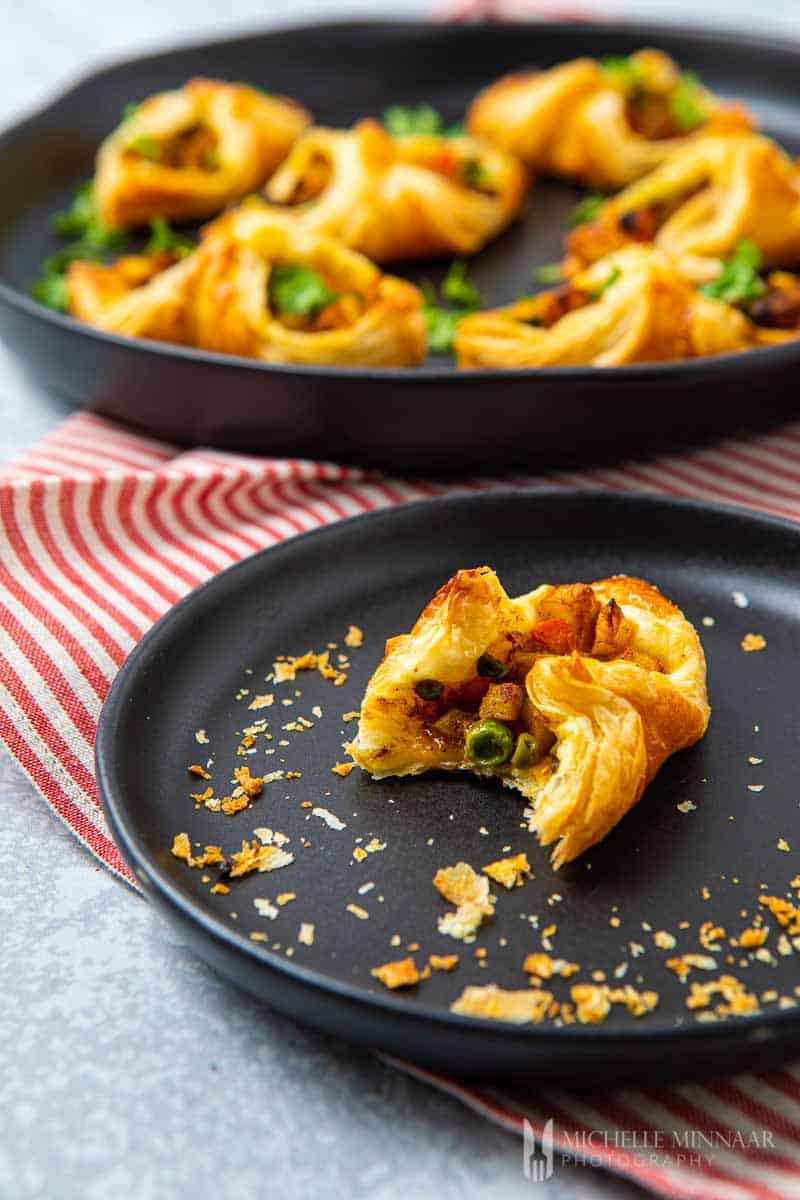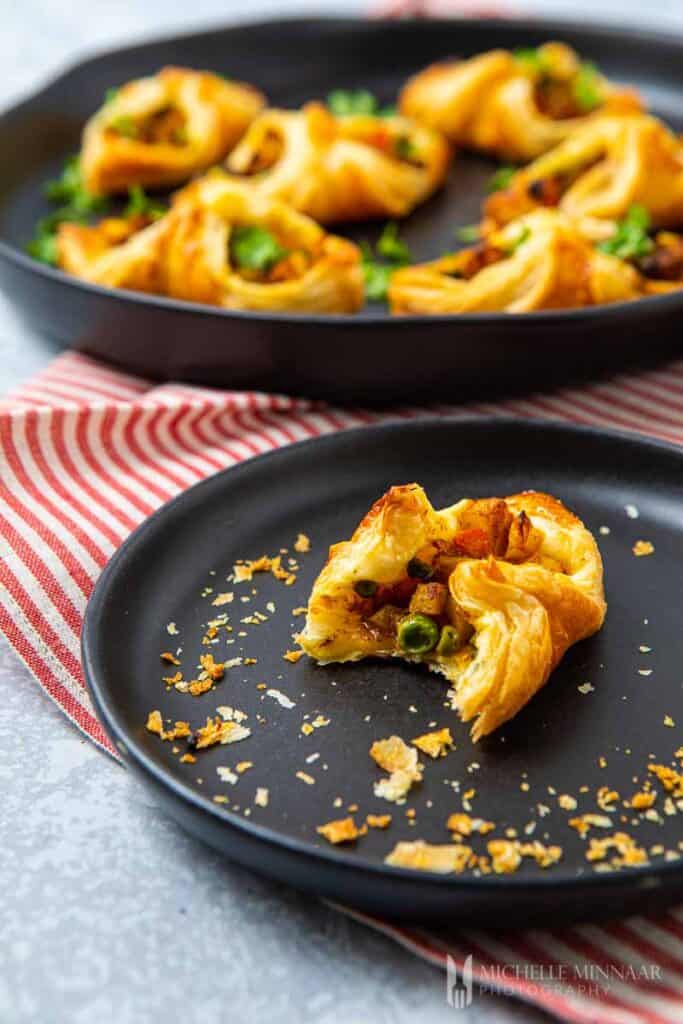 are puff pastries vegan?
No, in most cases puff pastries are not vegan. This is because the pastry is made with lots of butter, which as we know is not vegan.
Especially, keep an eye out for those which are sold at the bakery. I don't recall the bakery ever offering vegan pastries or baking pastries using vegan dough.
However, today there are a lot of ready-made vegan puff / shortcrust pastry varieties available in the store. Only these are suitable for vegans. So, make sure you look for the vegan label and, by all means, avoid all the packages which say "butter."
Only when you substitute the pastry with the vegan puff / shortcrust pastry, and omit the egg from the recipe, will you be able to make this recipe vegan-friendly.
curry puff pastry
As you might have noticed, this recipe has a lot of Indian flavors. This is thanks to the garam masala, coriander leaves, ginger, and ground turmeric power.
If you can't source turmeric, feel free to check out these handy turmeric substitutes. In this case, mild curry powder, or hot curry powder such as madras would be an excellent substitute for this filling.
Add half a teaspoon of the turmeric alternative at a time. Check each time how the flavor develops. If you love using these types of spices, you can also pair this recipe with an Indian dip.
For instance, try pairing it with pakora sauce and get the most out of Indian cuisine. Besides, this homemade Indian dip won't take you too much time to make.
toppings
There are a few ways you can top your veg puff. Here are my favourites:
sesame seeds – white or black sesame seeds will add a lovely nutty flavor. Especially when roasted or baked in the oven.
brush the puff pastry with the egg wash for the stunning golden color
fresh coriander or fresh parsley
Print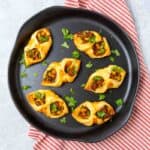 Veggie Puffs
---
Description
Veggie puffs is a vegetarian Indian snack that comprises curried vegetables wrapped in puff pastry, which is then baked. 
---
30

ml (2 tbsp) oil

1

onion, peeled and finely chopped

2

garlic cloves, peeled and crushed

2.5

cm (1in) fresh ginger root, peeled and grated

150g

(

5oz

) carrots, peeled and cut into small cubes

300g

(

10½oz

) potato, peeled and cut into small cubes

100g

(

3½oz

) peas

2.5

ml (½ tsp) turmeric powder

5

ml (1 tsp) chilli powder

5

ml (1 tsp) garam masala

5

ml (1 tsp) salt

2

x 320g (

11oz

) rolled puff pastry sheets

1

egg, beaten
flour, for dusting

30g

(

1oz

) coriander leaves
---
Instructions
Using a large saucepan, gently fry the onion in the oil for 5 minutes or until soft and translucent.
Add the garlic and ginger and continue to fry for another minute while stirring. 
Tip in the potatoes and carrots, give it a stir, then add a splash of water and cover with a lid. Continue to cook the vegetables on a medium heat for 10 minutes, or until cooked. 
Stir in the peas, turmeric, chilli powder, garam masala and salt. Remove from the heat and set aside to cool. 
Preheat the oven to 200°C / 180°C fan / 390°F / gas mark 6.
Dust a clean work surface with flour and roll out the puff pastry to 1cm (1/2in) thick.
Cut the pastry into even squares.
Divide the vegetable filling evenly between the squares. Be careful not to overfill them, so you might have some filling leftover, which can be enjoyed as a side dish to a later meal.
Brush the edges with egg. 
Pick two diagonal corners of each pastry, then let one corner overlap the other. Pinch together so that they stay put. Repeat the process until all of them have been done. 
Brush the tops with the remaining egg wash, then place them on a greased baking sheet.
Bake in the oven for 20 minutes. 
Place the pastries on a cooling rack.
Serve warm as a snack or as part of a main meal with salad. Enjoy!  
Notes
The spice levels are very mild in this recipe. If you're looking for a decent kick, double up on the spice ingredients.
You can get creative with the design of the pastry shapes. You can use triangles or even create vegetarian sausage rolls!
Prep Time:

30 minutes

Cook Time:

40 minutes

Category:

Dinner

Method:

Bake

Cuisine:

Indian
Keywords: veggie puffs, veg puffs recipe, indian veggie curry puffs, puff pastry recipe, indian vegetarian snack