Heaven on a stick, caprese skewers are healthy, tasty and take just a few minutes to make.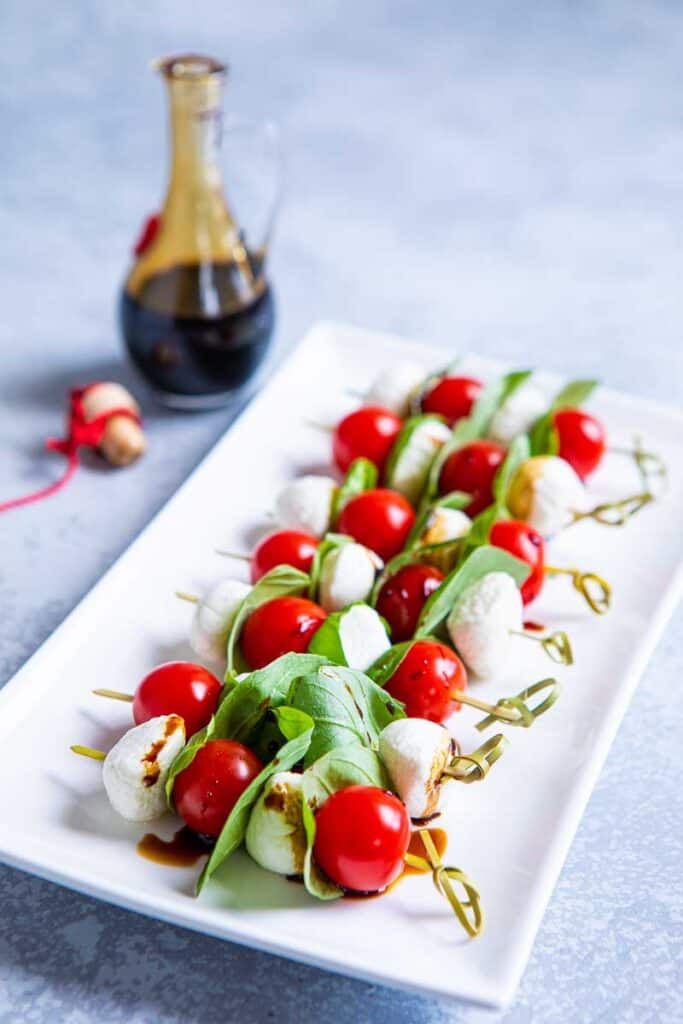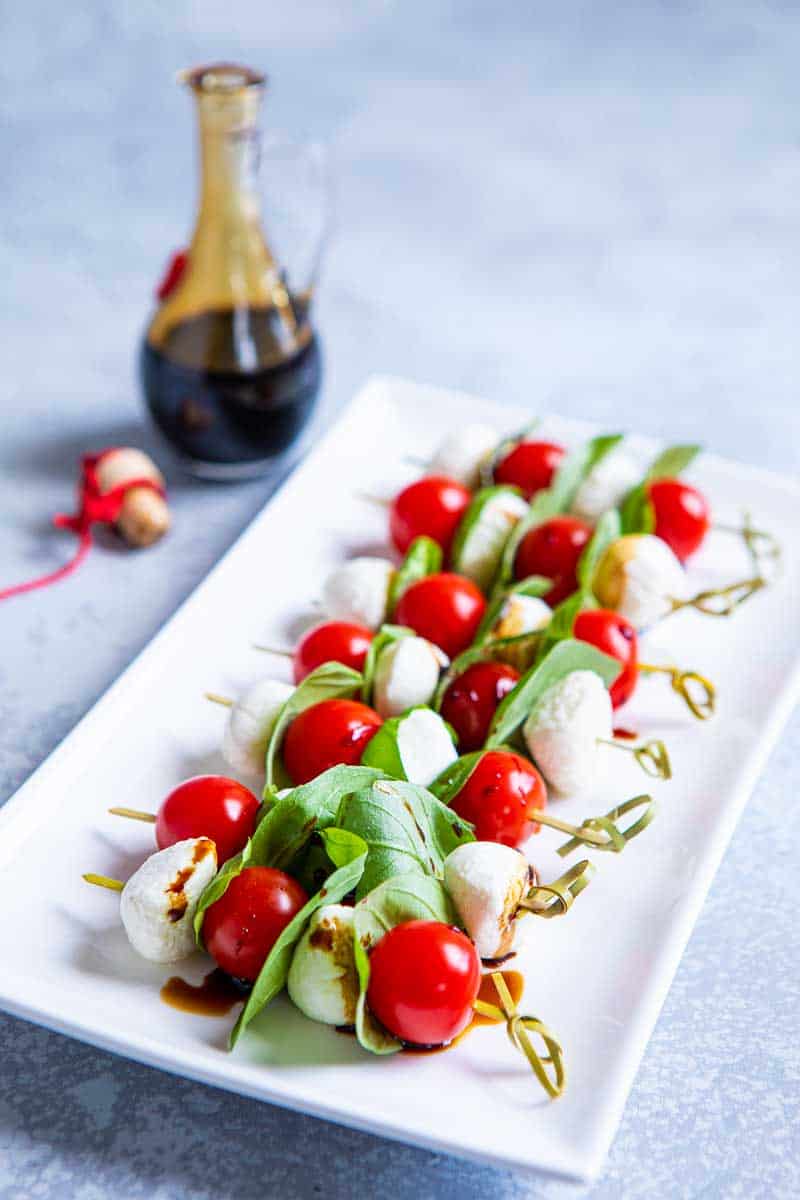 A party food essential – particularly around the holidays – this quick and easy recipe is all about simple flavors working together in perfect harmony.
Fresh cherry tomatoes, mouthwatering mozzarella and aromatic basil, along with any extras that take your fancy.
Now this is an appetizer to truly whet your appetite!
Products you need for this recipe
There are a few important items and ingredients you'll need for this caprese skewers recipe.
Knife – get a quality, small, sharp tomato and cheese knife to cut up your mozzarella and slice your tomatoes
Bamboo skewers – you'll need some skewers for this caprese salad on skewers recipe. Go for bamboo skewers – they make great caprese salad skewers.
Mozzarella – creamy heaven, this Italian classic is pure bliss. Mozzarella balls will be the centerpiece to your caprese skewers, so make sure you end up with good quality mozzarella balls.
Salad dressing – some traditional Italian salad dressing would go down a treat with this recipe.
Basil – basil leaves are a big part of the flavor of caprese skewers. If you can't get hold of fresh basil leaves, sprinkle dried basil on the mozzarella for an extra herby flavor.
Balsamic glaze – take the taste to a whole new level with some delectable balsamic glaze. You could also use a quality balsamic vinegar.
Olive oil – you can drizzle some extra virgin olive oil over this caprese appetizer for extra flavor.
Red wine vinegar – add even more flavor with a splash of red wine vinegar.
Recipe for caprese skewers
Sometimes, simplicity is bliss. We can often overcomplicate things in the kitchen.
Then a recipe that celebrates simple flavors comes along. This is that kind of recipe.
A tomato, basil, mozzarella appetizer that will get your taste buds tingling, caprese skewers are super easy to make and gloriously satisfying.
Each flavor works so well with the next. Mozzarella balls bring some light creaminess, cherry tomatoes bring a burst of fruity flavor and the basil is the aromatic balance that brings all the flavors together.
A sprinkle of sea salt and a quick turn of the pepper mill and you're good to go. So fresh and so tasty!
Best of all, this recipe is flexible. You can tweak it however you want, creating supreme skewers that have all your favorite flavors.
Try experimenting with extras. Think of the different ingredients you'd use to liven up a salad. Things like balsamic vinegar, balsamic glaze, olive oil or salad dressing.
You can really make these caprese salad skewers sing with a few drizzles of some of these ingredients. You could even experiment with different tomatoes.
Why not try grape tomatoes? Or different varieties of cherry tomatoes? You could even chop up larger tomatoes.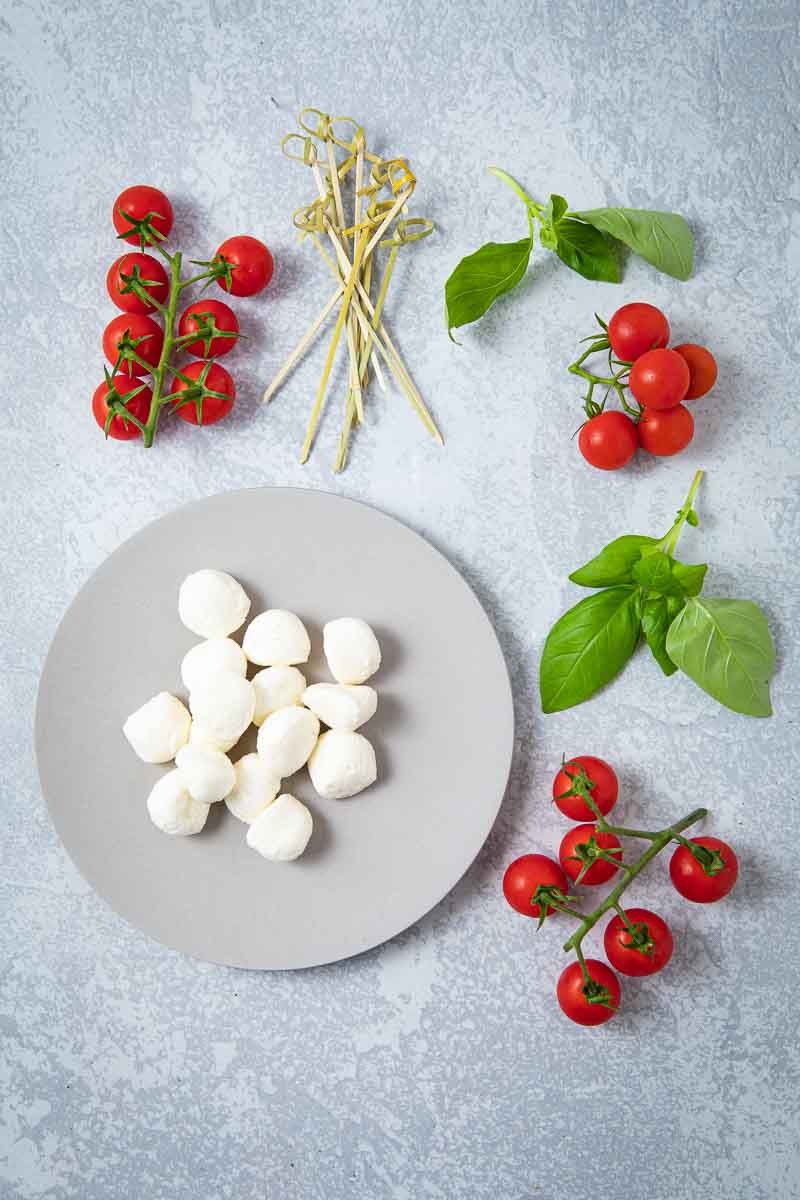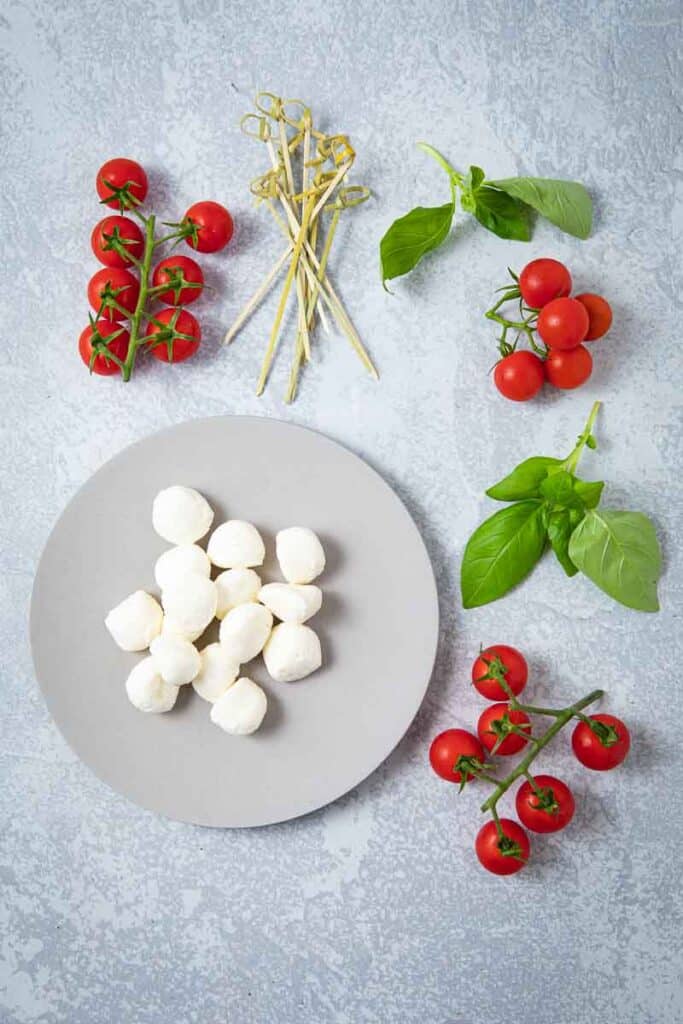 What are caprese skewers?
Caprese skewers are a clever twist on the classic Italian caprese salad. The tomato, mozzarella, basil appetizer salad consists of overlapping slices of mozzarella and tomato on a plate. Various seasonings complete the dish, from salt and pepper to olive oil and balsamic vinegar.
When it comes to straightforward, easy to make dishes that rely on simplicity and fresh ingredients, the Italians are in a league of their own. The original salad is a classic dish with simple fresh flavors that work together like a charm.
Caprese skewers takes that classic salad and makes it perfect for a party. Christmas and New Year just got better!
How to make caprese skewers
Making caprese skewers is simple. Take a bamboo skewer, add a cherry tomato, then a basil leaf, then a mozzarella ball. Keep repeating until your skewer is full.
Once you've made all your caprese skewers, you can season them for extra flavor. Lay them flat on a plate and drizzle with anything from olive oil, balsamic glaze, balsamic vinegar or salad dressing.
You could also use a combination of these ingredients, until you find a dressing that suits you. Add a final sprinkle or salt and pepper. Your caprese skewers are now ready to wow your party guests!
Where do caprese skewers come from?
The original salad, known in Italian as the insalata caprese, comes from Capri, a small Island in the Campania region of Italy.
It became popular in the 1950s and instead of mozzarella, the islanders originally served up slices of cacio de roma. The original salad also had a smattering of rocket leaves and, instead of basil leaf as the herb of choice, oregano was used.
Somewhere along the way, with the popularity of stand up finger foods at festive parties, the idea came about of serving up this delicious salad on a stick.
Are caprese skewers healthy?
With only three ingredients, all of which are fresh, caprese skewers are a super healthy appetizer. As well as being nice and light, this super salad on skewers brings some impressive health benefits.
Tomatoes contain lots of essential vitamins – including vitamin A, vitamin C and vitamin K. These are essential for maintaining healthy skin, a strong immune system and a healthy heart, as well as low blood pressure.
Tomatoes are also rich in lycopene – an antioxidant that can help protect the body against cancer.
Mozzarella is the healthiest cheese you can get. It's packed full of calcium, with one ounce containing about 14% of your recommended daily intake. Calcium helps your bones stay strong and also keep your teeth in great condition.
Mozzarella also contains lots of protein, essential for muscle growth, as well as potassium, chloride, iron and sodium, all essential elements to a healthy diet.
The last ingredient is a super herb! Basil has a long list of great health benefits. It's good for digestion, has strong anti-inflammatory properties that can fight various diseases and disorders – including depression, supports liver function and a healthy gut, and helps to detoxify the body.
So, I think it's safe to say that this salad is most definitely good for you!
Can you make caprese skewers the night before?
Caprese skewers are best served straight away. You can make them in advance though. Caprese skewers should stay fresh in the fridge for up to three days.
Take them out of the fridge a couple of hours before serving them, as they'll taste better at room temperature.
What's your favourite festive appetizer? Let me know in the comments below!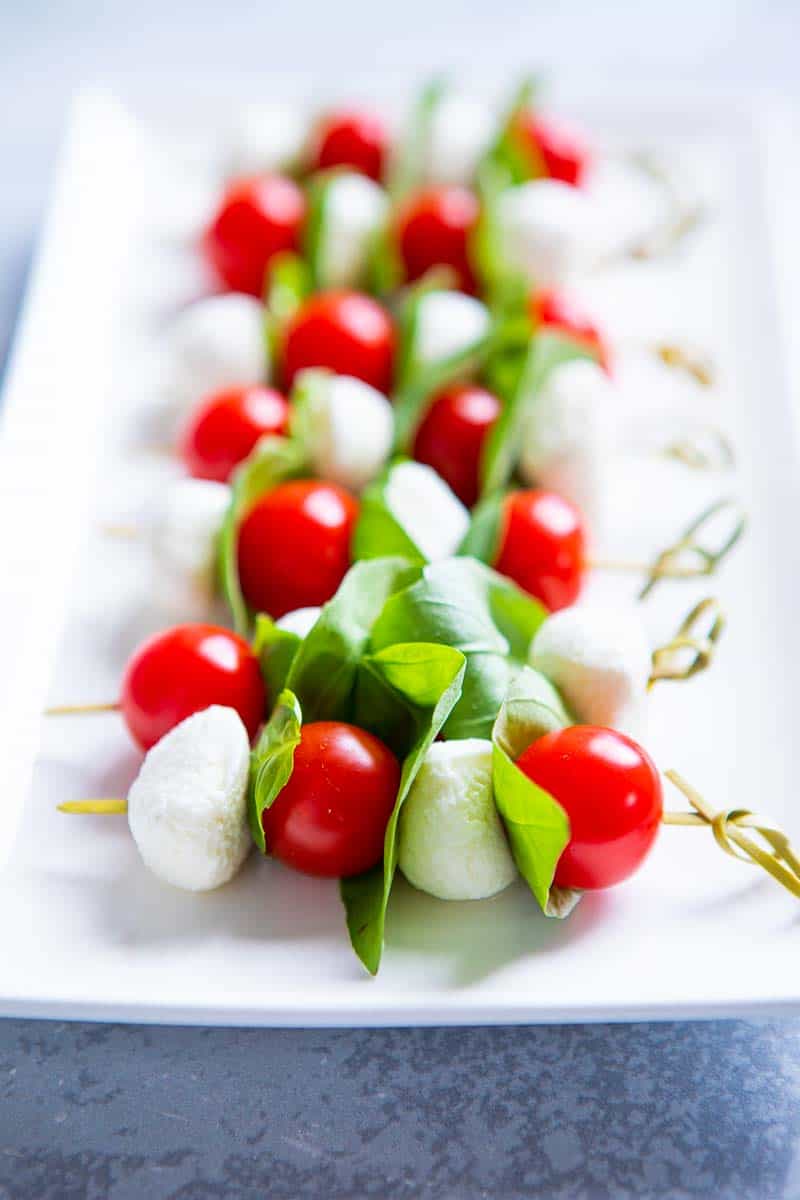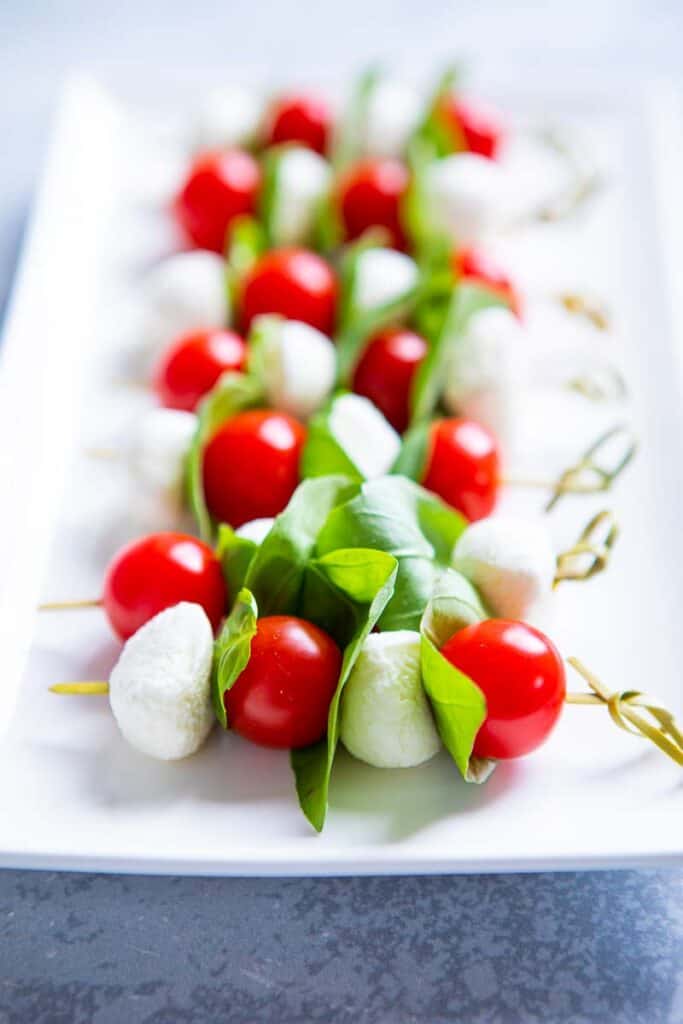 More great appetizer recipes
Print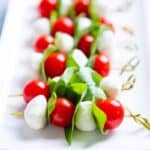 Caprese Skewers
---
Author:

Michelle Minnaar

Total Time:

10 minutes

Yield:

6

servings

1

x

Diet:

Gluten Free
Description
Caprese Skewers comprise cherry tomatoes, mozzarella pearls and basil leaves threaded onto cocktail sticks. Drizzle with balsamic vinegar.
---
300g

(

10½ oz

) mini mozzarella pearls

30

cherry tomatoes, washed

30

basil leaves, washed
balsamic vinegar, for drizzling [optional]
---
Instructions
Thread the ingredients on to cocktail sticks, alternating between tomato, basil and mozzarella.
Arrange the skewers onto a serving platter.
Season to taste. Drizzle with balsamic vinegar, if desired, and serve immediately. Enjoy!
Notes
If you have any salad dressing available, you can lightly sprinkle some over the kebabs. Extra virgin olive oil and red wine vinegar in a ration of 2:1 will also do.
If you can't get hold of mozzarella pearls, you can use feta cheese instead. Cut the cheese into bite-sized cubes first!
You can make these skewers a few hours ahead of a party and keep it in the fridge. Leave the drizzling of any type of sauce just before serving though!
Prep Time:

10 minutes

Cook Time:

0 minutes

Category:

Starter

Method:

No Cook

Cuisine:

Italian
Keywords: caprese skewers recipe, caprese salad skewers, make ahead Italian starter, caprese skewers with balsamic