For those of you who have been following me for a while know that I love home made pesto more than anything. Finally, after some time I have made this cashew pesto which I've been wanting to make for a while! The savoury version of the cashew pesto can be paired with starters, used as a dip or as a rub for fish or meat. I've recently used the delicious cashew pesto in my pesto baked salmon recipe which you will discover soon. If you buy enough cashews, you can also make a sweet version of the cashew pesto, especially when you remove the savoury elements. An excellent substitute to standard peanut butter.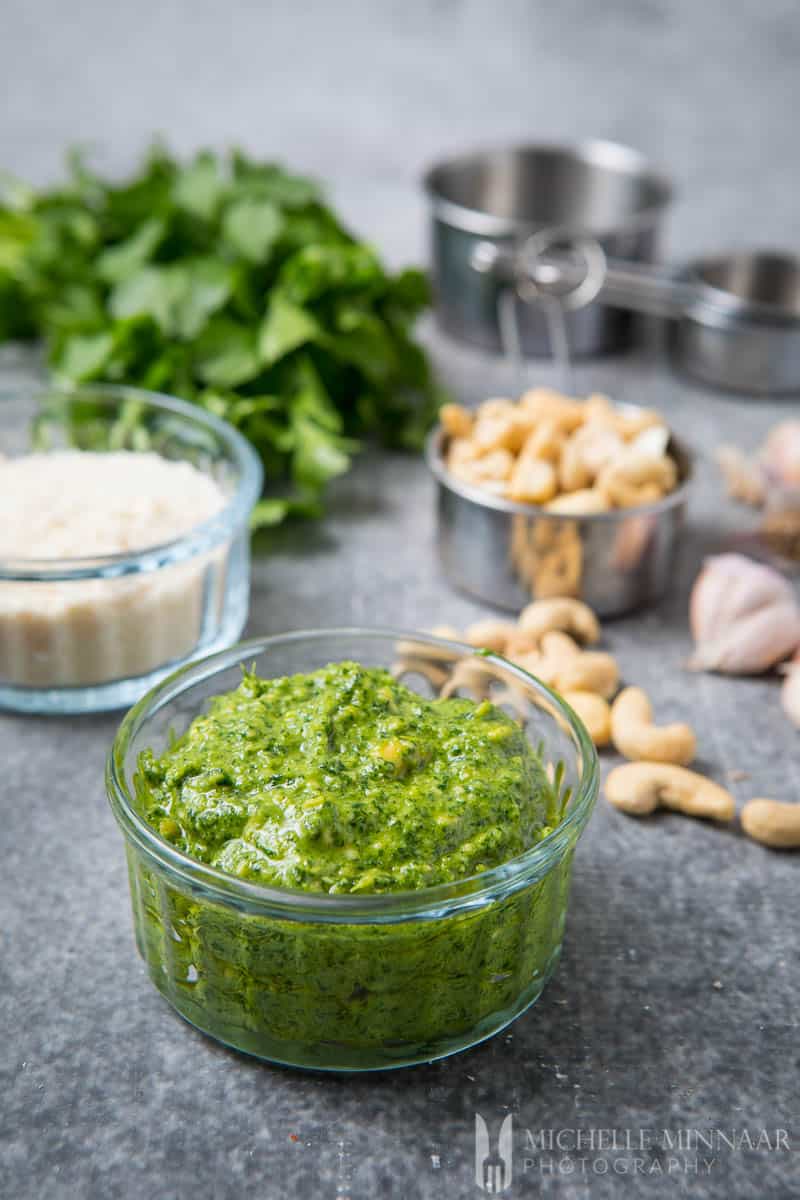 cashew pesto
What is cashew pesto? The original term 'pesto' refers to a sauce using the crushing or blending method of cooking. The most common pesto comprises basil garlic, pine nuts, parmesan, olive oil and seasoning. This cashew pesto, however, consists of cashew nuts, coriander leaves, parmesan, olive oil and a considerable amount of garlic. In fact, altogether you need to use four garlic cloves for this recipe. I recommend you dice one garlic clove and test its strength. Sometimes you may need to add more or less garlic depending on its pungency. If you are not so keen on garlic, just put half of the recommended amount into the blender. The olive oil and the parmesan will fuse together with the garlic flavour and make it smoother.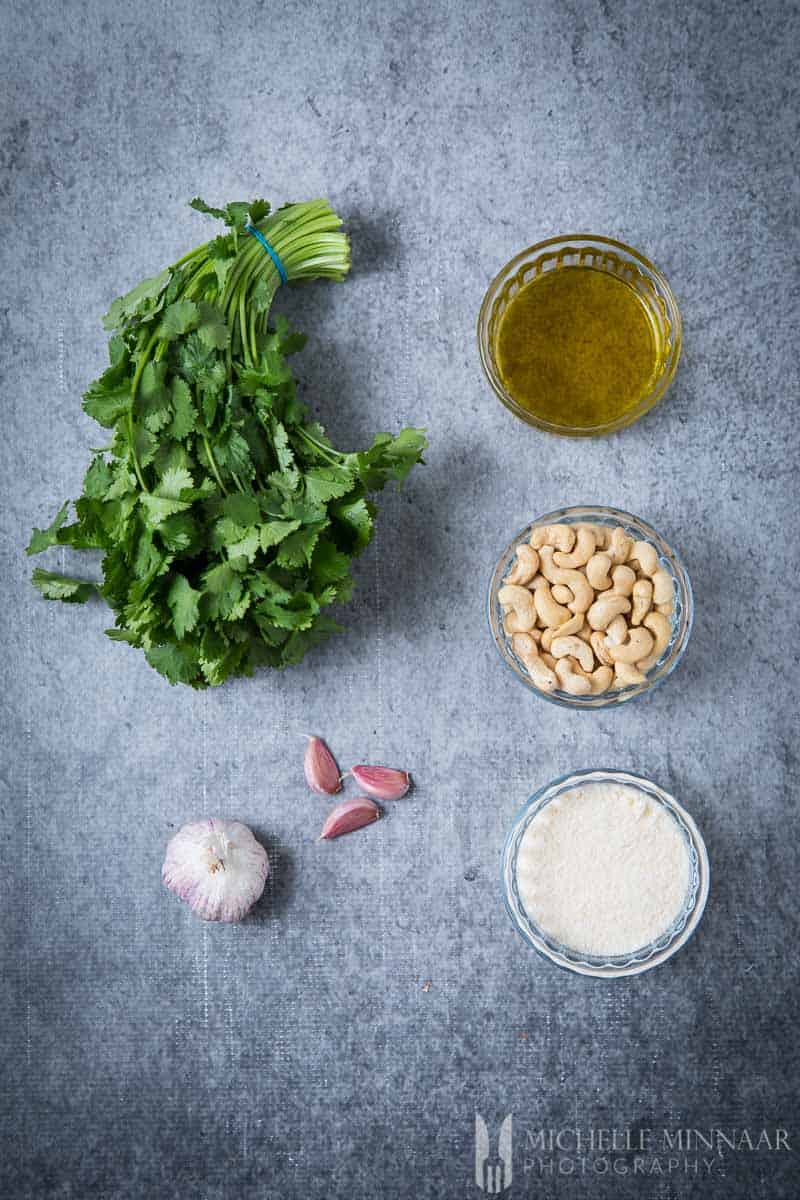 make it vegan
If you omit the cheese, you can make vegan cashew pesto. You'll need to add more cashews for a coarser consistency. Although the Parmesan itself adds a touch of creaminess to the pesto, overall you can use a half of an avocado as a substitute. The pesto will still be green, flavourful and vegan with a subtle creaminess. Also, be careful when buying cashews. Sometimes, they come flavoured or roasted in butter, so check out the packaging first and opt for raw and unsalted.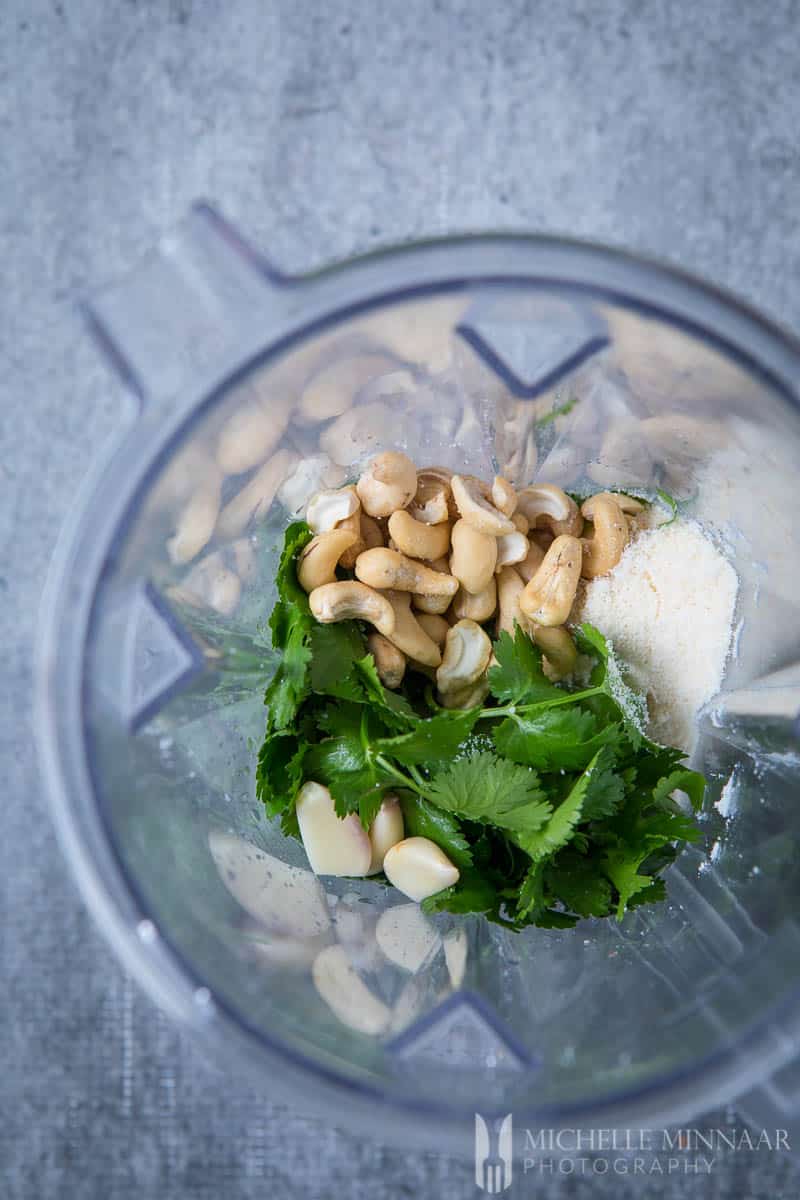 blenders
For this recipe, you will need to take out the food processor or the hand blender. So, place all the ingredients in a blender and process until relatively smooth.
These are just a few food processors that you can look out for. Of course, depending on your other kitchen needs, you can select which one suits your needs best!
consistency
Some people use the olive oil to regulate the consistency of the cashew pesto. Be careful with this step because if you use too much olive oil the whole pesto can become oily and unpleasant to eat. Also, olive oil can be quite fragrant. I recommend using a bit of water instead to control the consistency of the cashew pesto. If your cashew pesto becomes too runny, toss in some more cashews and coriander leaves. If you follow the recipe precisely, you will achieve the desired consistency.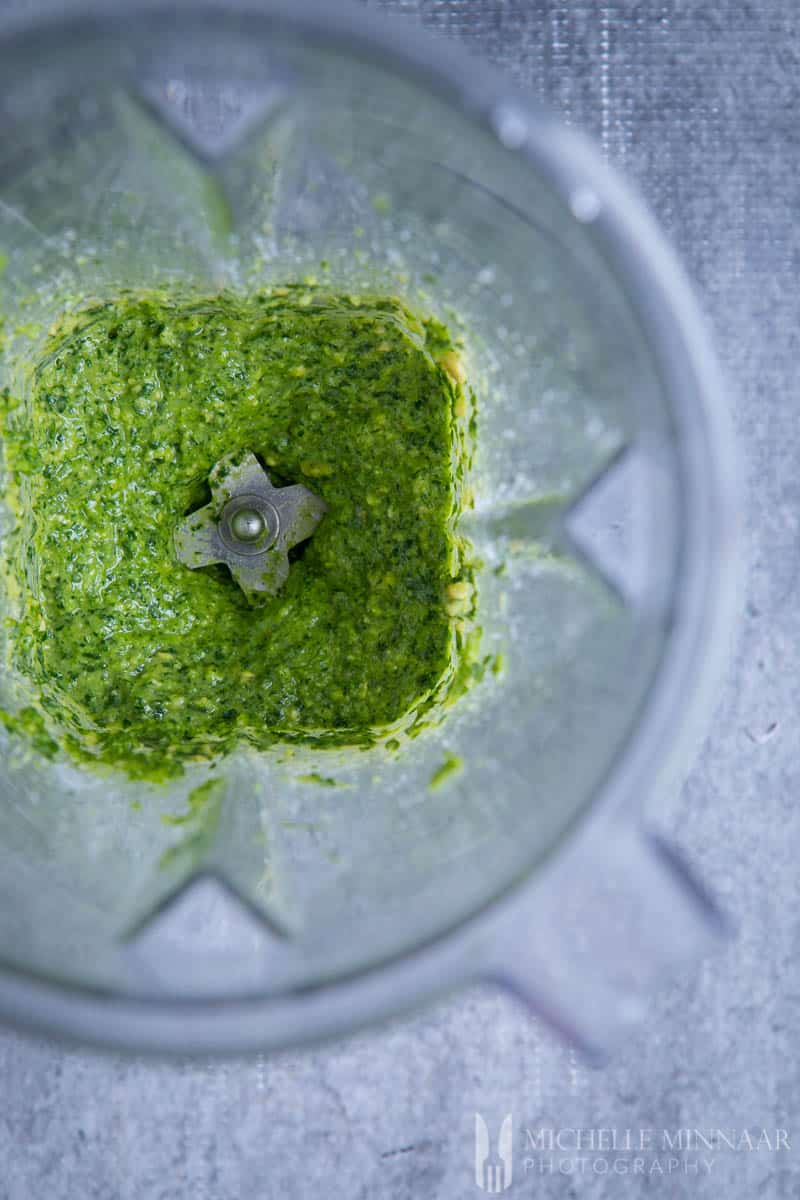 storage
There are three things that I love about making pesto. The first being it making pesto is hassle free, all you need to do is toss in all ingredients and push the button. Second, it's mess free. Once you are done with it, you just need to rinse the blender's container with soapy water immediately. Otherwise, the cashew pesto will dry out on the sides and the blades and it's going to be a pain to clean the whole thing. Pour the cashew pesto into containers and store them in the freezer, or in the fridge for a couple of days. Lastly, the third thing that I love about making pesto is that you can make any version you like.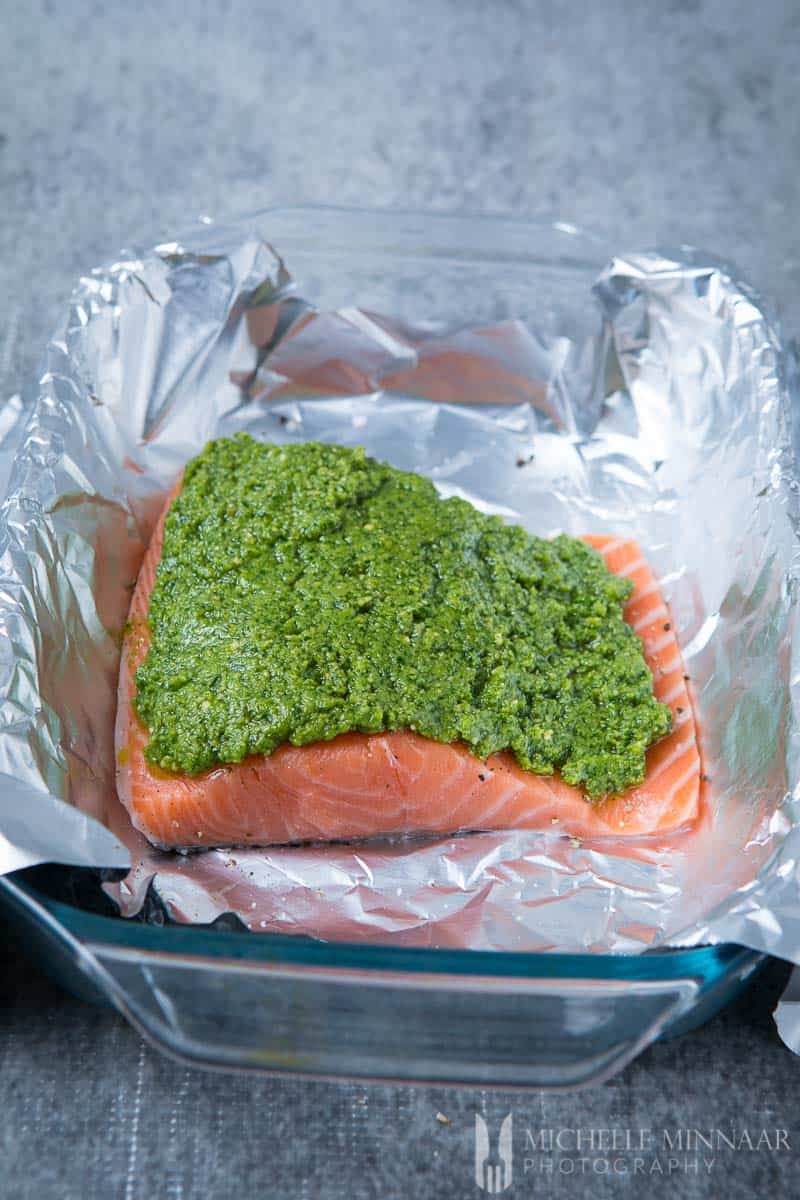 savoury versions
Again, there are so many substitutes or ingredients that one can use for making cashew pesto. The first being, instead of the coriander, you can make an easy cashew basil pesto. Perhaps add some red pepper flakes for some heat in the end. Basil is just as aromatic as the coriander leaves, so choose which one you prefer more. Taste, tweak and repeat.
You can also substitute the cashew nuts for walnuts and make a delicious walnut pesto. Or, you can also add pine nuts and make pesto with basil the traditional way. Here are a few examples of similar pestos that might inspire you:
pairing
You can serve this cashew pesto on a piece of toasted bread, or a grilled pepper if you have a gluten allergy. Otherwise, remember to serve a generous amount on any type of pasta of your liking. For example, instead of using breadcrumbs in my Sicilian spaghetti recipe, you can add a good spoonful of cashew pesto. You can use it as a dip with vegetable sticks or fried nachos. Also, you can even dip your sweet and crunchy fries like these into it. My personal favourite is cooking with pesto altogether and infusing the flavours of the pesto with other ingredients such as fish. Recently, I've made a lovely pesto baked salmon which combined very well with the tangy flavours of the pesto.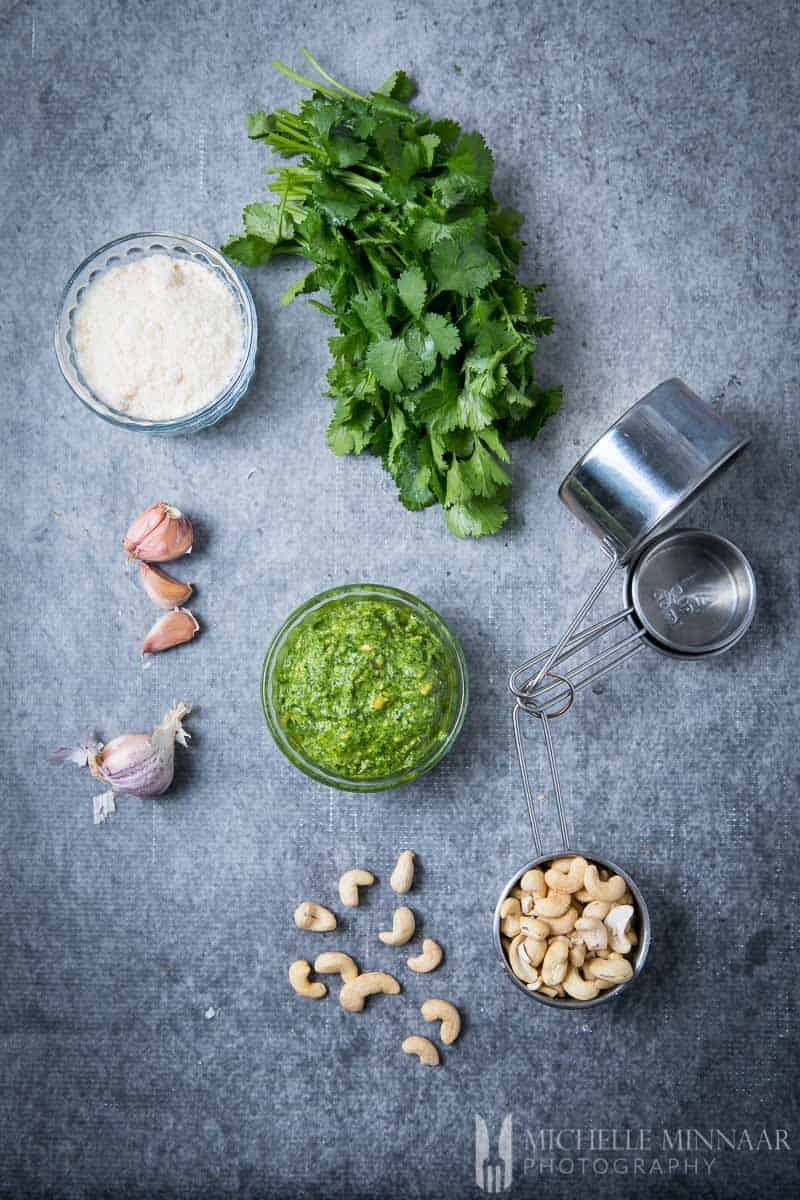 sweet version
If you've bought too many cashews then I highly recommend keeping them to make a sweet version of the cashew pesto or cashew cream. This type of cashew cream you can use as a garnish for cakes, serve it on top of oatmeal or fresh fruits. You can also serve it on top of ice cream. All you'll need is a handful of raw cashews, some lactose-free milk, maple syrup or agave nectar and a vanilla bean. Boil the cashews in water first and then let them rest for an hour or so. Place all the other ingredients in the food processor and mix them together. A really healthy alternative to chocolate or peanut butter!
What is your favourite way to cook with pesto?
Print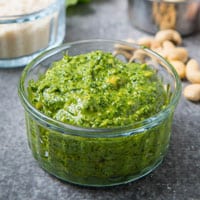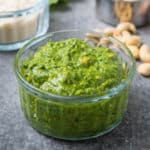 Cashew Pesto
---
Author:

Michelle Minnaar

Prep Time:

10 minutes

Total Time:

10 minutes

Yield:

2 cups

1

x
Description
Have you ever had cashew pesto like this one? You'll need a considerable amount of cashew nuts, coriander leaves, four cloves of garlic, olive oil, parmesan, seasoning and a food processor. You can easily create a vegan cashew pesto by substituting the cheese with avocado. Enjoy it on a toast, with pasta or fish.
---
125

ml (1/2 cup) cashew nuts

125

ml (1/2 cup) Parmesan cheese, grated

125

ml (1/2 cup) olive oil

250

ml (1 cup) coriander leaves, washed

4

garlic cloves, peeled
---
Instructions
Place all the ingredients in a blender and process until relatively smooth.
Serve on toasted bread, in pasta or bake on fish.
Category:

Main Course

Cuisine:

Side Dish
Nutrition
Serving Size:

1 serving

Calories:

119

Sodium:

83 mg

Fat:

11.4 g

Saturated Fat:

2.7 g

Carbohydrates:

2.1 g

Protein:

3.6 g

Cholesterol:

6 mg
save the recipe to your pinterest board