First and foremost, a very happy beginning of the New Year 2018 to all my readers! Can you believe it? We are already in 2018! I don't know about you but 2017 felt like it went by extremely fast. I've shared a lot of delicious recipes in 2017, and I think that this coming year is no exception. However, first thing's first. My New Year dinner along with the other feasts during the holidays didn't help much weight-wise. No, my scales are not broken – sadly. I think the time has come to switch things up a bit and eat a healthy fig salad with parma ham and blue cheese.
This lovely Italian starter is just what you need after the holidays. Not only does the fig salad look visually stunning, it tastes amazing too. Get ready to experience the sweet flavours of the fig in combination with the salty savoury flavours of the Parma ham. The blue cheese brings the fig salad together with that creamy texture, which forms a wonderful combination. The best bit about this fig salad is that it only takes a few minutes to prepare. Once you've cut the ingredients, simply toss them on a plate and serve. I highly recommend serving a fruity white wine or prosecco with this fig salad.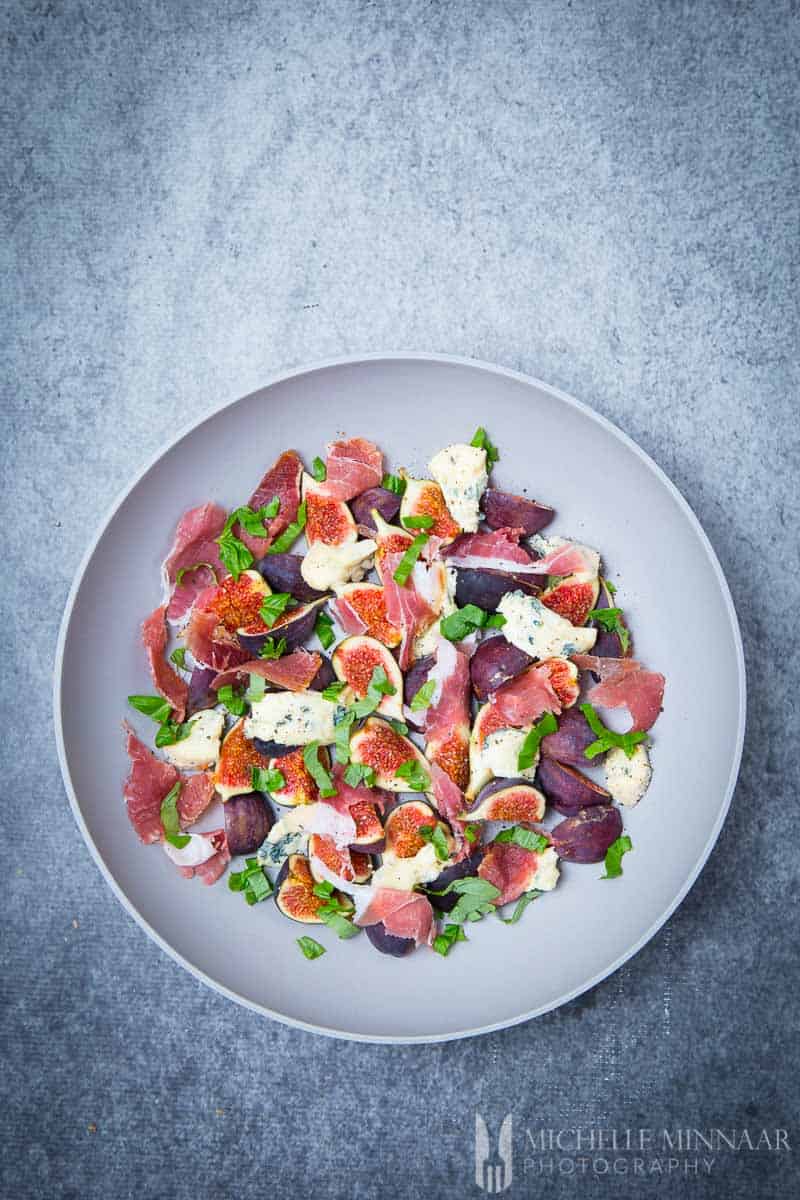 leftover Parma Ham
Have you ever bought a piece of Parma ham? I mean the whole leg! I received one on my trip to Parma and that's a story on its own how I got it to fit it in my suitcase. It was well worth the effort as I still had enough Parma Ham to make another delicious Italian recipe, such as this fig salad. In British supermarkets the Parma ham is sold thinly sliced but in Italy whole legs are readily available.
There is no reason why you shouldn't use up this delicious ingredient if you still have leftovers. There are so many things you can inspire yourself with. For example, you can create a wonderful Mediterranean starter or canape such as a bruschetta with tomato and Parma Ham. This is a fantastic addition to dinner parties, plus it's so easy to make. You only need a few ingredients with this recipe to impress your guests.
You can also use the leftovers for a wonderful Parma ham and melon salad. This salad focuses more on the salty umami flavour, making you enjoy the Parma ham to the fullest. It's also a splendid canapé or starter. Eating Parma ham on its own is one of life's simple pleasures.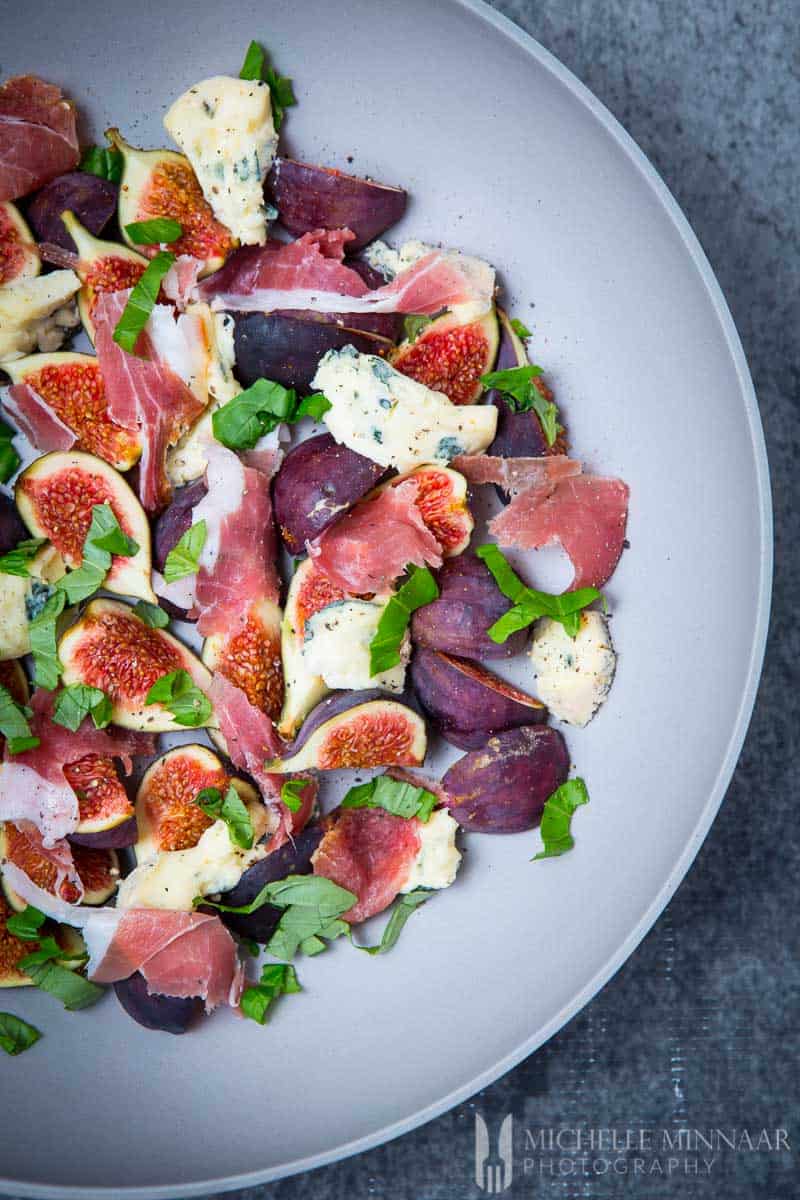 left it over in 2017
The reason that I use past tense is because I've got a big New Year Resolution this year. I've made the decision to consciously go convert to vegetarianism, albeit slowly. Therefore, I am eliminating all pork and associated products from my diet. I think that this slow transition of limiting pork first is a clever transition. With these types of things, it's a marathon not a sprint. Plus, it would be really hard to just stop eating meat altogether. Well, at least I am trying. What are your New Year's resolutions for the year 2018? Please do share!
types of blue cheese
Blue cheese is a rather special cheese. It took me a while before I started liking it. Most kids don't. Blue cheese is famous for its cultures of mold inside, so the end result has blue-grey spots all over. The distinct smell of blue cheese is not for everyone and I recommend getting a special cheese container. Otherwise, your fridge will fill up with the smell of cultivated bacteria. Would you believe me if I told you that there are roughly 45 types of blue cheeses out there? Since this fig salad with Parma Ham is an Italian recipe, let's focus on only Italian blue cheese.
I recommend using Gorgonzola if you are a blue cheese lover. It is made out of unskimmed cow's milk and you can find it in various forms - creamy or firm. I recommend getting a firm Gorgonzola for the fig salad with Parma Ham. As an alternative, you can also use Dolcelatte. Dolcelatte is also soft and made out of cow's milk, and much milder that Gorgonzola. Apparently, Dolcelatte was made specifically for the Brits because the Italians thought we can't handle their blue cheese. Sounds about right!
Did you know that Gorgonzola is also a P.D.O. product just like Parmesan cheese? Thinking of Parmesan, if you are not a fan of blue cheese, use Parmigiano Reggiano shavings instead.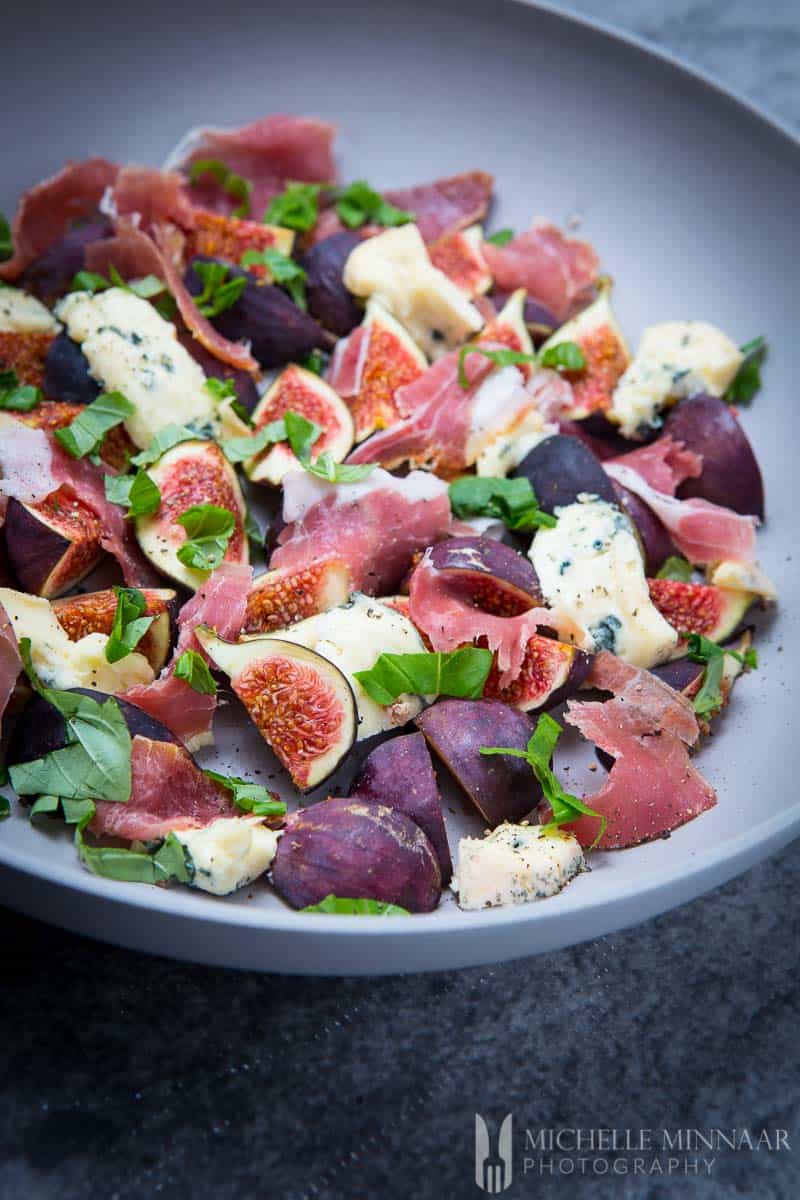 the fig
This fig salad with Parma ham is all about biting into that honey-sweet fig that we all love. You might need to test out a few figs in the supermarket. Nothing is more disappointing than unripe fruit. Once you source the figs, you wash them and then cut them into quarters.
As a substitute, I recommend going into other types of exotic fruit. You can use mango, which is rather acidic but still sweet. My best suggestion would be to substitute with papaya if possible. I've used papaya before with Parma ham and it was exceptional. The papaya is just as sweet as the fig, so it should work very well. Just take a look at my rocket salad with Parma ham, papaya, Parmesan and pecan nuts. It's another fancy salad that doesn't require a lot of hassle.
toppings and dressings
I like to sprinkle a bit of basil for those Mediterranean aromas. You can also use parsley instead or fresh coriander leaves. For more protein, why don't you toss in a few of nuts? I like to use the walnut with Parma ham. It doesn't overpower the dish like pumpkin seeds would. For a dressing, I simply used a fragrant extra virgin olive oil. Feel free to sprinkle a bit of aceto balsamico in there for extra acidity. Don't forget to season with salt and pepper. Enjoy.
What is your favourite way to enjoy figs?
Print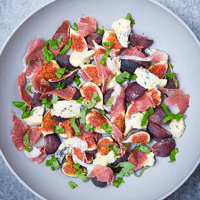 Fig Salad with Parma Ham and Blue Cheese
---
4

figs, washed and quartered

4

slices Parma ham

60g

(

2oz

) dolcelatte, or blue cheese

30

ml (2 tbsp) chopped basil leaves

30

ml (2 tbsp) extra virgin olive oil
Salt and pepper, to taste
---
Instructions
Divide the figs, ham and cheese between four plates.
Sprinkle with basil leaves and drizzle with oil.
Season to taste and serve immediately. Enjoy!
Notes
The following types of blue cheese will work well in this recipe: stilton, roquefort, cambozola, cashel blue, danish blue cheese, dolcelatte and gorgonzola.
Prep Time:

10 minutes

Category:

Starter

Cuisine:

Italian
Nutrition
Serving Size:

1 serving

Calories:

207

Sugar:

9.2 g

Sodium:

576 mg

Fat:

14 g

Saturated Fat:

4.7 g

Carbohydrates:

13.6 g

Fiber:

2.3 g

Protein:

8.5 g

Cholesterol:

27 mg
save the recipe to your pinterest board