A deliciously simple pasta dish with lots of flavour, gorgonzola pasta is a wonderful option for a midweek lunch or a quick and tasty evening meal. Incredibly easy to make and hard not to fall head over heels in love with, this is one creamy pasta recipe that you'll want to master.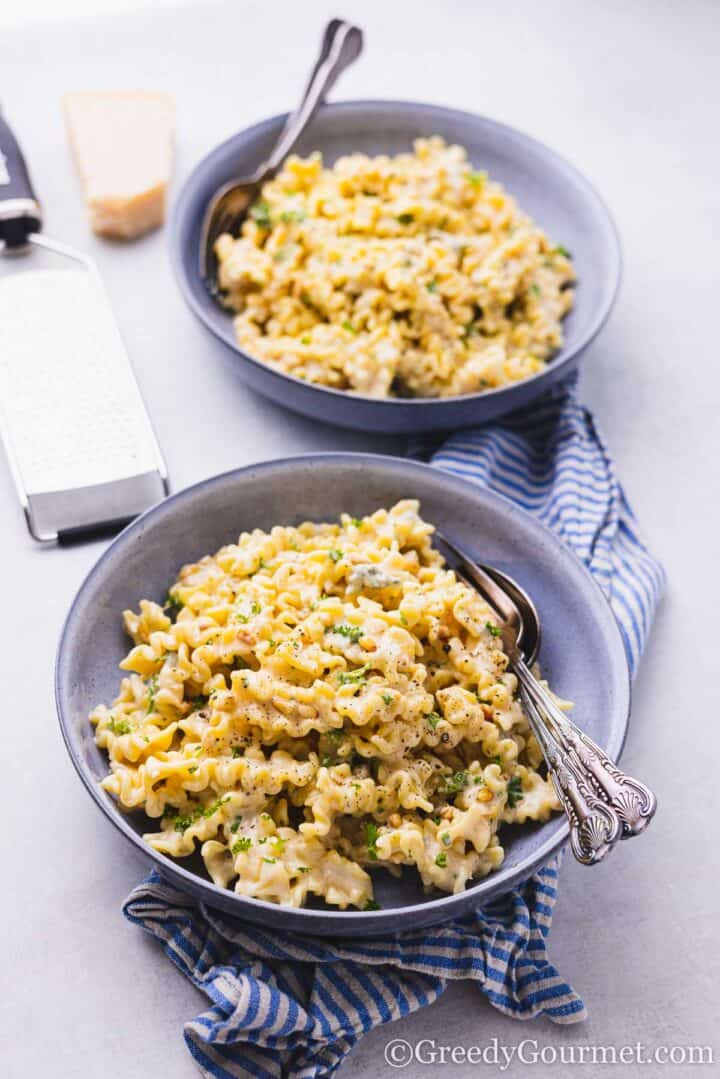 With the creamy gorgonzola sauce, the crunchy pine nuts, the richness of the grated parmesan and white wine and the soft crunch of the al dente pasta, this recipe has everything you could want in a simple pasta dish.
Why you'll love this recipe
Creamy pasta dishes don't come much better than this recipe.
It's a very easy recipe.
The cream sauce is rich and delicious, with so many great flavours. If you're a blue cheese lover you'll be in heaven!
You can easily adapt this recipe to suit your tastes.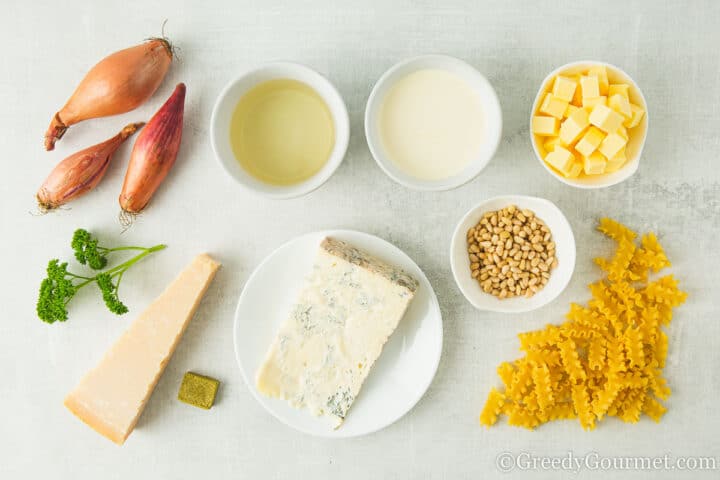 Equipment you'll need to make this recipe
There are a few key items you'll need before you start making this gorgonzola pasta recipe:
Frying pan – a small frying pan is needed to toast your pine nuts.
Large pan – you'll need a large pot to cook up all the wonderful ingredients that will form the base of this pasta dish. I recommend going with a heavy-bottom cast iron pan.
Pasta tongs – if you're using a long form of pasta, it can be difficult to remove it from the pan without making a mess. That's when pasta tongs come in handy!
How to make gorgonzola pasta
Toast the pine nuts. Set aside.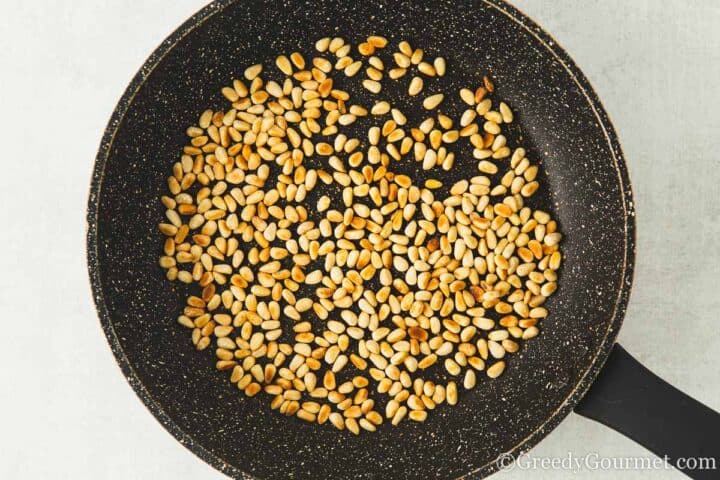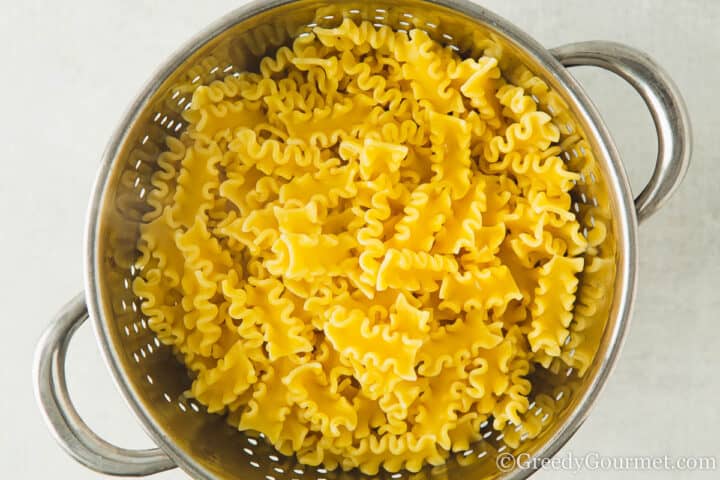 Boil the pasta according to package instructions. Drain. Set aside.
Fry the shallots in butter until softened.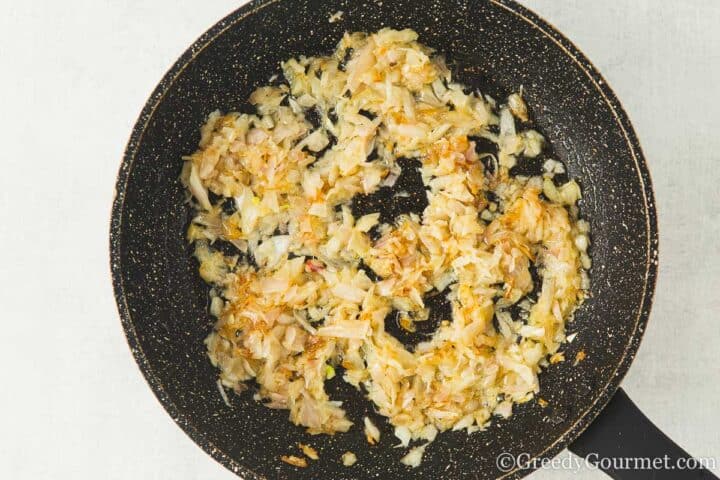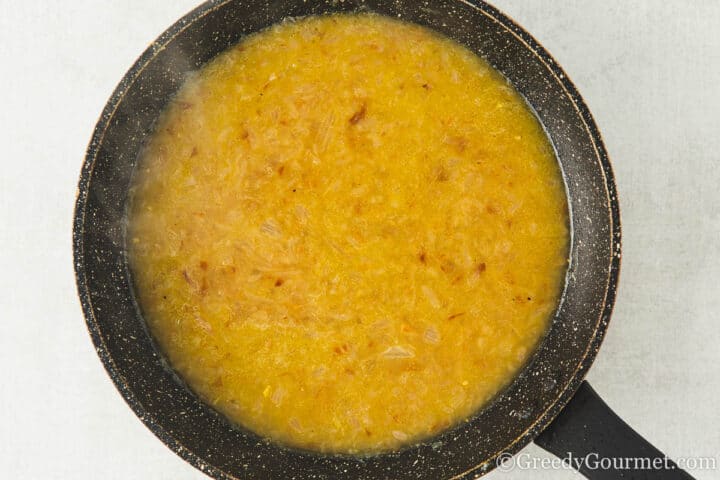 Add the wine, let it sizzle until the liquid has reduced by half. Then add the stock and let it bubble for a few minutes.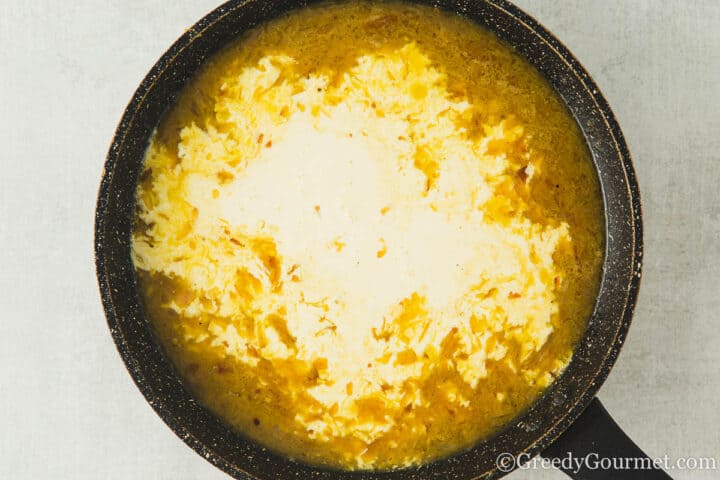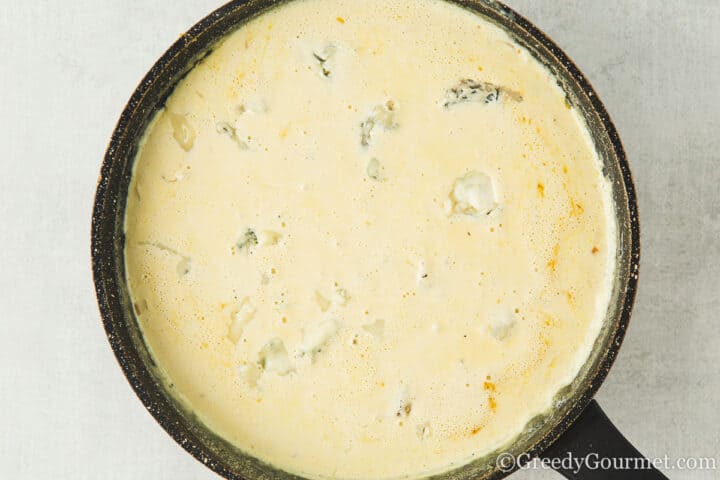 Melt chunks of blue cheese in the sauce.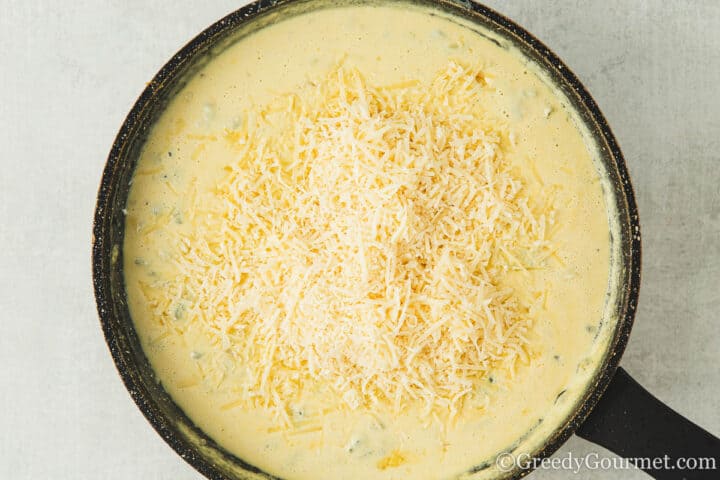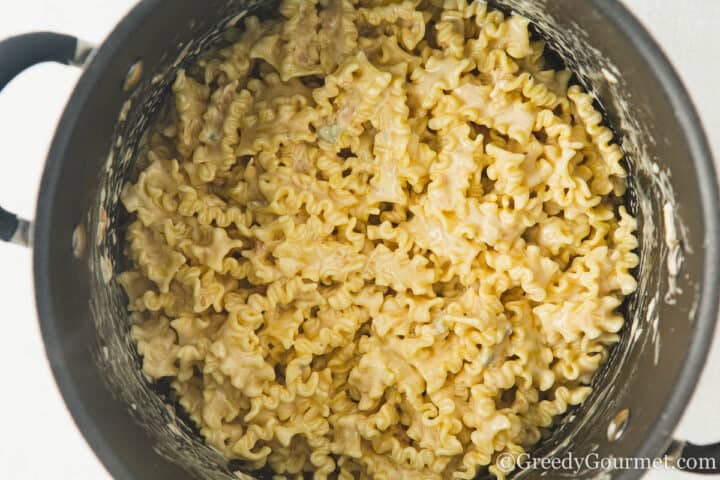 Mix the past and sauce together.
Sprinkle with toasted pine nuts and finely chopped parsley.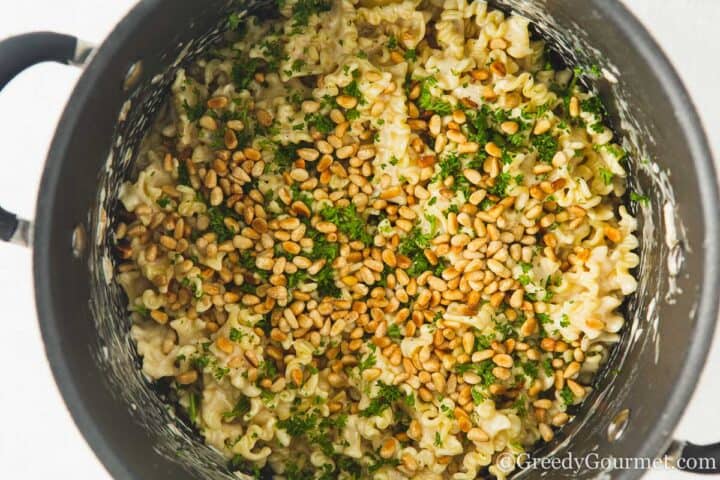 Give it a stir and serve immediately. Enjoy!
Bread
Fancy a hearty meal – full Italian style? Pasta and bread does sound like a carb on carb nightmare for some, but if you feel like going all out and indulging, a side of fresh crunchy bread is hard to beat. Regular garlic bread, cheesy garlic bread or pesto stuffed bread are all great options.
Try my homemade chia bread for a lighter alternative.
Wine pairing
With a heavy, creamy pasta dish, you want a wine that can cut through the creaminess while complementing the richness of flavors. I recommend an Italian or German Riesling, or an Italian Pinot Grigio.
Variations to this recipe
This recipe is adaptable – you can use any type of pasta you prefer. The likes of penne pasta, tortellini, tagliatelle, spaghetti and fettuccini are ideal.
Get creative with your cheese choices – gorgonzola is delicious, but you can use any other type of blue cheese can be used to make the sauce, such as stilton, roquefort, or cambozola.
Add fresh spinach at the same time as the parmesan for extra green goodness. You can also use frozen spinach – just make sure you thaw it or you'll end up with a watery cheese sauce.
You can add any other variety of vegetables to this pasta dish. Options include cherry tomatoes, asparagus, broccoli, broad beans and peas.
You can also add black olives – they complement the flavour of gorgonzola pasta sauce perfectly.
Popular substitutions
Not a fan of pine nuts or can't get hold of them? No worries. There are plenty of good alternatives that you can use. Chopped walnuts, for example, make an excellent substitute for pine nuts, as do cashews, almonds and pistachios. For extra crunch, you can also toast them before cooking starts.
Feel free to omit the butter in place of olive oil if you prefer your pasta sauces a little less less creamy.
You can replace the shallots with white onions or red onions. You could even add spring onions later on in the cooking process if you prefer.
I've gone with parsley as the herb of choice for this dish, but feel free to use thyme, oregano, basil, sage or something similar.
Add chicken to the pasta if you fancy a meatier dish.
If you can't get hold of parmigiano reggiano, mature cheddar cheese is a decent substitute.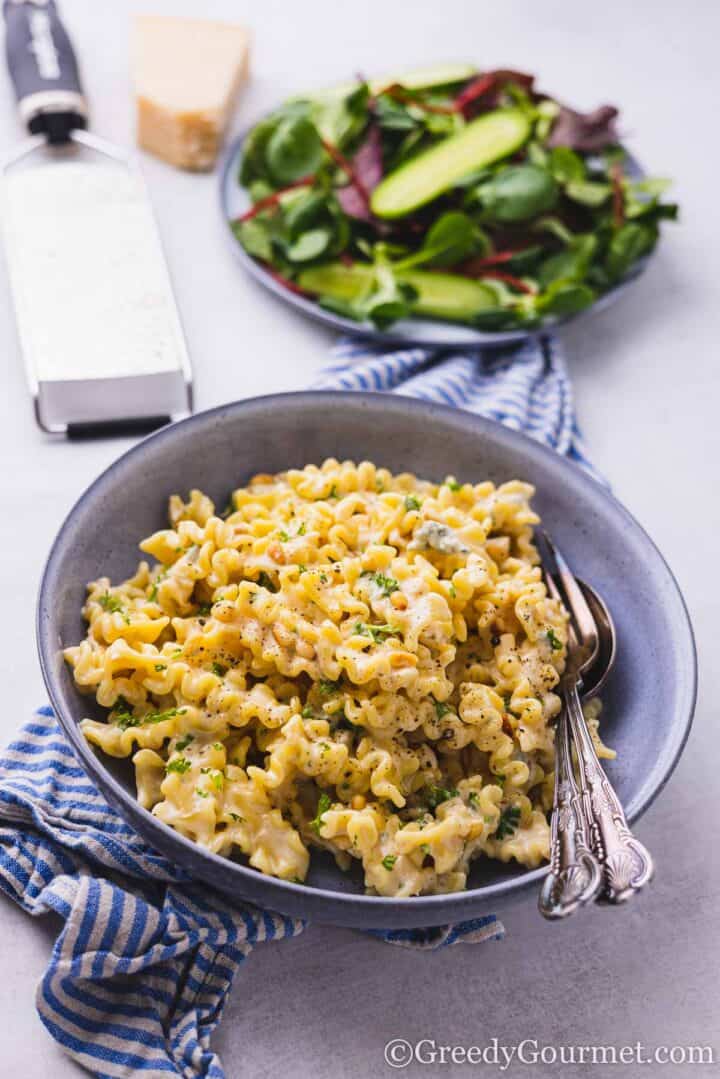 Top tips
Remember to reserve some pasta water when you drain the pasta. You can use it to thicken the creamy sauce out if need be. It also helps the sauce to stick to the pasta.
Don't forget to slightly toast the pine nuts at the start of the recipe. The wonderful nutty crunch brings an extra dimension to this recipe.
What is gorgonzola?
It's a strong cheese from the northern Italian regions of Piedmont and Lombardy. Made from unskimmed cow's milk, gorgonzola is one of Italy's most famous cheeses and one of the oldest types of blue cheese in the world.
Gorgonzola is so old that nobody knows its exact origins. Cheesemakers make this pungent cheese by adding Penicillium. Then, as the cheese matures, the Penicillium produces the iconic blue and green veins in the cheese.
When gorgonzola is young, it's soft and creamy with a hint of acidity. As it matures, it takes on a more crumbly, firm texture and a strong piquant taste that can totally transform dishes.
How do you store gorgonzola pasta?
Gorgonzola pasta should be stored in an airtight container in the fridge. When stored this way, it should last for 3-4 days.
Can you freeze gorgonzola pasta?
It's not a great idea. If you freeze gorgonzola pasta, the cheese sauce will lose its smooth silky texture. You'll also lose the wonderful richness of the dish.
How many people does this dish serve?
This gorgonzola recipe serves four people, although it can easily be adapted to serve less. Simply halve the ingredients below if you are cooking for two.
Of course, if you're cooking for a large dinner party, you can also scale this recipe up by doubling the ingredients below.
What wine should I use for this recipe?
Any decent medium bodied white wine is fine. Cooking wine shouldn't be really cheap – it should be good enough to drink, otherwise don't cook with it. Having said that, don't use an expensive bottle of wine to cook with... save it for drinking!
A Pinot Grigio or Riesling are both ideal white wine choices.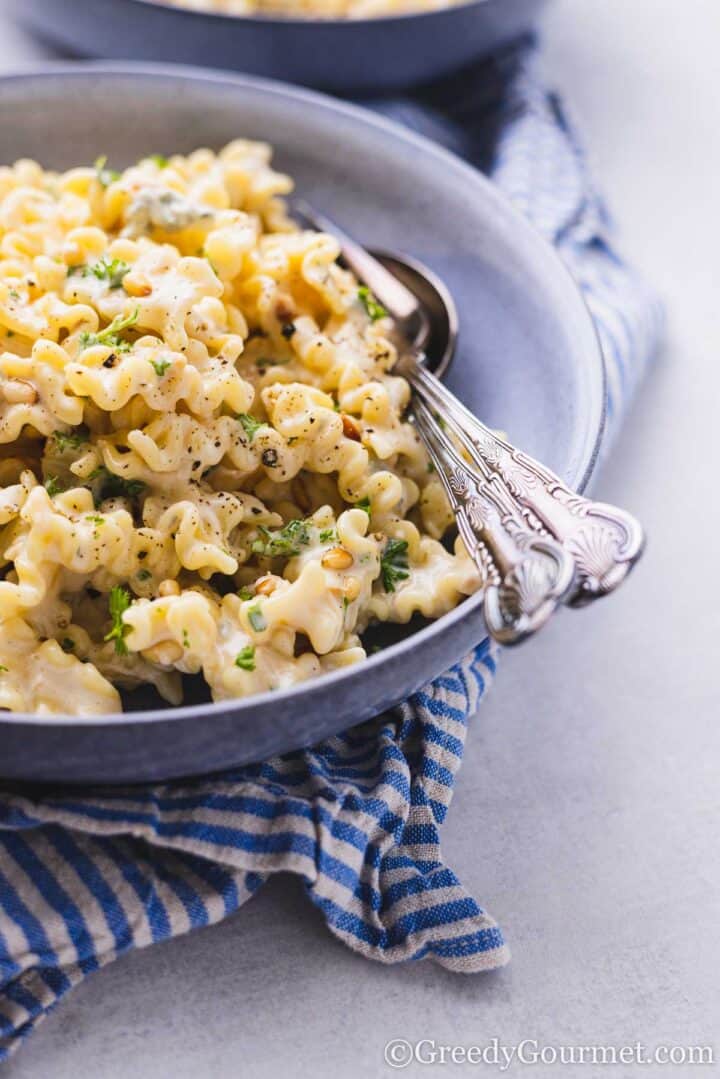 More delicious pasta recipes
Fancy whipping up some more midweek pasta sensations? I've got some delicious inspiration for you:
GIVEAWAY
One winner will receive a Linwoods Hamper full of amazing goodies!
What you will find in your hamper:
Linwoods Hessian Tote bag
Linwoods Water Bottle
Linwoods Milled Flaxseed (200g)
Linwoods Milled Flaxseed, Almonds, Brazil Nuts, Walnuts & Co-Enzyme Q10 (200g)
Linwoods Milled Flaxseed with Bio Cultures & Vitamin D (200g)
Linwoods Milled Flaxseed, Sunflower, Pumpkin & Chia Seeds & Goji Berries (200g)
Linwoods Milled Flaxseed, Sunflower & Pumpkin (200g)
Linwoods plant-based range of seeds, nuts and fruits provide a simple way to include a wide range of essential fatty acids, nutrients, vitamins and minerals into your diet.
Linwoods Original Milled Flaxseed blend is a versatile product that is popular for maintaining normal blood cholesterol levels and for its high source of fibre and plant-based protein, alongside how this product is 100% organic, gluten free and vegan.
Linwoods Cold Milled Flaxseed is also prepared with great care through their unique cold milling process to unlock the benefits of the seed for easy digestion and ensures the full nutrients remain intact.
a Rafflecopter giveaway
HELP
Here you can find a tutorial on how to enter with Rafflecopter.
If your form is not showing, try refreshing the page.
Complete the form, otherwise your entries will not count.
Make sure the mandatory entries (e.g. leave a blog comment) are completed first.
Don't forget to come back daily for extra entries via Twitter.
If you're viewing this post by email, please come to the actual webpage to enter.
Competition Question: What would you serve with this Gorgonzola Pasta?
Print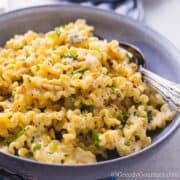 Gorgonzola Pasta with Pine Nuts Recipe
---
Author:

Michelle Minnaar

Total Time:

25 minutes

Yield:

6

portions

1

x

Diet:

Vegetarian
Description
This gorgonzola and pine nut pasta recipe is a heavenly combination. Combine delicious Italian gorgonzola cheese with penne pasta and fresh herbs. Enhance flavours with shallots and dry white wine. Enjoy with whichever pasta you prefer.
---
50

g

(6 tbsp) pine nuts

600

g

(21oz) pasta

28

g

(2 tbsp) butter

3

shallots, finely chopped

180

ml

(1/2 cup) white wine

180

ml

(1/2 cup) vegetable stock

375

ml

(1 1/2 cups) double / heavy cream

150

g

(5oz) Gorgonzola cheese

50

g

(2oz) Parmesan cheese, grated

14

g

(4 tbsp) parsley, finely chopped
salt and freshly ground black pepper, to taste
---
Instructions
Toast the pine nuts by adding them to a hot, dry frying pan and stir continuously until golden brown. Set aside.
Cook the pasta according to package instructions. Drain. Set aside.
Meanwhile, melt the butter in a large pan over a medium heat. 
Add the shallots and cook for 5 minutes until softened but not browned. 
Pour in the wine and let it sizzle for about 5 minutes or until it has reduced by half. 
Stir in the stock and cream and let it bubble for 2 minutes. 
Break the Gorgonzola up into smaller pieces and drop it in the creamy sauce. Stir until the cheese has melted. 
Stir in the parmesan. Let the sauce bubble for 3 minutes.
Tip the cooked pasta into the pan and mix until the pasta is completely covered in sauce. 
Sprinkle with parsley and season to taste. Serve immediately with a green salad and bread. Enjoy!
Notes
You can use any type of pasta you prefer - penne, tortellini, tagliatelle, spaghetti, fettuccini - you name it!
Feel free to experiment with other types of blue cheese to make the sauce, be it stilton, roquefort, or cambozola. 
If you don't like pine nuts or can't get hold of them, walnuts make an excellent alternative. For extra crunch, you can toast them too before cooking starts.
Prep Time:

5 minutes

Cook Time:

20 minutes

Category:

Main Course

Method:

Simmer

Cuisine:

Italian
Keywords: gorgonzola pasta, pine nut pasta, gorgonzola pasta recipe, gorgonzola pasta sauce, pasta with gorgonzola and walnuts, penne gorgonzola, tortellini gorgonzola, tagliatelle gorgonzola, gorgonzola fettuccine