Pagritata is just another fancy word for flavoured breadcrumbs in Italian. It is used frequently in Italian pasta dishes, however, you'll find other versions of it in foods that you wouldn't probably expect. Generally speaking, pangritata is savoury and is seasoned with herbs such as rosemary, oregano, thyme or basil. Learn how to make your own crispy, flavoured breadcrumbs today! From now on, you'll never buy the pre-packed stuff - that's a promise.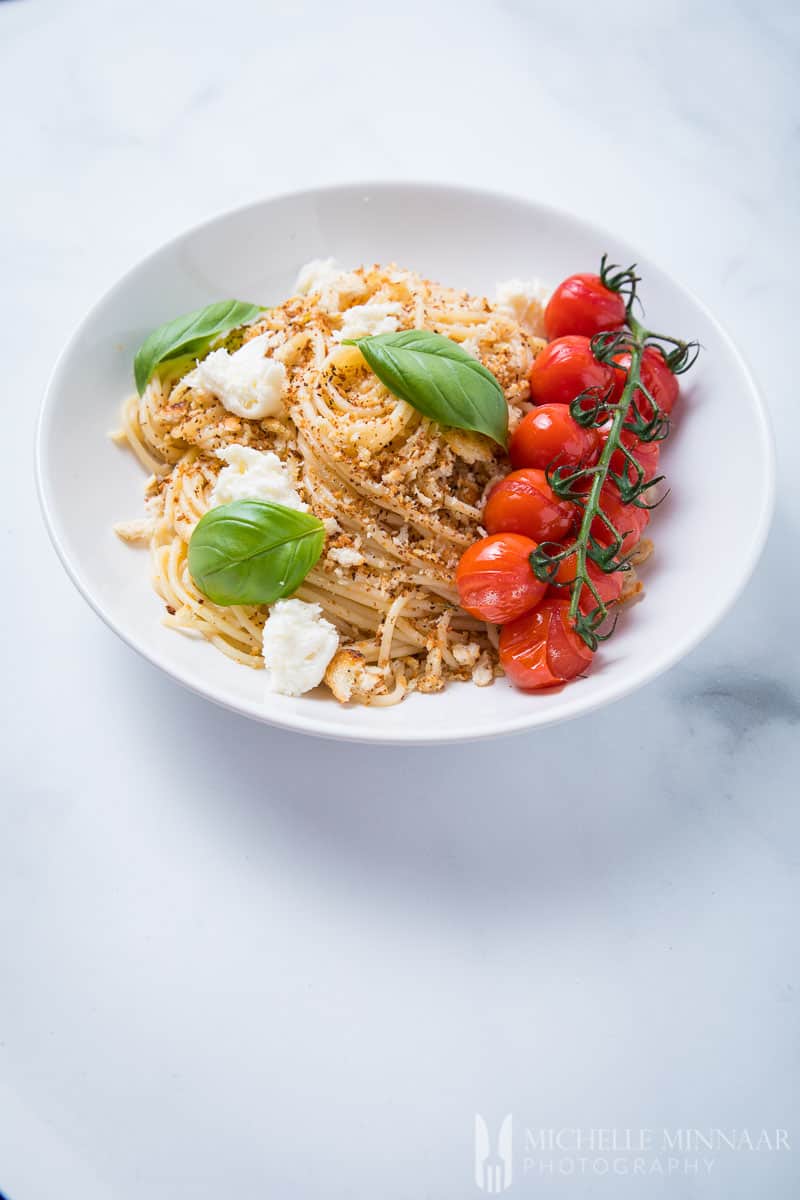 pangritata
'Pan' in Italian refers to bread and 'gritata' refers to the process of grating, so pangritata literally translates to 'grated bread'. It is also known as the 'poorman's parmesan', as high quality parmesan can be quite expensive. So, the pangritata is used to replicate the firm textures of the parmesan. When fried with butter, it also won't disappoint in terms of delivering creaminess - a classic recipe to master in any Italian kitchen. Make sure you do too as it is useful for some many other recipes.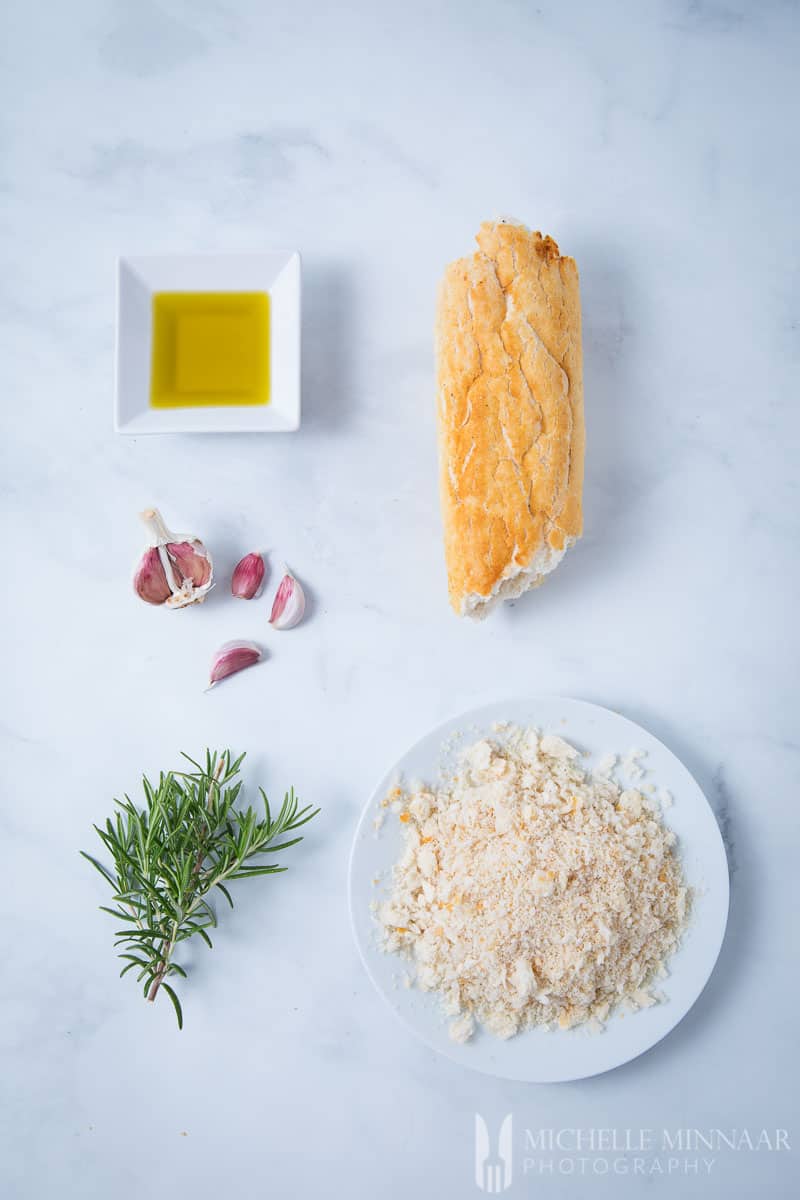 baguette
There's a lot of debate as to which baguette is best to use when it comes to making pangritata. The best type of bread to use is the traditional French baguette. The French distinguish between baguettes by the way they are baked, i.e. differing baking times. The best type for eating with cheese is the one that's 'pas trop cuit' meaning not too baked. However, for this pagritata recipe, you'll need a pretty dry baguette. So ask for a properly baked one or just leave it out for a day or two so the moisture dries out.
You can also use traditional rolls that you'd find in bakeries for breakfast. Just don't use the ones which have been sweetened, or with seeds. This means you have to avoid using a brioche as it is too sweet. The traditional baguette or classic unflavoured rolls are the best.
Alternatively, you may also use very dry or old toast bread. The end result won't be as golden, but it will do as a substitute. If all baguettes and bread happen to be sold out, you may still use a store-bought pack of breadcrumbs for this recipe. You'll just need to incorporate the herbs and season well.
breadcrumbs
On the other hand, if you've bought too many baguettes in anticipation of making large batches of pangritata and you don't know what to do with them, I've got a solution for you. Why don't you make a filling Italian side dish as this one? No one can resist the cheesy, gooey center of a cheesy garlic bread. Alternatively, for a more tangy flavour, go for the pesto stuffed bread. These two baked breads make an excellent side with summery salads or a hearty stew. Plus, it's always more sustainable to use up all the produce rather than throwing it out!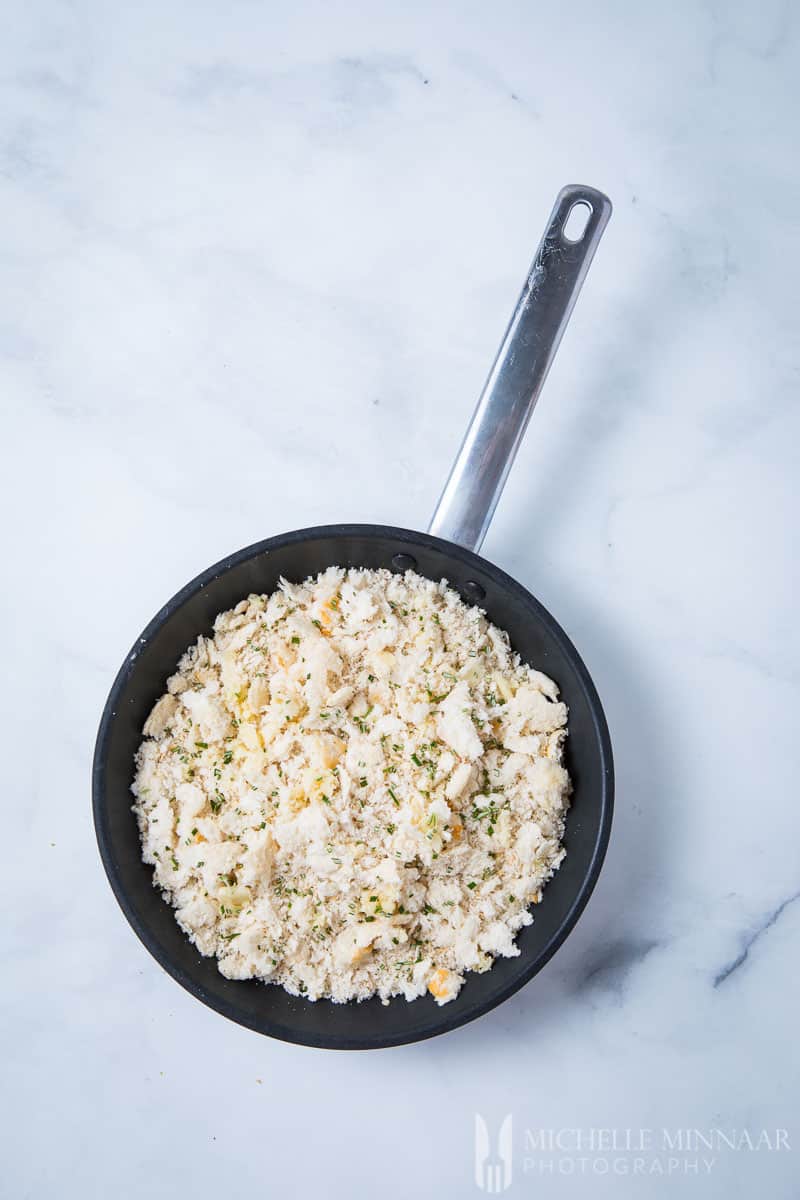 pasta
Pangritata is an integral component in Italian pasta dishes. As mentioned previously, it's used a substitute for parmesan due to similar textures. It is perfect for those who are lactose intolerant.
Once you flavour the pangritata to your liking, whether it be with herbs such as rosemary, basil, oregano or thyme, fry them until golden. Sprinkle as much as you want over spaghetti or any other types of pasta. You'll end up with a beautiful vegetarian pasta dish!
For example, you can inspire yourself with this spaghetti alla carrettiera recipe. Just toss in a couple of roasted tomatoes, slices of fresh mozzarella and you're in for a treat. Alternatively, you can also add pangritata to creamy pasta dishes such as this gorgonzola and spinach spaghetti.
Speaking of creamy dishes, you can also add pagritata to creamy vegetable dishes such as this creamy spinach recipe or creamed cauliflower. It will add a wonderful finishing touch and make the dish more filling. It's like making a savoury crumble!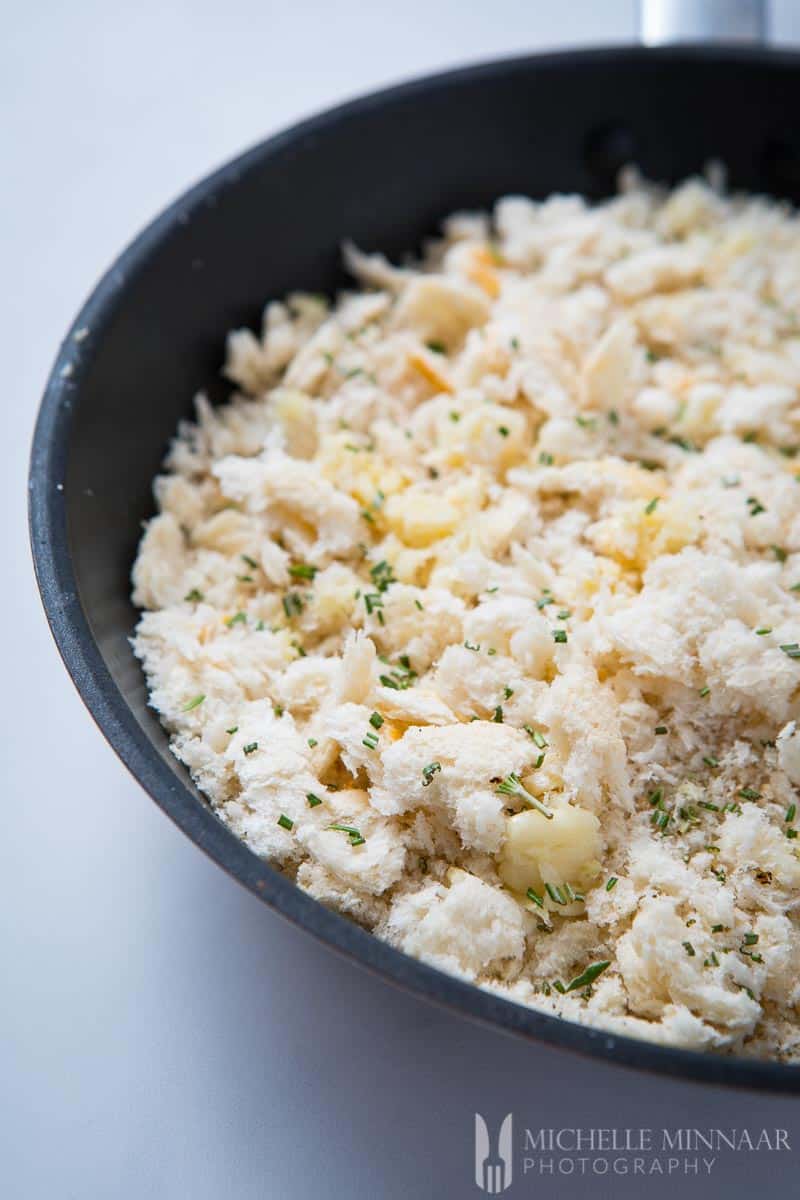 olive oil
You can use extra virgin olive oil for this recipe. However, be careful with the type of olive oil you use in the pangritata. Depending on quality, olive oil can be quite overwhelming and fragrant. If you add too much, it can affect the overall balance of flavours. I recommend using an olive oil that you use for frying or general cooking. Save your premium extra virgin olive oil for salads, cheeses and the like!
Alternatively, you can also use sunflower oil or the traditional vegetable oil. It's also possible to use margarine in emergencies. For the most creamy results, you should opt for melted butter because it's a heavenly combination. Just brown the butter a bit and let it cool down a bit before you incorporate the breadcrumbs.
ideas
With this recipes, it's best to make large batches at a time because you can use the pangritata for dishes other than pasta. For example, you can use it for stuffing for a turkey recipe. Try it with this whole smoked turkey thanksgiving recipe. You can pair it with the usual side dishes and if you've got a large family, they'll be more than happy to nibble a bit on the stuffing.
storage
Pangritata stores very well. Separate it in batches and store in small containers in a cool cabinet away from sunlight. The sooner you consumer the pangritata the better though!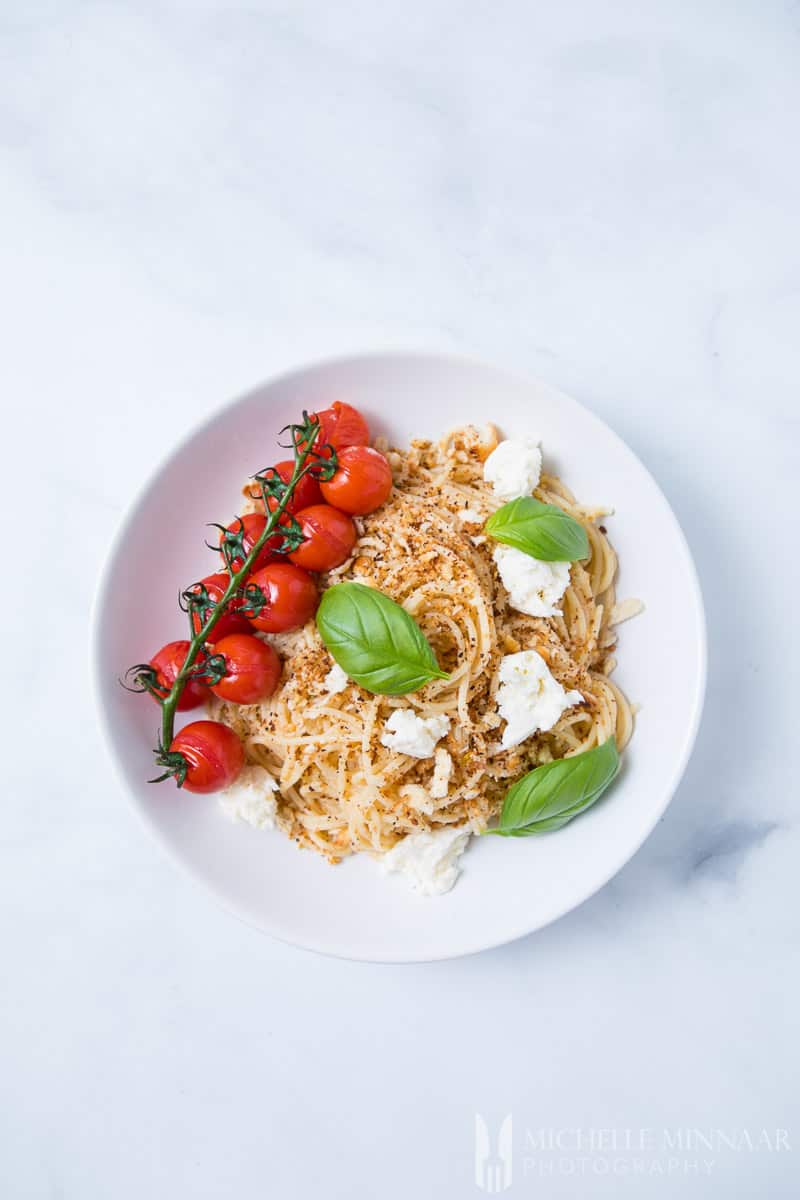 pangritata recipe
There are other versions of pangritata out there, one of which is a sweeter version. It involves using breadcrumbs which you combine with butter and sugar. These types of breadcrumbs go into apple strudel and many French fruit based tarts. They help bind the flavours and the ingredients together, making the perfect pie. You can also use the sweet version of breadcrumbs as topping for fruit salads, panna cotta or ice cream.
So, what dish will you use your pangritata with? Are you thinking of going in a savoury or sweet direction? Leave a comment below!
Print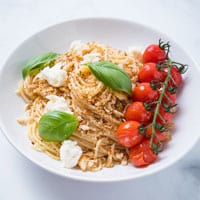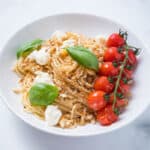 Pangritata
---
Description
Pangritata, the poorman's parmesan ,is the perfect addition on many classic Italian pasta dishes. Season with herbs of your liking and make it your own.
---
15

ml

(1 tbsp) olive oil

150

g

(5oz) breadcrumbs

3

garlic cloves, peeled and crushed

15

ml

(1 tbsp) fresh rosemary, washed and finely chopped
Salt and pepper, to taste
---
Instructions
Heat the oil in a large frying pan.
Pour in the breadcrumbs, garlic and rosemary.
Continue to stir on a low heat until the breadcrumbs crisp up and become golden and aromatic.
Season to taste.
Remove from heat and let pangritata completely cool down. Store in airtight container and use as topping for pasta for added texture and flavour.
Prep Time:

10 minutes

Cook Time:

15 minutes

Category:

Side Dish

Cuisine:

Italian
Nutrition
Serving Size:

1 serving

Calories:

37

Sodium:

55 mg

Fat:

1.1 g

Carbohydrates:

5.7 g

Protein:

1 g
save the recipe to your pinterest board