Since the holidays are just around the corner, I am posting yet another delicious Parmesan recipe.  The Parmesan arancini are perfect canapés for dinner parties and if you make a large batch, they can even be served as the main meal.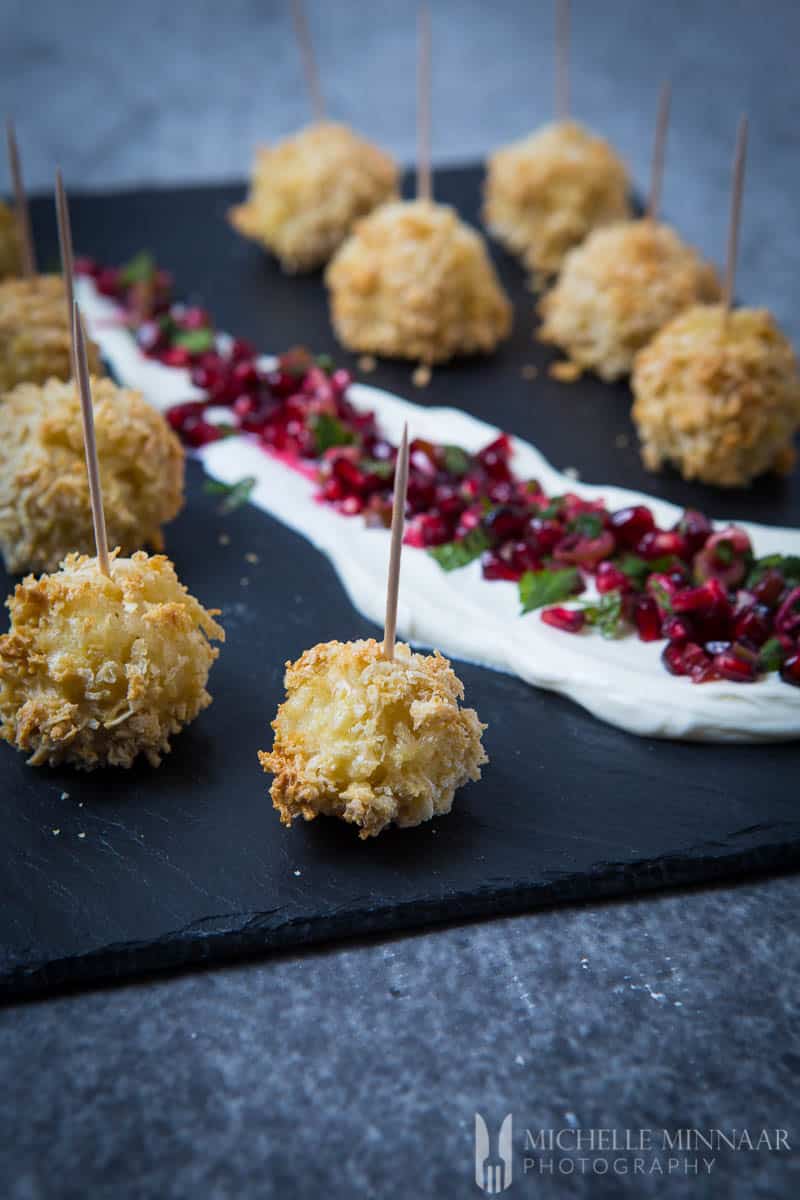 You'll just need to combine it with a side salad for a bit of crunch and different flavour combination. Needless to say, my kids went crazy for these as they are shaped into little appetising balls served on sticks.
Arancini form part of a traditional Italian meal, which consists of leftover risotto from the night before. You then shape the rice is into small balls, coat them with breadcrumbs and then deep-fry.
It's not uncommon to put a little surprise inside the arancini. This could be, for example, a savoury filling.
Parmesan arancini
For best results, make sure you use Parmigiano Reggiano. When purchasing Parmesan cheese, you'll find a P.D.O. stamp on the label. P.D.O. products are defined and protected by European Union law, which helps to defend the reputation of regional foods.
This mark ensures that Parmigiano Reggiano is only from Parma, Reggio Emilia, Modena and Bologna, which is basically west of the Reno River and Mantua to the east of the Po River.
The level of detail and care that goes into each wheel of Parmesan is extraordinary. A special consortium was formed back in the early 1900's.
It all started in 1901, with the Chamber of Commerce of Reggio Emilia establishing a trade union to serve the traders and the producers of the cheese. The purpose was to authenticate the origin of Parmesan.
Today, the 'Consorzio del Formaggio Parmigiano Reggiano' still exists and conducts these special tasks to defend the origin of the cheese, while promoting its unique features.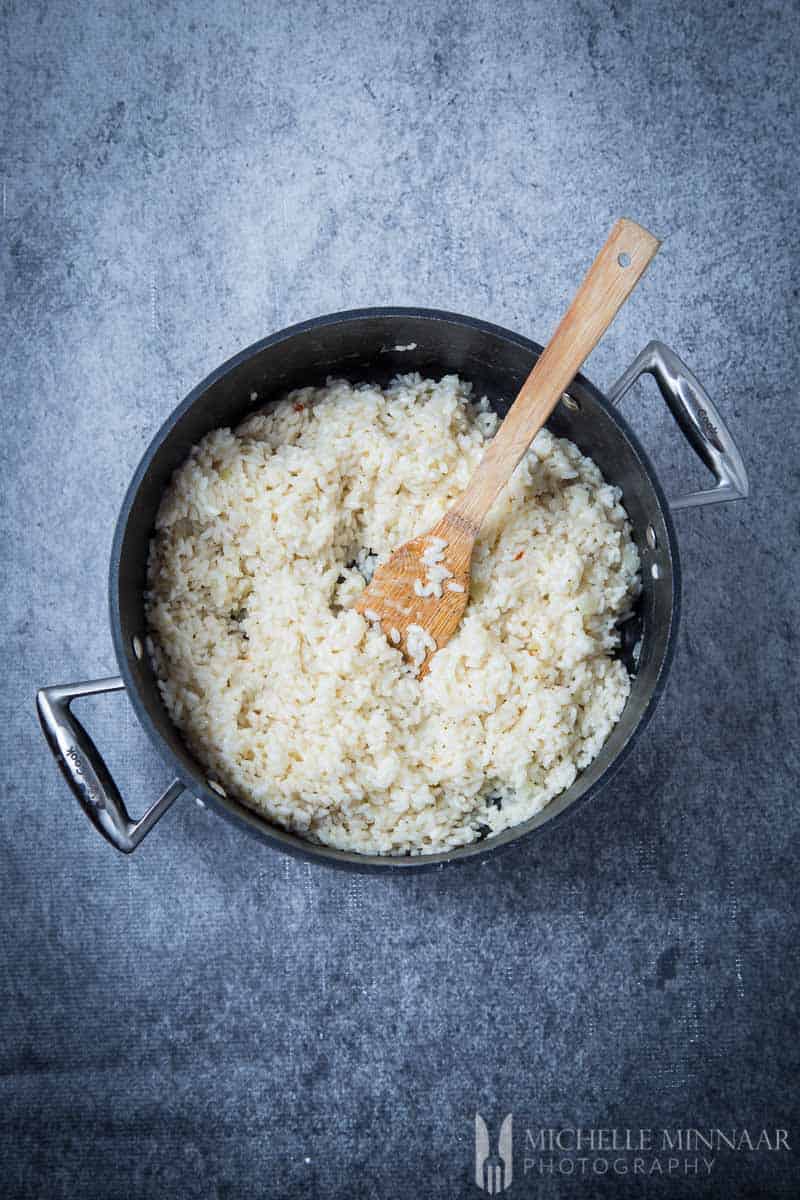 the inspections
Experts from the Consortium examine each cheese separately, not leaving out a single one. Once this inspection is done, a mark is fire-branded onto the individual cheeses if they meet the requirements of the Protected Designation of Origin.
This is the P.D.O mark and the dotted inscriptions on the external side of the cheese. Should any cheeses fail to meet the P.D.O. requirements, then the particular rejected round of cheese can never carry the P.D.O brand.
This is what ensures that consumers have access to Parmesan of the highest standards. These inspections are granting a certificate of absolute guarantee for the cheese to the consumers.
If the cheese has parallel lines engraved on it and has underwent a maturation of one year, then cheese is specially called 'mezzano'. It is the second class of Parmigiano-Reggiano. Isn't it incredible just how much work goes into the production of Parmesan?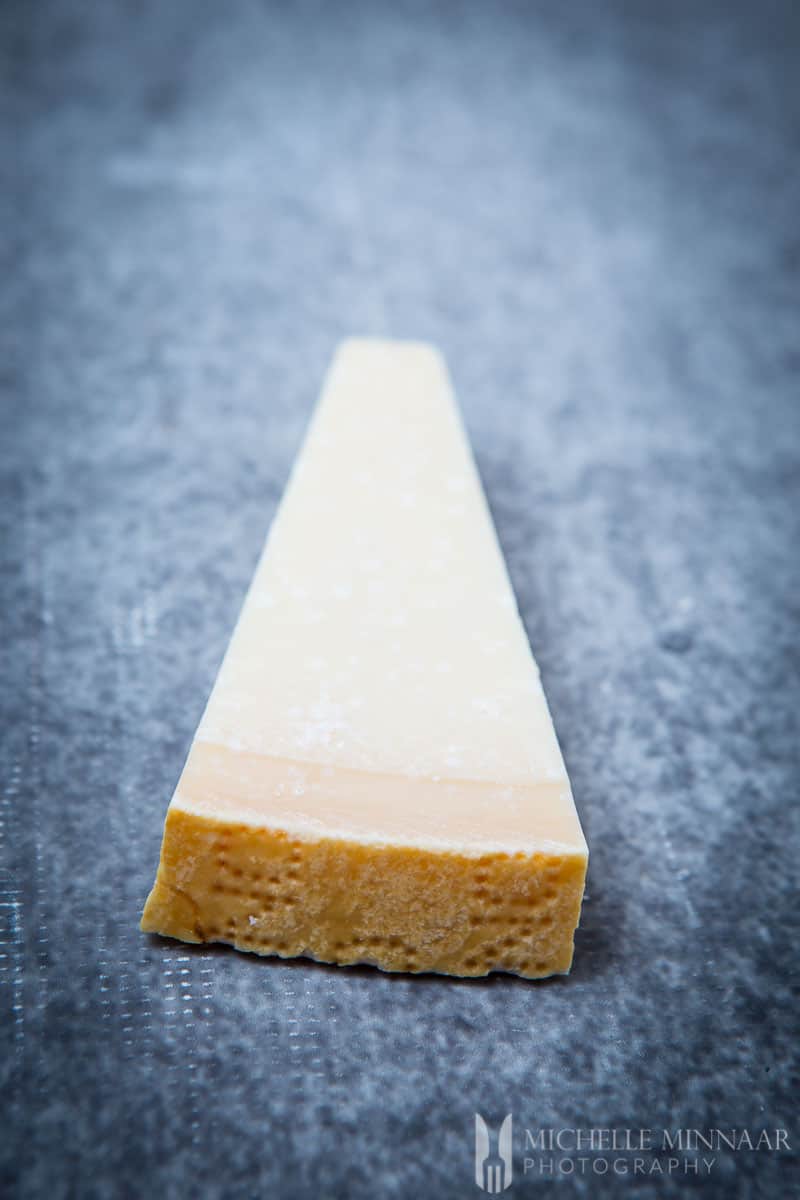 history of arancini
The practice of making these little rice balls that the Italians call arancini is centuries old. It is believed that the idea came to Sicily during the Arab conquest of the island, back in the 10th century.
Today it is still a very popular dish, especially in Sicily but also in many other parts of Italy.
The name arancini literally translates into small orange. If you look at the finished result it is easy to see why. The shape and colour of the finished rice balls resemble small oranges.
Arancini are known as an old fashioned recipe everyone's grandmothers would make them but with the ever increasing demand for delicious and authentic street food in the cities, arancini is definitely back on the menu.
the risotto and Parmesan
Why don't you check out my basic risotto recipe? You can make arancini in countless ways with just about any type of filling you could imagine. However, quite often less is more when you have good ingredients.
Therefore, I have gone with a Parmesan flavoured version. Depending on how much, and not least what type Parmesan you use, you can achieve fantastic flavours. I recommend you to try a few different ones to find out what you like. Parmesan is sold according to ageing.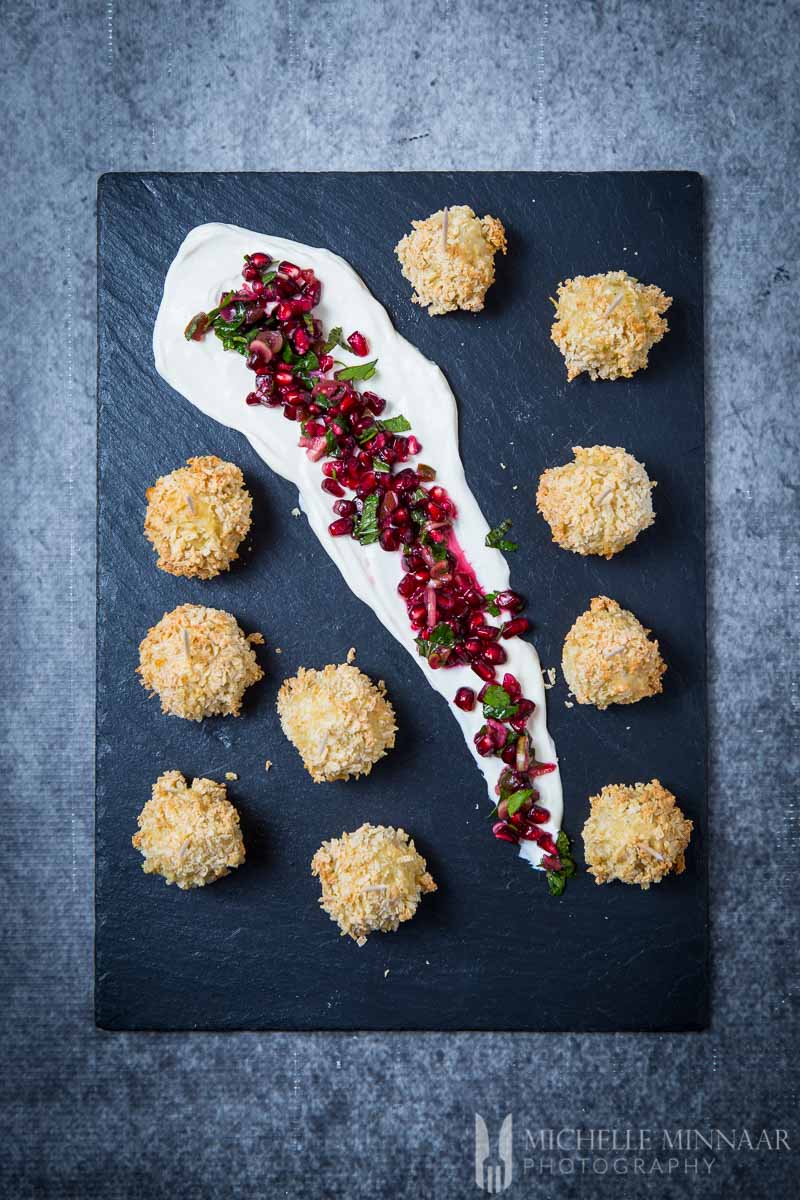 flavour combinations
Only the imagination sets the boundaries for what you can do with arancini. If you fancy adding a bit of a twist to the Parmesan arancini, just think what flavours you like together with Parmesan.
It could be mushrooms finely chopped and pan fried in butter. Or perhaps vegetables such as bell pepper. How about crayfish or lobster tail?
Now, I am aware that the Italians have strict rules about not mixing Parmesan with seafood, but I for one find the combination irresistible. Less authentic perhaps but very flavourful.
Again though, sometimes less is more and you can simply tweak the flavour of the arancini with some herbs or spices. For fresh herbs I would recommend parsley or sage.
Sage has a specific taste that not everybody likes so if you are not fond of it simply pick something else.  You can also give the arancini a little kick of spice by adding chili flakes or, more subtle, paprika.
Or, you can take it back to its oriental roots and adding saffron into the risotto when you prepare it. Oh, by the way, if you want to make the Parmesan arancini a tad healthier, bake it instead of deep frying it! That's exactly what I did.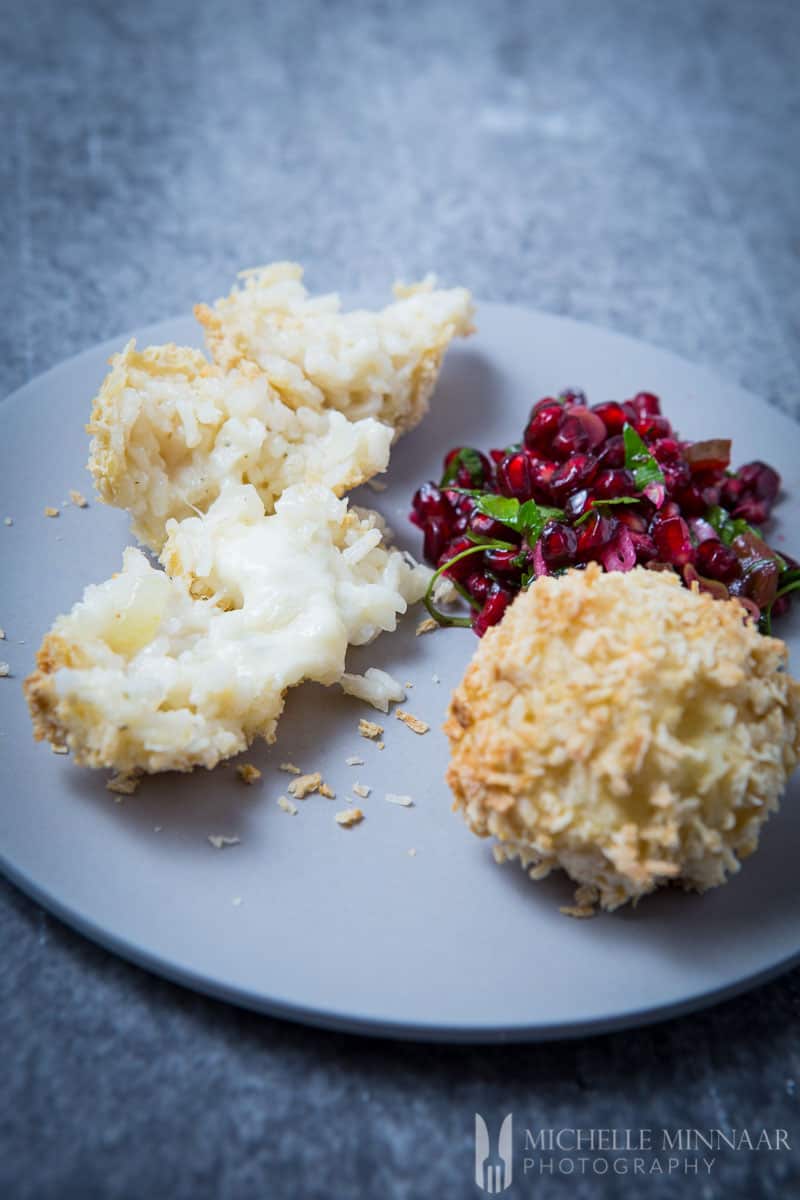 serving
I suggest serving the Parmesan arancini with a delicious and tangy pomegranate salsa. Don't forget the add a bit of whipped cream cheese for a bit of balance.
Mediterranean sun-dried tomato pesto or even salsa verde would work well to dip it in. One last suggestion, why don't you pair the Parmesan arancini with other tasty canapés, such as Parmesan crisps that also go perfectly with the pomegranate salsa?
That's one way to get Christmas season starting off with a bang! For further canapé inspiration, have a look at these stuffed cherry tomatoes.
Print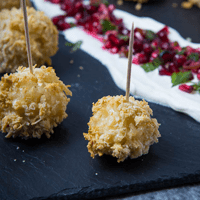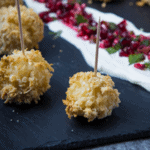 Parmesan Arancini
---
1

batch of Basic Risotto

60

g

(2oz) Parmigiano Reggiano

3

large eggs, whisked

90

g

(3oz) plain flour, sieved

150

g

(5oz) panko or breadcrumbs
---
Instructions
Prepare the Basic Risotto, stir in the cheese and then let the rice cool down.
Preheat the oven to 180°C/350°F/gas mark 4.
Line a baking tray with baking parchment.
Whisk the eggs in a large bowl and then add the flour in slowly while stirring vigorously to avoid any lumps forming.
Sprinkle a thick layer of breadcrumbs on a plate.
You now have the choice to create small balls, which will serve as bite-sized canapes, or large ones, which forms part of a main course. Should you opt for the latter, you can even add fresh mozzarella cheese to the center if you wish.
Roll the rice into balls, then dip into the beaten egg and dredge in the flour.
Bake in the oven for 20 minutes or until crisp and golden.
Serve with a light salad or green vegetables.
Notes
Deep-fried food is always going to taste more decadent than its baked counterpart, so there's nothing stopping you from deep-frying the arancini, which is the traditional method.
You can add even more parmesan if it suits your taste and pack even more flavour into the rice balls.
Prep Time:

30 minutes

Cook Time:

40 minutes

Category:

Main Course

Cuisine:

Italian
Nutrition
Serving Size:

1 serving

Calories:

477

Sugar:

2.5 g

Sodium:

348 mg

Fat:

10.5 g

Saturated Fat:

4.8 g

Carbohydrates:

75.7 g

Fiber:

3.2 g

Protein:

13.5 g

Cholesterol:

83 mg
save the recipe to your pinterest board

P.S. This is a sponsored post.