These Parmesan crisps involve a fair amount of grating but it's nothing too labour intensive. However, the end result is completely worthwhile.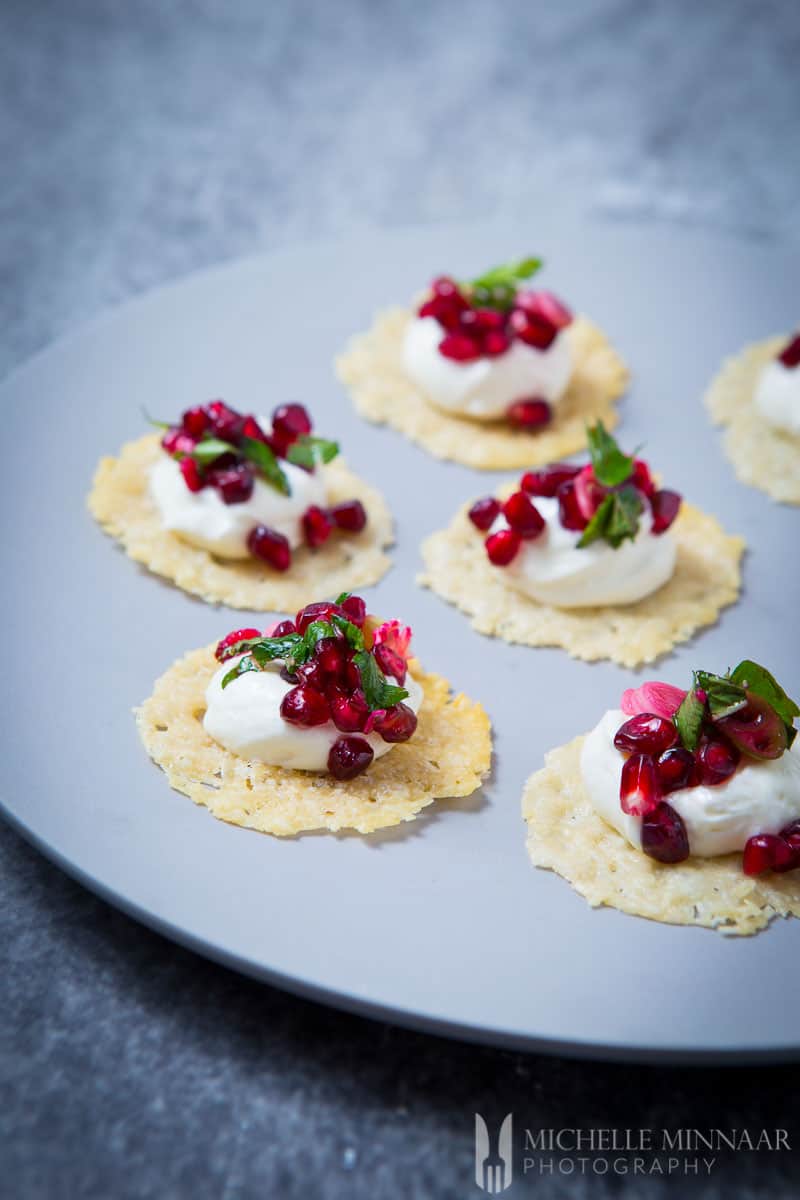 These Parmesan crisps are a fantastic substitute to the usual deep-fried crisps that we love to snack on; made from high-quality produce and not a single drop of extra oil is used.
All you need to do is grate the cheese, form it into shapes of your liking and bake. You'll know when you've achieved perfection once you see the Parmesan crisps turn into an attractive, golden colour.
Parmesan crisps make perfect canapés for cocktail parties and dinners, served with any type of dip you buy at the shop or feel like making at home.
Here, I paired it with pomegranate salsa and whipped cream cheese and the flavour combination was exceptional. In another setting, these savoury bites are great to munch on during movie night.
After discovering that Parmesan crisps only take 10 minutes to prepare, I'll definitely make more in the future!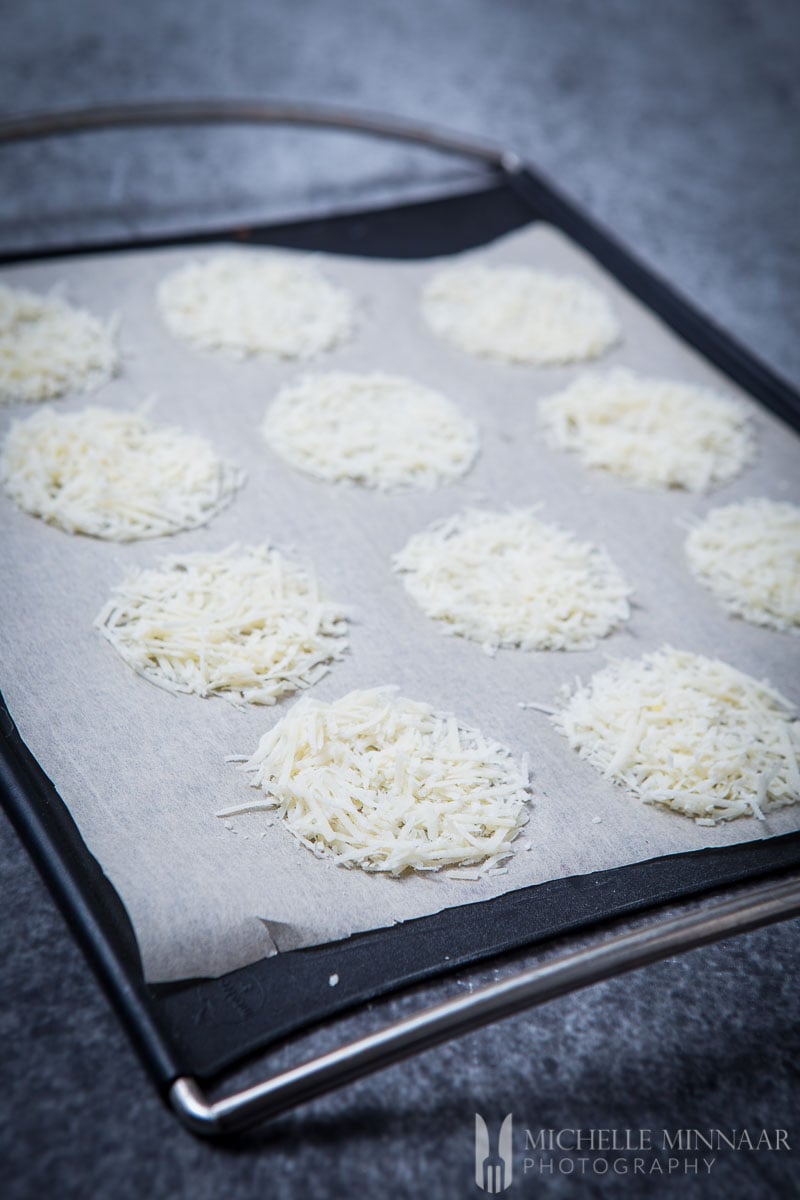 about real Parmesan crisps
If you want to make real Parmesan crisps, you should only use Parmigiano Reggiano for this recipe. Parmigiano Reggiano cheese, known as the King of Cheeses, is one of the world's oldest and richest cheeses.
It's still produced today as it was nine centuries ago, exclusively in these Italian provinces: Parma, Reggio Emilia, Modena and parts of Mantua and Bologna. These regions are known for its stunning scenery, hills and mountains between the rivers Po and Reno.
It is no surprise that the cheesemakers safeguard their craft of milk processing and the making of the world's best cheese.
maturity and aging
Before the maturing starts, each cheese wheel uses roughly 550 liters of milk. Once the cheese making process is done, the cheesemaker takes the cheese wheels into silent maturity rooms.
The cheese rests on a wooden table, forming a natural hard external crust. This crust or external layer protects the cheese inside. During the maturation, complex flavours are formed the the cheese's texture obtains a granular structure.
The minimum maturation time is at least 12 months but only when it reaches approximately 24 months of age, the cheese is at its best. Ageing can continue up to 36 months or more, during which time the cheese further develops its flavour, texture and digestibility.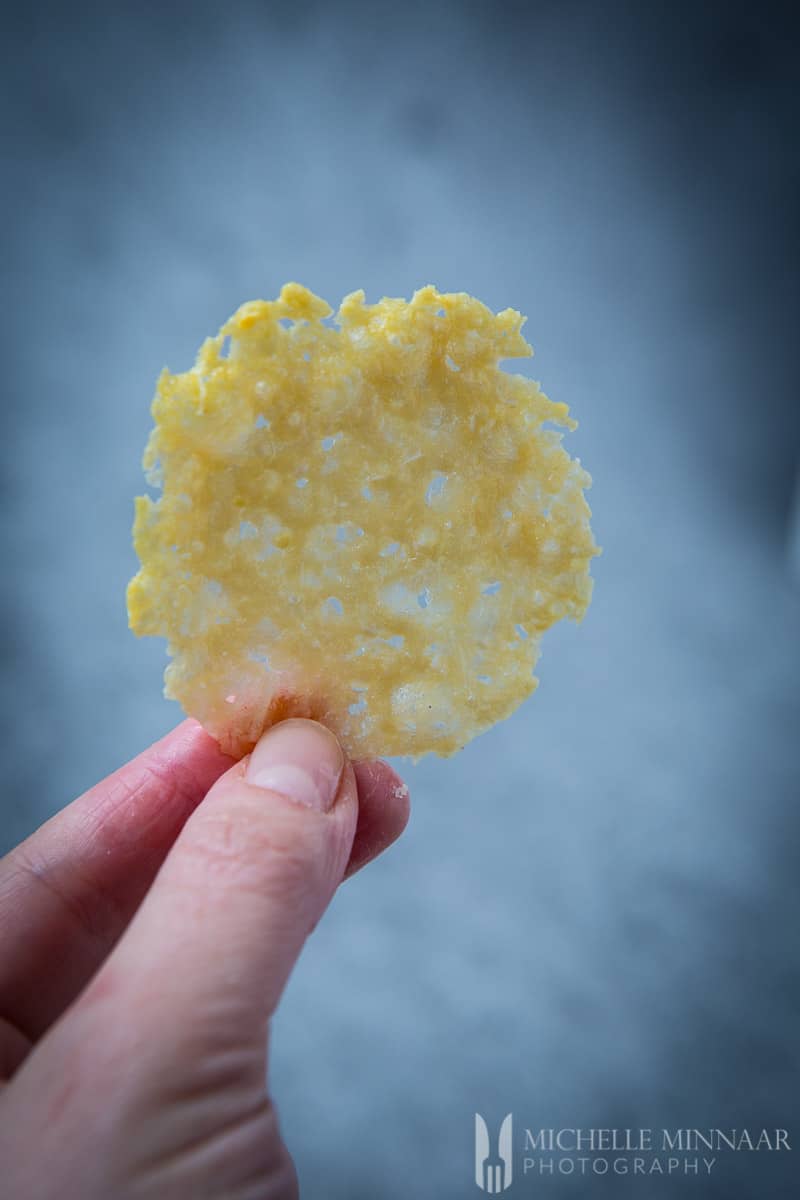 A long ageing period is fundamental in building the aroma and texture of Parmigiano Reggiano, which is achieved in a natural way. Without using any additives, it makes Parmigiano Reggiano 100% natural, easy to digest and high in calcium. The different ages include:
12 months: again, this is the minimum maturity time of the cheese.
18 months: amazing with dry white wine along with some fresh fruits such as pears or apples.
24 months: grate or shave on traditional pasta dishes or on beef or fish carpaccio.
30 months: this is the cheese with most intense flavour. Grate on fresh pasta with heavier sauces or ragu.
For more information on Parmigiano Reggiano, please visit this site. Keep a look out for more delicious Parmesan recipes, just like these Parmesan crisps.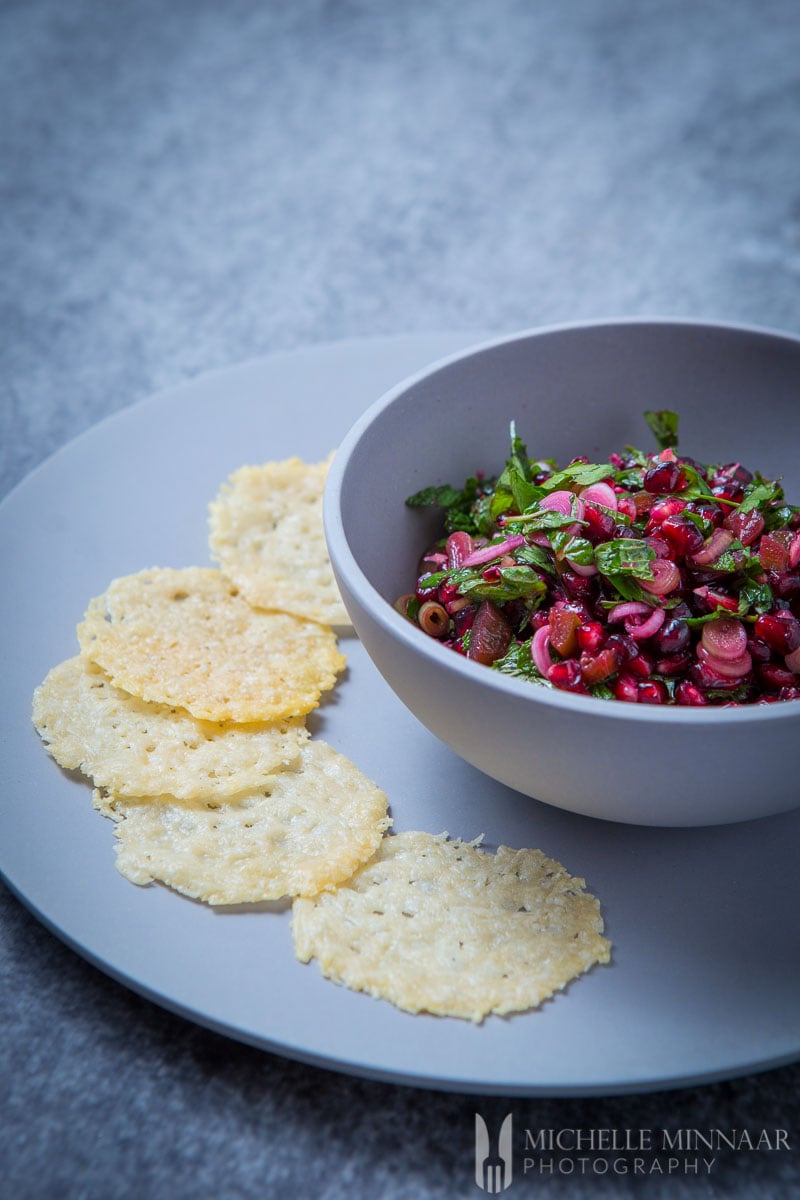 process
Once you have bought Parmigiano Reggiano cheese, it's time to get grating. If you've got a clever automatic cheese grater at home, then lucky you. My older child loves to grate cheese with his safeguard gloves, so it was a great way to get the family involved.
Grate as much as you think you'll need, but trust me, these Parmesan crisps are real crowd pleasers. Once you are done with the grating process, take a sheet of baking paper and make shapes of your liking.
Next, slightly pat the grated cheese down. A circular shape remains classic but feel free to create squares or any other shape you wish. Remember to leave a bit of space in between the shapes because the cheese will melt and expand a bit.
To speed things up, you can use two or three baking trays for each baking session. However, this is only possible if you have an oven that allows this, or if you've got enough baking trays are home.
This way you can have a big batch done in no time, or a maximum of five minutes to be exact. Only remove the trays when you see you see that the cheese is melted, golden and crisp.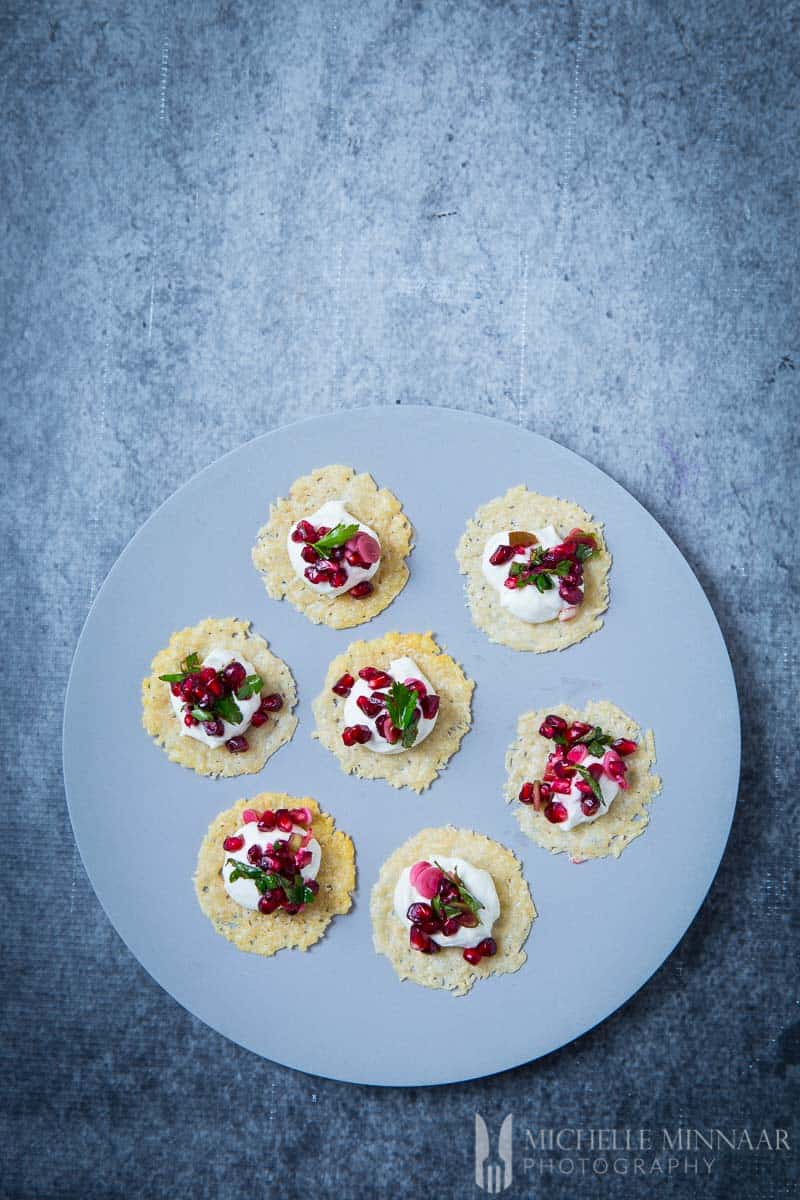 pairing
Parmesan crisps topped with cream cheese and pomegranate make stunning canapés at dinner parties. Prepare them five minutes before serving without risking the cheese to lose its crispness and become soggy.
In terms of wine pairing, these Parmesan crisps work well with any type of wine. Dry white, rose or even a heavy red wine. However, I think that combined with the pomegranate salsa, I would pair it with a fruit dry white.
more Parmesan
You'll probably have a bit of Parmesan Reggiano left over. If this is the case, then you can use it in a traditional Italian pasta dish.
However, if you have a lot of cheese left, then I recommend making the rocket salad with parma ham, papaya, Parmesan and pecan nuts. Here, I like to use larger chucks of cheese for extra flavour. I hope your Parmesan crisps turn out well! Enjoy this lovely recipe.
Get inspired with these canapé recipes below:
Print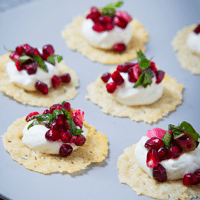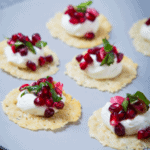 Parmesan Crisps
---
170g

(

½ cup

) Parmigiano Reggiano, grated
---
Instructions
Preheat oven to 200°C/400°F/gas mark 6.
Line a large baking sheet with parchment paper or use a silicone baking tray.
Spoon cheese by tablespoonfuls 2.5cm (1 inch) apart on the sheet and gently pat down to even layer. Use a circular mold to keep the shapes uniform.
Bake for 3-5 minutes or until crisp and golden.
Notes
Serve with whipped cream cheese and pomegranate salsa.
Prep Time:

5 minutes

Cook Time:

5 minutes

Category:

Starter

Cuisine:

Italian
Nutrition
Serving Size:

1 serving

Calories:

68

Sodium:

102 mg

Fat:

5.1 g

Saturated Fat:

3.4 g

Protein:

6.8 g

Cholesterol:

14 mg
save the recipe to your pinterest board

P.S. This is a sponsored post.