Are you a pesto lover? I love homemade fresh pesto and always find excuses to serve it with anything on any occasion. Even more, I love when I pair pesto with other ingredients in a creative way. Unlike incorporating pesto into a traditional Italian pasta dish, I decided to go for pesto stuffed bread. Together with the sundried tomato pesto, the bread suddenly got upgraded a notch. This pesto stuffed bread is one of those recipes that can easily become the family favourite. Expect to make this over and over again once your family tries this. Luckily, this recipe is very versatile. You can use any pesto of your liking to make different versions of pesto stuffed bread. Enjoy!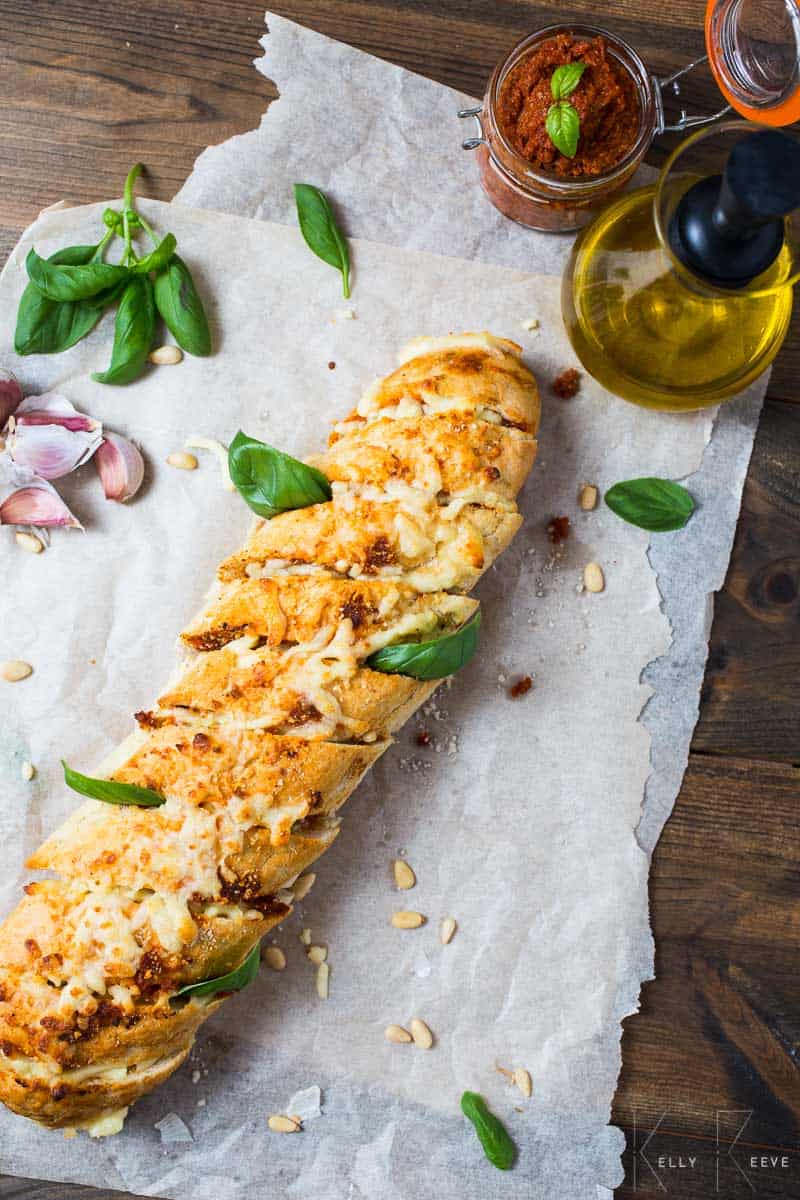 pesto stuffed bread
In short, the pesto stuffed bread is a very simple recipe which has your choice of pesto inside your favourite bread. It very much resembles the traditional garlic bread, however it also includes the delicious homemade or store-bought pesto. The perfect meal for when you are in a hurry and fancy a quick lunch. Equally, you can snack on the pesto stuffed bread at work or when you come home. Lastly, it is a charming way to sneak some vegetables into the bread. This way, your kids can get their daily take of vitamins while enjoying the heartiness of the pesto stuffed bread.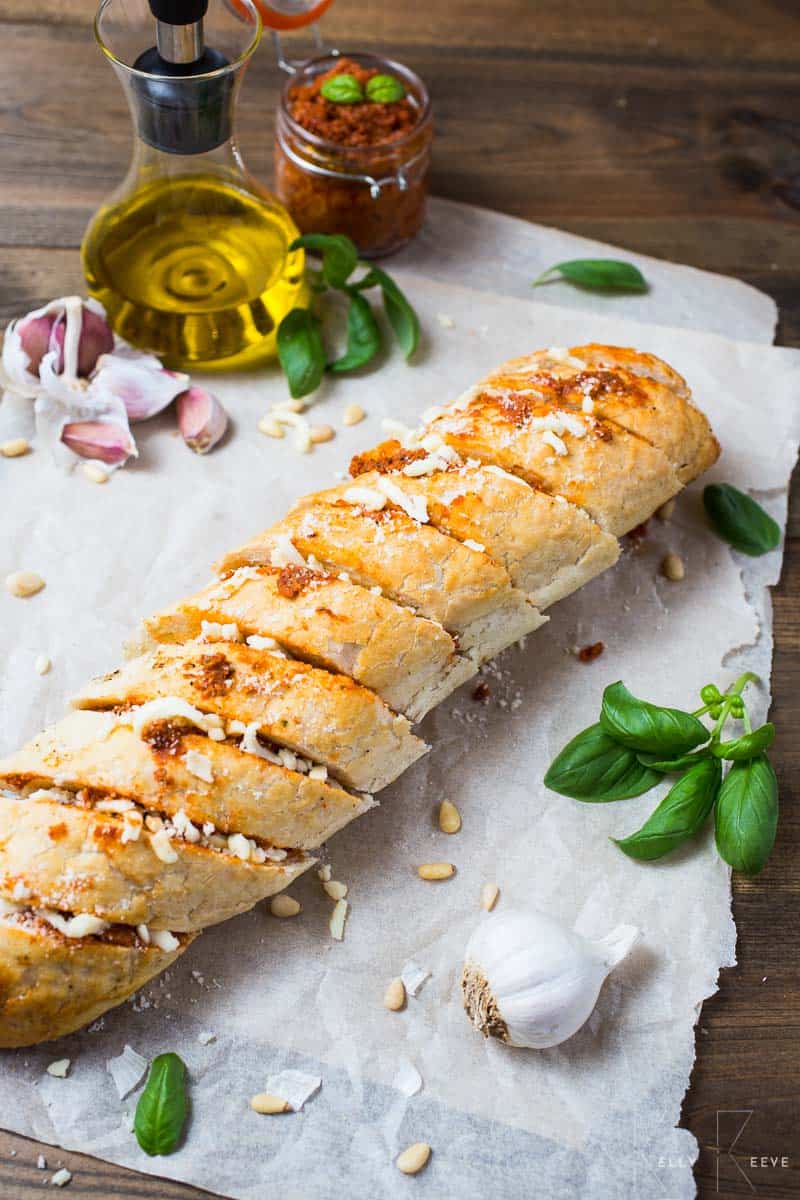 the cut
First of all, you'll need a sharp, serrated knife for this step. A lot of people ask me - what is the optimal cut for getting enough filling into the pesto stuffed bread? I argue that diagonal cuts as in the photos are the best. Usually, this is the best way to incorporate as much pesto and filling as possible. You can still preserve the shape of the bread. Furthermore, this type of diagonal cut will prevent juices from leaking out at the bottom. The bread should absorb the oils and the juices from the sun-dried tomato pesto right up! Plus, it does look very pretty, doesn't it?
You can also cut the bread in half. Comparatively, this does not soak up all the delicious filling as with a diagonal cut. If you halve the bread lengthwise, you are more likely to end up with a kind of sandwich. However, I advise to use less of the pesto filling and to add more ingredients, such as mozzarella, cucumbers, olives, etc., creating a feast of Mediterranean flavours.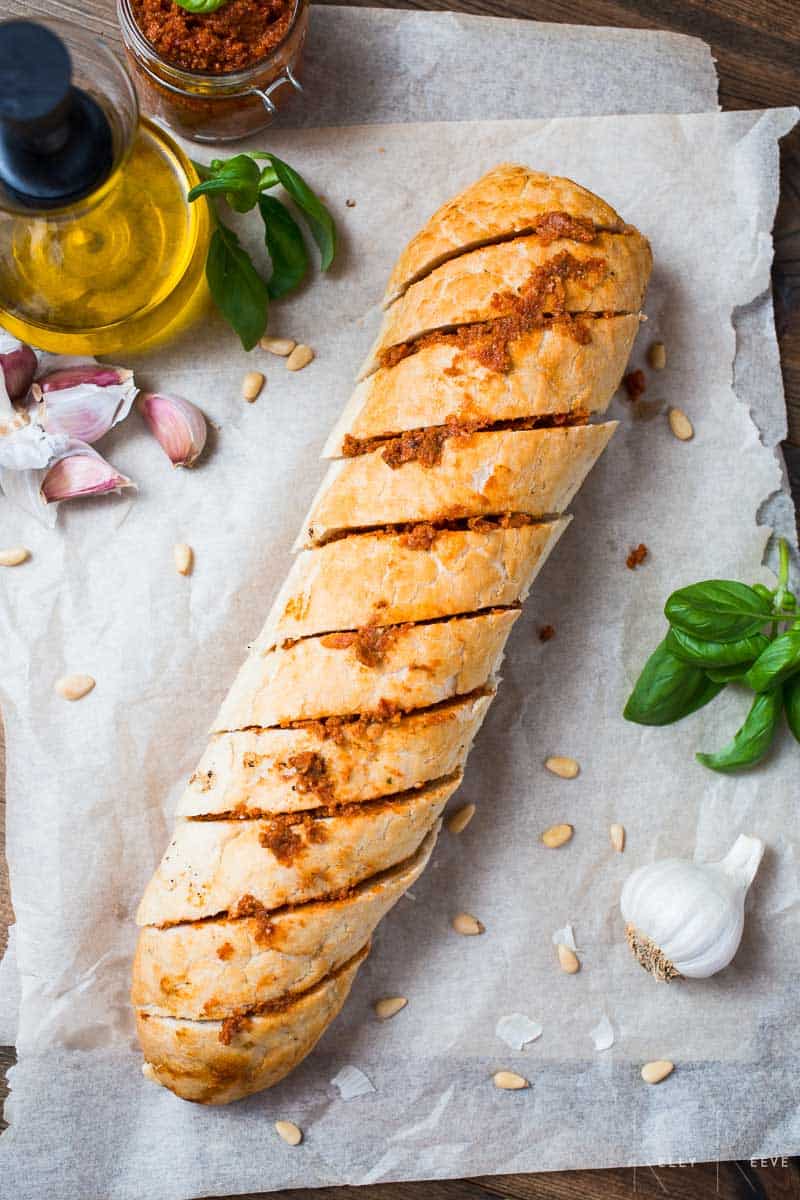 the bread
The best type of bread for the pesto stuffed bread recipe is the traditional baguette. It is also known as French bread. It has that long oval-like shape which makes the distribution of the pesto a piece of cake. If you want to use bread rolls, they'll do the trick too. In essence, they must have the same oval-like shape.
If you go to the store and buy fresh white, wheat, or whole grain bread uncut, that's fine too. Remember to tell the store clerk that you want the whole bread. If however, you can only get a hold of the already pre-cut version, not to worry. I've got a solution for you. Why don't you make pesto stuffed toast? Or better yet, pesto stuffed grilled cheese sandwich. Instead of using the common cheddar cheese, use Parmesan and mozzarella cheese instead.
You can also pair the pesto with croissants or bagels. They too are quite easy to fill if cut properly. Some people even use the pesto as a dip with bread sticks.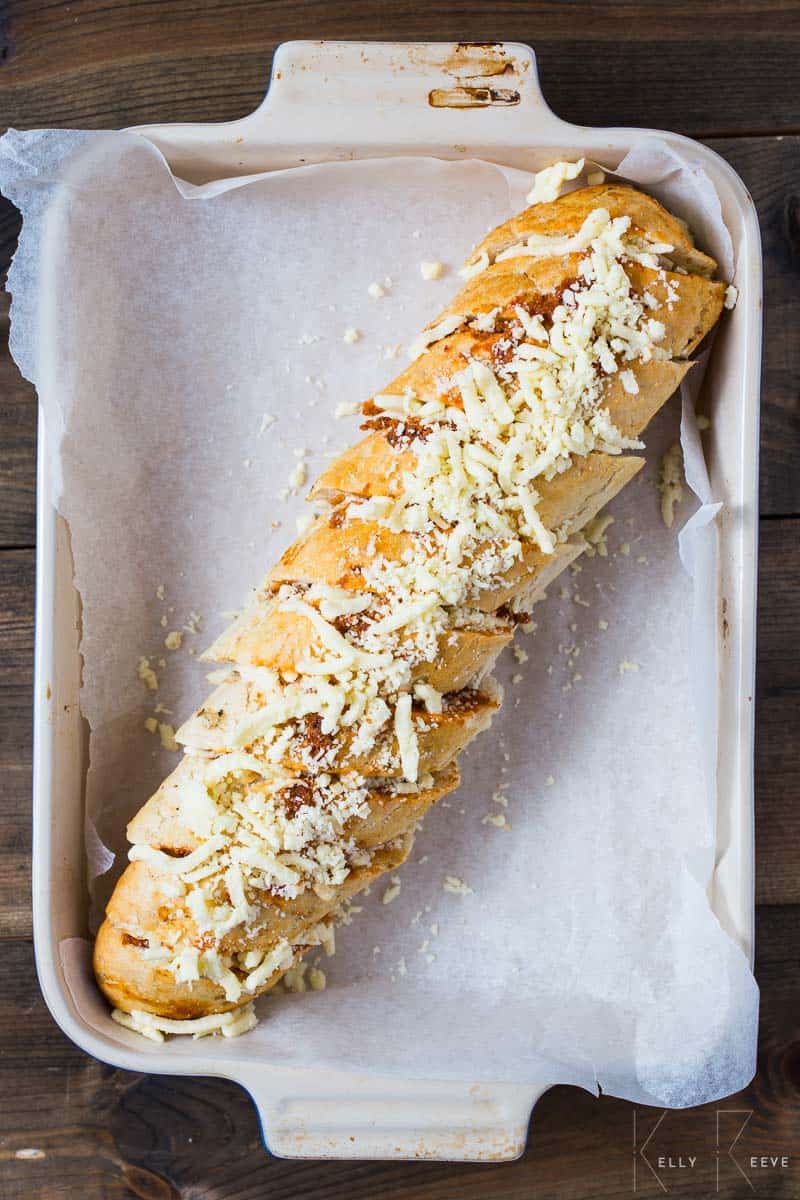 ideas for stuffing
To stay on the Mediterranean theme of flavours, toss in some diced olives in between the slices. You can also go full Italian and create the typical 'meatball sub'. This would include the pesto, perhaps more fresh tomato sauce and a couple of meatballs. You can also use chicken strips too. Of course, the cheeses would be sprinkled on top and stuffed inside as well. Now that sounds amazing! Actually, it sounds like a calorie bomb, but totally worth it!
To give the pesto stuffed a vegetarian edge, instead of the meatballs, you can also opt for creaming the bread with burrata. This Italian cheese is divine. Imagine mozzarella, but twice as creamy inside and more delicate. Together with the pesto, this will be a combination to remember. Garnish with fresh basil leaves.
If you are not so keen on using the sundried tomato pesto, you can also use basil pistachio pesto or pecan rocket pesto - both tangy and delicious. With both these pestos respectively, I would pair with fresh produce such as spring onions, bell peppers and cucumbers. You'll still have that gooey factor from the mozzarella and the Parmesan cheese. If you fancy something a bit sharper in terms of taste, try the watercress pesto. It also works well over roasted vegetables such as potatoes.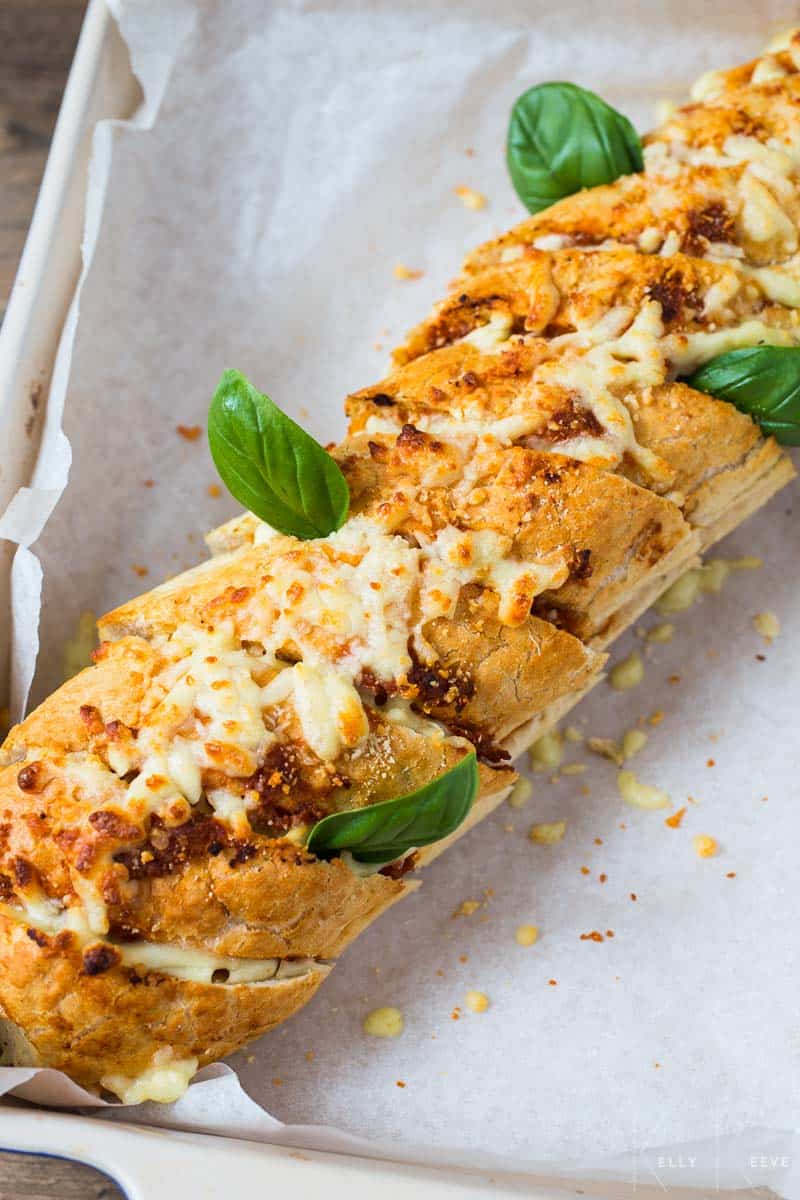 fit for veganuary
Since it is still Veganuary, I can't resist suggesting a vegan option for my fellow vegan readers. Instead of using  sundried tomato pesto, go for the vegan avocado pesto. Similarly to the suggested vegetarian option, stuff the bread with the pesto and some other types of vegetables. Above all, omit the cheese elements from this recipe. If you are looking for that creamy texture, just use more avocados and slice them into thin strips.  They will give you that soft creamy texture that you are looking for.
In contrast,  you can also stuff it with roasted carrot hummus for Middle Eastern flavours. I would cram in some rocket salad for a contrast in flavor. I love the fact that pesto stuffed bread is so versatile. There are so many variations you can make with your own creativity!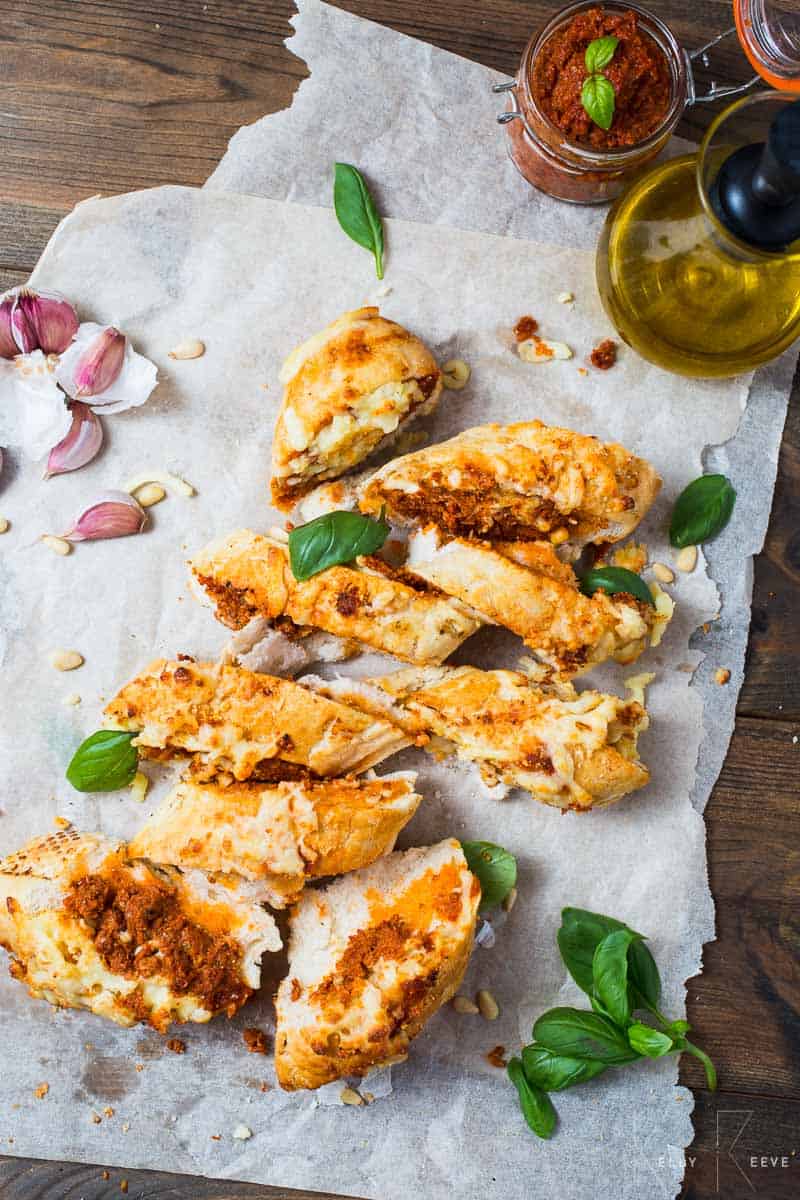 oven bake
This last step is the hardest. Waiting for the final product is always the difficult and completely mouthwatering element in the cooking process. Once you see that the bread is golden and the ingredients have melted inside, it's time to take the pesto stuffed bread out. Enjoy!
What is your favourite way to stuff bread?
Print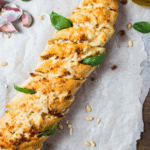 Pesto Stuffed Bread
---
1

baguette (65cm/26in in length)

100g

(

1 cup

) pesto

100g

(

3 oz

) mozzarella cheese, grated

30g

(

1 oz

) parmesan cheese, grated
---
Instructions
Preheat the oven to 180°C/350°F/gas mark 4.
Using a serrated knife, make a cut into the bread until it almost reaches the bottom. Repeat the process, making 2.5cm (1in) "slices".
Slather the slices with as much pesto as your your heart desires.
Cram the slices with mozzarella and finish it off with a sprinkle of parmesan cheese.
Bake in the oven for 15 minutes or until the bread is golden and the cheese is melted.
Prep Time:

10 minutes

Cook Time:

15 minutes

Category:

Starter

Cuisine:

Italian
Nutrition
Serving Size:

1 serving

Calories:

100

Sugar:

1 g

Sodium:

185 mg

Fat:

6.8 g

Saturated Fat:

2 g

Carbohydrates:

5.6 g

Protein:

4.4 g

Cholesterol:

8 mg
save the recipe to your pinterest board
A special thanks to Kelly Reeve for assisting with the recipe shoot.