During my trip to Sicily, I had the chance to participate in a Sicilian barbecue and learn how to respect even the simplest of ingredients. Among other things, I learned how to prepare artichokes and make these beautiful roasted artichoke hearts. There is nothing better than learning the best roasted artichoke hearts recipe directly from Sicilians. Some might find it frightening to take on this strange looking ingredient. However, it is actually easier to prepare roasted artichoke hearts than you would think. If you love the delicious simplicity of Italian food as much as I do, you must treat yourself to some roasted artichoke hearts. You can serve roasted artichoke hearts as a starter, a side for a main, or together with other small dishes for antipasti.
The hardest part of making this artichoke recipe is waiting for them and resisting nibbling on these babies! They are the ultimate ingredient for the summer, so get them while they are at their best!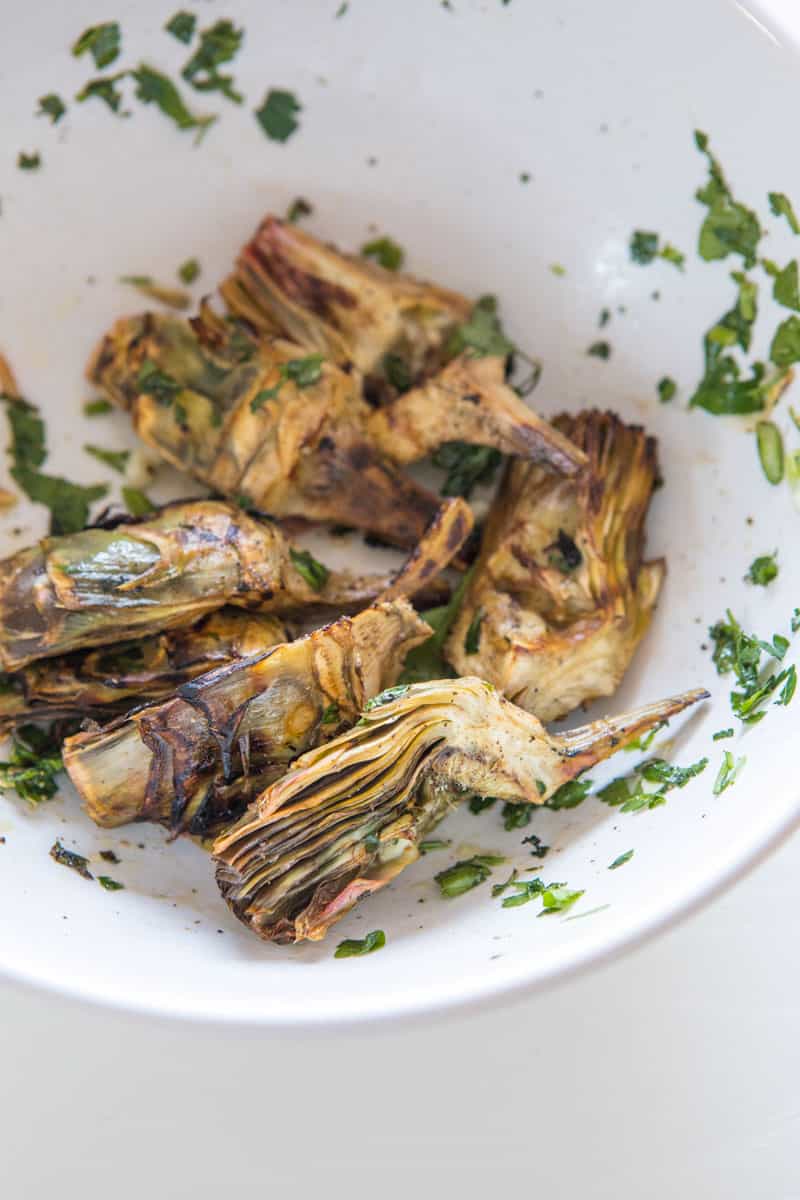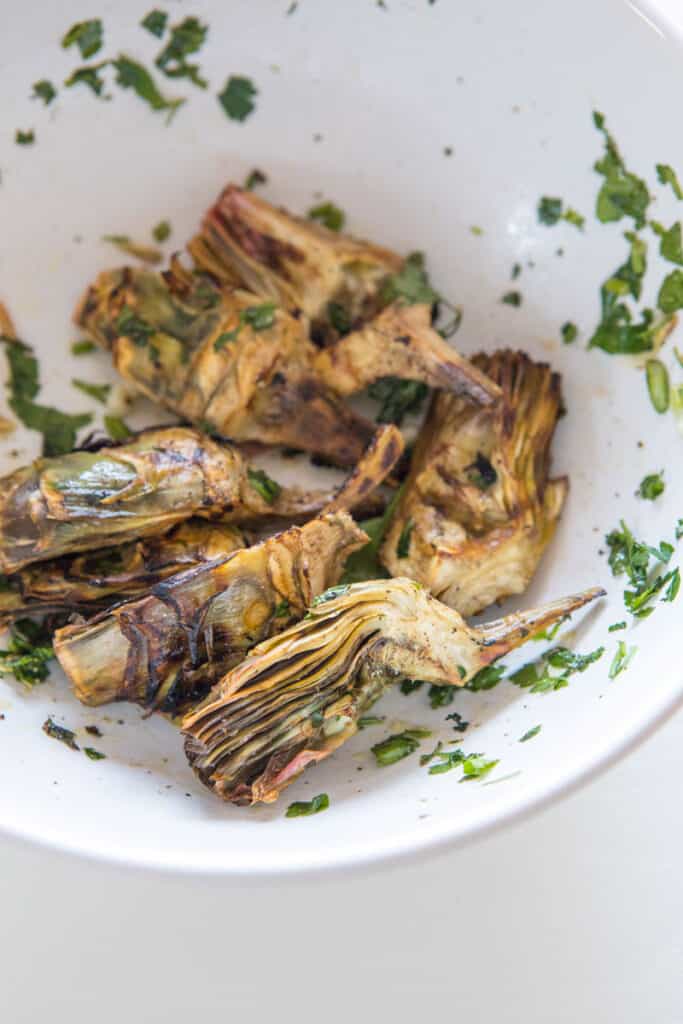 how to make Sicilian roasted artichoke hearts
Artichokes have been a part of Mediterranean cuisine since the times of the Roman Empire. It has been a vegetable in widespread use throughout Italy, France and Greece for more than 500 years and people continue to love it to this day. In my opinion it is about time that we start enjoying this perhaps unfamiliar, yet delicious ingredient in Britain as well. That's why making these simple roasted artichoke hearts is a fantastic way to start!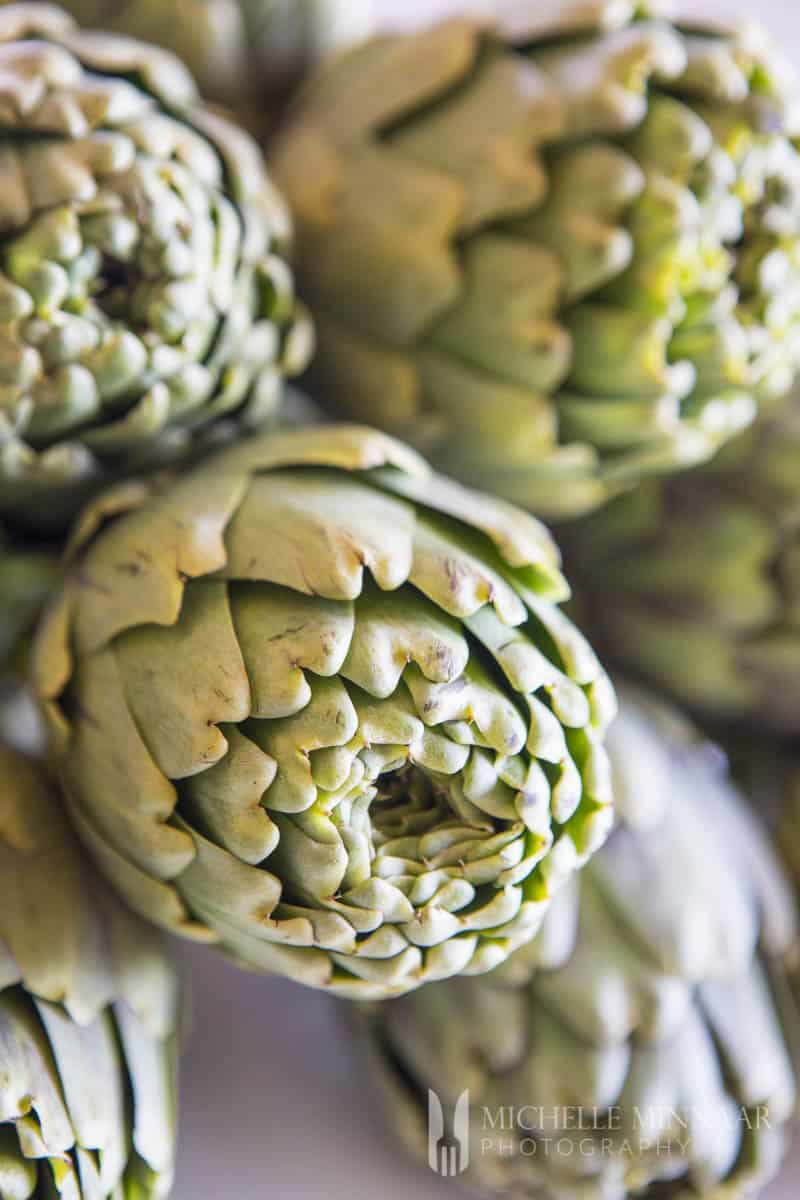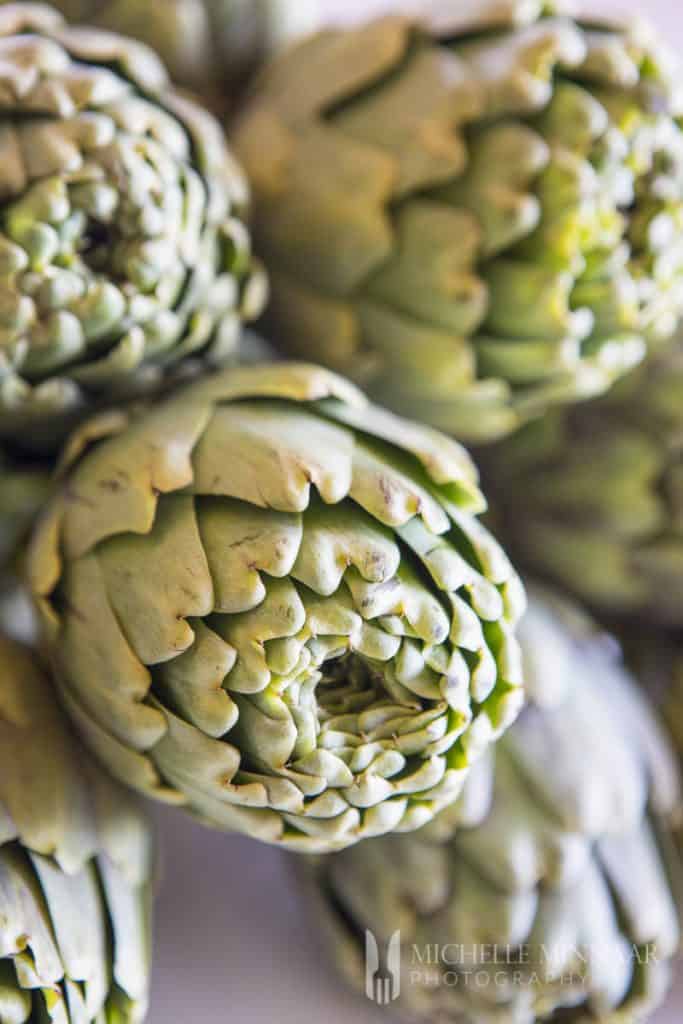 The artichoke plant is actually a member of the thistle family. Maybe this does not sound too appetising. However, you should not let yourself be put off by that. The edible part of the plant is actually the flower bud. Once the plant blossoms the consistency of the leaves becomes coarse and inedible. When you cook the flower bud, you can break off the leaves and enjoy the delicate flavour of the artichoke leaves. Have them as they are or dip the bottom of the leaf in a dipping sauce and scrape off the meaty part with your teeth. Once you're through, cut off the remaining fuzzy layer and you're left with the actual artichoke heart.
Depending on your preference and the purpose, you can get different kinds of artichokes. There are the big, globe-shaped ones and the smaller, slightly elongated artichokes. Some of these can have partly purple leaves rather than the green leaves of the globe artichokes.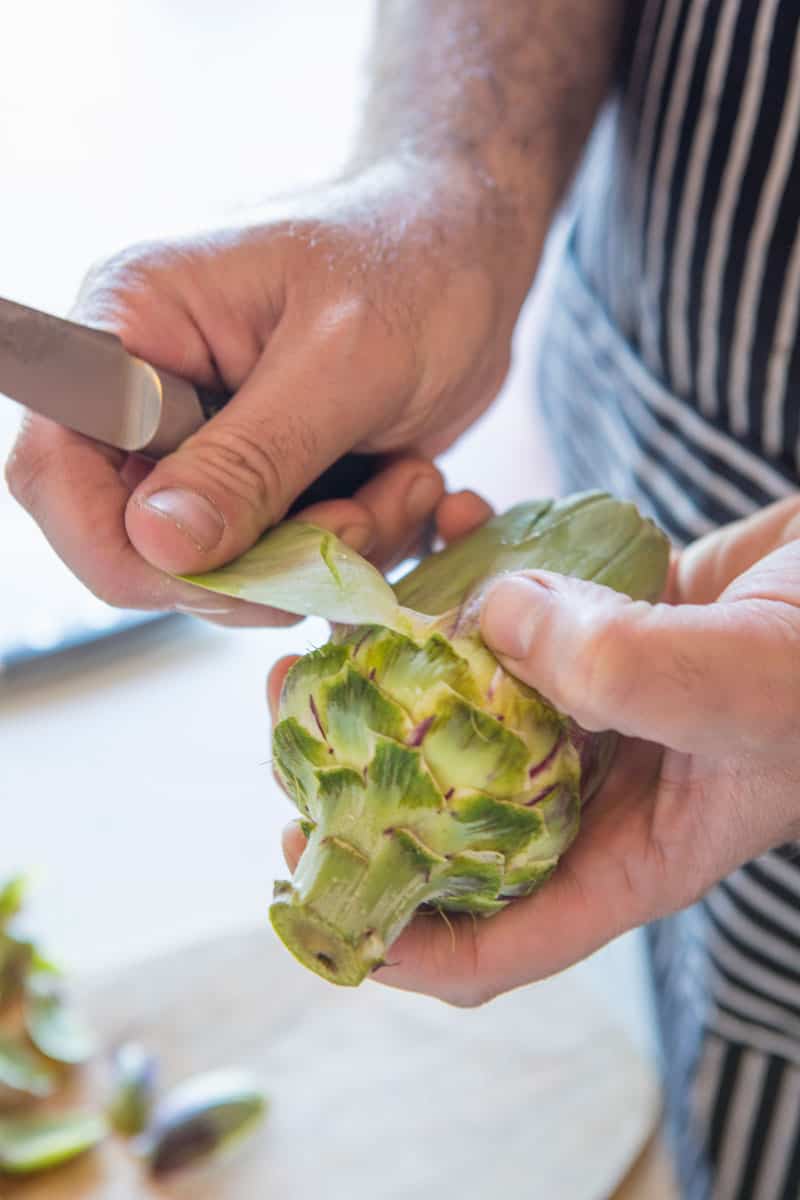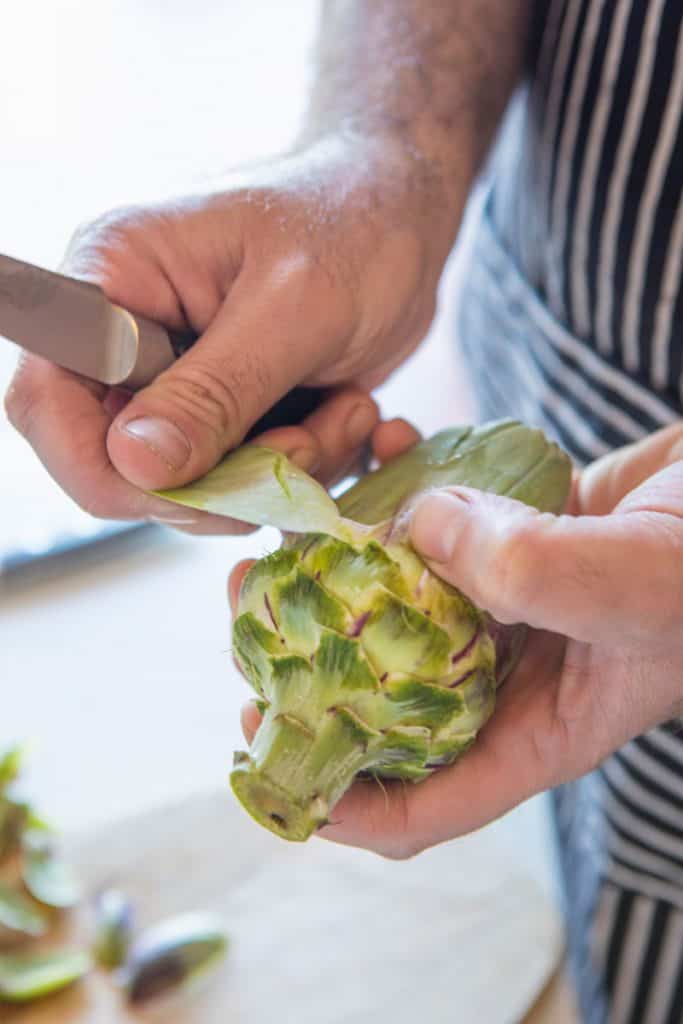 how to prepare artichokes
A little tip when you go shopping for artichokes is to get the ones that are completely closed. The more open ones are dryer and you will have fewer edible leaves. After sourcing your artichokes, you need to prepare them for cooking. First, trim the tips of the outer leaves and cut off the stems. If you plan to steam the artichokes rather than roasting them, you also need to cut off about an inch of the top. Afterwards, rinse the artichokes in water.
If you don't have the means to roast the artichokes, steaming them is an excellent way to enjoy their delicate flavour. Like peeled apples, artichokes have a tendency to turn brown. A tip here is to add a splash of lemon juice in the cooking water. This will prevent the artichokes from turning brown, making them more presentable on the plate. The same principle applies for the roasted artichoke hearts.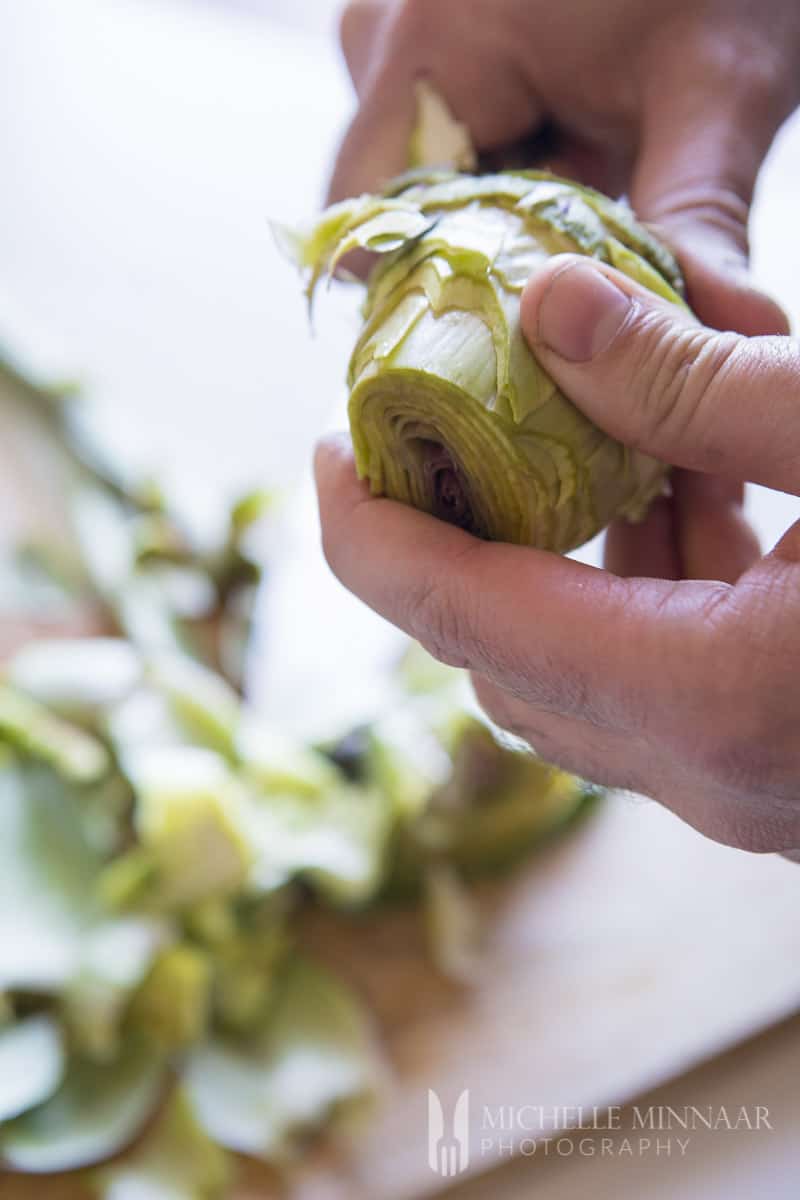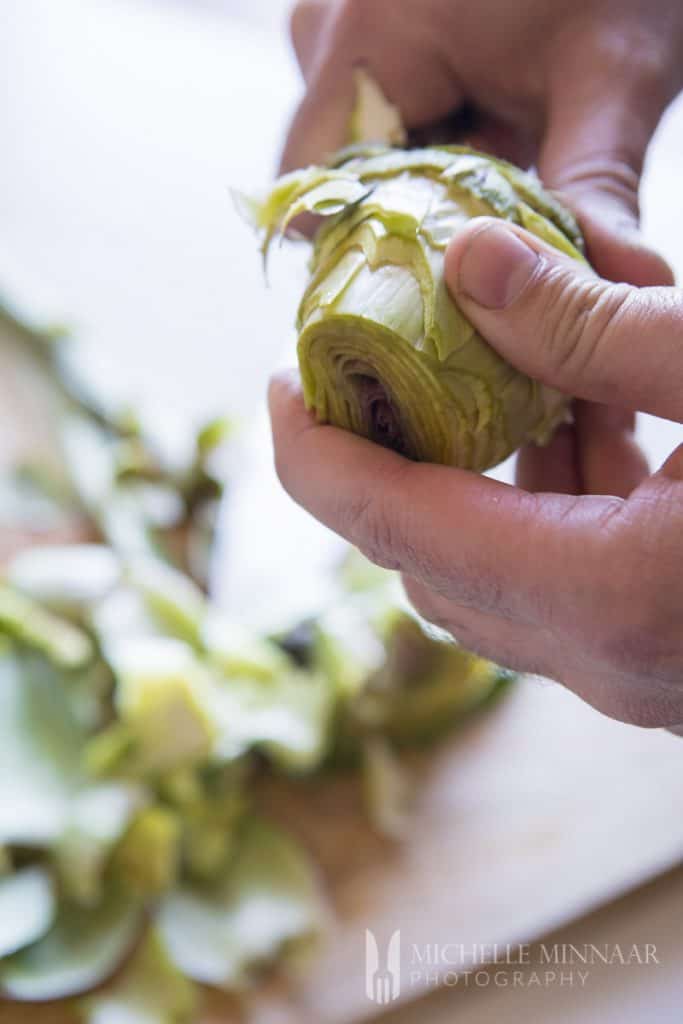 roasted artichoke hearts – Sicilian bbq recipe
I learned this recipe from a lovely Sicilian chef. We had a barbeque on the beach where we had some delicious dishes in the stunning surroundings. It was a great way to get some real insights to authentic Sicilian cuisine, and I would recommend this to any food-obsessed traveller. If you are interested in travelling to Sicily yourself, have a look at my article on 18 things to do in Cefalu.
Apart from the roasted artichoke hearts, I had the chance to cook fresh sardines, as well as other local fish. Fish and seafood dominate the Sicilian cuisine. Not surprising once you taste it! Have a bite of it yourself with my sardine salad. During my stay in Cefalu, I also learned to make squid ink risotto, which you can read more about here.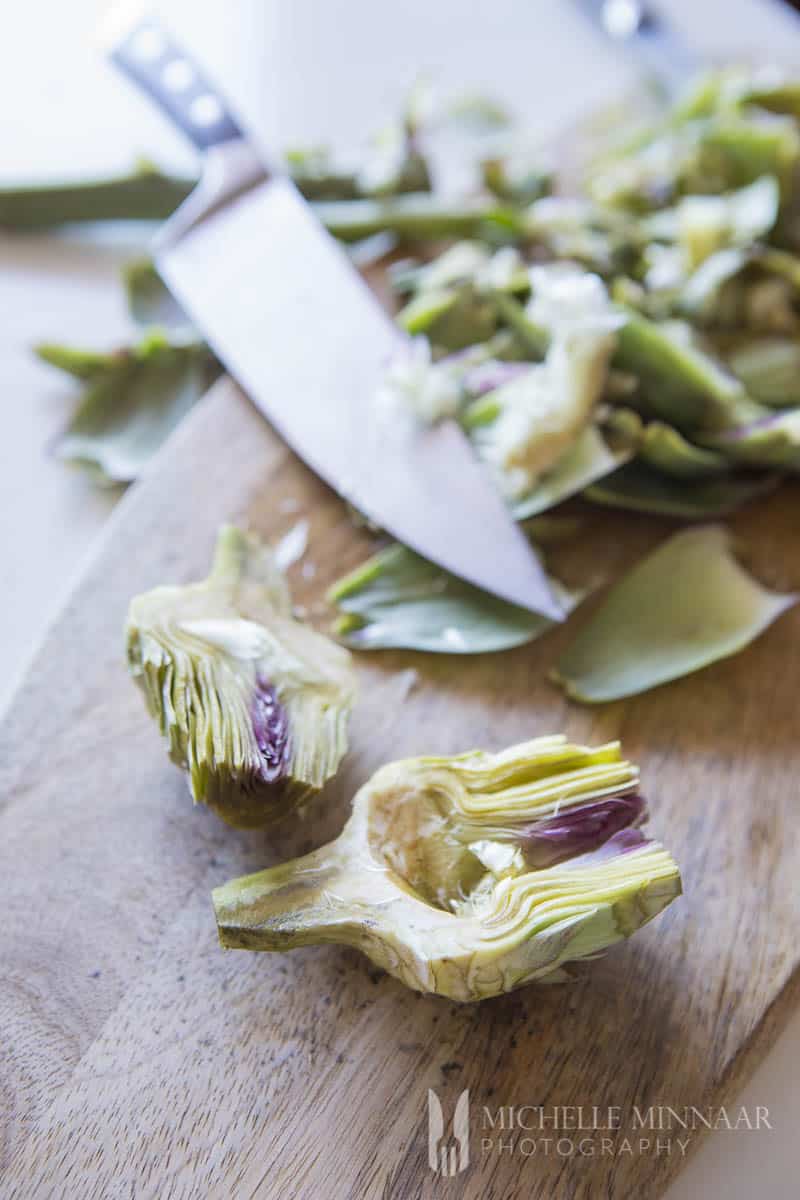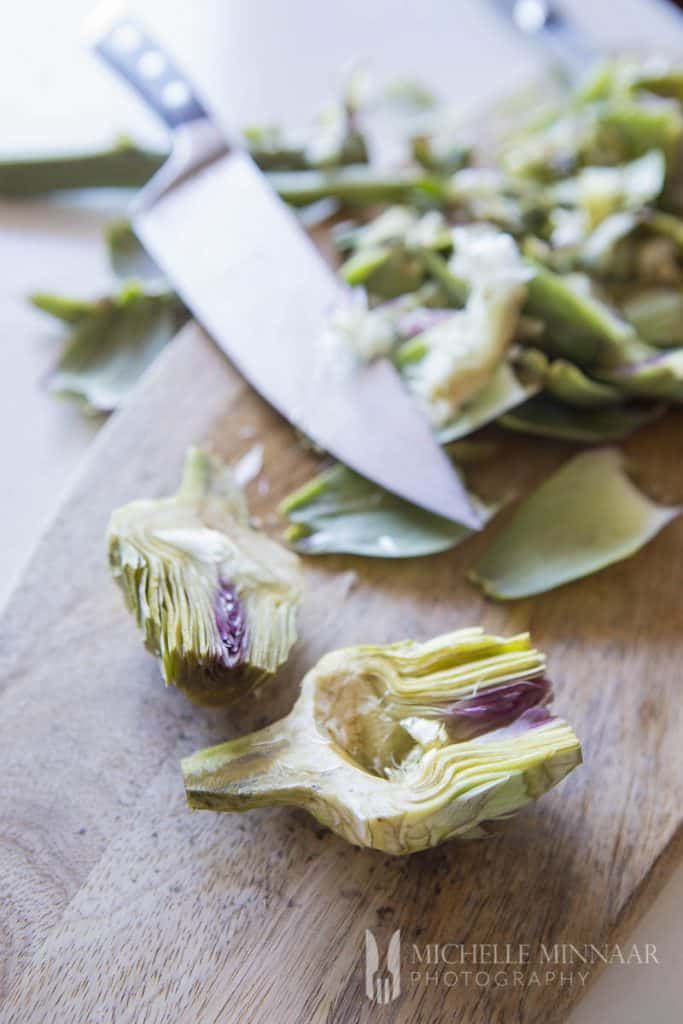 pan-roasted artichoke hearts
Of course, you don't need to be in Sicily to make this recipe. You can pan-fry them, grill them in your garden or even roast them in the oven!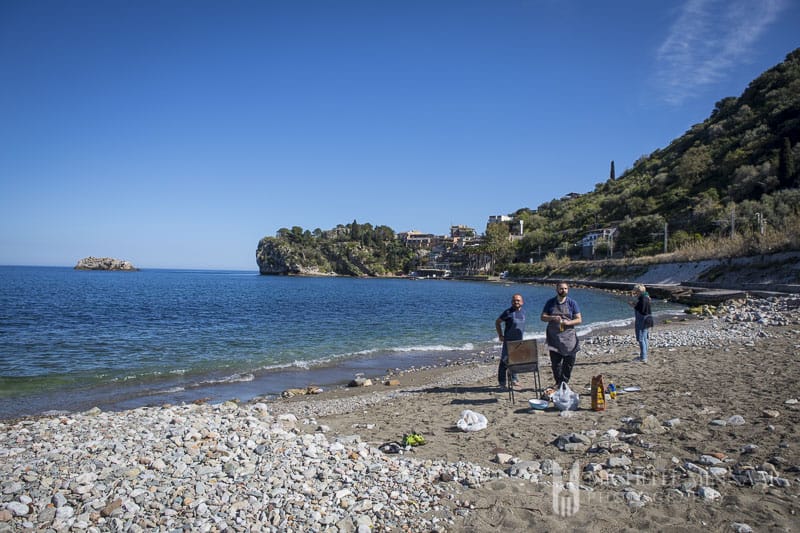 what to eat with roasted artichoke hearts
Roasted artichoke hearts are amazing as appetisers. Serve them hot, drizzled with olive oil and a pinch of salt. This certainly captures the spirit of Sicilian food. Extremely simple, but yet to die for.
If you are making a big Sicilian dinner, you can use the roasted artichoke hearts as a part of an antipasti plate. Some good quality ham, sausage and olives are fantastic companions for roasted artichoke hearts. Even if you are cooking this in your kitchen at home, the flavours will take you on a trip to the sunlit landscapes of Sicily.
In fact, you can make yourself a real Sicilian feast with these roasted artichoke hearts, my fresh sardine salad and my macco di fave. Alternatively, you can serve the roasted artichoke hearts as a starter with a simple vinaigrette. The French eat it with a traditional balsamic vinaigrette and some baguette. Otherwise, you can also enjoy it with some side salad and use my honey mustard salad dressing also as a dip. Oh, and don't forget to serve some good bread on the side.
Furthermore, roasted artichoke hearts are actually a brilliant topping for a homemade pizza. A great way to use any leftover roasted artichoke hearts from the night before. Just take a look at my globe artichoke pizza! Yum!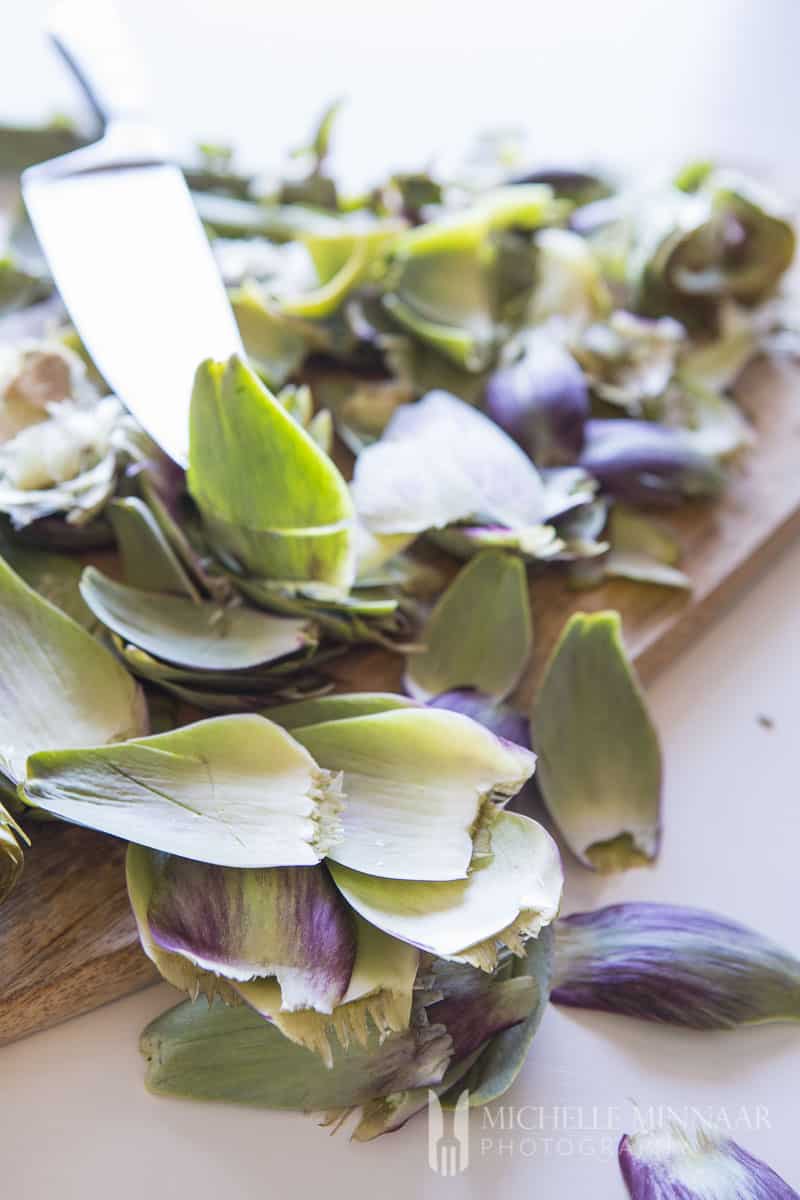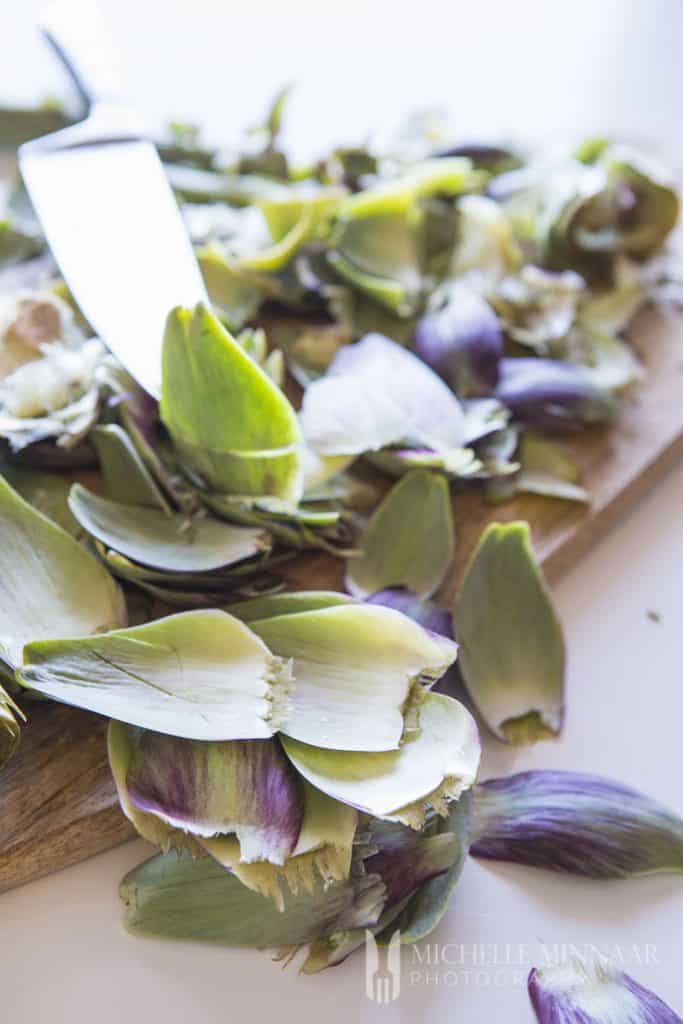 how to season grilled artichokes
The artichokes are allowed to shine the most without any seasoning prior to cooking. After you have cooked them you need no more than to season with olive oil, salt and pepper. If you want a bit more flavour, press some fresh garlic and mix with olive oil, lemon juice and a bit of fresh oregano and dress the roasted artichoke hearts with the mixture.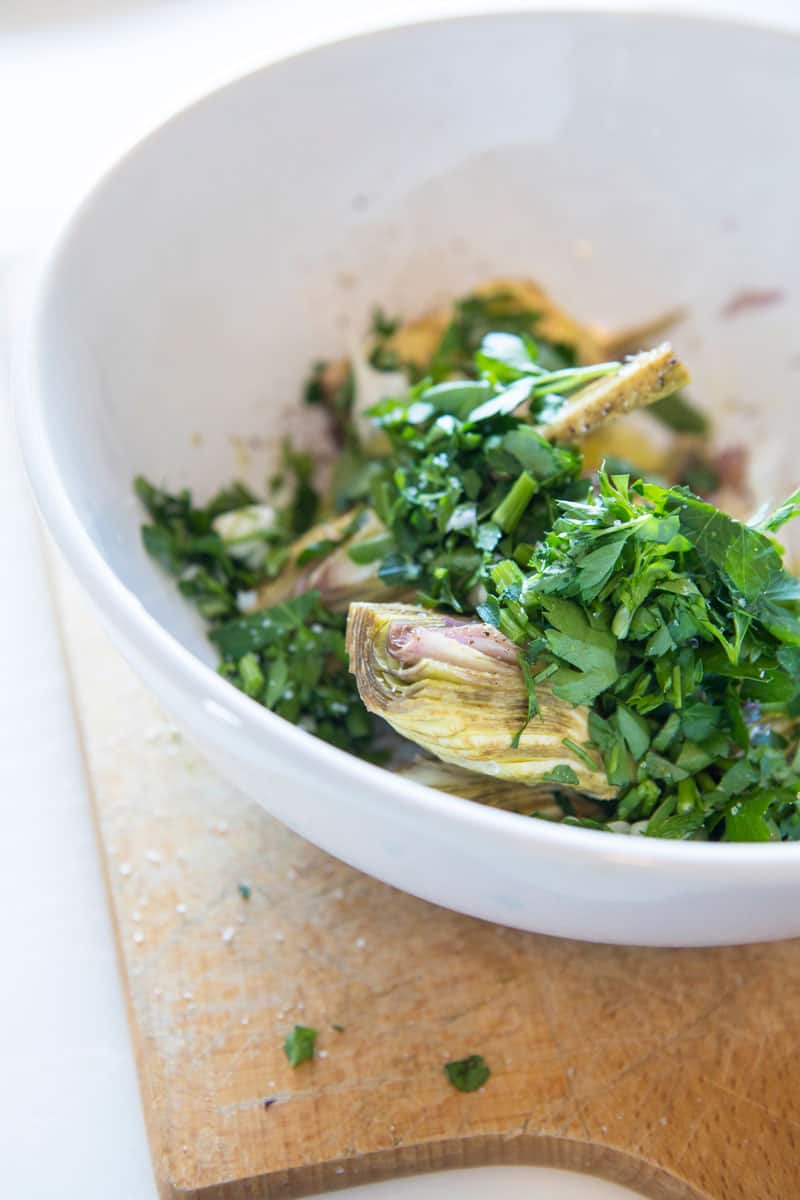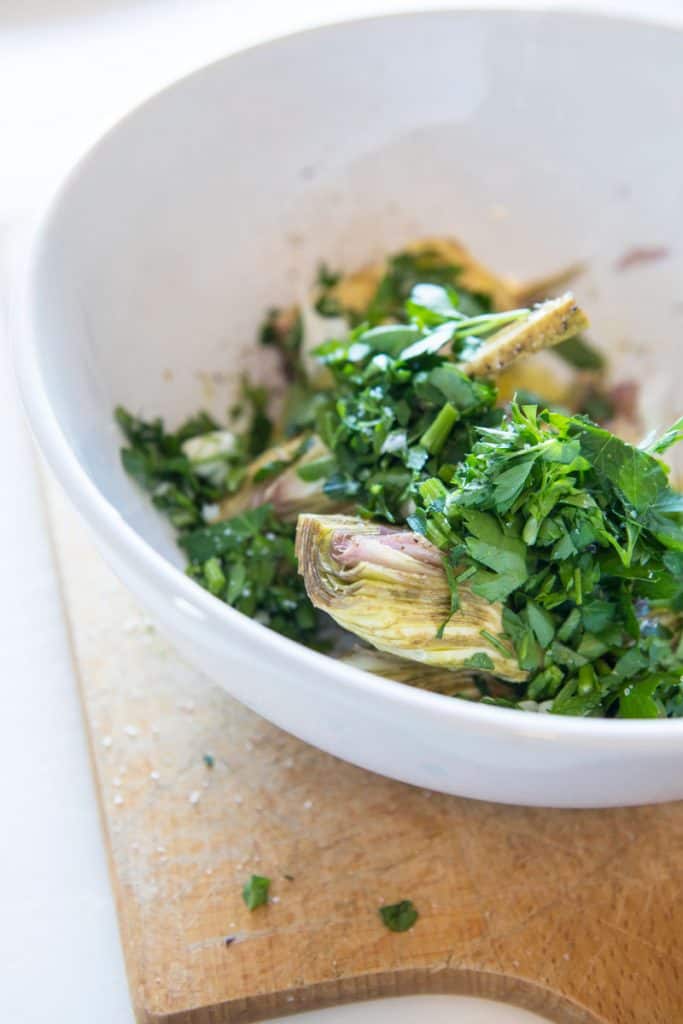 roasted, marinated artichoke hearts
For extra flavour, marinate the artichoke hearts overnight in olive oil and herbs of your choice. This way, the flavour will infuse into the artichoke overnight and you'll get the most out of this amazing ingredient.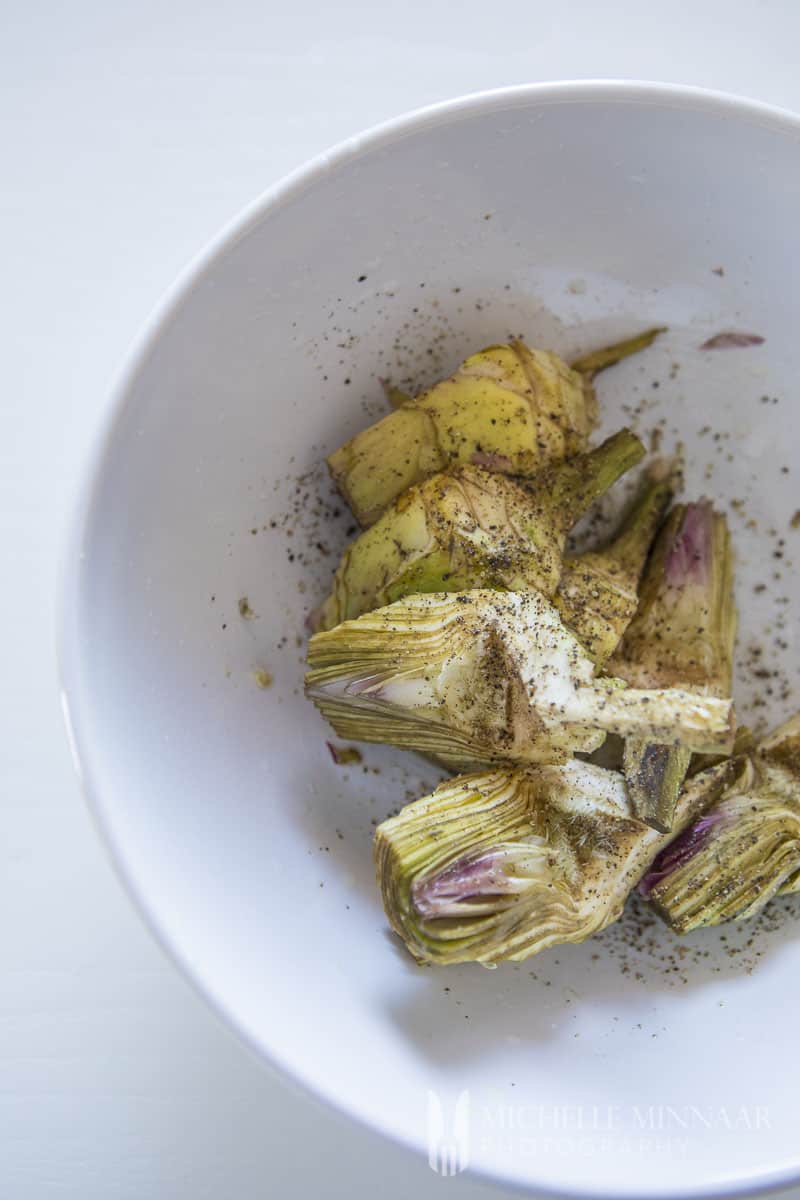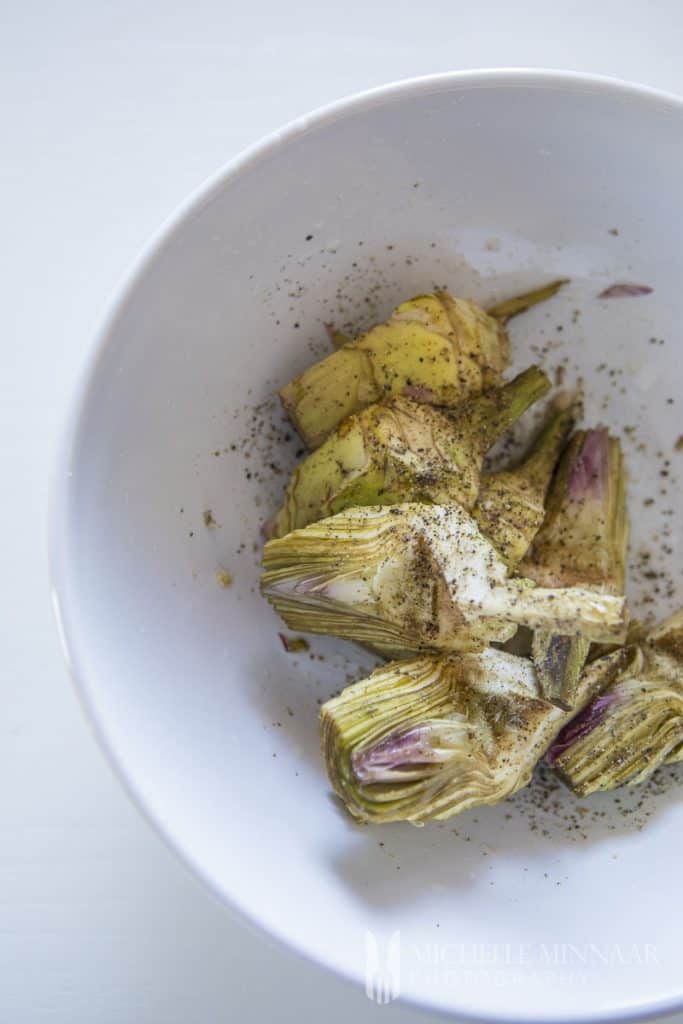 best wine with artichokes
No Sicilian feast would be complete without a glass of their equally delicious wine. A glass of cool white or rosé will pair beautifully with the roasted artichoke hearts. Even if you cannot enjoy this directly on a sunny Sicilian beach, the flavours are still amazing. The aromatic and full-bodied wines are made primarily from grape varieties local to Sicily. Even though the names Cataratto, Grecanico and Trebbiano are probably unfamiliar, they produce truly excellent quality wines. So, if you want something different, look out for one of these superb Sicilian wines.
Print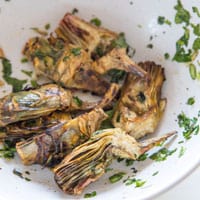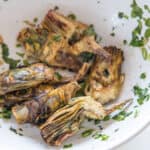 Roasted Artichoke Hearts
---
Description
Make these simple roasted artichoke hearts in a true Sicilian fashion! This recipe comes directly from Sicily and it will make you love artichokes forever.
---
12

globe artichokes

60

ml (4 tbsp) olive oil

½

lemon, juiced

125

ml (½ cup) parsley, washed and finely chopped

Salt and pepper, to taste
---
Instructions
Preheat the oven to 200

°C/

400

°

F/gas mark 6.

First, clean the artichokes by cutting off their stems. Peel off the tough outer layers. When you reach the softer layers, use a serrated knife to cut off about 3/4 inches from the top. Cut artichoke in half lengthwise. Then, using a sharp paring knife, remove all the "hairs" on the inside.

Mix the artichoke halves in a bowl with the oil, lemon juice, parsley and plenty of salt and pepper.

Arrange the hearts on a lined baking sheet and cook for about 15 minutes, or until golden brown.

Flip them around and cook for another 10 minutes. Keep an eye on them to prevent burning!

Serve immediately as part of a Mediterranean meal.
Notes
Alternatively, cook the artichokes on a barbecue and grill until cooked; roughly the same time as you would an oven.
Prep Time:

30 minutes

Cook Time:

30 minutes

Category:

Side Dish

Cuisine:

Spanish
Nutrition
Serving Size:

1

Calories:

355

Sugar:

5.1g

Sodium:

462mg

Fat:

15g

Saturated Fat:

2.2g

Carbohydrates:

52.3g

Fiber:

26.7g

Protein:

16.2g
save the recipe to your pinterest board