The temperatures have dropped yet again and I think it's time for another hearty soup recipe. This rustic Italian sausage soup includes only the best ingredients that will fill you right up when you need it the most.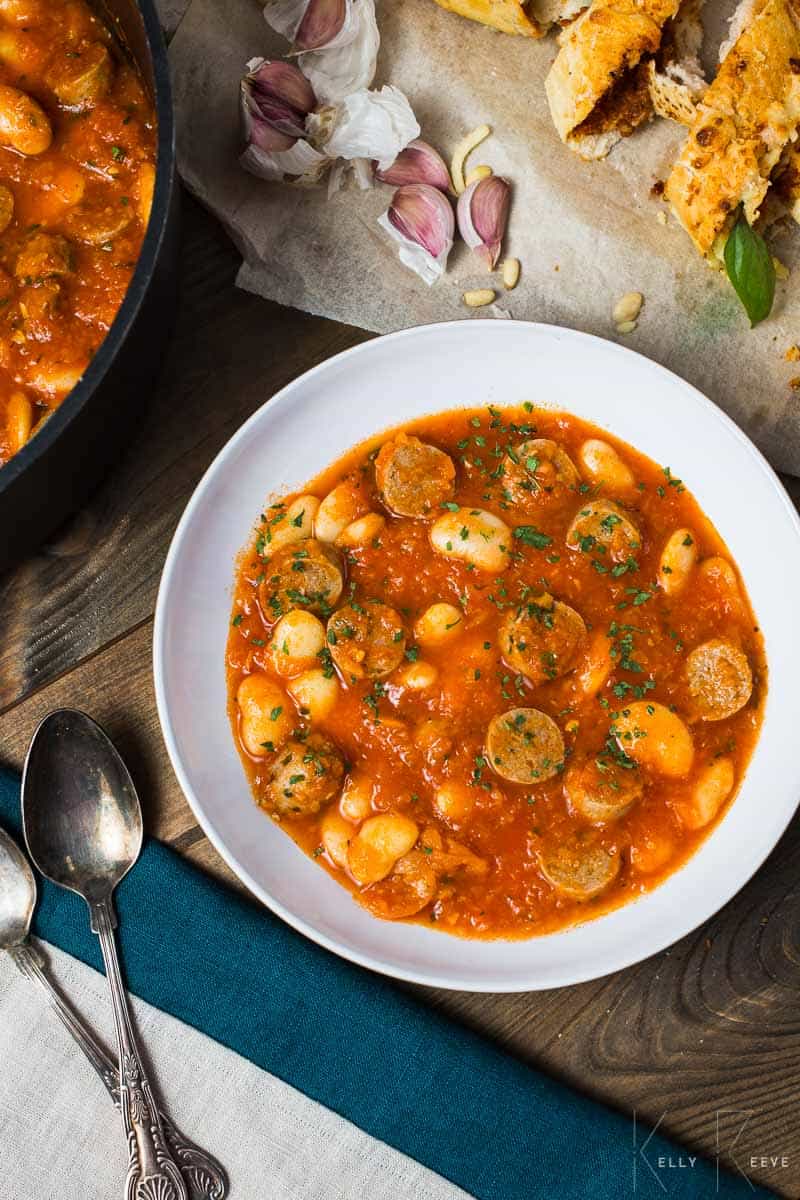 Together with the umami flavours of the sausage, the creamy butter beans work incredibly well with the tomato base. In other words, you are in for a savoury treat whenever you grab a spoonful.
This recipe loves garlic, so feel free to add as much garlic as you like. Equally, the sausage soup is fantastic with a side of pesto stuffed bread.
Not only will you be able to enjoy different textures, you can also use the bread to scoop up the last bits of the sausage soup.  Did I mention that this is a perfect family meal? However, here is a fair warning for those who are still thinking of pairing
this sausage soup with a main course. You definitely won't need to make a main if you've got a fantastic starter like this one.
Together with the pesto stuffed bread, you will be too full to continue eating. On that note, don't let me discourage you from cooking if you feel like having a main.
sausage soup
Sausage soup is a very popular dish in Italy. It's commonly known as a grandmother dish and is usually a traditional family recipe.
Similarly to a vegetable soup, each household has their own version of sausage soup. You can also consider this sausage soup as a Italian sausage stew as its consistency can thicken up to resemble a stew.
It all depends on the ingredients you throw into the saucepan and what their water content is. For example, if you throw in courgettes, they can dilute your soup because they are watery.
On the other hand, butter beans act as a thickening agent when mushed. No need for adding flour or the common thickener, cornflour, for that matter.
In Italy, it is very common to pair sausage soups with pasta or rice, so that the soup thickens.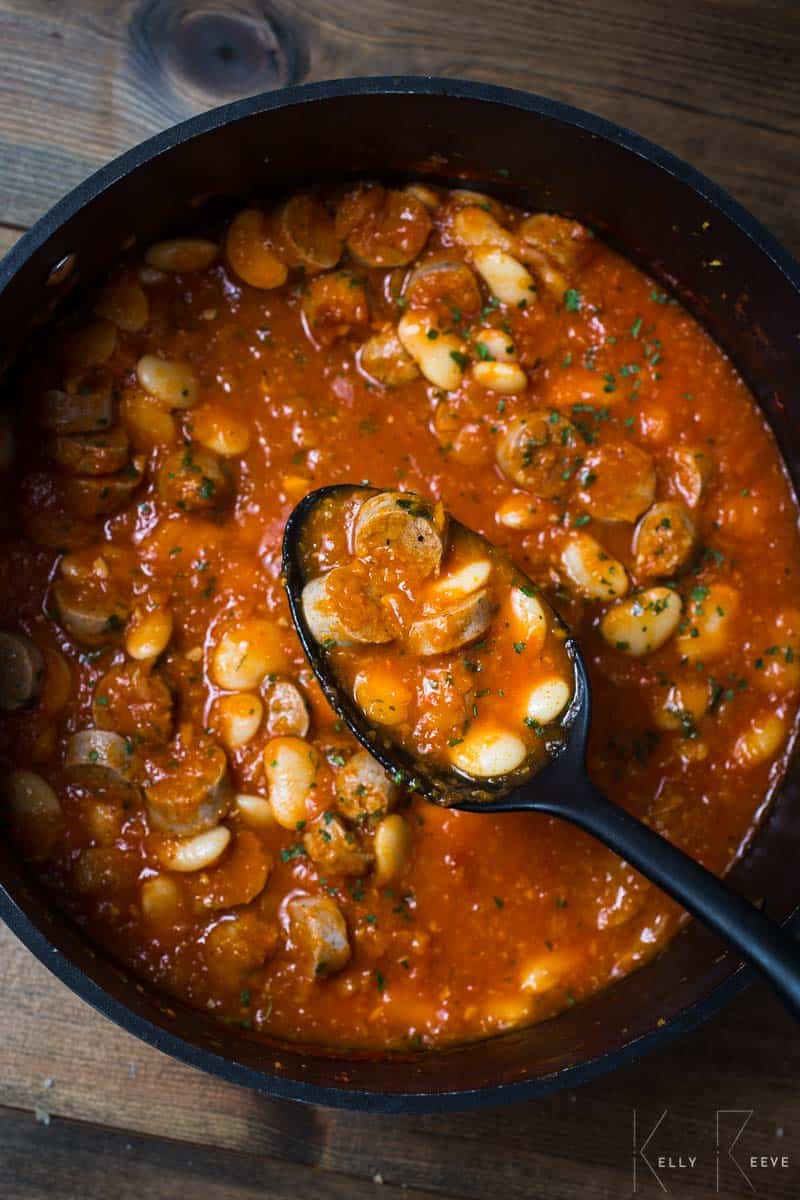 other hearty soups
Are you looking for more comforting soups? I recommend trying chestnut soup. Although it is not tomato based, it too is very hearty and nutritious.
Although the season for chestnuts is relatively short, you can still get vacuum packed chestnuts in supermarkets all year round. Next, I would also advise you to give the chickpea soup or the leftover brussels sprout soup a go.
They too, are exceptional when it comes to flavours, and leave you truly sated. If you are looking for something more offbeat, then give this cauliflower and potato soup a chance.
It's very easy and it's possibly one of my favourite combinations. Speaking of easy soups, I have to mention this easy carrot soup recipe.
Always a good idea to have this recipe around. You can never go wrong with a carrot soup!
If you want to explore with new flavours and spices, you can prepare kabocha squash and cumin soup. Or better yet, if you've got leftover butter beans, try the baked kabocha squash and butter bean soup.
For more exotic combinations, try the red lentil, tomato and coconut soup - an absolute success every time. Equally delicious and adventurous is the butternut squash and orange soup.
The orange leaves a touch of acidity and tanginess, adding complexity to a delicious soup. Lastly, if you feel that you want something more Indian inspired, then the curried carrot and split pea soup is for you.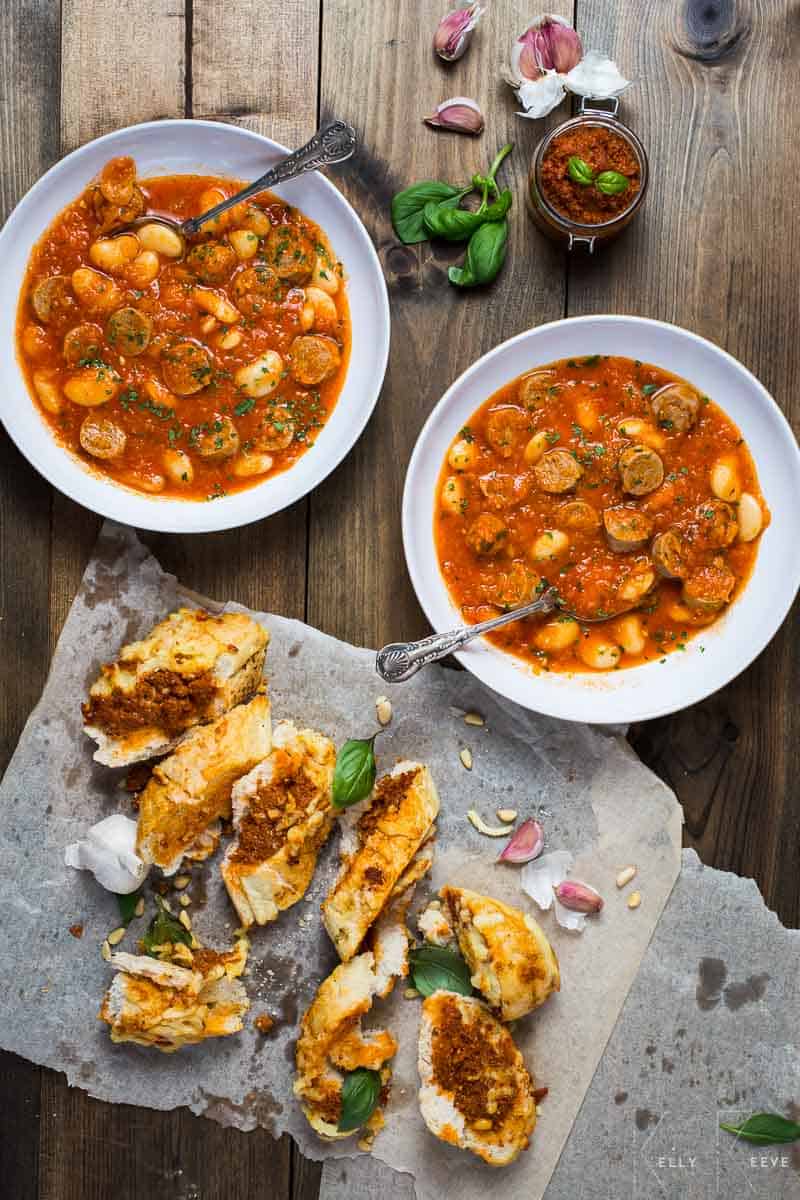 types of sausage
There are plenty of sausages that you can pair this recipe with. Just check out the different type of sausages you can use from this bacon wrapped pork sausages recipe with sweet sticky apple.
I go into detail about most of our sausages here in the UK. Plus, if you've got leftover sausages from this recipe, feel free to make this delicious side dish. Everyone goes crazy for it.
Ordinarily, the best type of sausage for this sausage soup recipe is the Italian pork sausage, also known as 'salsiccia'. This sausage is often seasoned with fennel or anise.
In my opinion, you can use any type of pork or poultry sausage. In any event, do not go for a lamb sausage as it is too heavy and overpowering for this recipe.
Simply, select your favourite pork or poultry sausage and cook away! After the sausages are cooked, you can lift them out with a slotted spoon and cut them into slices.
Alternatively, after removing their casings you can form little meatballs with the raw meat and then turn it into a meatball soup.

variations
There are multiple variations to this rustic Italian sausage soup. I must highlight, that if you want this soup to be vegetarian friendly, simply introduce another element to the soup instead of the sausage, such as potatoes.
I can imagine potatoes working well, filling your right up. Or you can include more vegetables, where it can start resembling the vegan caponata alla siciliana.
This is a delicious Italian vegan stew that can serve as a basis for your next inspiration when it comes to completing this soup. Similarly, it is also based on tomatoes.
We already have butterbeans, but it's also very common to use carrots and courgettes. You would find these cut up in rather large chunks so that the sausage soup has a certain rustic texture.
Similarly, you could also substitute the butter beans with chickpeas or mung beans. You can also give this Italian sausage soup recipe a twist and turn it into a Mexican one instead.
Instead of the butterbeans, substitute with chickpeas. Also, use bits of corn with or instead of the sausages and you already halfway there.
Next, take some fresh jalapenos sprinkle them over along with tortilla chips for a bit of crunch.
Now come to think of it, you can also inspire yourself with this turkey chowder with sweetcorn. It too can take a Mexican direction. It's so fascinating how we can shift from one cuisine to the next.
wine or no wine?
Obviously, I have not included wine in this recipe, however in Italian it is very common to do so. In Italy, you would generally see a bottle of dry red wine on the side of the kitchen counter, with a poured glass just next to it.
If you fancy this type of cooking, then go for it. Red wine goes very well with any Italian dish that has a tomato base. Just make sure that you leave it long enough on the heat.
You'll need to make sure that the alcohol evaporates and the sausage soup boils through. Otherwise, the soup can have an unpleasant bitterness about it from high levels of alcohol.
Remember to combine all the ingredients over low heat first before adding the wine. This will allow all the ingredients to infuse together, creating that wonderful hearty profile in one bite.
Once the wine is in, feel free to crank up the heat a bit. Once you are done, don't forget to serve with the pesto stuffed bread. Enjoy!
By the way, if you love butter beans you'll adore this white bean dip.
What is your favourite soup recipe?
Print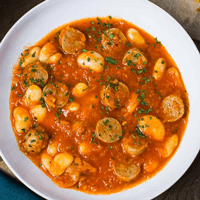 Sausage Soup
---
30

ml (2 tbsp) oil

1

onion, peeled and finely chopped

4

garlic cloves, peeled and crushed

2

carrots, peeled and finely diced

8

pork sausages, casings removed

500g

/1lb passata

500

ml (2 cups) vegetable stock

1

tin (400g/1lb) cooked butter beans, drained
---
Instructions
Gently fry the onion in the oil in a large saucepan until translucent.
Add the garlic and carrots and cook until softened.
Turn up the heat and brown the sausages, then add the passata and stock.
Keep the pot on high heat until the soup starts bubbling. Turn down the heat to let the soup slowly simmer.
Cook for 20 minutes then add the beans.
Let it heat through for 5 minutes, then serve.
Prep Time:

15 minutes

Cook Time:

30 minutes

Category:

Main Course

Cuisine:

Italian
Nutrition
Serving Size:

1 serving

Calories:

313

Sugar:

12 g

Sodium:

952 mg

Fat:

15.3 g

Saturated Fat:

3.6 g

Carbohydrates:

28.8 g

Fiber:

8.9 g

Protein:

14.5 g

Cholesterol:

22 mg
save the recipe to your pinterest board
A special thanks to Kelly Reeve for assisting with the recipe shoot.