For me, the summer means lots of seafood. To bring that seaside holiday feeling to my own dinner table is something that always makes the warmer months much better. If you relate to this feeling, you will absolutely love my jerk prawns recipe. You don't even have to live near the seaside to enjoy it! It Is fresh and tasty, and not least, easy to prepare. It's the perfect dish to share with family or friends in the garden, while enjoying the sunshine. Serve this dish with a glass of chilled rosé wine, or simply a refreshing lemonade, and it's the perfect summertime meal.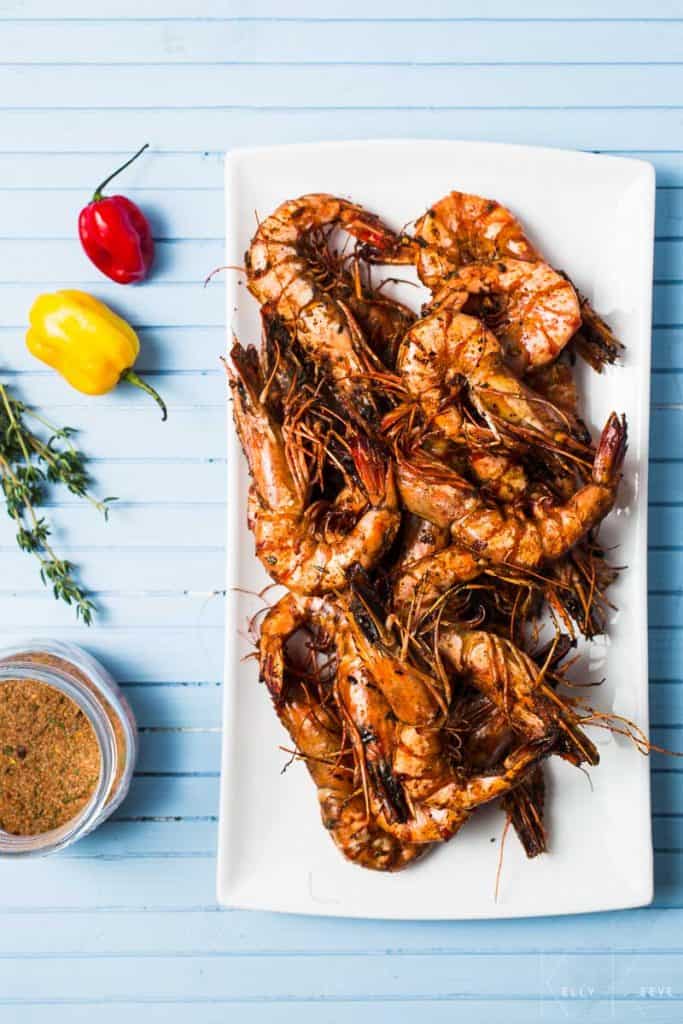 Jerk spice
Jerk spice is a spice mix originally from Jamaica, but nowadays widely popular. In this recent recipe of mine, you can see how to make your own jerk spice. Store the jerk spice in a dark and dry place and use it in abundance. In addition, it's not something you find in the stores very often, so therefore better make it yourself. You can find out all about jerk spice for your jerk prawns in my recent post here.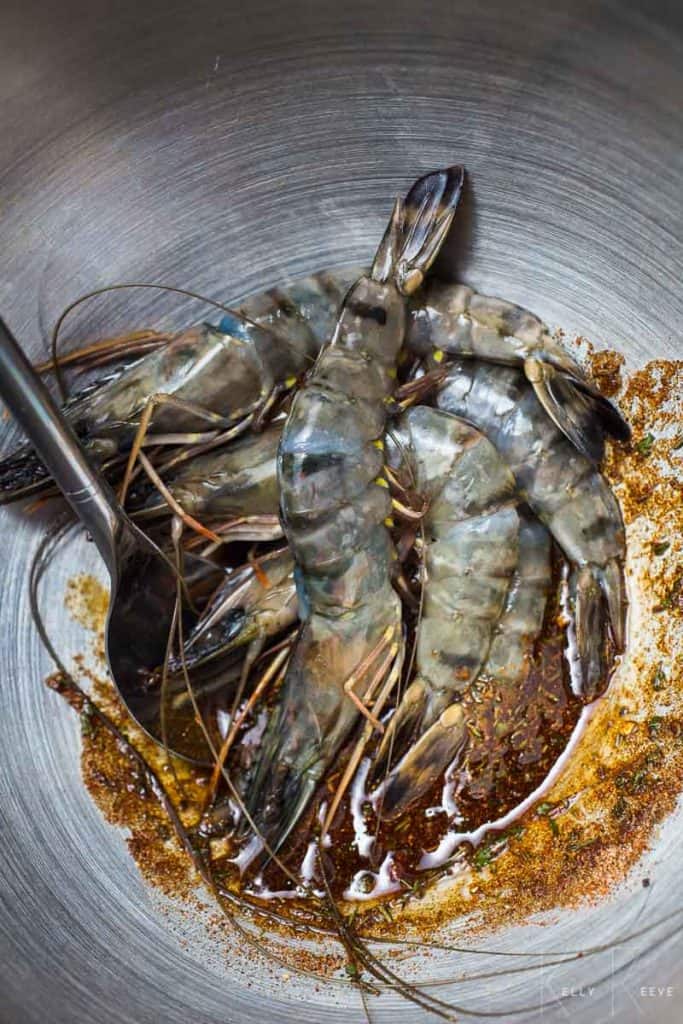 Tiger Prawns
For this recipe, you need 20 raw shell-on tiger prawns, cleaned and deveined. Tiger prawns are shrimps from southeast Asia. However, they are a lot bigger that the shrimps from our northern waters. Most of the tiger prawns you can buy are frozen, but that doesn't mean the quality is bad. Just be sure to defrost them slowly in the fridge. This way you maintain quality of texture and flavour.
The tiger prawn owes its name not only to its size, but mainly to its characteristic black and white stripes on the back. Even when cooked, and the meat turns into a pinkish red colour, the stripes are still very obvious. In Asia make up the core ingredient of many well-known dishes. Almost any Thai curry can be had with tiger prawns instead of meat in it and they are most valued source of protein.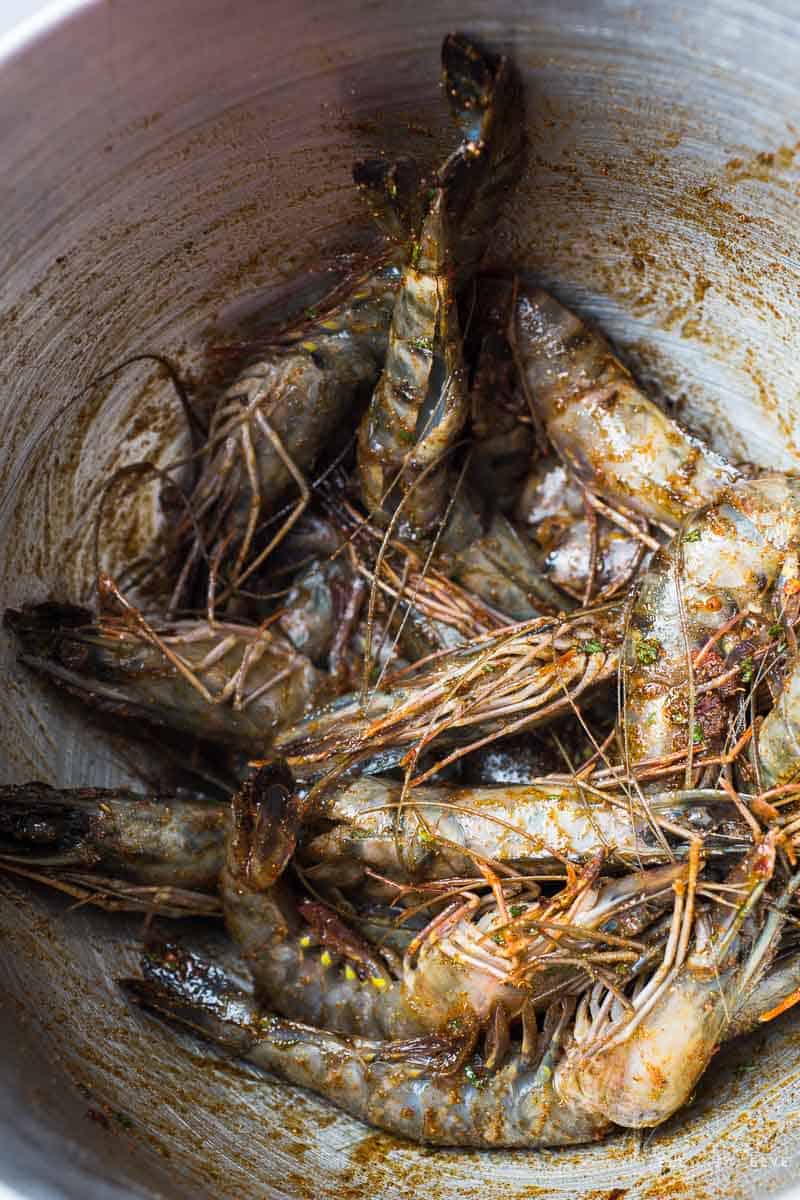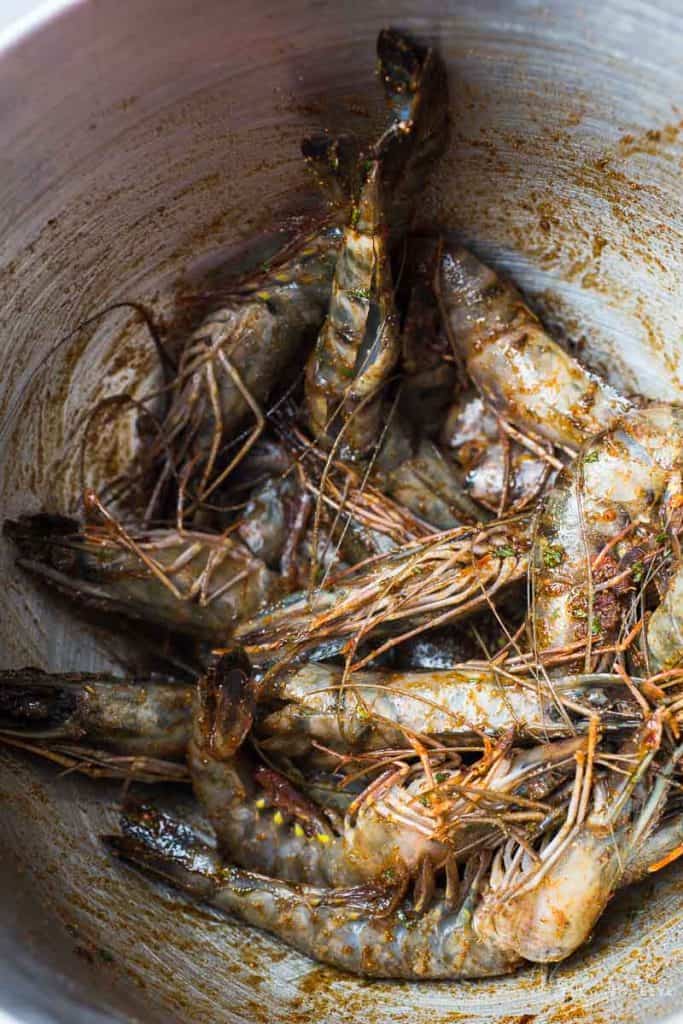 Other types of shrimp
If you can't get hold of any tiger prawns, it is possible to substitute with other types of shrimp. However, these will typically be smaller than the tiger prawns. This means they will cook even quicker, but they will also be a little more difficult to eat in the sense that they are smaller and more peeling is needed. I would really recommend you to stick to the tiger prawns for this one, and luckily most supermarkets stock them frozen. Alternatively, you can buy raw, peeled prawns and fry them in the pan and sprinkle with jerk seasoning.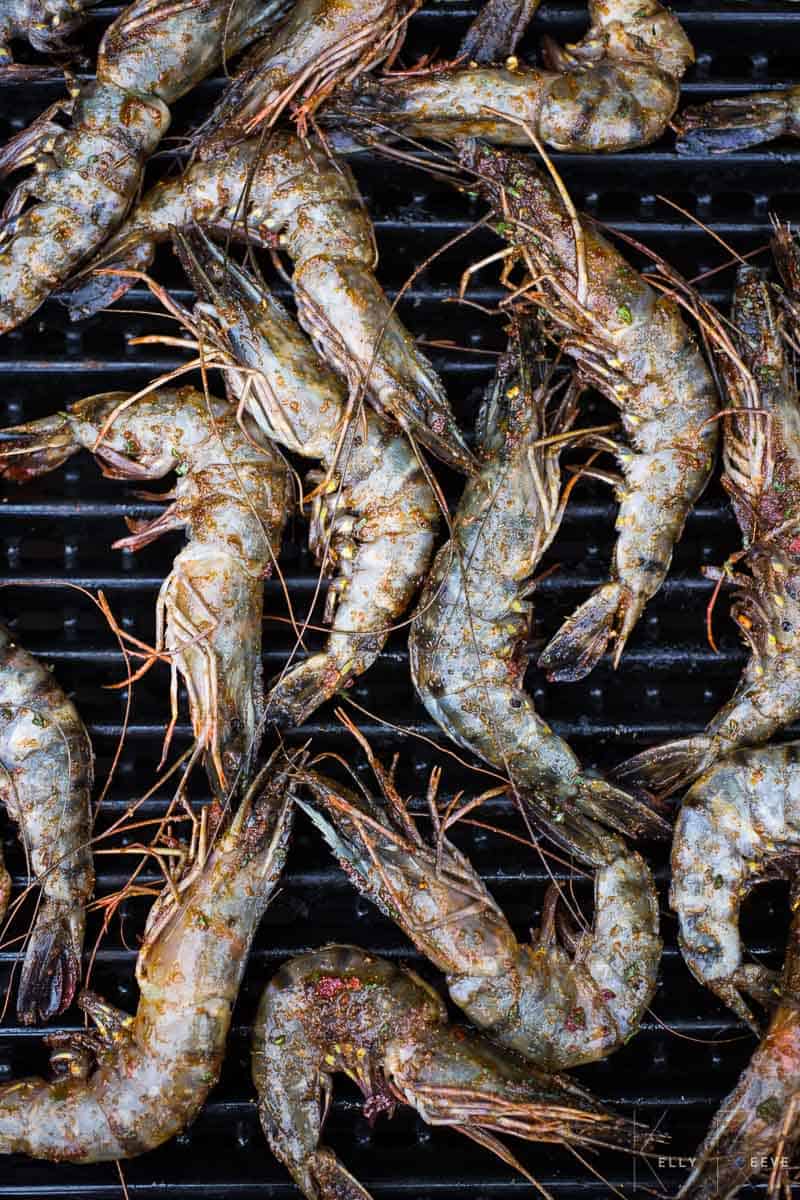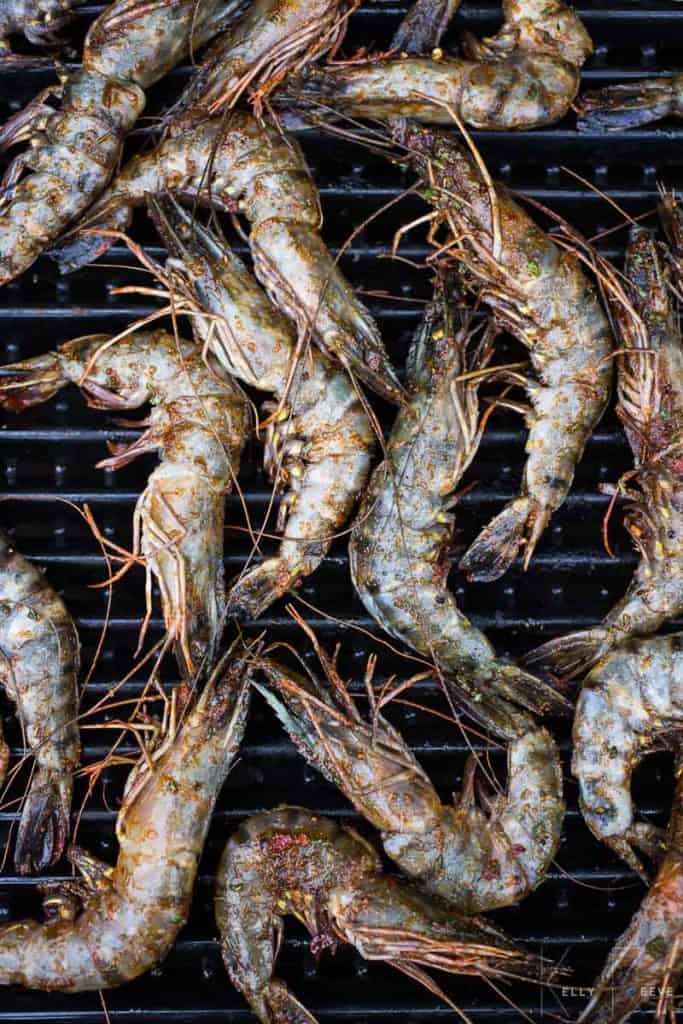 Grilling the prawns
It can be a little tricky to get your prawns perfectly cooked. So, how do you know when they are done? The prawns are fully cooked when they are completely pink, including the heads.
This is the exact point where you take them out of the pan or off the grill to stop the cooking process. Otherwise, you could easily end up overcooking them, leaving the flesh with a dry and rubbery texture, which you want to avoid. The prawn should be cooked through, but should be still juicy and tasty when you eat them. So, make to sure to keep a sharp eye during this part of the cooking process and don't distract yourself with other tasks. Remember, it only takes about 2-3 minutes to cook the prawns, so make sure to keep a watchful eye.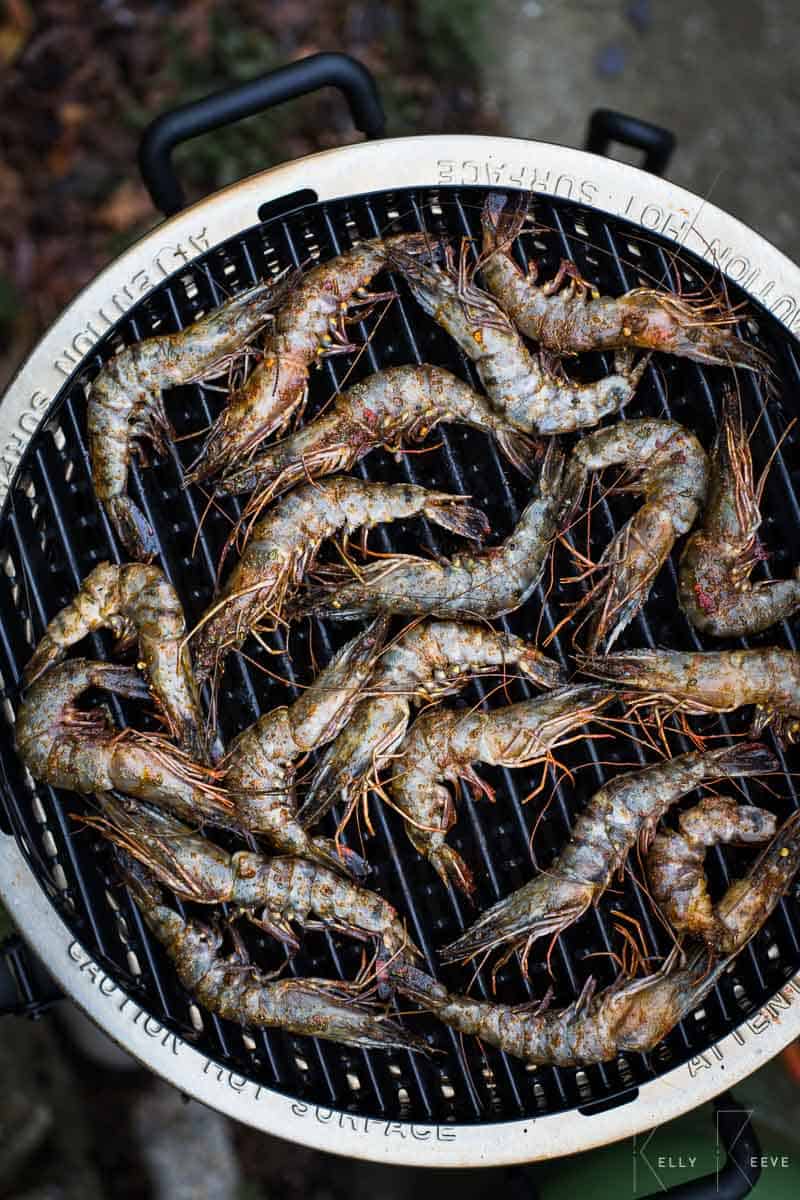 Go vegan
As you know, I am a huge fan of vegan cuisine. The great thing about this jerk prawn recipe is, that you can go vegan with it. Instead of prawns, you can use any vegetable you want, and simply sprinkle it with the jerk seasoning.
Some of my favourites are: zucchini, bell peppers, eggplant or even thinly sliced carrots. The sweetness of the carrots, works quite well with the jerk spice, so you should give it a try. What are your favourite vegetables to put on the grill? Leave a comment below.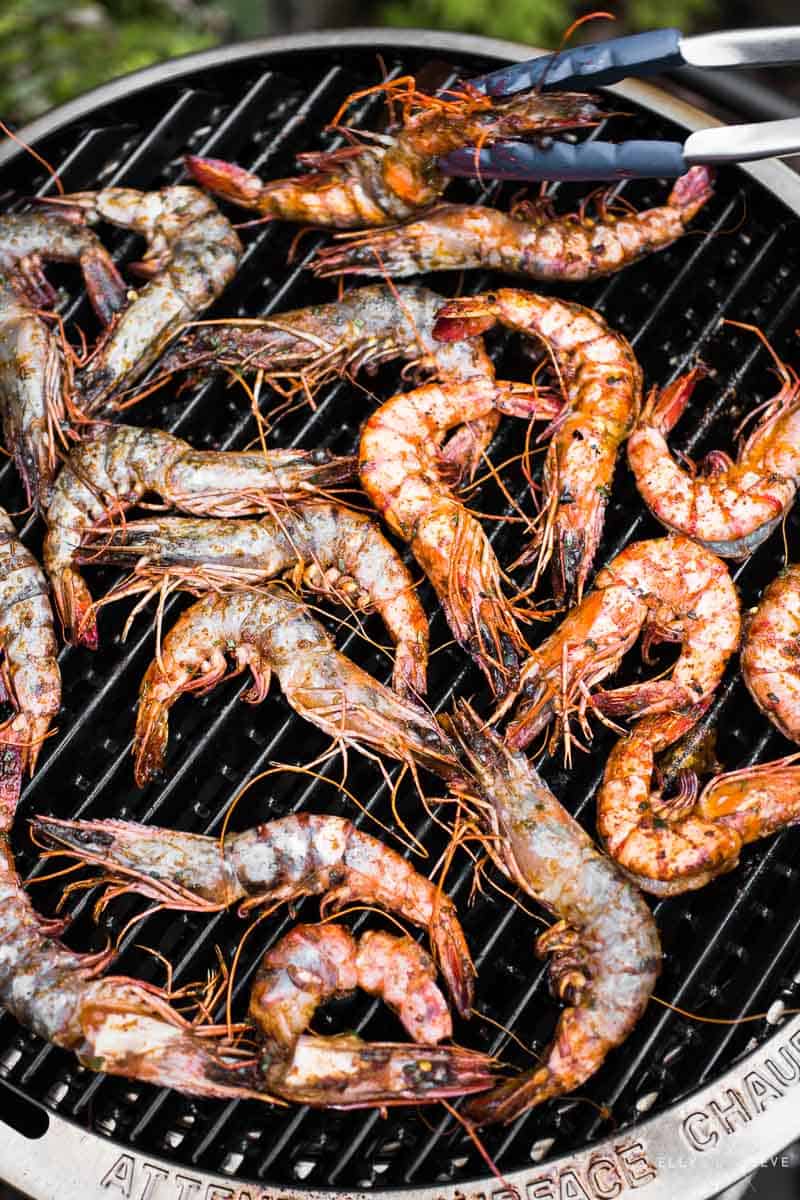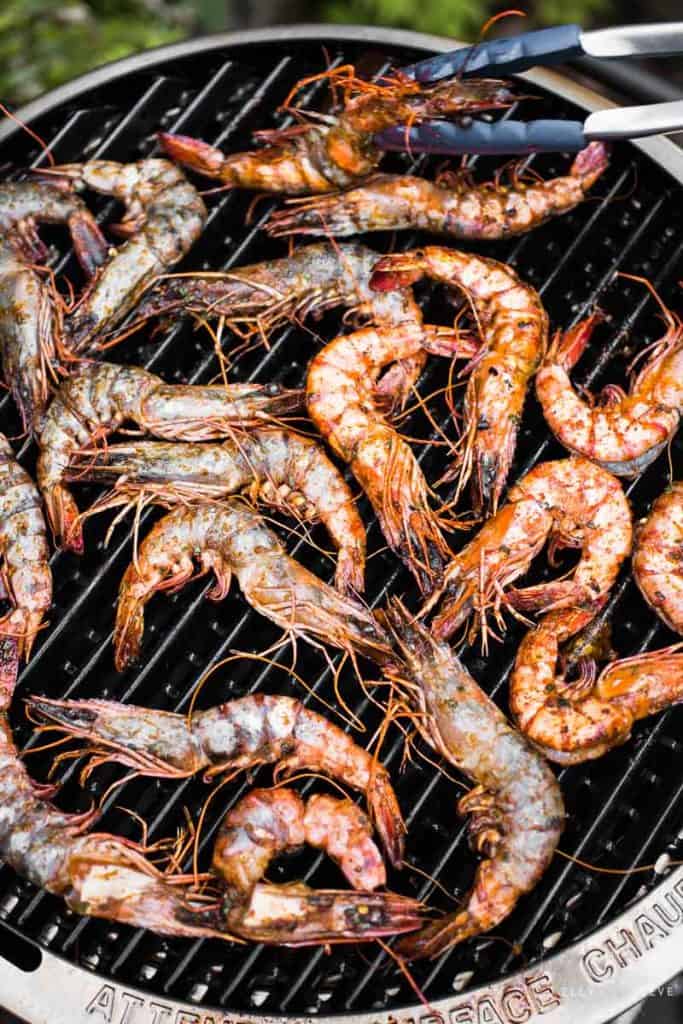 Serve with rice
To accompany the jerk prawns, I have cooked the classic Caribbean dish, Rice and Peas, which comprises rice cooked with coconut milk and a scotch bonnet chilli with red kidney beans.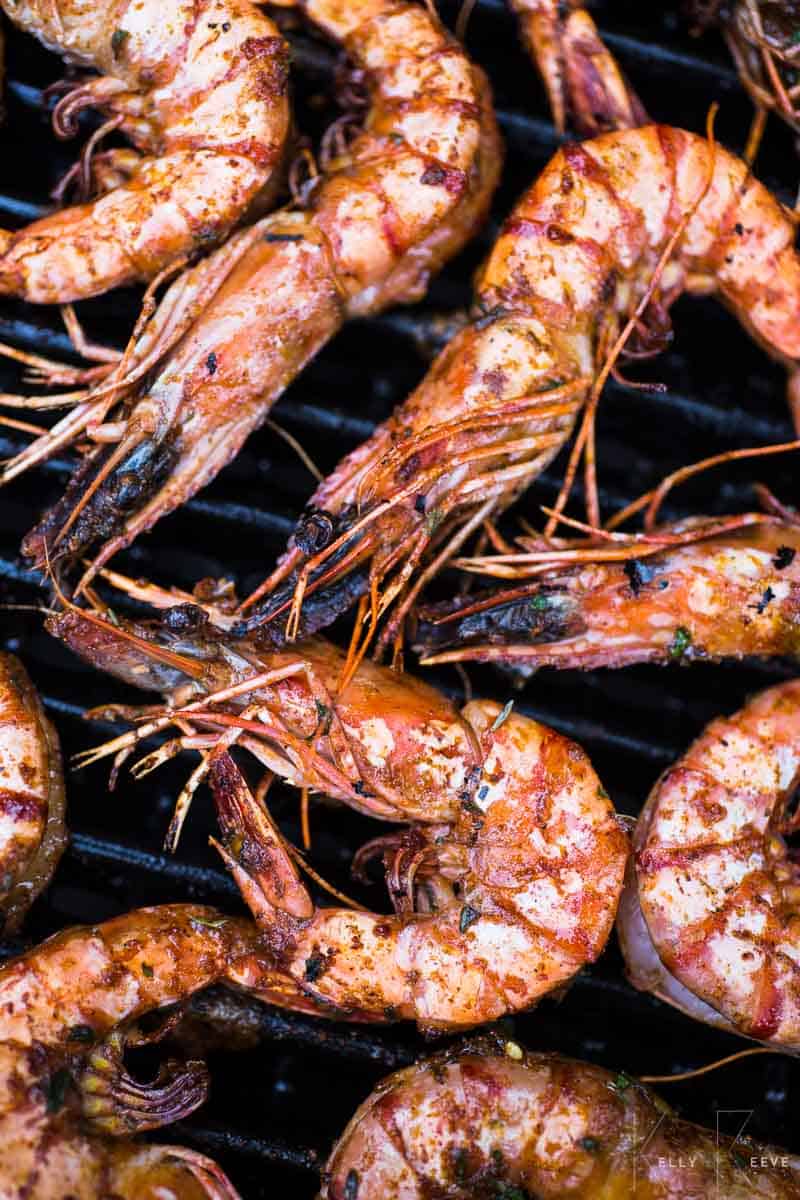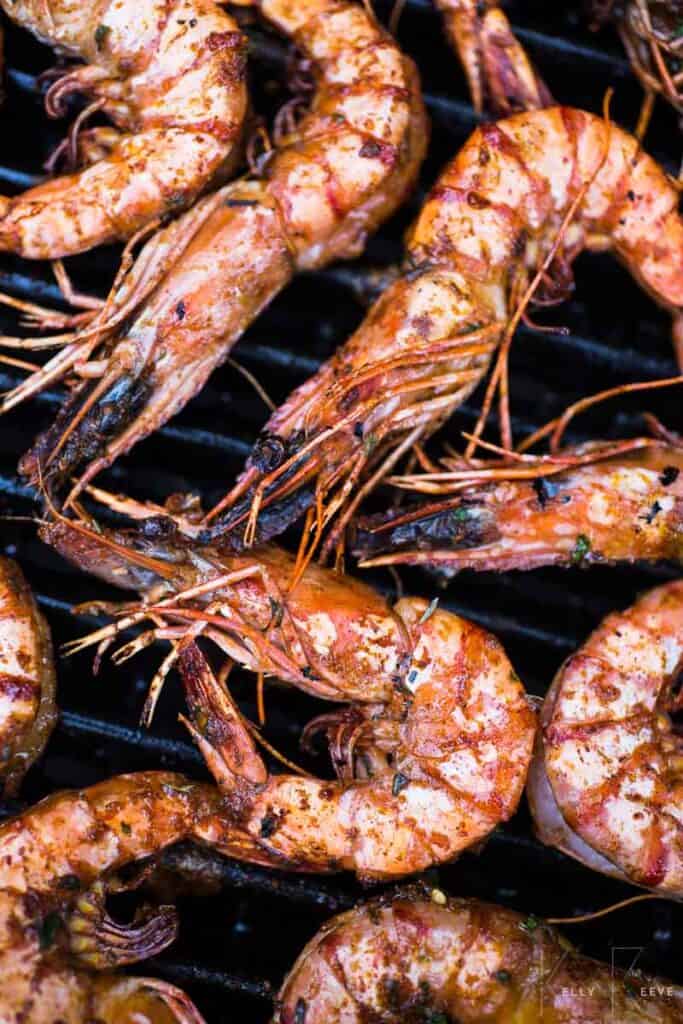 Mango Salsa
You can of course eat the jerk prawns with just the rice and peas. However, in order to give the meal the ultimate summer flair, you need something to freshen the taste buds. The sweet and spicy mango salsa is the ideal complement for the jerk prawns.
The exotic taste of the mango, goes extremely well with the grilled jerk taste and the almost sweet prawn meat. Make sure you buy a nice and ripe mango for this to get that desired sweet taste in the salsa. The same goes for the avocado. You can press on the top of the fruit to check if its ripe. If its slightly soft and gives in when you push, it means it's ready to eat. Another thing to remember is that we very often eat with our eyes as well. I find the colours of the manga salsa, in combination with the jerk prawns and the rice, simply sensational! Top it all off with a couple of fresh coriander leaves. Beautiful!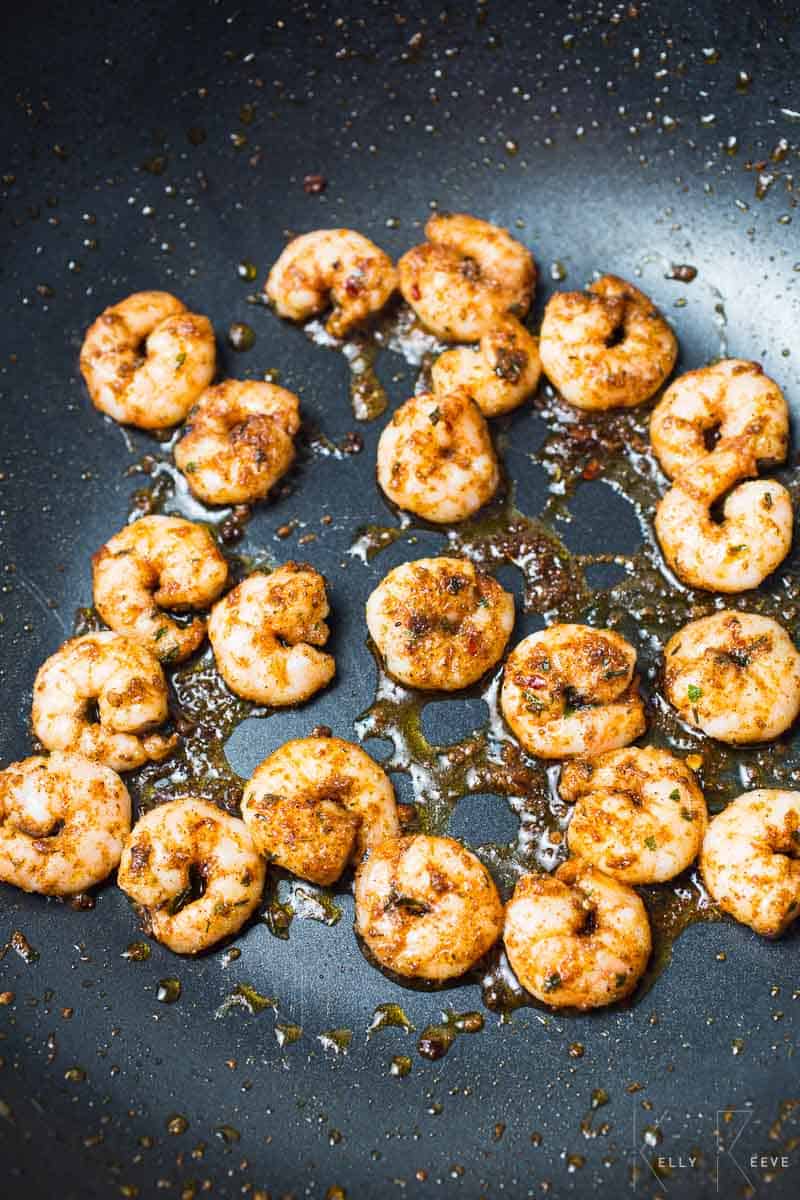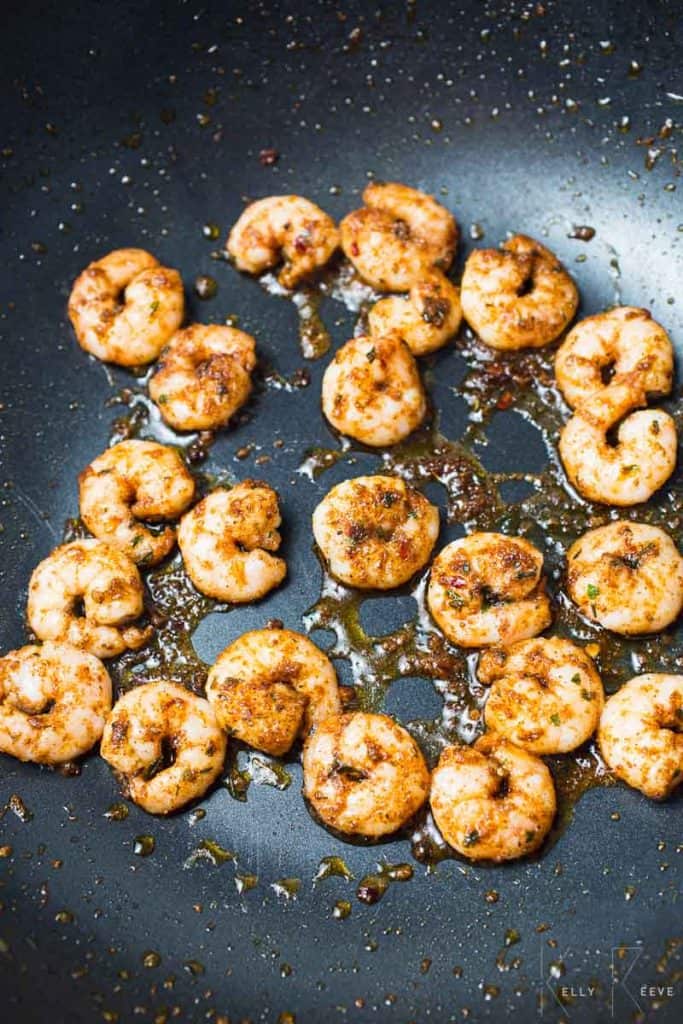 Not a jerk fan?
If you don't like this spice mix, don't worry. You can fry the prawns with a bit of chili or paprika instead. Plus, there are plenty more things you can do with those prawns sitting in the fridge. Take a look at these delicious dishes, also featuring prawns.
Peri-peri prawns https://www.greedygourmet.com/recipes-by-dish/peri-peri-prawns/
Pan-friend butter garlic prawns https://www.greedygourmet.com/recipes-by-cooking-times/30-mins-or-less/pan-fried-butter-garlic-prawns/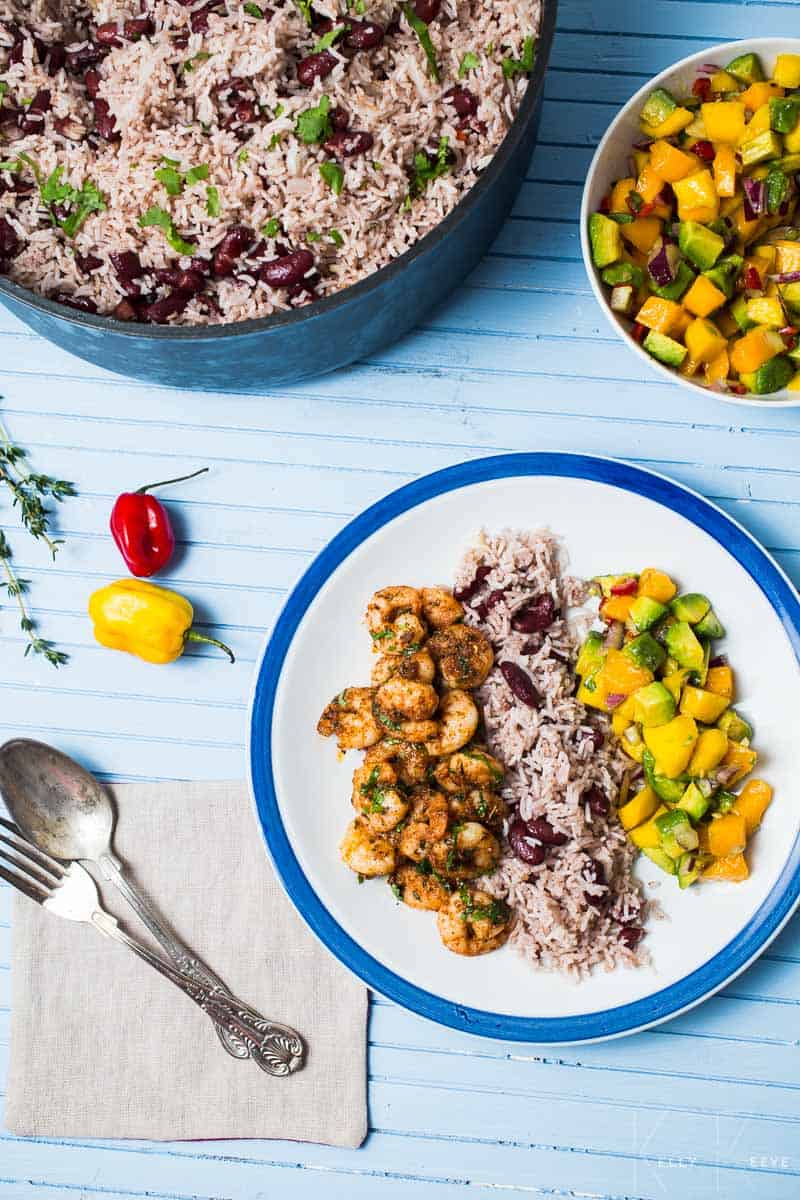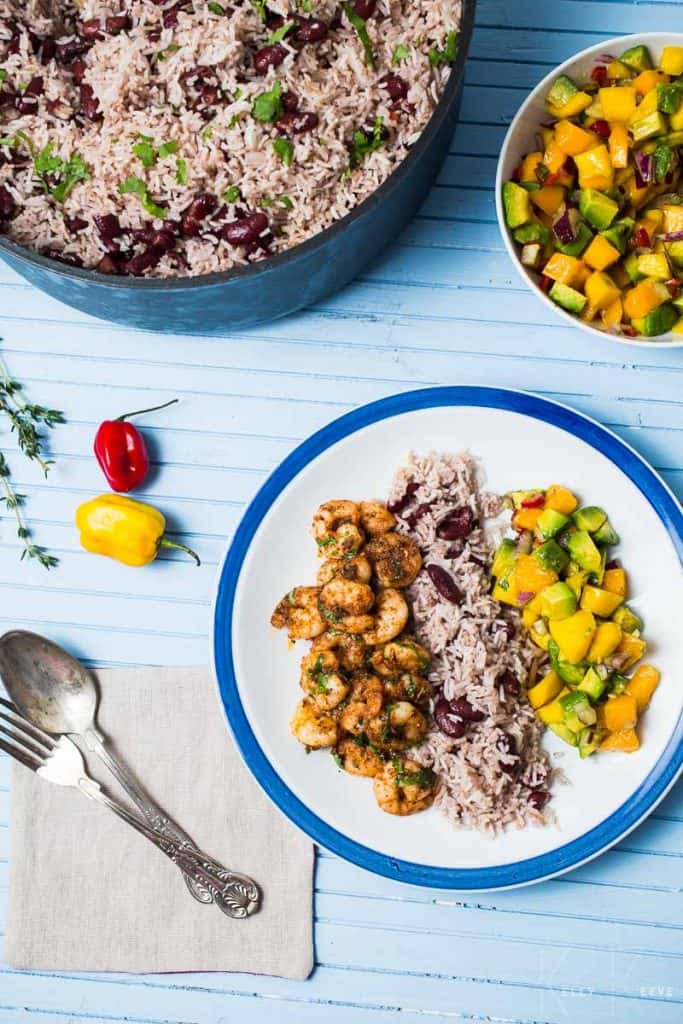 What I love about prawns is that you can go either way with them, and they still taste amazing. Enjoy!
Print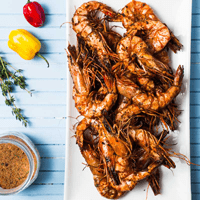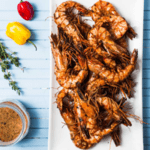 Jerk Prawns
---
30

ml (2 tbsp) vegetable oil

45

ml (3 tbsp) jerk seasoning

20

raw shell-on tiger prawns, cleaned and deveined
---
Instructions
In a large bowl mix the oil and jerk spice.
Place the prawns in the bowl and stir thoroughly until all surfaces are covered.
Leave to marinate for up to one hour. [optional]
Heat the oil in a large frying pan.
Place the prawns in one layer and fry them until their top sides start showing tinges of pink.
Using tongs, turn each prawn on its other side.
The prawns are fully cooked when they are complete pink, including the heads.
Notes
Serve with rice and peas, and mango salsa.
Alternatively, you can buy raw, peeled prawns and fry them in the pan and sprinkle with jerk seasoning.
Prep Time:

10 minutes

Cook Time:

30 minutes

Category:

Dinner

Method:

Barbecue

Cuisine:

Jamaican
Nutrition
Serving Size:

1 serving

Calories:

512

Sugar:

12 g

Sodium:

390 mg

Fat:

13.8 g

Saturated Fat:

2.7 g

Carbohydrates:

13.5 g

Protein:

90 g
save the recipe to your pinterest board

A special thanks to Kelly Reeve for assisting with the recipe shoot.