Jamaican rice and peas are a classic and authentic Caribbean side dish eaten in many Jamaican households. You definitely want to try and replicate this authentic Jamaican rice and peas recipe for several reasons. Firstly, it makes for one very nutritious dish and secondly, it is a very easy recipe to prepare that will take you no time at all. All you need to do is let the rice and peas cook while you prepare your Caribbean main course.  I hope you enjoy the exotic flavours of Jamaica as much as I do by making your own version of this classic rice and peas dish!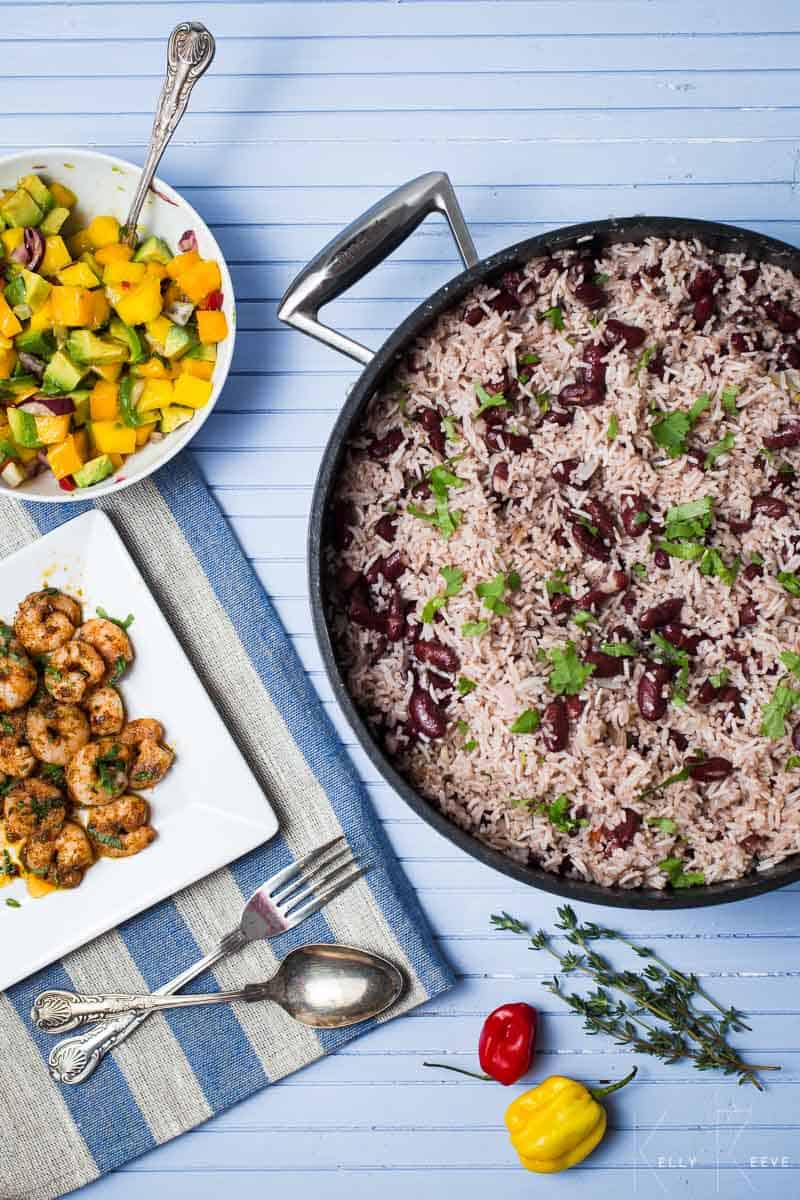 an authentic Jamaican rice and peas recipe
Don't let the term rice and peas fool. Looking at these photos you will realise the Jamaicans actually refer to red kidney beans as "peas". That said, any types of beans are commonly referred to as "peas" in Jamaica. So, take a note of that the next time you try a Jamaican rice and peas recipe or if you happen to travel to Jamaica. Don't expect the usual green peas you buy in the frozen aisle at the supermarket.
Rice and peas are also very common on the African continent, especially when it comes from Ghana. There, rice and peas are known as moros de guandules con coco, or Moorish pigeon peas with coconut.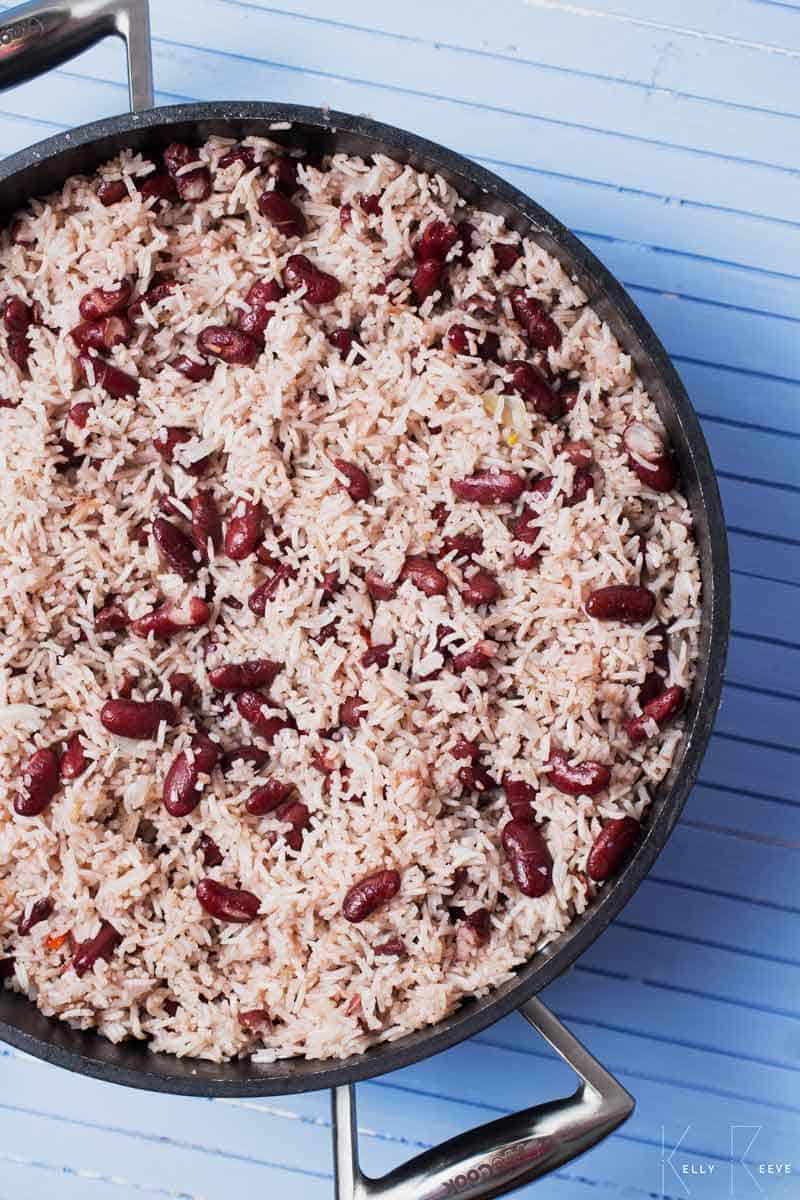 6 things you didn't know about easy rice and peas
As you know, Jamaican cuisine originated from many types of cuisines in the world. The indigenous population have British, African, Indian, Spanish, Irish and Chinese ancestors! So it comes as no surprise that Jamaican cuisines dates back centuries to the days of Atlantic trade routes.
Rice and peas were indeed adopted from Ghana from the Akan tribe. The dish still exists today. You might know it as Waakye or rice and beans.
The rice was introduced by the slaves from Africa who cooked this rice dish in the same way as they did back home.
Jamaican rice and peas is also referred to as Jamaican Coat of Arms.
This Jamaican side dish should always be served on Sundays. Back in the 1700s, slaves were given only Sunday off, so that's when they would cook this recipe.
You can also cook it without coconut milk. There are hundreds of versions of this dish.
This recipe carries the title of the most eaten Jamaican food!
To learn more about Jamaican cuisine, click here.
What is Jamaican rice and peas?
Traditionally, Jamaican rice and peas consist of boiled rice, kidney beans along with the addition of coconut milk and spices. Nonetheless, you can make this dish with any type of legume you have available to you. So, if you don't have kidney beans at home, you won't jeopardise the integrity of this authentic rice and peas recipe. You can easily substitute kidney beans with pigeon peas (gungo beans) or you can go for cow peas. Pigeon peas are more popular during the Christmas holidays, so save these for a Christmas version of rice and peas. Otherwise, you can opt for pink beans which are quite similar to kidney beans, but tnot as buttery. Avoid using green beans, mung beans or white beans because they lack the desirable texture that complete this dish. To learn more about this Jamaican dish click here.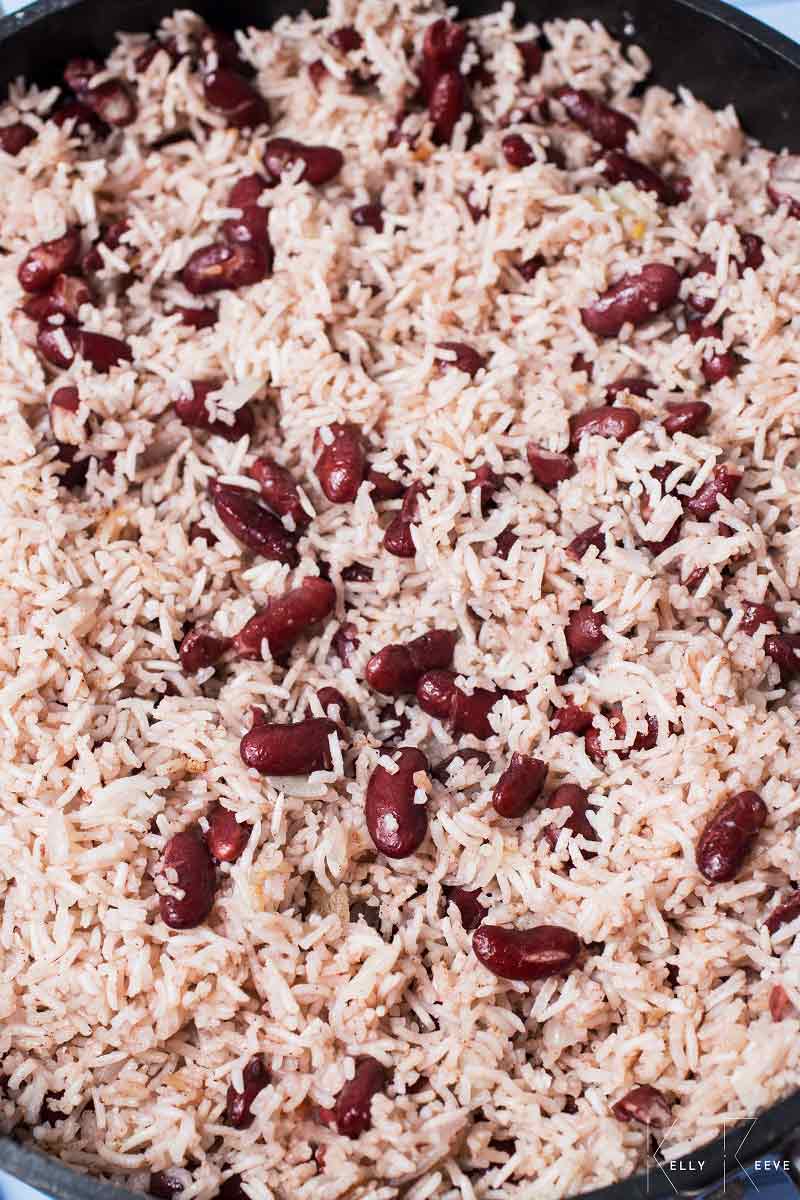 a classic Jamaican rice and peas recipe
The Jamaican version of the rice and peas calls for adding coconut milk into the rice. This is where the rice absorbs the creamy texture of the coconut cream and adopts a hint of nuttiness that pairs well with Caribbean spice. You will generally find it served on Sundays with meat stews such as chicken, pork, beef or seafood. In fact, locals include heavier and saltier versions of meat to flavour the rice instead of adding excessive amounts of salt. So, the meatier and saltier the produce, the better.
Also, the classic Jamaican version of this dish calls for the use of thyme and pepper. In contrast, the Ghanaian version needs baking soda and sorghum leaves.
Jamaican rice and peas without coconut milk
Instead of using the coconut milk, you can always opt for vegetable or chicken stock. This depends whether you want to keep the dish vegetarian and vegan. For a more intense and umami version of the dish, I recommend adding beef stock. You can then top the rice and peas with some fresh avocados to get a creamy element in there as well.
how to cook Jamaican rice
If you cook any type of Jamaican rice, you'll know that you need to top the dish with some fresh herbs. First, the most common rice topping is fresh parsley or coriander, which will lighten up this exotic dish. Next, don't forget to sprinkle some fresh lime juice for some acidity. For those of you who are brave, you can also top the dish with fresh red chilli!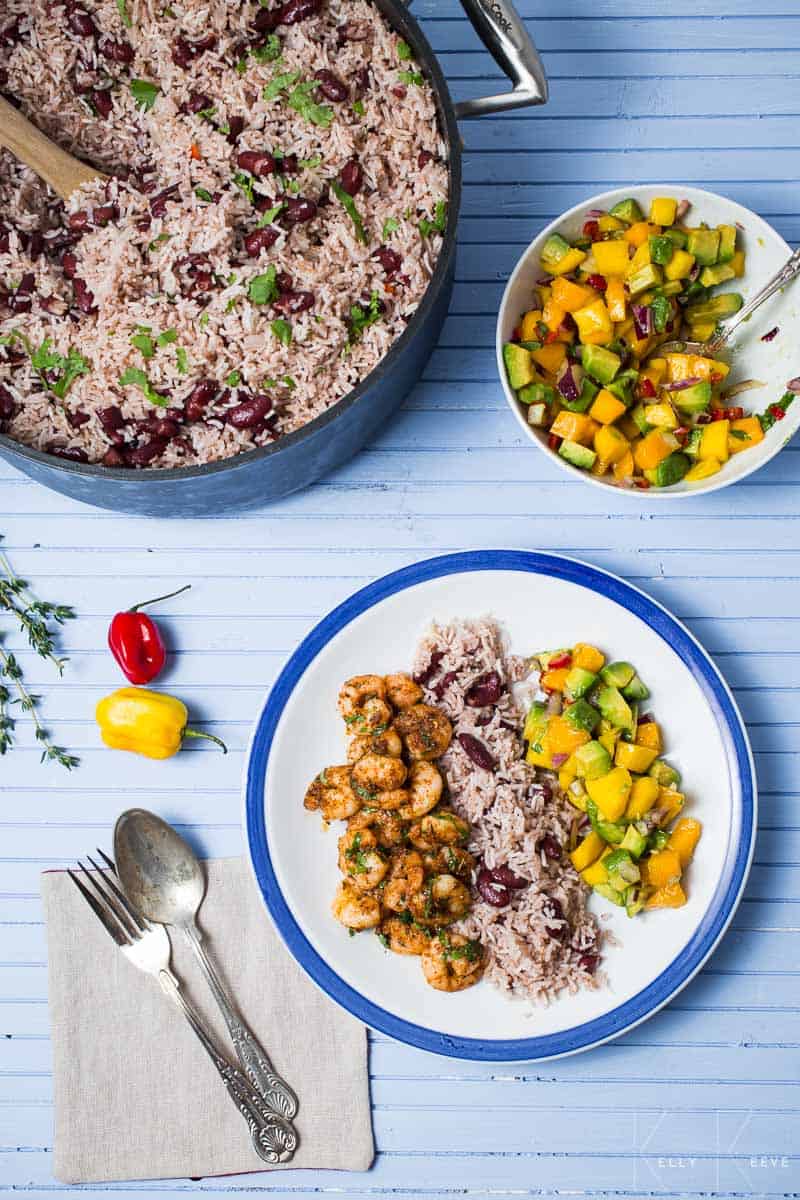 what to serve with rice and peas
Traditionally, you would pair a rice and peas recipe with a Jamaican curry goat. The latter is a popular Jamaican recipe which is usually served during festivals and national celebrations. If you are wondering about the literal meaning of curry goat, then you guessed it! Curry goat actually does use goat meat, so this might not be so easy to find in the UK. However, goat is a very popular meat on the island and is often stewed with spices to make a wonderful main course with a side of rice.
cook like a Jamaican
Now that you've mastered these Jamaican rice and peas, you can cook like a true Jamaican chef! Are ready to try other rice dishes? If so, check out the following:
Print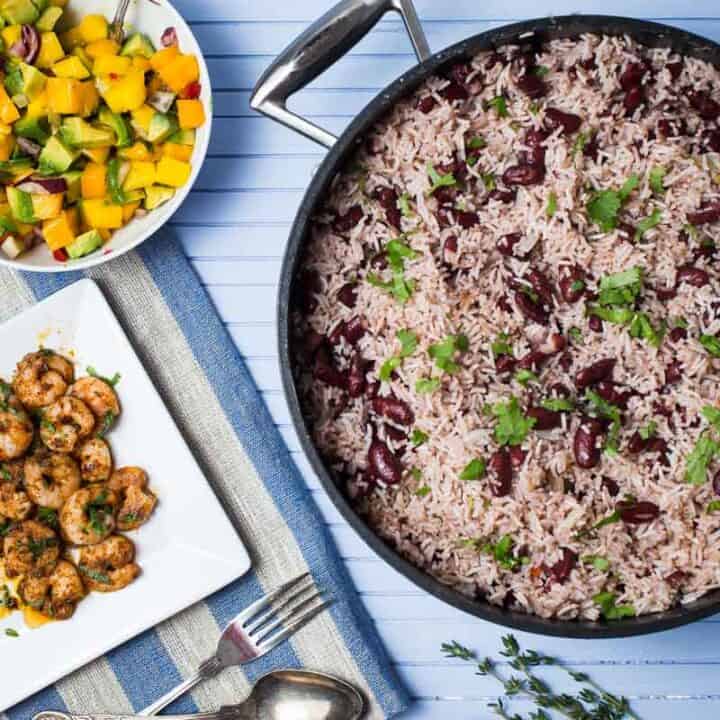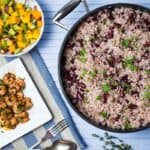 Rice and Peas
---
Description
If you love a certain wow factor about your food, then this authentic Jamaican rice and peas recipe is definitely for you! Super easy and nutritious!
---
1

onion, finely chopped

1

clove garlic, crushed

45

ml (3 tbsp) vegetable oil

1.25

ml (¼ tsp) ground allspice

400g

(1lb) long grain rice, rinsed in cold water

400g

(

1

tin) red kidney beans, rinsed and drained

3

sprigs of thyme

1

scotch bonnet chilli

400

ml (1 tin) coconut milk
Salt and pepper
---
Instructions
Fry the onion and garlic gently in the oil in a large pot until translucent.
Add the allspice and stir thoroughly.
Add the rice, kidney beans, thyme, chilli, coconut milk and 400ml (⅔ pt) water and stir.
Bring the contents to a slow simmer, cover and cook for around 30 minutes until the rice is cooked.
Remove the thyme, garlic and chilli then fluff the rice with a fork.
Season with freshly ground salt and pepper.
Notes
Serve with your favourite jerk dish and a salsa.
Prep Time:

40 minutes

Cook Time:

10 minutes

Category:

Side Dish

Cuisine:

Caribbean
Nutrition
Serving Size:

1 serving

Calories:

693

Sugar:

4.5 g

Sodium:

22 mg

Fat:

24.2 g

Saturated Fat:

15.9 g

Carbohydrates:

99.9 g

Fiber:

12.9 g

Protein:

21.6 g
save the recipe to your pinterest board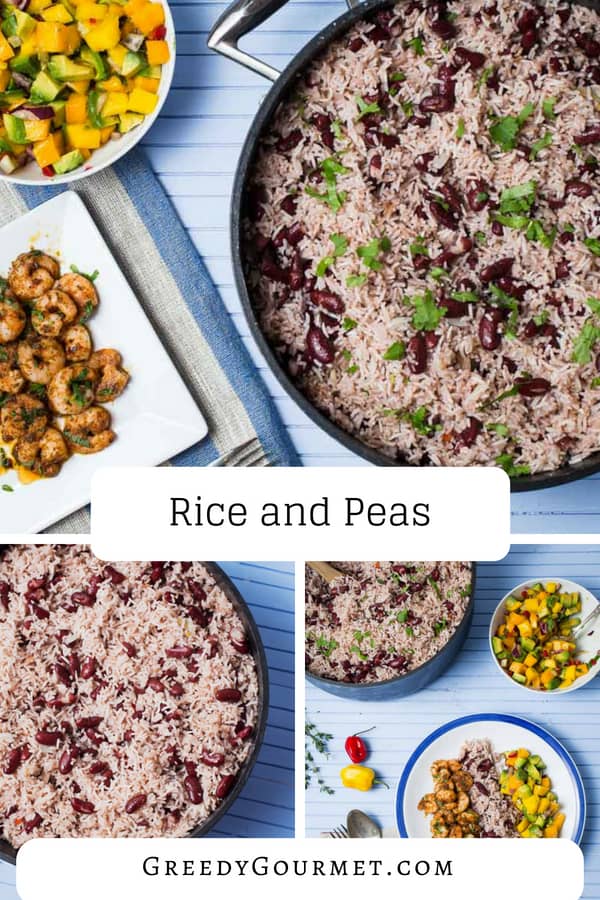 A special thanks to Kelly Reeve for assisting with the recipe shoot.