I know that Miso Salmon sounds like a complicated dish but in fact it's one of the easiest dishes you can prepare.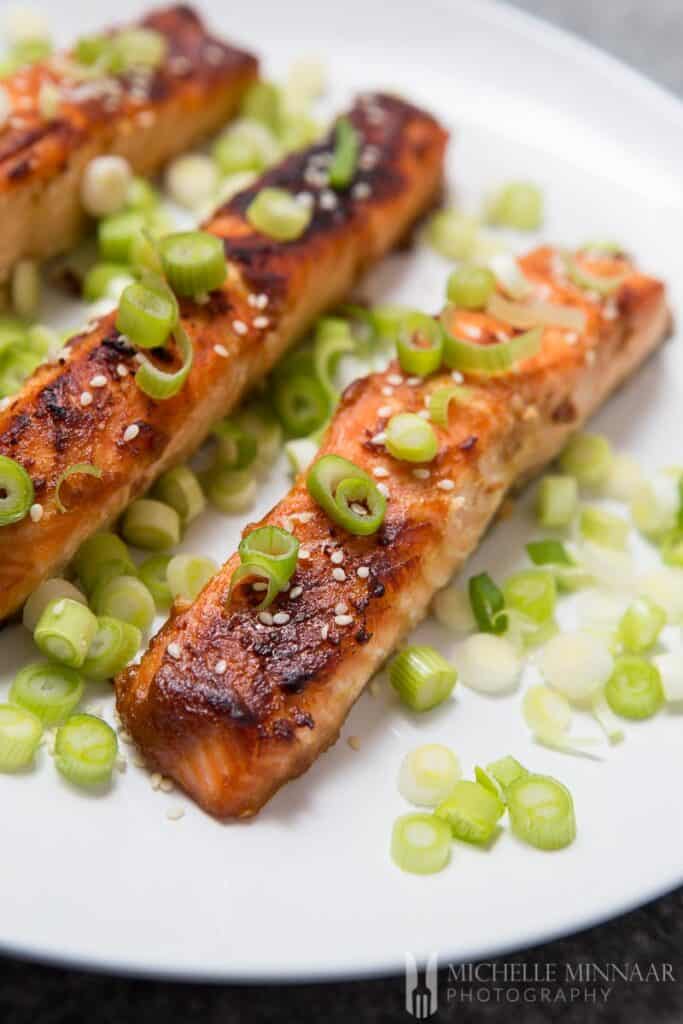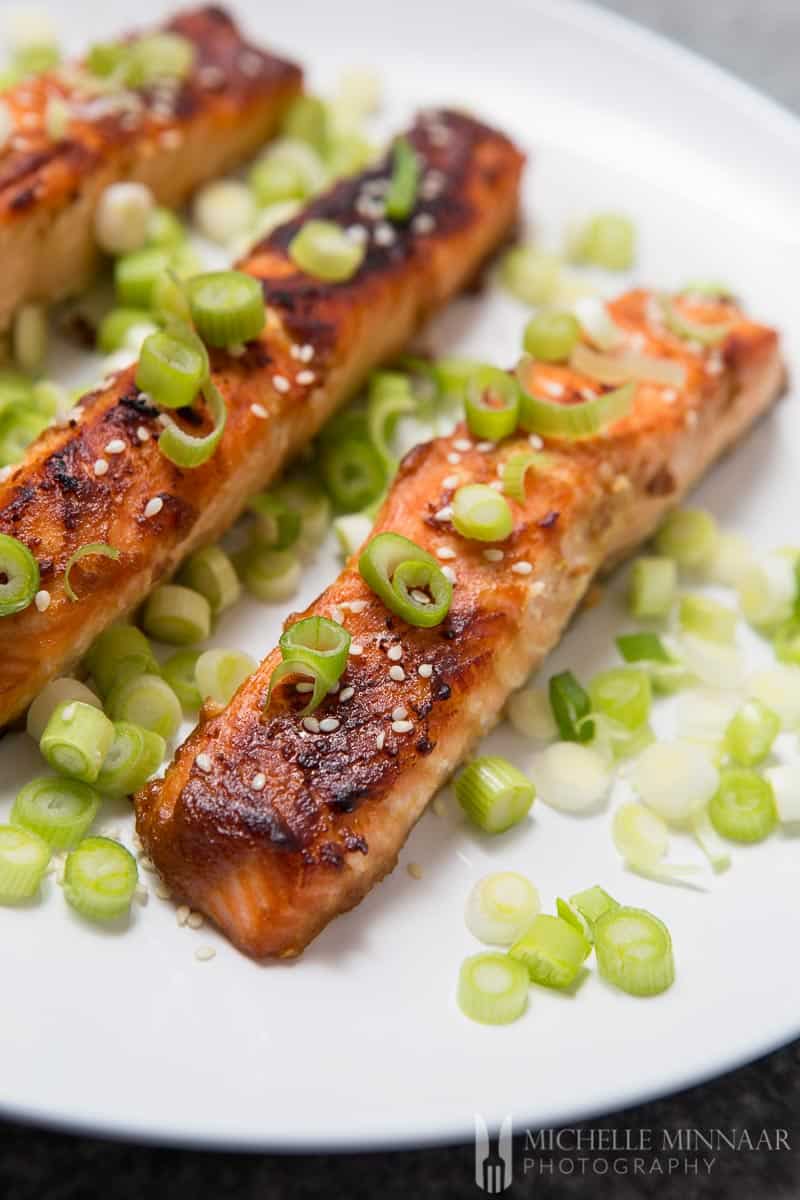 Whether you are a full-time mum or an important project manager with no time in your calendar, making Miso Salmon serves four people and takes no time at all!
Miso Salmon is baked salmon that is marinated in a beautiful miso sauce. It is healthy and it will make your tummy happy. Guaranteed!
Miso definition
What is miso? Miso is fermented Japanese soya that is mixed with rice or barley and other ingredients.
This is of course the reason why we have so many types of miso. The fermentation process is very specific and follows the traditional Japanese koji technique.
Koji is cooked rice or soybeans that have been infused with a fermentation culture. The same technique is used to make soya sauce, sake and mirin.
History of Miso
Can you believe that miso first appeared in China already in 400 B.C.? But back then it used to be called "hisio".
The latter appeared later in Japan around the 7th century and was even a part of the Samurai diet. Since rice is used to make miso and it is plentiful in Japan, the Japanese people kept miso as a part of their daily diet.
Miso evolved in time as the Japanese started to experiment with creating different types of miso.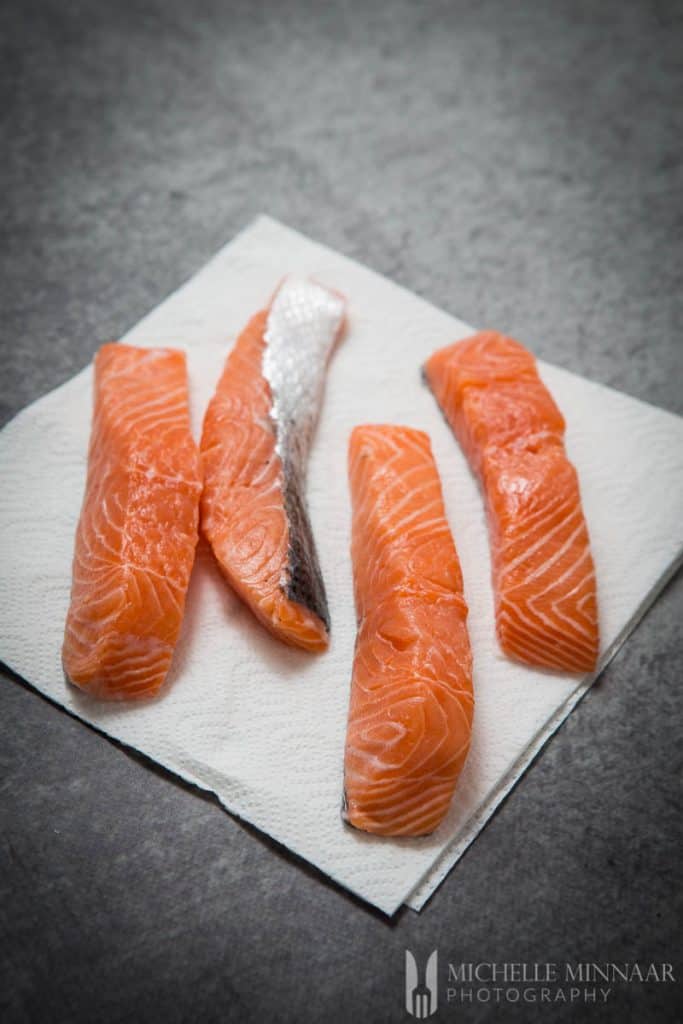 Different types of Miso
There is plenty of miso for you to try. The types mentioned below are the most common:
Shiro Miso or Sweet White Miso – originally from Kyoto. Made with soybeans, white rice, water, salt. Colour ranges from white to beige. Creamy and sweet.
Soybean Miso or Mame Miso/Hatcho Miso – from the Tokai region. Darkest of all misos. Smoky taste. Made with soybeans, water, salt and roasted barley.
Brown Rice Miso or Genmai Miso – made from brown rice, water, salt and soybeans. Dark brown color. Nutty and slightly sweet in taste.
Rice Miso or Kome Miso – originally from North Eastern Japan. Red color. Made from rice, water and salt.
Barley Miso or Mugi Miso – come from Western Japan. Dark brown colour. Rich in flavour. Made from barley, soybeans, water and salt.
As you can see, there are many different types of miso. If you like miso, there is definitely a lot of avenues for you to explore.
You can use all these different types of miso for your Miso Salmon recipe. They are all delicious and healthy.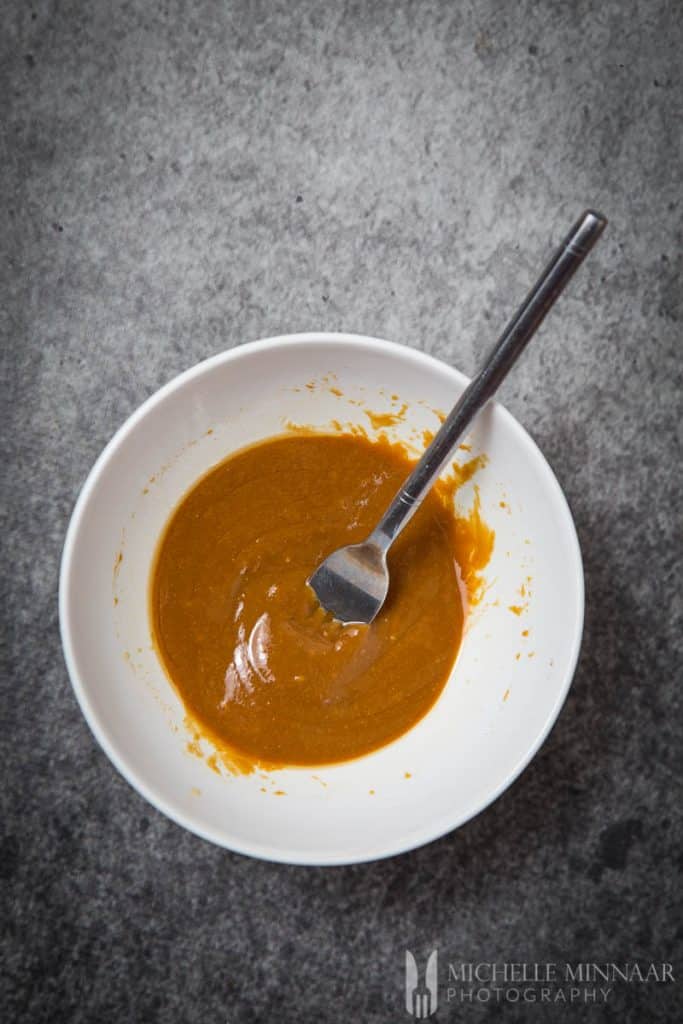 The Salmon
Salmon is a great protein and works very well with the rich miso taste. You can buy a beautiful large piece in your local supermarket or you can buy it directly from a salmon farm.
If you like your salmon a bit more raw in the middle, then make sure you freeze your salmon for up to 72 hours. This is purely done to make sure that no parasites are left in the flesh of the salmon.
There is no need to freeze the salmon if you cook the salmon thoroughly.
Skin on or skin off?
Many people ask this question. Should I leave the skin on or should I remove the skin from the salmon filet?
Both options have their benefits. If you are not a fan of skin, then take the skin off. No point in persuading you.
I usually leave the skin on when I pan fry my salmon filets. It keeps the fish more moist, and if pan-fried correctly, there is nothing better than enjoying that wonderful crispy skin.
One very important factor that needs to be mentioned is the fact that there are pin bones inside the salmon. Even if you bought the filet from the supermarket, make sure you crosscheck the salmon for tiny bones.
If you find one or two, don't panic! Just take tweezers and carefully pull them out. Don't forget to check again.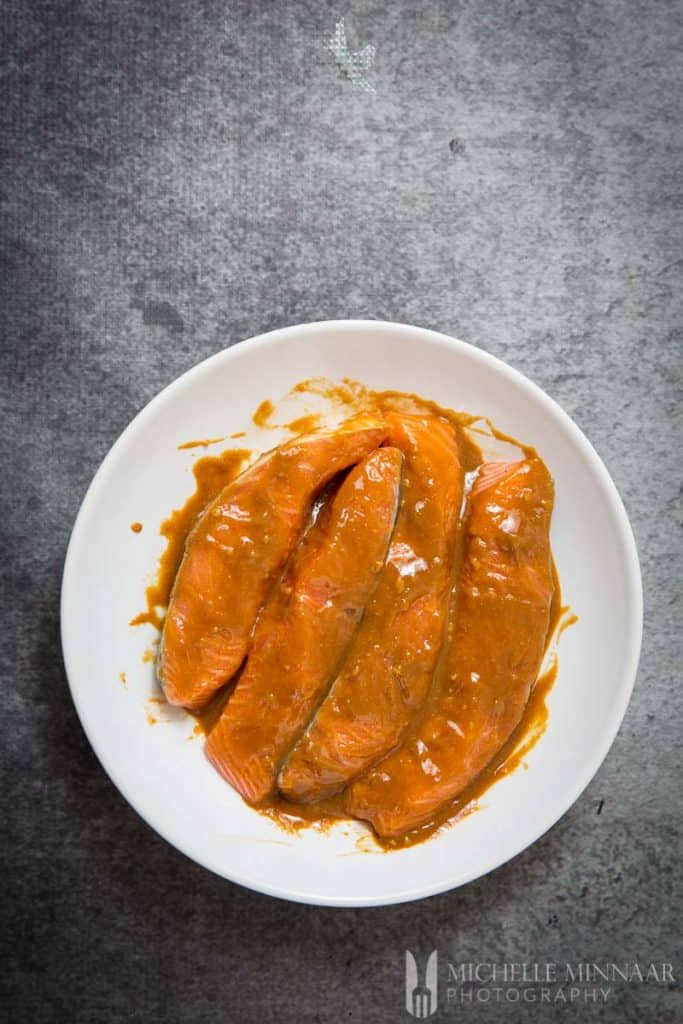 Toppings
There is nothing better than a beautifully seasoned salmon. In this recipe however, I add a sprinkle of white sesame seeds. You can also use black sesame seeds – some people say they have a slightly more powerful taste.
The sesame adds more flavour and complexity to the Miso Salmon recipe and it tastes great!
I also used spring onions as a second topping. They are great in terms of cutting through the fattiness of the salmon. It adds a certain crunch to your meal and most importantly, it makes the dish more fresh. You can also use freshly cut chives.
If you feel like trying something new, you can also sprinkle a little bit of lemon zest. Lemon and any citrus zest works very will with the salty nature of miso. Try it and tell us what you think!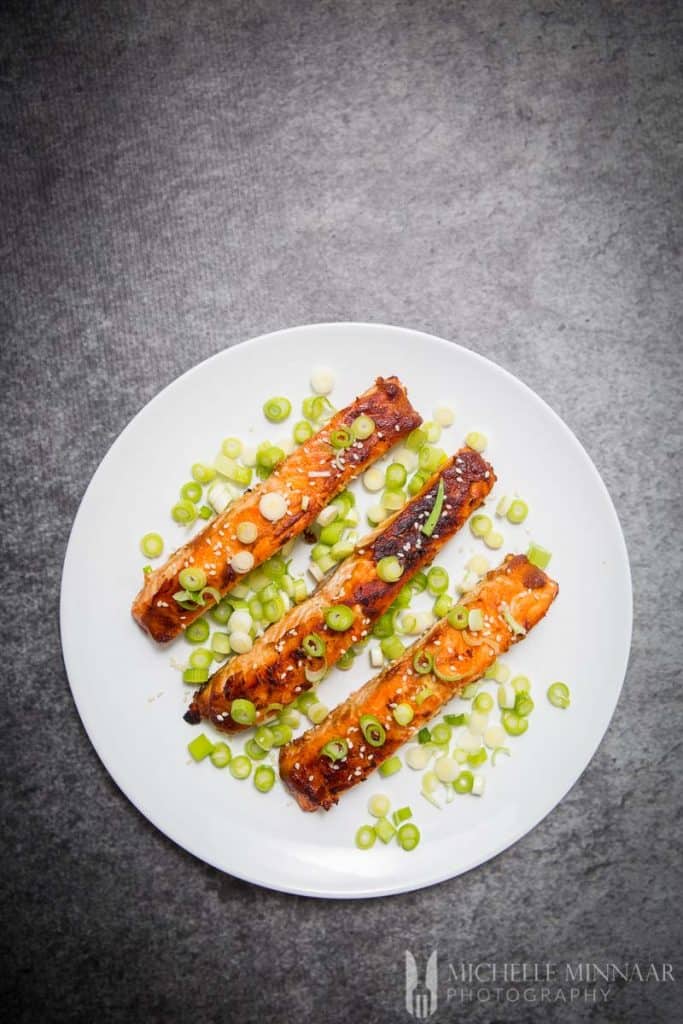 Health Benefits
Since miso includes the fermentation process, it has great digestion qualities due to its enzymes. It can also destroy substances in your intestines that cause food allergies.
In fact, some people in Japan consider miso as an essential ingredient towards a long and healthy life. They start each day with miso soup, believing it has the ability to cure weak digestion, intestinal infections and even cure cancer.
Combined with salmon, this Miso Salmon recipe is packed with omega-3 Fatty acids, protein and vitamins that give your body the boost it desperately needs.
Serving Suggestions
Miso Salmon is a great dish because you have many options in terms of what you can serve it with. The most popular way of serving Miso Salmon is with white rice.
You can also serve the fish with:
Pan-fried bok choy
Boiled or steamed green beans
Tempura style vegetables
Young green peas
White quinoa
Mixed salad – I would recommend baby spinach
Any way you have it, the hero of this dish is the salmon marinated in delicious miso. Anything you have on the side will just make the Miso Salmon stand out more!
Substitute for Miso
Instead of Miso, you can also try using teriyaki sauce. It is sweeter and less salty. You can choose to serve with black or white sesame and top of with spring onions as mentioned in this recipe.
Did you like this recipe? You can find more inspirations for amazing salmon dishes below:
Print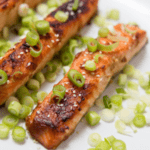 Miso Salmon
---
30

ml (2 tbsp) white miso paste

15

ml (1 tbsp) soy sauce

15

ml (1 tbsp) sake

15

ml (1 tbsp) mirin

15

ml (1 tbsp) sesame oil

4

salmon fillets, weighing about 140g (

5oz

) each
---
Instructions
Mix the miso, soy, sake, mirin and oil in a bowl.
Place the salmon in the marinade and leave to marinate in the fridge for an hour.
Heat the oven to 200°C/180°C fan/gas 6.
Bake the salmon for 15 minutes.
Serve with a green salad.
Notes
In the photos I topped the fish with sesame seeds and spring onions.
Prep Time:

5 minutes

Cook Time:

15 minutes
Nutrition
Serving Size:

1 serving

Calories:

330

Sodium:

589 mg

Fat:

15.4 g

Saturated Fat:

3.5 g

Carbohydrates:

4.8 g

Protein:

41.3 g

Cholesterol:

36 mg
save the recipe to your pinterest board