A sensational seafood soup with a rich and smoky flavor, caldo de mariscos is a centuries-old traditional dish that will soothe your soul and tingle your taste buds with just one spoonful.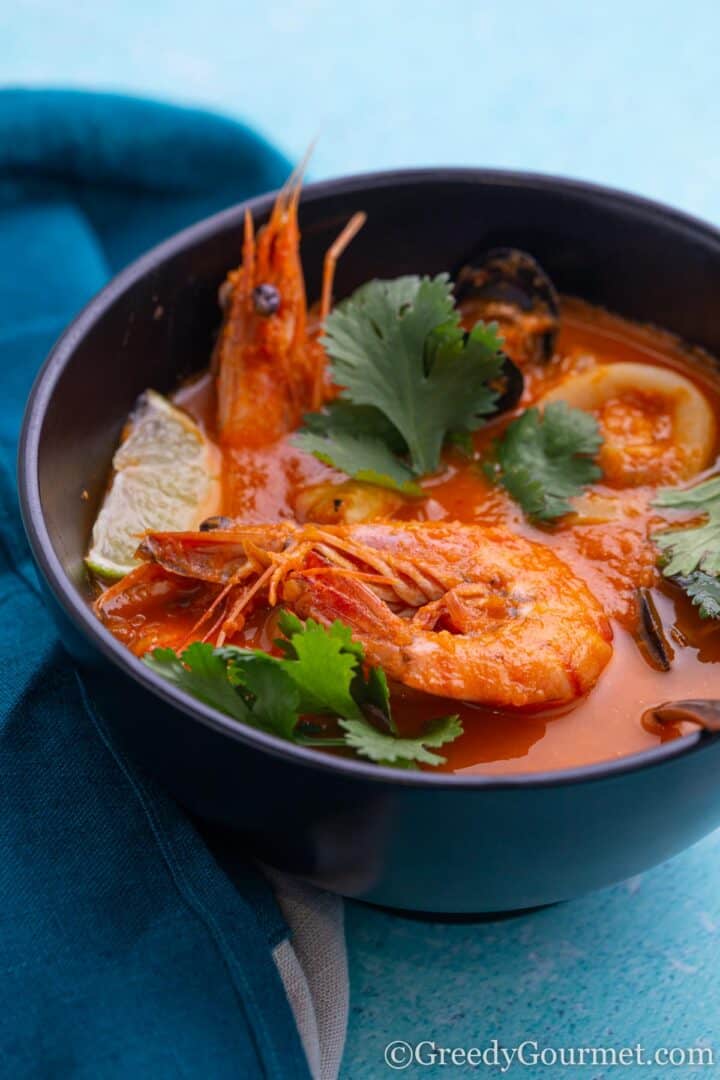 Also known as 'caldo de siete mares' (soup of the seven seas), this soup is beloved in Mexico and is becoming increasingly popular worldwide. It's no surprise… this soup tastes incredible!  
So, let's find out why Mexicans call this big, hearty, delicious dish "un caldo de levanta muertos" – a soup to cure a deadly hangover!
Why you'll love this seafood soup recipe
This is perfect if you need a soothing soup to liven you up!
The depth of flavor from the Mexican peppers and the different fish and seafood flavors is out of this world.
It's easy to make a big batch and freeze.
Highly adaptable, you can add your favorite ingredients to this soup.
Equipment you'll need
There are a few key kitchen items that you'll need before you make this seafood soup:
Large saucepan – get yourself a large quality saucepan to get the best out of this recipe
Food processor – if you prefer a smooth soup, you'll need a quality food processor to whizz it up in batches. You'll also need it to blend the guajillo peppers and plum tomatoes
Soup bowls – this marvelous Mexican soup deserves to be served up in style!
How to make caldo de mariscos
Soak the guajillo peppers, place them and the plum tomatoes in a food processor.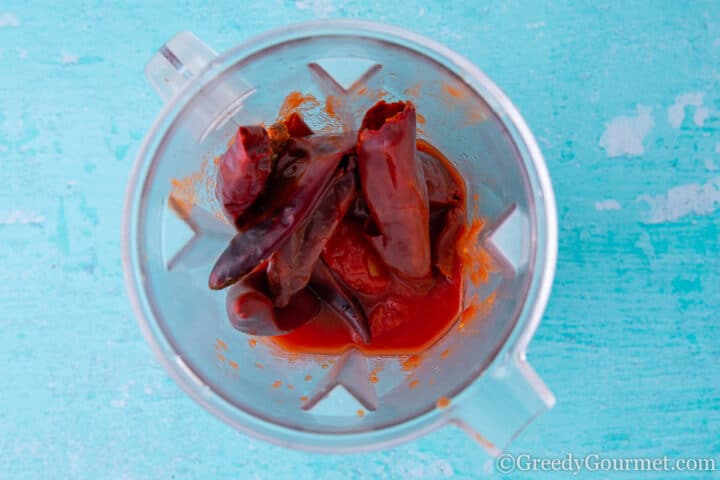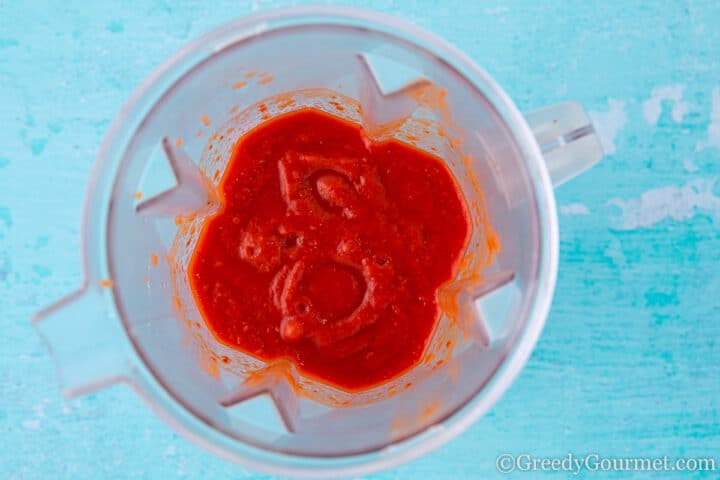 Blitz until smooth. Set aside.
Gently fry the onion, garlic, carrot, leek, celery and red pepper.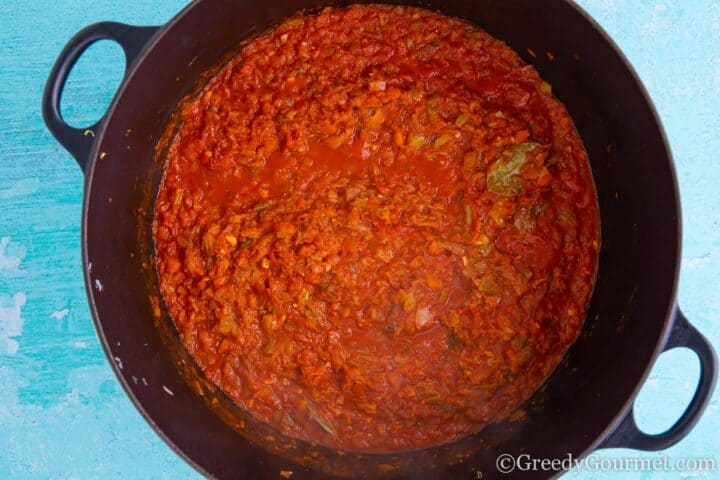 Add the spicy tomato sauce and water, then let it simmer. Stir in the seafood and let it bubble for 3 minutes or until it is fully cooked. Serve immediately. Enjoy!
Top Tip
Once you've added the white wine, give it a minute to allow the alcohol to evaporate before adding the water.
What to serve with caldo de mariscos
Sides
Crusty bread is a simple yet perfect side to serve with caldo de mariscos. You could also serve up a simple side of avocados and tortillas for a magnificent Mexican meal.
Variations to caldo de mariscos
You can add octopus to this soup if you wish, but it has to be cooked previously. Add laurel leaves, salt, black pepper, and the octopus in a large pot with plenty of boiling water.
Put a lid on the pot and cook until the octopus or calamari is soft and tender. After they're cooked, cut them into bite-size pieces. Set aside and add to the soup along with the fish and shrimp.
Add the famous Spanish manchego cheese to the top. It'll melt with the heat from the soup to form a creamy and delectable cheese topping!
You can add your favorite herbs to bring a different dimension to the flavor of this Mexican seafood soup. Herbs like thyme and oregano would be perfect.
Feel free to add some of your favorite vegetables to this soup. Baby corn, broccoli, zucchini, and potatoes all work well.
Popular substitutions
As a substitute for the sea bass and cod, you can use other types of fish in this seafood soup, such as red snapper, hake, pollock, catfish, monkfish, and store-bought fish filets.
If you can't find guajillo peppers, you can use ancho peppers instead. If you want a little less heat, but still with that beautiful smoky flavor, use ancho peppers in place of guajillos.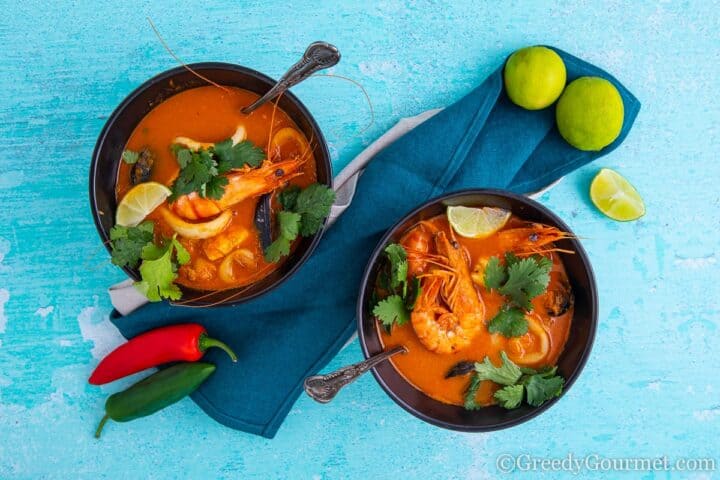 What is caldo de mariscos?
It's a traditional Mexican seafood soup, similar to the Marseille soup bouillabaisse, in that it contains many different types of fish and seafood, together with a tomato-based sauce, spices, and herbs.
This seafood soup has a rich, smoky taste that tantalizes the taste buds and awakens the senses. It's the perfect soup for winter when you need something comforting and warm, but it will undoubtedly rock your world all year round! 
The ingredients of this seafood soup vary, although a caldo de mariscos will almost always contain prawns/shrimp, mussels, white fish, tomatoes, onions, garlic, and a smoky Mexican pepper such as guajillo.
What does "caldo de mariscos" mean?
This Spanish phrase translates into English as 'seafood soup' or 'seafood broth.' 
Some people also call this dish "cazuela de mariscos" (pot of seafood), which refers to little pots made of clay in which it is traditionally served.
What are the origins of this dish?
It originated in the State of Veracruz, located in the Gulf of Mexico. Historians say that Veracruz was the first town to be named by the famous (or infamous, depending on your point of view) Spanish explorer Hernán Cortés.
Veracruz was the first city founded by the Spanish in Mexican territory in 1519. It was named "Villa Rica de la Santa Veracruz" – because of the day the Spanish arrived, which was Good Friday (vera cruz means "true cross"). 
However, this traditional seafood soup predates the arrival of the Spanish. Mexican seafood broth has its roots in the cuisines of the indigenous cultures who lived in the region long before the Spanish conquistadors arrived. 
Seafood was historically a crucial part of the diet of coastal communities in this area, and this simple yet delicious broth was a way to make the most of the available fresh ingredients. 
It's a recipe that has evolved, influenced by other cuisines and culinary traditions. The Spanish brought ingredients such as garlic and onion and cooking techniques to add an extra dimension to the dish.
Today, shrimp and other fresh seafood ('mariscos') and fish ('pescado') are some ingredients used to prepare this creamy and delicious soup from scratch. The type of fish served in caldo de mariscos in Mexico usually depends on the day's catch.
Is this soup spicy?
Mildly spicy. You can use fewer guajillo peppers or replace them with poblano peppers if you're not a fan of heat.
What seafood can I use in this soup?
This recipe calls for various seafood – a marvelous medley of mariscos! Prawns/shrimp, mussels, and squid are a must, although you can add other types of seafood, such as clams, scallops, and crab.
You can also add octopus. Precook it in a large pot with plenty of boiling water. Add laurel leaves, salt, black pepper, and the octopus. Put a lid on the pot and cook until the octopus is soft and tender. Once cooked, cut it into bite-size pieces.
Set aside and add to the soup along with the fish and shrimp.
How do you eat caldo de mariscos?
Some people add manchego cheese, which melts with the heat from the soup to form a creamy and delectable cheese topping!
What are guajillo peppers?
Chile guajillo peppers are dried 'mirasol chiles'. They are mild to medium hot, with a smoky taste and fruity undertone, and are very popular in Mexico.
Marvelous Mexican recipes
Mexican cuisine is simply sensational! What's more, many Mexican recipes are simple and quick to make. Here are a few of my select favorites:
Print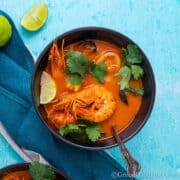 Caldo de Mariscos
---
Author:

Michelle Minnaar

Total Time:

1 hour

Yield:

6

portions

1

x

Diet:

Gluten Free
Description
Dive into a world of seafood flavors with Caldo de Mariscos. This Mexican seafood soup is a comforting, hearty, and delicious treat!
---
Vegetable Broth
30

ml

(2 tbsp) olive oil

2

onions, finely chopped

4

garlic cloves, crushed

3

large carrots, grated

3

leeks, finely chopped

1

celery stalk, finely chopped

1

red pepper, finely chopped

250

ml

(1 cup) white wine

4.5

L (1 gallon) water
salt and pepper, to taste
Spiced Tomato Sauce
6

guajillo peppers

2

(400g/15oz) cans plum tomatoes
Seafood
450

g

(1lb) mussels

450

g

(1lb) shell-on prawns/shrimp

450

g

(1lb) cod, cut into bite-sized cubes

450

g

(1lb) seabass, cut into bite-sized cubes

450

g

(1lb) squid, sliced into rings

112

g

(1/4lb) cockles
Garnishing
a handful of cilantro, chopped

2

limes, cut into wedges
---
Instructions
For the Vegetable Broth: Heat the oil in a large pot. 
Gently fry the onion, garlic, carrot, leek, celery, and red pepper for around 10 minutes or until the vegetables have softened. 
Turn up the heat, wait a minute, then pour the wine, which should sizzle away.
After 1 minute, add the water and cook uncovered for 10 minutes or until the vegetables are fully cooked. 
Now, you can decide just how chunky you want your soup. I prefer my soup base to be smooth, so I blended the broth in batches in my food processor and then returned it to the pot.
For the Spiced Tomato Sauce: Soak the guajillo peppers in hot water until softened. 
Place the peppers and the plum tomatoes in a food processor and blitz until smooth. 
Add the spiced tomato sauce to the vegetable broth. Season to taste.
To Make the Mexican Seafood Soup: Increase the heat until the soup base reaches a steady simmering point. 
Tip in the seafood and stir.
Wait for a simmering point to be reached again, and once it does, cook the seafood for 3 minutes or until cooked.
 Divide the soup between bowls, top with cilantro, and serve with lime wedges. Enjoy!
Notes
You can control the soup's heat by adding or reducing the guajillo peppers used in the tomato sauce. 
Feel free to chop and change the seafood ingredients to your preference or whatever's available. Firm white fish filets work best in this case, such as grouper, snapper, halibut, monkfish, catfish, etc. 
If you can get a fresh seafood broth, use it instead of the homemade vegetable broth and skip adding the spiced tomato sauce. Proceed with the recipe from there.
Traditionally, epazote is used to finish the recipe, but cilantro has been used since this ingredient isn't readily available.
Prep Time:

30 minutes

Cook Time:

30 minutes

Category:

Soup

Method:

Boil

Cuisine:

Mexican
Keywords: caldo de mariscos, mexican seafood soup, seafood soup recipe, mexican soup recipe, mariscos recete, shellfish recipe, shellfish soup