If you're looking for a mouthwatering marinade for lamb, chicken or fish, this is the perfect recipe for you. Alternatively, if you're vegan or vegetarian, you can drizzle it over vegetables! Chermoula is out of this world tasty and takes barely a minute to make!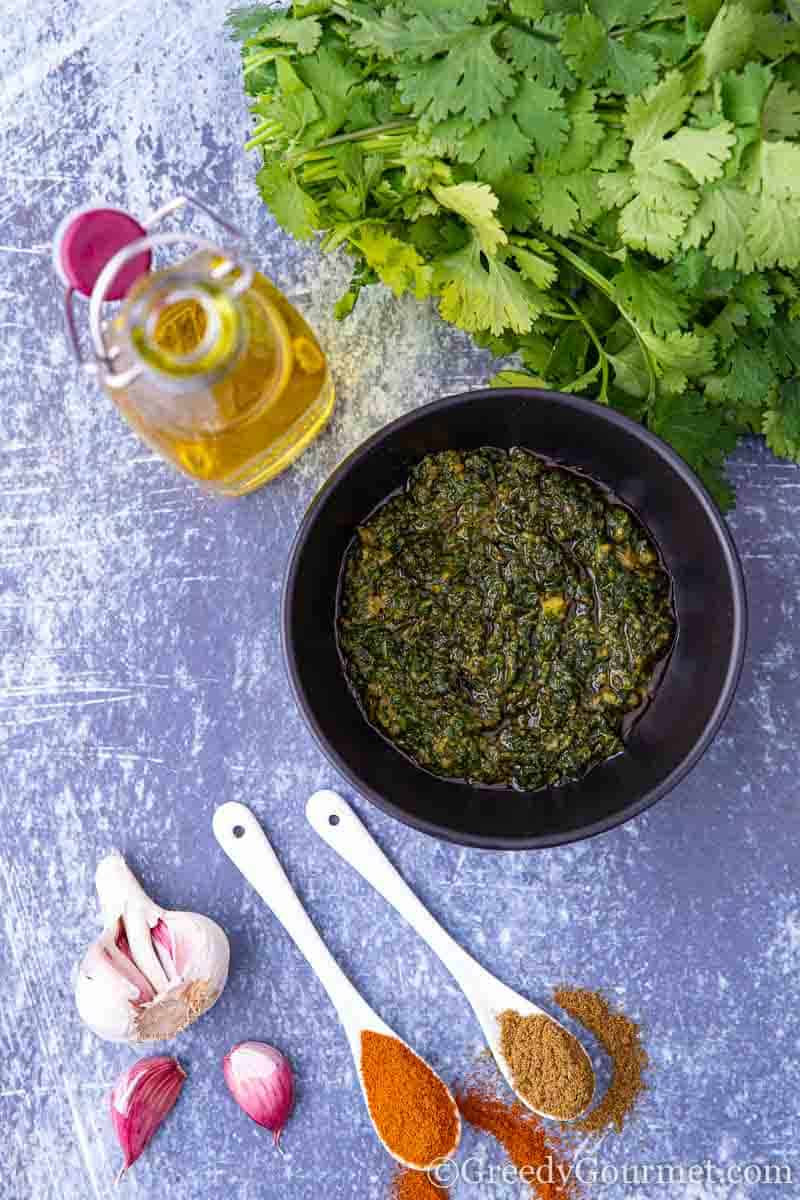 With simple ingredients, a fantastically fresh zesty taste and an amazing aroma, chermoula will become your new favorite way to kick up the flavor to meat, fish and vegetable dishes.
Ready to find out more? Read on for the only chermoula recipe you're ever going to need.
K-Mojo Digimaster
When I'm in the kitchen, I need all the help I can get. Don't get me wrong – I love rolling my sleeves up and getting hands on. Sometimes though, a cool little kitchen gizmo is exactly what you need to lighten the load and get things done quickly.
My latest addition to the kitchen is the K-Mojo DigiMaster. Like a gourmet Swiss army knife, this multi-functional food processor has been a life saver.
It takes the things that can be a pain in the proverbial so-and-so – all those laborious kitchen jobs that nobody likes – and gets them done in seconds.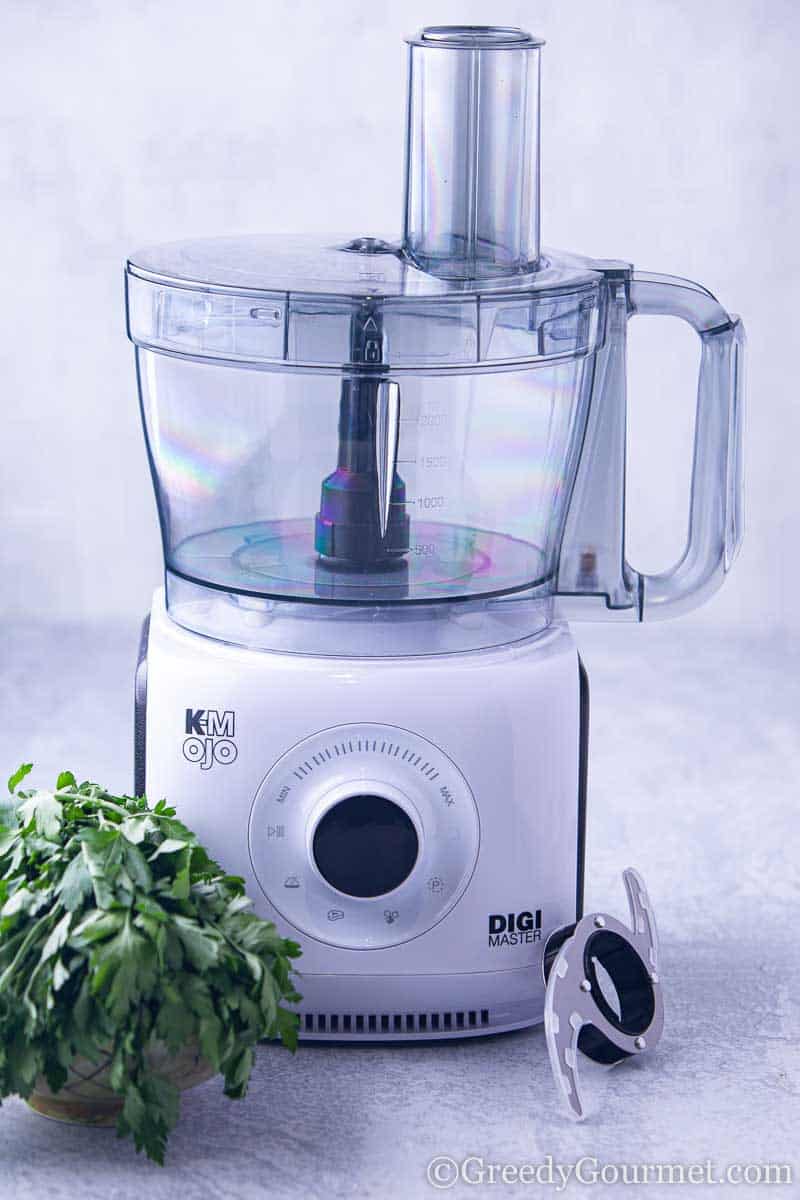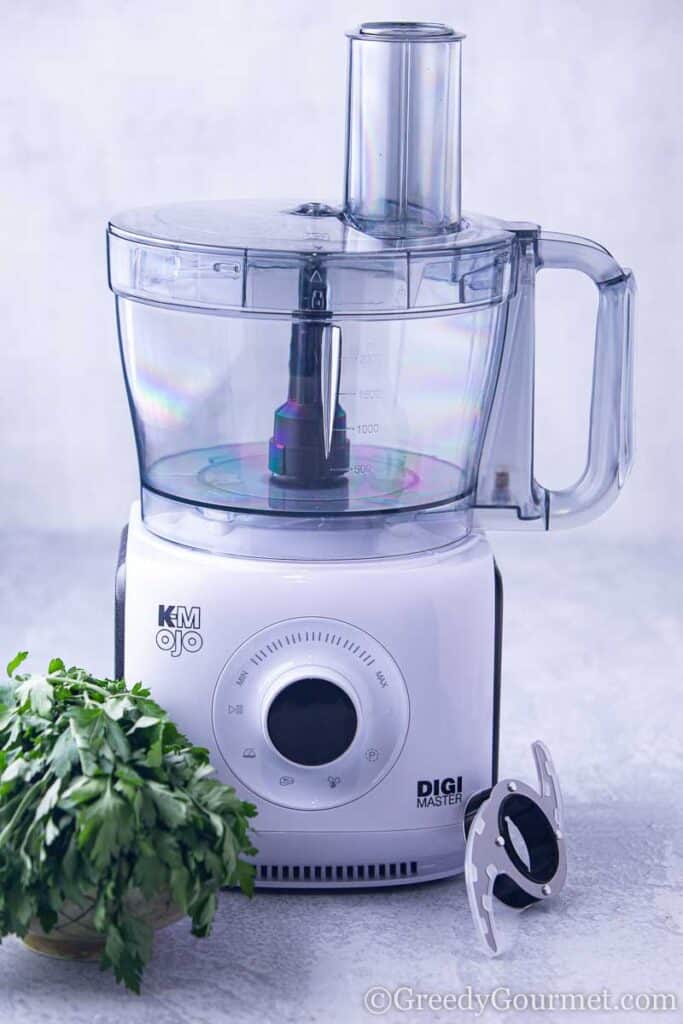 This little baby has 10 different functions – it can blitz, chop, juice, emulsify, knead, beat, blend, grind, grate and slice – leaving you to focus on the fun stuff.
For this chermoula recipe, I used the DigiMaster's blitz function. Done in seconds.
Stunning style, amazing performance and so flexible. Perfect for anyone and everyone, from serious foodies to casual cooks.
Chermoula recipe
Have you ever wondered how to take the taste of grilled meat and fish to another level? It's all about the marinade! When you cook food that has been marinated, something special happens.
The meat or fish becomes amazingly tender and the flavor of the marinade gets into the fibers of the food, giving you a melt-in-the-mouth taste and texture.
This chermoula recipe is a great example of how a sauce can transform your food. Savory, fresh and zesty, with undertones of earthy spice and olive oil, it has such an interesting depth of flavor. You're going to love it!
The ingredients to this green North African marinade are simple. Herbs like coriander/cilantro and parsley are typically used. Earthy spices like cumin and paprika are essential.
The citrus comes from lemon juice. Lots of lemon juice is used in this North African sauce – it gives it a real zesty kick!
Finally, it wouldn't be a North African marinade recipe without garlic… lot's of garlic! This is where the delicious rich savory taste comes from.
Olive oil gives it the right texture, lending a herb sauce consistency to this mouthwatering Morrocan favorite.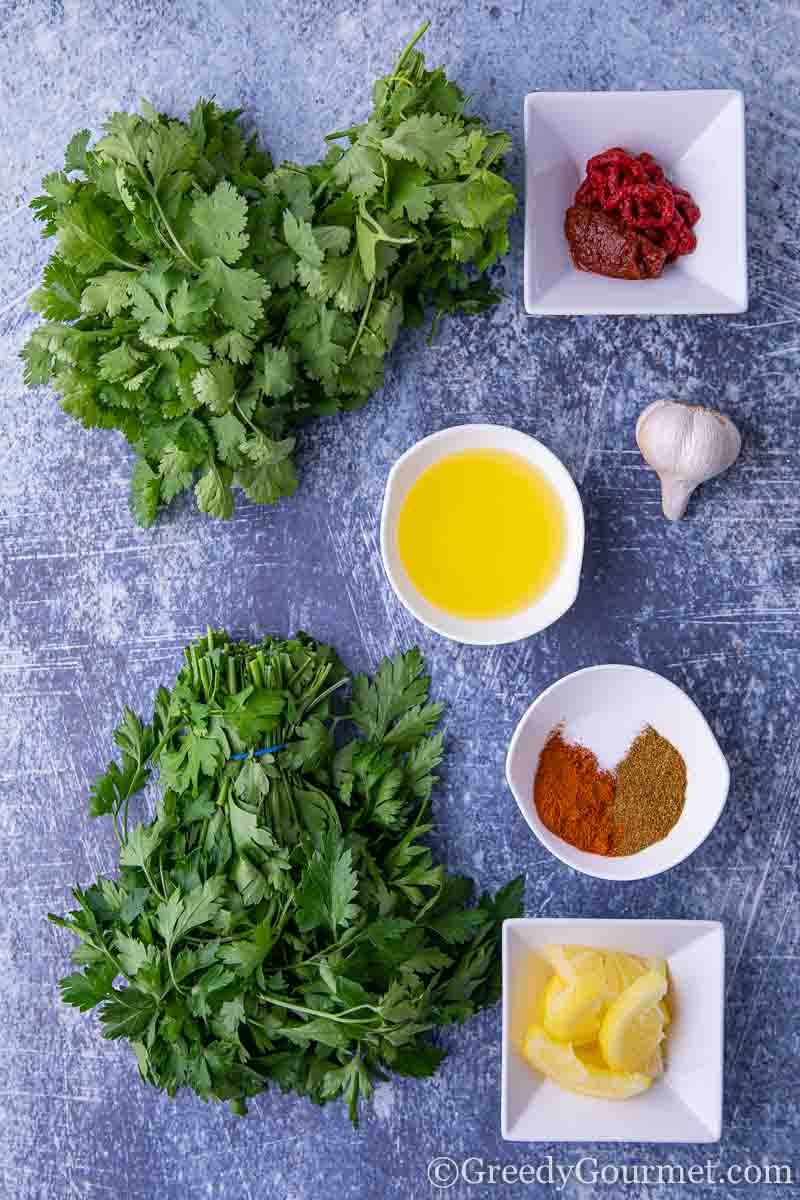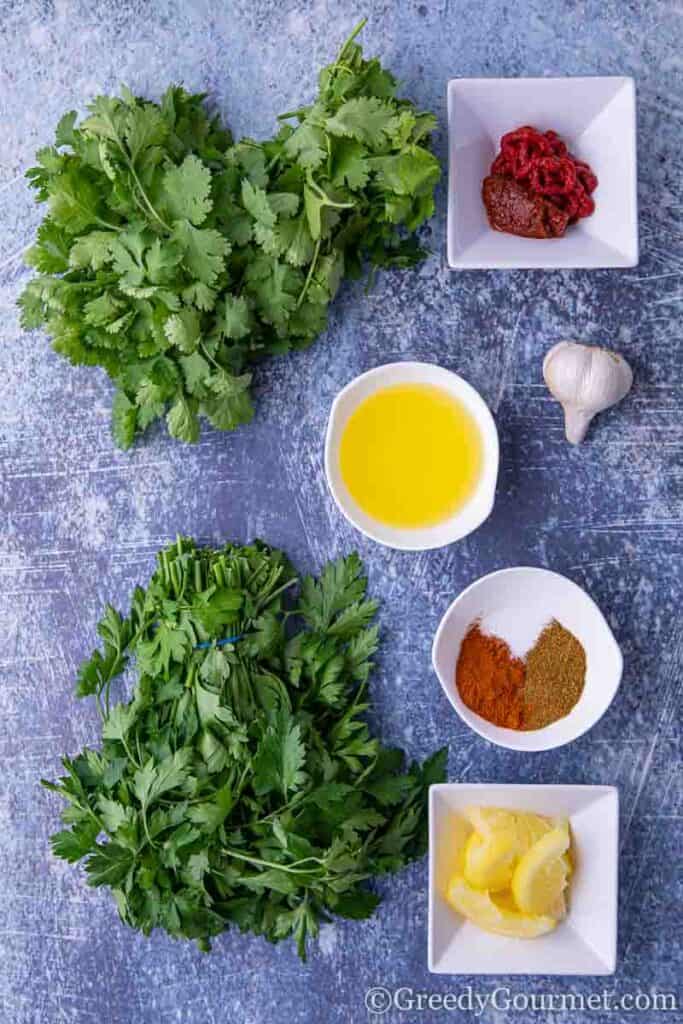 What is chermoula?
Chermoula is a green, garlicky, zesty marinade recipe. With a select blend of subtle spices and other ingredients, chermoula brings a unique taste and aroma. It works best when used as a marinade for fish, but you can also use it with meat and vegetables. 
Chermoula is not just for marinating though. It doesn't need to be cooked – one other way to use it is as a finishing touch to meat, fish and vegetable dishes.
What is chermoula made of?
Chermoula is typically made using coriander/cilantro leaves, cilantro/coriander seeds, garlic cloves (garlic powder can also be used) fresh lemon juice, olive oil, red pepper flakes, ground cumin seeds, paprika and a mixture of other herbs like parsley and mint. 
When using whole seeds of cumin, it's best to heat and toast them in a skillet first. Once they've been toasted for a minute or two, you can grind them easily with a mortar and pestle.
Aside from a mortar and pestle, you can also use the K-Mojo DigiMaster for this recipe and other spice mixes. The grinding function is perfect for making a quick fragrant spice mix.
What can I use instead of chermoula spice?
If you don't mind the heat, you can substitute chermoula spices with harissa paste. Both are from North Africa and use similar spices, although harissa sauce is considerably hotter.
When it comes to the unique blend of spices, chermoula sauce is pretty hard to replicate. As long as you can get most of the ingredients on this list, your sauce will add such an incredible depth of flavor to fish, meat and vegetables.  
If you want to make a particularly spicy chermoula sauce, add a teaspoon of harissa paste and half a teaspoon of cayenne pepper to the recipe.
What are the origins of chermoula?
The roots of chermoula can be traced to North Africa. It is said to have been created in Morocco and then spread east to Tunisia and Algeria.
In Morocco and other North African countries, it's very popular to make a spice mixture or a spicy sauce for fish, chicken, lamb and other meats before it's roasted, to give it a delicious flavor and texture.
How do you pronounce chermoula?
It's pronounced Chur-Mow-La.
Can you freeze chermoula?
Freezing chermoula is easy. All you need to do is lightly grease an ice cube tray and spoon chermoula into each cube compartment.
When you're ready to use it, just defrost in the fridge overnight. Chermoula freezes well for around 3 months. After 3 months it'll still taste fine, but will have lost a large part of its delicious flavor. After 6 months it'll be no good.
Is chermoula always green?
Due to the coriander/cilantro and parsley, chermoula normally has a green appearance. This can be off-putting for some people who can't stand deep green sauce recipes.
As Kermit used to say, it's not easy being green. If you're one of those people who doesn't like the idea of a green sauce recipe on your steak, chicken, lamb or fish, there are a couple of things you can do.
You can make red chermoula by adding a tablespoon of tomato puree to the mix. You could also add a teaspoon of turmeric, for a yellow chermoula.
What are preserved lemons?
A secret ingredient in Moroccan and Tunisian cooking, preserved lemons are a key part of many traditional North African dishes.
In fact, Moroccan cooks use it as they would other condiments. By salting the lemons and keeping them stored in an airtight container for a long time – at least a month – each lemon loses its sharp acidity and instead becomes sweet. 
This great way of changing the flavor of lemon will make you change the way you think about this zesty little fruit. Want to let in on this piece of Moroccan magic? Here's my recipe.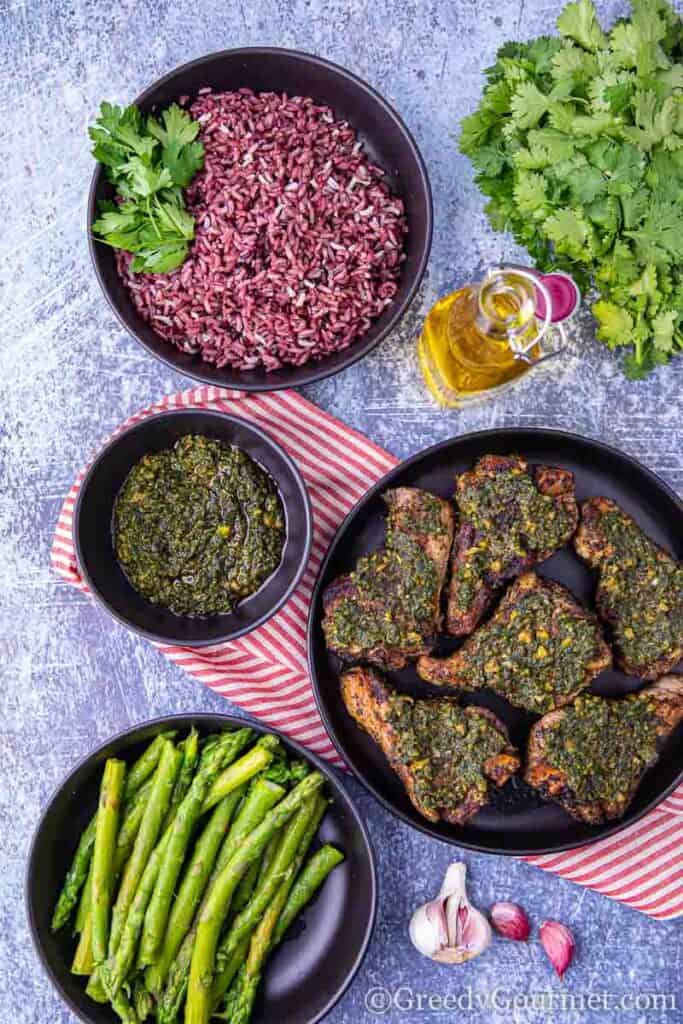 More North African classics
North African cuisine is full of unbelievable recipes that make the best out of the delicious ingredients very common to that part of the world. See which of the following recipes stand out to you and try your hand at a traditional North African delicacy!
Harissa prawns – a deliciously simple outrageously tasty recipe that will have you drooling with desire. These prawns are unbelievable!
M'smen – a simple yet delicious traditional Moroccan recipe that makes a great accompaniment to meat and fish dishes
Pomegranate couscous salad – Moroccan cooking is all about fresh flavors mingling with subtle spices and this fruity couscous salad is the perfect dish to showcase this marvellous cuisine
Harissa aioli – a dip to die for, harissa aioli is one of those dips that you just want to devour on its own. Serve it alongside my harissa prawns and you'll be 'mmm mmm'ing all night long
Amlou – if you're bored of the usual dips and spreads, you have to try amlou. It's like an almond nut butter with a sweet honey taste. Traditionally served at breakfast or afternoon tea, along with flatbreads and pancakes and pastries
Grilled Lamb Loin Chops – this is the perfect way to make use of chermoula sauce. The rich and meaty flavors of the lamb and the spicy, zesty, garlicky flavors of the chermoula work wonders together!
Other superb spice mix and marinade recipes
If you enjoyed making chermoula, why not see if you can master one of these?
Competition Question: What would you use the DigiMaster's chopper attachment for?
Print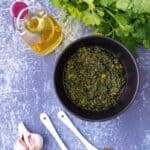 Chermoula
---
Description
Chermoula Sauce is a Moroccan recipe that takes mere minutes to prepare. Place cilantro, parsley, garlic, olive oil and spices in a blender and blitz. Use as a marinade or as a sauce for meat, fish or vegetables.
---
300g

(

3 cups

) fresh coriander/cilantro

100g

(

1 cup

) flat leaf parsley, leaves only

8

garlic cloves, peeled

5g

(

1 tbsp

) dried cumin

5g

(

1 tbsp

) sweet paprika

60

ml (4 tbsp) extra virgin olive oil

2g

(

1 tsp

) salt

1

whole (or

10

slices) preserved lemon
---
Instructions
Place all the ingredients in your K-Mojo DigiMaster's chopper attachment.
Give the ingredients a blitz. If the mixture is too thick, add a splash of water to loosen it up.
Use as a marinade for out of this world's lamb chops or as a refreshing sauce with vegetables or grilled fish.
Notes
Add 15ml (1 tbsp) of tomato puree if you want to have red chermoula.
Add 5ml (1 tsp) of ground turmeric for yellow chermoula.
If you want to spice it up, add 5ml (1 tsp) of harissa paste.
Prep Time:

5 minutes

Cook Time:

0 minutes

Category:

Sauce

Method:

Blend

Cuisine:

Moroccan
Keywords: chermoula recipe, chermoula sauce, moroccan chermoula, lemon chermoula, harissa chermoula, yellow chermoula, red chermoula
P.S. This is a sponsored post.