This creamy and minty shot is like having South Africa in a glass! A favorite layered shot of the country, the springbokkie, is a beloved and patriotic drink to South Africa. It's green and gold colors are reminiscent of the country's national rugby team, the Springboks, and also the country's national animal.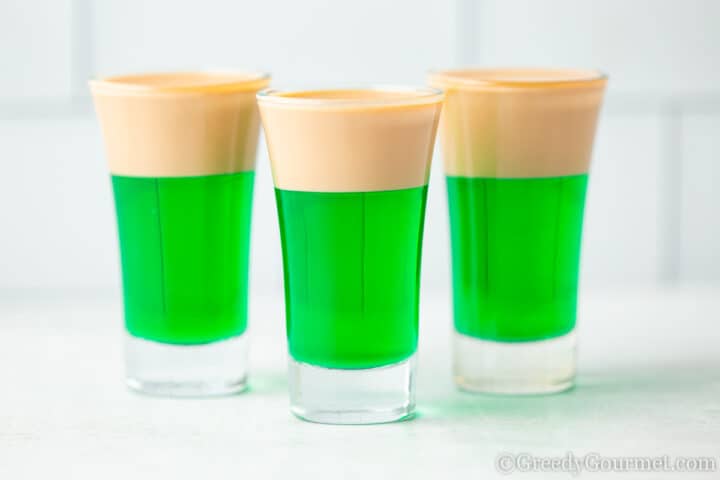 The springbokkie shot is made with crème de menthe and Amarula, a cream liqueur made from marula fruit, grown in the warmer climate of northern South Africa. Fruity with a hint of caramel and chocolate, Amarula liqueur looks like Bailey's Irish Cream but its flavors are uniquely different.
Amarula is used in several recipes for desserts as well as an ingredient in cocktails, and if you've never had it you're sure to fall in love!
The second ingredient in this drink, crème de menthe is a sweet, mint flavored liqueur that comes in a clear or green color. For a more assertive mint flavor in your springbokkie shot, use green crème de menthe which is infused with the leaves of the mint. Crème de menthe and Amarula really compliment one another in this delicious springbokkie shot of South Africa.
This recipe is inspired by my zombie brain shot, another layered shot recipe on my site. Pair the springbokkie with good company, as well as plenty of snacks to soak up the alcohol, like my buffalo cauliflower wings. The springbokkie shot is enjoyed widely across South Africa during rugby season.
Why You'll Love This Recipe
It's patriotic and eye-catching
It's creamy and delicious
Only two ingredients
Equipment Needed to Make This Recipe
Shot glass - this springbokkie shooter absolutely must be served in a shot glass. Dramatic colours of green and gold can be easily seen which represent the national rugby team of South Africa, the Springboks
Teaspoon - use a regular teaspoon from your cutlery to poor the Amarula cream liqueur into the shot glass atop your crème de menthe allowing it to drip in slowly and not mix with your crème de menthe
Jigger - use a jigger to measure each liqueur into a shot glass and ensure that it is the correct one to one ratio for the springbokkie shot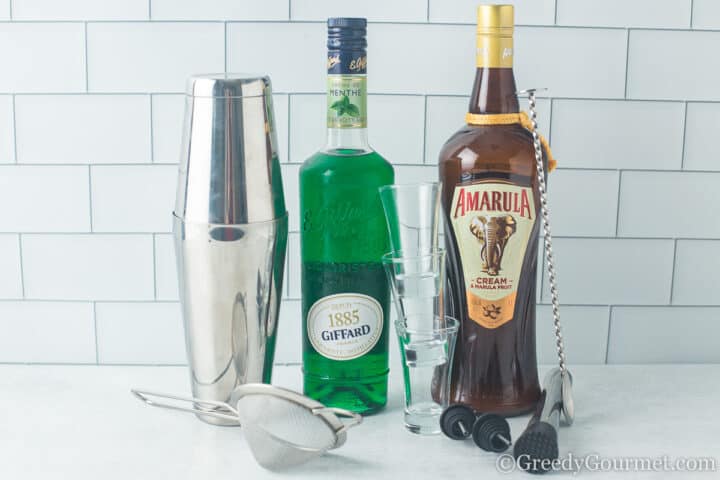 Ingredients You Need for This Recipe
Amarula - from South Africa, this cream liqueur is fruity and unique. In the springbok shot, the Amarula liqueur gives caramel and chocolate notes in addition to fruit, that make for a smooth and tasty one shot drink.
Top Tip
Pour the Amarula cream slowly over the teaspoon so that the springbokkie shot doesn't combine and make a murky mess.
What to Pair with Your Springbokkie Shot
During rugby season in South Africa, the springbokkie shot is popular to enjoy during a match. Keep your stomach well protected with a few snacks to go along with this boozy concoction.
Snacks
Blue cheese dip - a winning game-day dip, great with veggies!
White bean dip - serve your favourite crackers with this bean dip for a filling snack
Melitzanosalata - tangy with lots of garlic, this dip is great on bread or crackers.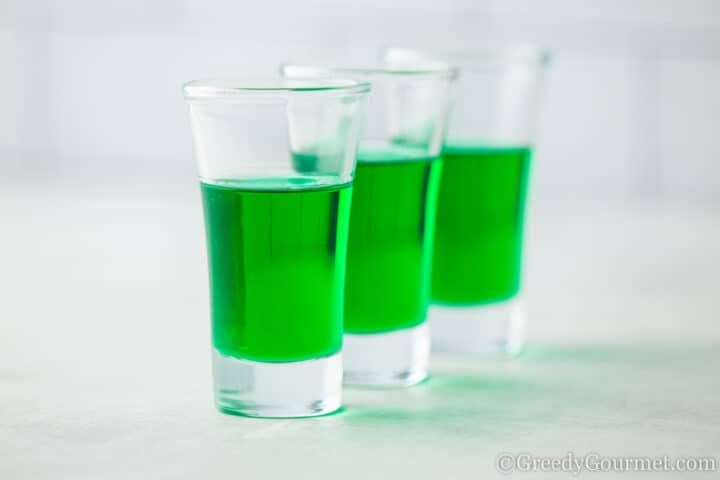 Popular Substitutions for This Recipe
Cream liqueur
Instead of Amarula cream, make this drink with Bailey's Irish cream for a similar creamy consistency but a slightly different flavor.
Mint Liqueur
You can use peppermint schnapps instead of crème de menthe in the springbokkie shot, but you won't get the same green color since it is clear.
Variations to This Recipe
Make this drink into a cocktail by scaling up ingredients by two or three, depending on your preference.
Top Tip
Chilled crème de menthe or peppermint schnapps will make a clearer line between each liqueur.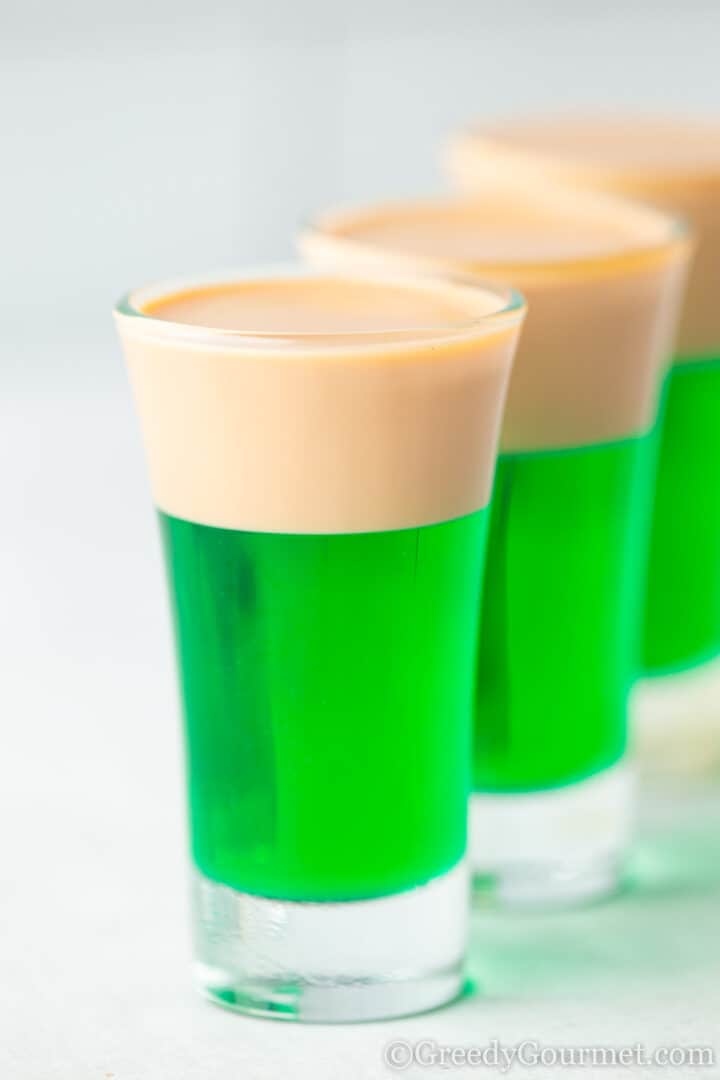 Can I Make This Ahead of Time?
I don't recommend preparing this springbokkie shooter ahead of time, as it is likely to mix together, becoming murky.
What Does This Recipe Taste Like?
A Springbokkie shooter tastes like a combination of fruit, chocolate, as well as caramel, with a refreshing mint zing.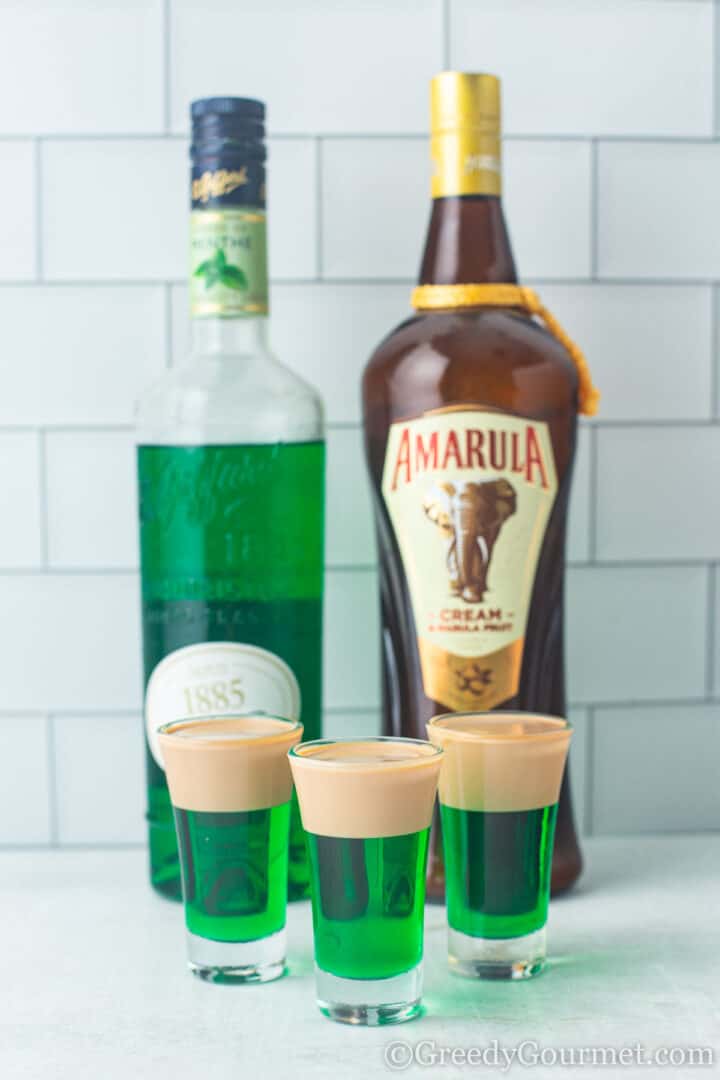 Print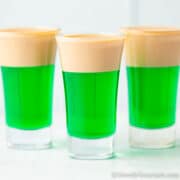 Springbokkie Shot
---
Description
This creamy Springbokkie Shot is easy to make. You'll only need two ingredients to create this minty South African drink.
---
25

ml (1 jigger) Creme De Menthe

25

ml (1 jigger) Amarula
---
Instructions
Use a 50ml (2 jigger) shot glass.
Pour the Creme De Menthe into the shot glass.
Place the tip of a teaspoon level with the Creme De Menthe' surface and pour Amarula gently into the bowl part of the teaspoon. 
Remove the teaspoon.
Serve immediately.
Notes
If you want a stronger mint flavor, use green Creme De Menthe.
For a less sweet shot, use less Amarula.
Prep Time:

5 minutes

Cook Time:

0 minutes

Category:

Cocktail

Method:

Pour

Cuisine:

South African
Keywords: Springbokkie, Halloween Shots, Spookie Shots, Halloween Shooter, Halloween Cocktail, Spookie Shooter, South African Shots, South African Cocktail, Springbokkie Shot, South African Shooters, Creme De Menthe Recipe, Peppermint Liqueur Recipe, Amarula Shots, Amarula Shooters, Amarula Recipes, 90s Shots, 90s Shooters