Take your weeknight dinner to a whole new level with this terrifically tasty romesco chicken tray bake!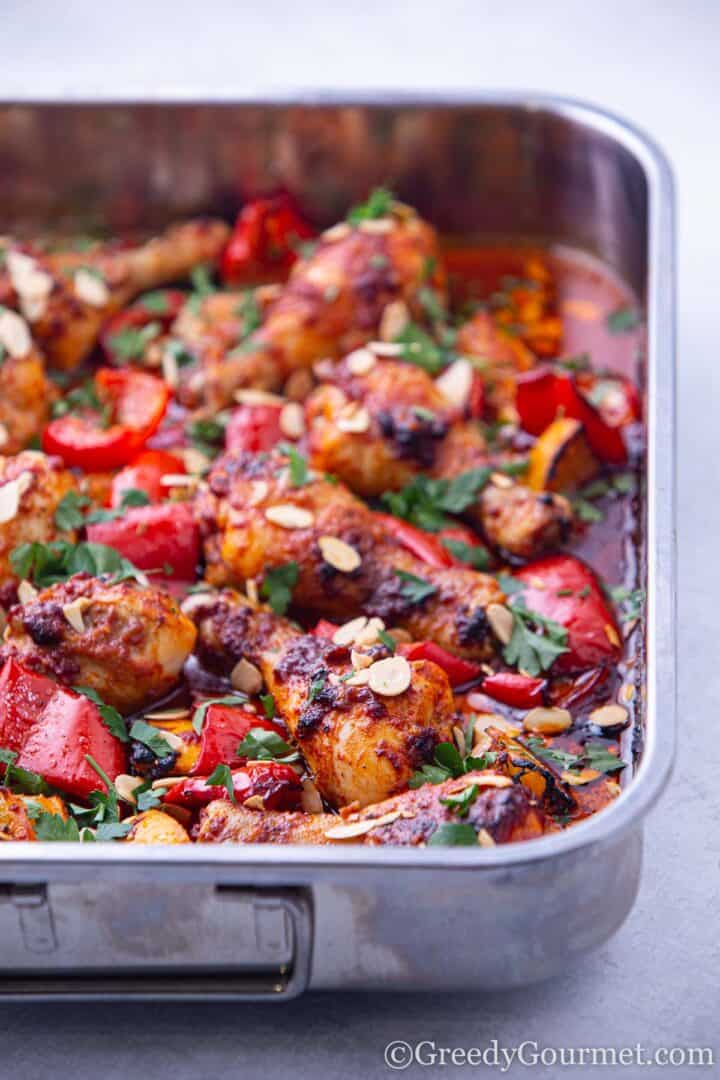 It's a simple recipe and all the magic takes place in one tray. Which means less mess, less washing up and more time to savour the taste. Trust me… you're going to love this!
Products you need for this recipe
There are a couple of key products you'll want to make sure you have to hand for this delicious, easy traybake:
Roasting tray – get yourself a quality deep baking tray for this recipe
Sherry vinegar – for that wonderful, authentic Mediterranean taste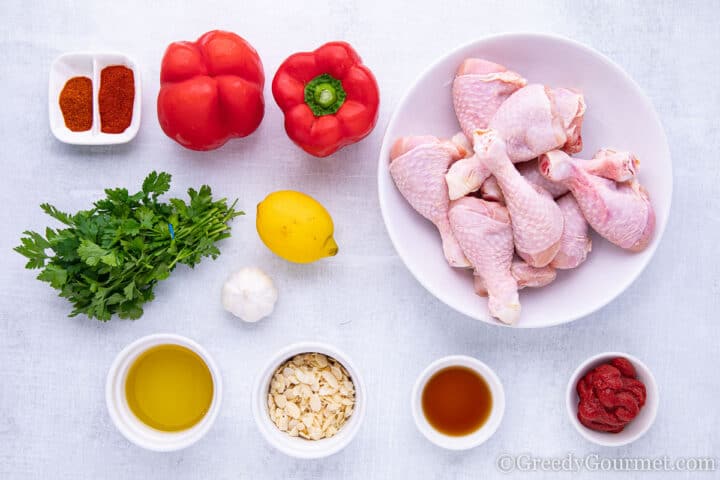 Romesco chicken tray bake recipe
When it comes to fuss-free, low hassle midweek meals, it doesn't get much better than this. Minimal effort, maximum taste.
So, when you're looking for something that's easy to prepare, as well as healthy and hearty to fill hungry bellies and hit the taste spot, this recipe delivers the goods.
There's a beautiful simplicity to a traybake. All the ingredients cook together in one place, with flavours mingling and juices flowing. The result is a mouthwatering marvel.
Best of all, it's so easy! It's pretty much fool-proof. It's as simple as placing all the ingredients in a roasting tray and coating everything with sauce. Then, slide it into the oven and wait for the oven to do its thing.
This traybake recipe is packed full of healthy, delicious ingredients. The sherry vinegar, cayenne pepper and paprika bring that sizzling Spanish character, while the lemon, garlic and parsley add extra fragrance and flavour.
The tomato paste adds richness and texture, while the peppers bring a subtle sweetness and a little bit of bite. Last but not least, the almonds and some crunch and a nuttiness that typifies romesco.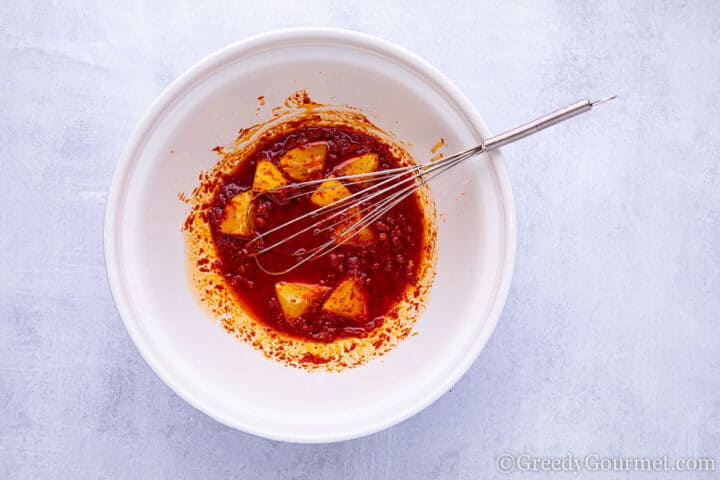 What is romesco?
Romesco is a delicious sauce that originates from the Catalonia region of Spain. The roasted peppers and paprika give it a vibrant red color and smoky taste, while the garlic and toasted almonds add richness.
Romesco is very popular in Catalonia. You'll find romesco served on pretty much every menu at local restaurants in Barcelona and throughout the region. It's typically paired with meat, vegetables (especially calçots, the delicious BBQ'd onions) and fish dishes.
If you want to know how to make your very own homemade romesco sauce, check out my romesco sauce recipe!  
Is this recipe keto?
Yes, it is! Every ingredient in this recipe is low carb. This chicken traybake recipe is perfect for anyone looking for a keto-friendly dish that's full of flavour and easy to prepare.
Can I use chicken thighs in this chicken traybake?
Yes, you can. Although the recipe calls for drumsticks, or legs, you can of course use chicken thighs.
In fact, you can use both drumsticks and thighs in this dish. Go half and half, with 4 of each, or opt for your preferred ratio.
How long does chicken take to bake?
It takes about 40 minutes to bake it in the oven at 180°C / fan 160°C /  355°F / gas mark 4.
You can bake it higher and faster, but for me these temperatures and timings produce the best tasting chicken.
How do you know when the chicken is cooked?
It's recommended that it's cooked until it reaches at least 74ºC / 165ºF. If in doubt, use a meat thermometer.
How do you keep chicken from drying out in the oven?
It's all about the marinade, baby! It's easy to overcook it and end up with a chewy, tasteless bit of meat, with about as much flavour as an old boot.
Not with this recipe! With this one, you can't go wrong. The delicious sauce seeps deep into the meat, to keep it tender and juicy all throughout the cooking process.
Better yet, the flavours of the marinade infuses the chicken to create a taste that's out of this world!
So, as long as you stick to the temperatures and the timings below and make sure it's covered in that luscious sauce, you'll end up with delicious succulent chicken.
How do you avoid rubbery chicken?
It's the same with dry chicken. The key to avoiding that rubbery texture is to keep it from drying out. That means plenty of liquid, which the marinade provides in this dish.
Should you cook chicken straight from the fridge?
It's best to cook it close to room temperature. That's because the change in temperature when it goes in the oven will affect the overall texture.
Take it out of the fridge 30 mins to 1 hour before you place your chicken traybake in the oven.
Can you make this recipe ahead of time?
While it's best to serve this immediately, you can definitely make it ahead of time, up to 2 days before serving it. 
You can heat up the chicken traybake in the oven at 180°C / fan 160°C /  355°F / gas mark 4 for 10 minutes.
How can I add variations to Romesco chicken?
Aside from the simplicity, one of the great things about traybakes is how adaptable they are. You can be as creative as you want, switching up the ingredients to make something that suits your tastes to a tee.
Add red onion
If you want to bring a touch of sweetness to this delicious chicken traybake, roughly chop some white or red onions and throw them into the mix. 
Herbs and spice and all things nice
You could also play with different herbs and spices. This recipe calls for flat leaf parsley, but of course there are so many herbs you could use with or instead of parsley.
Something like thyme, oregano or rosemary would work really well with this recipe.
Spice-wise, you could turn up the heat and use a hot paprika. You could also add some ground mustard seeds for earthy heat, or add some chilli flakes or chopped fresh chilli for some tongue tingling heat.
Go nuts!
Romesco often mixes two different types of nuts, so feel free to throw some toasted chopped hazelnuts in alongside your toasted almonds. 
Authentic peppers
If you can find Spanish ñora peppers, they will add a touch of smoky authenticity to your romesco chicken traybake.
Fresh tomatoes
If you fancy a little more of a tomatoey taste, chop up some fresh tomatoes and add them to the dish. You'll get that delicious roast tomato richness that will make romesco sauce so special. 
Vinegar versatility
Finally, let's talk vinegar. It's an essential element to this chicken traybake, bringing some much needed tang.
For me, sherry vinegar gives it that incredible Spanish authenticity, but you can swap it out for a different kind. Go for red wine vinegar, white wine vinegar or balsamic, depending on your tastes.
If you want to bring a whole new level of rich flavor, add some pancetta or bacon bits. This will take your quick and easy chicken traybake to a new level of delicious! 
How do you store chicken traybake leftovers?
If you can't wolf the lot down in one sitting, this recipe can easily be stored away for another day.
Simply spoon the contents into an airtight storage container and place it in the fridge. It will keep for 2–3 days.
Can you freeze it?
If you want to store it longer than that, you can also store it in the freezer. Freezing is easy – once your chicken traybake has completely cooled, transfer it into an airtight freezer-safe container. Place in the freezer and use within 4 months.
How do you reheat chicken traybake?
To defrost frozen chicken traybake, thaw it overnight in the fridge. Then, reheat it in the oven (180°C / fan 160°C /  355°F / gas mark 4 for 10–15 minutes) or in a pot on the hob, heating on a medium heat while stirring continuously.
Ideas for leftovers
One great way to eat these leftovers is to dice up the chicken and serve everything up cold mixed into a salad (Mediterranean salad or salad olivieh would be perfect) . The flavours only get better with time and your salad will be supercharged!
Try serving it cold in a sandwich, wrap or a quesadilla. You can add it to a stir fry for a delicious midweek meal (try this edamame stir fry). 
You could even use this leftover turkey casserole recipe as inspiration to make a delicious, super easy midweek casserole to please the whole family.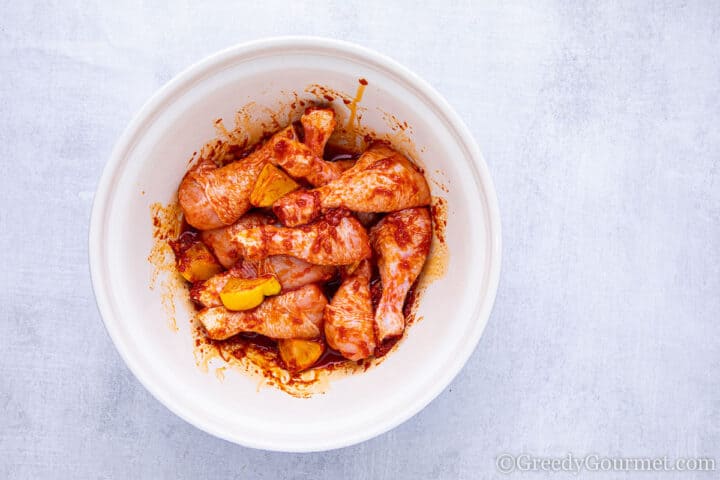 What to serve with a chicken traybake
The absolute best thing to serve with this chicken traybake is without doubt creamy mash potato. However, for those looking for a keto-friendly pairing, I have plenty of delicious low-carb side recipes.
There's something here for everyone! Take a look at the food pairing options and take your pick: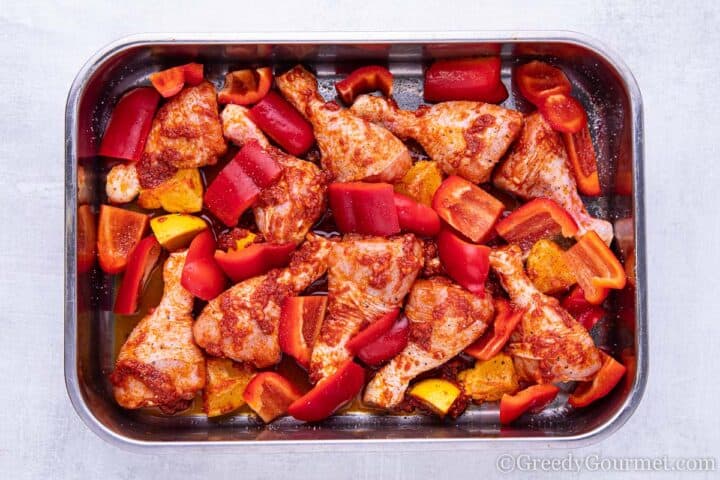 More traybake recipes
Big on taste and light on prep time and clean up, what's not to love about traybake recipes? Here are a few more one tray wonders to whet your appetite.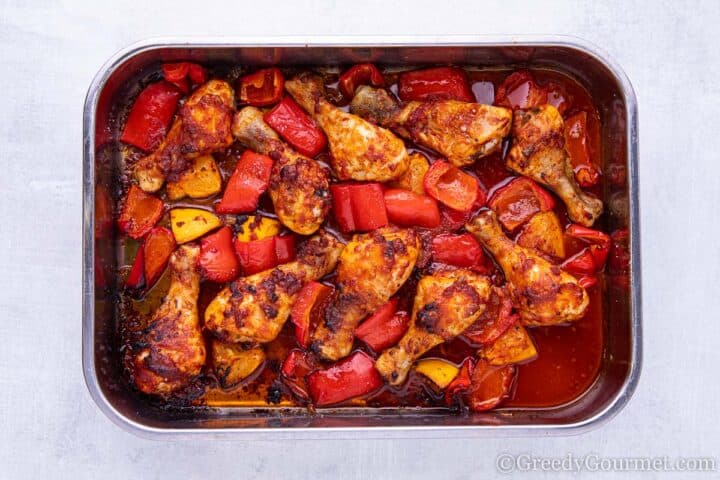 More chicken recipes
Chicken is only as delicious as the way you cook it. These recipes are the perfect showcase for just how melt-in-the-mouth fantastic chicken can be. Enjoy!
Chicken chasseur – a winter warmer if there ever was one. Hunter's chicken is so good, you'll want to go back for seconds and thirds. This recipe is definitely one to please the whole family
Smoked chicken breasts – if you've never smoked chicken breasts, you're in for a treat. A smoker is definitely a big investment, but once you've tried you won't believe what you've been missing
Marmite chicken – you'll either love it or you'll hate it. For marmite lovers, this is one recipe you do not want to miss. It's packed full of flavour and very easy to put together
Brined chicken drumsticks – brining chicken takes its flavour and texture to another dimension! Give it a try… you won't regret it!
Coronation chicken jacket potato – healthy, humble home cooked food at its best. Coronation chicken is a simple yet tasty treat, made even better when served up alongside a delicious baked spud
Sous vide chicken breast – you've never tasted chicken breast like this! Incredibly tender and out-of-this-world tasty, this is fine-dining standard chicken
Cajun chicken pasta – a simple pasta with a cajun twist. Fantastic flavours, perfectly balanced for an oh so satisfying meal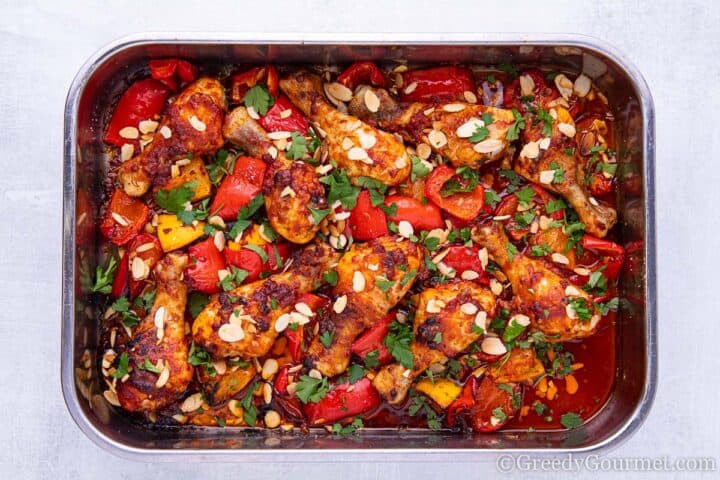 Print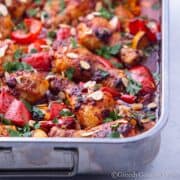 Romesco Chicken Tray Bake Recipe
---
Author:

Michelle Minnaar

Total Time:

1 hour

Yield:

4

servings

1

x

Diet:

Gluten Free
Description
Romesco Chicken Tray Bake is a brilliant family-friendly dinner which is Keto-friendly as well. It's low hassle and full of flavour. Make it a true Spanish meal with other authentic side dishes!
---
45

ml

(3 tbsp) tomato paste

30

ml

(2 tbsp) sherry vinegar

4

g

(1 1/2 tsp) smoked paprika

1

g

(1/2 tsp) cayenne pepper

125

ml

(1/2 cup) olive oil

1

lemon, cut into

eight

hs

8

drumsticks

8

garlic cloves, peeled and crushed

2

red peppers, deseeded and cut into

8

pieces each

50

g

(1/4 cup) flat leaf parsley, chopped

40

g

(1/3 cup) flaked almonds, toasted
salt and pepper, to taste
---
Instructions
Preheat the oven to 180°C / fan 160°C /  355°F / gas mark 4.
Place the garlic, tomato paste, vinegar, paprika, cayenne pepper, oil and lemon pieces In a large mixing bowl. Mix well.
Tip in the chicken pieces and peppers then coat all surfaces with the sauce. 
Bake the chicken in the oven for 40 minutes. 
Remove from the oven, season to taste and sprinkle with parsley and almonds.
Serve immediately. Enjoy!
Notes
You can substitute the drumsticks with 8 chicken thighs or 4 drumsticks and 4 thighs.
Prep Time:

20 minutes

Cook Time:

40 minutes

Category:

Traybake

Method:

Bake

Cuisine:

Spanish
Keywords: chicken tray bake, chicken thigh traybake, mediterranean chicken, chicken traybake recipe, spanish chicken recipe, romesco chicken