Pan-fried halloumi is the perfect ingredient for the upcoming sunny days. Especially if you are looking for cooking healthier meals! Have you ever used halloumi before? It's a very special type of cheese that I first discovered on a famous cooking show. At first, I thought halloumi was a fish, because it sounds almost Japanese. I couldn't be more wrong. If you try my halloumi salad with apricots, avocado and almonds, you won't regret it. This dish is a fantastic vegetarian meal, full of nutrients that will fill you up with energy.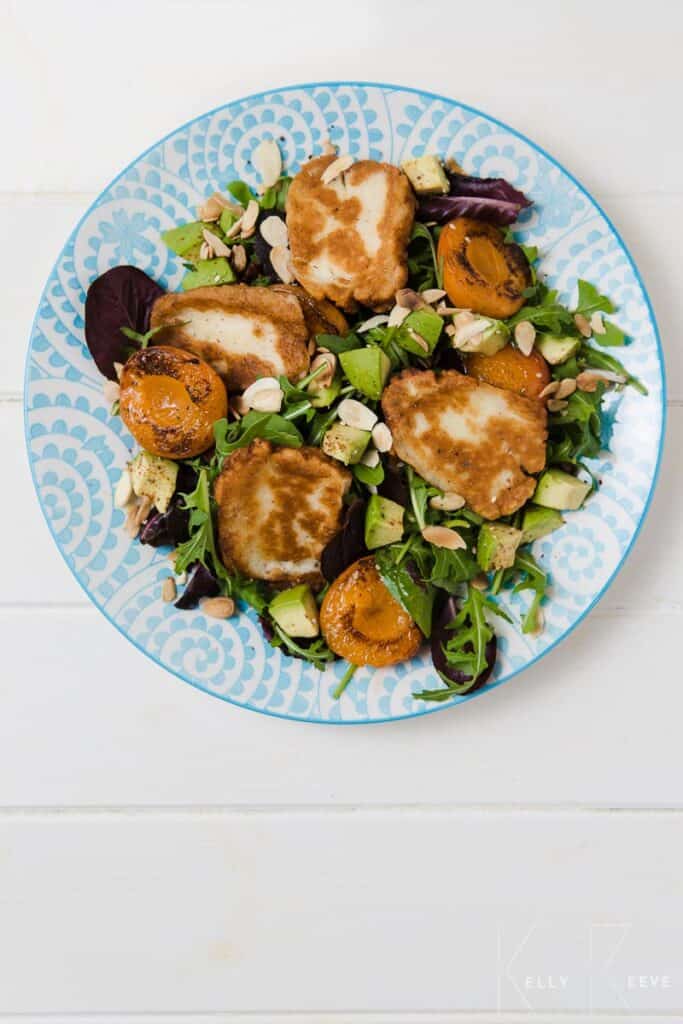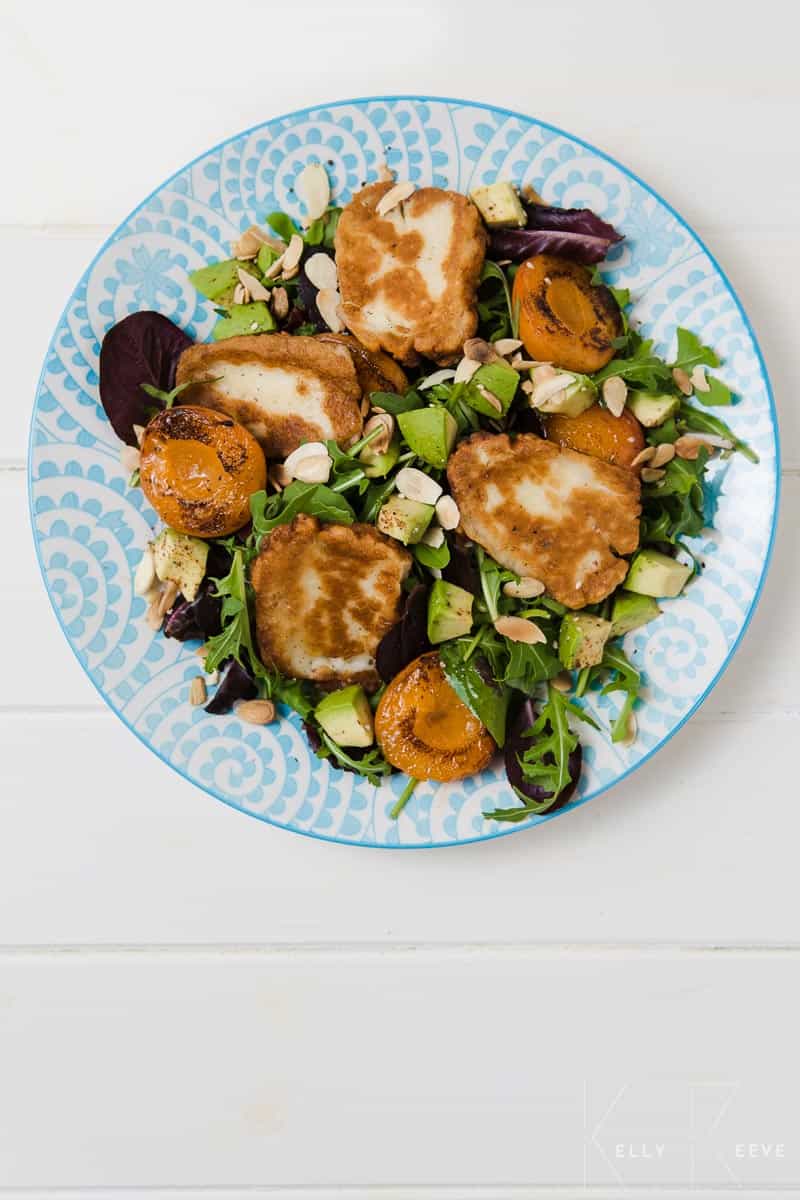 Halloumi
Halloumi is in fact a very special type of cheese. It has a semi-hard texture, like other typical cheeses. Halloumi is a white cheese that originates from Cyprus but is very popular in Greek cuisine too. Traditionally, it is usually made up of a milk mixture comprising goat milk and sheep milk. However, there are halloumis that also include cow milk.
After learning how to properly cook halloumi, i.e. the secret being for it to be soaked first, I've been on a bit of a binge. After feeling my belt tightening, I started checking out the food labels and was flabbergasted at the amount of calories in this cheese. Fortunately, there are lighter alternative that contains 30% less fat and thus less calories. The great news is that I didn't detect a reduction in taste or texture.
What's great about halloumi is that you can pan-fry it for a tasty sandwich, grill it on a barbecue or use it in a salad. If you are trying halloumi for the first time, this halloumi salad is a perfect introduction to this great cheese.
Choosing a healthier lifestyle
We all know that the colder seasons can be unkind. In fact, I find it quite difficult to resist the Christmas and Easter feasts. When you think of all that tempting delicious food, do you really think they are made up of healthy ingredients? With butter, sugar and salt being the most common ingredients, it might be difficult to lead a healthier lifestyle during these months.
Nowadays, we are constantly under pressure with getting everyday work done. Do you also feel like you are busy all the time and don't have time cook a proper healthy meal? I've got a few pointers for you. First, you should start using the lighter and low salt products. Do a little experiment. Weigh yourself before and after for two weeks after you started using the lighter versions. You'll see the results on the scale and its perfect for getting into shape for summer. Why not start with trying to make yourself oatmeal in the morning, either using water, soymilk and low fat milk? You should start the day light and healthy.
The beauty of this recipe is, that you can make it either for lunch or dinner. Furthermore, this recipe will be perfect for you if you are trying to opt for a healthier lifestyle. This halloumi salad with apricots, avocado and almonds will do wonders for you. You can use this meal as lunch or dinner. It's super easy to make - just toss the halloumi on the pan or on the grill, and you're done.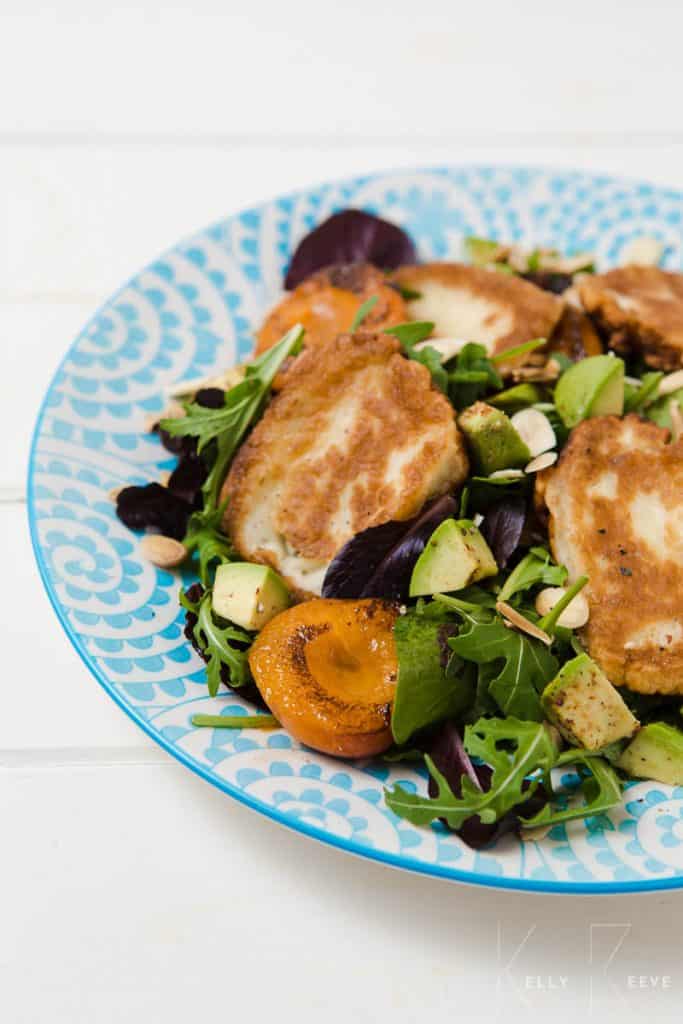 Other things to support a healthy lifestyle
Exercise is another way to support a healthy lifestyle. You could start by doing the walking challenge. That's right. Walk to work! I've recently tried this, and not only is it great to clear you busy mind, but it also helps taking a couple of pounds off! If you're feeling especially daring you could attempt the Couch To 5K Challenge.
Of course, making gym part of your daily routine is ideal. Not everyone can afford this luxury in terms of time and money but, trust me, it's worth the investment. I feel like a million bucks every time I walk out of the gym.
Frying the ingredients
When frying the halloumi, don't use too much or oil when you fry it, otherwise that defeats the whole purpose of this exercise. The best way to get a lovely taste out of the halloumi is to barbecue it. With the latter a wonderful smokiness and richness will be produced, which in turn adds another layer to this multi-faceted salad. Definitely use the grill if you have one!
However, the halloumi is not the only thing you' ll be frying for this recipe. Fried apricots are just as important as the fried halloumi. The caramelized sweetness of the fried apricots will beautifully complement the richness of the halloumi. You've probably seen the usual combination of cheese and some sweet jam. Consider this combination the same! The sweetness and the richness of the cheese is a traditional combination and just works! Yum!
Lastly, don't forget to toast the almonds. Plain almonds just don't do the trick. You have to toast them. Use a pan or pot and just roast until golden. With the fried apricots, it will even further enhance the smoky flavour. Moreover, don't you just love a bit of crunch against that smooth silky halloumi? A play of textures is always nice and ultimately makes the dish more complex. Instead of almonds, you could also use peanuts, cashews, macadamia or pine nuts. You choose!
Building the salad
The halloumi salad with apricots, avocado and almonds is a perfectly healthy salad. If you are wondering what type of salad leaves you should use, I recommend using a mixed green salad and adding a simple French mustard vinaigrette. If you are not a fan of vinaigrette, you can't go from with a honey and mustard salad dressing. Simplicity is the key. Enjoy!
More fresh apricot recipes for you
Print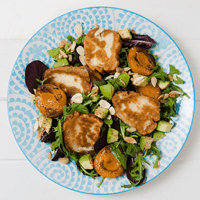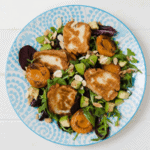 Halloumi Salad with Apricots, Avocado & Almonds
---
225

g

(7oz) halloumi

30

ml

(2 tbsp) vegetable oil

8

apricots, washed and halved

150

g

mixed leaf salad, washed

1

large avocado, peeled and cubed

60

ml

(4 tbsp), slivered almonds
---
Instructions
Soak the halloumi in a bowl of water for 2 hours.
Drain the cheese, pat it dry and cut it in 8 even slices.
Heat a large frying pan with 15ml (1 tbsp) of vegetable oil and fry the cheese slices until browned on both sides. Drain the halloumi on kitchen towel.
Next, add the remainder of the oil to the pan and fry the apricot halves on both sides until lightly browned.
Evenly divide the leaves, avocado, apricots, cheese and almonds among 4 plates and serve immediately.
Notes
Use a salad dressing of your choice, even in this case I didn't feel the need to use any.
This makes a light lunch but you can increase the quantities to your desire to make a starter or big main course.
Toast the almonds if you can, for a nuttier flavour.
Prep Time:

15 minutes

Cook Time:

5 minutes

Category:

Starter

Cuisine:

International
Nutrition
Serving Size:

1 serving

Calories:

356

Sugar:

8.4 g

Sodium:

5 mg

Fat:

26.9 g

Saturated Fat:

10 g

Carbohydrates:

13.8 g

Fiber:

5.6 g

Protein:

15.7 g
save the recipe to your pinterest board

P.S. This is a sponsored post.
A special thanks to Kelly Reeve for assisting with the recipe shoot.