A super quick, delicious delight, this traditional Japanese dish – nasu dengaku, or miso eggplant – is a vegan recipe that all the family will love. It's packed full of flavor, simple to make and good for you.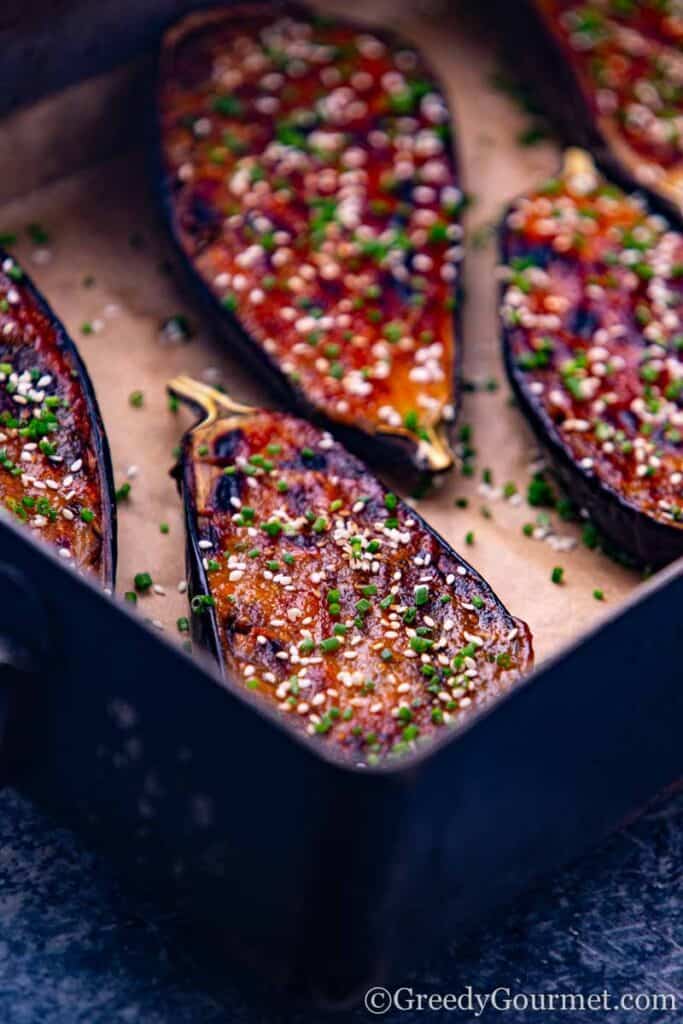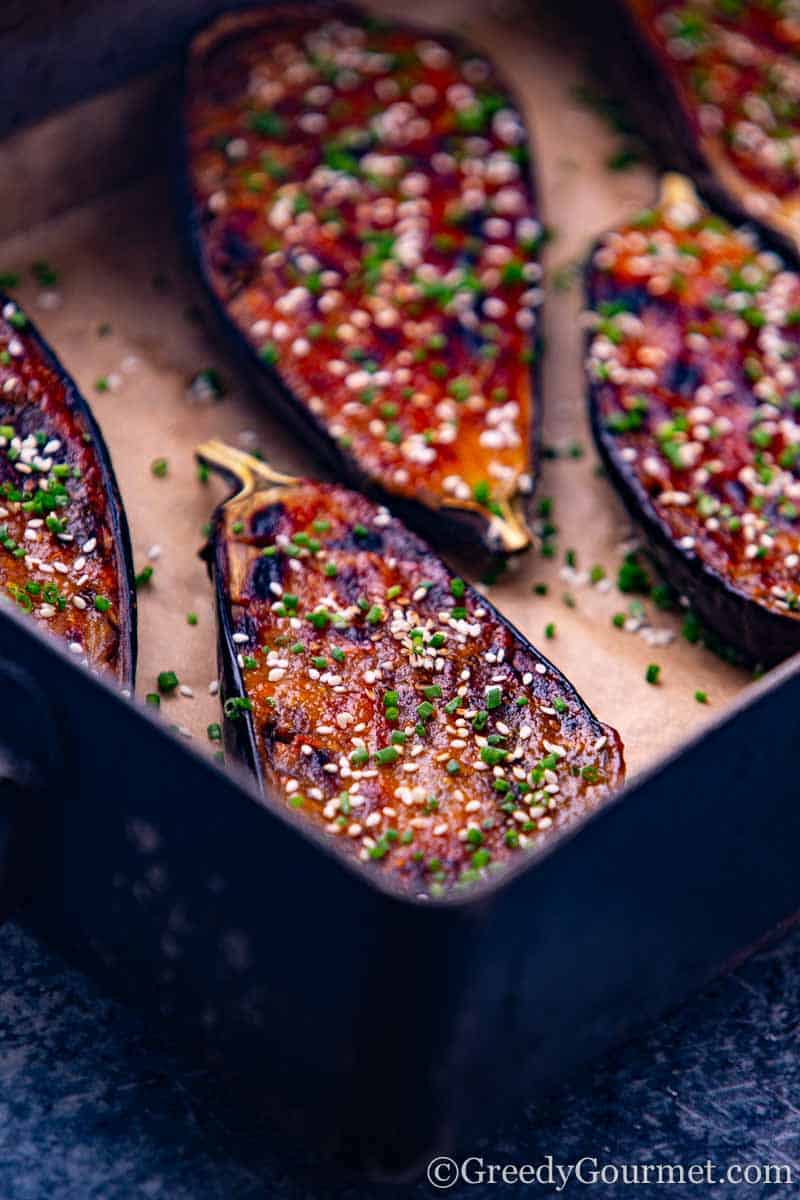 Tender eggplant baked to perfection brushed with a rich miso glaze and broiled for a charred finished – simply irresistible.
Products you need for this recipe
Here's a list of some of the key kitchen items you'll need for this miso glazed eggplant recipe: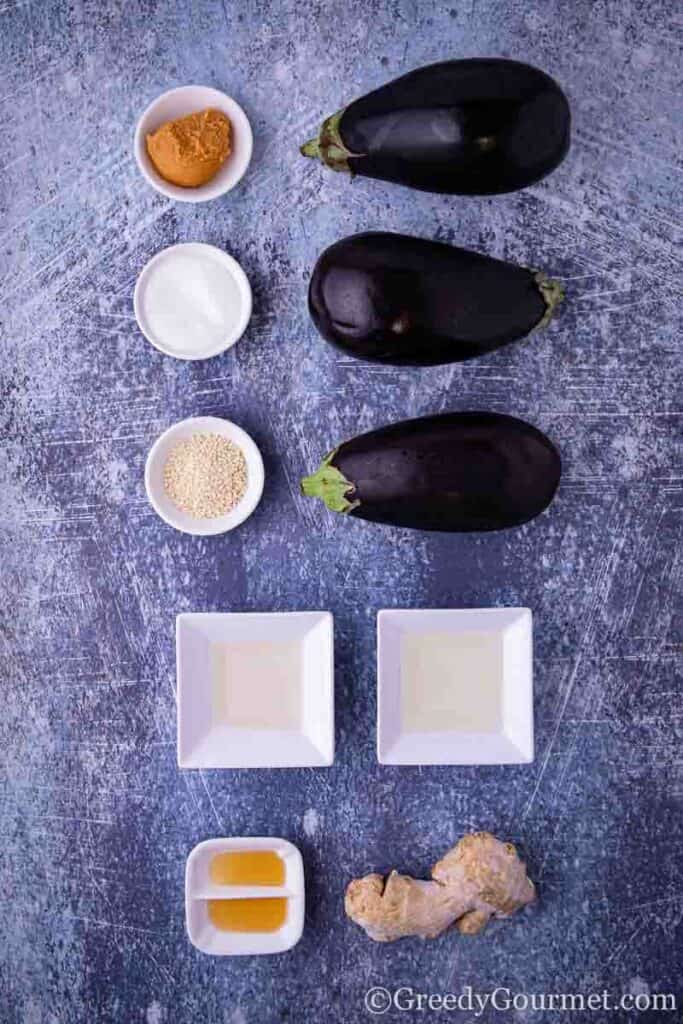 What is miso eggplant?
A traditional Japanese delicacy, Nasu Dengaku, or miso eggplant, is an irresistible, super quick and utterly delicious dish that's totally 100% vegan!
Eggplants are cut in half lengthwise, their flesh scored and are brushed with oil and baked in the oven for up to 40 minutes and perfectly tender.
Then comes the magical miso glaze. A mouth watering combination of red or white miso paste, sake, mirin, sugar, rice vinegar, grated fresh ginger root and sesame oil, this miso mixture is quick to whisk together and will make all the difference to the final flavor.
Next, you'll baste each of the eggplant slices to create the most tantalizing miso glazed eggplant. After just a few minutes under the grill, they'll be deliciously caramelized and golden brown. The perfect side dish or vegan appetizer! 
Where can I buy miso paste?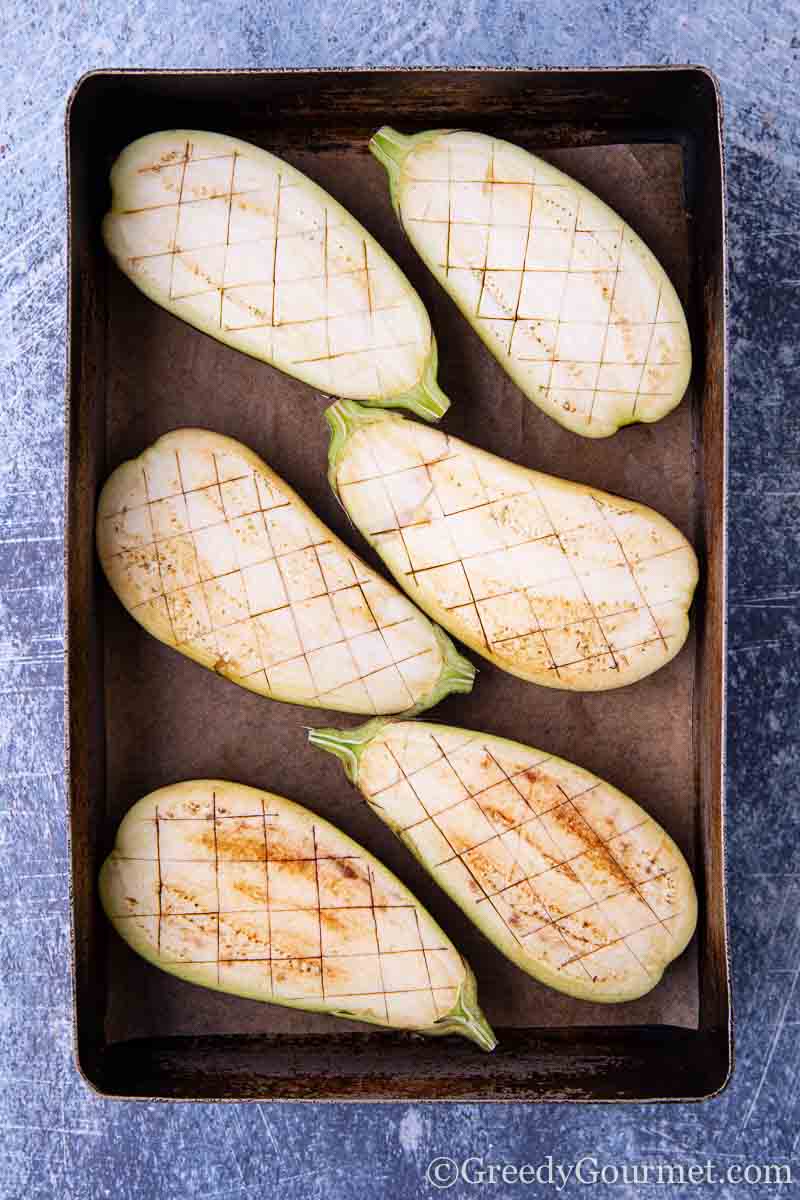 Most quality supermarkets now stock both red and white miso paste. You should also be able to pick it up at your local health food store.
If you don't have any luck finding it, you'll be able to find it online.
Are eggplants good for you?
A high-fiber, low calorie vegetable that comes with many great health benefits, eggplant is a fantastic food ingredient that's very popular with vegans and non-vegans alike.
Eggplant contains vitamins C and K, as well as minerals such as manganese, folate and potassium. These are all essential to maintaining a healthy and strong immune system.
Eggplant also contains a high number of antioxidants. Antioxidants are important to keeping out free-radicals and other toxins, which helps to keep free from diseases.
Eggplants are particularly high in nasunin – an antioxidant that helps to protect your body's cells from damage.
An incredibly versatile food, eggplant is an ingredient that can easily be worked into a healthy diet. It's low fat, low calorie, nutrient dense and utterly delicious!
What's the difference between white and purple eggplant?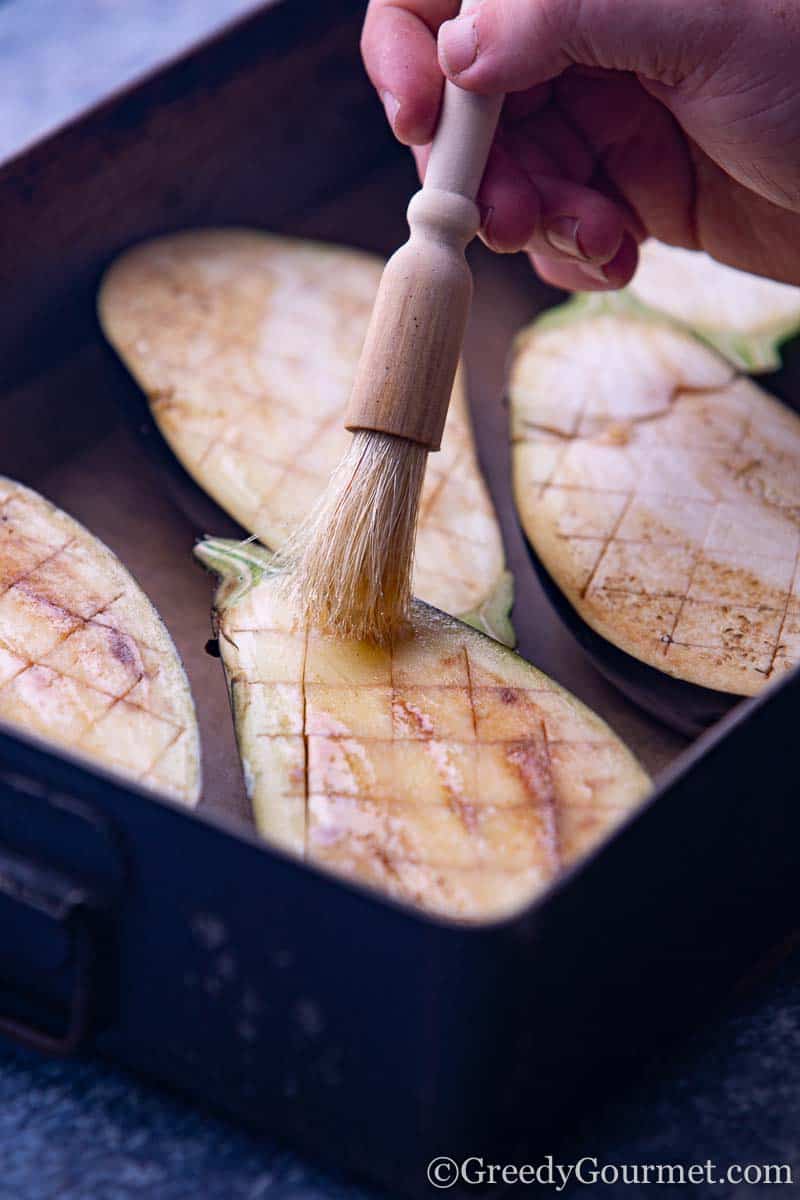 When you think of eggplant, you normally think of the purple kind. It's a lot more popular than the white type of eggplant. 
White eggplant has a harder skin than purple eggplant. This skin needs to be peeled off when cooking, which isn't the case with purple eggplant with its edible skin.
These eggplants also differ in color beneath the skin. White eggplant has white flesh, whereas purple eggplant has a slight greenish tinge to their flesh.
A white eggplant is also usually smaller than a purple eggplant, is less acidic, less dense and has more seeds than purple eggplants. 
For this recipe you can use either type of eggplant.
Is miso good for you?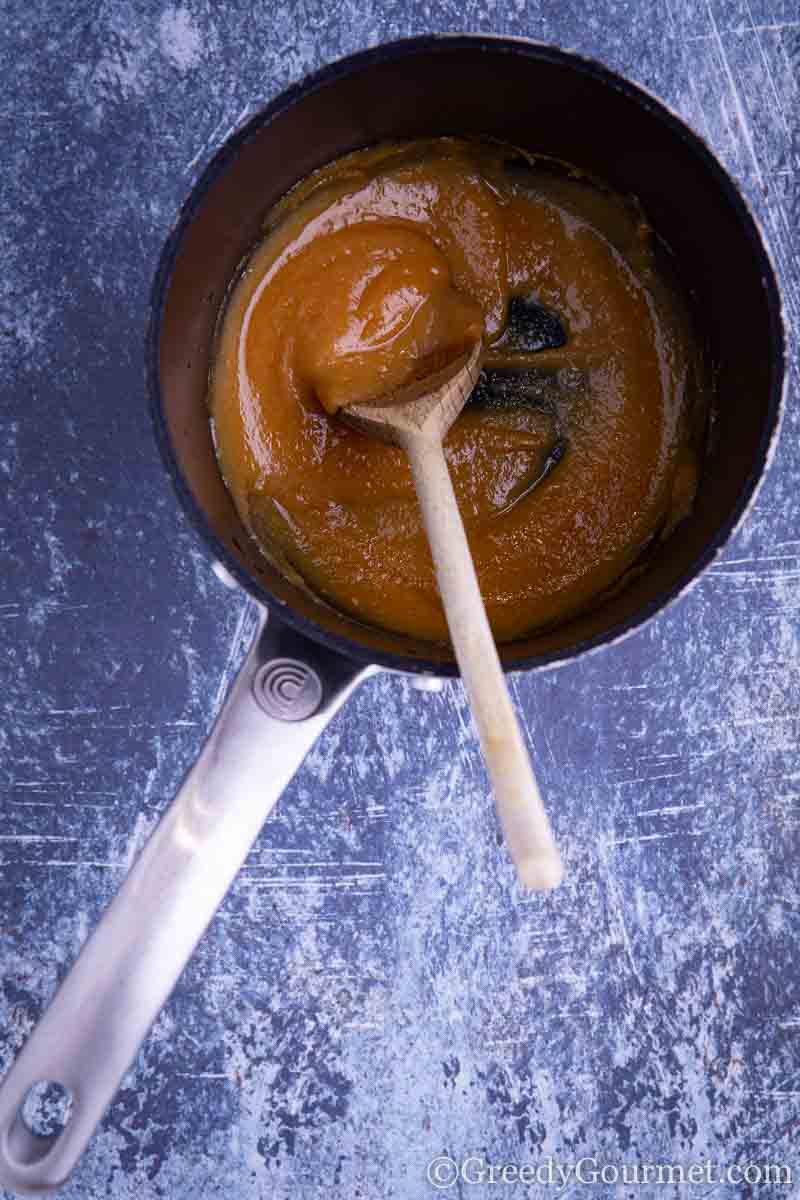 Miso is full of vitamins and minerals, most notably vitamins B, E and K, as well as folic acid. 
Miso is also full of good bacteria, which can promote a healthy gut biome and may also help to reduce the risk of getting several different cancers, as well as reduce blood pressure, reduce cholesterol and promote a healthy heart.
Does miso go bad?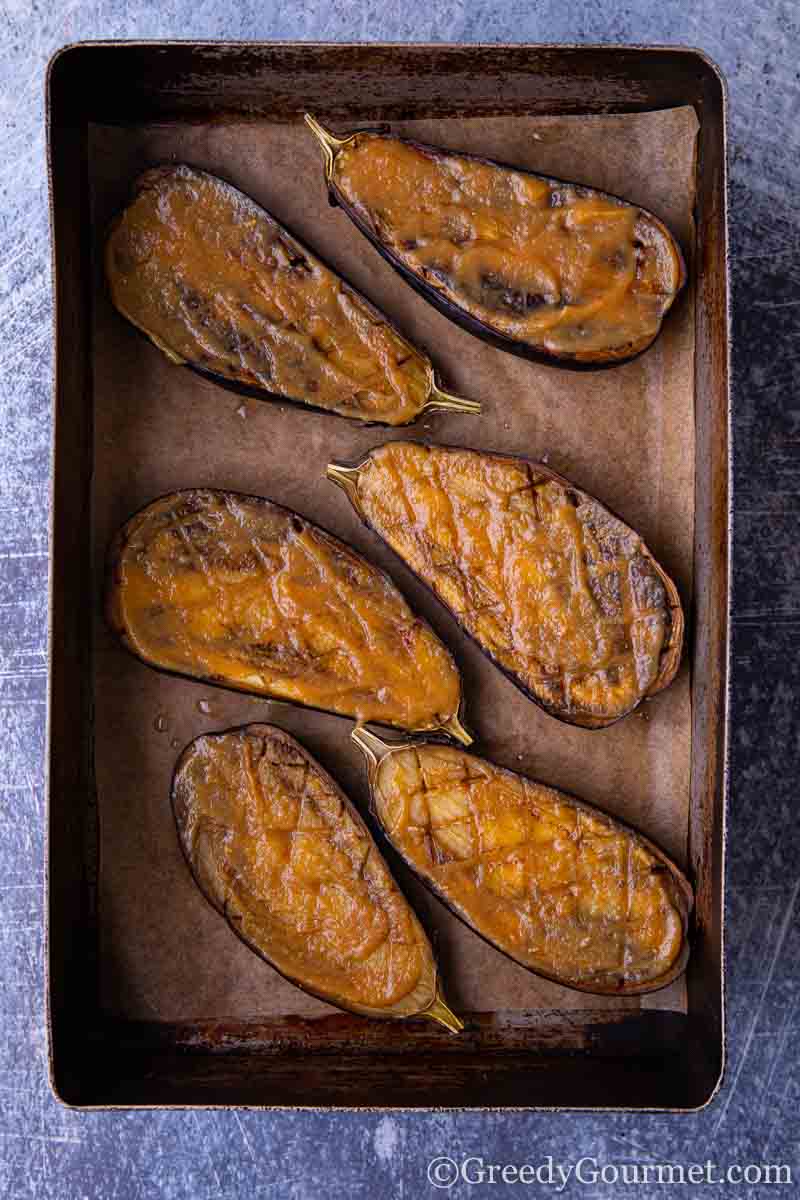 Miso is a preservative food, which means if you keep it in the fridge it shouldn't go bad. 
That said, after a year the taste of miso will start to suffer.
Is miso vegan?
Yes, this miso glaze is 100% vegan, as is the miso paste in the ingredients list.
Sometimes, however, miso soup is not vegan. Fish-based flavor enhancers can sometimes be used. So, if you're eating miso soup at a restaurant, it's also best to ask just to make sure.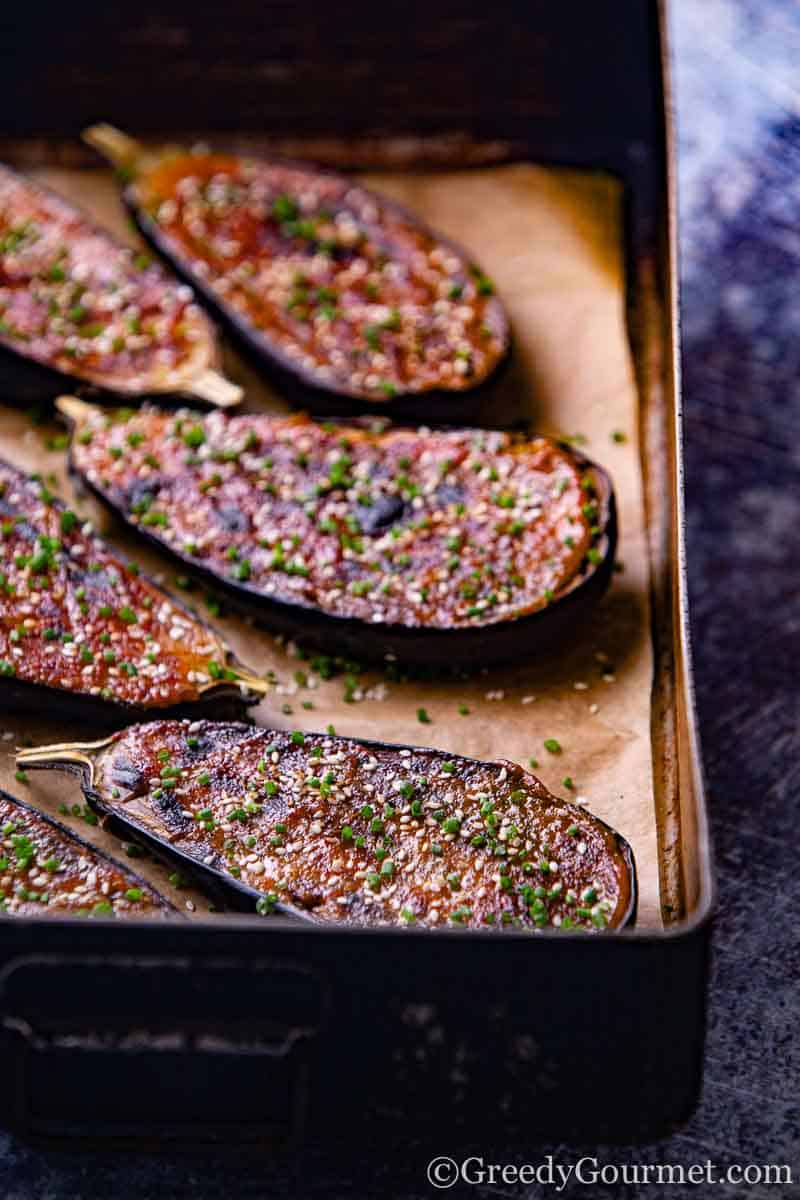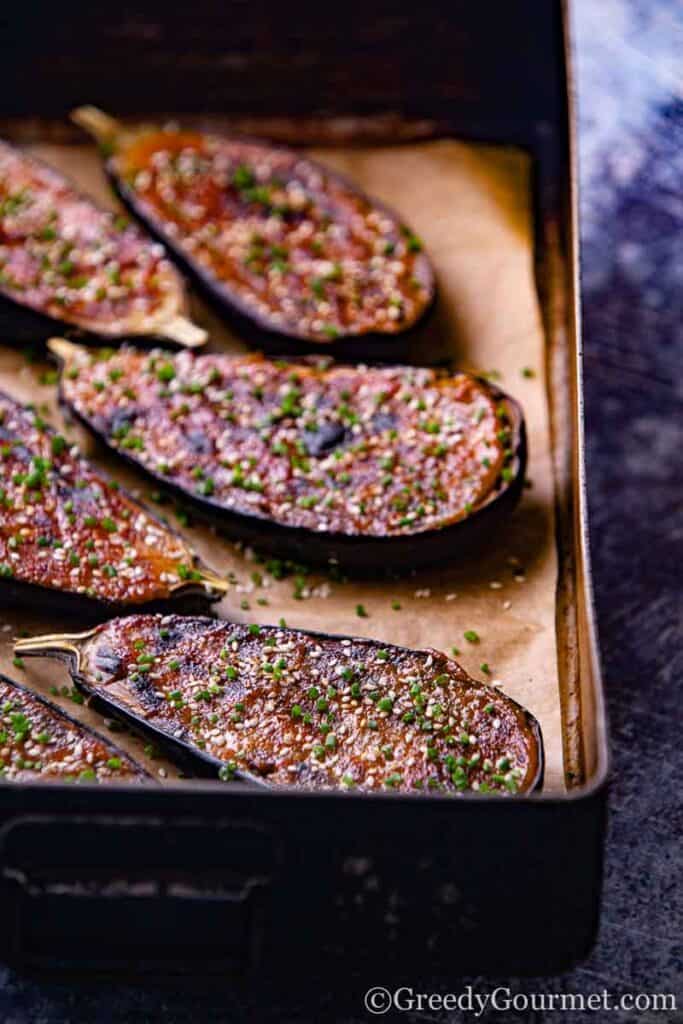 What to serve with miso eggplant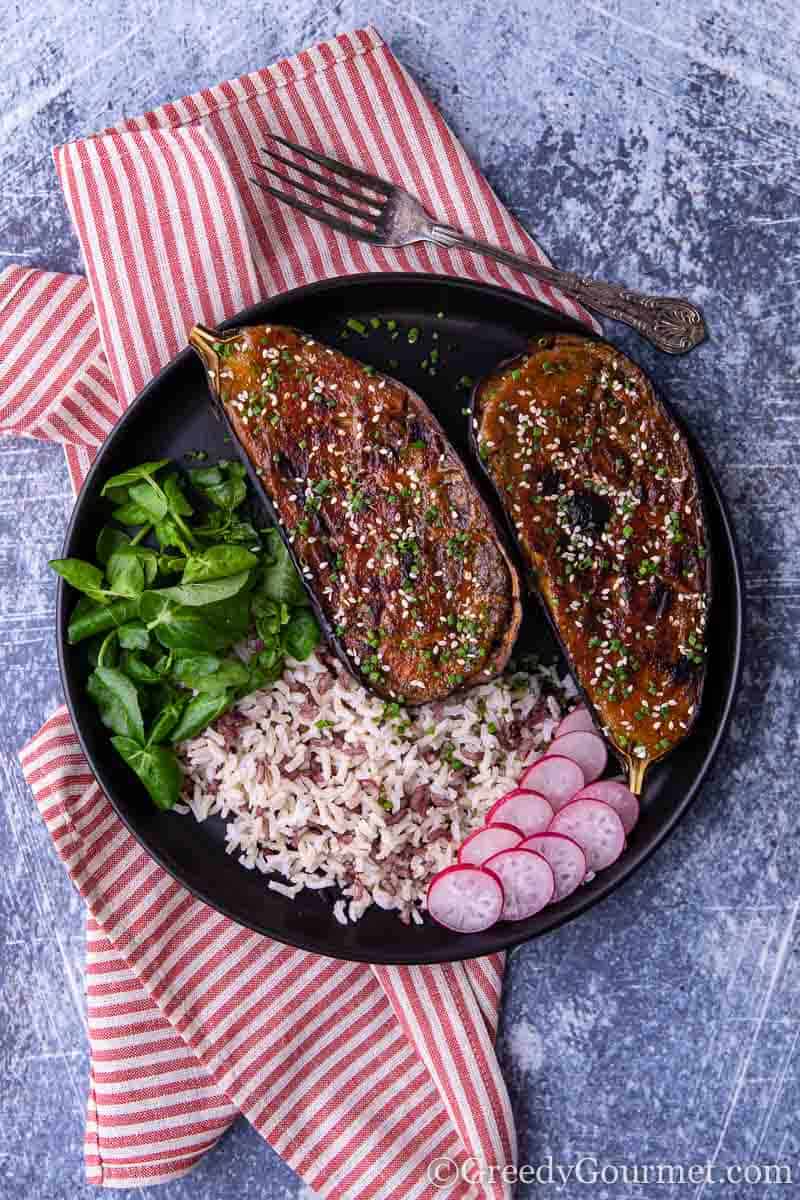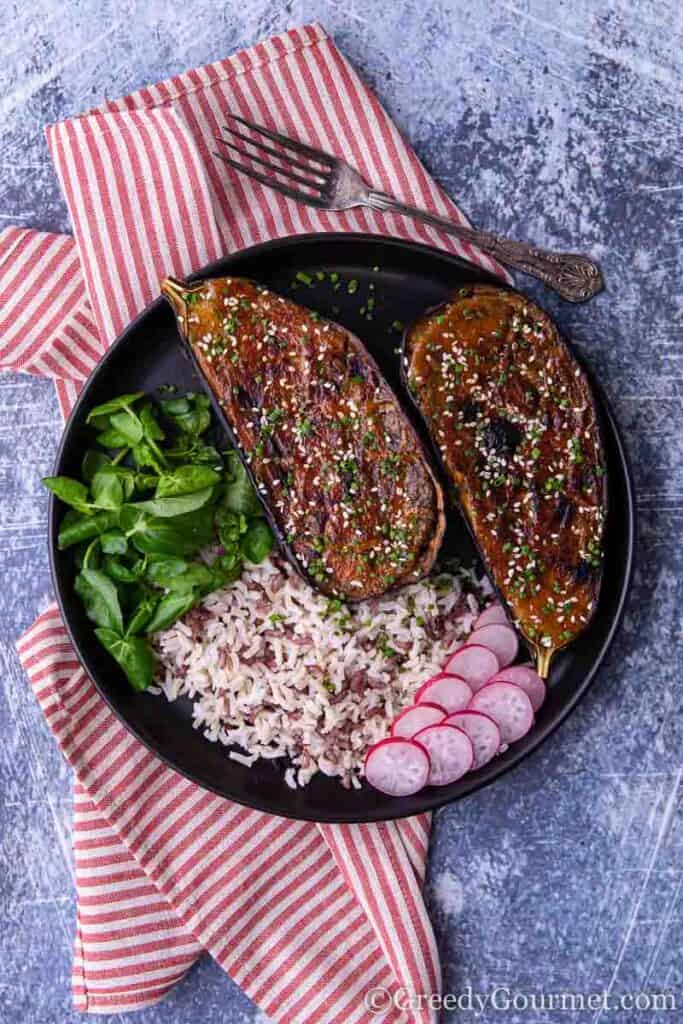 More amazing vegan recipes
Print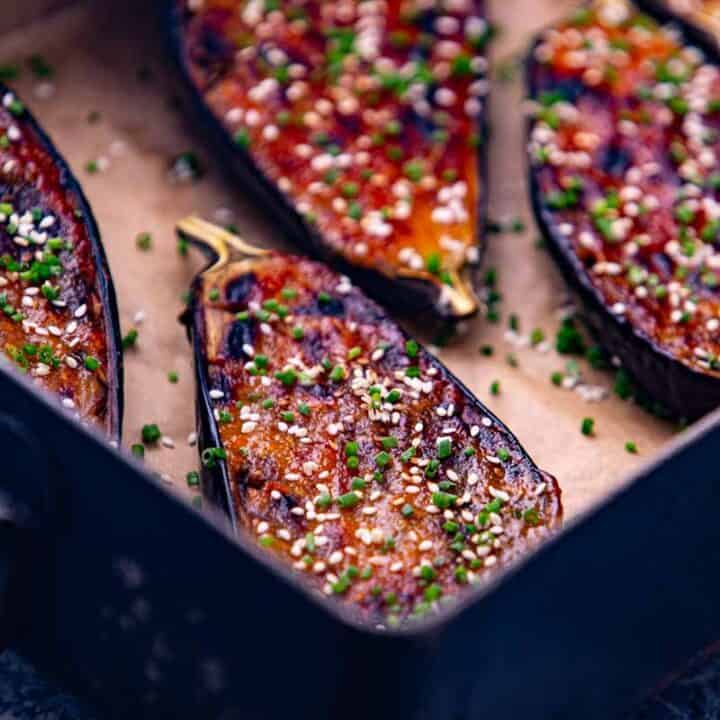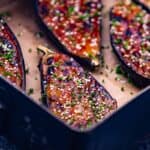 Miso Eggplant
---
Author:

Michelle Minnaar

Total Time:

1 hour 5 minutes

Yield:

4

servings, 3 prawns each

1

x

Diet:

Vegan
Description
Miso Eggplant, also known as Nasu Dengaku, is a Japanese eggplant starter recipe. Simply halve the eggplants, bake them, glaze with miso and grill. Serve on its own as a starter, or create a vegan meal by serving it with rice and salad. 
---
Baked Eggplants
2

large eggplants, washed

80

ml

(1/3 cup) vegetable oil
Miso Sauce
Garnish
17

g

(2 tbsp) sesame seeds
chives, snipped to decorate
---
Instructions
Preheat the oven to 180°C / fan 160°C / 350°F / gas mark 4.
Line a large baking tray with baking parchment and set aside.
Halve the eggplants lengthways and flip them over. Cut a thin slice off the bottom's skin side in order to stabilise the eggplant.
Flip it over again and score the flesh in diamond shapes. Be careful not to slice it all the way through.
Place the eggplants in the lined baking tray and brush each half with half of the oil.
Bake for 35-40 minutes, checking halfway through to see if more oil is required. I.e. if it looks dry, give it a brush with oil. The eggplant should be soft at the end of cooking time.
While the eggplants are baking, make the miso sauce.
Place all the miso sauce ingredients, except the sesame oil, in a small pot and bring to simmer.
Continue to cook until the miso paste and sugar has dissolved.
Stir in the sesame oil. Remove the heat and retrieve the eggplants, once cooked.
Preheat the broiler / grill.
Baste each eggplant with equal amounts of miso sauce then place under the broiler / grill until caramelised and golden. This will take about 3-4 minutes.
Decorate with sesame seeds and chives. Serve immediately as a starter. Enjoy!
Notes
It's up to you whether you use white or red miso paste. You can even have a mixture of both!
If you can't get hold of rice wine vinegar you can substitute it with white wine vinegar.
You can prepare the miso sauce a few days in advance and keep it in the fridge until needed.
Nasu Dengaku also makes the perfect vegan dinner if you serve it with a green salad and rice.
Alternatively, instead of baking the eggplants, you can cook them in a pan. Fry them in oil, flesh-side down first until golden brown, then flip them over and cover with lid and cook for a further 3-4 minutes. Proceed with the making of the miso sauce and broiling them afterwards. Warning: with the pan frying method risks compromising the integrity of the eggplant in the cooking process and the vegetable might "break".
If you are gluten intolerant, check the miso's label. Some miso is gluten-free, others not.
Prep Time:

15 minutes

Cook Time:

50 minutes

Category:

Starter

Method:

Bake

Cuisine:

Japanese
Keywords: miso eggplant, miso glazed eggplant, Japanese eggplant recipe, Miso Dengaku, miso grilled eggplant, miso roasted eggplant, miso baked eggplant