Fine dining style food with minimal effort, this braised short ribs recipe never fails to impress.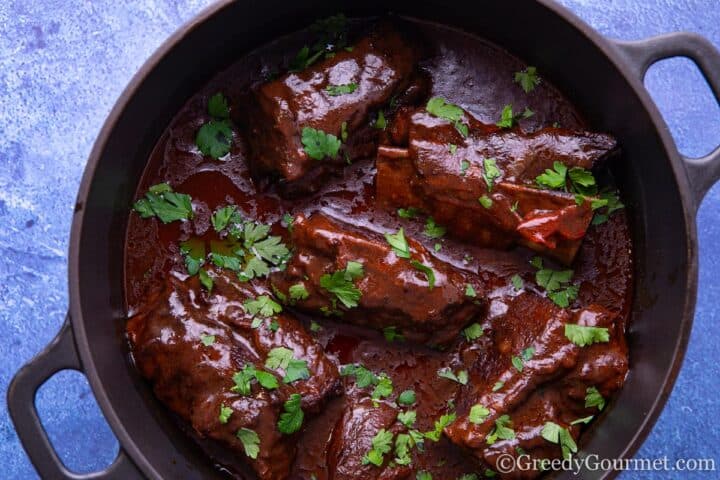 It's really easy to make and brings a flavor that's rich, complex and incredibly satisfying. Want to know how to make the most amazing braised short ribs? Here's how…
Products you need for this recipe
There are a few essentials you'll need before you start this recipe:
Braised short ribs recipe
If you've never cooked braised short ribs before, prepare your taste buds for a unique experience. It's no exaggeration to say that this is one of the most sensational things you'll ever have the pleasure of eating.
We're talking pure melt-in-the-mouth taste turned up to eleven. Kind of like the finest of fine dining, without all the pomp.
No, you don't need to be a Michelin-trained superstar chef to deliver flavor from another world. All you need is the right ingredients and the right recipe. Then, your Dutch oven will take care of the rest.
When done right, slow cooking brings incredible results. This cut of meat is one of the very best to use when it comes to low and slow cooking, bringing tender meat and a rich complex taste with only a handful of ingredients.
You've got the three base ingredients that lay the foundations – onion, celery and carrots. Then, some subtle spice – cumin, coriander, cinnamon and some freshly ground black pepper.
Chopped tomatoes bring acidity and texture (tomato paste is optional) and cacao powder is the magic ingredient bringing amazing depth of flavor to the delicious sauce.
Finally, a rich beef broth is the cooking liquid in which all the flavors simmer along.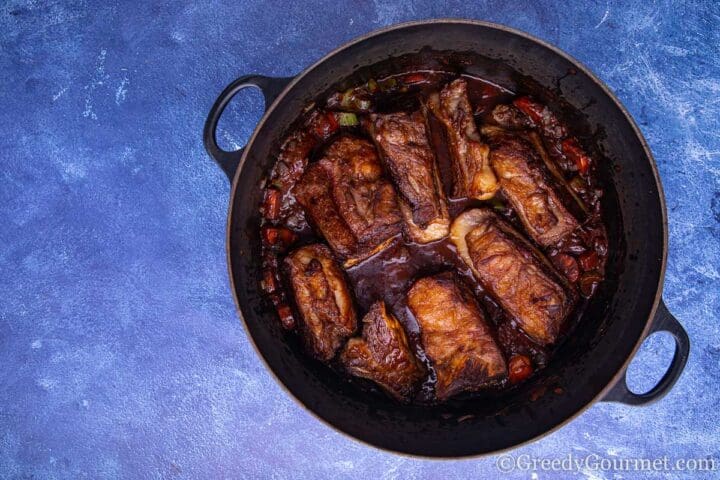 What are braised short ribs?
Beef short ribs are the ribs located nearer the stomach part of the cow. They are different to back ribs or spare ribs, which are found above the short ribs and contain less meat.
Beef short ribs are renowned for being one of the best cuts of meat for slow cooking.
When cooked slowly for a long period of time, the tough, sinewy connective tissue between the beef short ribs breaks down and becomes buttery.
Also, as the meat is well-marbled, short ribs retain moisture and become fork tender and beautifully succulent once cooked. 
Beef short ribs are usually prepared in a block or a rack, either rectangular or square. These can be cut and separated to create individual short ribs.
What kind of ribs should I buy?
Buy your beef short ribs from a respected local butcher. It's good to shop around until you find a butcher that offers good value for money and, most importantly, quality meat. 
Best of all, if you build up a relationship with a butcher, you can ask their advice on what makes the best kind of meat for each recipe and scenario.
Always go for bone-in ribs over boneless short ribs. You'll end up with far more flavor when leaving the bone in short ribs.
Slow cooking is all about getting as much flavor into the pot as possible. As soon as you remove the bone, you remove a big source of flavor.
As with any kind of meat, you should also pay attention to the color. Bright red meat is best. As soon as meat starts to dull or turn gray in areas, you want to avoid it.
Fat is also key. Good beef short ribs should have plenty of marbling.
Not way over the top, but a good amount of marbling. This will ensure that your beef short ribs are juicy and tender.
What is braising?
Braising is basically a two-stage cooking technique. You use dry and wet cooking to get the best results out of your meat.
Braise stage one – dry cooking
Dry cooking, frying in a pan on the stove for example, is great when it comes to getting that high heat flavor that gives meat that explosive charred taste. 
We all love a good barbecue, right? Well, that all comes down to the Maillard reaction – a chemical reaction that, when you cut through the science, basically makes everything delicious.
High temperature cooking turns proteins and sugars on the surface of the meat into something utterly delectable. As the heat turns up, these proteins and sugars mingle and merge to magically transform into a taste bud-tingling marriage made in heaven.
This type of cooking is the way to get a world class steak or burger. With other types of meat, like our beef short ribs for instance, you'll need to return your meat to the pan and slow things down a little.
Braise stage two – wet cooking 
Once your meat is browned, the second part of the braising process sees it slowly cooked in liquid. This means it can cook for a long period of time without drying out. 
With this two stage method, you get the best of both worlds. Browned meat with that charred, barbecued taste on the outside, cooked low and slow in a flavored liquid to make the inside buttery and incredibly tender.
When braising, you can use a frying pan then a slow cooker, or a frying pan then an instant pot. For me, the best method is to do everything in one pot. Then, you retain all the juices, or braising liquid, of the browned meat.
So, use a large Dutch oven for the best braise bar none. These big old fashioned cooking pots were made for this kind of cooking.
Are braising ribs the same as short ribs?
Yes, braising ribs are just another way of saying short ribs. They are sometimes called braising ribs as they are perfectly suited to this form of cooking.
Why are short ribs so expensive?
They tend to be on the upper price scale, as they're from a very tender, highly valuable section of the cow. 
Also, despite their name, these are big chunky cuts of meat. They're like the steak of slow cooking, although unlike steak, short ribs are hard to get wrong. So, it's a lot easier to really get your money's worth.
Do you need to brown beef short ribs?
The whole part of the 'braising' process is to brown the beef short ribs before cooking them in liquid on a low temperature.
Browned short ribs have that slightly charred barbecue flavor on the surface, before the low cooking seeps into the center for some incredible flavor and texture.
Can you overcook beef short ribs?
No. As long as you are cooking them at a low temperature, you cannot overcook them.
Actually, the longer you cook them, the more tender and utterly delicious they will be!
Can you cook short ribs like steak?
Well, you can. I wouldn't recommend it though.
Beef short ribs have a lot of connective tissue and plenty of marbling, which makes them perfect for the long cooking game. If you cook them fast and hot in a pan, you're wasting the chance to get some amazing slow cooked results.
So, leave the steak for the pan or griddle, and cook your beef short ribs in a Dutch oven or a slow cooker.
Can you cook short ribs in a slow cooker?
This recipe calls for searing the short ribs in a large oven proof pot, before slow cooking in beef broth and other ingredients.
You can, however, cook short ribs in a slow cooker. Cook your slow cooker beef short ribs for 8 hours on low, 5 hours on high,
Although cooking them in a slow cooker will get good results, for me the traditional way is best. You can sear and slow cook in the same cooking pot, retaining 100% of the flavor.
Can you cook short ribs on the stove?
Yes, you can, although it's not the best way to cook them. Cooking them in the oven gets the perfect distribution. You'll end up with incredible tasting meat with a melt-in-the-mouth texture.
If you want to cook them on the stove, use a big sturdy cooking pot and, after searing the meat, cook on a low simmer for 3–4 hours with the lid on. Remove the lid for the last ½ hour of cooking.
Can you add wine to this dish?
Yes, you can. There should be enough richness already, but adding a glass of red wine will add extra depth.
You don't need to use an expensive red wine. In fact, don't waste it! The important thing is to pick a red wine that suits the dish you're cooking.  
For this recipe, I recommend going for a rich, full-bodied, fruity red wine with medium tannins. Something like a Malbec, Grenache or a Cabernet Sauvignon.
Should I add tomato paste?
Tomato paste helps to thicken and enrichen the beef broth. It's not essential to use and I've not listed it in this recipe, but you can use it for an extra tomatoey taste.
Do I need to use cacao powder?
Absolutely! It's my secret ingredient in this recipe. While it might seem like a strange combo, when cooked low and slow with beef, cacao powder brings so much flavor! You're going to love it.
How do you store this dish?
Chances are, you'll devour the whole lot in one sitting. If, however, you have leftovers, they'll keep in the fridge for 3 days.
Just make sure you store them in an airtight container.
Can you freeze braised short ribs?
Yes, you can. If 3 days in the fridge isn't enough storage time, you can easily freeze this recipe. It won't retain that wonderful taste, so it's always best to eat it as soon as possible without freezing.
Allow your beef short ribs to cool completely.  Store in a freezer-safe container in the freezer. It will keep for 3–4 months. 
When defrosting, allow to thaw overnight in the refrigerator and reheat slowly on the stove.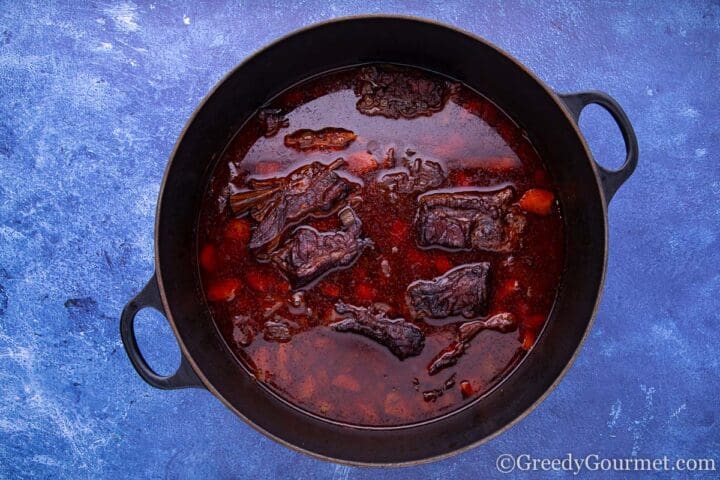 How to serve short ribs
For me the very best way to serve beef short ribs is with a big helping of creamy mashed potatoes.
Here are a few more fantastic sides that would work really well when served alongside this recipe: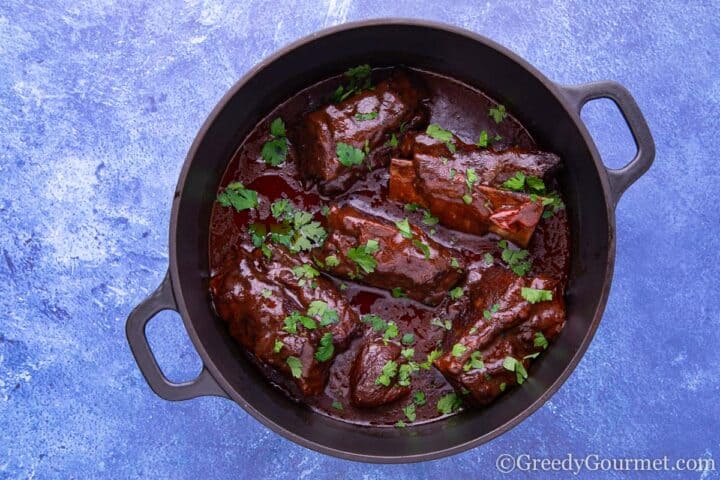 More amazing meat recipes
Hungry for more? I've got some incredible meat recipes to share with you. Feast your eyes on these and, when you've mastered beef short ribs, work your way through this list:
Smoked beef short ribs – another short ribs recipe to stun your taste buds
Smoked leg of lamb – a Greek inspired recipe with heaps of flavor and plenty of character
Smoked chicken breasts – the easiest of smoking recipes. You've never tasted chicken breasts until you've slow smoked them
Pan fried duck breast – simple pan fried duck takes barely 5 minutes to make, yet lingers in the memory for a long time after
Roasted lamb ribs – another ribs recipe, this time lamb. Easy to make, impossible to resist
Beef stew with mushrooms and red wine – a big hearty beef stew that's packed full of flavor
Romesco chicken tray bake – marinated in the delicious Catalan sauce romesco, this chicken tray bake is so tasty and so simple to make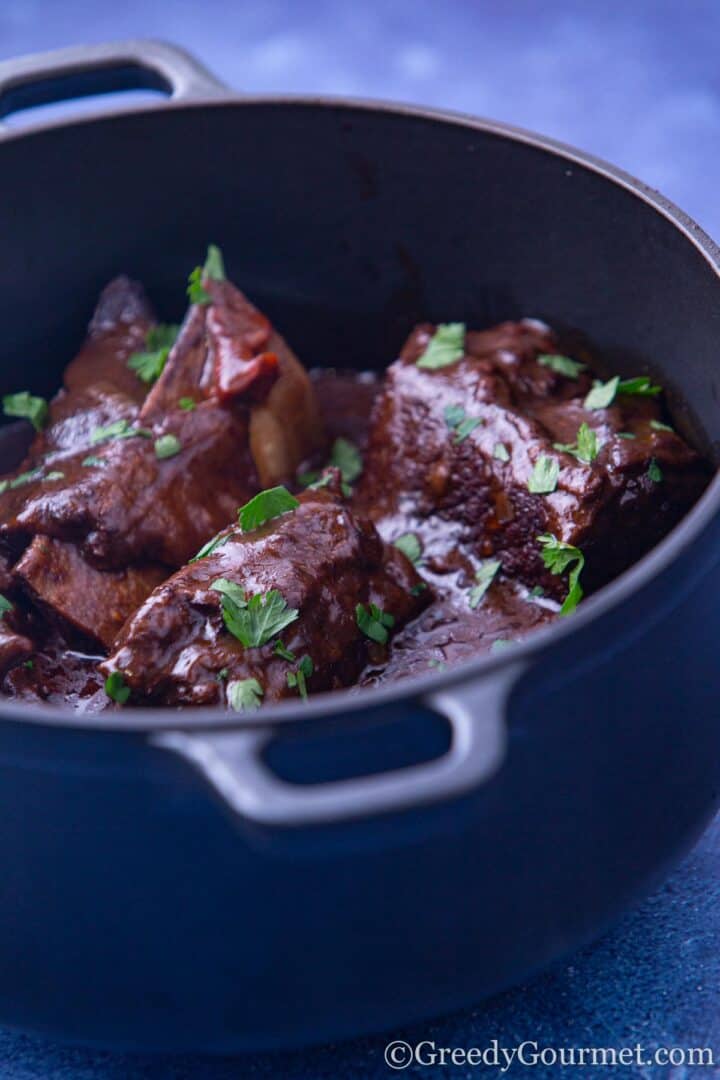 Print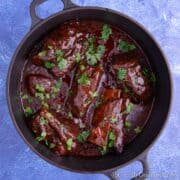 Braised Short Ribs
---
Author:

Michelle Minnaar

Total Time:

3 hours 45 minutes

Yield:

Serves 6

Diet:

Gluten Free
Description
Learn how to make melt-in-your-mouth braised short ribs. This easy beef recipe is best served with heaps of creamy mashed potato. Impress your friends and family!
---
60

ml (4 tbsp) olive oil

1.8

kg (4lbs) beef short ribs

1

onion, chopped

4

celery stalks, chopped

2

carrots, chopped

2g

(

1 tsp

) ground coriander

2g

(

1 tsp

) ground cumin

2g

(

1 tsp

) ground cinnamon

400g

(1 x

14oz

can) chopped tomatoes

1

L (4 cups) beef stock

15g

(

2 tbsp

) cacao powder
---
Instructions
Preheat your oven to 160°C / fan 140°C / 320°F / gas mark 3.
Heat half of the oil in a large ovenproof pot and sear the short ribs on all sides over a high heat. 
Add the remaining oil, onion, celery, carrots, coriander, cumin and cinnamon in the pot and cook the vegetables until softened.
Add the tomatoes, stock and cocoa powder. 
Bring to a gentle simmer, place the lid on and cook in the oven for 3 hours. 
Remove the ribs with tongs and set aside. 
Pour the remaining sauce in a high powered blender and process until smooth. Return the sauce to the pot and gently simmer until the sauce reduces and thickens. 
Place the ribs back into the sauce and heat through.
Serve with your favourite accompaniments. Enjoy!
Notes
If you're in a hurry, you can simply use a cornstarch slurry to the smooth sauce to thicken it up quickly. 
Prep Time:

15 minutes

Cook Time:

3 hours 30 minutes

Category:

Main Course

Method:

Braise

Cuisine:

American
Keywords: braised short ribs, beef short ribs, short rib recipe, beef ribs, braised beef, slow cooker short ribs, rib recipe