Incredibly simple yet with that fine dining appeal, this keto-friendly pan fried haddock recipe never fails to impress!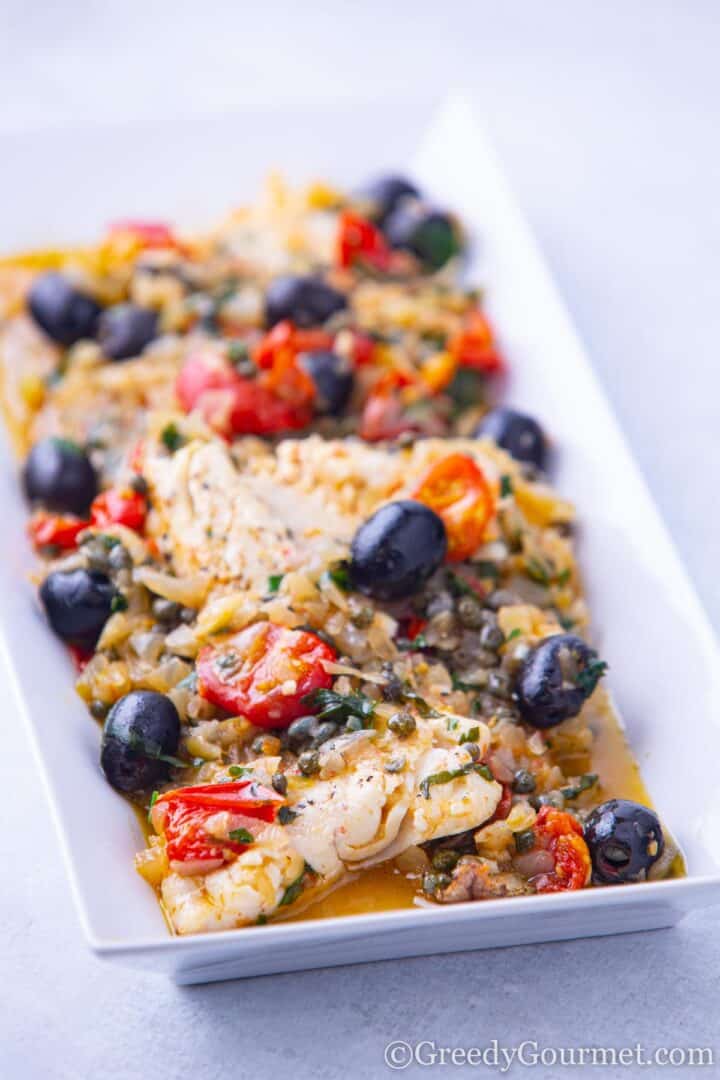 Anyone can cook this recipe. It's so very simple.
In fact, if you have a fear o' fish or your fish dishes always come out rubbery, this is the one for you. We're going to learn how to cook a simple, healthy, delicious meal that you'll master in no time!
Products you need for this recipe
Before you get started, here are a few essentials you'll need for this pan fried haddock recipe:
Pan fried haddock recipe
Lots of people are put off cooking fish. However, when it's done the right way, the results are absolutely divine. There's really nothing to it, and once you've mastered a few simple steps, you'll be making this recipe time and time again.
The key to this recipe is timing and controlling the heat. The fish fillets are fried for just a few minutes. Just enough time to bring some color and just at the point of being cooked.
Then comes the secret sauce. I've picked out the ingredients that I think will bring the best out of the fried haddock.
Onion, garlic, cherry tomatoes black olives and capers, with chicken stock to bring the rich savory taste. Basil and parsley bring some fresh, earthy flavors, while the white wine adds real character.
As the heat comes down, the fried haddock meets the sauce, as the flavors merge and the fish heats through. The end result is a pure delight.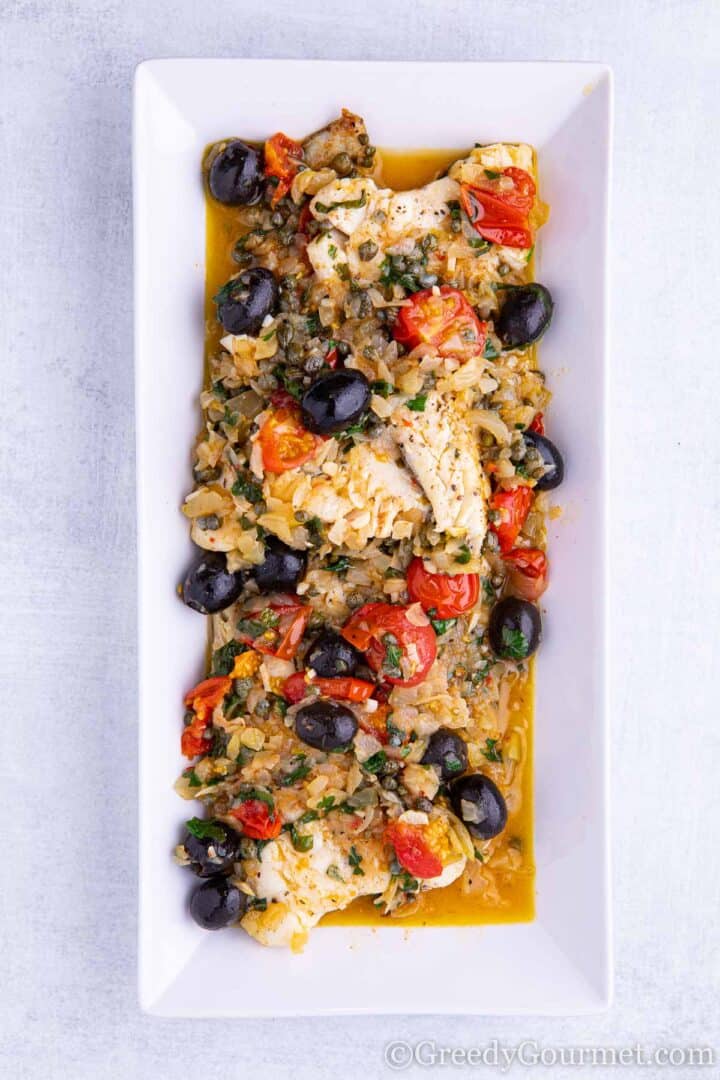 What does haddock taste like?
Not quite as meaty as cod or halibut, haddock has a mildly sweet taste with fine flakes and a tender texture. It's ideal for those who don't like the overpowering fishy flavor of other types of fish.
When it comes to pan frying fish, haddock is ideal. It only needs a few minutes on each side, so as not to ruin that delicious, delicate flavor.
When should you season fish?
As with meat, it's always best to season fish before you cook it. This way, the flavor of the seasoning will be locked in when your fish starts to cook.
You should season your fish just before you add it to the pan. If you season it too far in advance, the proteins in the fish will start to break down and the moisture from the fish will be drawn out. This means your fish fillet could end up dry.
Can you fry fish without batter?
Of course! While deep frying fish in batter is absolutely delicious – and when served with chips, a huge part of British cuisine – it's by no means the only way to fry fish.
Frying without batter is easy! You just need to season with salt and pepper, fry for a few minutes each side on a medium heat and voila! 
For this recipe, I take simple pan fried haddock to the next level, with a sauce that will make your taste buds tingle.
Should you use wine with pan fried fish fillets?
When cooking fish, adding wine is a great way to intensify and enhance the flavor of the dish.
When added correctly, it will bring out the natural aroma of the ingredients in the pan. The key is to add the wine near the beginning of the cooking process. You want the pan hot enough so that the alcohol evaporates, leaving only the flavor behind.
Be sure not to add wine too late. You'll be left with a strong, boozy aftertaste that will ruin the delicate flavors of your dish.  
White wine works especially well with pan fried haddock. Haddock has a mild, delicate sweet flavor, perfect for light bodied white wines.
Can you fry frozen fish?
It's best to use fresh fish for this recipe. Fresh fish always has a better flavor and texture and is the best way to go with any kind of fried fish recipe.
You can use frozen fish fillets, but you'll need to defrost them first. To defrost frozen haddock fillets, leave them to thaw in the refrigerator overnight. Then, before cooking, pat them dry with a paper towel to remove any excess moisture.
If you try to pan fry frozen fillets, you won't be able to get that slightly crispy texture on the outside of your fish.
Instead, because of the amount of water that will be released from the fish, you'll end up with steamed fish fillets. Nice, but not right for this recipe.
Can I swap in other types of fish?
Yes, you can. Other types of white fish such as cod, halibut and sole would work just as well in this recipe.
Still, with its delicate slightly sweet flavor and medium flaky texture, haddock is definitely the best fish, particularly with the ingredients in this dish.
Wine pairing suggestions
While this pan fried haddock dish is absolutely delicious, you can take it to another level by pairing it with a great tasting wine.
I recommend a light, fresh white wine. As the taste of haddock is quite mild and delicate, you don't want something to overpower it.
For me, a White Grenache, Sauvignon Blanc, Chenin Blanc or Pinot Grigio would work best with this dish.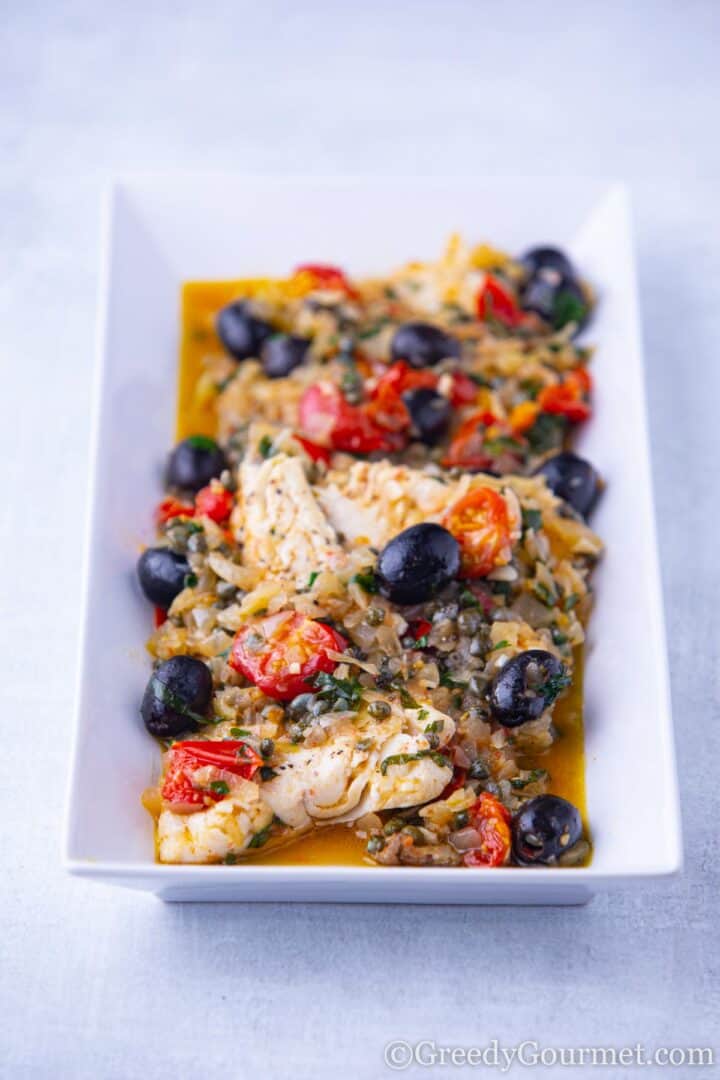 What to serve with pan fried haddock
You can serve pan fried haddock alongside something very simple, like plain, basmati or wild rice. You could also serve it along with new potatoes, mashed potatoes or with some leafy green vegetables.
If you want to go the extra mile and serve it alongside with a delicious side, have a look at these great recipes:
Confit potatoes – a classic French style potato dish
Baked sweet potato fries – healthy and oh so tasty
Sweet potato rice – easy to prepare and minimal ingredients make this a great side dish
Blanched kale – easy to prepare, tasty and very good for you
Butter bean mash – a great low-carb alternative to mashed potatoes
Pilau rice – the classic lightly spiced rice is so simple to make. Once you've made your own, you'll never go back
Turnip skordalia – a modern twist on a Greek classic. If you're a garlic fan, you won't want to miss this one
Sauteed peppers and onions – simple and very satisfying, this makes for a very versatile side dish
More delicious fish recipes
Has this pan fried haddock got you in the mood to cook up some more fantastic fish recipes? Here are some of Greedy Gourmet's very best:
Print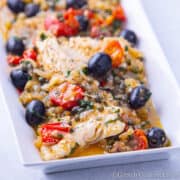 Pan Fried Haddock with Tomatoes, Olives and Capers
---
Author:

Michelle Minnaar

Total Time:

45 minutes

Yield:

Serves 4

Diet:

Gluten Free
Description
This Pan Fried Haddock is an Italian-recipe comprising a savoury mix of tomato, olives & capers that serve as a sauce with the fish. It is keto-friendly, just serve with your favourite greens.
---
4

haddock fillets, weighing about 900g (2lbs) in total

125

ml

(1/2 cup) olive oil

1

onion, finely chopped

2

garlic cloves, crushed

80

ml

(1/3 cup) white wine

16

cherry tomatoes, halved

16

black olives, pitted

15

g

(2 tbsp) capers

60

ml

(1/4 cup) chicken stock

4

g

(1 tbsp) flat leaf parsley, chopped

15

g

(1/4 cup) basil, chopped
salt and black pepper, to taste
---
Instructions
Season the fish to taste. 
Heat half of the oil in a large frying pan and cook the fish on both sides for around 4 minutes each. Set aside. 
Add the remaining oil to the pan and fry the onion until softened.
Add the garlic and continue to cook over a medium heat until the onion has started to caramelise. 
Pour in the wine and deglaze the pan with a wooden spoon. 
Reduce the wine by half.
Add the tomatoes, olives and capers and cook until the wine has evaporated.
Pour in the stock and reduce the sauce by half. 
Season to taste and stir in the fresh herbs.
Add the haddock to the pan and let it heat through. 
Serve immediately. Enjoy!
Prep Time:

15 minutes

Cook Time:

30 minutes

Category:

Main Course

Method:

Pan Fry

Cuisine:

Spanish
Keywords: pan fried haddock, italian fish recipe, pan fried fish, haddock recipe, how to pan fry fish, how to cook fish, cooked fish, sauce for haddock