Looking for an exceptional beef korma recipe? Look no further. This beef korma curry is an excellent example of why you shouldn't go out and eat at expensive Indian takeaway restaurants. Make your own fakeaway and don't let your wallet suffer. Trust me on this, I've got the inside line on how to make homemade Indian meals gourmet-style. You won't even notice the difference between this korma and the one you eat out. We'll get to this later. Nevertheless, combine beautiful cuts of meat with this creamy and rich mild curry. Korma curry is not known for being the hottest nor the most distinct. It is a mild curry with sweet and creamy notes. In combination with the umami flavours of the beef, it makes a balanced curry. Pair with your usual sides like naans, rotis, and white rice. Serve immediately, best in a lovely curry serving pot.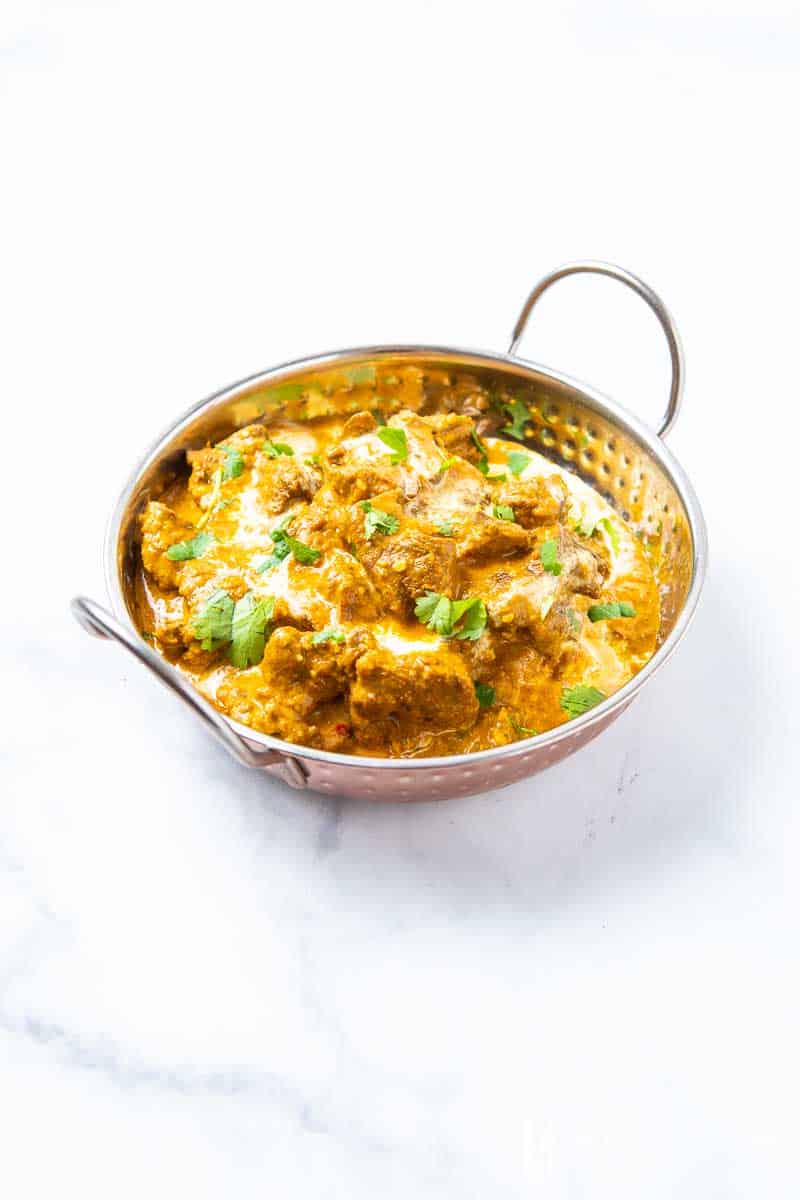 beef korma curry recipe
The prep work for this beef korma is surprisingly simple. Once done, all you have to do is wait for the beef korma to simmer to the right taste and tenderness. Beef korma is the perfect dish for warming you up on a rainy day, and don't be afraid to make a big batch of it. You can always freeze the leftovers and have a quick and easy back-up dinner ready. If you enjoy Indian food as much as I do, you will love this beef korma.
Originally, the recipe for beef korma originated in the Southern Indian continent. Generally speaking, it consists of yoghurt or cream, meat and spices. Hence, beef korma is a creamy yet mild curry. To learn more about the beef korma or korma curry in general, click here.
beef korma recipe, step by step
Just because a korma is full of flavour, it doesn't mean that it is difficult to cook. There are only four simple steps to follow and then you will be ready to enjoy your very own homemade Indian meal.
First step is to cover the diced-up beef shin in turmeric powder and brown the meat in a casserole. Browning the meat coated in the turmeric, slightly burns the spice and aids the release of the flavour better than if you just added the spice to the korma later on. For the meat, you can also use stewing steak instead of shin.
Second step is to pour in the curry base sauce, stir and put the lid on. Now the korma just has to simmer until the meat is cooked and tender. It takes about 90 minutes depending on the size of the meat. Check on it and stir from time to time. Once the meat is tender, stir in the rest of the ingredients and let it simmer for another five minutes. Meanwhile, prepare the rice. And now you are ready to serve your korma!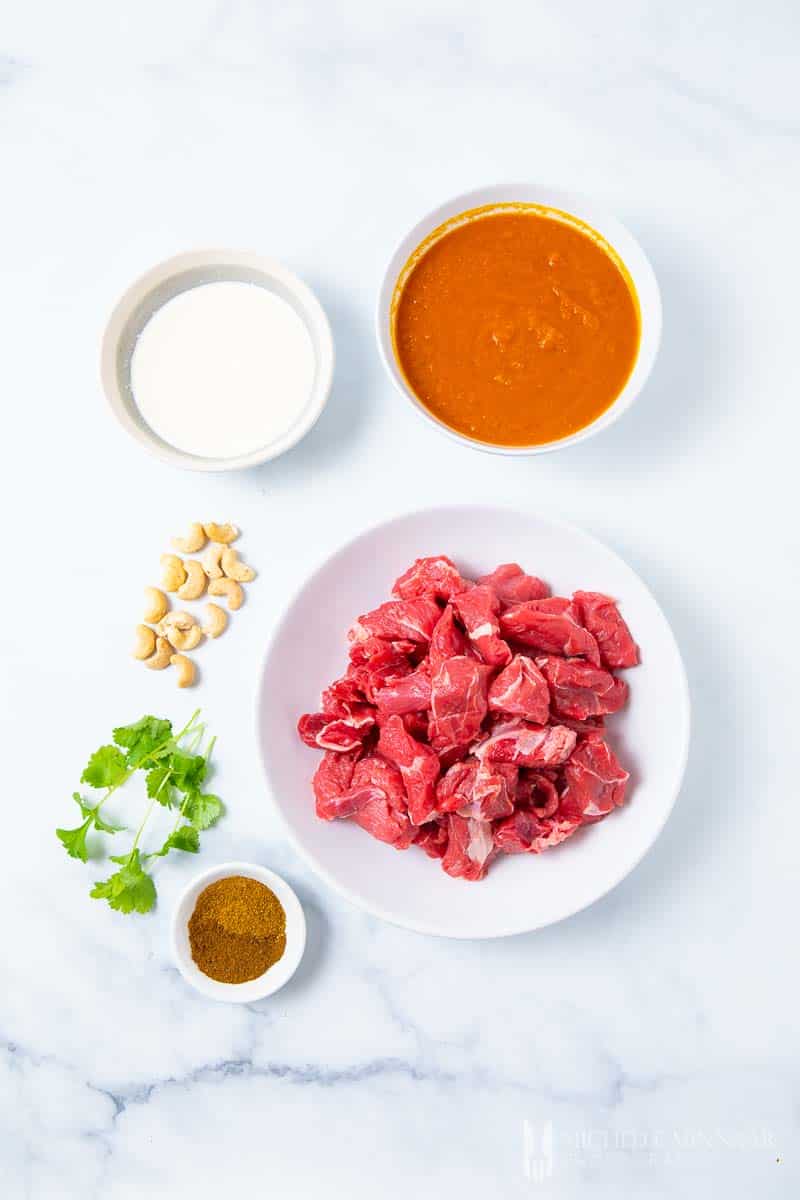 beef korma curry
Basically, beef korma is a type of curry containing beef. Like many other Indian dishes, it starts with a curry base. For this dish, I used a simple curry base sauce. Now, to be completely honest you can cut a corner here and go with a store-bought curry base sauce. However, I find it much more satisfying to make it yourself. You can find my recipe for curry base sauce here. 
If you give it a try, you will find that it is actually not all that difficult. Furthermore you can make a large batch of curry base sauce and freeze it in smaller portions. This way, you will always be ready to rustle up a curry without having to go for the store-bought curry sauce.
There is also a way to put even more flavour into your beef korma. You can make your own korma paste! Here is how it's done. Add a couple of tablespoons of the korma paste to the dish and it will be the best beef korma you have ever had.
beef korma – pressure cooker
Admittedly, this is a bit of a shortcut. However if you have a pressure cooker and are in a bit of a hurry, you can easily make use of it for making korma. In fact, cooking this recipe in a pressure cooker should just about cut the cooking time in half. Again, this depends somewhat on how you cut the beef shin, so check up on it after about half an hour. Once the meat is cooked to tender, finish off the beef korma as you normally would.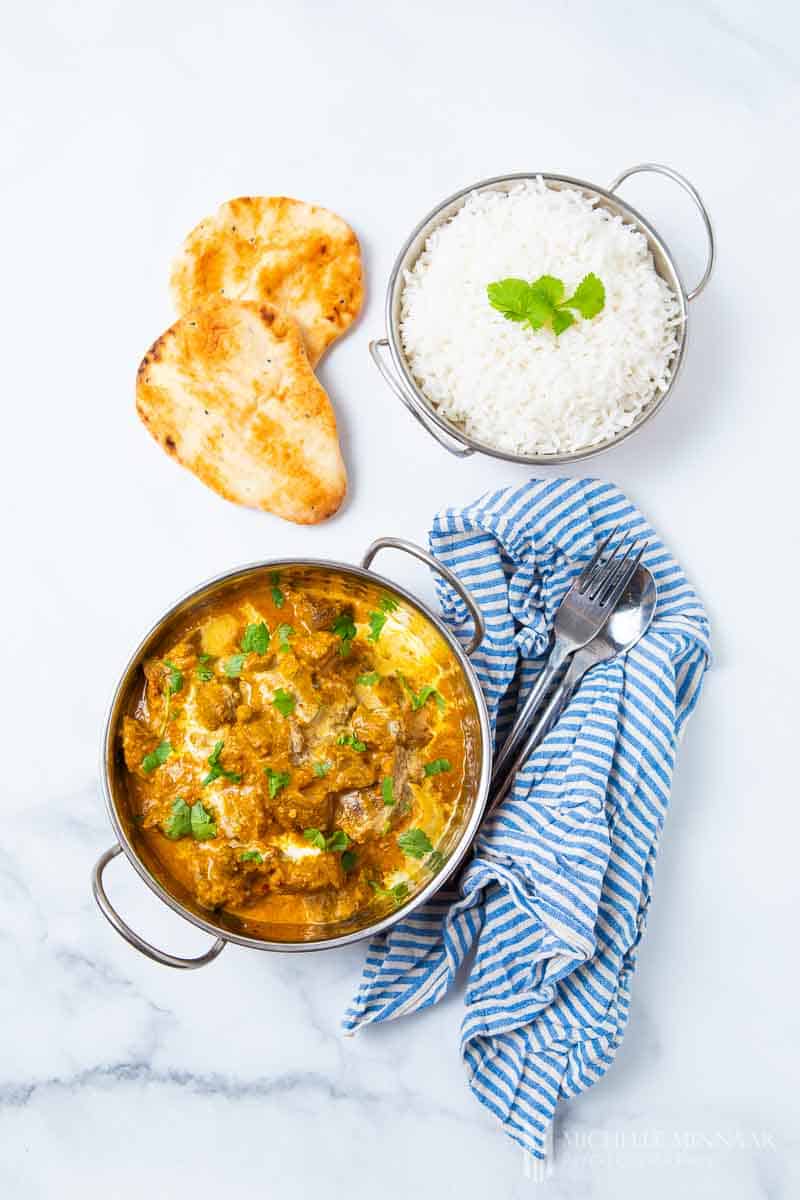 other kinds of korma
Korma is the term for the specific blend of spices as well as the method of preparation. Letting the meat simmer until tender, and then using cream to create a lovely sauce is what defines korma, of which this is only one version. There are many other korma dishes to try if you have the taste for it. If you like the beef version, you can also try my chicken korma. It is every bit as tasty, and the perfect alternative to beef, especially if you don't fancy red meat. Alternatively, you can also try my prawn korma. It provides a great alternative to the heavier beef, especially if you are going to serve it on a warm summer's day.
vegetarian korma
As a vegetarian alternative to beef korma you can try my vegetable korma. If you are trying to cut down on meat, or to go vegetarian, this is a great recipe. Nobody ever said that vegetarian food needs to be boring and flavourless. This vegetable korma certainly is not. In fact, it is packed full of flavour, and an excellent substitute for beef korma. Moreover, you can add any kind of vegetable you like. Instead of normal cream, you can use a vegetable-based cooking cream instead.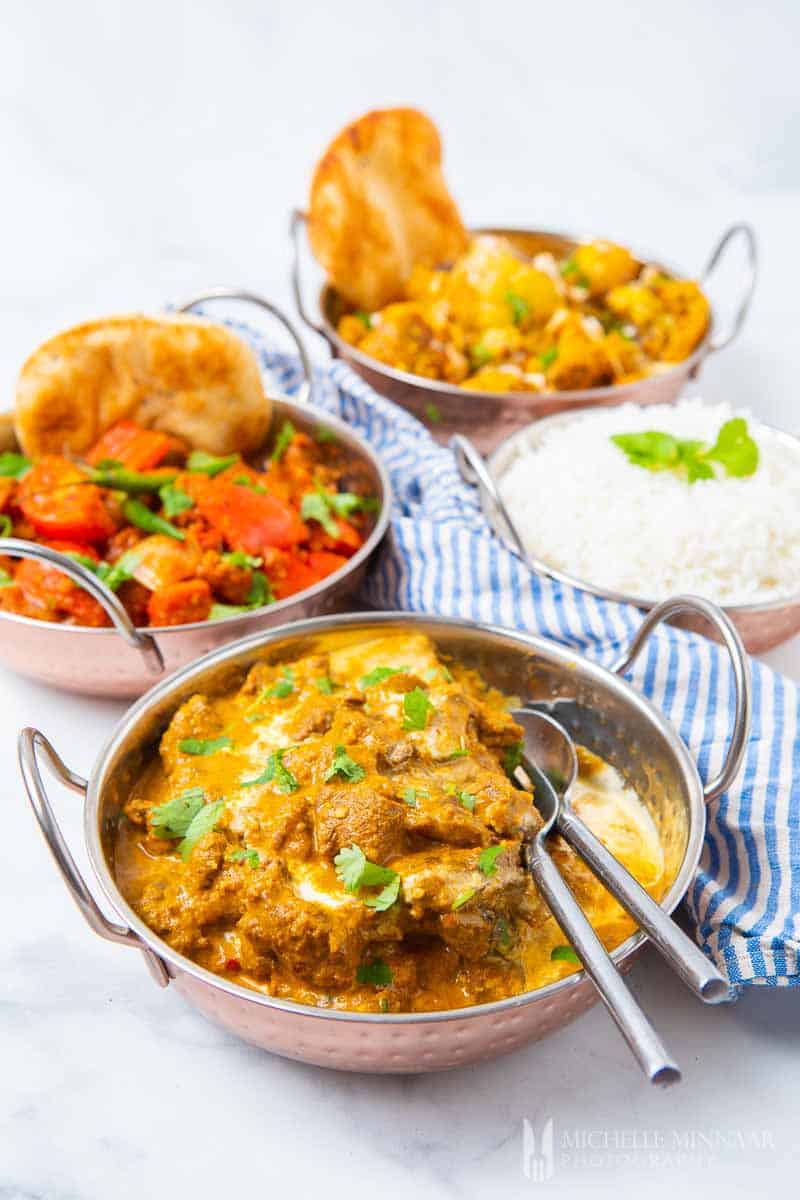 beef korma – calories
Don't even sweat it! This is not the type of dish with which you should count calories. It is a rich and creamy curry, so it's not the leanest either!
If you want to cut down, just omit the side dish, which would be rice or naans.
serving
There are many ways to enjoy this delicious beef korma. You can keep it completely simple and serve the beef korma with rice. Whenever I cook rice for an Indian meal, I like to put a couple of cardamom pods in the pot along with the rice, for that extra bit of exotic flavour. Instead of rice, you can also serve the beef korma with a nice naan bread. To get the full experience you could have a go at making your own naan. I have previously done it with my peshwari naan and the outcome was amazing.
If you are preparing a big dinner or a real Indian feast I highly recommend it. As always, the devil is in the detail. To give the beef korma the final touch, sprinkle a bit of fresh coriander on top of the plate when serving.
GIVEAWAY
This week one lucky reader will win one AnySharp Twist, sharpens any knife with diamond precision.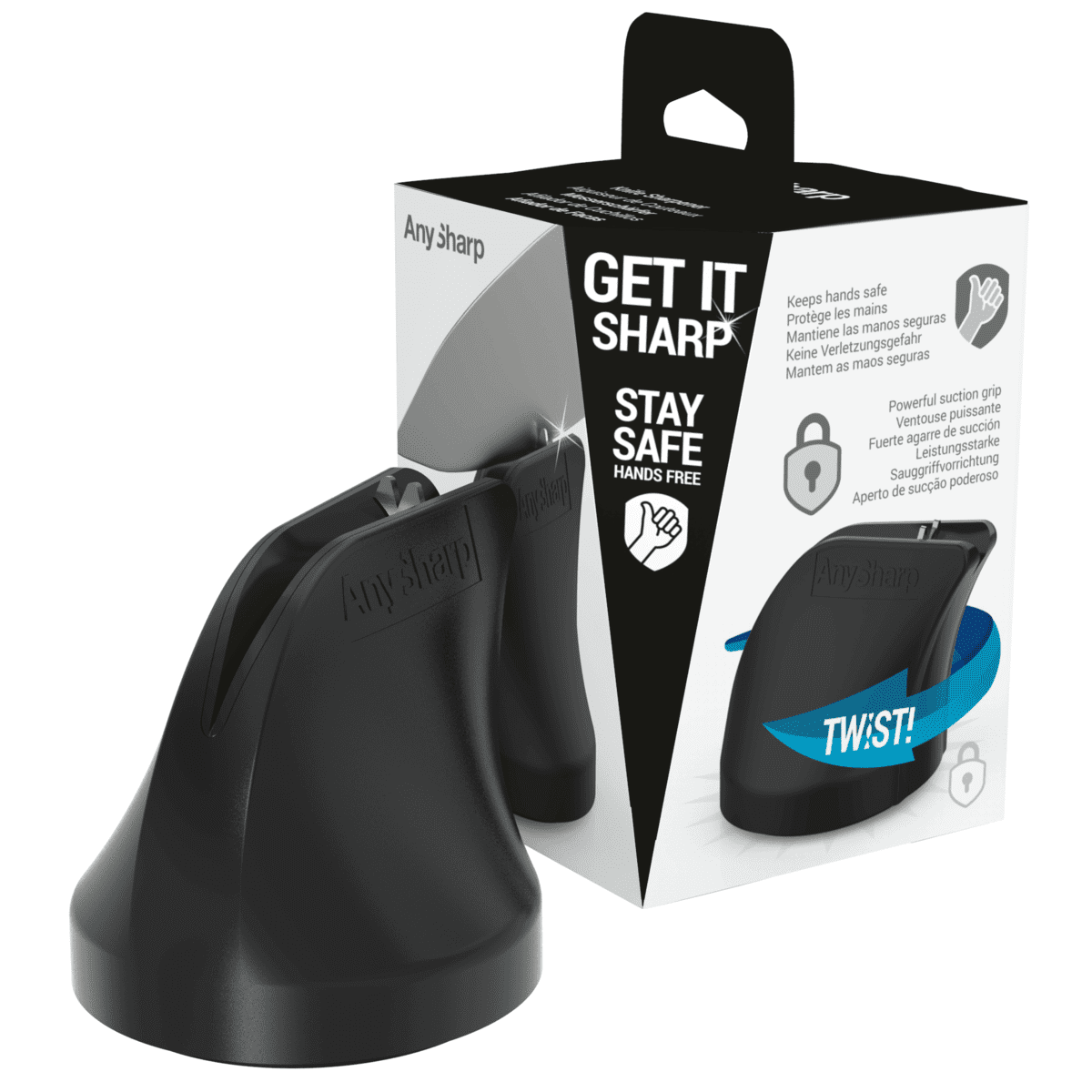 Sure to make light work of even the bluntest knifes it's the AnySharp Twist! With a fresh, modern look, just like its name you can certainly admire the curved silhouette of this latest model. Whether you're slicing meat, dicing vegetables or carving the Sunday roast with the AnySharp Twist cutting is made effortless every time, working it's magic on even hardened steel and serrated knives.
With it's PowerGrip suction cup safely in place, the AnySharp Twist sits securely to any smooth surface or worktop. Did you know? The optimum angle for sharpening a good quality steel knife is 20 degrees? Which is why the Twist is preset to the same angle to allow for an optimum edge every time, leaving you with a professional finish in minutes.
Entering is easy, just follow the instructions below.
Competition Question: What is your favourite Korma recipe?
HELP
Here you can find a tutorial how to enter with Rafflecopter.
If your form is not showing, try refreshing the page.
Complete the form, otherwise your entries will not count.
Make sure the mandatory entries (e.g. leave a blog comment) are completed first.
Don't forget to come back daily for extra entries via Twitter.
If you're viewing this post by email, please come to the actual webpage to enter.
Print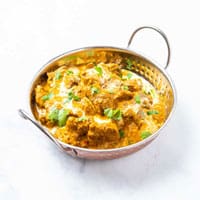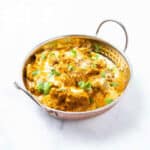 Beef Korma
---
Description
Replicate this easy beef korma recipe. Traditionally, a korma recipe is rich and creamy. With the addition of beef, it makes the korma all the more intense.
---
30

ml

(1 tbsp) vegetable oil

800

g

(2lbs) beef shin

30

ml

(2 tbsp) ground turmeric

500

ml

(2 cups) curry base sauce

60

ml

(4 tbsp) ground cashew nuts

5

ml

(1 tsp) garam masala

5

ml

(1 tsp) ground cumin

125

ml

(1/2 cup) double cream

30

ml

(2 tbsp) brown sugar
---
Instructions
Heat the oil in a large ovenproof casserole.
Cover the beef with turmeric and brown on all sides in the casserole.
Pour in the curry base sauce, stir and cover with a lid.
Simmer on a low heat until the meat is cooked and tender. In this case, it took about 90 minutes.
Stir in rest of the ingredients and let it bubble for 5 minutes.
Serve immediately on a bed of rice or as part of an Indian feast. Enjoy!
Notes
You can use stewing steak instead of shin. This might affect the cooking time though, so keep simmering at a low heat until the meat is fork tender.
If you can't get hold of cashew nuts, you can use ground almonds or dessicated coconut.
Add more sugar if you want your korma sweeter.
Prep Time:

15 minutes

Cook Time:

1 hour 45 minutes

Category:

Main Course

Method:

Pan Fry

Cuisine:

Indian
Keywords: beef korma, Indian korma recipe, korma with coconut milk
save the recipe to your pinterest board