This is one hearty beef risotto recipe you don't want to miss out on. If you love a good old pasta Bolognese recipe and a delicious risotto, there is no reason why you can't combine the flavours of both to make one stellar dish. Finally, you don't need to choose between the two any more!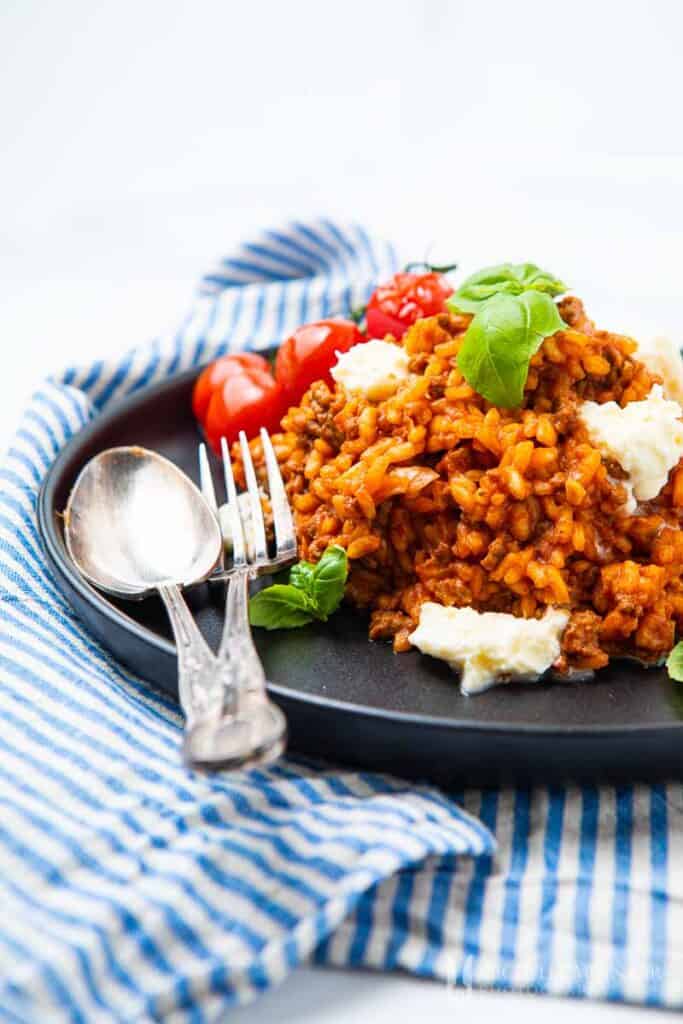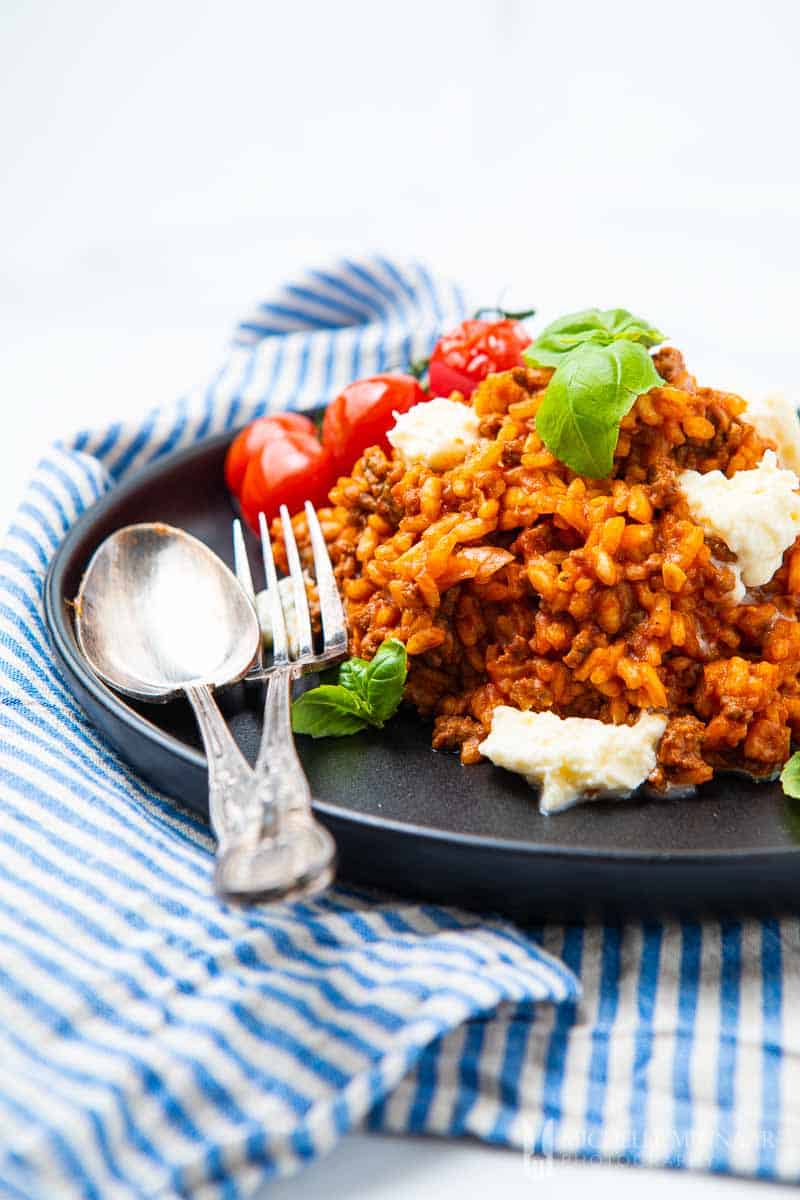 Think of this beef risotto as a marriage between a basic risotto and a Bolognese sauce. In short, it makes a memorable hearty dish packed with Italian flavours.
It is best served with fresh basil and slices of mozzarella cheese or Parmesan cheese. Not to mention, I like to enjoy it with a glass of full-bodied red wine.
Since the flavours are so intense, you only need a small portion to fill you up. The best part is, that you can easily pair this beef risotto with a light side salad or some roasted greens. Enjoy!
products you need for this recipe
Take a look at some of the things you will need to complete this easy beef risotto recipe. This recipe doesn't require any special chef skills to make the Italian sing off the plate.
However, what is critical to make this a successful Italian risotto recipe is to source the right type of ingredients. Therefore, take a look below and see what you'll need to make this risotto:
Italian beef risotto recipe
As mentioned above, the key to making this beef risotto is the rice itself. The best type of rice to use for this risotto recipe, or any risotto recipe for that matter is Arborio rice or Carnaroli rice.
Arborio rice is a type of Italian short-grained rice. Its name stems from a town called Arborio, which is located in the Po Valley in Italy. Visually, the rice looks round and quite large in comparison to other types of rice.
Nevertheless, when you cook the Arborio rice, it releases a lovely creamy texture. This is because it contains a lot of amylopectin starch.
Carnaroli rice is a multi-grain rice, which is smaller than Arborio rice but has the same amount of starch content. In comparison to the Arborio rice, it is slightly lighter. However, the latter can be used for this beef risotto.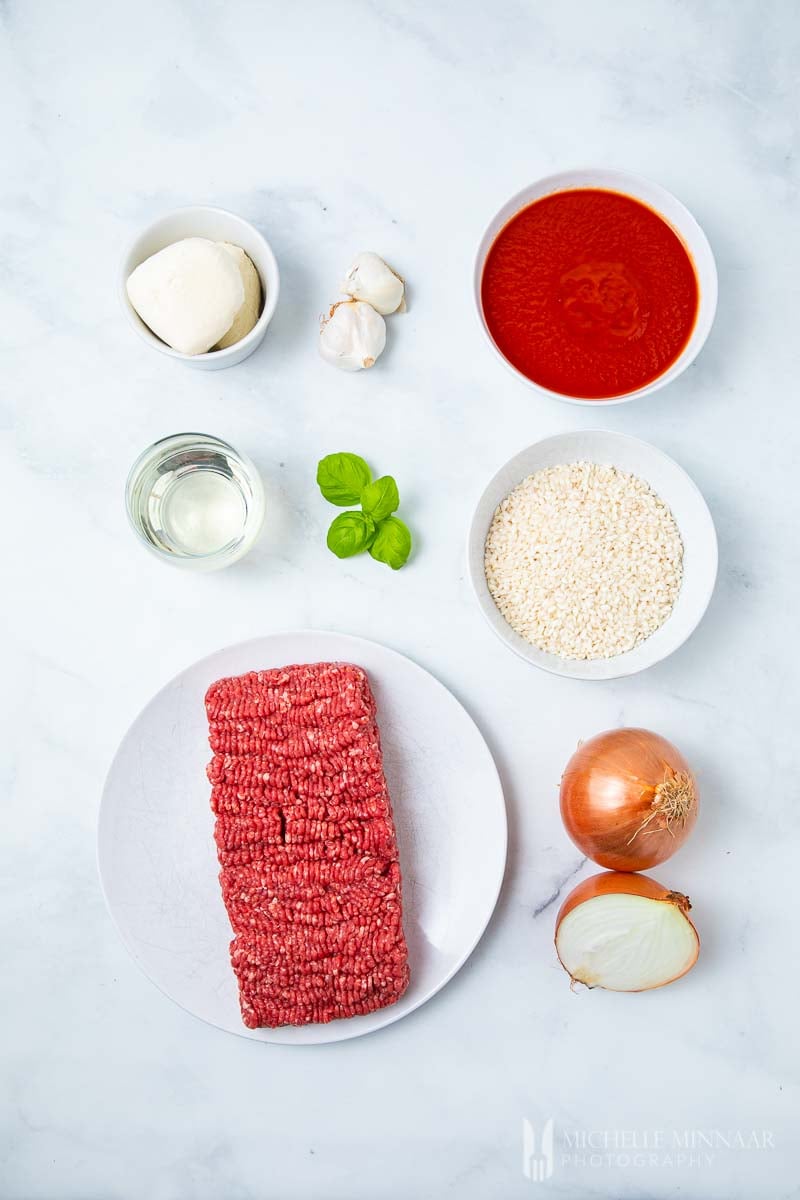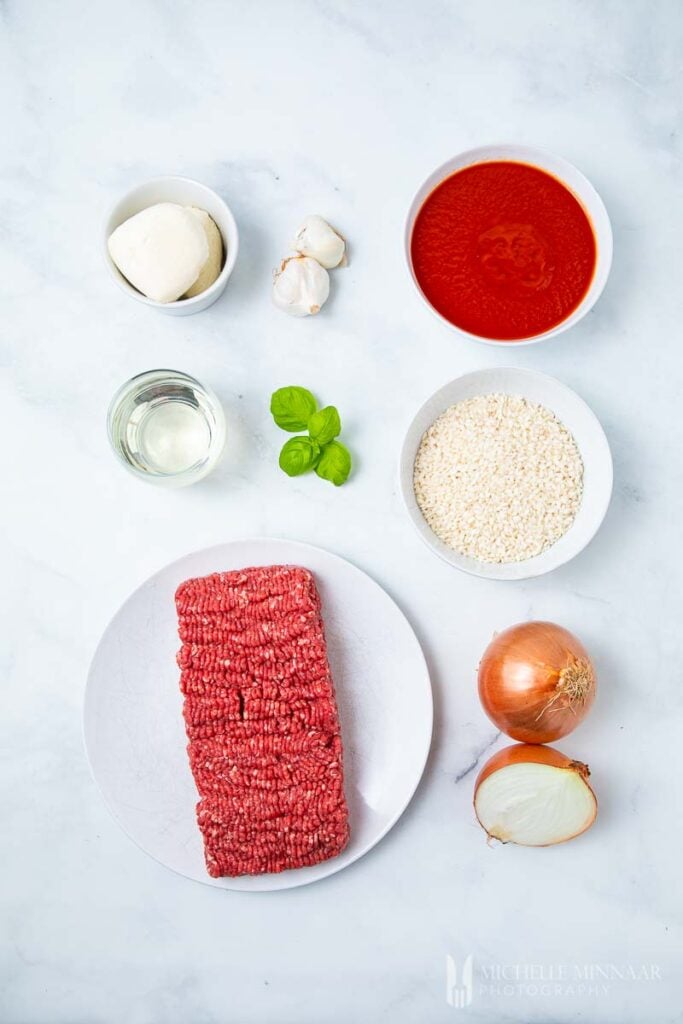 In either case, I recommend purchasing a large batch of rice, and also try your hand at these fabulous risotto recipes:
In essence, Arborio rice can be used also for making desserts. For example, you can easily make this easy almond milk rice pudding recipe with it.
Handy tip: Please do not wash the Arborio or Carnaroli rice prior to cooking. If you do, you will wash some of the starch away, hence the beef risotto may lose its creamy texture.
risotto rice substitutes
If you can't find Arborio or Carnaroli rice anywhere in the store near you for this beef risotto recipe, make sure you look for these alternatives:
Maratelli rice: medium-grain type of rice. It contains high amounts of amylose, hence it holds its shape very well during the cooking process.
Vialone Nano rice: flat medium-grain rice. Both rich in starch and amylose, therefore it's perfect for making a risotto with firmer rice.
Baldo rice: a hybrid short-grained rice grown in Turkey as well as in Italy. Quite high in starch.
Handy tip: Similarly to Arborio rice, do not wash any of these rice varieties prior to making your risotto. The rice will lose some of its starch content, hence as a result it will also lose its creamy texture.
Handy tip: As with any type of risotto rice, you MUST stir the risotto constantly during the whole cook. Do not let it rest on the heat.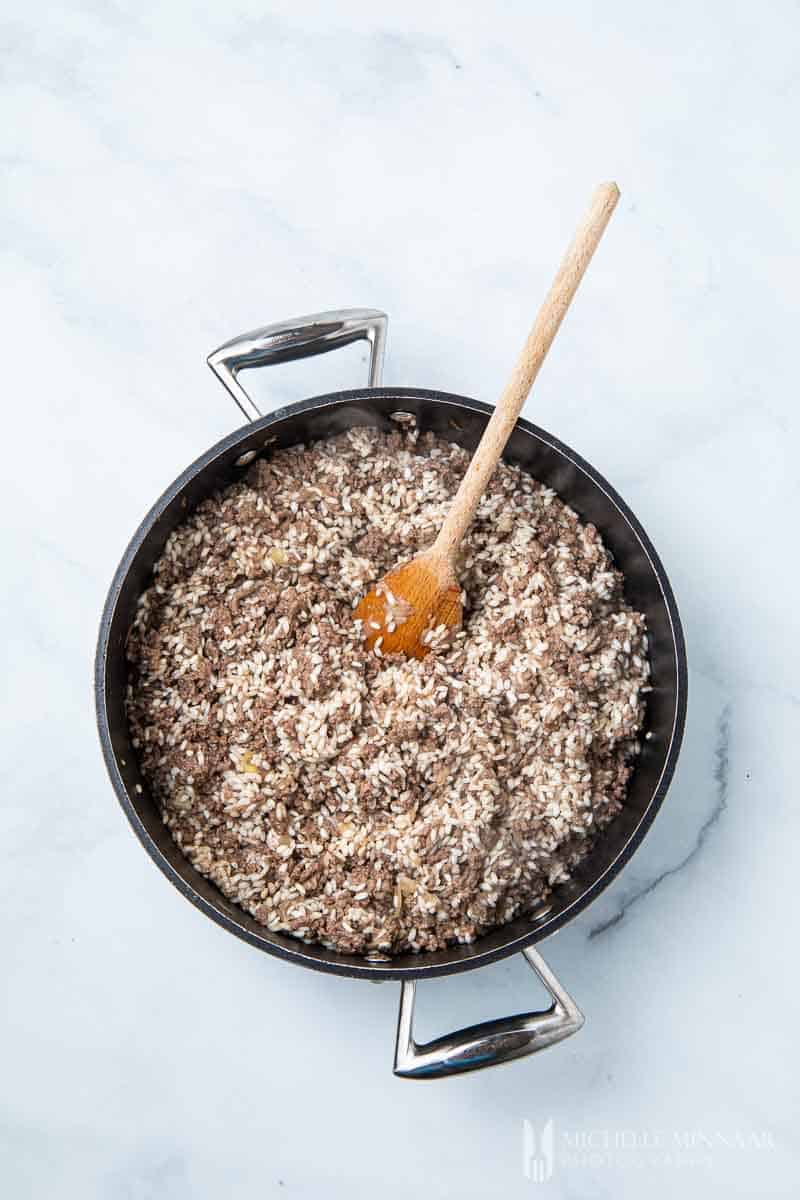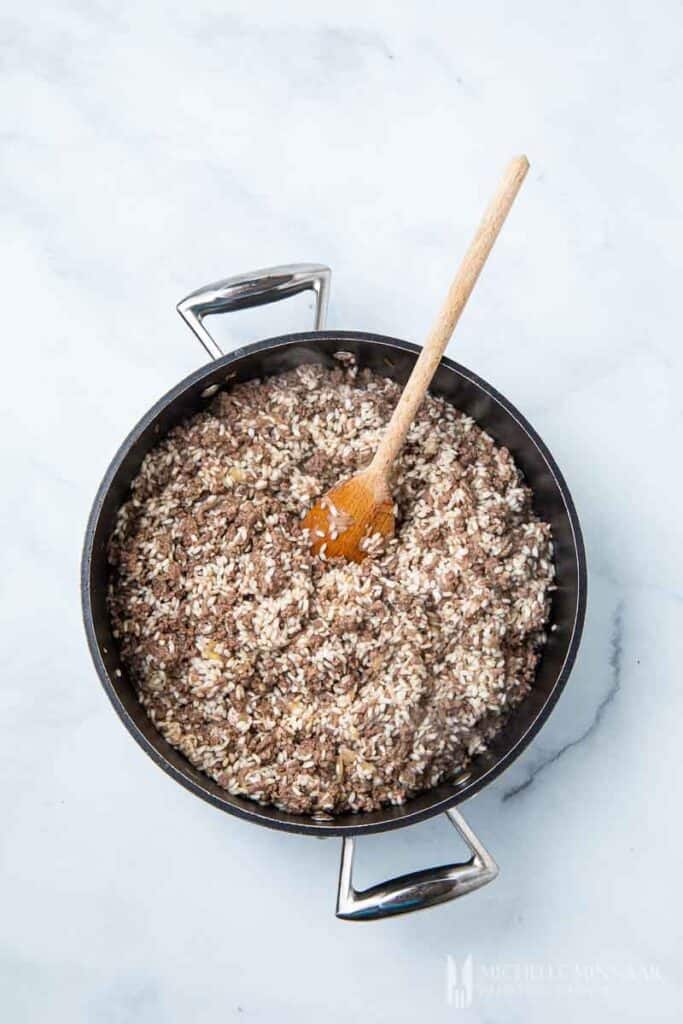 beef stew risotto
This beef risotto recipe calls for beef mince. I recommend purchasing beef mince at your local butcher. Always go for organic, grass-fed beef!
Have you got any mince leftovers?
Not to panic. Simply freeze the remainder of the beef mince. Once you feel like cooking with it, you can try your hand at other beef mince recipes. For instance, check these out:
Now, since I'm a fan of sustainable cooking, this beef risotto recipe also works with a beef stew you've made a couple of nights previous. For example, let's say you've made this slimming world beef stew.
If you've got any leftovers, simply combine the beef stew and the risotto and boom – you've got beef stew risotto. The only difference is that you will have larger chunks of beef.
vegan beef risotto
If you would like to make a vegan version of this risotto recipe, inspire yourself with my vegan Bolognese sauce.
Simply omit the cheese ingredients and use a vegetable stock instead of beef stock. You won't believe just how easy it is to make a vegan version!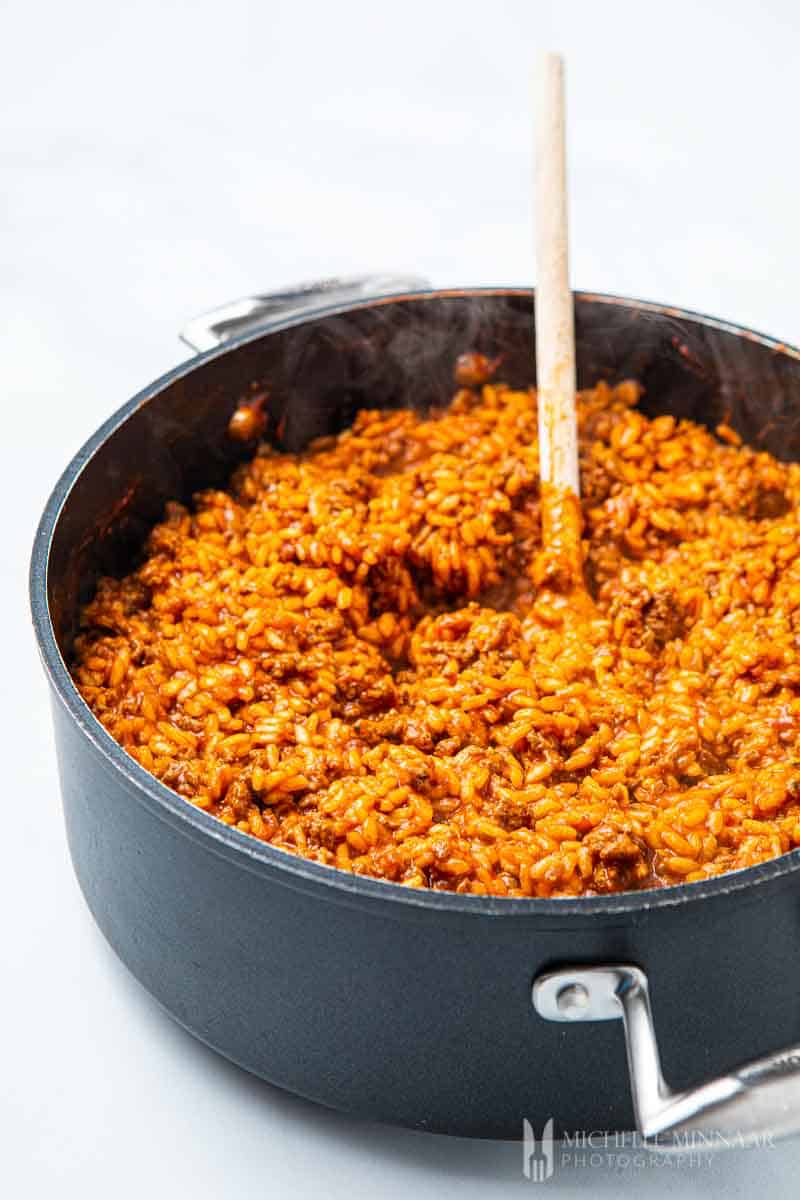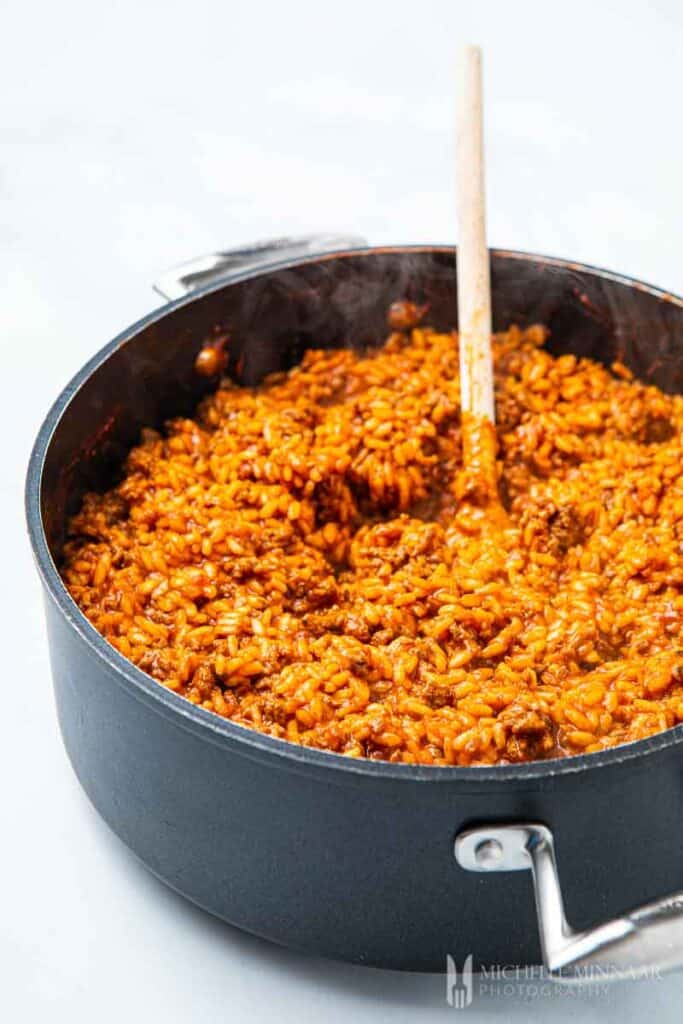 How would you serve your beef risotto? Let me know in the comments section below.
Print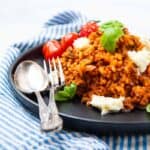 Beef Risotto
---
Description
A hearty beef risotto recipe full of rich flavours. Topped with mozzarella cheese, parmesan and herbs, it is pure perfection.
---
15

ml (1 tbsp) olive oil

1

large onion, peeled and finely chopped

3

garlic cloves, peeled and crushed

500g

(

2 cups

) beef mince

500g

(

2 cups

) carnaroli rice

500g

(

2 cups

) passata

5

ml (1 tsp) dried oregano

500

ml (2 cups) beef stock

15

ml (1 tbsp) sugar [optional]

200g

(

2 cups

) Mozzarella, torn into pieces

100g

(

1 cup

) Parmesan cheese, grated
---
Instructions
Heat the oil in a large saucepan. Gently fry the onion for 3 minutes, or until softened.
Add the garlic, and fry for 1 minute.
Turn up the heat and add the mince, browning it, which should take 5 minutes.
Lower the heat to medium and stir in the rice.
Whatever you do, stir the risotto constantly throughout the whole cooking process!
Pour in the passata and sprinkle in the oregano.
Stir and let the risotto simmer gently for 5 minutes or until the liquid has been absorbed.
Add 125ml (¼ cup) of beef stock to the risotto, and keep stirring until the stock disappears. Repeat until you've used up all the stock.
By this time, the meat should be cooked through. The rice shouldn't be dry but should rather have a sloppiness to it. If the rice is still not quite cooked, add a splash of extra stock or water and keep stirring until the rice is cooked to your liking.
[Optional] Stir in the sugar.
Melt the mozzarella into the risotto to add some stringy goodness to the risotto. Alternatively, serve as a topping along with grated Parmesan cheese. Serve immediately and enjoy!
Notes
Carnaroli rice is lighter in consistency than arborio rice, but you can use the latter too!
Prep Time:

10 minutes

Cook Time:

30 minutes

Category:

Risotto

Method:

Simmer

Cuisine:

Italian
Keywords: beef risotto, ground beef risotto recipe, beef and tomato risotto, Italian risotto recipe, Italian beef recipe