Bolognese pasta bake is the perfect comfort food that can be mastered by anyone. In sum, it is an easy pasta recipe which is perfect for feeding large families. It is also an excellent recipe for cooking large batches of food at a time, which you can defrost and enjoy at a later stage. This Bolognese pasta bake stores and freezes well, so make sure you take advantage of this recipe. In addition, it is perfect for students, because a Bolognese pasta bake is inexpensive to make and it can last for several dinners.
You can max out on the cheesiness and make this Bolognese pasta bake as hearty as you want. Also, feel free to use this recipe with all sorts of pasta: fusilli, farfalle, tagliatelle, spaghetti, penne as well as vegan and gluten-free pasta alternatives.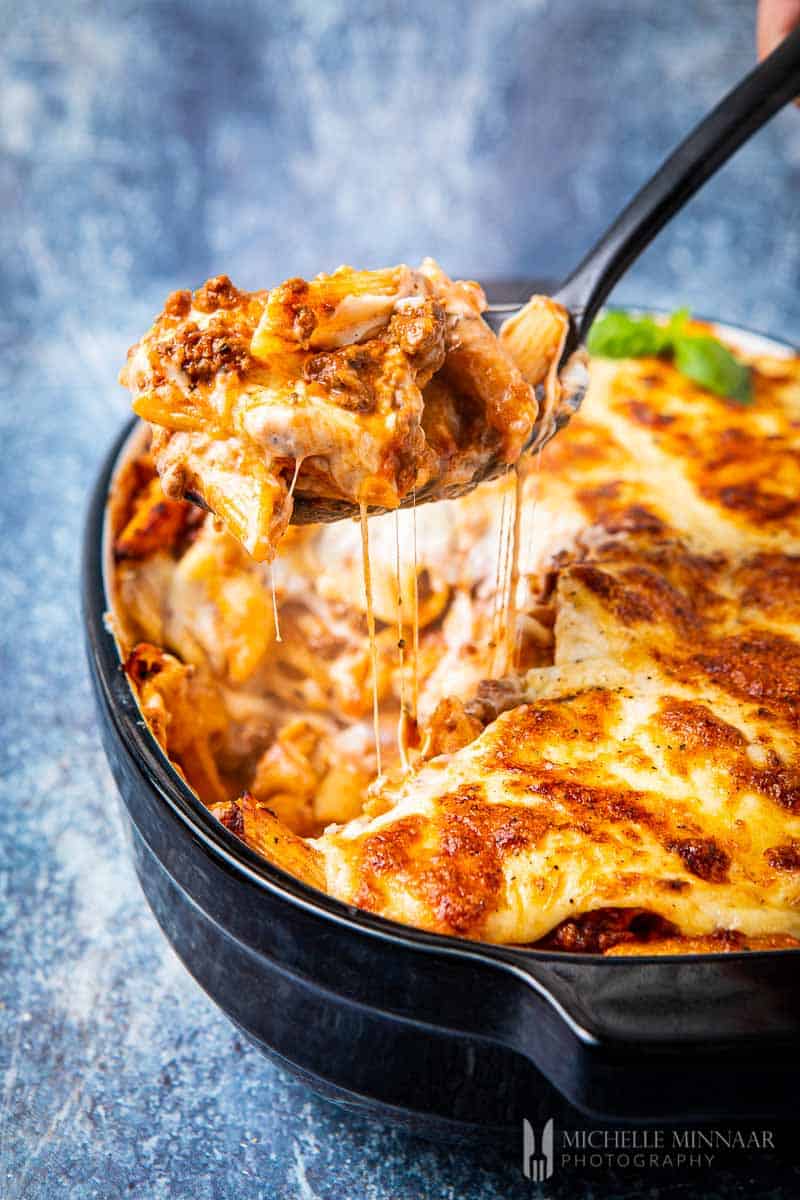 cheesy Bolognese pasta bake recipe
Indeed, one of my favourite things about this Bolognese pasta bake recipe is that it is completely oozing with melted cheese. And let's face it, this is the best part of any pasta dish. What's best is that you can use the leftover sauce from this amazing slimming world spaghetti bolognese recipe and turn it into a pasta bake the very next day.
I've always enjoyed making pasta bakes. Not only because they are practical in terms of feeding a large family while being easy to prepare, but also because I enjoy the sustainability aspect of a pasta bake recipe. You can use whatever is left at the bottom of the fridge and still whip up a fantastic, hearty meal at the end of the day.
Apart from this Bolognese pasta bake recipe, I also recommend taking a look at these: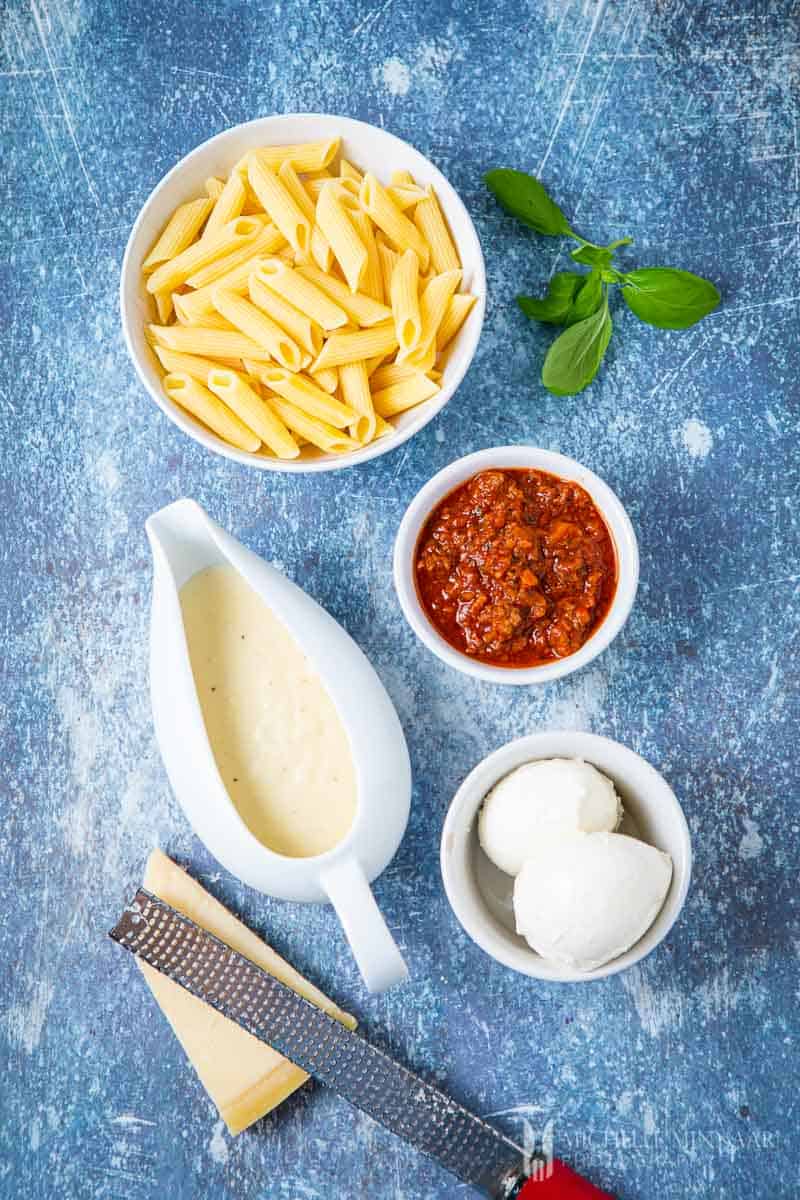 top things you need to make a pasta bake
Here's a list of things you'll need to recreate this easy Bolognese pasta bake: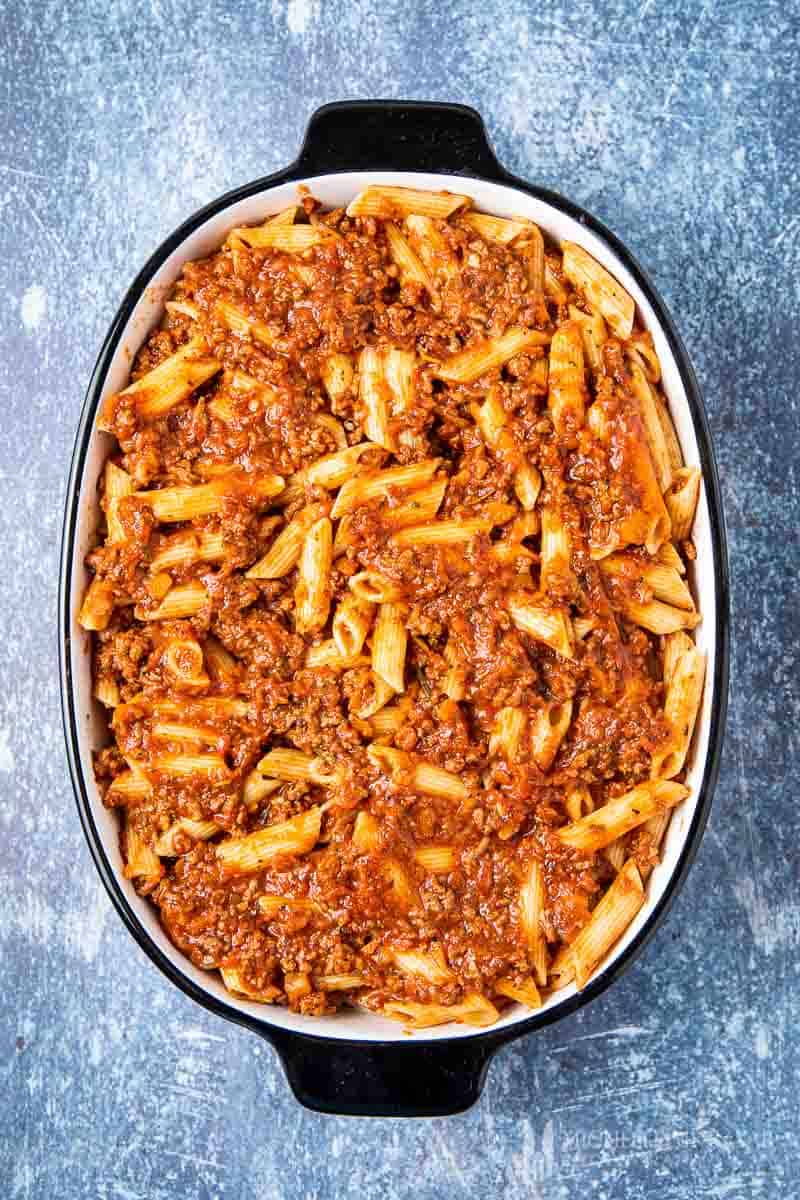 healthy Bolognese pasta bake
Believe it or not, but this recipe can also be vegan-friendly. Just use a vegan pasta and use the sauce from this excellent vegan spaghetti Bolognese. Yes, it is possible to enjoy a completely vegan Bolognese dish. Just omit the cheese toppings, omit the béchamel and substitute with fresh herbs instead. Use nutritional yeast for a vegan topping.
gluten-free Bolognese pasta bake
The Bolognese pasta bake can also be gluten-free friendly. Just like with my gluten-free Bolognese pasta recipe, you can use gluten-free pasta in your pasta bake.
For other delicious pasta recipes, take inspiration from these below: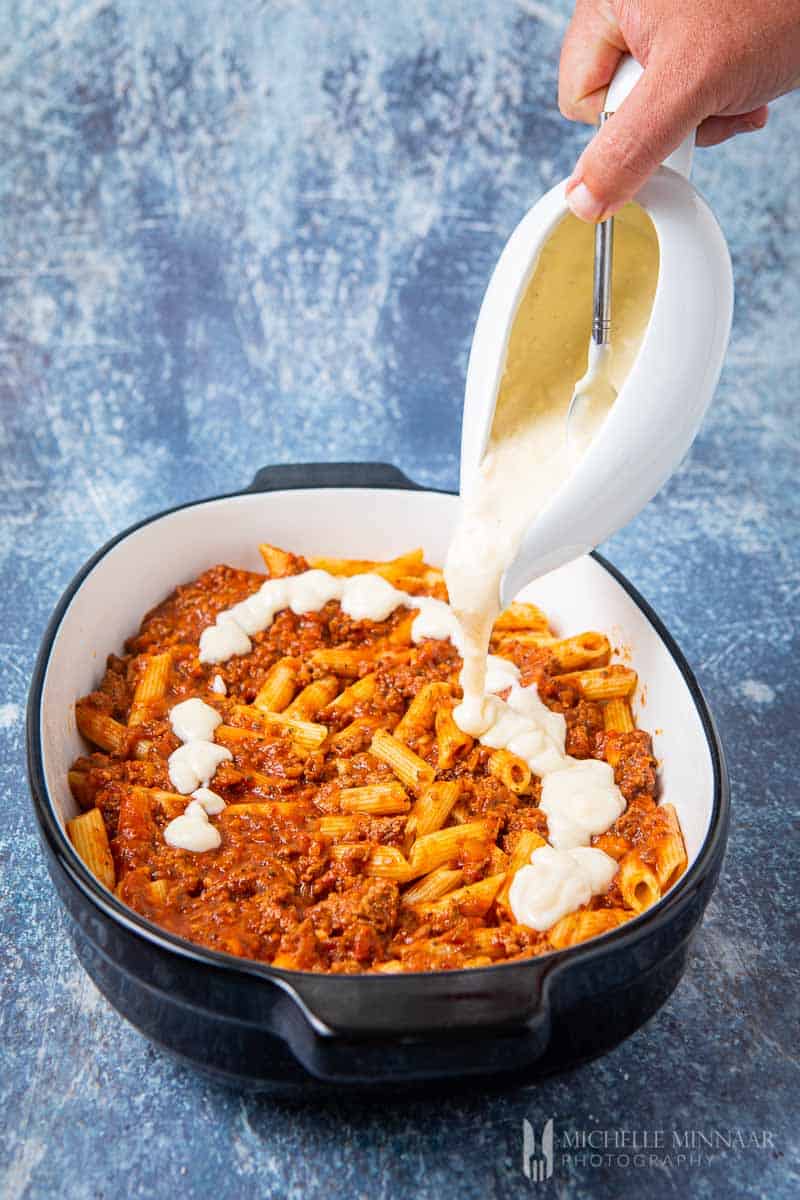 best toppings for pasta bakes
There are plenty of toppings you can consider for this Bolognese pasta bake. In fact, the toppings can distinguish your pasta bake from other recipes. So, feel free to experiment and put your own twist on this pasta recipe.
Grated cheese: This is the most popular type of topping and I highly recommend it for this Bolognese pasta bake. You can add grated mozzarella (as well as slices of fresh mozzarella), Gouda or Emmental. Just remember to add the cheese roughly 10 minutes prior to the end of your cook on top of a stunning layer of white sauce. If you add the cheese at the beginning, you'll burn the cheese, or it will dry out completely. Whereas, if you add it at a later stage, you'll definitely enjoy the 'ooze' factor.
Other cheeses which you can use as a topping include Parmesan, Grana Padano or Gruyere. However, these cheeses are best enjoyed as a final finishing touch to the dish.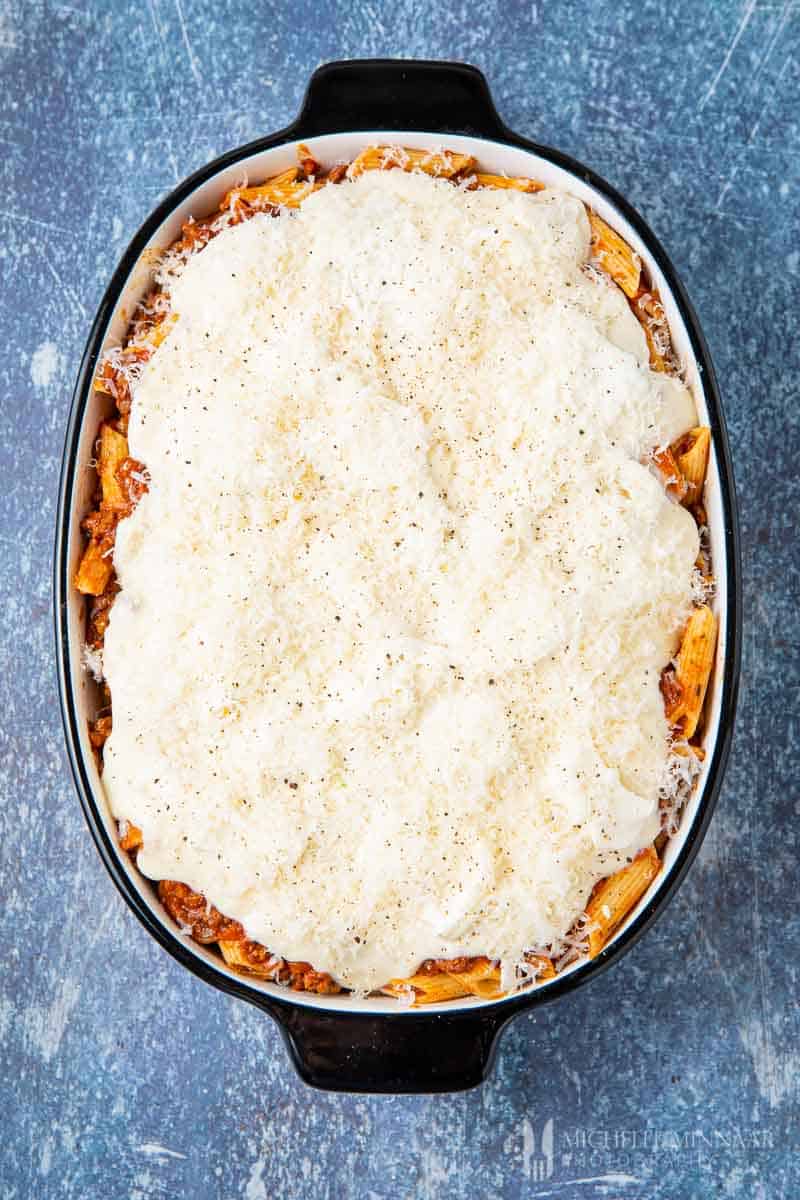 Olives: For a more Mediterranean flavour, you can always add thin slices of olives. Both green or black will do the trick. Just make sure that they are pitted. Distribute them evenly on the Bolognese pasta bake, 10 -15 minutes before the end of the cook.
Breadcrumbs / pangritata: This is a typical topping used throughout Sicily. Feel free to add it on top for an extra bit of crunch. If you love pasta recipes using breadcrumbs, you are going to love this pangritata recipe.
Fresh herbs: Fresh parsley or oregano are an excellent way to give the dish a punch of freshness.
Oil: You can also consider using olive oil (although I recommend using premium oil). Garlic oil and chilli oil are also excellent on Bolognese pasta bakes as well as pizza toppings.
spicy Bolognese pasta bake
You can also add fresh chilli and make this a spicy Bolognese pasta bake. Otherwise, you can add a pinch of chilli powder or cayenne pepper powder into the sauce. Also, you can consider these 15 chilli powder substitutes.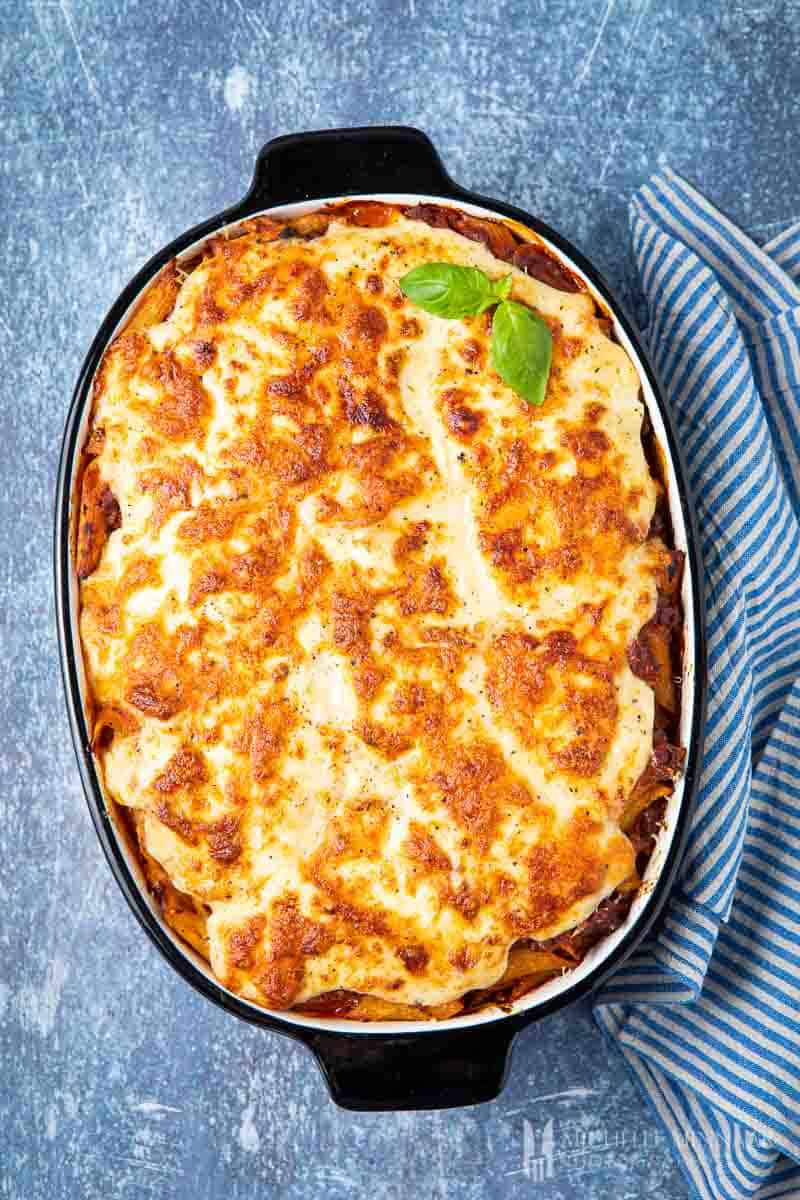 best side dishes for pasta bakes
If you feel like the Bolognese pasta bake is a little heavy on the meat and cheese, you can add a green side dish to lighten it up.
For example, you can consider these delicious side dishes which also carry Italian flavours:
How would you serve your Bolognese pasta bake? Let me know in the comments section below.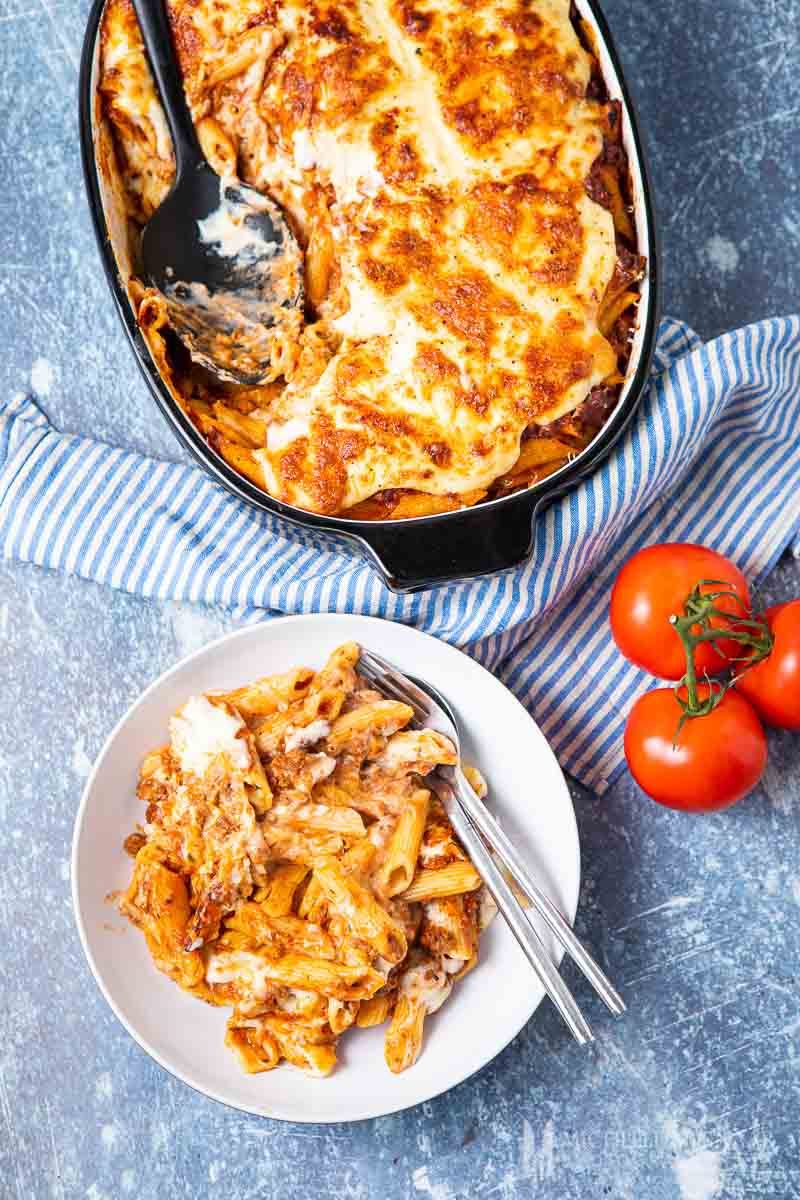 What is your favourite way to prepare Pasta Bake?
Print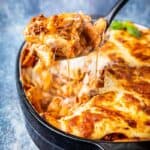 Bolognese Pasta Bake
---
1

ℓ (4 cups) bolognese sauce

600

g

(1 1/2lbs) cooked pasta

250

ml

(1 cup) white sauce

450

g

(2 cups) fresh mozzarella cheese

90

ml

(6 tbsp) Parmesan cheese, grated
---
Instructions
Preheat the oven to 200°C/390°F/gas mark 6.
Combine the bolognese sauce and pasta in a large bowl.
Place half of the pasta mixture to an oven-proof casserole dish.
Slowly pour half of the white sauce evenly over the pasta.
Use half of the mozzarella and break the cheese into little lumps to dot the pasta with.
Top the cheese layer with the remaining pasta mixture.
Drizzle with the remaining white sauce and dot with leftover mozzarella cheese.
Sprinkle the pasta bake with Parmesan cheese and bake in the oven for 20 minutes or until golden.
Serve with a green salad. Enjoy!
Notes
In this recipe I used penne pasta but feel free to use any type of pasta you desire.

This recipe is anything but scientific, so feel free to play with the ratios of ingredients used. E.g. if you would like the sauce to be creamier, use more white sauce but less bolognese.
Prep Time:

15 minutes

Cook Time:

30 minutes

Category:

Dinner

Method:

Bake

Cuisine:

Italian
Keywords: bolognese pasta bake, baked pasta bolognese recipe, beef pasta bake