Brined chicken thighs are the way to go whenever you're considering cooking with chicken.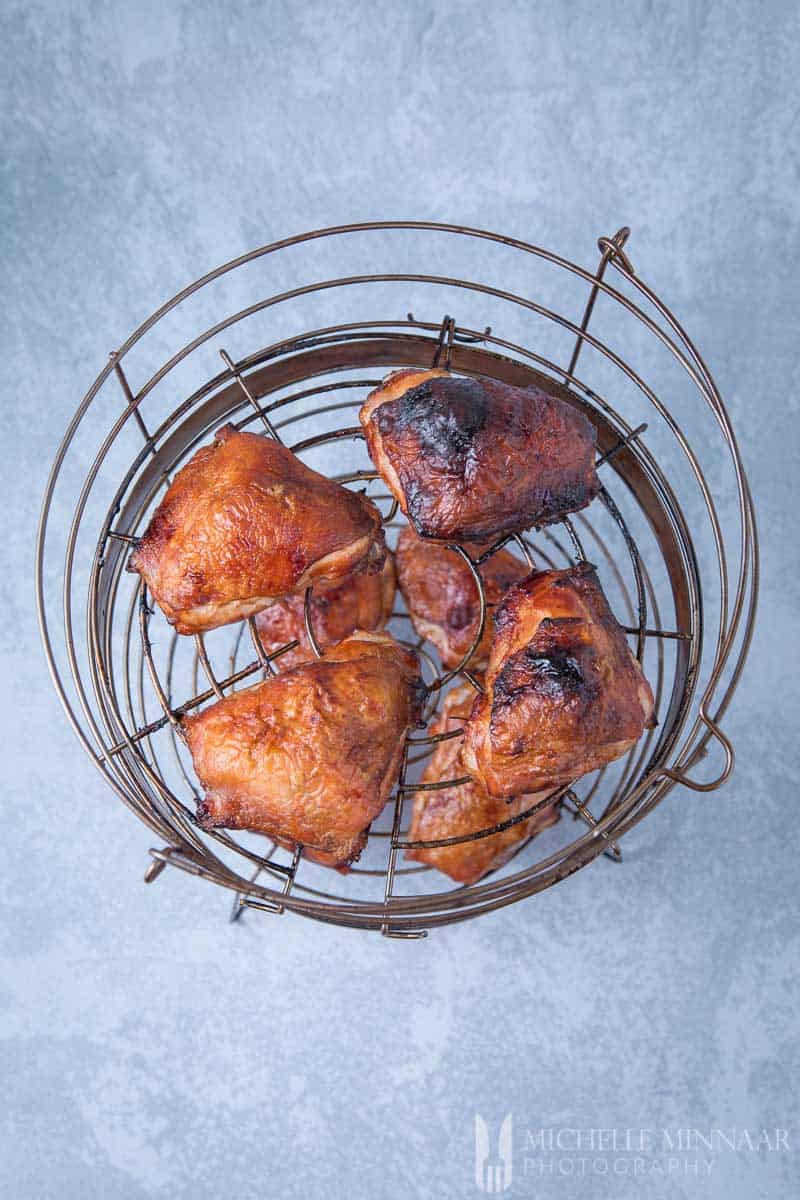 As one of my favourite chicken recipes, it's straightforward to prepare and chicken thigh itself is such a versatile part of the chicken. Chicken thighs can be sautéed, grilled, baked, fry and even roasted!
All in all, brined chicken thighs can be considered a premium cut of the chicken of their flavour and succulence, especially after brining the
Not only is brining a chicken easy to do, but it helps in keeping the meat tender and moist, perfect for when it's exposed for long periods to heat.
For example, if you are making roasted brined chicken thighs or smoked chicken thighs, I guarantee that the chicken will not go dry, even if you keep it in the oven or in the smoker just a tiny bit longer.
what are brined chicken thighs?
These days chicken thighs can easily be obtained from the supermarket. The thigh forms part of the chicken leg and should be separated from the drumstick during the dismembering process.
Afterwards, the thighs are submerged in a brine solution comprising salt, sugar and herbs. The latter is optional.
Chicken thighs are considered a dark meat, which means it's more flavourful thanks to its higher fat content compared to chicken breast. Chickens, along with turkeys, are flightless.
Due to the fact that they use their legs muscles more, the meat is darker than the breasts or the wings. Technically speaking, the meat located around the legs is darker due to the presence of myoglobin.
Myoglobin oxygenates the muscles around the leg area when the chicken moves. Now, the rule of thumb is that the darker the meat on the chicken, the more nutrients it possesses, such as iron content.
As a result, you can expect a darker cut of meat like these brined chicken thighs to be juicier and more tender than chicken breasts.
Brined chicken drumsticks are also a dark meat cut, however, since the drumsticks have a much higher fat content than white meat.
When comparing flavours between white and dark meat, brined chicken wings and brined chicken thighs, respectively, there isn't much of a difference.
It can happen on occasion that the dark meat will have a more pungent umami flavour when cooked. Usually cooked white cuts tend to be milder and stringier.
I recommend brining a whole chicken and then smoking it or roasting it. This way, you'll be able to taste the difference for yourself!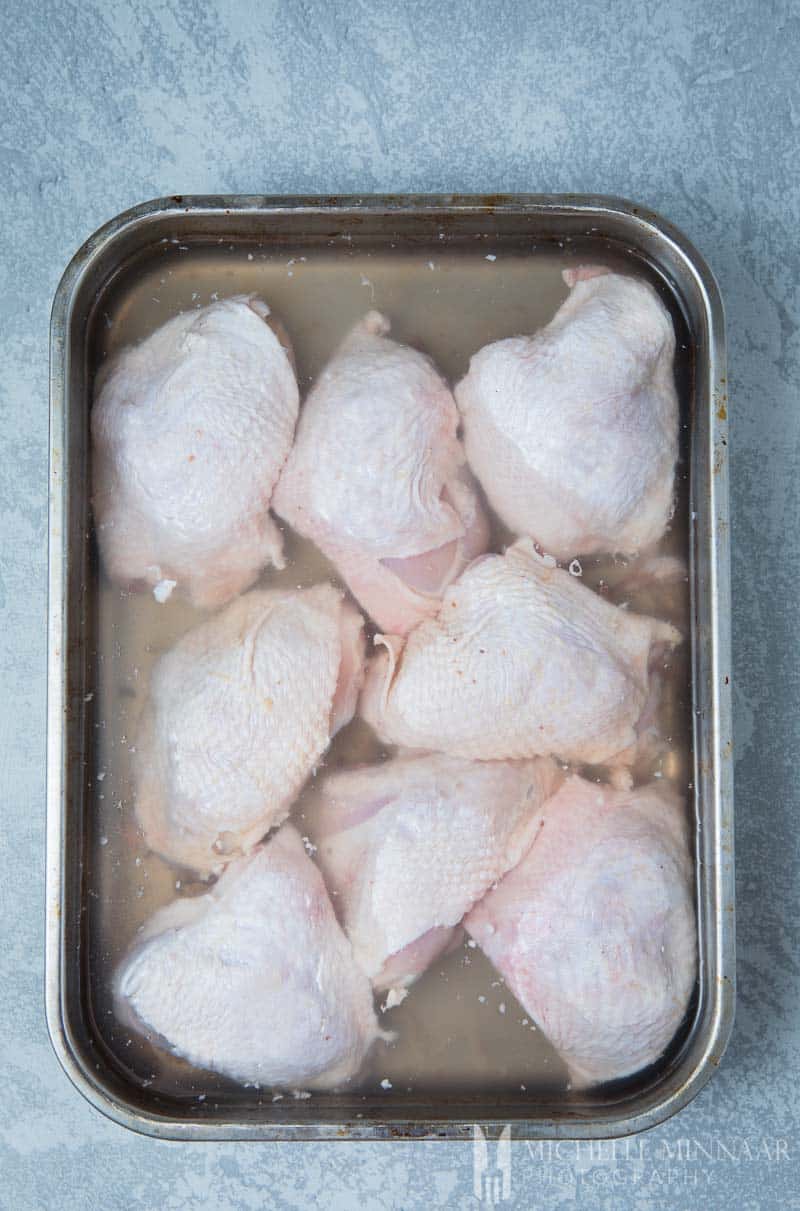 a tender brined chicken thigh recipe
If your goal is to eat the best brined chicken thighs under the sun, you have to ensure the following two things:
You need to source a premium chicken. You get what you pay for! The fresher the better.
Get the brine just right. Some people mess up the salt ratios and either end up not using too little or too much of the ingredient. The brine is a critical element that will impact the flavour and tenderness of the chicken thighs.
chicken thigh brine
Have you ever wondered why chicken thighs are so pricey when you come across them on the supermarket shelves? You can save a lot of money by dismembering a whole chicken yourself.
Not only will you learn a valuable skill, but you'll be cost-efficient and sustainable. Buy a few chickens then you can batch cook different recipes using different cuts of chicken.
For example, you can make smoked chicken drumsticks, air fryer chicken wings, leek stuffed chicken breasts and so on.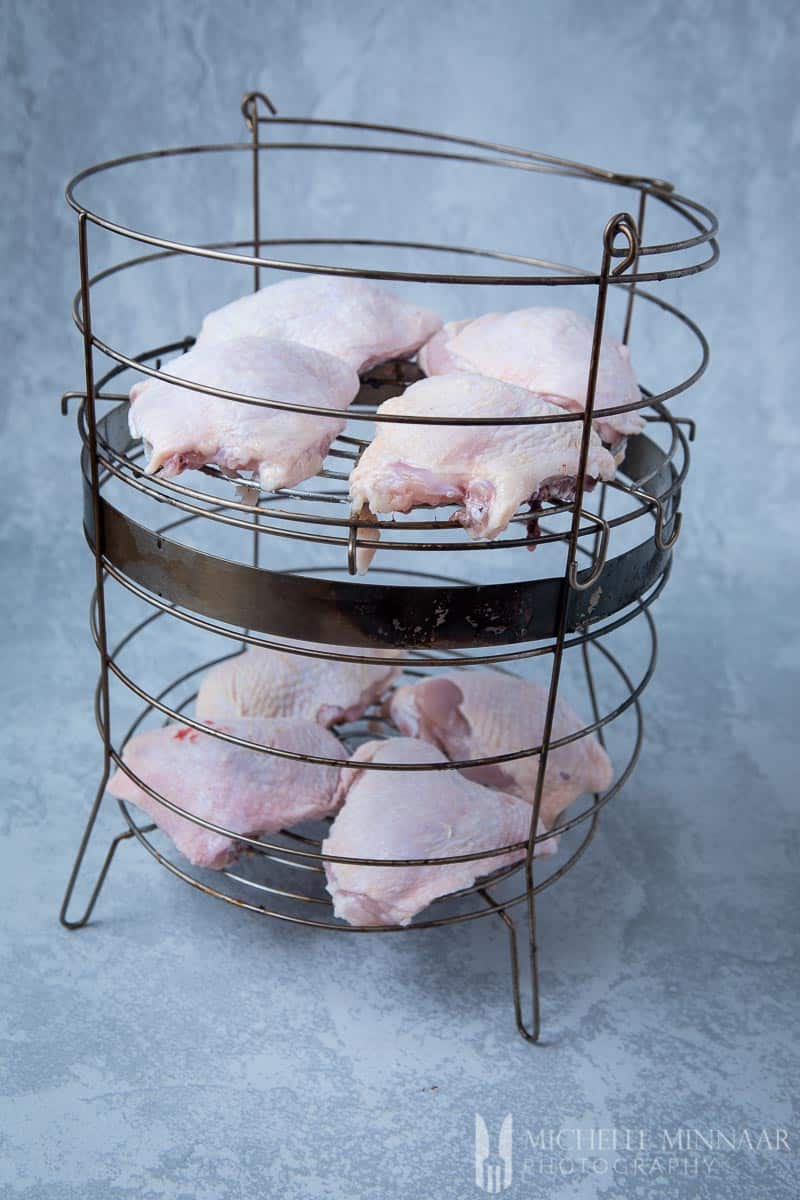 how long to brine chicken thighs for
The brining process is very common for recipes involving turkey. In fact, it has been utilised in cooking by our ancestors! They knew back then that brines help preserve food as well as affect the overall tenderness.
Usually, water is the base of the brine. However, chefs generally like to add wine, tea, vinegar, juice, beer or broth for extra flavour.
For these brined chicken thighs, you can experiment with adding hints of either vinegar, beer, wine or broth.
When you add the salt, keep in mind that if you use a salty broth, your brine might need less salt. Also, a trick to nailing the brine is to wait until the salt dissolves entirely into the solution.
Keep tasting the solution as you go along.... before adding the raw chicken though!
When you add herbs and spices to a chicken brine, it can act as a marinade. You can consider the following herbs that typically pair well with chicken:
bay leaves
thyme
oregano
rosemary
basil
tarragon
You can also add spices such as:
cayenne pepper
chilli powder
chipotle powder
When it comes to the actual brining process, depending on how many chicken thighs you brine, the recommended brining time is roughly 2 hours.
Please note that you can't reuse the brine for other ingredients. This is because you can contaminate the other ingredients with raw chicken, which might lead to food poisoning.
Just dispose of the brine. Besides, you can easily prepare another batch in just a matter of minutes.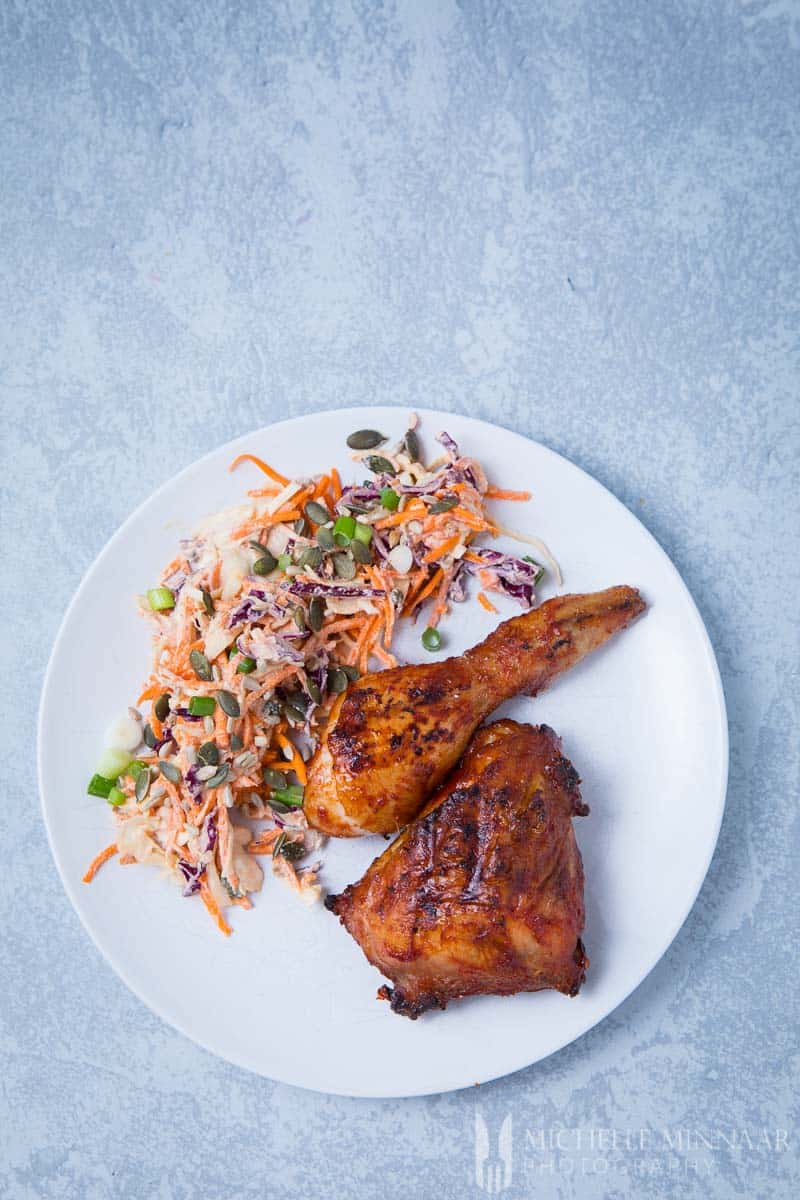 brined chicken thigh recipes
Once you have your brined chicken thighs, it's time to get cooking! There are so many cuisines you can choose from because chicken is used worldwide.
For example, you can opt to use these brined chicken thighs to prepare this traditional Italian chicken stew. You might also know that stew by its Italian name, chicken cacciatore.
If you feel like making something simple yet memorable, you can make smoked chicken thighs with this gluten-free barbecue sauce.
Another recipe with a twist is spicy bacon-wrapped chicken thighs. This recipe might seem rustic, but it certainly has a wow factor.
For something fingerlicking deliciousness, you can use these thighs in my oven-baked bbq chicken recipe. You won't be able to resist the brined chicken thighs with a thick and rich BBQ sauce!
Print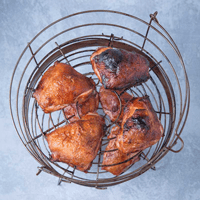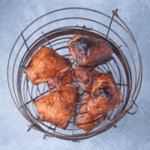 Brined Chicken Thighs
---
Description
Once you tried brined chicken thighs you'll never go back to eating the plain meat again. A chicken thigh brine is very simple and takes seconds to prepare. Try it for yourself!
---
2

litres

(8 cups) water

60

ml

(4 tbsp) salt

60

ml

(4 tbsp) sugar

8

chicken thighs
---
Instructions
Place the water, salt and sugar in a large pot and heat.
Stir until everything is dissolved.
Wait for the liquid to cool down before brining the chicken in it.
Notes
The quantity of brine needed depends on the quantity of chicken used and the size of the container you store it in. The goal is to have all the wings completely submerged in the brine, preferably overnight. If you don't have enough brine, simply make another batch.
Psssst, on days I'm really lazy I don't even heat the water and stir the salt and sugar straight in. The results are still fantastic.
Feel free to experiment with the salt, sugar and water ratios.
This is the most basic recipe you can find. You can add different ingredients to jazz up the brine's flavour, such as carrot, onion, celery, pepper and all kinds of herbs.
Prep Time:

15 minutes

Category:

Main Course

Method:

Brine

Cuisine:

American
Nutrition
Serving Size:

1 serving

Calories:

289

Sugar:

6.1 g

Sodium:

2015 mg

Fat:

10.4 g

Saturated Fat:

2.9 g

Carbohydrates:

6.1 g

Protein:

40.5 g

Cholesterol:

125 mg
Keywords: brine chicken thighs, brine for chicken thighs, chicken thigh brine, how to brine chicken thighs, brining chicken thighs, how long to brine chicken thighs, brined chicken thighs, chicken thigh brine recipe
save the recipe to your pinterest board