This chicken and mushroom vol au vents recipe is perfect if you are looking to make gourmet-style homemade starters or canapés. These bite-sized vol au vents are exquisite and totally moreish. They might look like they're complicated to prepare, but they are not!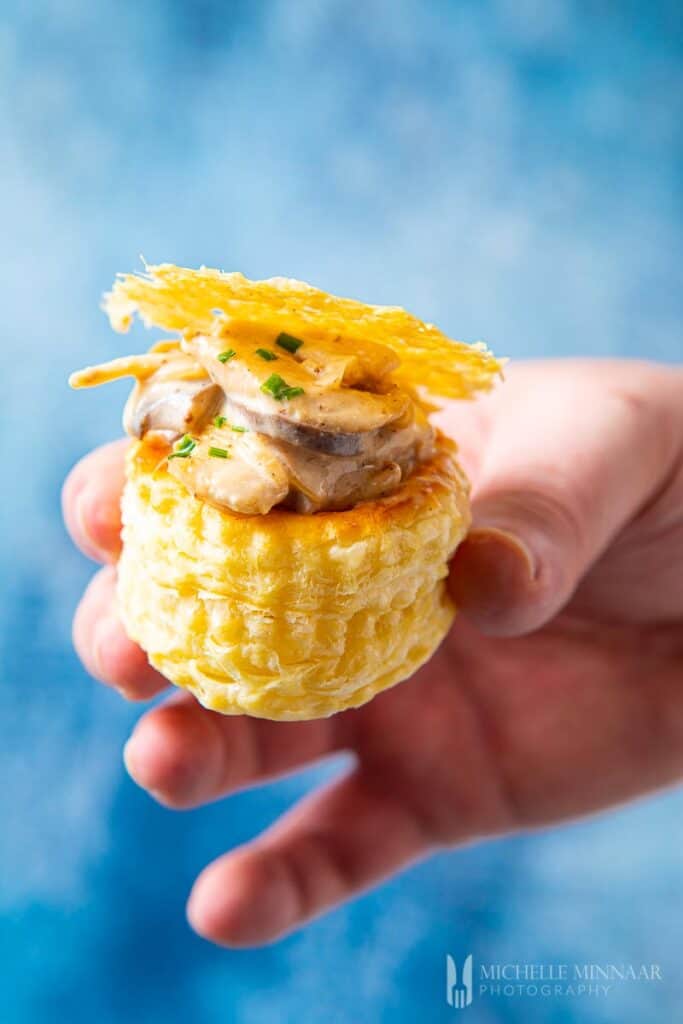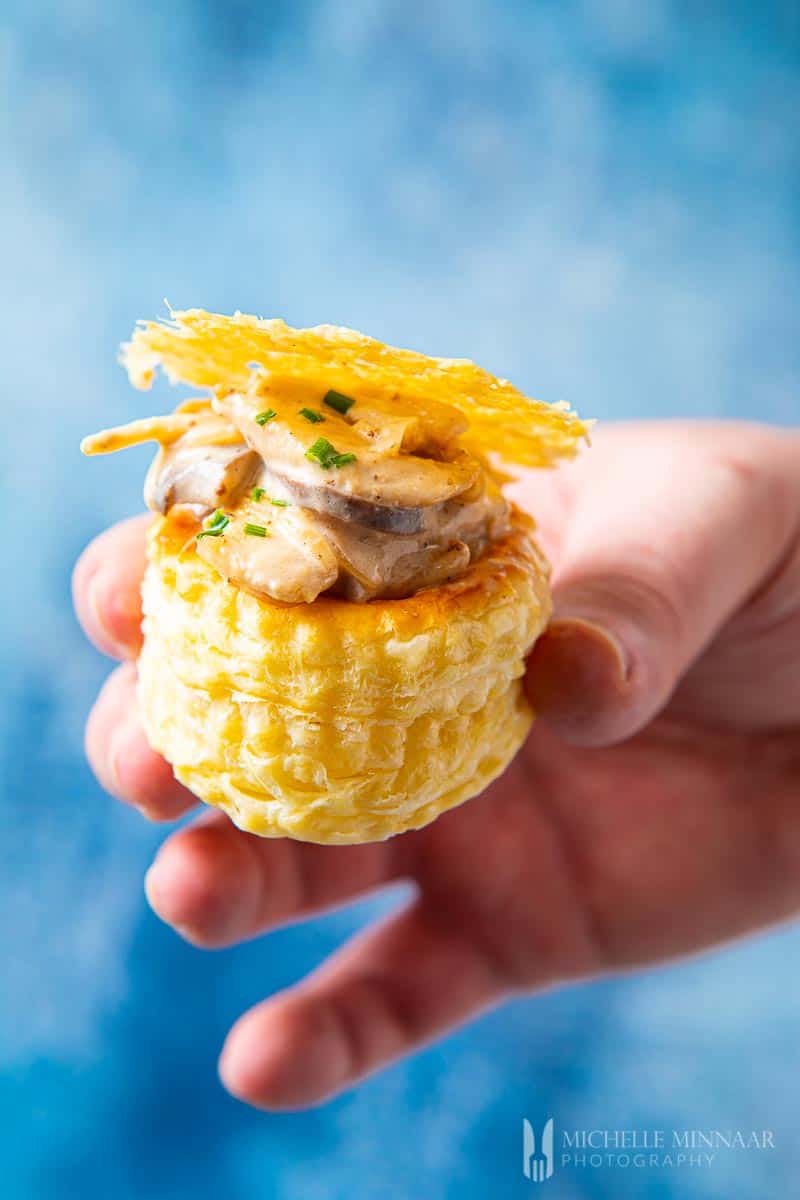 In essence, they are small round puff-pastries, which are filled with a savoury mixture. Generally speaking, it's with a meaty of white fish filling. If you are looking to serve complementary canapés, then try these mini salmon rissoles with sour cream and caviar.
Chicken and mushroom vol au vents with Parmesan
To make this chicken and mushroom vol au vents the best it can be, always go for authentic Parmesan cheese. One way to make sure you are dealing with the authentic King of cheeses, keep a look out for the P.D.O. (Protected Designation of Origin) certification, which certifies its origins and the standards used to make this delicious cheese.
about Parmigiano Reggiano
Parmesan, also known as Parmigiano Reggiano, is a hard and granular cheese. The latter is special because it is produced exclusively in specific provinces in Italy, as certified by the P.D.O certification.
These provinces include Parma, Reggio Emilia, Modena and parts of the provinces of Mantua and Bologna - a region enclosed between the rivers Po and Reno.
In this region, the forage is grown, milk is produced and processed into cheese. It is also a place where the cheese is matured and is packaged.
Parmesan cheese has been made in Italy since the year 1200, which means almost nine centuries of excellence. In 2018, 3 699 695 wheels of cheese were produced.
The average weight of one wheel is 39.9 kilos. Did you know that 13.5 litres of milk is needed to produce a kilo of Parmesan cheese? In 2018, there were over 2,800 farms supplying the milk.
Just imagine all the hard work and love that goes into your Parmesan cheese. This is why I also love cooking with it. For instance, I've made:
To learn more about Parmesan cheese, click here.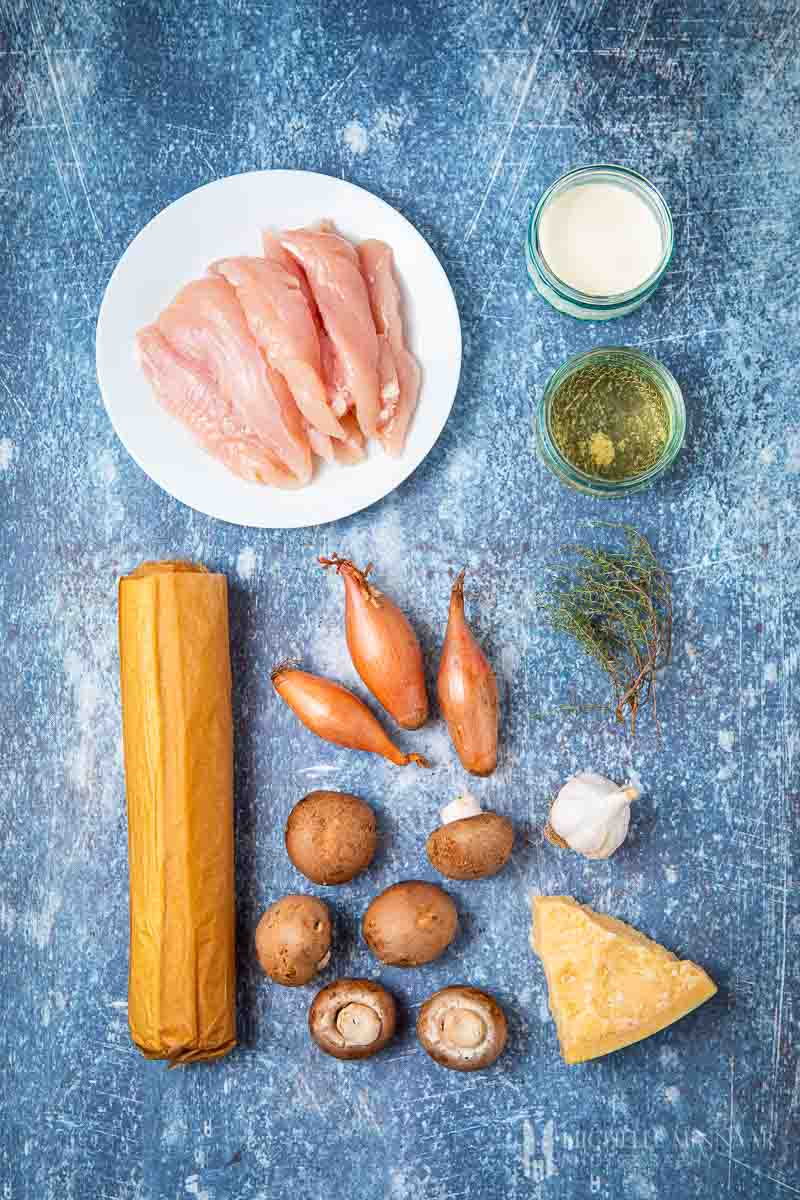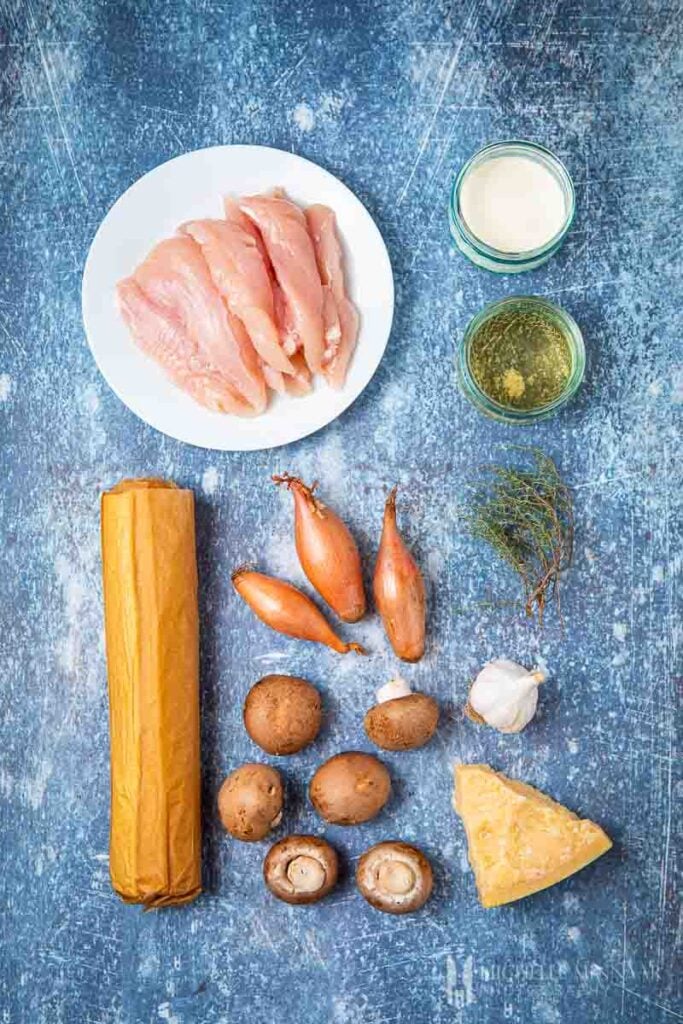 Chicken and mushroom vol au vents recipe
Here's a handy tip. To speed up the preparation process in the kitchen with this chicken and mushroom vol au vents, you don't have to make the puff pastry from scratch. Although, this would produce best results. However, there is no shame in using pre-made puff pastry. It truly is a time-saver.
The best part is that the puff pastry will not only help you complete the chicken and mushroom vol au vents, but if you have raw leftover pastry, you can create other types of recipes with it.
For instance, you can use the pastry to finish this game pie, this goat's cheese and beetroot tart or these ham and cheese puff pastry tartlets . Or better yet, make this irresistibly gooey camembert en croute.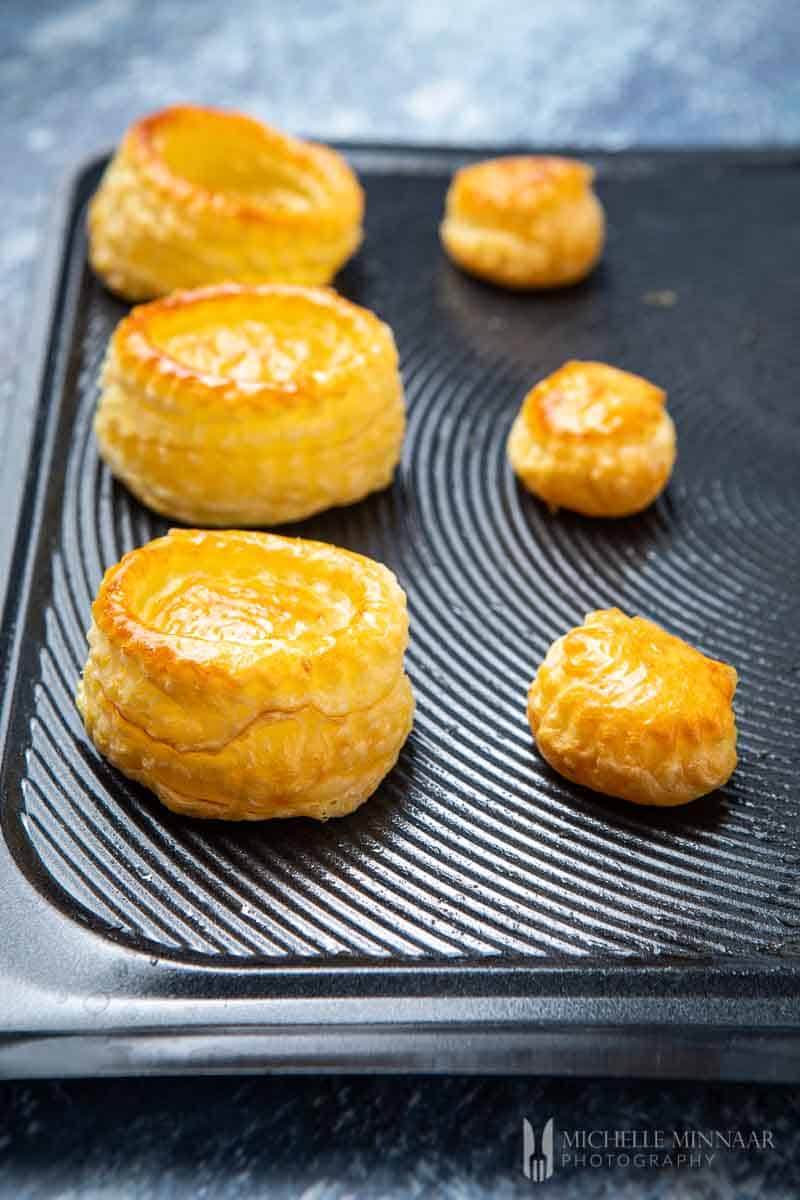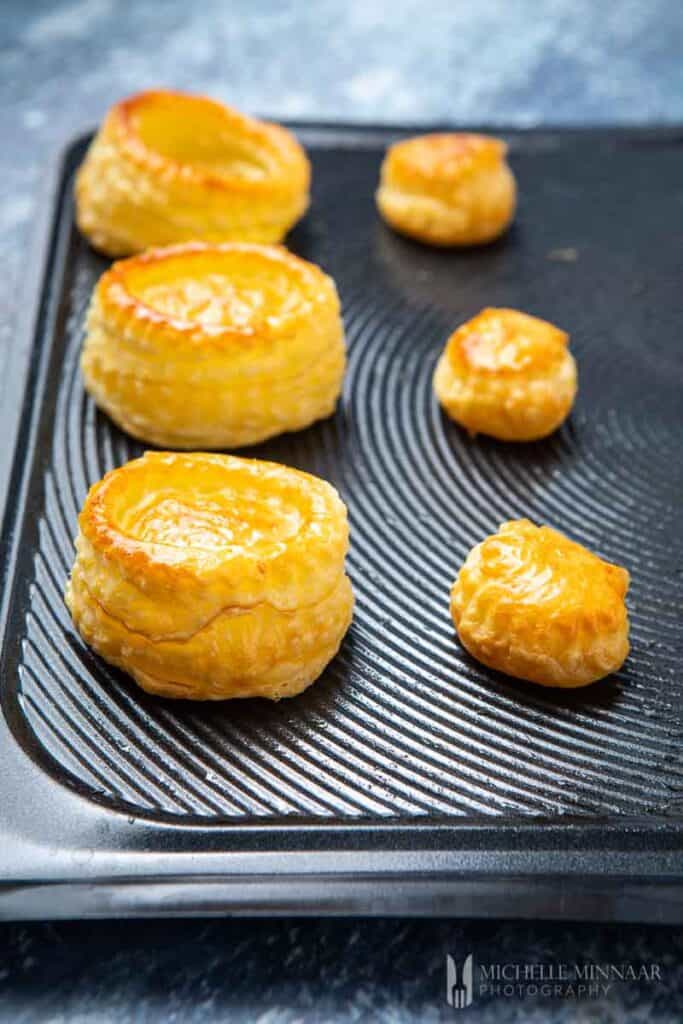 Chicken and mushroom vol au vent calories
These chicken and mushroom vol au vents are bite-sized. Therefore, even though they are rich in flavour, they are small in terms of portion size. There won't be any damage if you eat two or three of these babies.
If you want to still take precautions, then omit the cream in the filling and use stock instead. You'll be able to save a little on the calorie count.
How to make vol au vents fillings
The key to making the best type of filling for the chicken and mushroom vol au vents is to let the ingredients simmer on low heat. The longer you simmer the sauce, the better and more balanced will be.
Tip: For the mushrooms, brown them first. Don't crowd the mushrooms in the saucepan. Otherwise, they won't brown properly.
Tip: Add the cream when the saucepan is on low heat. Otherwise the cream will split and the chicken and mushroom vol au vents will be unappetising. Otherwise, take the sauce off the heat and wait for one minute. Then add the cream element.
Tip: Instead of using onions, use shallots instead. Shallots are more aromatic, and they release more fragrant flavours. That's why they are always used in sauces in chef's kitchens.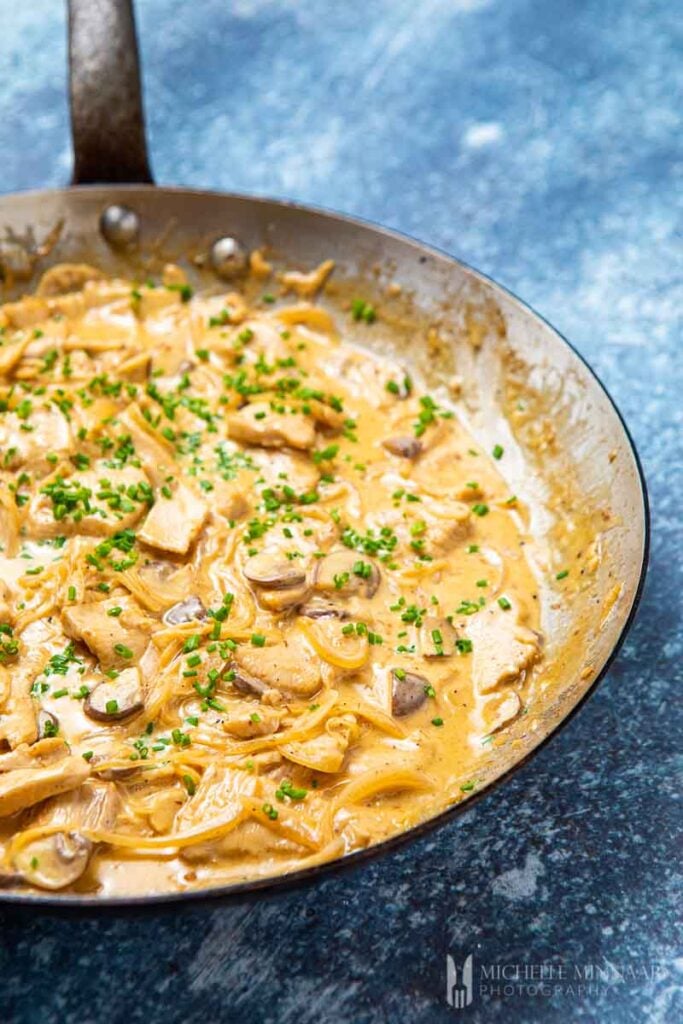 Vol au vent filling recipes
There are plenty of vol au vent fillings that resemble this chicken and mushroom vol au vents recipe or are equally as delicious. In fact, you can inspire yourself with the recipes mentioned below.
You can use any type of these pie fillings for a vol au vent recipe because they are interchangeable. My recommendation is that you make large batches of vol au vents.
Just alter the fillings and give your guests a bit of variety in terms of flavours. Which ones would you opt for?
Best toppings
To make my chicken and mushroom vol au vents truly stand out and be the best crowd pleasing starter, I topped them with my easy-to-make Parmesan crisps. They look sophisticated but any cook can pull it off.
All you need is high quality Parmesan - mature or young. Just remember to look for the P.D.O. seal to make sure that you are cooking with authentic Parmigiano Reggiano! It makes a world of difference.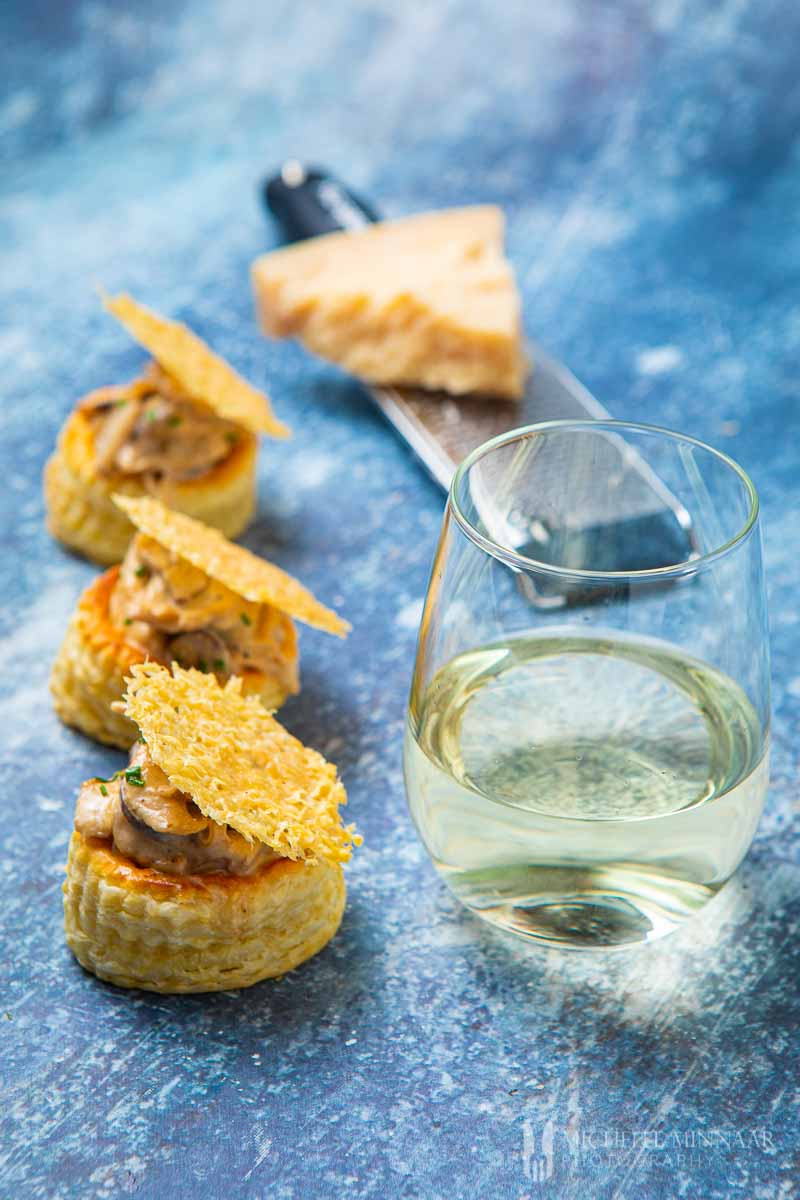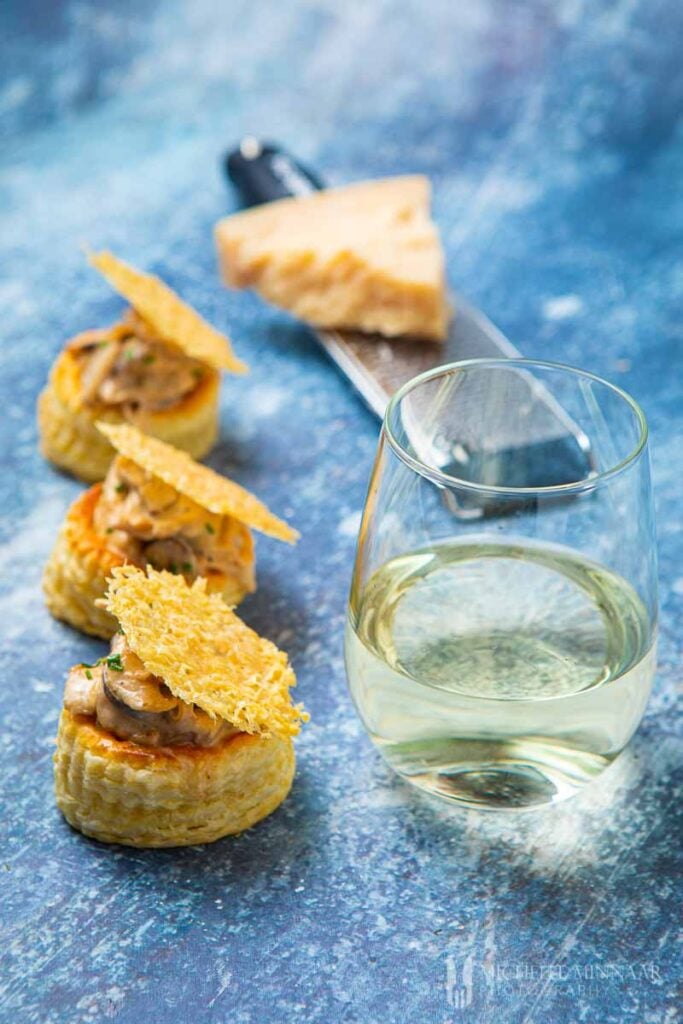 Here are some other delicious toppings you can consider for these vol au vents:
Parmesan cheese – adding freshly grated Parmigiano Reggiano is never a bad idea!
Pomegranate seeds – they provide a subtle sweet yet tart flavour, plus they make the vol au vent look elegant
Fresh herbs such as coriander, parsley, chives or watercress
Spring onions or scallions
Sweet corn for a sweet yet savoury flavour
If you love finger foods, you should definitely check out these stuffed cherry tomatoes.
Print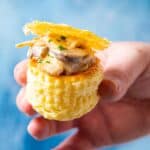 Chicken and Mushroom Vol au Vents
---
Description
Learn how to make these French chicken and mushroom vol au vents. They are small puff pastry cases with a creamy filling. Perfect canapés!
---
320g

(1 ready rolled) puff pastry sheet

1

egg, whisked

15

ml (1 tbsp) oil

15

ml (1 tbsp) butter

1

onion, peeled and finely chopped

1

chicken breast, cut into small pieces

250g

(3 cups) mushrooms, cleaned and thinly sliced

250

ml (1 cup) white wine

125

ml (1/2 cup) double cream

60g

(1/2 cup) Parmigiano Reggiano, grated

30g

(1oz) chives, washed and finely chopped
---
Instructions
Preheat the oven to 200

°

C / 400

°

F / gas mark 6. 

Line a baking tray with non-stick baking paper.

Cut out six round discs (7cm/3in in diameter) from pastry sheet.

Egg wash all of them and place on the baking tray.

Using smaller round cutter (4cm/1½in in diameter) cut each remaining disc.

Place these outer circle on top of base discs on baking tray.

Egg wash the vol au vents again and place in the oven for 15-20 minutes or until crisp and golden brown. Remove and set aside.

 

While the pastry is cooking, fry the onion with the oil and butter over a medium heat until softened and translucent.

Turn up the heat and tip in the chicken. Brown on all sides.

Add the mushrooms and cook for three minutes. 

Pour in the wine and let it sizzle until the liquid as halved.

Stir in the double cream and cheese. Season to taste.

Spoon into pastry cases and serve warm, sprinkled with chives.
Notes
[Optional] To give your recipe extra flair, you can top your vol au vents with Parmesan Crisps, as you can see in the photos.  

If you don't want to faff around, you can buy ready made puff pastry cases to save you time. 

The measurements provided in the recipe act as guidance. It truly depends on how big the pastry cutters are you are using for the recipe, i.e. how many servings you'll get. Use small ones for canapes, bigger ones for starters. 

It is quite likely that you'll end up with leftover filling. You can enjoy it with pasta or rice!
Prep Time:

30 minutes

Cook Time:

40 minutes

Category:

Starter

Method:

Bake

Cuisine:

French
Keywords: chicken and mushroom vol au vents, vol au vent filling, chicken vol au vent, French starter recipe, puff pastry recipe
PIN THIS RECIPE!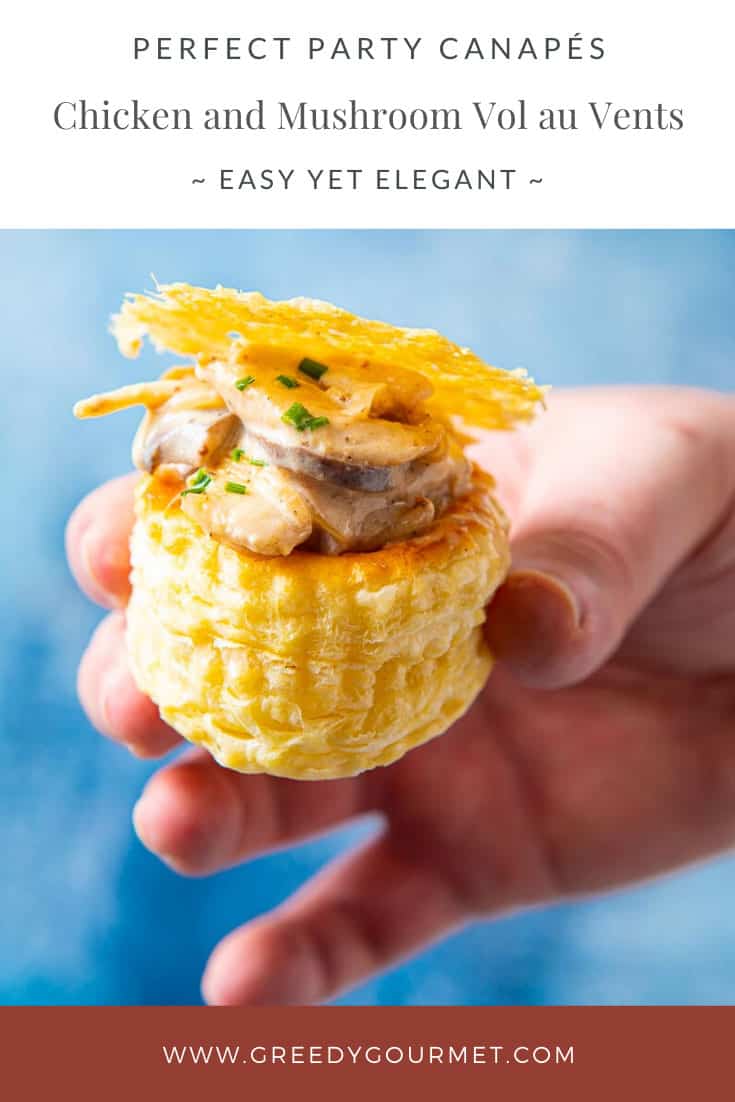 *This recipe is a sponsored post