It's no secret that I enjoy a good Indian dish, and Chicken Jalfrezi is one of my favourites. All in all, it's classic Indian cuisine at its best.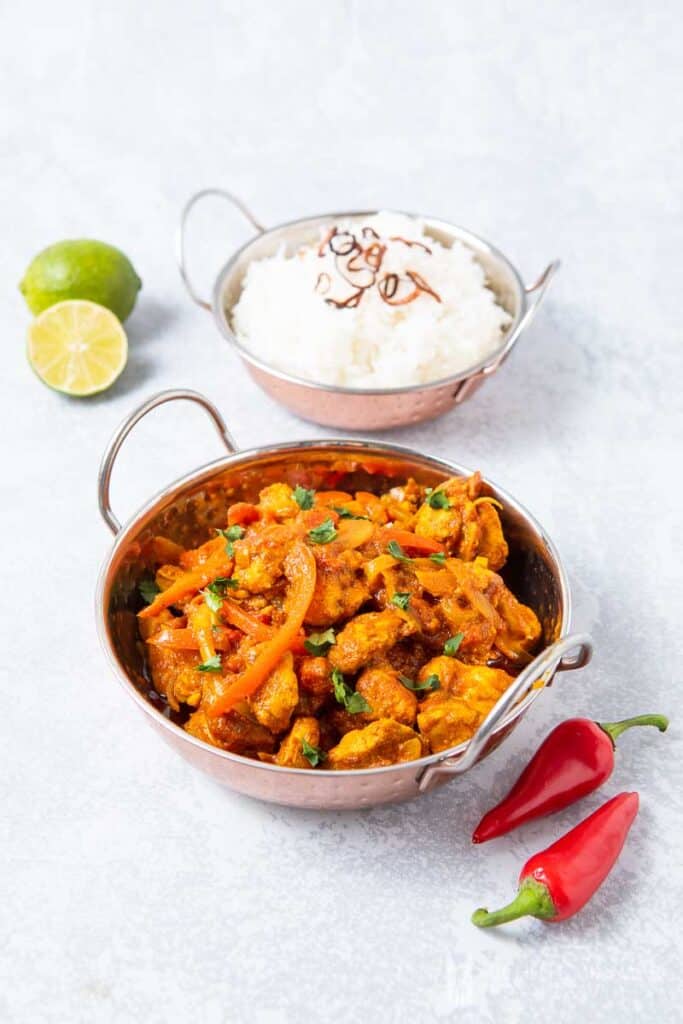 Chicken Jalfrezi is quick and easy to prepare. It is quite an inexpensive dish, so even if you are a student there is no excuse for not eating well!
Next time you consider Indian take-away food, think twice and try this Chicken Jalfrezi as your very own fakeaway instead.
To me, Chicken Jalfrezi is a perfect weekday meal that you can rustle up with a few basic ingredients after a long day. On the other hand, Chicken Jalfrezi is also a good Sunday dish, if you are not in the mood for spending the entire day in the kitchen.
In less than 40 minutes, you can have a homemade Chicken Jalfrezi ready to serve. Moreover, it's an easy recipe to scale up if you have more people to serve – enjoy!
how to make a jalfrezi curry
Here's a list of things you'll need to make a delicious Chicken Jalfrezi curry. Take a look below:
authentic chicken jalfrezi recipe
Chicken Jalfrezi is in essence an Indian curry dish believed to originate from the Bengal province. Early recipes clearly demonstrate that the jalfrezi was a method to use up leftovers such as meat and vegetables from the day before. No better way to combat food waste, would you say?
However, even if you use fresh ingredients instead of leftovers, there are still a number of variations you can try with a jalfrezi. For example, you can also try my lamb jalfrezi.
An authentic Chicken Jalfrezi is actually more of a stir-fry than a curry. The cooking technique of making a Chicken Jalfrezi curry was supposedly brought to India by the Chinese.
In any case, you only need a few ingredients, roughly chopped up and stir fried in a pan. Add spices and tomato paste and you have yourself an authentic Chicken Jalfrezi.
Moreover, the best part about making any Indian curry is to use the curry base sauce. It works for any type of Indian curry.
For instance, you can try making these other delicious Indian curries with the curry base sauce:
Want another Indian chicken recipe? Why not try my Easy Chicken Curry.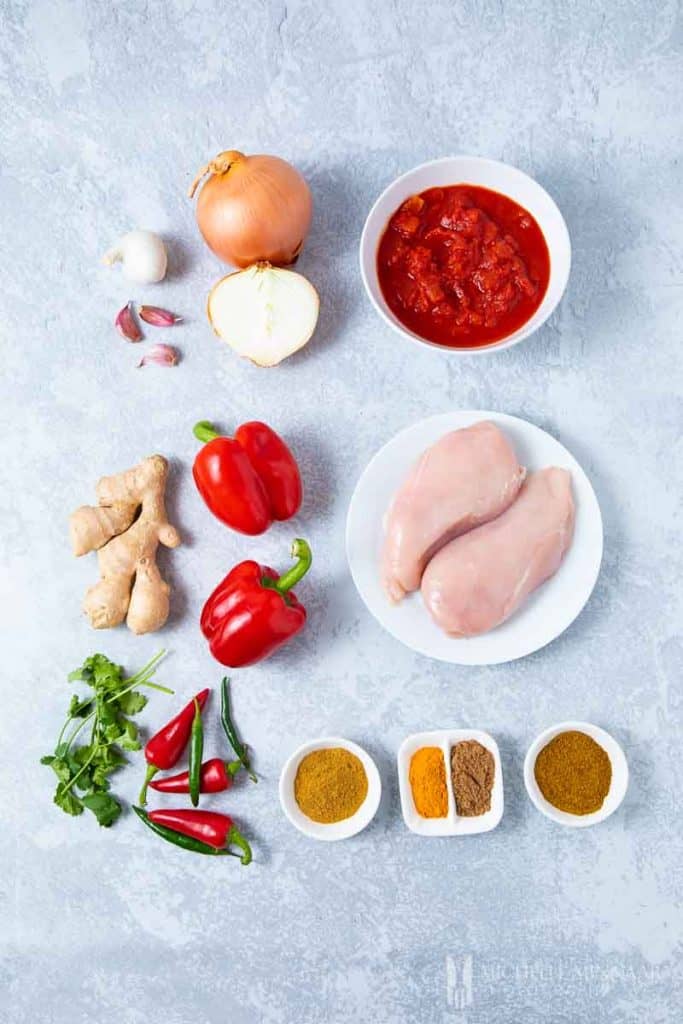 chicken jalfrezi calories
Because of the relatively lean ingredients and lack of cream that you have in other Indian dishes, Chicken Jalfrezi is actually quite low on calories.
A chicken tikka masala for example has around 70% more calories than this Chicken Jalfrezi. That means that you can feast on a delicious plate of homemade Chicken Jalfrezi without any guilt.
If you want to go even leaner, you can use turkey instead of chicken. Alternatively, you can go completely vegetarian, and substitute the meat with a filling vegetable such as cauliflower or diced-up sweet potato.
In addition, you can also consider paneer (Indian cheese) or tofu. On this note you can also check out my vegetable korma for another tasty, meatless Indian dish. As you can see, this Chicken Jalfrezi curry is very versatile.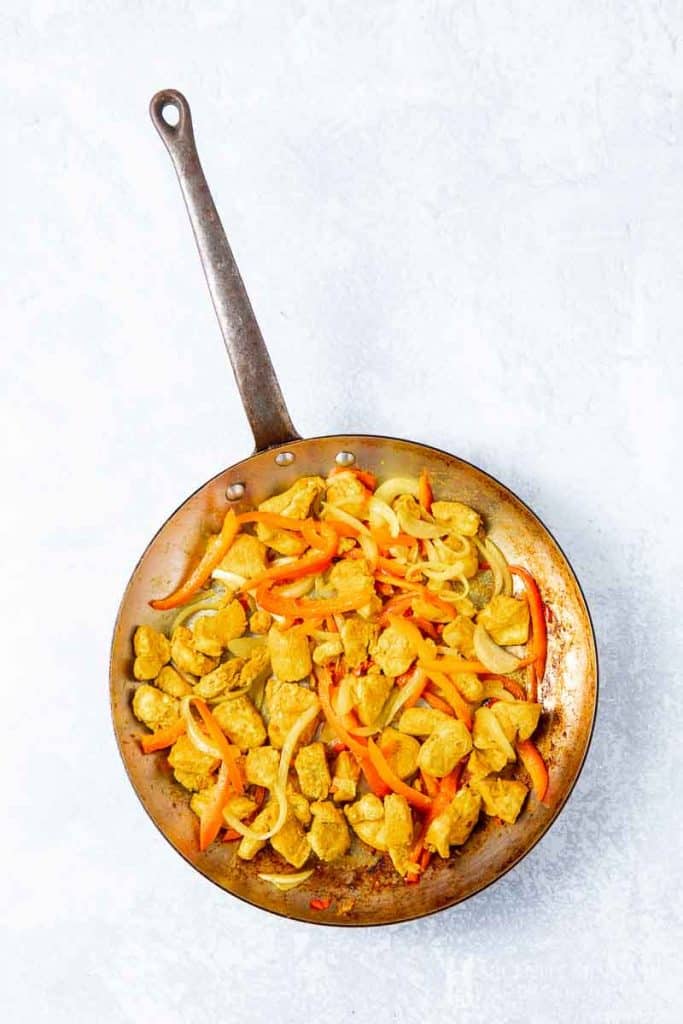 chicken jalfrezi yogurt
Like all Indian curries, Chicken Jalfrezi contains chilli. Since people have different levels of tolerance where chilli pepper is concerned, you should always adjust the recipe to your own taste.
My idea of spicy might not be the same as yours, so start with less and add more if you feel like the dish needs it. Tasting along the way is important!
If you can't get enough punch in your curry then, by all means, don't hold back with the chilli.
On the other hand though, if you enjoy a more moderate level of spiciness and end up with a jalfrezi that's too spicy, there is an easy solution. It is even a tasty one. Serve the Chicken Jalfrezi with a side of yogurt-based cucumber raita.
This will take the edge of the chilli, and cool down your tongue if needed. Not to mention that the cucumber raita is delicious on its own with just a bit of naan bread.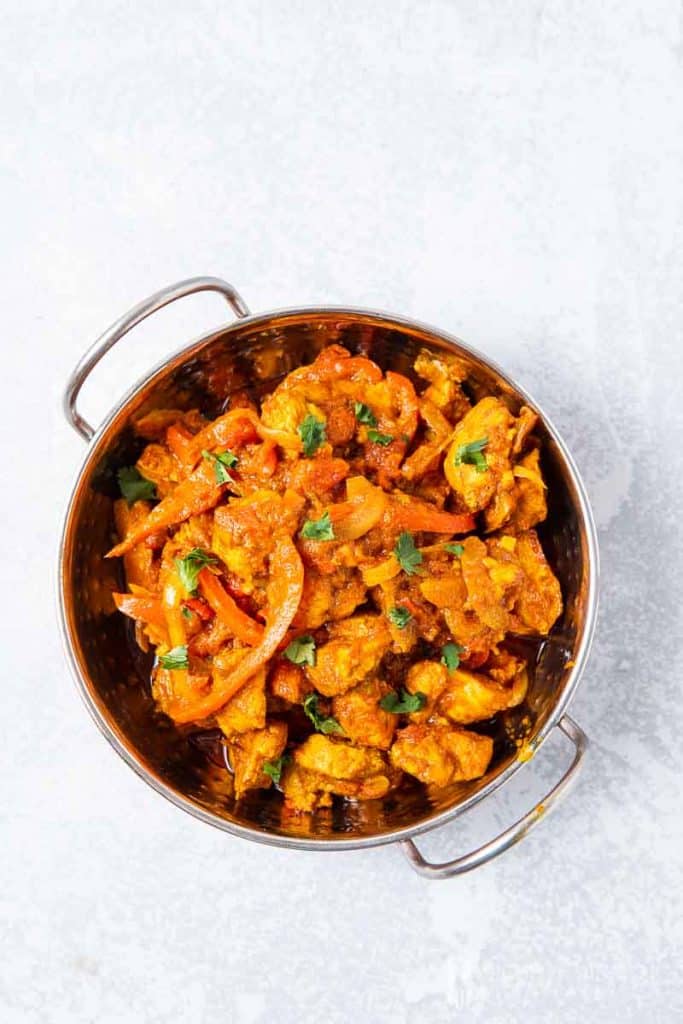 what to serve Indian curry with
The classic way to enjoy a good Chicken Jalfrezi is to serve it with a bowl of rice or a nice hot piece of naan bread. If you go with rice, try to put a couple of cardamom pods in the cooking water to infuse the rice with a more oriental flavour.
Make sure to use a good quality basmati or jasmine rice, to get the most enjoyable result. Add a scoop of butter after cooking to keep the rice nice and soft.
Many well-stocked supermarkets will have pre-baked naan bread available. These will just need a quick heat up in the oven, and you are ready to serve with the Chicken Jalfrezi.
That can be all right if you are pressed for time, however if you feel up for the challenge you can also try to make your own.
Here is my basic recipe for Peshwari naan, an extremely enjoyable side dish for any Indian curry. Try it out – it goes so well with a Chicken Jalfrezi recipe!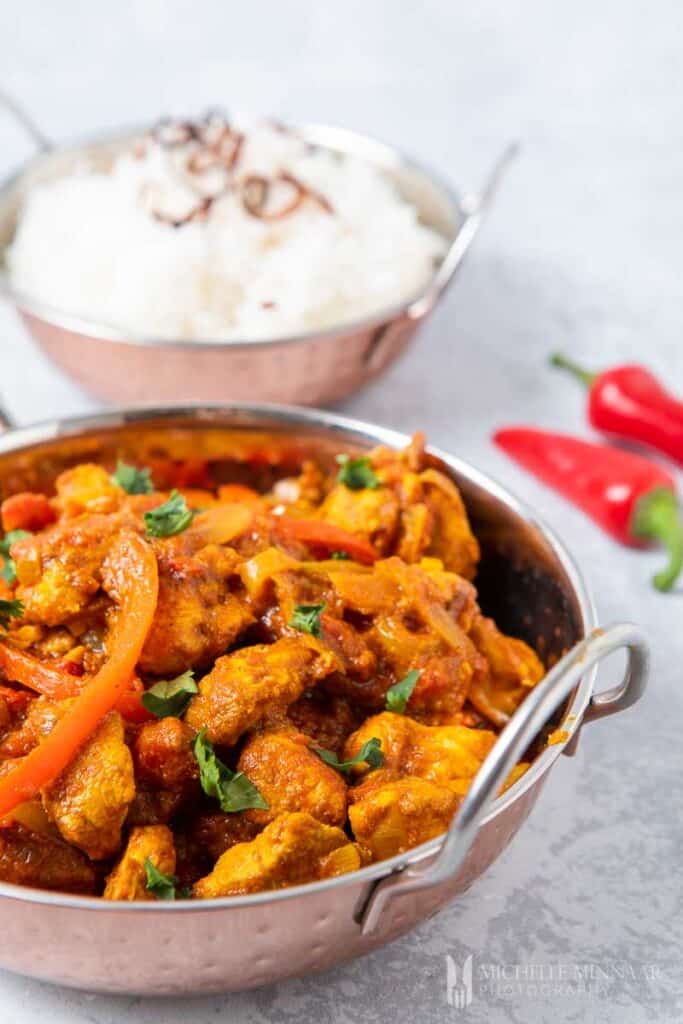 best toppings for curries
As with many dishes, this Chicken Jalfrezi will be lifted up by a touch of green sprinkled on top. The ideal topping is chopped fresh coriander leaves.
Personally, I love coriander, however it can be somewhat of a divider. So if you don't like it, or you have picky guests over, play it safe with normal parsley.
Alternatively, you can use chives, spring onions and scallions for a bit of freshness on top. Not only does the dish present better with a sprinkling of fresh herbs on top, it also tastes amazing.
Also, for some extra tips on which herbs to use as topping, have a look at my coriander substitutes.
Lastly, you can also add a dash of lemon juice or lime juice on top of this Chicken Jalfrezi curry.
How would you serve your Chicken Jalfrezi curry? Would you serve it with rice, naan or chapatis? Let me know in the comments section below.
Print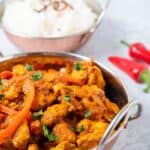 Chicken Jalfrezi
---
Description
This chicken jalfrezi curry is beyond delicious. It's a rich and spicy chicken curry that's best served sizzling hot.
---
600

g

(1 1/2lb) chicken breasts, chopped

20

ml

(4 tsp) ground cumin

20

ml

(4 tsp) ground coriander

20

ml

(4 tsp) ground turmeric

15

ml

(1 tbsp) ghee or oil

1

large onion, peeled and sliced

3

garlic cloves, peeled and crushed

2.5

cm (1in) fresh ginger root, peeled and grated

1

green chilli, washed and finely sliced

2

red peppers, washed and sliced

400

g

(1 can) chopped tomatoes

10

ml

(2 tsp) garam masala
---
Instructions
In a large bowl, coat the chicken pieces with cumin, coriander and turmeric. Leave in the fridge to marinate while you're busy preparing the other ingredients and gravy.
In a large frying pan, gently cook the onions in the oil for 5 minutes or until softened.
Turn up the heat and add the garlic, ginger, chilli and red peppers. Continue to stir fry for 2 minutes.
Add chicken to the mix and fry until all areas of the chicken are sealed.
Pour in the tomatoes, stir and let the chicken curry reach a slow simmering point.
Cover with a lid and continue to cook for 20 minutes. Check in on the curry every once in a while to ensure that the gravy doesn't dry up. If it does, add a splash of water to loosen it up again and continue to cook.
At the end of cooking time, stir in garam masala and season to taste.
Serve with your favourite Indian accompaniments. Enjoy!
Notes
If you're like me, and don't like tomato chunks, blitz the canned tomato in a food processor until smooth.
Prep Time:

15 minutes

Cook Time:

40 minutes

Category:

Curry

Method:

Pan Fry

Cuisine:

Indian
Keywords: chicken jalfrezi, jalfrezi recipe, indian chicken curry, jalfrezi sauce