Chicken kasha Bengali style is a flavourful dish and a definite winter warmer, as any Indian curry recipe. It combines beautiful ingredients in a thick spicy gravy. Once you try a spoonful of this authentic chicken kasha recipe, you'll be coming back for more and more each time. You can serve it in the traditional way as a side dish. Or double-up in portion size and serve it as a main course. To learn how to prepare chicken kasha, keep reading. You'll see that a chicken kasha is just shy of a plain chicken curry recipe.
Before you start to cook, be sure to double check whether you have all the spices and herbs you need to complete the recipe. I know that this chicken kasha calls for a lot of ingredients, so it's not the cheapest dish. However, once you buy all the herbs and spices, they will last you for ages. It's all about the initial investment. Once you have everything, remaking the chicken kasha will be a piece of cake.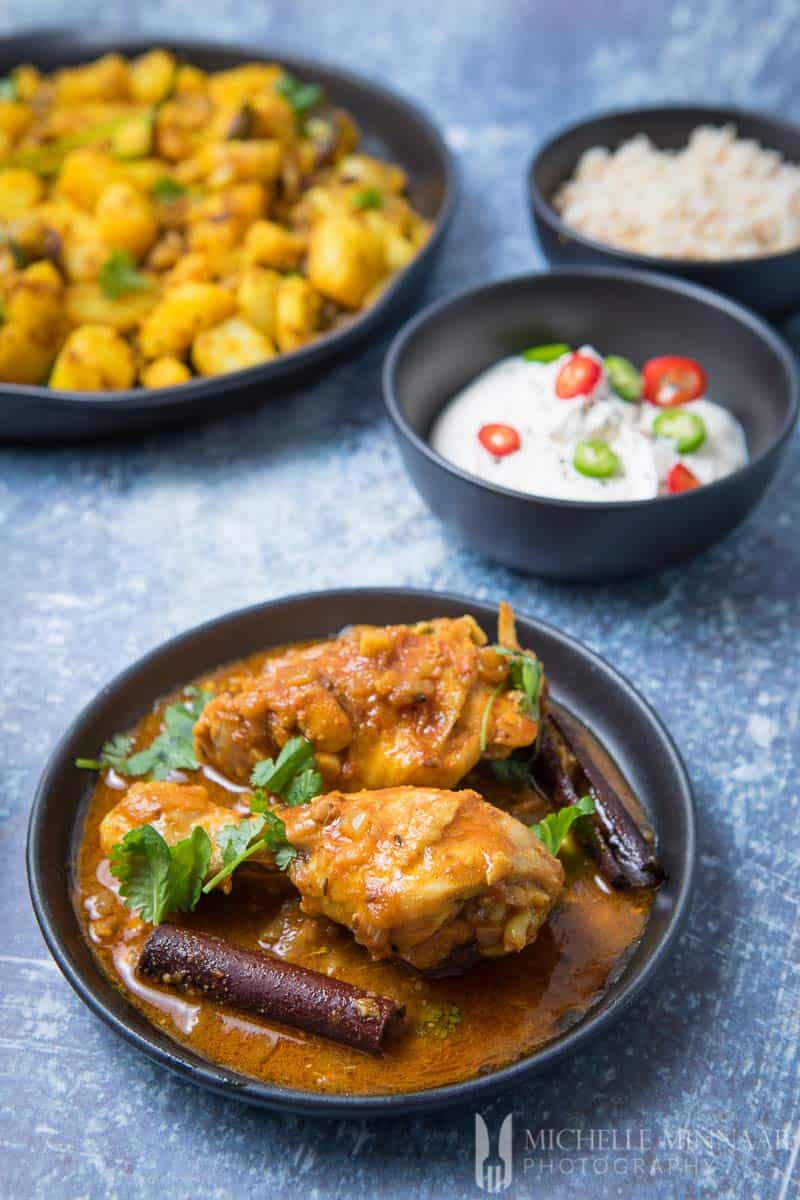 best Bengali chicken kasha recipe
Chicken kasha is an authentic Bengal recipe that has deep roots imbedded in the Bengal culture. The chicken kasha is a very rich and spicy chicken curry, with a thick consistency. The term kasha translates to dry gravy or a gravy which has a drier consistency. Commonly, in other parts of Bengal, people also refer to the chicken kasha as kosha. This authentic recipe is one of those that every Bengal family cooks and adds thier own spin to it. In addition, it's very popular to serve this dish during holidays and most Bengali festivals. These include the Durga Puja, Rath Yatra and much more.
Prior to mastering an authentic recipe, such as this chicken kasha, I like to find out as much information as possible about the cuisine itself. I find that this sharpens my skills as a cook and connects me more to the dish I am trying to make. Bengali cuisine is native to the eastern Indian subcontinent, somewhere between Bangladesh and West Bengal. Bengali dishes are known for their fiery and spicy nature. What differs Bengal cuisine from traditional Indian cuisine is the fact that you serve the food course by course rather than taking the "all at once" approach.
Due to the fact that historically Bengali people were always hunters, the signature meat includes fish and goat. Sometimes even water buffalo. The signature staple, on the other hand, is the rice.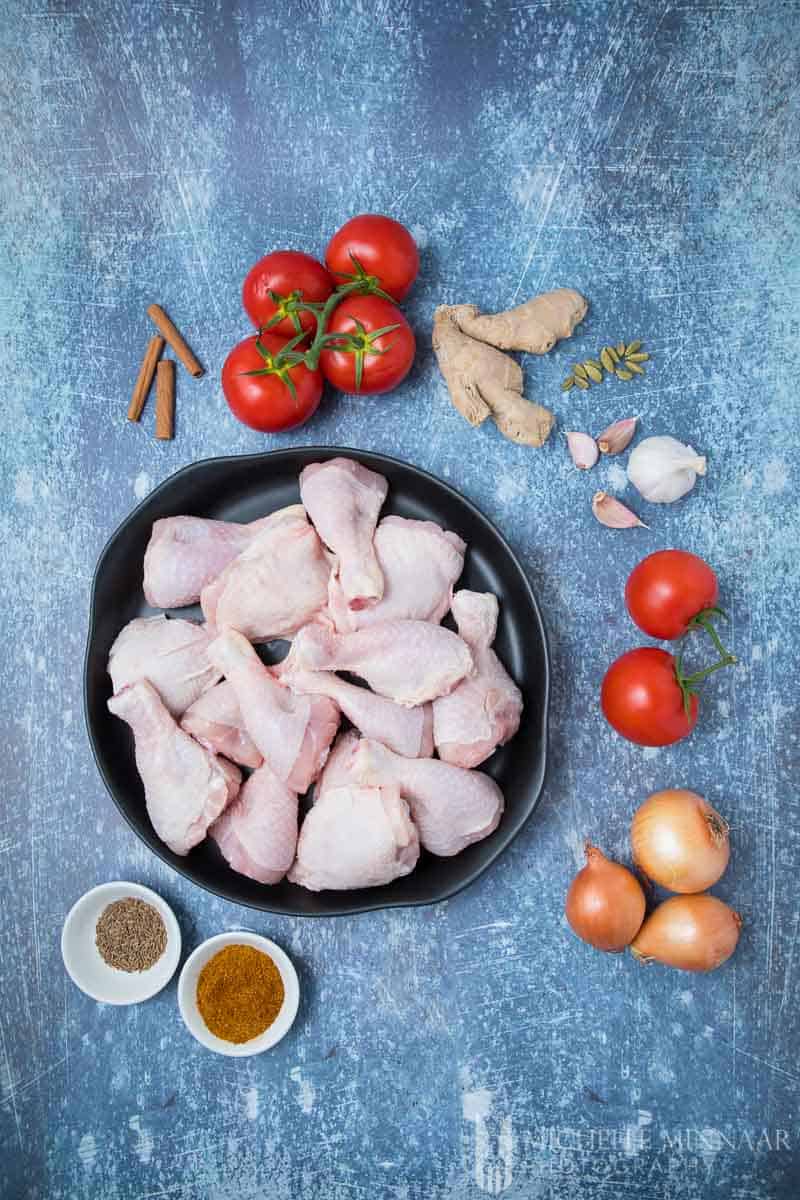 authentic chicken kasha Bengali style
Nonetheless, because the Bengal region consists of a lot of rivers, the traditional choice of protein would be sweet water fish. These fish are mostly caught in the Ganges delta and they are often smoked and have various spice rubs on them. These types of fish include shorshe lish (smoked fish with mustard seed paste), or fried rui (fish from carp family). In fact, it's common to cook with over 40 different types of fish. If you want to make your chicken kasha recipe as close as possible to the real Bengali recipe, just substitute the chicken with carp.
However, I recommend keeping the chicken at it works perfectly with the rich flavours of the curry. The chicken kasha tastes especially exceptional with the inclusion of brined chicken breasts. If you know how to brine chicken, then you understand why the brining process is so important. The end result is juicy and moist. It is perfect for making the chicken kasha recipe as the recipe calls for a long simmering process. Remember, the more you let the curry simmer, the better all the ingredients will fuse together.
chicken kasha recipe step by step
You need to follow this recipe step by step, as every single ingredient leaves an impact. Add the spices and herbs as the recipe instructs for maximum flavour. The key part of mastering a chicken kasha recipe is adding an appropriate amount of the ginger-garlic paste. This paste acts as the main element that binds all spices together. Often, cooks add a hint of onion paste to dilute it and add even more flavour. I recommend adding the onion paste to any type of curry recipe. Even a more intense one, like this beef kofta curry recipe.
Next, if think that the flavours of the ginger and the garlic are already creating enough spice, then leave out the chili element. You can opt for adding the chilli powder in small portions or leave it out completely.
If you enjoyed making this paste, then I also think you'll enjoy learning how to make korma curry paste from scratch. You'll be able to recreate an amazing chicken korma recipe.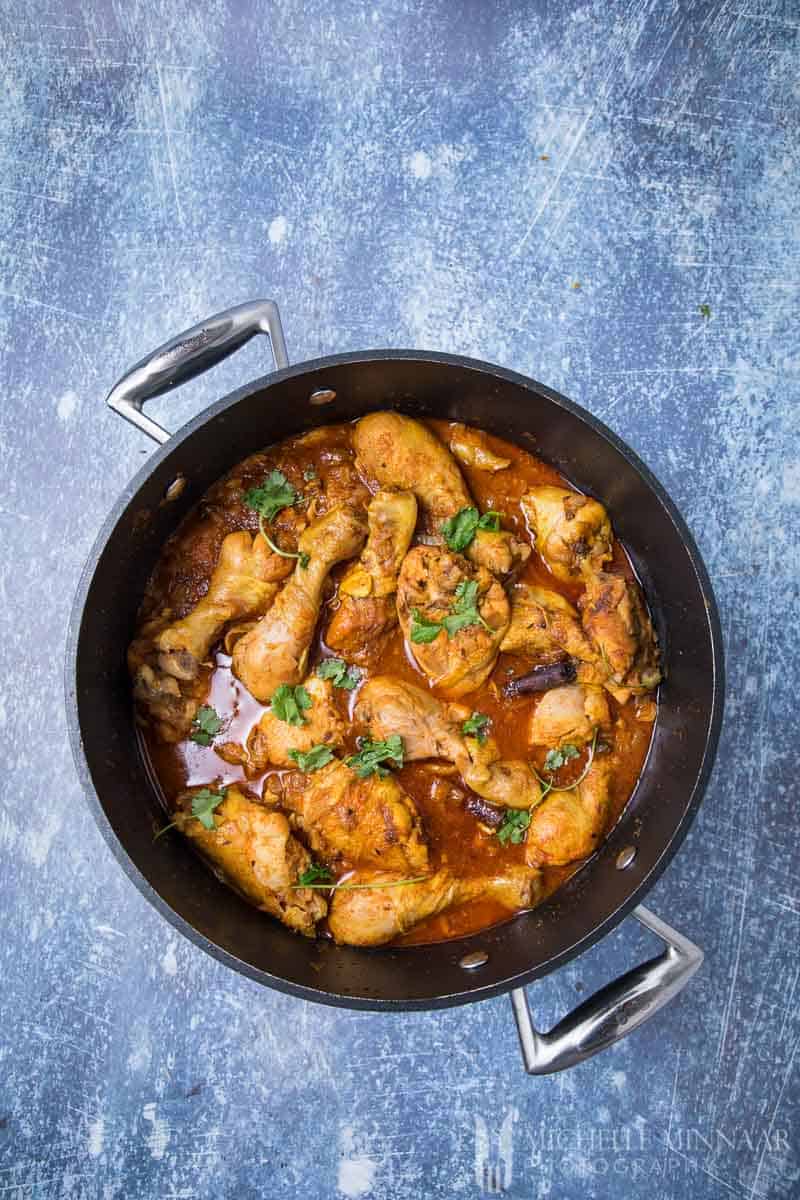 chicken kasha recipe restaurant style
To make the chicken kasha a stand out recipe, the secret lies in the serving process. The traditional way how to serve a Bengal curry dish is in a deep serving plate. This will allow you to fill the dish up with the spicy thick gravy. Place the bits of the chicken on the top as they make the curry more appealing and rich. Next, cut up some fresh chillies and fresh coriander leaves and sprinkle throughout. With the addition of these, the chicken kasha will look as vibrant as ever.
how to serve Bengal chicken curry
I recommend serving a small bowl of rice on the side or hide the rice underneath the actual gravy. What better way to enjoy the chicken kasha than in the traditional way? Otherwise, feel free to serve the chicken curry on a normal serving plate. It won't affect the actual taste of the curry, so there is nothing to worry about.
You may also choose to serve the chicken kasha recipe with rotis or naans. In fact, if you have one of those roti making machines, I highly recommend you consider serving them alongside the curry. To bring down the heat of this curry, try this traditional peshwari side dish. You can learn more about the how to make rotis in this prawn puri recipe.
Print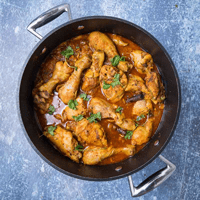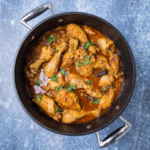 Chicken Kasha
---
Author:

Michelle Minnaar

Prep Time:

15 minutes

Cook Time:

2 hours

Total Time:

2 hours 15 minutes

Yield:

4

1

x
Description
Chicken kasha is an authentic Bengal dish. It's a spicy chicken gravy which is thick and semi-dry. Replicate this chicken kasha recipe Bengal style. Enjoy.
---
Scale
Ingredients
30

ml (2 tbsp) oil

600g

(

1

½lb) chicken drumsticks and thighs

4

cardamom pods, crushed

1.25

ml (¼ tsp) cumin seeds

5

cm (2in) cinnamon stick

4

onions, peeled and sliced

6

garlic cloves, peeled and crushed

2.5

cml (1in) fresh ginger, peeled and grated

2.5

ml (½ tsp) ground coriander powder 

2.5

ml (½ tsp) chilli powder

1.25

ml (¼ tsp) turmeric

2

large tomatoes, washed and pureed

5

ml (1 tsp) garam masala 
---
Instructions
Heat the oil in a large saucepan and brown the chicken in batches. Set aside.
In the same saucepan, gently fry the cardamom, cumin and cinnamon until their flavours are released, which should take around 5 minutes.
Add the garlic, ginger and onions. Continue to fry them for 5 minutes or until softened.
Add the coriander, chilli and turmeric. Give the mixture a stir.
Pour in the tomato puree, stir and let the sauce reach a bubbling point.
Place the chicken pieces in the sauce, cover the sauce with a lid and let it slowly simmer on a low heat for 90 minutes or until tender. You may need to add a bit of water if there isn't enough liquid in the curry.
Sprinkle with garam masala and season to taste.
Serve with pilau rice, naan and raita.
---
Notes
In some variations, potato is added to the curry.
Category:

Main Course

Cuisine:

Indian
Nutrition
Serving Size:

1 serving

Calories:

424

Sugar:

7.2 g

Sodium:

133 mg

Fat:

26.7 g

Saturated Fat:

6.3 g

Carbohydrates:

18.1 g

Fiber:

4.5 g

Protein:

30.6 g

Cholesterol:

126 mg
save the recipe to your pinterest board