A chicken korai is a slow cooked curry that's popular in India, regions of Bangladesh as well as Pakistan. It comes in all variation and is generally made with meat, such as chicken or lamb. However, a vegetarian korai curry is also possible, which is equally delicious and flavourful.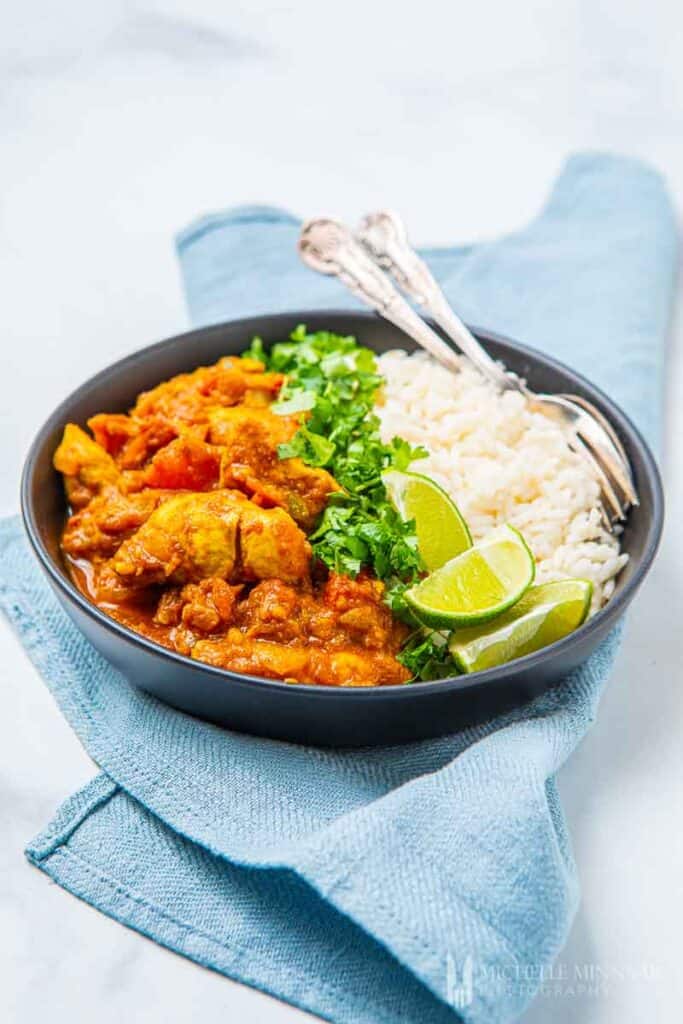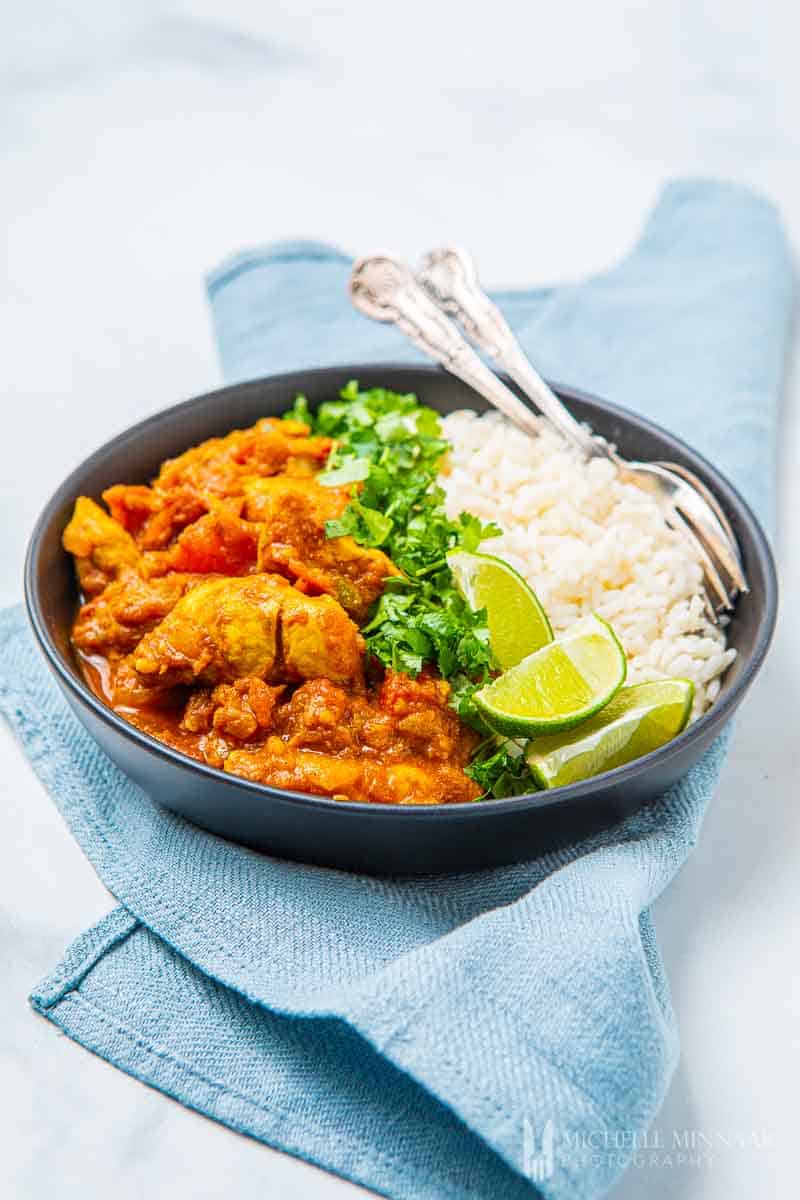 A korai dish such as this chicken korai, is typically made in a karahi pot. Therefore, you might actually know chicken korai as chicken karahi curry.
Other names for this curry also include chicken kadai or chicken kadhi. Do any of these names sound familiar? Generally speaking, chicken korai or chicken karahi is one of the most popular chicken curries in restaurants or takeouts.
Altogether, this curry will only take you about an hour to prepare and cook. So, as you can see, it's quite a simple Indian curry recipe. You can make this fakeaway dish on any night of the week!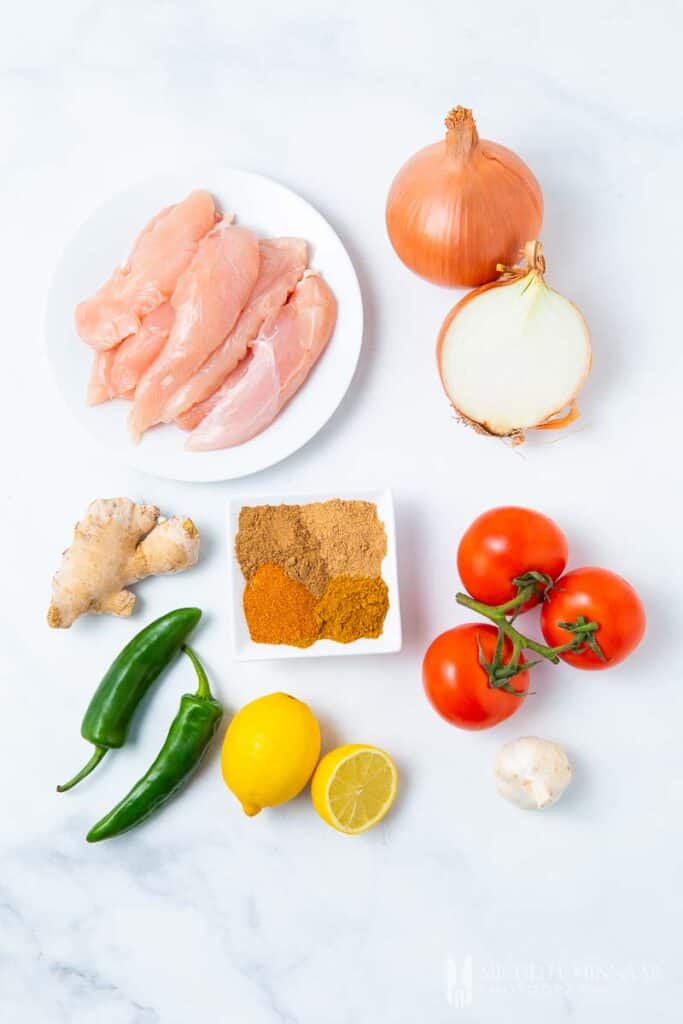 chicken korai recipe
As always, a chicken curry like this chicken korai depends heavily on the type of Indian spices you use. Ordinarily, to make my curry base sauce, I depend heavily on high quality spices. Sometimes, it's quite challenging to find to find premium and fresh spices with much oomph and fragrance.
However this time, fortunately, I came across Steenbergs!
Steenbergs is a family-run company based in North Yorkshire, which was established in 2003. They offer organic teas, spices, herbs, organic stuffing mixes, wellness products, home-baking extracts, flower waters as well as other cooking ingredients.
Being highly committed to Fairtrade, all of their products are ethically sourced, organic, and environmentally-friendly. Above all, the products have excellent flavours and powerful aromas to help you create vibrant dishes like this chicken korai.
Did you know that Steenbergs introduced the first Fairtrade and organic vanilla extract to the UK and in Europe in 2007? Also, Steenberg is responsible for introducing the 1st Fairtrade saffron to the UK.
Overall, whether you would like to cook Indian dishes with exceptional spices, drink delicious teas or create fabulous baked goods, Steenbergs has something for everyone.
To learn more about Steenbergs, click right here.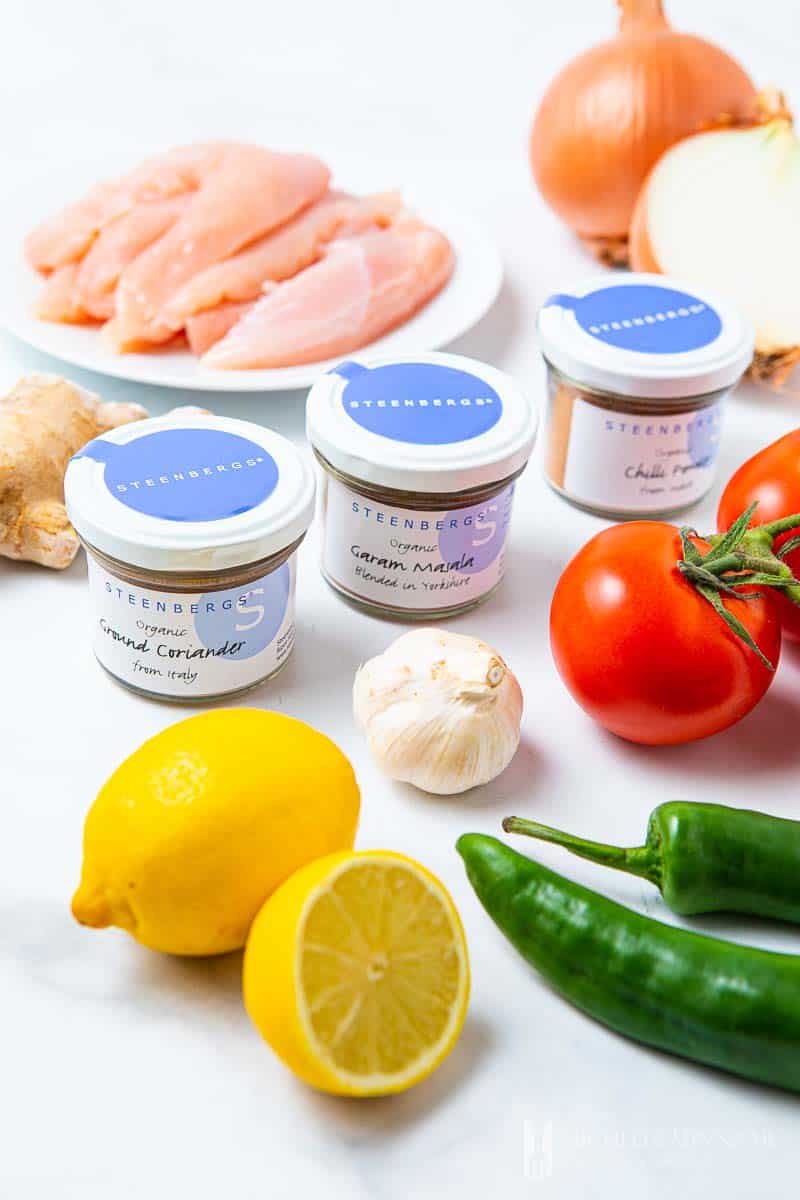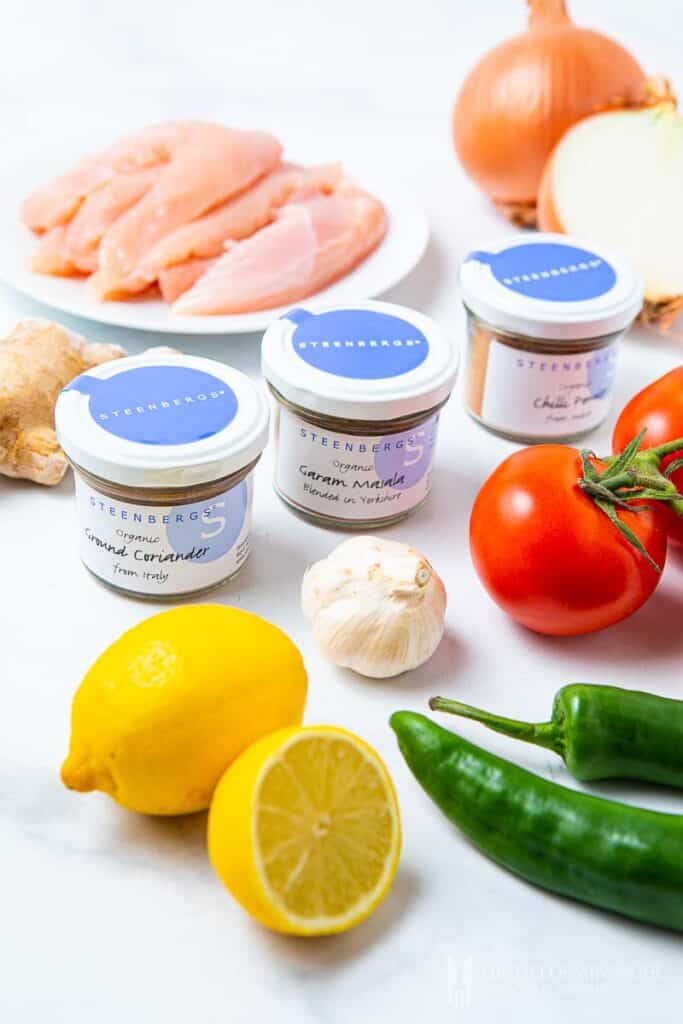 best spices for Indian chicken curry
There are three spices from Steenberg's that ultimately made this chicken korai a total sensation.
Steenbergs organic garam masala
Garam masala is a traditional blend of Indian spices. It is a sweet combination based around Punjabi recipes that lack the characteristic "curry" notes of cumin, coriander and turmeric. Therefore, it is perfectly versatile with other curry recipes, especially mild ones.
If you want to add more flavour to the chicken korai, you can play around with the ratios for more impact. All in all, I love this ayurvedic spice blend.
Steeberg's organic chilli powder
This chilli powder is made with dried organic chillies. Don't confuse this chilli powder with other varieties like the Mexican ones which contain herbs and cumin.
In terms of heat, it contains roughly 50,000 Scoville heat units making it medium-spicy. Again, depending on your preferences, you can tweak the heat levels. If you are not a fan of chilli powder, you can also consider these 15 chilli powder substitutes.
Steenberg's organic ground coriander
Ground coriander is simply a must when it comes to Indian cooking. This spice is known for its sweet lemony flavour. Again, if you are not a big fan, you can consider these coriander substitutes.
Nevertheless, I recommend you stick to Steenberg's organic spices. They are top quality.
If you love chicken curries, you might also want to check these out:
So, why don't you try some of these chicken curry dishes with the Steenberg's organic spices? You'll notice the difference!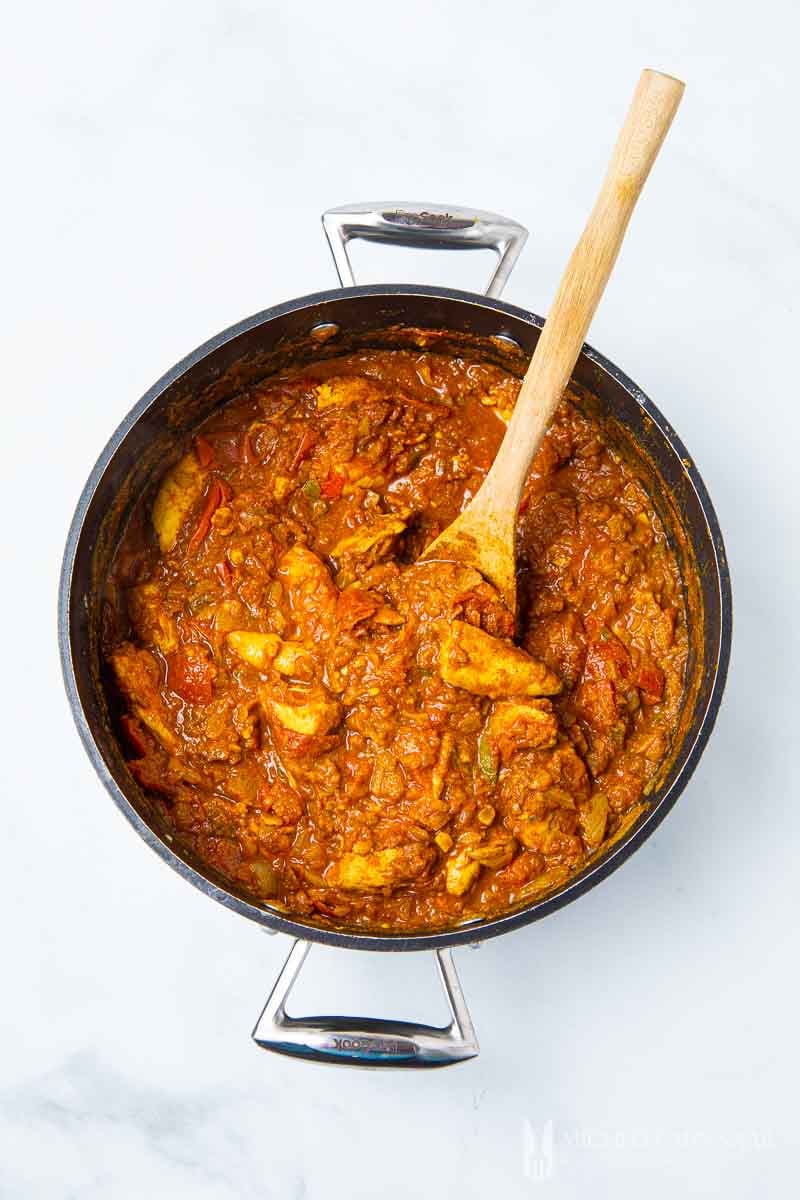 Is chicken korai hot?
In essence, a korai curry recipe can have medium to high levels of heat, depending on whether you use extra green chillies. However, it is not uncommon to find milder versions of this curry on restaurant menus.
So, feel free to adjust this chicken korai recipe to your liking. If you like it hot, you'll love the recipe below!
Korai lamb
Another reason why I adore a simple korai recipe like this one is its versatility. You can substitute the chicken with practically any type of meat. The closest and leanest alternative to chicken is turkey.
Simply toss in strips of turkey breast towards the end of the cooking process. Turkey meat tends to cook rather fast. All the meat needs is to simmer for a total of five to eight minutes.
However, for best results, I recommend turning this chicken korai into a lamb korai recipe. The lamb adds a lovely intensity to the overall flavours.
You can also consider beef, prawns, or paneer - an Indian cheese. Otherwise, you can also just make a vegetable-based korai.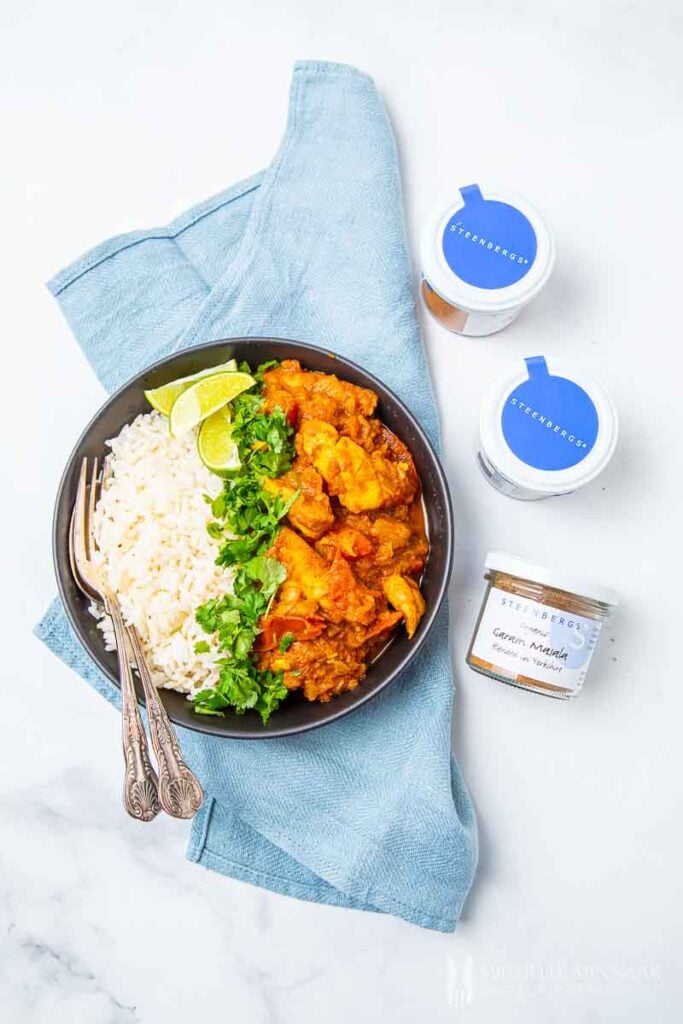 Best toppings for chicken curry
Here are my favourite toppings for chicken curries like this chicken korai recipe or a simple chicken curry.
Fresh coriander leaves or fresh parsley
Grated coconut for that extra crunch
Fresh red or green Indian chilli peppers - best sliced thinly
Thin slices or stripes of chicken
Sweetcorn
Lime juice or lemon juice for a hint of acidity
Sometimes, you can also find exotic fruit on top of curries to add more complexity to them. For instance, you can add fresh pineapple to this chicken korai. Pineapple also works very well with this chicken dhansak recipe.
Remember to serve your chicken korai with traditional Indian side dishes. These include white jasmine or basmati rice, naans, rotis or chapatis.
How would you serve your chicken korai? Let me know in the comments section below.
Print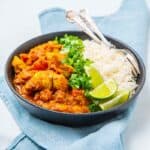 Chicken Korai
---
Description
A chicken korai is also known as chicken karahi, chicken kadai or chicken kadhi. With the right spices, you can easily replicate this chicken curry recipe.
---
30

ml

(2 tbsp) vegetable oil

2

onions, peeled and sliced

2.5

cm (1in) fresh ginger root, grated

4

garlic cloves, peeled and crushed

2

green chillies, washed and finely chopped

1

kg

(2lbs) boneless and skinless chicken thighs, chopped

5

ml

(1 tsp) Steenbergs ground turmeric

30

ml

(2 tbsp) Steenbergs mild curry powder

10

ml

(2 tsp) Steenbergs Kashmiri chilli powder

15

ml

(1 tbsp) Steenbergs ground coriander

1

kg

(2lbs) tomatoes, washed and chopped

30

ml

(2 tbsp) tomato paste

30

ml

(2 tbsp) lemon juice

30

ml

(2 tbsp) garam masala
Fresh coriander leaves, for garnishing
---
Instructions
Heat the oil in a large frying pan. 
Gently fry the onions for 10 minutes or until they have softened.
Add ginger, garlic and chillies. Fry for 3 minutes, then turn up the heat.
Tip in the chicken chunks and fry constantly for about 3 minutes until all sides are browned. Turn the heat to a low setting.
Stir in all the Steenbergs spices - turmeric, curry powder, chilli powder and coriander. 
Add the tomatoes, stir,  then simmer the curry at a low bubbling point for 15 minutes.
Stir in the tomato paste, lemon juice and garam masala. Cook for another 5 minutes.
Sprinkle with coriander leaves and serve with favourite Indian accompaniments, such as Peshwari Naan and Raita.  
Notes
You can use chicken breast instead of thigh, but it won't be as flavoursome.
Warning: this curry is HOT and not for the faint-hearted. When making this for the first time, go easy on the fresh and dried chilli. 
Prep Time:

15 minutes

Cook Time:

45 minutes

Category:

Curry

Method:

Pan Fry

Cuisine:

Indian
Keywords: chicken korai, korai recipe, indian chicken curry, indian takeaway chicken recipe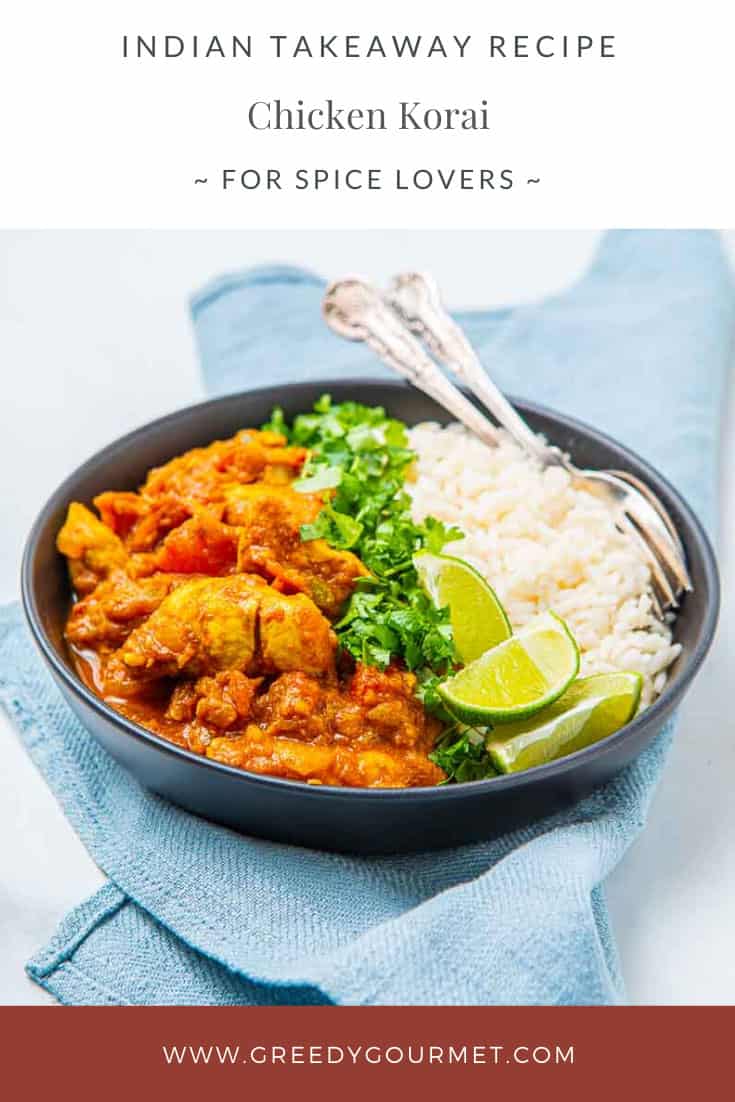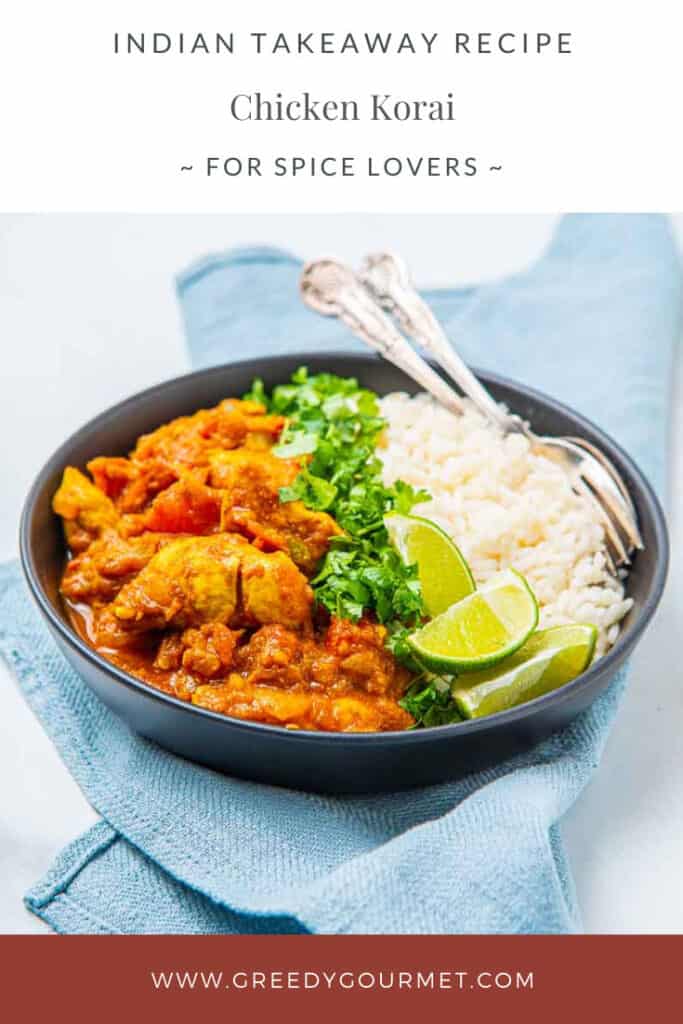 P.S. This is a sponsored post.