A chicken pasta recipe or chicken parmesan dish is an Italian classic. If you fancy any of the aforementioned dishes, then you'll love this chicken pesto pasta recipe. Chicken pesto pasta combines three ingredients that I love dearly: chicken breasts, homemade pesto and homemade fusilli pasta.
Naturally, as with any Italian dish, this chicken pesto pasta recipe is best when you make it from scratch. Of course, if you are pressed for time you can cheat with the store-bought stuff because it will speed things up in the kitchen. However, making the pesto as well as the pasta from scratch is a piece of cake, especially if you've got the right equipment.
As this recipe proves, you only need humble ingredients to make a spectacular dinner. What's best is that you can alternate between different types of pasta and make this pesto pasta dish your own. The same goes for the pesto. In addition, if you wish, you can easily turn this into a vegetarian pesto pasta dish. Read on to find out more.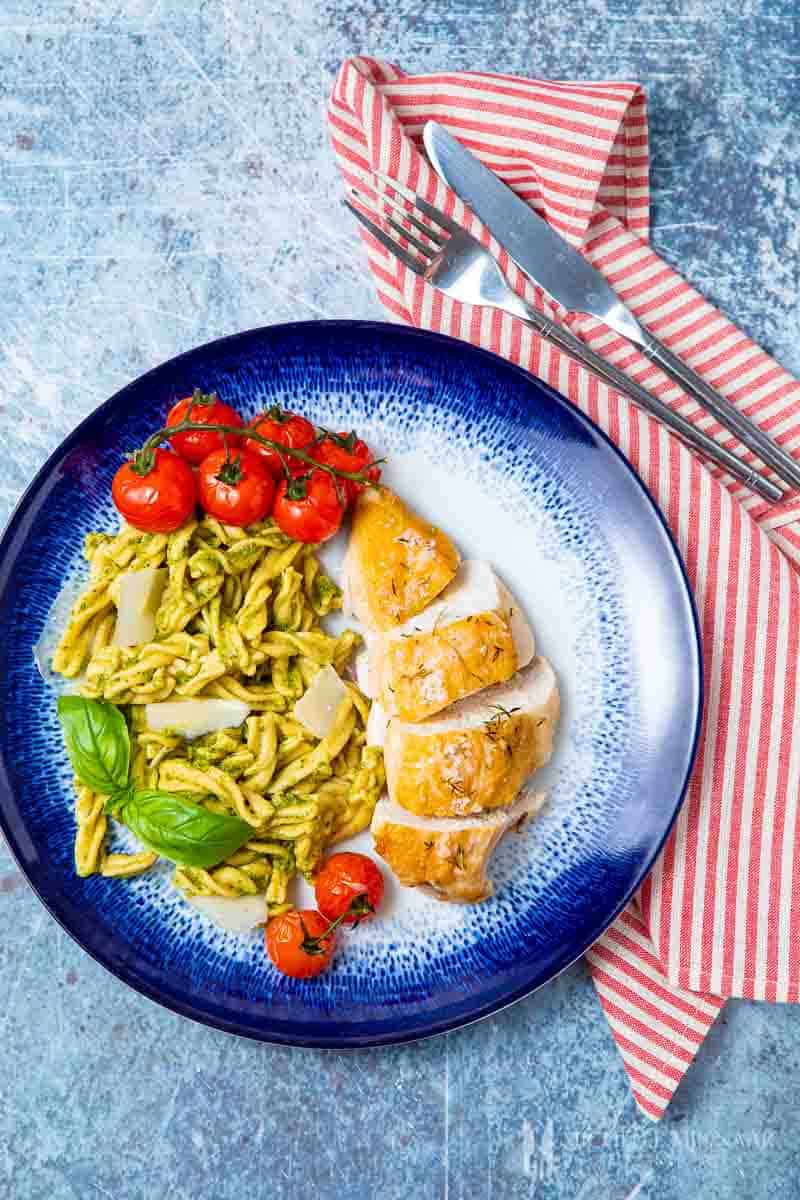 chicken pesto pasta with tomatoes
In summary, my chicken pesto pasta recipe calls for three main things: 1) brined chicken breasts, 2) basil pesto and 3) homemade fusilli pasta. As a finishing touch, to build up those lovely Mediterranean flavours, I roasted some cherry tomatoes. However, you can use normal tomatoes too. To me, these are the ultimate Italian flavours that make up many Italian dishes.
Since the chicken is served alongside the pasta and baked separately in a tray, I highly recommend you brine the chicken. This will keep your chicken from drying out. Besides, brining chicken is simple and beneficial if your goal is to consume juicy chicken.
To learn more about how to brine chicken, check out my ultimate guide to brining chicken. You'll discover how to brine every part of the chicken, how you can flavour the brine and how the entire brining process works.
For best results, you can also sous vide the chicken. Click here to learn how to sous vide chicken breasts.
Italian kitchen essentials
vegetarian pesto pasta
As I've mentioned above, you can easily turn this Italian pesto pasta recipe into a vegetarian dish. In short, leave out the chicken and parmesan cheese. Instead, double up on the vegetables such as grilled or roasted tomatoes. Also, you can serve the pesto pasta with pieces of creamy mozzarella for a bit of protein.
Otherwise, you can also make it a vegan dish. Use vegan pasta and this dairy free pesto , and go heavy on the basil.
What would you go for, the chicken pesto pasta recipe, the vegetarian or the vegan option? All are equally delicious!

Jamie Oliver's creamy chicken pesto pasta
As always, I look for inspiration elsewhere on the web. As such, I came across Jamie Oliver's chicken pesto pasta recipe which you can find here. The chilli is unusual in this recipe, and I omitted altogether, preferring the Mediterranean flavours to shine through. Nothing stops you from using it though!
In addition, to make his pasta recipe creamy, he added a lot of Parmesan. Although, I love this hard cheese, I am slightly lactose-intolerance and I'm systematically going vegetarian, so this cheese is a no go.
Alternatively, you can also make your chicken pesto pasta recipe more flavourful and juicy simply by adding tomato paste. For instance, check out this chicken cacciatore recipe or this pasta alla norma. They are both excellent Italian recipes to add to your weekly menu. They're quick, easy and inexpensive.
chicken pesto pasta calories
If you are trying to go low on calories without altering this recipe, then I advise you to eat it for lunch. However, you can easily turn this chicken pesto pasta recipe into a low-calorie meal. Besides, chicken, and most white meat, white meat is good for you! It's far healthier than red meat anyway.
Next, substitute the fresh pasta with green beans or courgetti. You can never go wrong with green vegetables, so feel free to enjoy this recipe guilt-free.
chicken pesto pasta recipes
First and foremost, you can alter between different types of pasta. For instance, you can consider these:
penne pasta
macaroni
tagliatelle
spaghetti
farfalle, and more
Whichever is your favourite pasta, this chicken pesto pasta recipe will work with it.

Next, you can make this chicken pesto pasta recipe your own by altering the pesto. You can opt to make any type of these homemade pestos:
pesto pasta essentials
serving
Most noteworthy, if you have a large hungry family or you are expecting dinner guests, I suggest you prepare some other Mediterranean side dishes. For instance, you can include these alongside this chicken pesto pasta recipe:
Next, you can never go wrong with these toppings:
grated parmesan
pieces of mozzarella or burrata cheese
olive oil
fresh red chilli peppers or these chilli substitutes
lemon juice or lime juice
pine nuts
nutritional yeast - for a vegan cheese option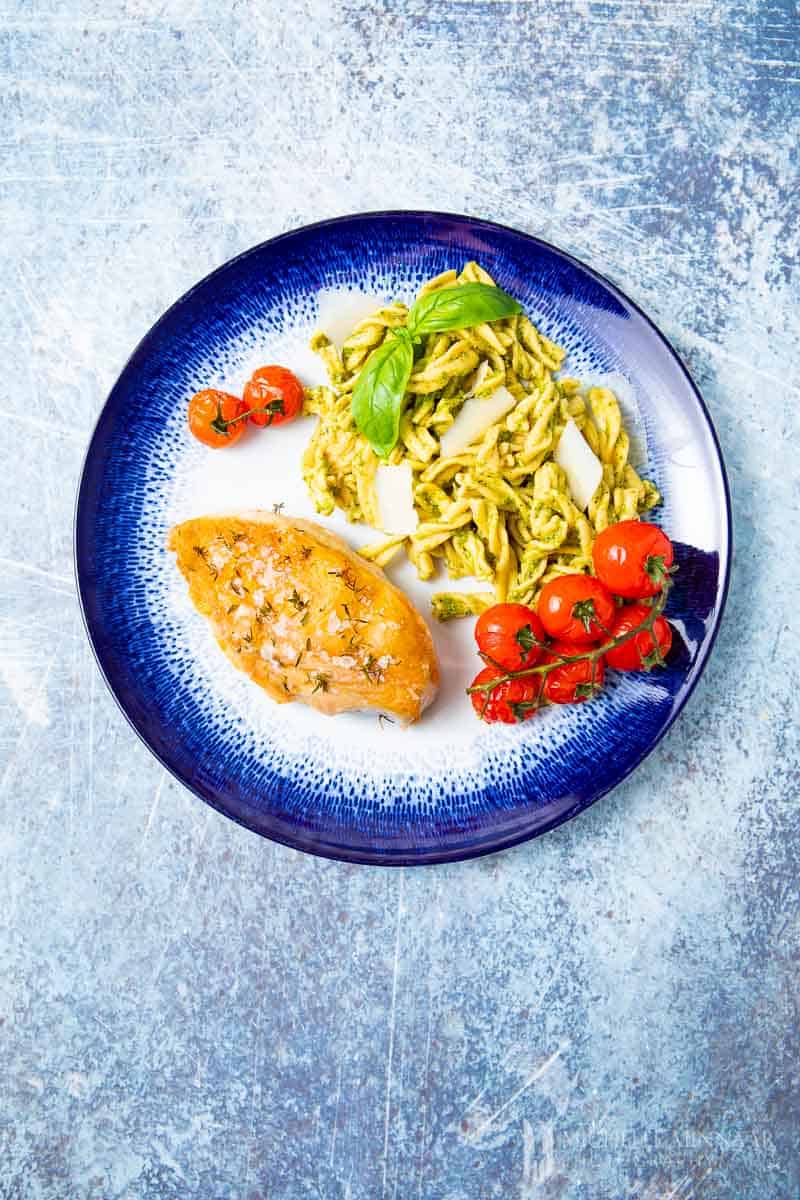 In conclusion, as you can see, I love Italian cuisine.
What would you serve your chicken pesto pasta dish with? Do you have a favourite Italian side dish you absolutely love? Let me know in the comments section below.
Print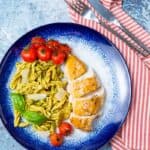 Chicken Pesto Pasta
---
Author:

Michelle Minnaar

Total Time:

30 minutes

Yield:

4

main course portions

1

x
Description
This chicken pesto pasta consists of brined chicken breasts, homemade pesto and fresh fusilli pasta. Serve the pesto pasta with roasted tomatoes. Enjoy!
---
4

chicken breasts, preferably with skin on

15

ml

(1 tbsp) oil

2.5

ml

(1/2 tsp) sea salt

15

ml

(1 tbsp) fresh thyme [optional]

200

g

(7oz) dried pasta

125

ml

(1/2 cup) pesto

12

cherry tomatoes

60

ml

(4 tbsp) parmesan cheese, grated
Basil, to serve
---
Instructions
Preheat the oven to 230°C/450°F/gas mark 8.
Brush the chicken with oil then season generously with sea salt. Top with your favourite herbs.
Place the breasts on a baking sheet and bake in the oven for 15-18 minutes or until cooked. Chicken's internal temperature should be at least 74°C/165°F, so please use a cooking thermometer to be on the safe side. Remove from the oven and let the meat rest while you're preparing the pasta.
While the chicken is cooking in the oven and then resting, cook pasta according to package instructions.
Drain the pasta, then immediately return it to the same pot over a medium heat.
Stir in the pesto and let everything heat through.
Serve the pasta with the chicken and tomatoes. Sprinkle with basil and cheese. Enjoy!
Notes
If you can't find any chicken breasts with skin on, you can cook this recipe in an alternative way, as follows. Heat 15ml (1 tbsp) oil in a large frying pan. Fry the thinly sliced chicken breasts until browned. Stir in the pesto until everything is evenly distributed. At this point you can decide whether you would like to add more pesto but you can even use cream to make it more sauce. How much you use is entirely up to you. Add the cooked pasta and stir. Serve with cherry tomatoes. Enjoy!
You can roast the cherry tomatoes along with the chicken. Place them in a baking pan and drizzle with oil. They take about 5 minutes to cook. The tomatoes are ready when their skins crack.
Use as much or as little pesto as you like.
Prep Time:

5 minutes

Cook Time:

25 minutes

Category:

Dinner

Method:

Bake

Cuisine:

Italian
Keywords: chicken pesto pasta with tomatoes, chicken pesto recipe, chicken pasta recipe