Chicken rissoles are perfect if you need a family-friendly meal, which is also tasty and healthy at the same time. By using lean, minced chicken and vegetables to create my rissoles, it is actually possible to enjoy a bistro-style sandwich at home.
Furthermore, the chicken rissoles are cooked in the oven rather than fried in a pan, bringing the fat content down even further. By using chicken rissoles as a burger patty you can let the family build their own delicious chicken burgers.
These rissoles are surprisingly quick and easy to prepare, so there is absolutely no need for takeaways!
chicken rissoles without breadcrumbs
These chicken rissoles don't require any breadcrumbs. The one thing you need to take care of is that the mixture is not too wet when you start to form the patties.
Never mind carrot, courgette especially contains a lot of water. Therefore, once you have grated the vegetables, place the mixture on a tea towel and squeeze out all of the moisture.
If you're feeling brave, you can substitute the courgettes with marrows. By the way, another great way to use up these overgrown marrows is by preparing this roast marrow recipe.
Then proceed to add the vegetables to the ground chicken in a large mixing bowl. When you form the patties make sure to press them well, so that the rissoles will keep together even without the use of breadcrumbs.
If you still feel that the mixture is too wet, you can use oatmeal as a substitute for breadcrumbs. You can even blitz them quickly in a mini blender to avoid coming across big flakes in the cooked chicken rissoles.
bbq chicken rissoles
If you enjoy the barbecue season as much as I do, there is no reason to miss out on chicken rissoles. If you are planning cook the rissoles on the grill, make sure that you press them together firmly, so that they do not fall apart during cooking.
To further enhance the BBQ flavours you can add a bit of extra seasoning to the mix. Smoked paprika or chilli pepper for example, are great spices for getting that mouth-watering BBQ flavour in your chicken rissoles that we all yearn for.
You can also slather gluten free barbecue sauce onto the chicken rissoles while grilling them. As always, when dealing with chicken make sure that the chicken rissoles are cooked all the way through, but using a meat thermometer.
If you have leftover chicken, try this incredible BBQ chicken kebabs recipe.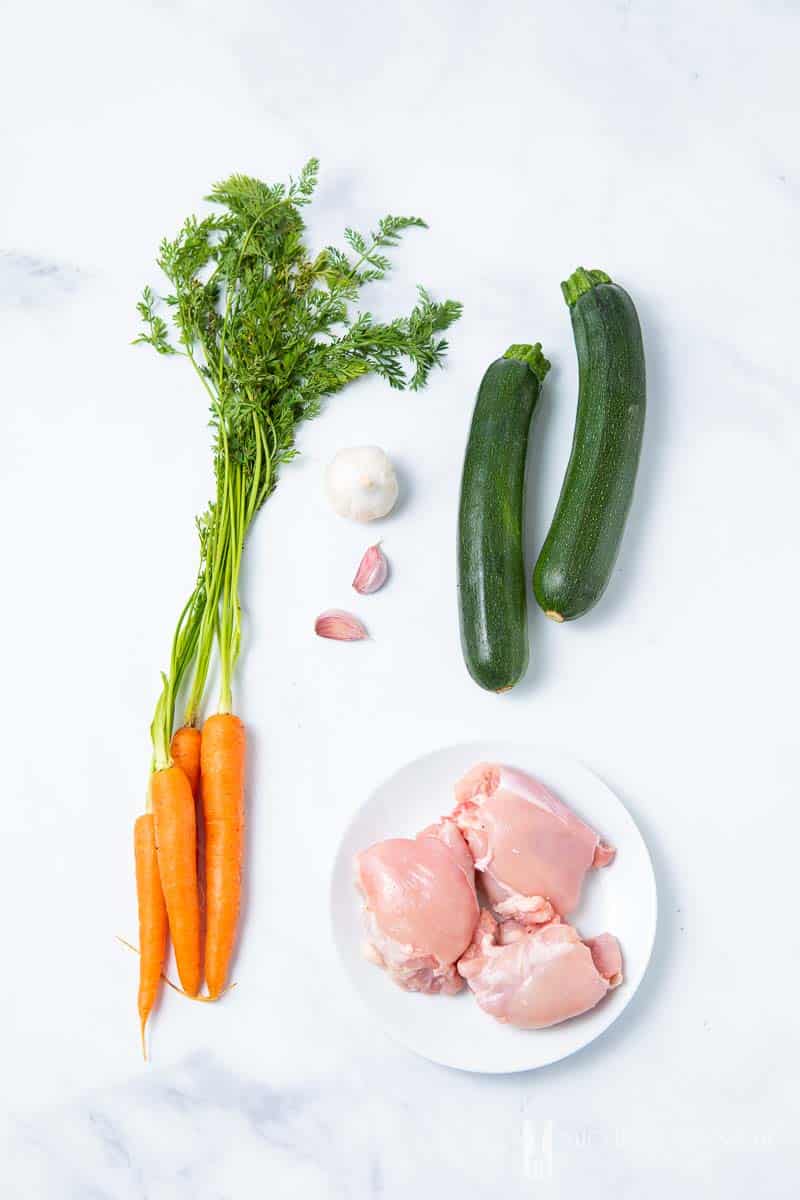 gluten free chicken rissoles
Believe it or not, but these delicious chicken rissoles are actually gluten free. You don't need any flour or breadcrumbs to hold the mixture together.
If however you feel that the mixture is too wet or too loose to form into proper patties, then you can add a bit of rice flour. You can also consider cassava flour which is gluten free. Or, try these 12 cassava flour substitutes.
If you want to keep the meal gluten free, then serve the chicken rissoles as they are instead of in a burger bun or between bread slices. For example, you could serve the chicken rissoles with a tasty four-bean salad and have healthy, low fat, gluten free meal, without going skimping on flavours.
low fat chicken rissoles
Chicken meat, as you probably know is already very lean, especially if you use chicken breast. In order to keep the chicken rissoles low fat, simply cook them on parchment paper in the oven.
This way you do not need to pan fry them in oil or butter, and you will keep the fat content to a minimum. Should you want to go even leaner, you could actually substitute the chicken meat for turkey.
Be careful that the rissoles don't end up becoming too dry though.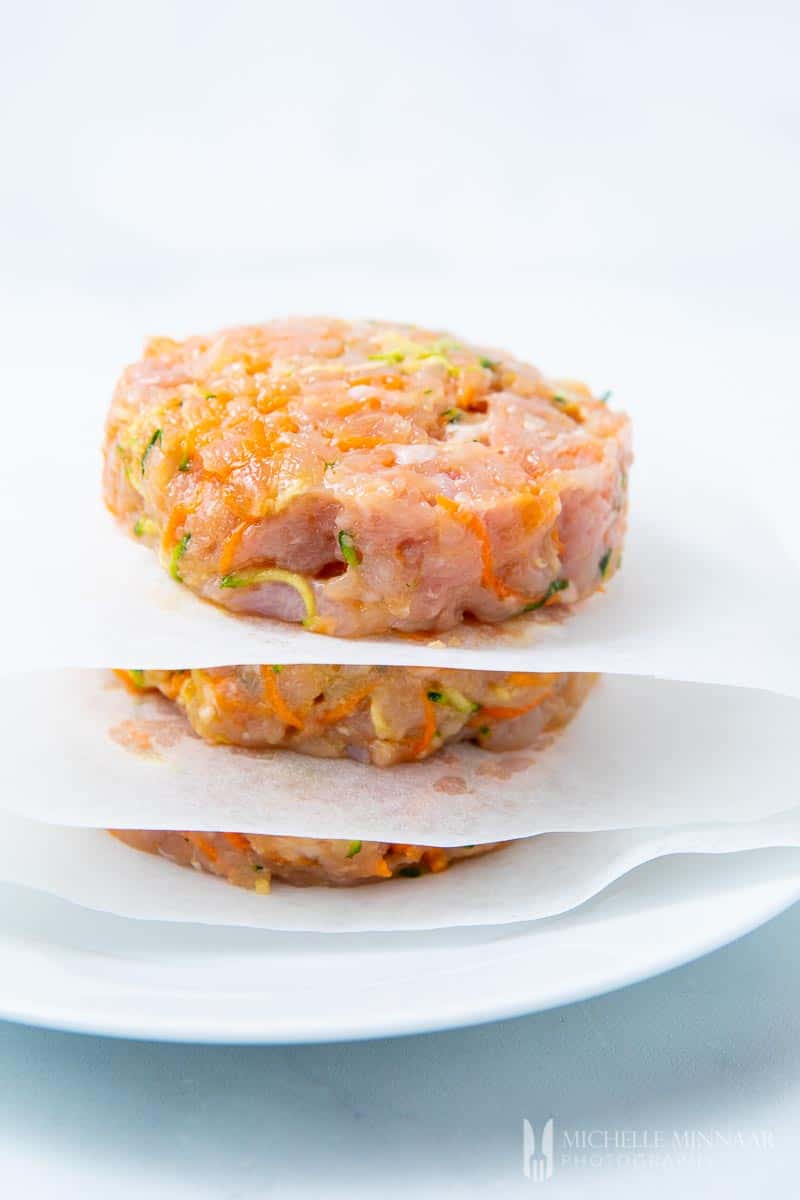 mini rissoles
Recently I created some amazing mini salmon rissoles with sour cream and attilus caviar as an appetizer. If you are hosting an event where you would like to serve a bit of finger food, you can actually make mini chicken rissoles as well!
Simply make the chicken rissoles smaller and bite-sized. To make them interesting, dress the mini chicken rissoles with a sauce.
It could be something as simple as some crème fraiche whipped together with chopped chives and seasoned with salt, pepper and lemon juice. It could also be something more sophisticated like this avocado dip.
In my opinion it pairs quite well with the rissoles. Decorate with a coriander leaves for extra show and exotic flavour.
chicken rissoles sandwiches
Serving chicken rissoles in a sandwich or burger bun is probably one of the easiest ways to enjoy the chicken rissoles in a tasty fashion. Furthermore, it will definitely be hit with your kids because who doesn't love a good chicken burger?
In this case, you can serve the burgers knowing that they will not be full of fat and even contain vegetables! You can use any type of bread you like, though I particularly dig a lightly toasted ciabatta bun.
You can also use a normal burger bun, or even a brioche bun if you're feeling luxurious. Add a bit of lettuce, and your favourite sandwich vegetables.
I like to keep it simple with some fresh tomatoes and sliced red onion. If you feel like you need a dressing in the bun, you can use a simple ketchup or mayo, or you could whip up your own Marie Rose sauce. Here is how you do it.
The possibilities to do a creative, tasty burger with rissoles are almost endless. How about guacamole and jalapenos? Or, what about pesto with rocket salad?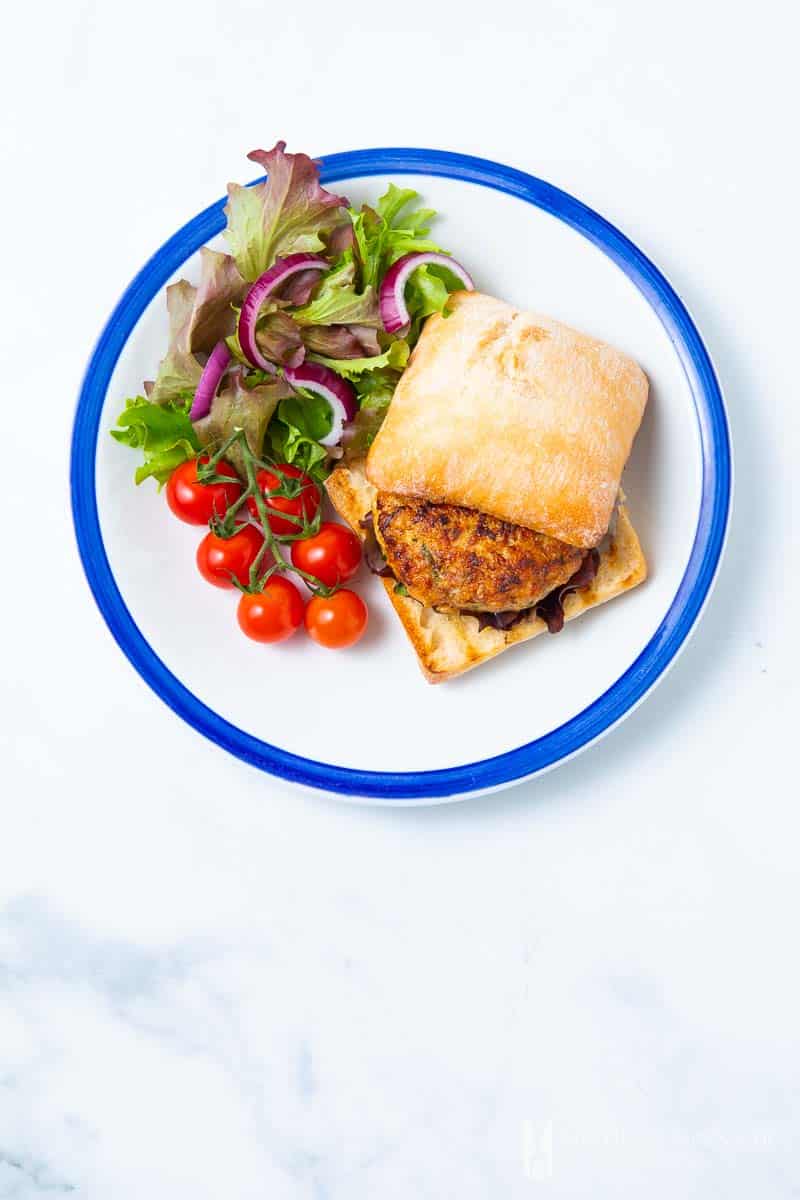 serving
Complete the bistro experience in your own kitchen by serving some tasty fries with the rissoles. In order to keep the dish low fat and healthy, you simply need an alternative to conventional potato chips.
A good alternative would be baked sweet potato fries.
Since you bake them in the oven, you avoid cooking them in oil. Moreover, you can take advantage of already running the oven to cook the chicken rissoles, so it's actually an energy efficient side dish too.
If you are not a fan of sweet potatoes you can oven bake standard white potatoes. You can also consider other root vegetables like carrots and celeriac. The dish will still be low fat, and delicious.
Print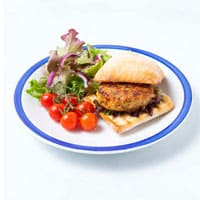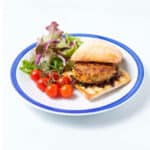 Chicken Rissoles
---
Description
These chicken rissoles are healthy and easy to make. These chicken patties can be made with turkey, beef or lamb mince too. Serve with a side of fries.
---
1

kg (2lbs) boneless and skinless chicken thighs, minced

1

large carrot, peeled and grated

1

courgette, washed and grated

2

garlic cloves, peeled and crushed

5

ml (1 tsp) salt

5

ml (1 tsp) onion powder

1

egg
---
Instructions
Preheat your oven to 180°C/355°F/gas mark 4.
Mix all the ingredients in a big bowl until everything is well incorporated.
Using your hands or a burger press, shape portion-sized patties of equal thickness.
Place the rissoles on a lined baking sheet and bake for 30 minutes or until the meat is cooked through.
Serve the rissoles with salad and your favourite dips. Alternatively, serve them in burger buns!
Notes
One way to minimise faffing about is buttering a muffin tin and filling each hole with the meat mixture. Make sure the holes are completely filled and press down to smoothen and level.
Cooking times depend on the thickness of the patties. Always use a meat thermometer to ensure the chicken is safe to eat.
Prep Time:

20 minutes

Cook Time:

30 minutes

Category:

Burger

Method:

Bake

Cuisine:

Australian
Keywords: chicken rissoles, chicken patty recipe, gluten free chicken burgers, ground chicken thigh recipe, minced chicken recipe, summer food, Australian cuisine
save the recipe to your pinterest board