Chicken with rhubarb sauce is one of my favourite heart-warming dishes. In fact, it's a very popular meal in Scandinavian countries like Denmark or Sweden. Over there, it's definitely known as a dish you'd expect to be cooked up in your grandmother's kitchen.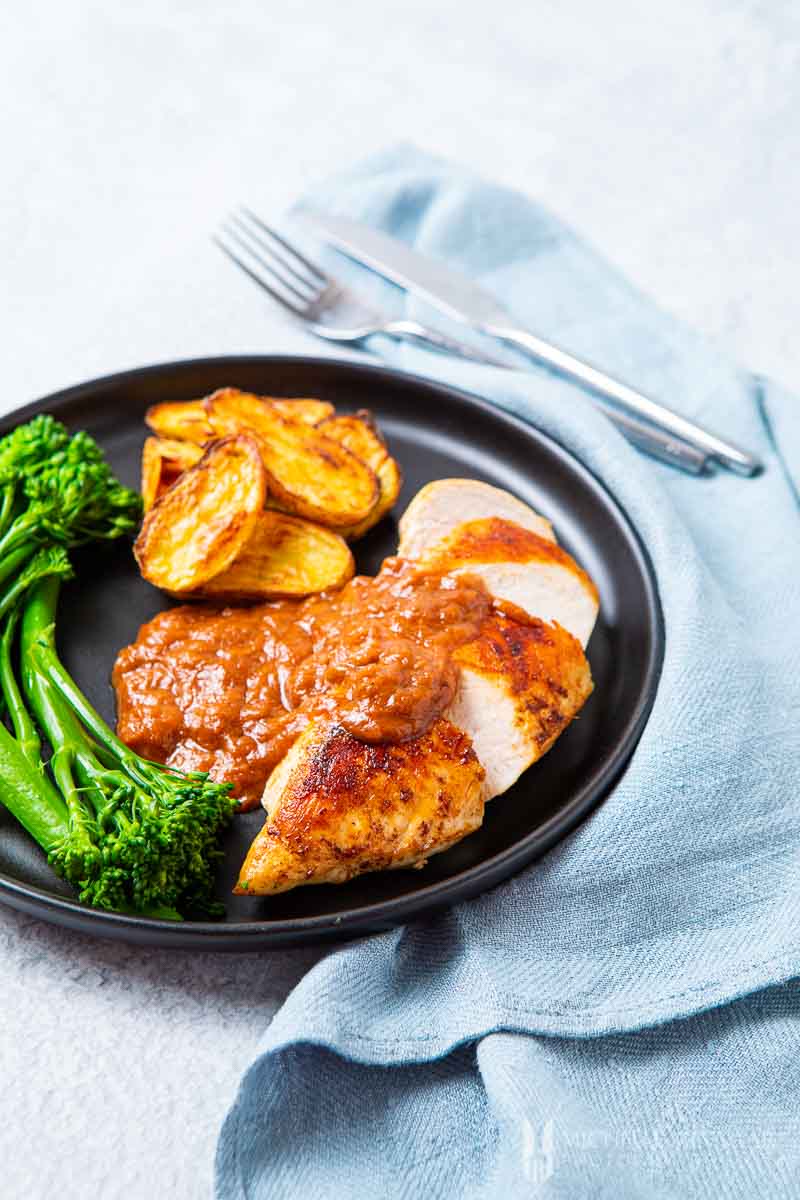 Just imagine that juicy chicken with rhubarb sauce, potatoes and a delicious creamy gravy (optional). Together, the umami flavour combination from the chicken and the sweet yet tangy flavour of the rhubarb just blend perfectly in every single bite.
What's best, this chicken and rhubarb recipe is easily made and can feed an entire hungry family. All you need to do is pan fry the chicken or roast a whole chicken in the oven. The choice is completely up to you.
However, when you create the rhubarb sauce, be sure you make enough as it can be reused and combined with other recipes, both sweet and savoury. So, what are you waiting for? Learn how to make this easy chicken recipe and this delicious rhubarb sauce. Enjoy!
Top products for chicken with rhubarb sauce
Here's a list of the top products which you'll need to make this chicken with rhubarb sauce. Some products you can reuse for other fantastic chicken recipes, like this honey chilli chicken or orange peel chicken.
Once you have the right tools in your kitchen, especially when it concerns cooking with chicken, you'll be able to turn out some memorable dishes. Plus, you'll cook with ease.
Check out these products below:
Would you say that I've left out a product you simply cannot cook chicken without? Let me know in the comments section below.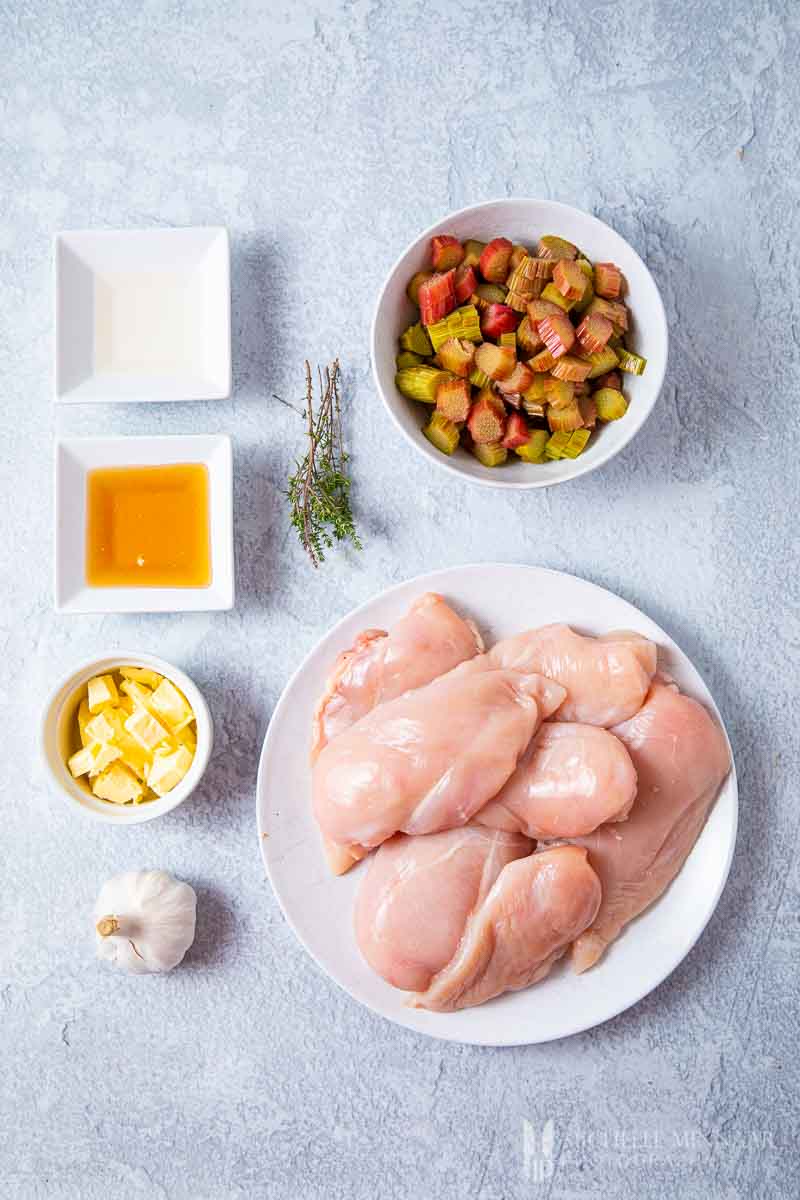 rhubarb chicken breast recipe
For this chicken with rhubarb sauce recipe, I've used chicken breasts. Chicken breasts are my absolute favourite cut of the chicken because it's the easiest to manipulate and it is the leanest.
That being said, since it is the leanest, you can easily dry it out if you don't take certain precautions. Brining is one of the easiest ways to retain optimal results. If you brine chicken prior to cooking it, you'll end up with moist and juicy chicken. That's a guarantee!
First and foremost, to learn more about the brining process, check out my ultimate guide to brining chicken.
There, you will find out how to make perfect brined chicken breasts. When you brine the chicken breasts and expose them to heat, they'll retain the moisture from the brine.
Brining chicken breasts is an excellent idea if you are roasting chicken or pan-frying it, have a look at another one of my brining recipes.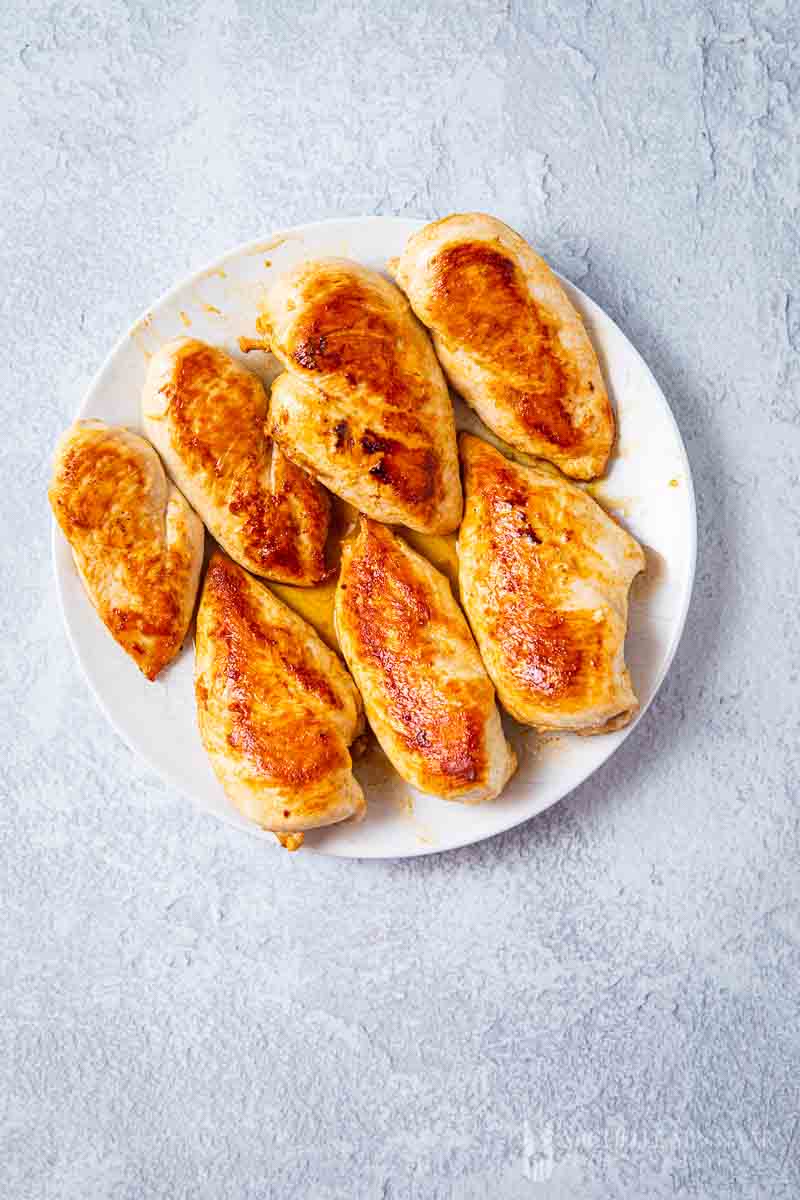 chicken breast recipes
Here are other chicken breast recipes you can make if you've purchased too many chicken breasts:
Otherwise, you can always go for an entire chicken. An entire chicken is a good idea if you've got a large hungry family at home. Then you can just pour the rhubarb sauce over your favourite part of the chicken, whether it be the thighs, the breasts, the wings or the drumsticks.
how to select rhubarb
Rhubarb can be hard to come by. Especially ripe and mature rhubarb. Sometimes I find rhubarb in the supermarket but it's not the kind of rhubarb I need, because it's green.
If you find yourself in the supermarket and tempted to purchase green rhubarb, don't. It will make your chicken and rhubarb recipe super-acidic and not very flavourful.
Make sure that you select stalks of rhubarb which are bright pinkish to almost dark red. These are the best. Plus, they'll give a lovely colour to your rhubarb sauce.
chicken and rhubarb stew
In terms of the rhubarb sauce, it's really easy to make. All you need to do is cut up the rhubarb and cook it.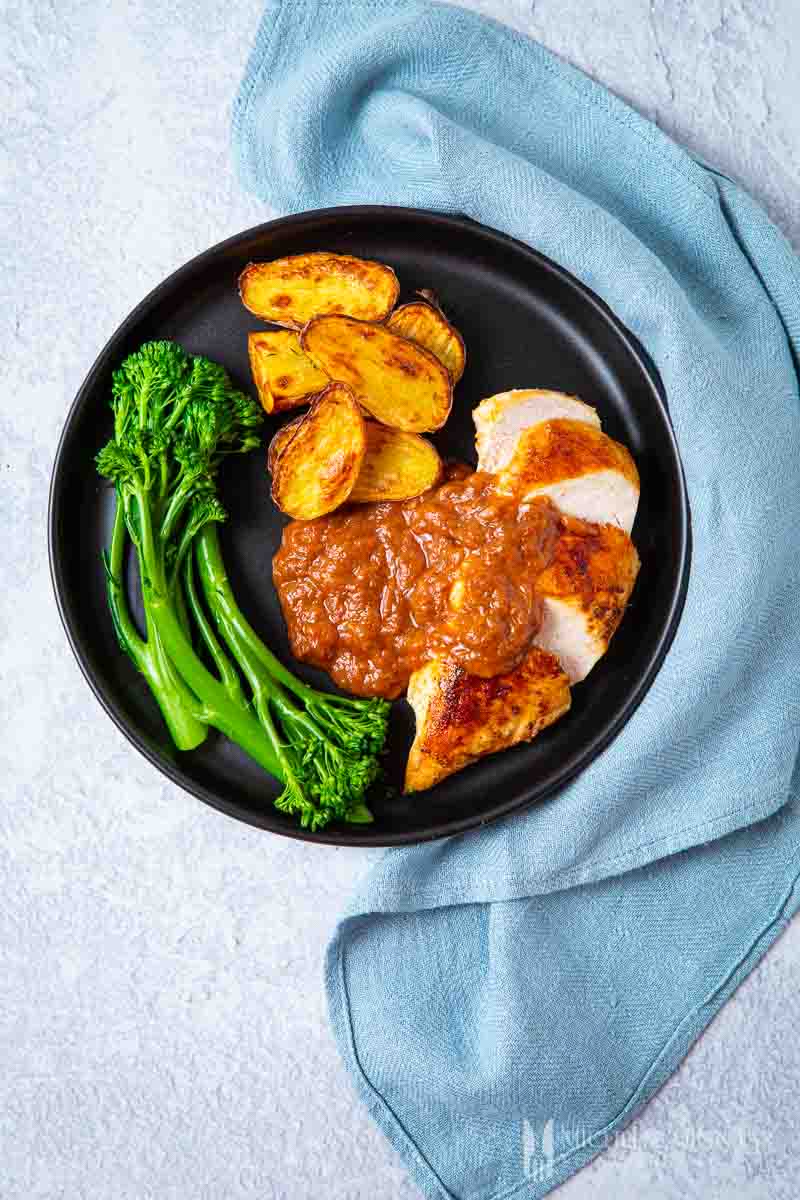 Handy tip: If you feel like adding the vinegar to the rhubarb sauce, you can. However, only use the rhubarb sauce for savoury recipes like a chicken and rhubarb stew.
Nevertheless, if you would like to try something more refined then omit the vinegar. Instead, add 2 teaspoons of vanilla extract or one vanilla pod. Next, add as much sugar until the rhubarb sauce reaches the perfect balance between sweet and sour.
Surprisingly, this sweet version of the rhubarb sauce is even more delicious with the chicken. In fact, in Scandinavia, they prefer to serve the chicken with a sweet rhubarb sauce and some potatoes.
Often, the chicken and the rhubarb are also served with a pickled cucumber to balance out the umami and sweet flavours. Honestly, I've tried the Danish version of the chicken and rhubarb and it's extraordinary. It's my go-to Danish comfort dish.
how to serve chicken and rhubarb
You can also serve the chicken and rhubarb with these side dishes:
Of course, you can always add roasted or steamed veggies.
So, what will you serve your chicken and rhubarb sauce with? Let me know.
Print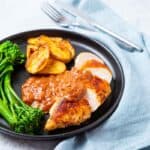 Chicken with Rhubarb Sauce
---
Description
Don't know what to do with rhubarb? This chicken with rhubarb sauce is an amazing savoury recipe.
---
30

ml (2 tbsp) butter

15

ml (1 tbsp) vegetable oil

4

chicken breasts

2

rhubarb stalks, washed and chopped

30

ml (2 tbsp) honey

30

ml (2 tbsp) white wine vinegar
---
Instructions
Heat the butter and oil in a large frying pan. 

Add the chicken breasts and cook 5 to 7 minutes per side, or until browned and cooked through. 

Remove the chicken and season on both sides with salt and pepper. 

Keep the cooked breasts warm while preparing the sauce. 

Add the rhubarb and vinegar to the same pan.

Stir regularly over a medium heat and continue to cook for 2 minutes, then add the honey and 125ml (½ cup) of water. 

Gently simmer for 5 minutes, or until the rhubarb has "melted" and turned into a sauce. 

Season to taste. Add a bit more honey if you'd like the sauce to be sweeter.

Cut the chicken breasts crosswise into 2.5cm (1in) slices.

Serve the chicken with your favourite vegetables - in this case roast baby potatoes and broccoli - along with the rhubarb sauce. Enjoy!
Notes
Oil is added to the butter because the latter has a habit of burning at high heat. The oil prevents it from doing so.
Prep Time:

10 minutes

Cook Time:

30 minutes

Category:

Dinner

Method:

Pan Fry

Cuisine:

British