If you want a dish that showcases just how delicious South African cuisine is, look no further than denningvleis! It's unknown outside of South Africa, and many people in the country say that this dish has become a bit forgotten. So, now it's high time to bring it back!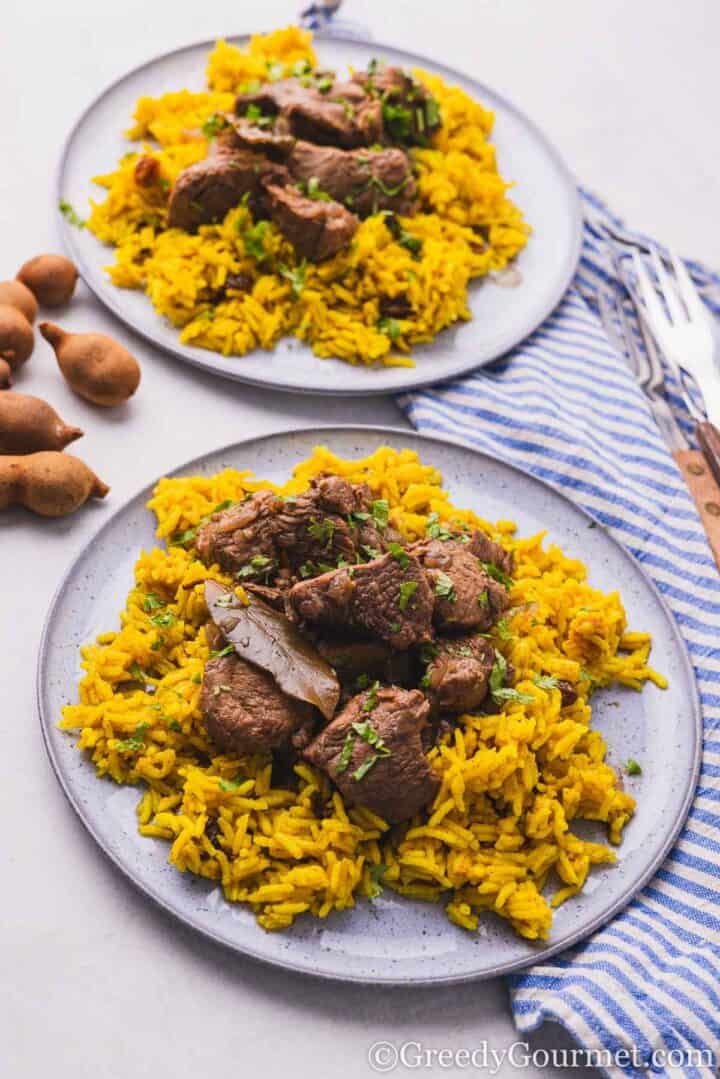 A South African lamb stew with a mixed spice marinade from Cape Malay influence, denningvleis has a taste that walks the line between sweet and sour, with a beautiful fragrance and a delicious richness. It's straightforward to make, and the taste is unforgettable.
So, do you want to know how to make this South African classic stew? Keep reading!
Why you'll love this recipe
So many wonderful flavors all working in harmony
A traditional South African stew that's a great showcase for South African food
A very simple cooking process
Makes for a perfect alternative Christmas dinner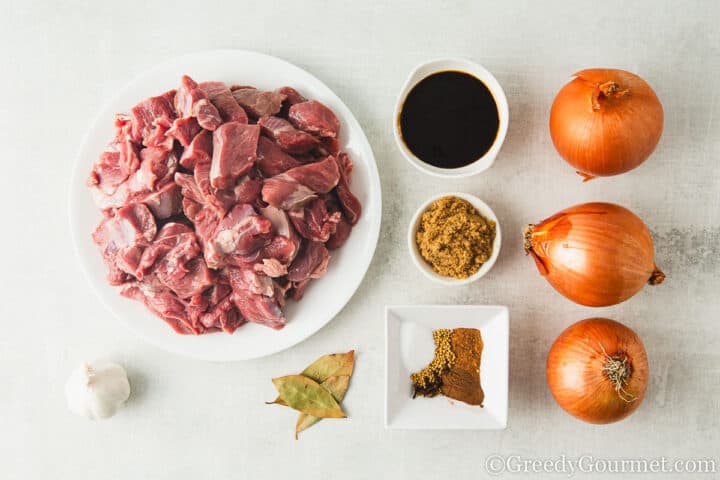 Equipment you'll need
There are a few things you'll need before you start cooking this recipe:
Casserole dish – a good quality casserole dish is important for this recipe
How to make denningvleis
Brown the meat. Set aside. Gently fry the onions and garlic until softened.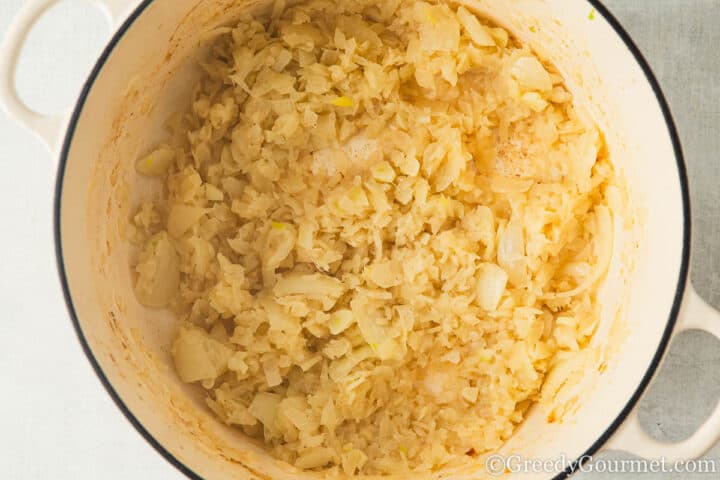 Add in the browned lamb, water, tamarind paste and sugar. Stir and cook for 2 hours.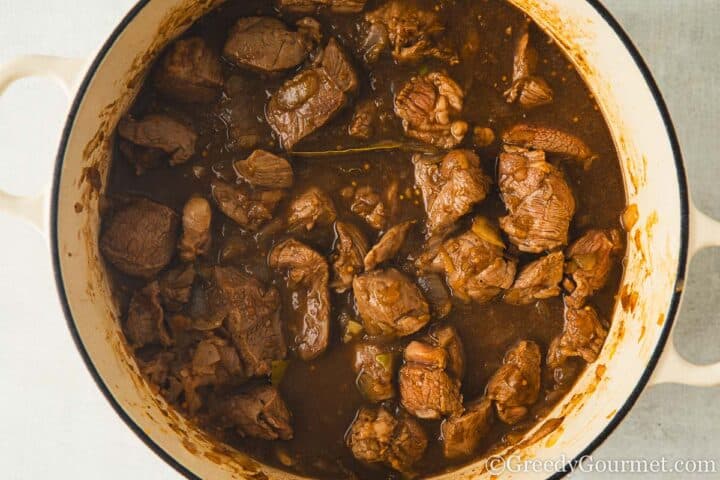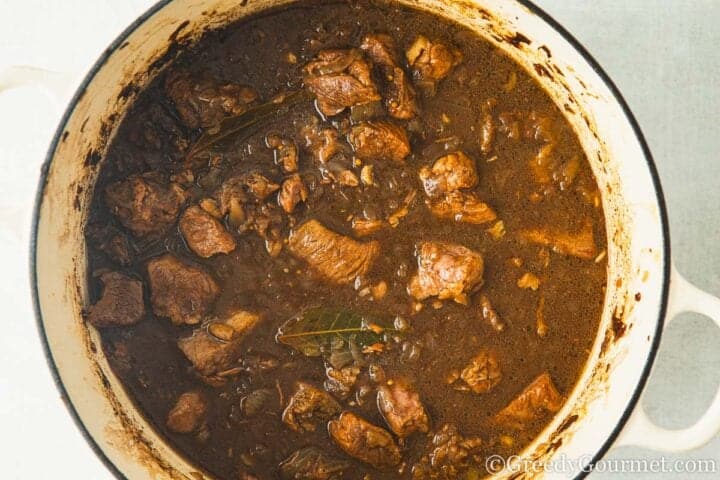 Top Tip
Before closing the lid and slowly cooking the meat, ensure the pan has enough liquid. Add more water if necessary – you want just enough to ensure the stew doesn't dry out during cooking.
What to serve with denningvleis
Sides
It's common to serve the denningvleis with rice. To keep things traditional, I served the denningsvleis with 'geelrys' – a South African yellow rice with spices and raisins.
No meal is complete without greens, so I also served 'boereboontjies' – green beans mashed with potato and onions. Top the plate off with some coriander or parsley for additional flavour.
Wine pairing
A lovely South African red wine – maybe a Cabernet Sauvignon or a Merlot – will complement the denningvleis beautifully. Enjoy!
Variations to this recipe
You can use vegetable, canola, or olive oil for this South African lamb dish.
You can play with the spices. Cinnamon, cardamom, and star anise can all be added. You can also add chili flakes for a little extra heat.
Popular substitutions
You can replace the tamarind paste with a lemon or lime juice squeeze. However, it won't be quite the same, so I recommend trying to track down tamarind paste.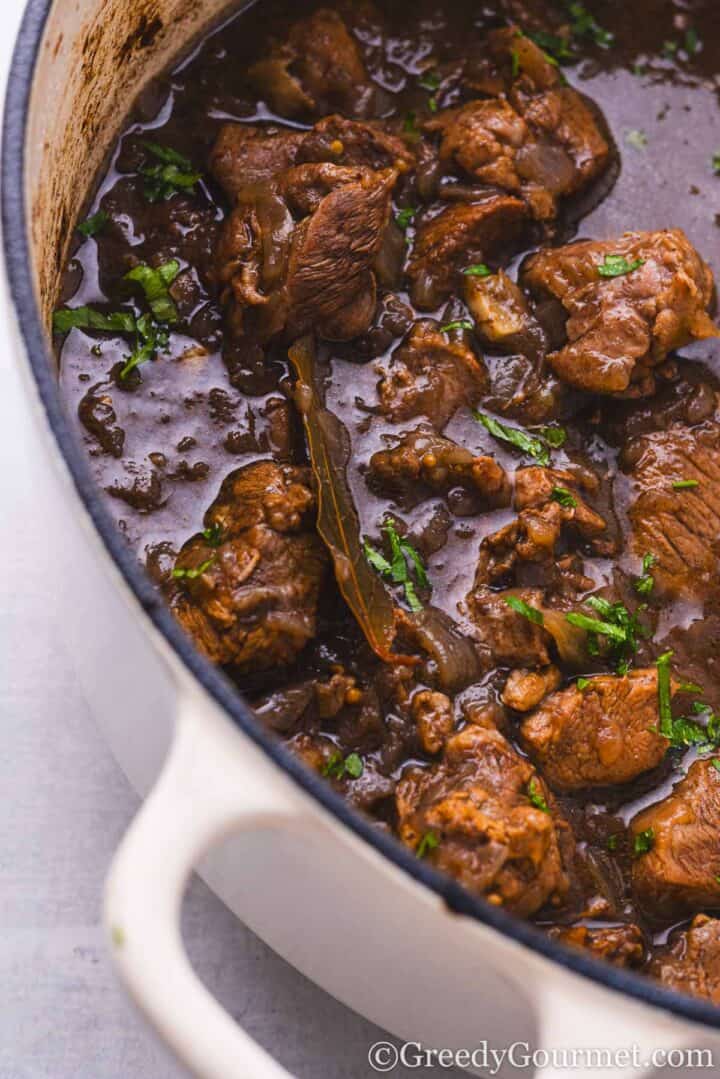 What is denningvleis?
A traditional South African stew with a whole host of flavors! Denningvleis is made using browned lamb, tamarind paste, and select spices. It's warming, comforting, and tastes fantastic!
Old school denningvleis has tamarind as a critical ingredient – the slight bitterness gives the dish its unique character. However, many people use vinegar or lemon juice instead of tamarind.
Denningvleis is customarily served on special occasions in South Africa – Christmas, birthdays, anniversaries, and any family celebration.
It is thought that the dish first originated when the Javanese brought the recipe to South Africa.
Where does the word 'denningvleis' come from?
The word 'denningvleis' comes from two words merged. First, 'dendeng' is the Javanese word for water buffalo. Secondly, vleis, which means 'meat' in Afrikaans. So, between the two languages, denningvleis translates as 'water buffalo meat.'
What cut of lamb is best for denningvleis?
Most people are not so keen on using lamb because they think it's too expensive. No worries, though – you can use cheaper cuts of lamb for the denningvleis. The ideal types of cuts are shoulder chop, loin chop, ribs, rack of lambs, chump chops, stewing lamb, and shanks.
Lamb is very versatile when it comes to cooking, and that's the beauty of it.
However, for maximum flavour for the denningvleis, use cuts with a bone in for extra flavour – like chump chops. For simplicity, buy stewing lamb – you won't have to fiddle with the bones.
You can even use lamb shanks. The bones can be reused afterward to create a broth or delicious gravy.
What spices are used in denningvleis?
This recipe calls for cloves, allspice, ground nutmeg, and mustard seed.
What is tamarind?
A dark, sticky, intensely flavored paste made from the fruit of the tamarind tree, tamarind paste is a common ingredient in many cuisines worldwide. It has a strong, sour, almost citrusy taste with smoky caramel notes. In short, it's unique.
Tamarind has a mild fruity sourness that's similar to citrus sour. It is a delicious ingredient introduced to us from Southeast Asia and via our Cape Malay population, originating in Malaysia and the early Dutch traders.
Tamarind is grown in tropical areas of Central Africa. It's popular with Cape Malay and Javanese cuisines, which hugely influence South African food.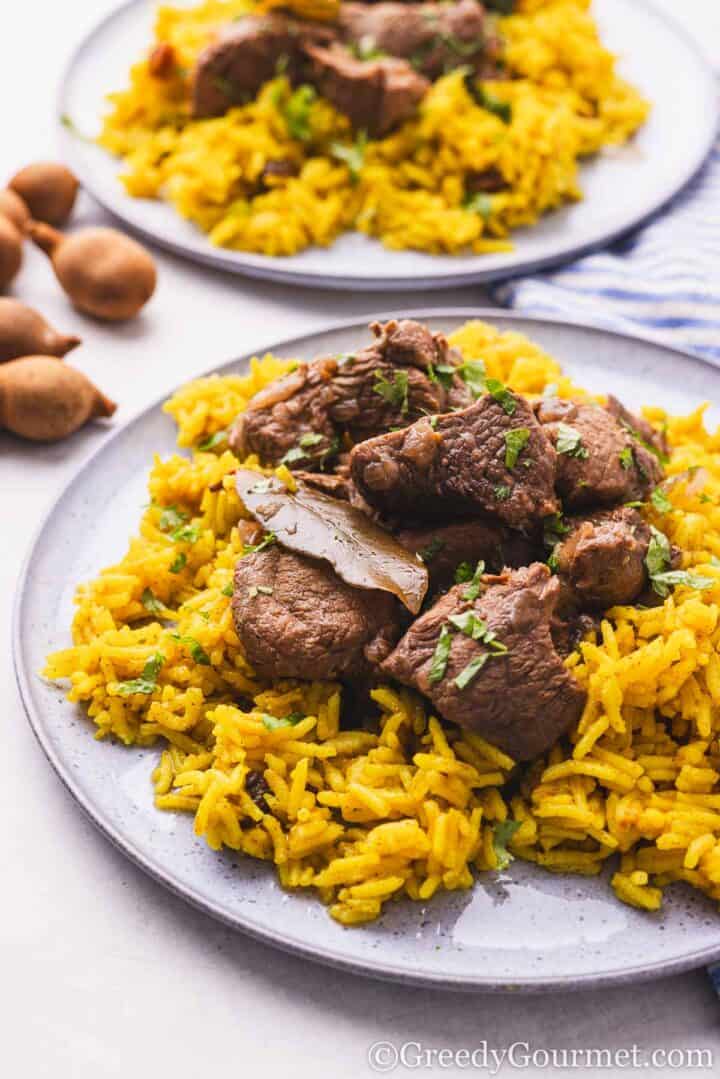 More South African recipes
Can't get enough South African cuisine? Check out these delicious recipes for an authentic taste of South Africa.
Print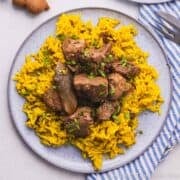 Denningvleis
---
Author:

Michelle Minnaar

Total Time:

2 hours 45 minutes

Yield:

8

servings

1

x

Diet:

Gluten Free
Description
Denningvleis is a sweet and sour lamb recipe originating from the Cape Malay community. This South African recipe stews lamb chops with tamarind paste.
---
1.5

kg

(3lbs) stewing lamb, cut into bite-sized chunks

30

ml

(2 tbsp) oil

3

large onions, chopped

4

garlic cloves

6

whole cloves

5

ml

(1 tsp) allspice

5

ml

(1 tsp) ground nutmeg

5

ml

(1 tsp) mustard seed

7.5

ml

(1 1/2 tsp) salt

60

ml

(4 tbsp) tamarind paste

30

ml

(2 tbsp) brown sugar

250

ml

(1 cup) water
---
Instructions
In a large ovenproof casserole, fry the lamb pieces in the oil until browned on all sides, then remove the meat from the dish.
Preheat the oven to 160°C/320°F/gas mark 3.
Lower the heat and gently fry the onions and garlic until softened.
Add the cloves, allspice, nutmeg, mustard, bay, salt, tamarind brown sugar, the browned lamb and water to the mix and stir until everything is well mixed. Add more water if needed.
Place the lid on the casserole and transfer the casserole to the oven. Cook for 1 hour.
Check on the meat, add more water if needed just enough to ensure the stew doesn't dry out, then cook for another hour or until the meat is tender at 140°C/280°F/gas mark 1.
Serve with geelrys and boereboontjies.
Notes
Other cuts of lamb can be used, even lamb chops and lamb shanks!
Prep Time:

15 minutes

Cook Time:

2 hours 30 minutes

Category:

Stew

Method:

Braise

Cuisine:

South African
Keywords: denningvleis recipe, sweet and sour lamb, cape malay braised lamb chops, South African lamb recipe