Denningvleis is a dish that definitely showcases just how delicious South African cuisine is. Some people say that this dish has become a bit forgotten, so now it's high time to bring it back!
Denningvleis is a South African lamb stew with a mixed spice marinade from Cape Malay influence. Its taste bounces between sweet and sour as a result of the tamarind used.
Nowadays, people use vinegar or lemon juice instead. However, back in the day denningvleis was used for medicinal purposes to increase acidity levels in the body.
Traditionally, you'll find it in South African homes on very special occasions and family celebrations. The term 'denningvleis' came from the Javanese word for meat of the water buffalo -'dendeng'.
Combined with a side of rice and some roasted vegetables, this dish will send you on a South African adventure. Before you get on with this recipe, make sure to double check whether you've got all the spices at home.
Denningvleis with PGI Welsh Lamb
With lamb being the center piece of the denningvleis, you'll want to get a high-quality piece of meat. What better protein to use than a superior quality lamb from Wales?
More specifically, the PGI Welsh Lamb is known for its exceptional quality and farming excellence over the years. 'PGI' – a term granted by the European Commission, stands for Protected Geographical Indication.
This certifies that the lamb is born in a unique terrain which uses pure ingredients to produce this special Welsh lamb. Imagine, sweet spring water, luscious green grass and clean air.
Perfect conditions for sheep that give them that unique premium taste. If you've had PGI Welsh Lamb before, you'll know exactly what I'm talking about because the taste is on a whole other level.
Hundreds of years of farming traditions have been dedicated to the PGI Welsh Lamb husbandry. It has had centuries of perfecting farming traditions for crafting perfect landscapes, suitable for rearing lamb and cattle.
With heavy rainfall in Wales, it creates the perfect conditions for luscious Welsh grass which the cattle and sheep feast on. Therefore, the PGI Welsh Lamb has its own unique taste.
Quality is definitely the way to go. To find out more information about PGI Welsh Lamb and why it is superior in terms of quality, please visit this site.
Selecting the lamb
Once you've decided to go for top quality such as PGI Welsh Lamb, next you'll have to consider the cut. Most people are not so keen on using lamb because they think it's too expensive.
No worries, you can use cheaper cuts of lamb for the denningvleis. The ideal type of cuts are shoulder chop, loin chop, ribs, rack of lambs, chump chops, stewing lamb and shanks.
Lamb is very versatile when it comes to cooking with and that's the beauty of it.
However, for maximum flavour for the denningvleis, I would recommend using cuts with a bone in for extra flavour. I used chump chops but you can buy stewing lamb if you don't like to fiddle with the bones.
You can even use lamb shanks. The bones can be reused afterwards to create  a broth or delicious gravy.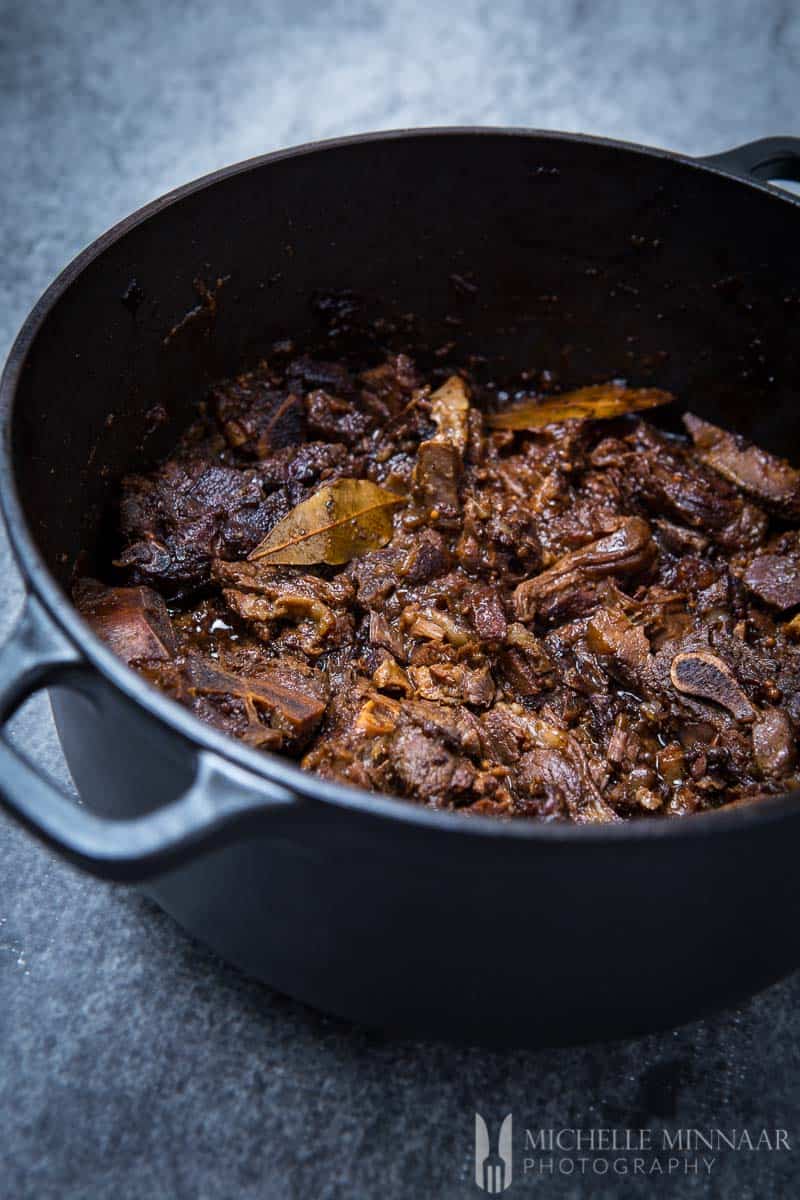 South African cuisine
South African cuisine is one of those cuisines which you can trace back to many cultures. This is the result of years of European colonisation from the Dutch, German, French and British around the 17th century.
However, you can also credit the indigenous people, Sotho and Nguni, for their heavy influence in South African cuisine. Before South Africa was colonised they used a wide range of ingredients.
These include leaves, wild plants, game, fruit, nuts, spices, fermented milk and bulbs.
Once the Dutch East India Company came into the picture with their refreshment stations for their ships, they influenced the region for more than 150 years. The Dutch introduced spices such as nutmeg and cinnamon and the deep-frying technique to produce the infamous 'vetkoek'.
Once the South African trade routes became popular, it was common for Europeans to bring Indo-Asian servants with them on these journeys. Hence, you'll find a lot of Indonesian influence in the South African cuisine with the use of curry spices.
The Indo-Asians became an ethnic group called the Cape Malays, with their very own cuisine. Today, the Cape Malays still continue to have an influence in traditional South African dishes such as the denningvleis.
The French brought in jams, preserves and most importantly wine! Today, South Africa is known for its superior quality wine. The Germans brought sausages and 'boerewors', a type of farmers sausage, was born.
Post 17th century, the Dutch, Germans and French formed a nation and became known as Afrikaners. Later on, the Afrikaners started taking advantage of the delicious meat and wild game, essentially making meat the center of any dish.
As you can see, South African cuisine has many influences and that's what makes it so exciting!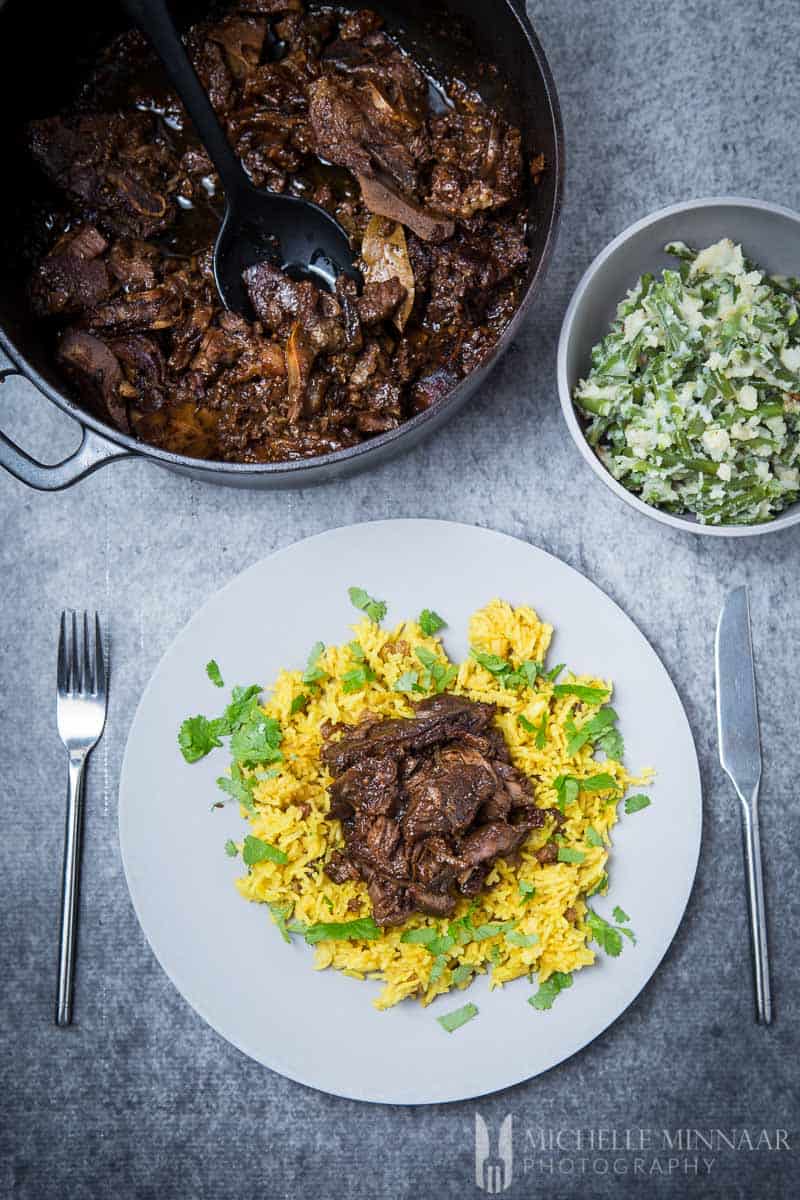 serving
It's very common to serve the denningvleis with rice. To keep things traditional, I served the denningsvleis with 'geelrys' – a South African yellow rice with spices and raisins.
No meal is complete without greens, so I also served 'boereboontjies' – green beans mashed with potato and onions. Top the plate off with some coriander or parsley for additional flavour. A lovely red wine will complement the denningvleis beautifully. Enjoy!
Print
Denningvleis
---
Description
Denningvleis is a sweet and sour lamb recipe originating from the Cape Malay community. This South African recipe stews lamb chops with tamarind paste.
---
1.5

kg (3lbs) Welsh lamb chump chops, cut into smaller chunks

30

ml (2 tbsp) oil

3

large onions, chopped

4

garlic cloves

6

whole cloves

5

ml (1 tsp) allspice

5

ml (1 tsp) ground nutmeg

5

ml (1 tsp) mustard seed

3

bay leaves

7.5

ml (1½ tsp) salt

60

ml (4 tbsp) tamarind paste

30

ml (2 tbsp) brown sugar

250

ml (1 cup) water
---
Instructions
In a large ovenproof casserole, fry the chops in the oil until browned on all sides then remove the meat from the dish.
Preheat the oven to 160°C/320°F/gas mark 3.
Lower the heat and gently fry the onions and garlic until softened.
Add the cloves, allspice, nutmeg, mustard, bay, salt, tamarind brown sugar, the browned lamb and water to the mix and stir until everything is well mixed. Add more water if needed.
Place the lid on the casserole and transfer the casserole to the oven. Cook for 1 hour.
Check on the meat, add more water if needed just enough to ensure the stew doesn't dry out, then cook for another hour or until the meat is tender at 140°C/280°F/gas mark 1.
Serve with geelrys and boereboontjies.
Notes
Other cuts of stewing lamb can be used, even lamb shanks!
Prep Time:

15 minutes

Cook Time:

2 hours 30 minutes

Category:

Stew

Method:

Braise

Cuisine:

South African
Nutrition
Serving Size:

1 serving

Calories:

118

Sugar:

7 g

Sodium:

255 mg

Fat:

5.5 g

Saturated Fat:

1.2 g

Carbohydrates:

12.4 g

Fiber:

2.2 g

Protein:

5.9 g

Cholesterol:

80 mg
Keywords: denningvleis recipe, sweet and sour lamb, cape malay braised lamb chops, South African lamb recipe
save the recipe to your pinterest board
P.S. This is a sponsored post.