Fanta chicken? Say what? Although Fanta chicken sounds weird, there is nothing funny about its taste. If you've had the opportunity to taste Fanta chicken, then you'll know that it is a faux Chinese dish, resembling the flavours of traditional sweet and sour chicken.
Expect citrusy flavours combined with the sweet character of the pineapple and the salty notes of the chicken. You don't necessarily need sugar free Fanta to complete this Fanta chicken recipe. Alternatively, you can opt for any brand of orange lemonade. Also, you can use ordinary lemonade and jazz it up with some fresh orange juice and orange zest. The possibilities are endless.
What's best, is that you can apply this exact recipe for other types of meat. Just be mindful of the different cooking times. You can even use tofu to make a vegetarian-friendly or even vegan-friendly version. This Fanta chicken will convince you to add this Chinese 'fakeaway' to your weekly menu and save some cash on expensive takeaways.
Fanta chicken recipe UK
Think of Fanta chicken as an easy Asian chicken stew. Basically, you just throw in all the ingredients and let them simmer for a bit. As you can see, the recipe doesn't require any exceptional culinary skills. This Fanta recipe calls for chicken breasts, tomato paste, bell peppers, onions and pineapple to give it an Asian twist. Don't forget a glass of Fanta!
This Fanta chicken actually reminds me a lot of this Italian chicken cacciatore recipe. The main difference is the Fanta and the pineapple. Isn't it funny how two ingredients can completely change a dish?
In either case, before you explore this Fanta chicken recipe, here's some food for thought. Why don't you brine the chicken first? The brining process will protect your chicken breasts from drying out and becoming completely stringy. Check out my ultimate guide to brining chicken and you'll see how to make the perfect brined chicken breasts. Once you start brining chicken, you'll never cook chicken the same way ever again!
How to make Fanta chicken
You need the following equipment to make this Fanta Chicken.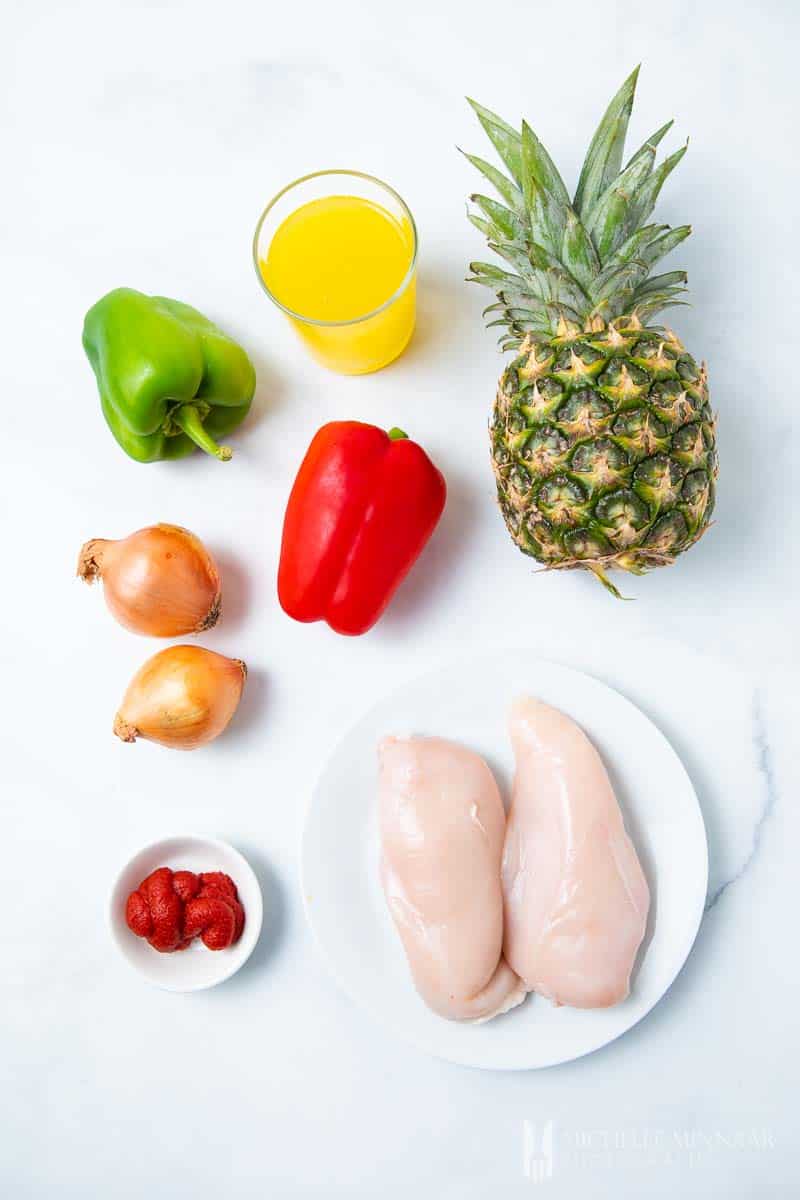 What does Fanta chicken taste like?
In one word – awesome! The citrusy and sweet flavours of the Fanta drink make the Fanta chicken fragrant. Moreover, the pineapple adds a sweetness as well as acidity. Together, this Fanta chicken really tastes like the Chinese takeaway dish sweet and sour chicken.
I remember the taste of Fanta very well. Whenever I drink Fanta, early childhood memories spring to mind. Little did I know back then, that one can actually use Fanta in culinary applications. You can use Fanta in savoury Asian dishes and even make a delicious Fanta cake!
Substitutes for Fanta
Remember good old Mirinda? This was the ultimate substitute for Fanta. You can also use Orangina, which is a French orange fizzy drink. Another option is Pelegrino's orange flavour, which is an Italian fizzy drink. Otherwise, any orange flavoured lemonade will do the trick.
If you can't locate any type of orange fizzy drink, you can always opt for normal lemonade. Just add a bit of orange juice and orange zest into the existing lemonade. Better yet, you can make your own homemade orange fizzy lemonade. All you need are a couple of oranges. First juice them. Add plain soda water into the orange juice. Feel free to add a little bit of liquid sugar, as this will add a nice glow to your Fanta chicken.
Slimming world Fanta chicken
This Fanta chicken originated from a Slimming World recipe. It could help you on your journey towards slimming down to your ideal weight. In fact, it is completely syn free if you omit the vegetable oil with a low-calorie cooking spray.
In addition, another condition of making this a syn free recipe is to use a can of Zero Sugar Fanta Orange. This is a must if you want to make it a pure syn free recipe.
Lastly, the fresh pineapple added at the end of cooking should remain raw, otherwise they turn into syns.
How to thicken Fanta chicken
There are a couple of clever ways to thicken up this Fanta chicken. Sometimes, the Fanta can make the sauce just too runny. So, the first step is to add the Fanta step by step and use it for consistency control.
Second, you can add more tomato puree or tomato paste. Generally speaking, tomato paste already contains thickeners, so once you add a spoonful the Fanta chicken sauce will immediately thicken up. However, you must keep in mind that the quantity of tomatoes used will change the flavour. In this case, you should add a bit more of the pineapple and orange zest.
Thirdly, you can add some potato starch or corn starch, by creating a slurry and slowly pouring it into the pan. Or, try these potato starch substitutes.
Diet fanta chicken
First and foremost, this Fanta chicken recipe is a healthy Asian dish. It doesn't contain any excess fat or sugar. Especially, if you substitute the Fanta drink with homemade lemonade and add orange zest. This would make the best diet version of Fanta chicken.
In addition, to make this Fanta chicken keto-friendly - for people on low-carb diets - don't serve it with rice. Noodles and potatoes are also out of the question. Instead, you should go for these garlic and chilli courgetti.
What to serve with Fanta Chicken
You can serve this Fanta chicken recipe with egg noodles, steamed rice or some roasted vegetables. Otherwise, you can also pair this Fanta chicken with salt and chilli chips.
Fanta chicken can also be served on its own, just double up on the portion size. If you feel like having a lazy dinner, you can also serve this recipe with fresh bread and use it scoop up the delicious sauce.

Toppings
There are a few toppings that would work well with this Fanta chicken recipe. As with any Asian dish, you can try some of these below:
Peanuts – just sprinkle a few over the top
Fresh cilantro leaves – the fresher the better or try these coriander substitutes
Fresh red chilli peppers – green chilli peppers or jalapenos will also do the trick
Bean sprouts
Freshly cut parsley
Go heavy on the pineapple
Chives or these chives substitutes
Spring onions
You can also use these toppings with other Asian dishes in addition to the Fanta chicken. For instance, try these:
GIVEAWAY
This week one lucky reader will win a six month's supply of Divine chocolate!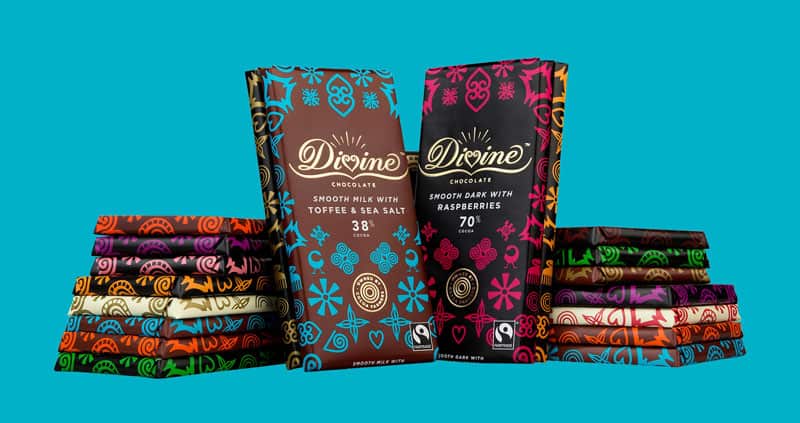 When you choose Divine chocolate, you aren't just choosing mouth-wateringly good chocolate, you are also choosing to make a difference around the world.
With almost half its profits going to the farmers who own the company, and 2% of its turnover being invested in farmer projects that empower women, improve farming techniques, and help protect the rainforest – Divine delivers so much more.
Entering is easy, just follow the instructions below.
HELP
Here you can find a tutorial how to enter with Rafflecopter.
If your form is not showing, try refreshing the page.
Complete the form, otherwise your entries will not count.
Make sure the mandatory entries (e.g. leave a blog comment) are completed first.
Don't forget to come back daily for extra entries via Twitter.
If you're viewing this post by email, please come to the actual webpage to enter.
Competition Question:
Have you ever cooked with a fizzy drink other than just drinking it?
Print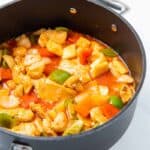 Fanta Chicken
---
15

ml (1 tbsp) vegetable oil

4

chicken breasts, thinly sliced

1

onion, peeled and chopped

1

red pepper, washed and chopped

1

green pepper, washed and chopped

330

ml (1 can) sugar free Fanta

30

ml (2 tbsp) tomato puree

5

ml (1 tsp) white vinegar

1

vegetable stock cube

200g

(

7oz

) pineapple, peeled and cut into chunks
---
Instructions
Brown the chicken with the oil on a high heat in a large frying pan. Remove and set aside.
Add the onion, red and green peppers to the pan and stir fry for 3 minutes until the vegetables have slightly softened.
Place the chicken back in with the vegetables, then pour in the Fanta, tomato puree and vinegar.
Crumble in the stock cube and stir until all the ingredients are well incorporated.
Lower the heat and let the chicken dish simmer for 10 minutes.
Stir in the fresh pineapple and serve immediately with rice or noodles. Enjoy!
Notes
If you're on a diet, you can use a low-calorie cooking spray such as Fry Light, instead of the vegetable oil to save on calories.
If you're not calorie counting and would your sauce to be a tad thicker, you can create a corn flour slurry and thicken the sauce with it. 5ml (1 tsp) corn flour and 5ml (1 tsp) water would do.
Prep Time:

15 minutes

Cook Time:

15 minutes

Category:

Dinner

Method:

Stir Fry

Cuisine:

English
Keywords: fanta chicken recipe, slimming world Fanta chicken, syn free chicken recipe