Authentic Ghanian food is all about flavour! So, this classic Ghanaian jollof rice is not for the faint hearted. Mind you, you are the chef that will make this rice dish come together and you can control the amount of spice and chilli peppers. So ultimately, this jollof rice doesn't have to blow your head off and you can put your own spin on it! In either case, this jollof recipe is the type that you can eat directly out of the pot, as done so in some West African households.
With Ghanaian cuisine being vastly overlooked, this is your perfect chance to try something exotic. The preparation and cooking time of the Ghanaian jollof rice should be just a bit under an hour. It's incredible what a flavourful and hearty meal you can concoct in this time frame! Before you start, make sure you've got all the spices and ingredients at home. If you fancy trying another exotic rice dish, give this delicious South African side dish called geelrys a go! You'll see that the geelrys is just as uniquely spiced as the Ghanaian jollof rice.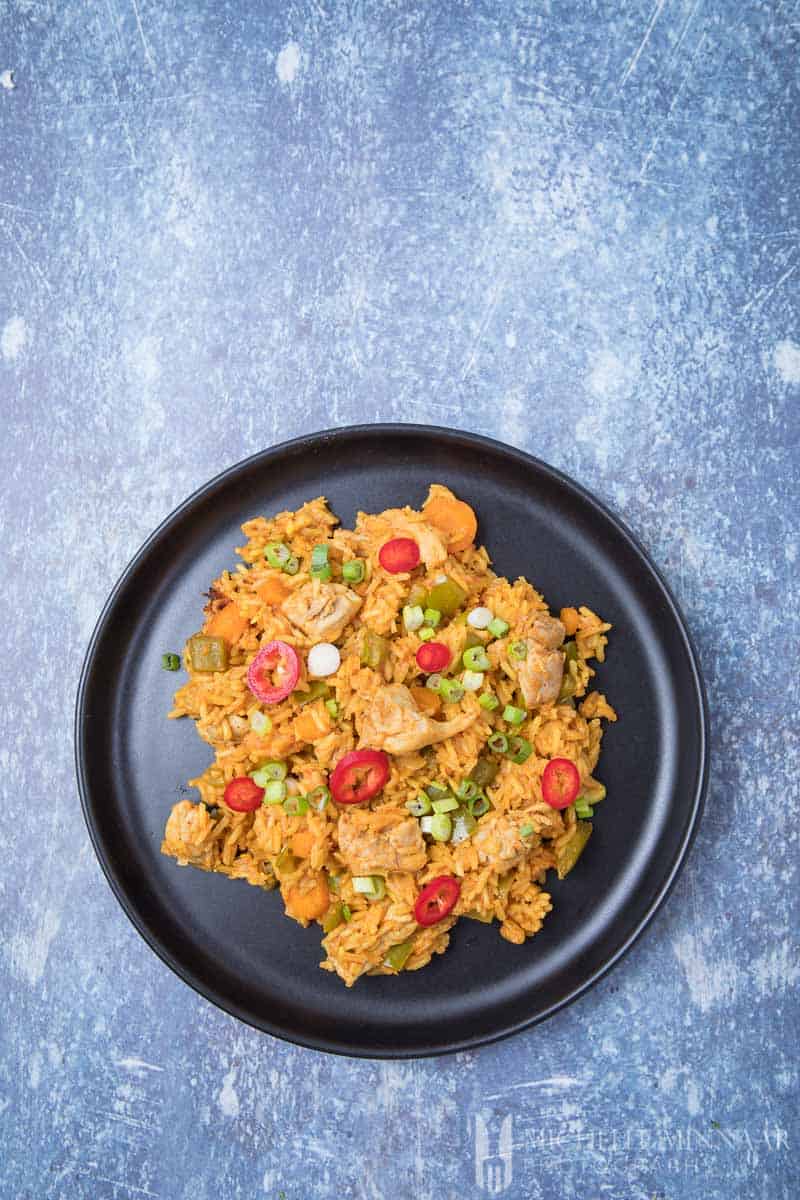 ghanaian jollof rice
What is ghanian jollof rice? Generally speaking, jollof rice is a popular rice dish that you'll find in Ghana, Nigeria and other West African countries. Basically, it is spiced rice dish with a tomato base, cooked in a stew, usually with vegetable or chicken stock. Also, it is cooked with chopped vegetables and pieces of meat, such as beef, chicken, goat or lamb. It is common to eat this dish for dinner or during celebrations such as birthdays or weddings. Most noteworthy, it is considered as one of Ghana's national dishes.
The origin of Ghanian jollof rice is from the region between Senegal and Gambia. It is said that the first people to have cooked a version of jollof rice were the Wolof people, an ethnic group residing in this region. They are the ones who have nicknamed the jollof dish as 'benachin' - meaning 'one pot' in Wolof language.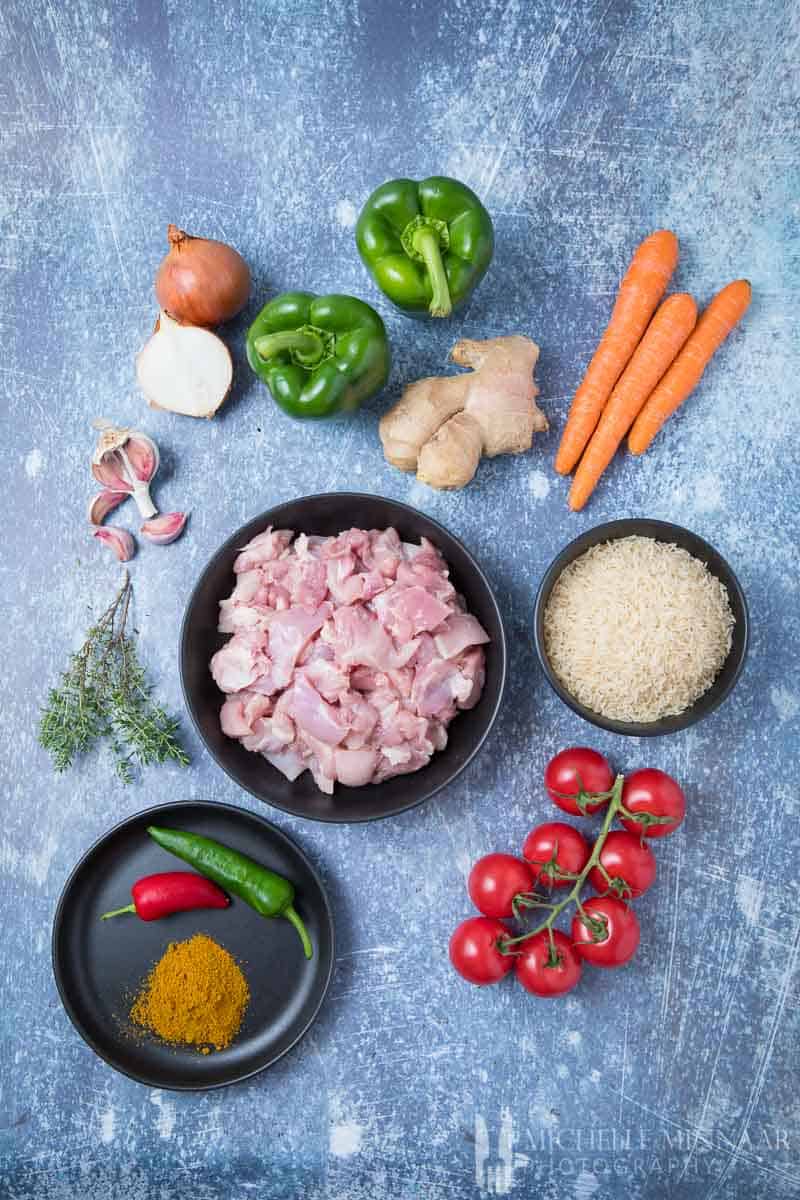 the tomato puree
The tomato puree will make the Ghanaian jollof rice come together by fusing all the spices together. You can use any type of tomatoes for this step. However, I do recommend you sticking to the traditional Roma or Plum tomatoes. Generally speaking, they are best for purees because they are cultivated for preserving.
In terms of consistency, it is best if the tomato puree isn't too thick or too runny. You can regulate the tomato puree with a little bit of water or chicken stock, which you'll need for later use. Also, remember to add some seasoning. My secret ingredient for tomato puree is adding a fair amount of sea salt and a hint or ground oregano. What's yours?
the chicken pieces
As mentioned before, you can make a jollof rice dish from practically any type of produce. For example meat, fish, vegetables or tofu. Nonetheless, this Ghanaian jollof rice recipe calls for chicken pieces. You'll need about 450g (1lb) skinless deboned chicken thighs, chopped into smaller bits. You may also choose to use other cuts from the chicken such as breasts, drumsticks, etc. I like to have medium-sized chicken pieces, like in this jeera chicken recipe. However, you can also opt for using larger pieces of chicken as in this chicken tikka masala recipe.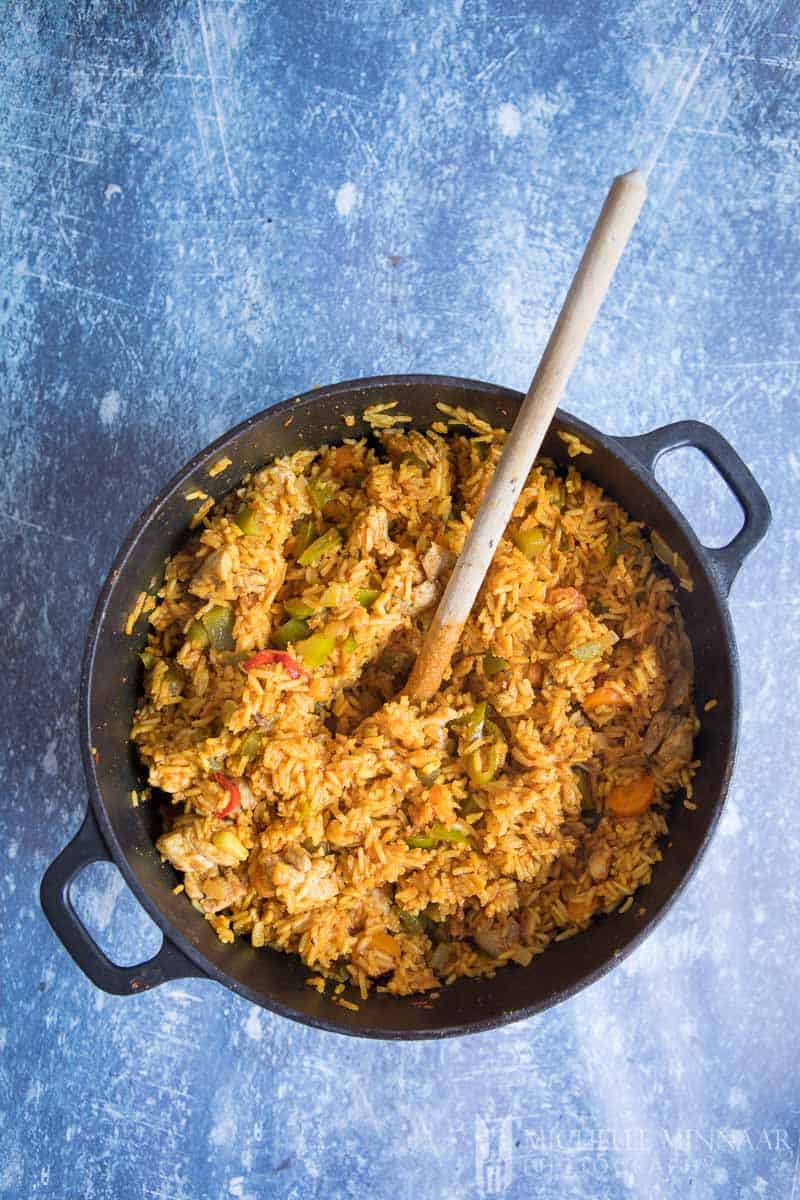 the stew
The stew is all about flavor. More specifically, with Ghanaian jollof rice, it's all about the meat, rice and vegetables cooking in their own juices. The more you let the stew simmer, the more punch your stew will have. Remember to simmer at the ingredients, including the stock, on low heat. If you let the stew simmer on very high heat, the ingredient won't release as much flavour and you risk burning your jollof rice. Don't forget to season according to your taste!
ghana jollof recipe
A popular variation of this Ghanaian jollof rice dish is using coconut milk in the stew. This lends a creaminess that will play well with the spices and the chicken. Also, with coconut milk being a cooling agent, will bring the spice levels down. Alternatively, you can use a splash of ordinary milk or soy milk.
the ghanaian way
If you wish to remain as authentic as possible with the Ghanaian jollof rice, you'll need to serve it with traditional Ghanaian side dishes. When visiting Ghana, you'll find that jollof rice is always served with side dishes of chicken, beef, spiced fried fish or mixed vegetables. I bet these dhukka chicken wings will do the trick if you are keen on more chicken!
As for rice, in Ghana most rice dishes use long-grain perfumed rice. Finally, for the topping, it's very typical to have some slices of shito pepper, also known as 'shitor din', which is a hot black pepper cultivated in Ghana. I know the name doesn't do the pepper much justice. You can serve it fresh or in the form of a hot pepper sauce with flavours of ginger, prawns and fish, ginger.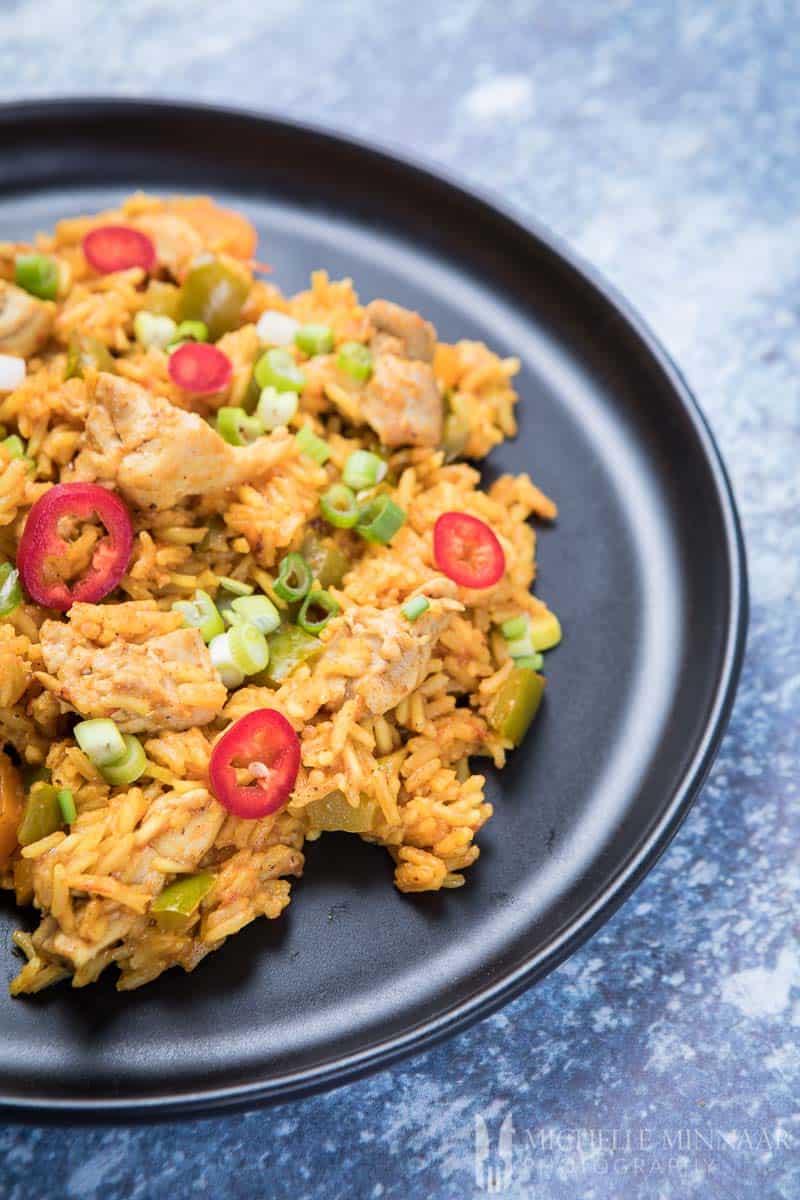 more rice dishes
If you fancy exotic rice dishes, you should definitely give this rice and peas recipe a go. It has traditional Caribbean flavour that is reminiscent of Ghanaian cuisine. You can also go in a Thai direction and this a vibrant Thai pineapple fried rice. Get the quick and easy recipe for it here.
Have you every heard of Christmas rice? It is also a spiced rice recipe, but using only those traditional Christmas spices like nutmeg, cloves and cinnamon.
Do you have a favourite rice recipe that's been around for ages in your family? Please leave a comment and share! I hope you enjoy this slice of Ghanaian cuisine!
What is your favourite rice recipe?
Print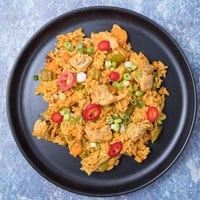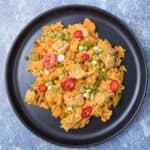 Ghanaian Jollof Rice
---
Description
Ghanaian jollof rice is a jewel of Ghanaian cuisine. It's a rice dish with meat, vegetables cooked in spices, stock and tomato puree in the form of a stew.
---
6

large tomatoes, washed

450g

(1lb) skinless, deboned chicken thighs, chopped

30

ml (2 tbsp) oil

2

onions, peeled and finely chopped

4

garlic cloves, peeled and crushed

2.5

cm (1in) fresh ginger, peeled and grated

1

red chilli, washed and finely chopped

1

green chilli, washed and finely chopped

2

green peppers, washed and chopped

2

carrots, peeled and sliced

30

ml (2 tbsp) curry powder

30

ml (2 tbsp) tomato puree

15

ml (1 tbsp) fresh thyme, finely chopped

450g

(1lb) white rice, washed

1.5

ℓ (6 cups) vegetable stock
---
Instructions
Place the tomatoes in a blender and process until smooth. Set aside.

Fry the chicken in the oil and cook until browned. You might need to do it in batches. Remove and set aside.

In the same pan, gently fry the onion, garlic, ginger and chillies until softened and translucent.

Turn up the heat and add the peppers and carrots. Cook until the vegetables have softened, which should take around 5 minutes.

Add the curry powder, tomato puree, thyme and blended tomato to the mix. Stir and let it reach a bubbling point.

Add the rice and chicken then stir well.

Pour in the vegetable stock, give it a stir then cover the pan with a lid. Turn down the heat so that it reaches a slow simmer.

After around 15 minutes the rice and chicken should be cooked. Check on it every now and then and add more water should the mixture try up.

Serve as a one pot meal.
Prep Time:

15 minutes

Cook Time:

40 minutes

Category:

Main Course

Cuisine:

Ghanaian
Nutrition
Serving Size:

1 serving

Calories:

502

Sugar:

14.1 g

Sodium:

360 mg

Fat:

13.3 g

Saturated Fat:

3.5 g

Carbohydrates:

65.5 g

Fiber:

8.8 g

Protein:

33.4 g

Cholesterol:

65 mg
save the recipe to your pinterest board