Honey chilli chicken is one of those easy dishes you can whip up at any time of the week. Needless to say, honey chilli chicken is full of Asian flavours that can match any Chinese takeaway restaurant.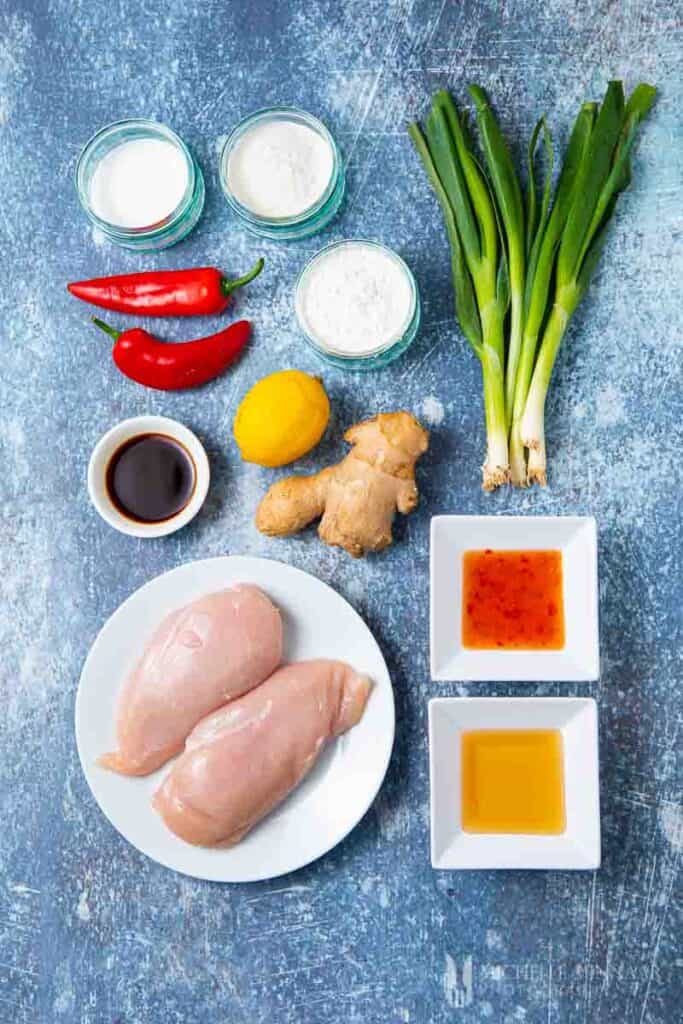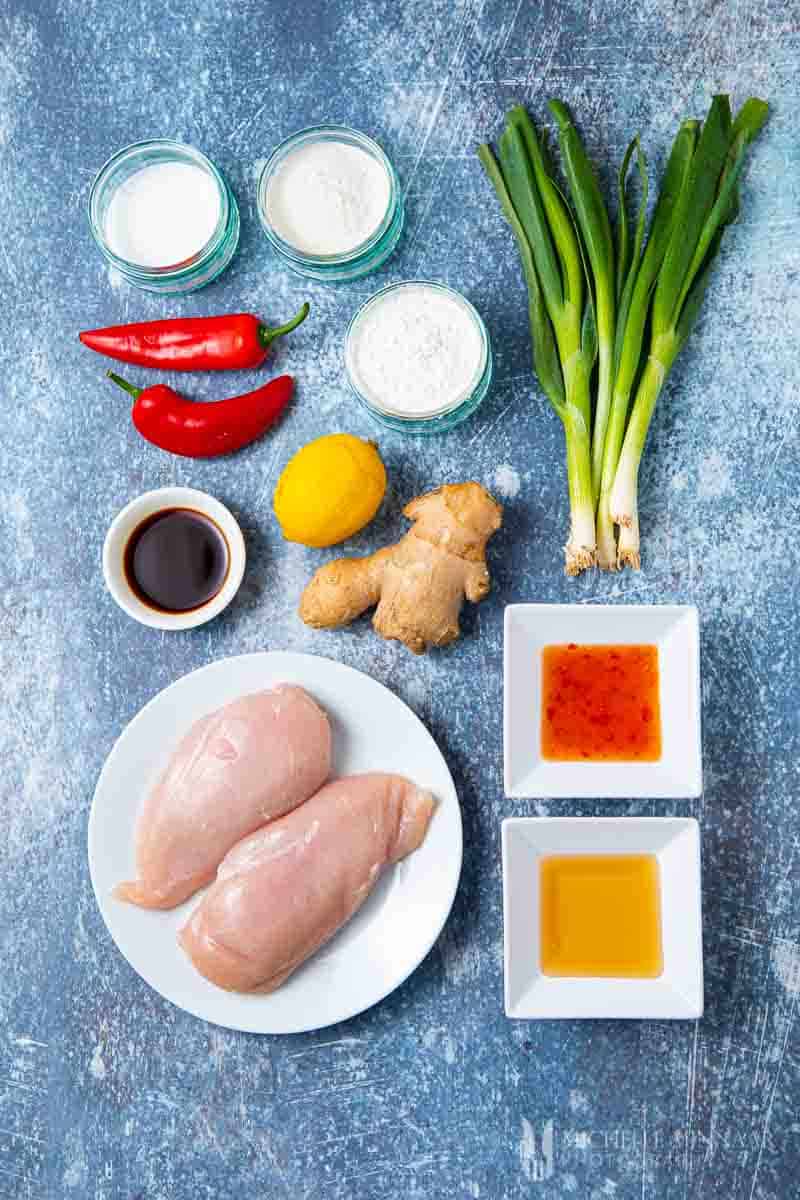 Better yet, not only is this honey chilli chicken prepared with fresh ingredients, it's also inexpensive. By making this Chinese 'fakeaway' at home, you'll save tons of money on purchasing expensive takeaways and delivery charges.
Be honest and make a calculation, how much have you spent on takeaways recently?
What's more, when you're making the dish in the comfort of your kitchen, you can manipulate the ingredients in this honey chilli chicken. For instance, you can turn this dish into a vegetarian or vegan meal if you wish to alter your current diet.
So, what are you waiting for? Come and explore this delicious honey chilli chicken recipe.
products you need for this recipe
Here is a list of things you'll need to recreate this delicious chicken recipe. My favourite part of making an Asian dish is the fact that I get to reuse a lot of the ingredients and products that I need for this recipe. For instance, take a look at these below:
honey chilli chicken recipe
This honey chilli chicken recipe calls for typical Asian herbs and spices. For instance, you will need some fresh ginger, spring onions, sweet chilli sauce, soy sauce, lemon, honey, cornstarch, sugar and sesame seeds for the perfect finish.
This recipe is divided into three parts: the batter, the sauce and the garnish. All of these are interchangeable and you can use them with other Asian recipes. For instance, like these:
With incredible Chinese fakeway dishes like these, you'll never need to go out or order food on the telephone again! That's a promise.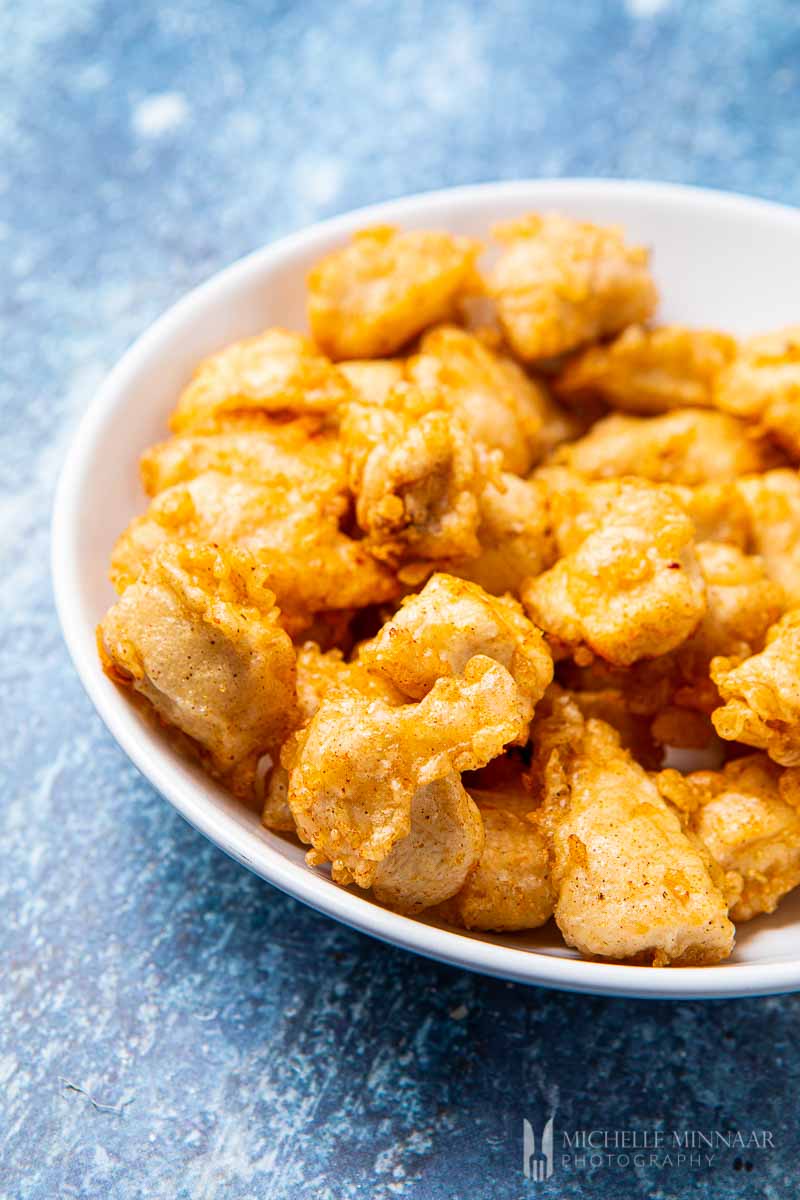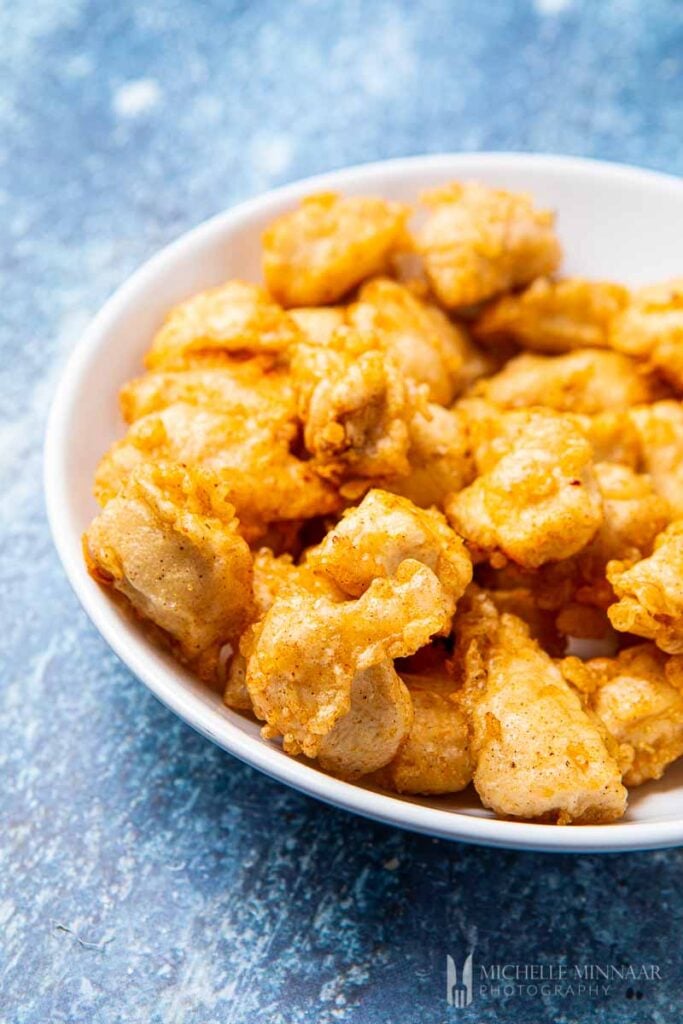 sticky honey chilli chicken slimming world
If you are following the slimming world programme, you might want to make a few adjustments to this chicken recipe – just in case you're low on your syn allowances for the day.
This honey chilli chicken recipe is not the lowest in terms of sugar, so first things first. Omit the batter in this recipe and simply cook the chicken inside the sauce itself. Simply said, this will lower your carb intake.
This step will come in very handy if you are low in your carb allowance. Next, omit using sugar and add honey instead.
Try to limit the amount of honey you add inside the recipe. The best and healthiest alternative I've come to use recently is the addition of organic coconut sugar.
1 teaspoon of honey contains 1 syn. Also, 1 teaspoon of sugar contains 1 syn.
Also, don't forget to use a low-calorie cooking spray for the honey chilli chicken. A low-calorie cooking spray doesn't include any syns at all. So, if you are low on your syn allowance, go for this option.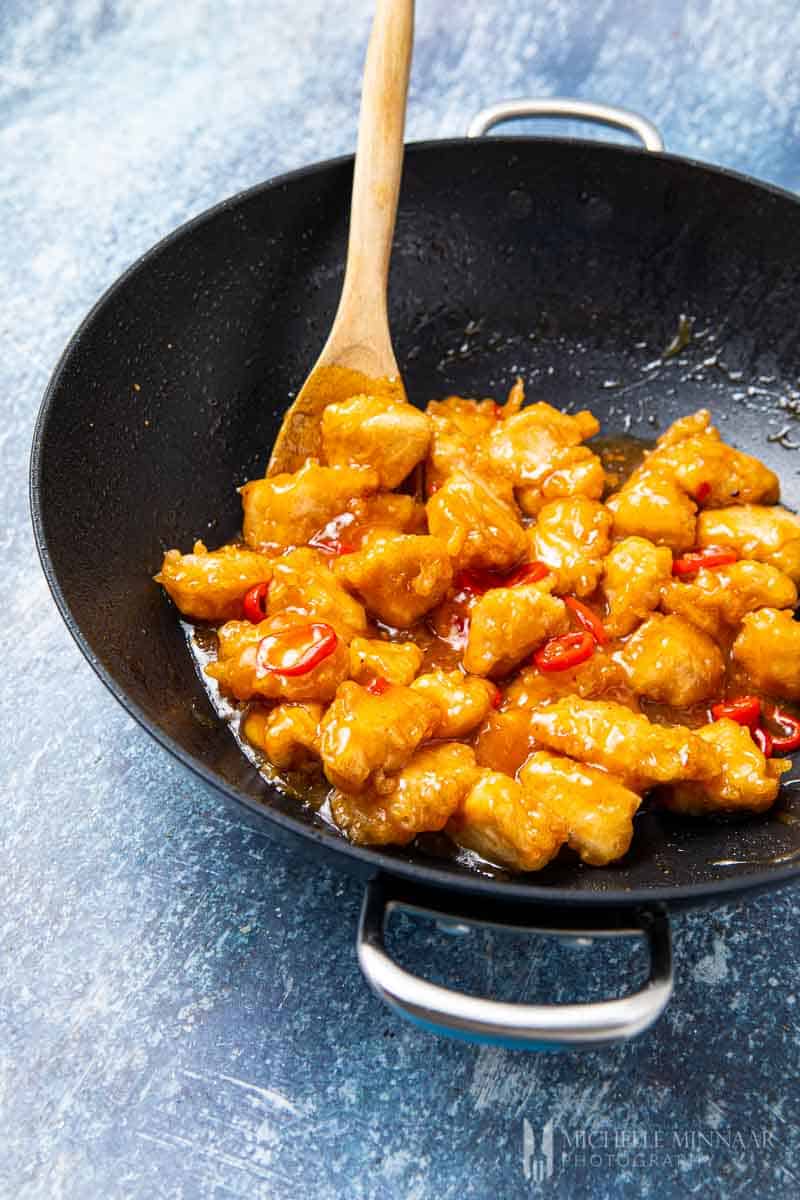 honey chilli chicken sauce
The honey chilli sauce is integral to making this recipe shine – literally! The goal is to obtain a shiny gloss on your battered chicken.
You can add different ingredients to the sauce to manipulate the flavour. For instance, you can add:
lemon, lime or orange zest
fresh pineapple
tamarind
Then the chicken will take on a sweet and sour style of flavour.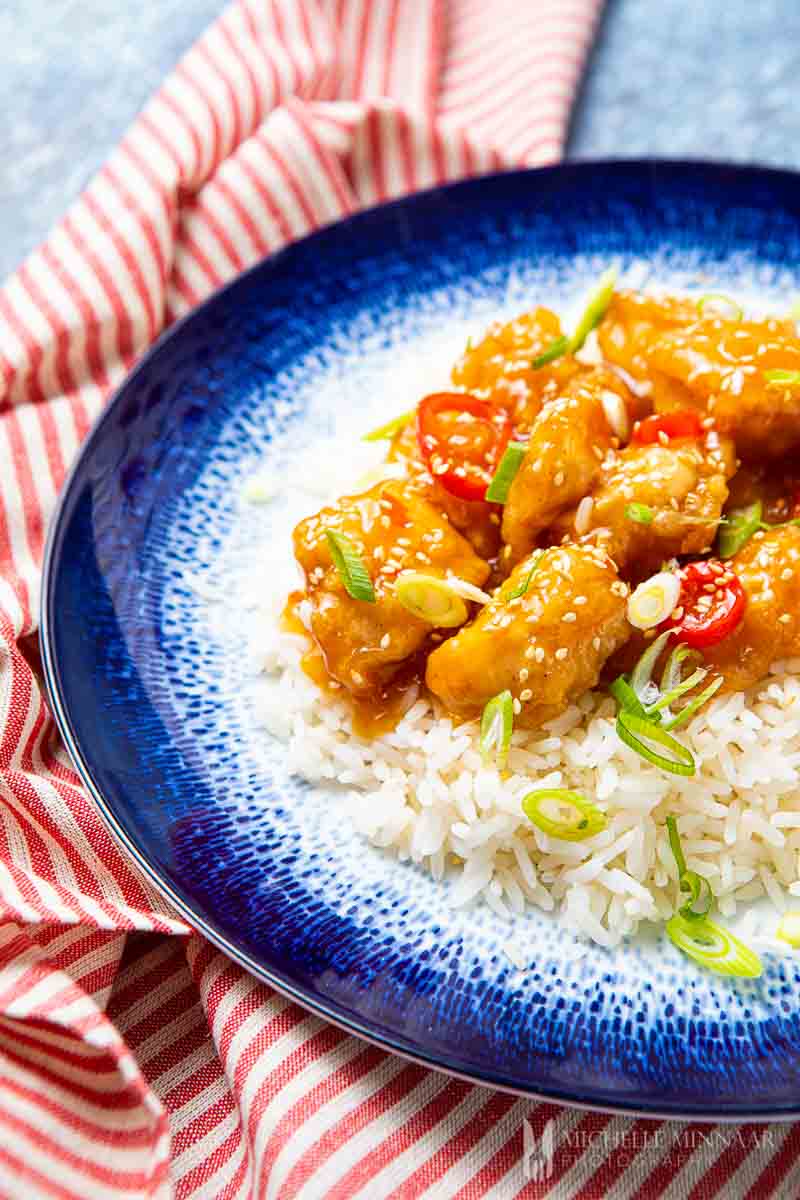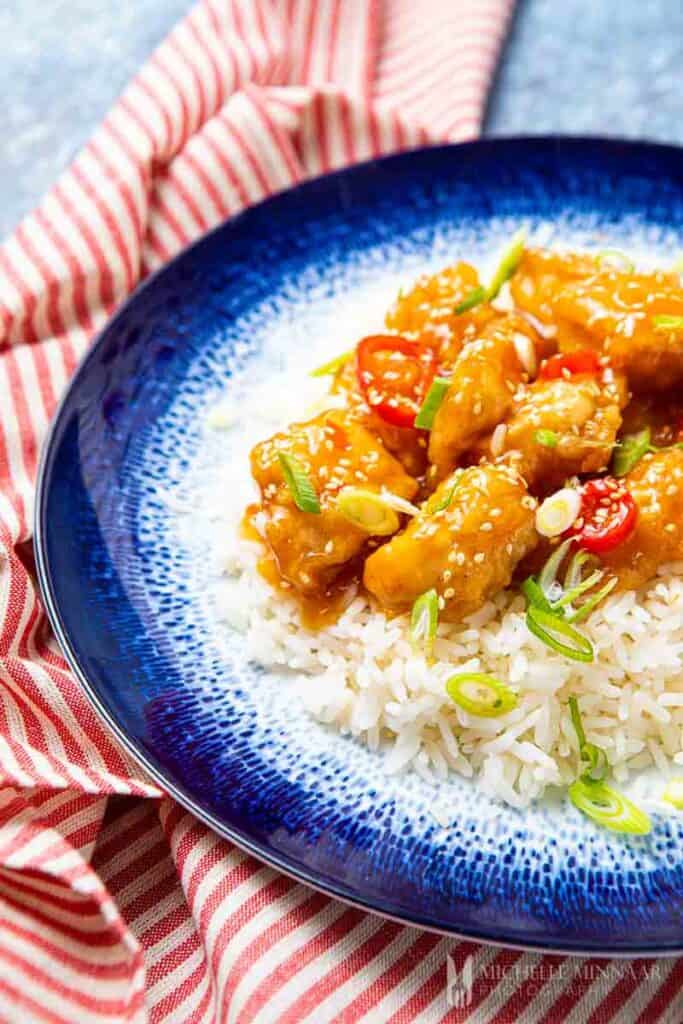 how to serve this Asian chicken recipe
If you've got a large family to feed, you can easily serve this honey chilli chicken recipe with a bowl of white rice. It works well with jasmine rice, basmati rice or plain long grain white rice.
You can also try wild rice. Otherwise, if you wish to pair the dish with something lighter, feel free to pair it with the following:
You can also serve the honey chilli chicken with a bowl of quinoa or with couscous.
best toppings for this Asian recipe
Come and take a look at some of the best topping suggestions for this chilli chicken recipe. In fact, you can use some of these for any type of Asian dish. Take a look below.
fresh herbs: Thai basil, parsley, fresh coriander leaves, chives, oregano or watercress
thin slices of red onion, white Italian onion, scallions or spring onions
thin slices of lemongrass for a more fragrant version of the honey chilli chicken
orange, lemon or lime zest for a citrusy bite
sweetcorn or baby corn
fresh red or green chillies (you can also try jalapenos which are milder)
sesame seeds (my favourite topping for Asian dishes like this one)
How would you serve this honey chilli chicken recipe? Let me know.
Print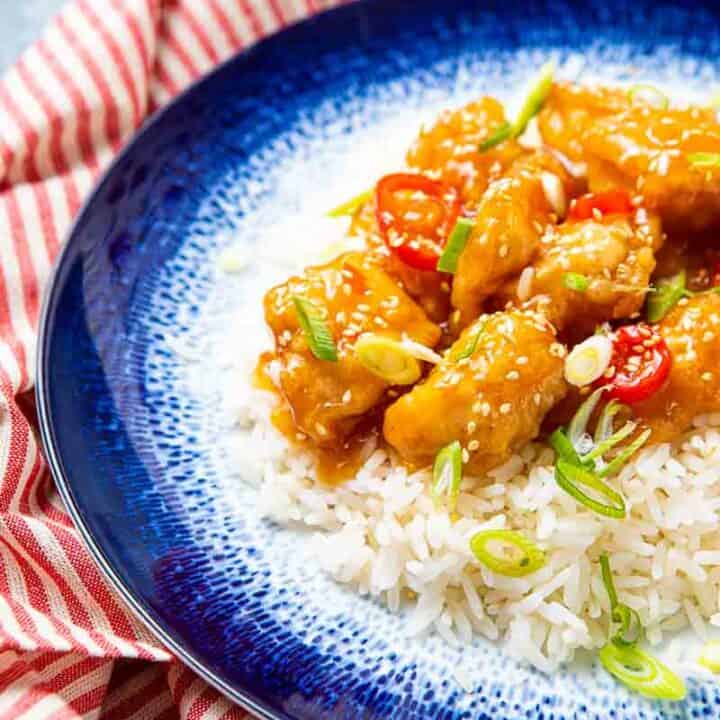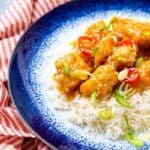 Honey Chilli Chicken
---
Description
Honey Chilli Chicken is a Chinese takeaway recipe that your whole family will love. Best served with egg fried rice. 
---
vegetable oil, around 750ml (3  cups)
Batter
30g

(¼ cup) self-raising flour

60g

(½ cup) cornstarch

1.25

ml (¼ tsp) salt

1.25

ml (¼ tsp) sugar

2.5

ml (½ tsp) Chinese Five Spice powder

125

ml (½ cup) water

2

chicken breasts, thinly sliced
Sauce
15

ml (1 tbsp) vegetable oil

1

red chilli, washed and finely chopped

2.5

cm fresh ginger root, grated

1

lemon, juiced

15

ml (1 tbsp) sweet chilli sauce

15

ml (1 tbsp) soy sauce

30

ml (2 tbsp) honey

80

ml (⅓ cup) water

10

ml (2 tsp) cornstarch
Garnish
4

spring onions, cleaned and chopped

10

ml (2 tsp) sesame seeds
---
Instructions
Heat enough oil in a wok to be able to submerge the chicken pieces.

Mix all the batter ingredients in a large bowl. 

Test the temperature of the oil by dropping a small amount of batter into the wok. If it immediately floats to the top and starts sizzling, it's ready.

Dredge the chicken in the batter and fry it in batches for 6 to 8 minutes or until golden brown,. 

Remove the cooked chicken with a slotted spoon and drain on paper towels.

Discard the oil and clean the wok. 

Heat the fresh oil in the wok and gently fry the ginger and chilli for two minutes.

Add the lemon juice, sweet chilli sauce, soy sauce and honey. Let the mixture reach a slow bubble point.

Make a slurry, by adding the water and cornstarch to a cup and mixing until all the lumps have gone. 

Turn up the heat, pour the slurry into the wok and stir vigorously. At first the sauce will be cloudy but after a minute or so, everything will come together and the sauce's colour will return. 

Tip in the chicken pieces and stir until everything is covered.

Serve with plain white rice, topped with spring onions and sesame seeds. Enjoy!
Notes
For best results, you'll need to deep fry the chicken. If you're health conscious, you can pan fry the chicken in much less oil.
Prep Time:

20 minutes

Cook Time:

20 minutes

Category:

Dinner

Method:

Stir Fry

Cuisine:

Chinese
Keywords: honey chilli chicken, Chinese honey chilli chicken recipe, Chinese takeaway recipes, Chinese chicken recipe