Give a Sunday roast a facelift buy making this Indian roast leg of lamb!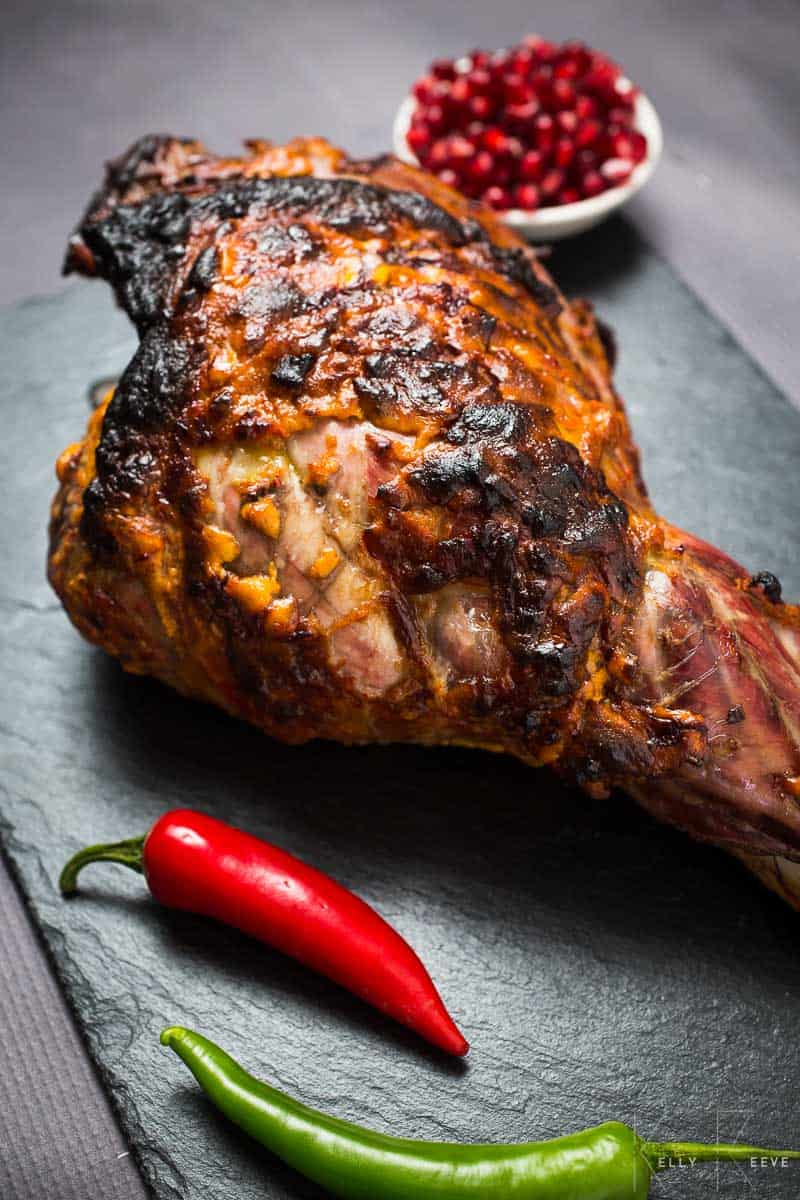 Do you still prepare a roast dinner every week? Generally, families eat out for Sunday roast nowadays, which is a pity because it tastes best when it's homemade.
So, I took it upon myself to create an alternative version to Sunday roast and make it at home. As a result, here we have Indian roast lamb.
It is excellent to serve between a family or dinner party of four to six. The only catch is that you'll have to prepare in advance. It's a two day process and the roasting takes some time too.
I recommend making simple complementing side dishes the night before, while you do the preparations for the Indian roast lamb. Plus, it's always great to practise your cooking skills for the upcoming holidays.
indian roast lamb
So, what exactly is the Indian roast lamb? You guessed it, the leg of lamb is marinated in a medley of spices in a yogurt base before being cooked.
By marinating the lamb, you effectively tenderise it and the meat will retain more moisture during the cooking process. You can serve it with some sweet potato fries.
leg of lamb
There are excellent cuts of lamb out there, such as shoulder of lamb, lamb rack, leg of lamb, etc. I've already made a 7-hour slow roast from shoulder of lamb and it was delicious.
However, this time I am working with a leg of lamb, which is slightly more complex to cook.
To understand the leg of lamb, I have to differentiate from the American cut. The American cut of the leg of lamb refers to the meat not having the bone or the shank in it.
Usually, this is the cut you can find in the supermarkets. However, the leg of lamb with the bone or shank adds a little more drama and has a nice visual effect. Plus, you can reuse the bone to make a flavourful broth.
As you can see, this Indian roast lamb has the shank. Once you take the gorgeous piece of meat out of the fridge, you'll need to pierce it a couple of times all over.
This step is important, because when you are ready with your marinade mix, you'll pour it over and it will absorb.
the marinade
Speaking of the marinade, this recipe contains no less than fourteen ingredients! The hardest thing for this Indian roast lamb recipe is to make sure that you've got all the spices at home.
The whole marinating process should be done preferably over night as it needs a solid eight hours to absorb the flavours. Therefore, when you apply the marinade mixture on the leg of lamb, make sure that you cover all surfaces.
There is some debate whether marinating the lamb is a good idea. The marinade is for breaking down tough fibers in any type of meat, however lamb is already quite a tender meat, depending on how you cook it.
For this reason, many people fear that in fact, the marinade will make the lamb slightly tougher.
Don't worry, this marinade will not make the lamb chewy, in fact it will help to preserve the juices even better when all surfaces are covered. Therefore, the integrity of the leg of lamb in this Indian lamb roast in respected.
However, if you are not a fan of marinades and generally prefer the umami flavour of the meat, it is not a problem. Simply season it with herbs like rosemary and garlic. Sometimes, simplicity is key.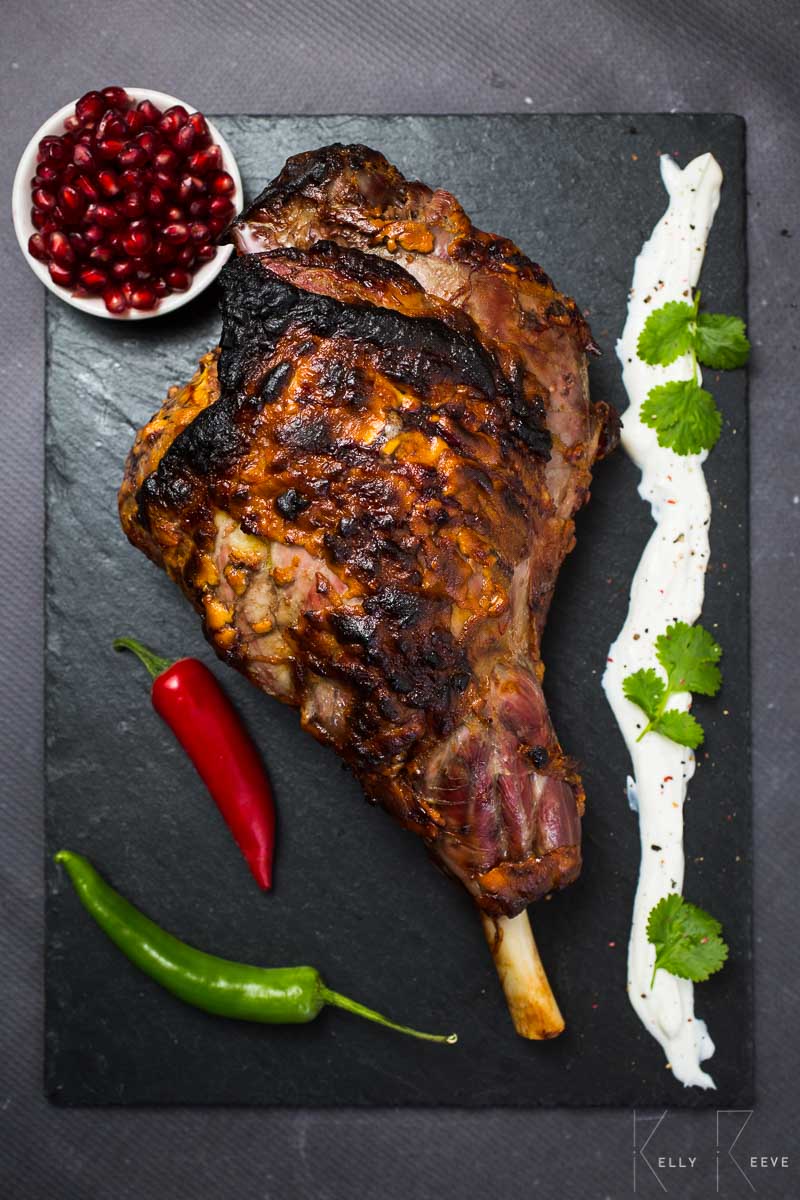 the oven
Here comes the tough part – knowing when the lamb is cooked. You'll need to leave the lamb in the oven until you see a beautiful golden crust on top. It's the crust that prevents the juices from flowing, which in turn keeps the meat tender.
How do you like your lamb inside – pink or well-done? You should cook your leg of lamb for about 12 to 15 minutes per pound (0.5kg) if you want it pink.
Or, you can cook the lamb at 18 minutes per pound (0.5kg) if you want it well done. Almost always, I recommend serving the Indian roast lamb pink in the middle, its most juicy and tender state.
With well-done, you risk of truly overcooking the meat and destroying the integrity of this expensive cut.
wine paring
This dish can be a tricky one to pair with wine because of the spices in the Indian marinade. Normally I would serve a heavy, fruity wine with a leg of lamb. Such as South African Cabernet or a Californian Zinfandel.
However, with the Indian spice mix, the flavour can get a bit heavy when combined with a strong red wine. In this case, it would actually be advantageous to choose a lighter red wine, such as a Beaujolais.
If you serve it slightly chilled at about 13-15 degrees Celsius it should complement the dish nicely.
serving
What I love about this Indian roast lamb is that you can serve it in multiple ways. If you want to stick to the traditional way of serving leg of lamb, then you'll need green beans and some roast potatoes.
However, the Indian roast lamb will have lots of left overs for the next day to come, so you can use the leftover bits in a sandwich or even an Indian roast lamb pancake!
I was inspired by the Chinese favourite, crispy duck pancakes, so why not make Indian roast lamb pancakes? You will need to julienne some cucumber and cut meat into thin strips.
Think of the cut as New York strip style with steak. Next, add pomegranate seeds, some herbs, a bit of yoghurt with spices and you're done.
Other lamb recipes you might be interested in:
Print
Indian Roast Leg of Lamb
---
Author:

Michelle Minnaar

Prep Time:

20 minutes

Cook Time:

180 minutes

Total Time:

3 hours 20 minutes

Yield:

8

1

x
Description
Indian Roast Lamb is a leg of lamb that has been marinated in a spicy yogurt sauce. The recipe contains no less than fourteen ingredients.
---
Scale
Ingredients
2

garlic cloves, chopped

60

ml (4 tbsp) olive oil

120g

(4fl oz) Greek yogurt

5

cm (2in) fresh ginger, peeled and grated

2

pinches saffron threads

5

ml (1 tsp) ground coriander

5

ml (1 tsp) freshly ground black pepper

5

ml (1 tsp) Madras curry powder

10

ml (2 tsp) dry chilli flakes

15

ml (1 tbsp) tomato ketchup

10

ml (2 tsp) salt

60

ml (4 tbsp) brown sugar
Juice and zest of 1 lemon

1

leg of lamb, weighing about 2.5kg (5.5lbs)
---
Instructions
Place the garlic, oil, yogurt, ginger, saffron, coriander, pepper, curry powder, chilli, ketchup, salt, sugar and lemon in a large bowl and stir until smooth.
Pierce the lamb leg in random spots all over and pour the marinade over the meat, ensuring all surfaces are covered.
Cover with cling film, place the meat in the fridge and leave to marinate at least 8 hours but preferably overnight.
Preheat the oven to 320ºF/160ºC/gas mark 3.
Remove the clingfilm and place the meat in an oiled roasting tray.
Cook in the oven for 2 hours. Check that the meat cooks evenly, otherwise you'll need to turn the tray around halfway through.
Crank up the heat to 390ºF/200ºC/gas mark 6 and cook for another 30 mins.
The lamb should have formed a golden, crisp crust.
Switch off the oven and leave the lamb in there for another 30 minutes, then serve.
---
Notes
Serve as a traditional English roast dinner or in this case I took inspiration from the Chinese favourite, Crispy Duck Pancakes. The components? Lamb, tortilla wraps, cucumber, spiced yogurt and pomegranate seeds. Enjoy!
Nutrition
Serving Size:

1 serving

Calories:

576

Sugar:

1.3 g

Sodium:

544 mg

Fat:

27 g

Saturated Fat:

8.2 g

Carbohydrates:

2.8 g

Protein:

76.4 g

Cholesterol:

240 mg
save the recipe to your pinterest board

A special thanks to Kelly Reeve for assisting with the recipe shoot.