Lamb karahi is one of the most popular dishes in northern India, Afghanistan and Pakistan. This lamb curry is known for its spiciness, richness and deep red colouring. Actually, it is very similar to a Bengali mutton curry. However, what makes a lamb karahi unique is that it is prepared in a karahi dish, which is a thick and deep cooking pot. A karahi dish wouldn't be genuine if it wasn't prepared in the traditional karahi pot.
Generally speaking, a lamb karahi curry calls for stewing lamb, but oftentimes you can also find versions which call for goat meat. These two meats are practically interchangeable. In either case, you don't have to travel to northern India to enjoy this rich and spicy curry. Nowadays, it is possible to find a version of a lamb karahi in any Indian or Pakistani restaurant.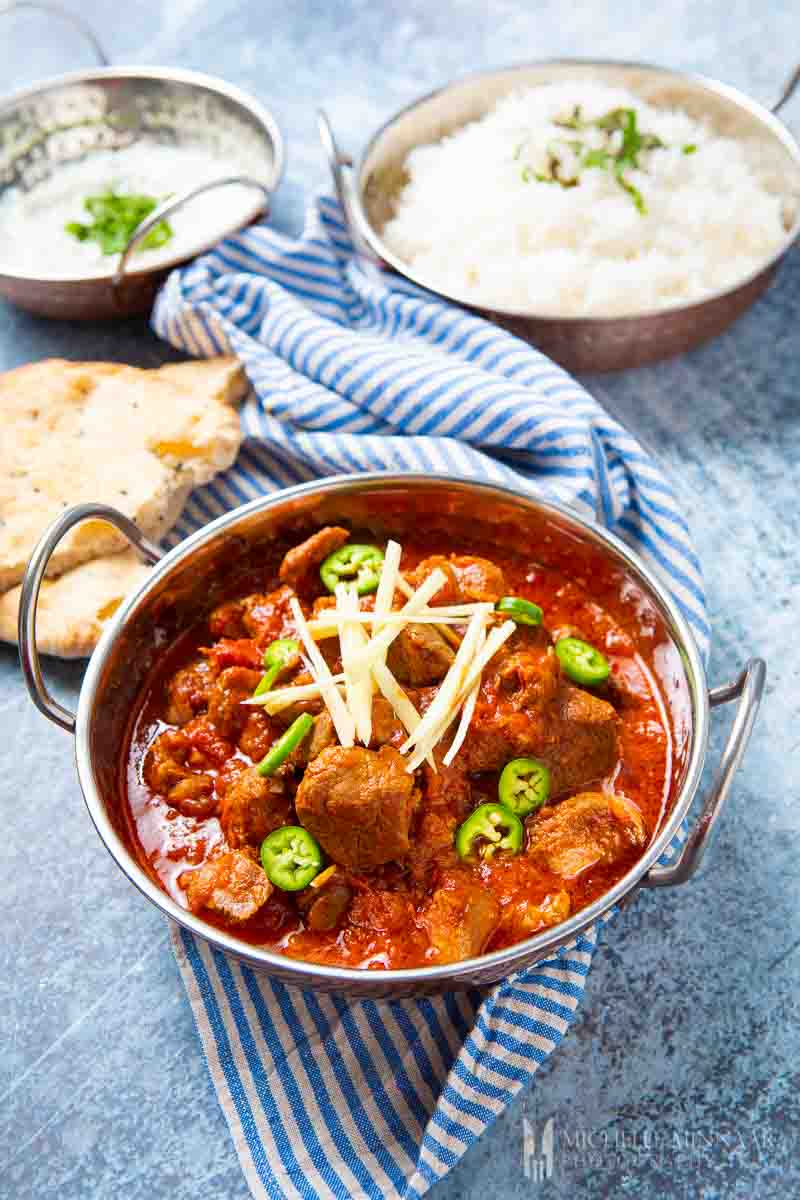 So, why not try something different for a change, rather than opting for the common classics, such as chicken korma, tikka masala or jalfrezi curry!
One should always serve a lamb karahi, or any karahi curry for that matter, in a deep curry dish with a roti or a naan. Remember, it's best served sizzling hot! Enjoy cooking with lamb and exploring its bold flavours.
A Curry House in Brighton
I've had a chance to sample a fabulous lamb karahi recipe in Brighton at the Bayleaf Indian Brasserie. It was just what me and the kids were looking forward to, having visited the arcades on the pier earlier. The food and entertainment definitely make it a worthwhile day trip to Brighton.
Now, like most kids, mine used to have quite sensitive palates when it comes to spicy, ethnic food. Thank goodness though, my son is slowly but surely warming up to my homemade curries. Today, he can easily polish off a chicken or vegetable korma. My daughter is spice averse, but she can stomach a korma curry every now and again. Although, she adores coconut rice and peshwari naan because they are sweet. In either case, on this day I decided to take both of them out and enjoy a nice Sunday lunch.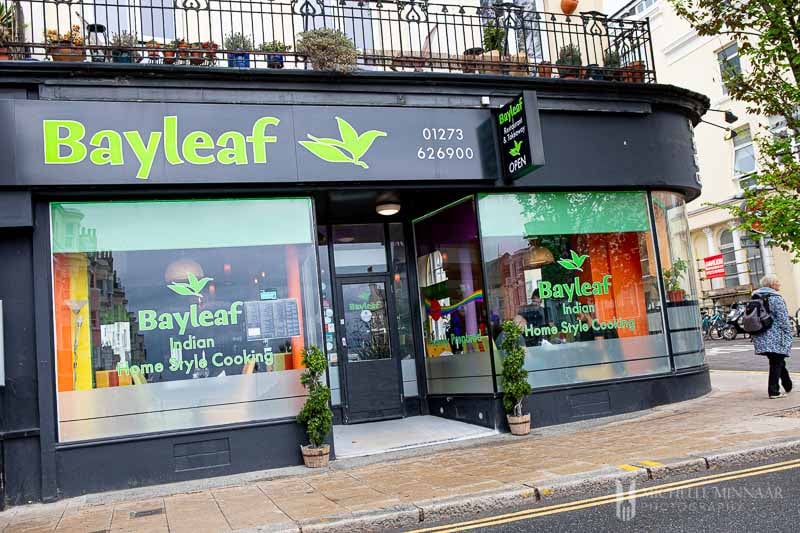 lamb karahi near me
As soon as we sat down, I saw the lamb karahi on the menu. I knew instantly, that I had to try it. While taking a second look at the menu, I got curious about the other menu options. I took the opportunity to interview the manager, Muki Rahman, about some of the dishes. He was extremely knowledgeable in Indian cooking.
Apparently, the restaurant's claim to fame is the Bayleaf Khasi (£12.95). It's basically fresh lamb pieces with onions and red chillies cooked to the restaurant's own recipe. We also had Paka Pasanda (£12.95), which consists of thin slices of lamb cooked with onions, tomatoes and green chillies in a gravy flavoured sauce with saffron. You can never go wrong with bhindi bhaji either. All dishes were fantastic!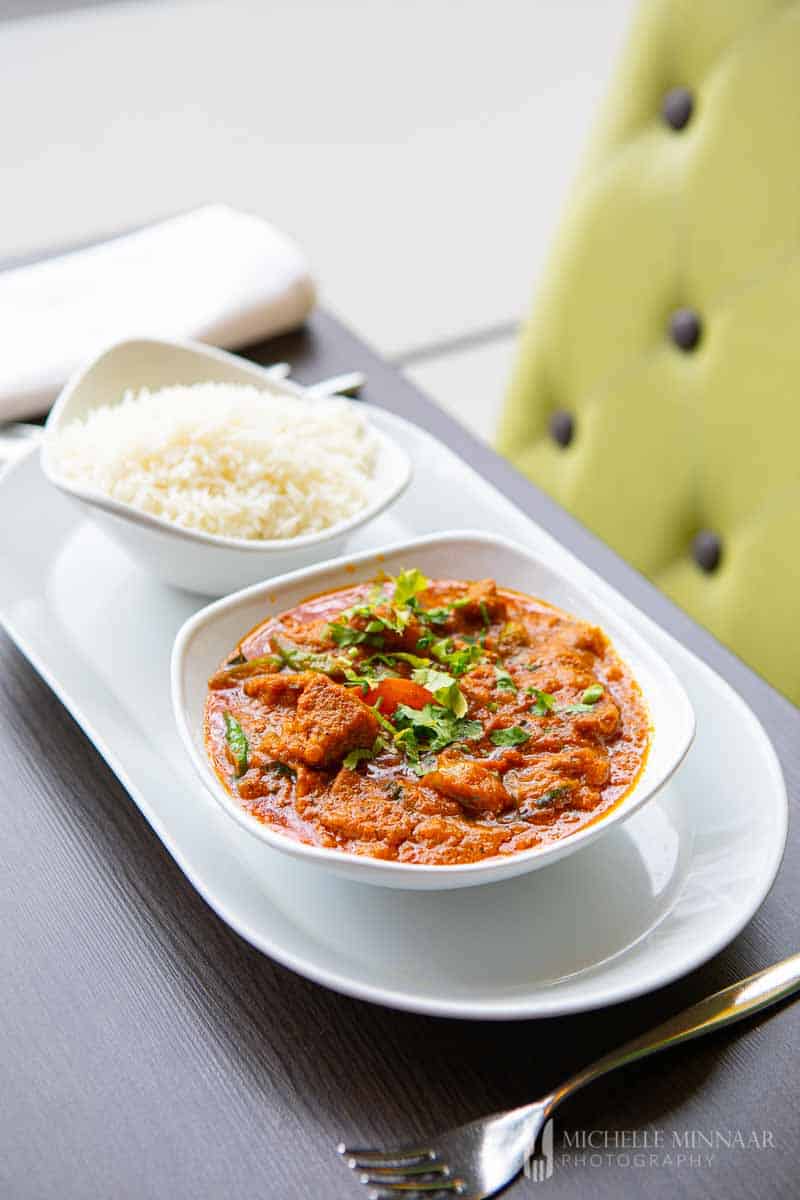 Lamb Try It Love It
I was really pleased about the fact that there were so many lamb dishes on the menu. For me, lamb is an affordable and tasty ingredient, and I try to cook as much with it as possible. For example, take a look at Greedy Gourmet's best lamb recipes:
In addition, lamb is so versatile, you can make all sorts of meals using different cuts. As you can see, it's not only a one roast wonder.
Speaking of lamb, one of my most favourite ways of enjoying lamb is with curry spices. The spices bring out the bold flavours of the lamb, and for me the latter is the go-to-curry meat.
lamb karahi recipe
Being at the Bayleaf Indian Brasserie, I took the opportunity to ask a few questions about lamb since they have so many lamb items on the menu. Check out my brief interview with the manager, Muki Rahman, and his view on lamb:
What was the first lamb dish you ever learned to make?
Lamb bhuna.
What is your favourite lamb dish on the menu?
Bayleaf Khasi, because it contains no vegetables. Basically, the entire focus is on the meat and gravy, yielding magnificent flavours.
How does lamb compliment common spices in curries?
The best spices for lamb are freshly made garam masala and tamarind, as well as fresh curry leaves. Methi leaves are also excellent. The simpler the recipe, the more the flavour of the lamb will shine through.
Why does lamb have such a unique flavour compared to other meats?
You can't beat lamb in tenderness when properly cooked.
Can you share one lamb 'cooking' hack?
If you're intimidated by lamb, build your confidence by starting off cooking with lamb chops. Marinate and grill – easy!
Can you share a top tip for Indian cooking at home?
In some ways, Indian cooking has lost its way in the process of being westernised. If you want to get truly good at cooking Indian cuisine, you should go on Youtube and search for "village cooking". Learn from the authentic cooks in villages, who use no artificial ingredients and whatever is at hand with no gadgets whatsoever. It is also very seasonal and an eco-friendly way of living.
Having learned so much about lamb, I decided to replicate their version of lamb karahi at home. I've published many curry recipes on the blog, but this one is definitely one of the simpler ones, in ingredients and cooking. Consider this recipe an easy introduction to Indian lamb curries.
If you're not in the mood for a curry, check out my irresistible recipe on how to make smoked leg of lamb. This is another reason why I love cooking with lamb. It's really so versatile and easy to cook with.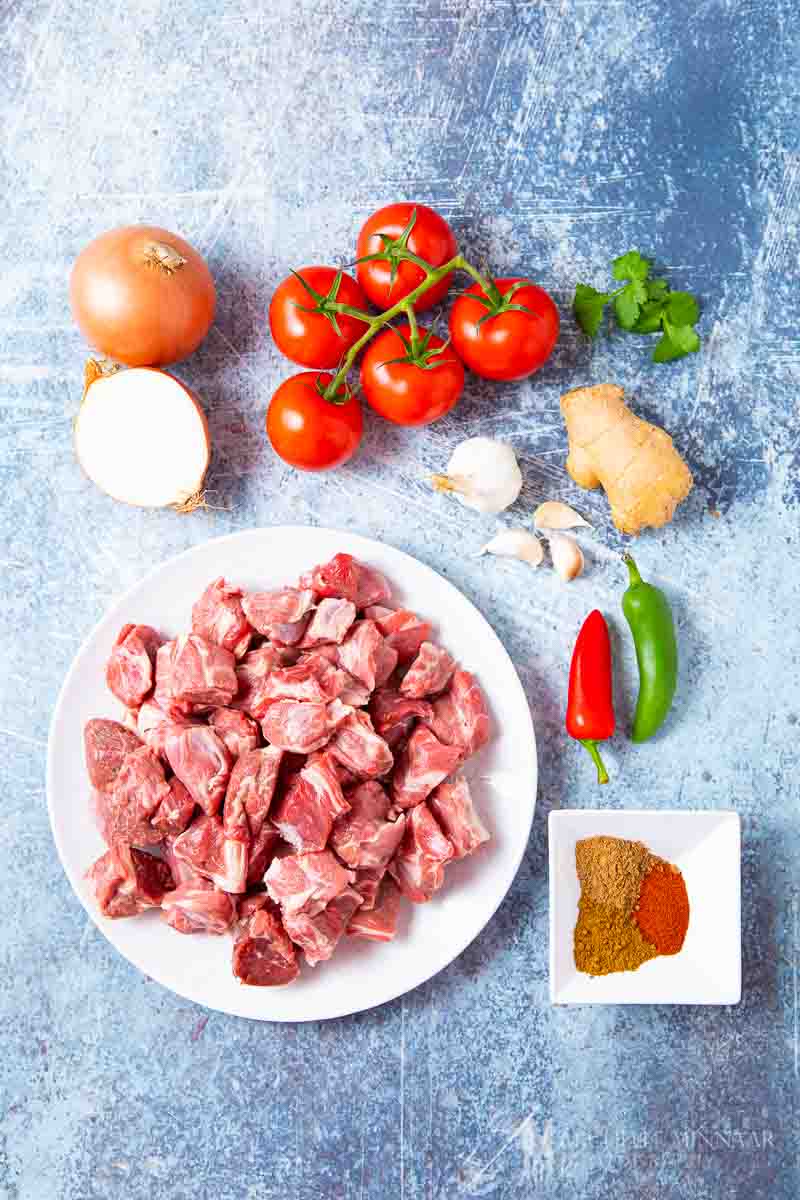 how to prepare karahi curry
Here are some essentials you will need for making your own lamb karahi curry:
lamb karahi spice level
Ordinarily, lamb karahi is quite spicy. In some cases, it can even be too spicy for the most adventurous curry lovers. Therefore, what's best about making your own lamb karahi curry from scratch is that you get to control the amount of heat that goes in.
If you wish to make a mild version, go for a touch of chilli powder. Otherwise, if you wish to experience the heat of an authentic lamb karahi, use fresh chillies.
what to serve lamb karahi curry with
There are a couple of essentials you must serve your lamb curry with. For example, you should consider the following: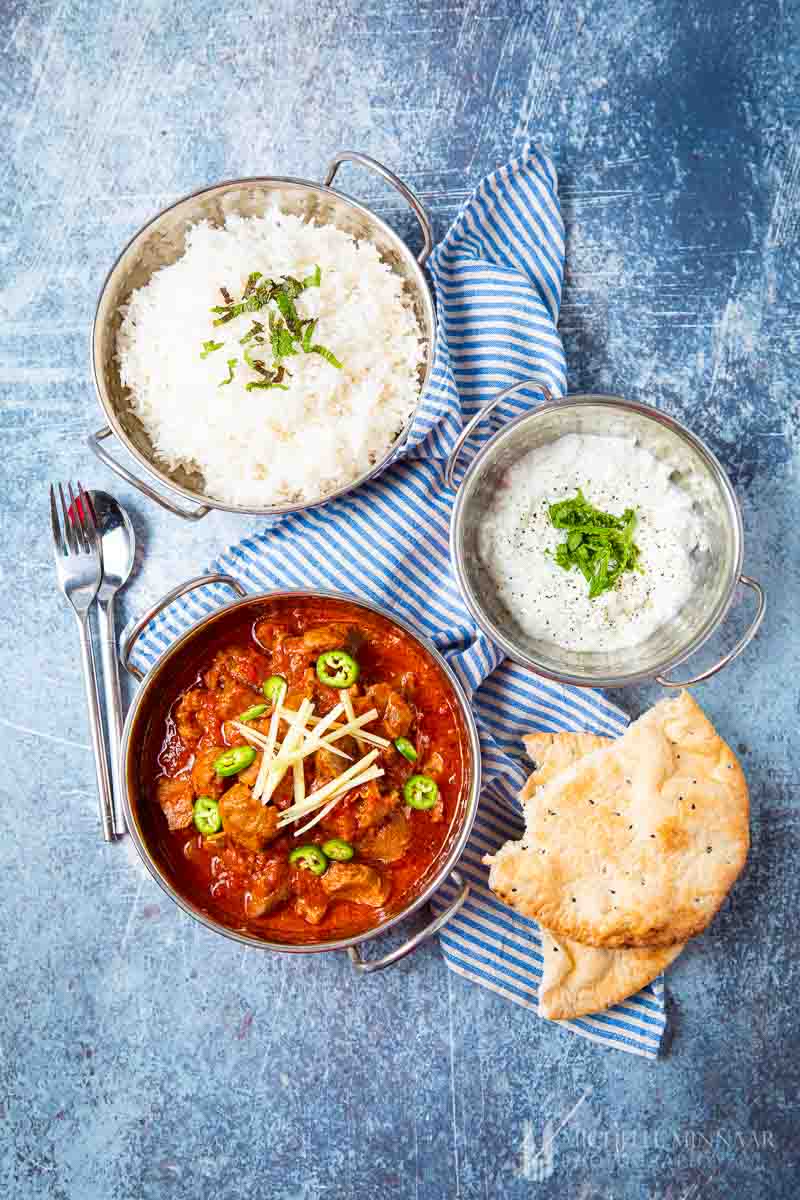 best toppings for karahi curry
The best possible toppings for this lamb karahi curry is fresh coriander. The fresh coriander will cut through the richness of the curry. You can also add fresh red or green chillies to make the curry even spicier, however this time with a crunchy element.
You can also consider these toppings for additional flavour:
parsley – it pairs just as well as coriander
jalapenos
lime or lemon juice – for a hint of acidity
almond flakes – for extra sweetness and a subtle crunchy flavour
spring onion – if you feel like you need a little bit of green
Have you ever tried or come across a lamb karahi dish? How would you enjoy it? Let me know in the comments section below.
Print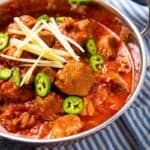 Lamb Karahi
---
Author:

Michelle Minnaar

Prep Time:

15 minutes

Cook Time:

2 hours

Total Time:

2 hours 15 minutes

Yield:

6

servings

1

x
15

ml (1 tbsp) ghee or oil

1

onion, finely sliced

4

garlic cloves, peeled and crushed

2.5

cm (1in) piece fresh ginger root, peeled and grated

5

ml (1 tsp) salt

15

ml (1 tbsp) ground cumin

15

ml (1 tbsp) ground coriander

5

ml (1 tsp) chilli powder

5

large tomatoes, washed and chopped

1

kg (2 lbs) boneless stewing lamb, cut into cubes

5

ml (1 tsp) garam masala

1

green chilli, washed and finely sliced
Julienned ginger root, for garnishing

30g

(

1oz

) fresh coriander leaves, washed and chopped
---
Instructions
Heat the ghee or oil in a large frying pan.
Fry the onions gently for about 3 minutes or until softened.
Add the garlic and ginger and fry for another minute.
Place the meat in the pan and brown all over on medium heat.
Stir in the salt, cumin, coriander and chilli powder.
Add the tomatoes, give it a good stir and place the lid on the pan.
Simmer the lamb on a low heat for 1 hour 30 minutes. Check in every once in a while to see if a little bit of water needs adding to the gravy.
Add the garam masala and cook for 5 more minutes.

Garnish with chilli, ginger and coriander. Serve with rice and naan.
Notes
If you can't get hold of ghee, use vegetable oil or another neutral-flavoured oil.
Use fully ripened tomatoes for maximum flavour. Many tomatoes in the shops these days are flavourless, so if you feel the curry needs more depth, add no more than 60ml (4 tbsp) of tomato paste. That should fix it. I also added 5ml (1 tsp) brown sugar to balance things out and the result was fantastic.
The lamb will be ultra-tender after a long cooking time. Simmer it for at least 90 minutes but you can continue cooking it for longer. In the process the flavours will develop even more. Just check on the liquid every now and then and top up with a bit of water, if needed.

Some recipes call for the lamb to marinade in a salted garlic and ginger paste first. Others would like you to use whole spices, such as cumin and coriander, and dry roast them before grinding them. Other versions state you should cook the lamb with the onions for a long period first, then only add the tomatoes. There really is no right or wrong way!

For best results, use bone-in stewing lamb that has been cut into chunks. The bones provide extra flavour!
Category:

Curry

Method:

Braise

Cuisine:

Pakistani
Keywords: lamb Karahi, Karahi gosht recipe, pakistani lamb recipe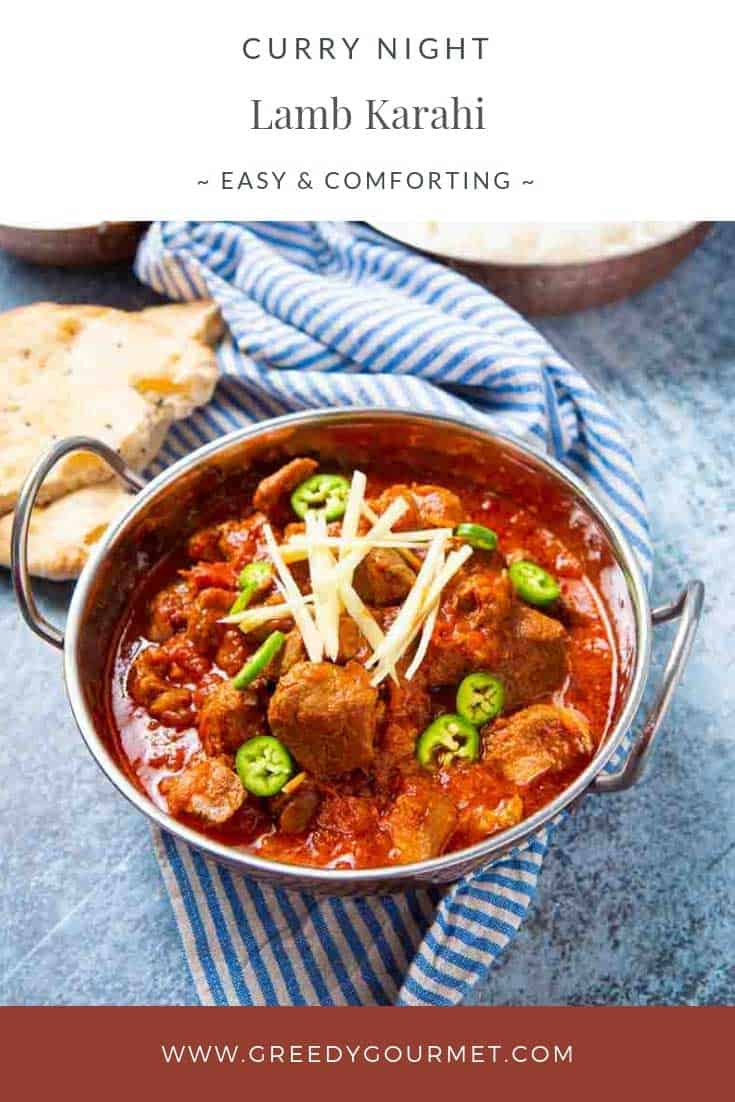 P.S. This is a sponsored post.