Ever heard of lamb pasanda? Although the name sounds kind of South American, it is actually an Indian-inspired recipe.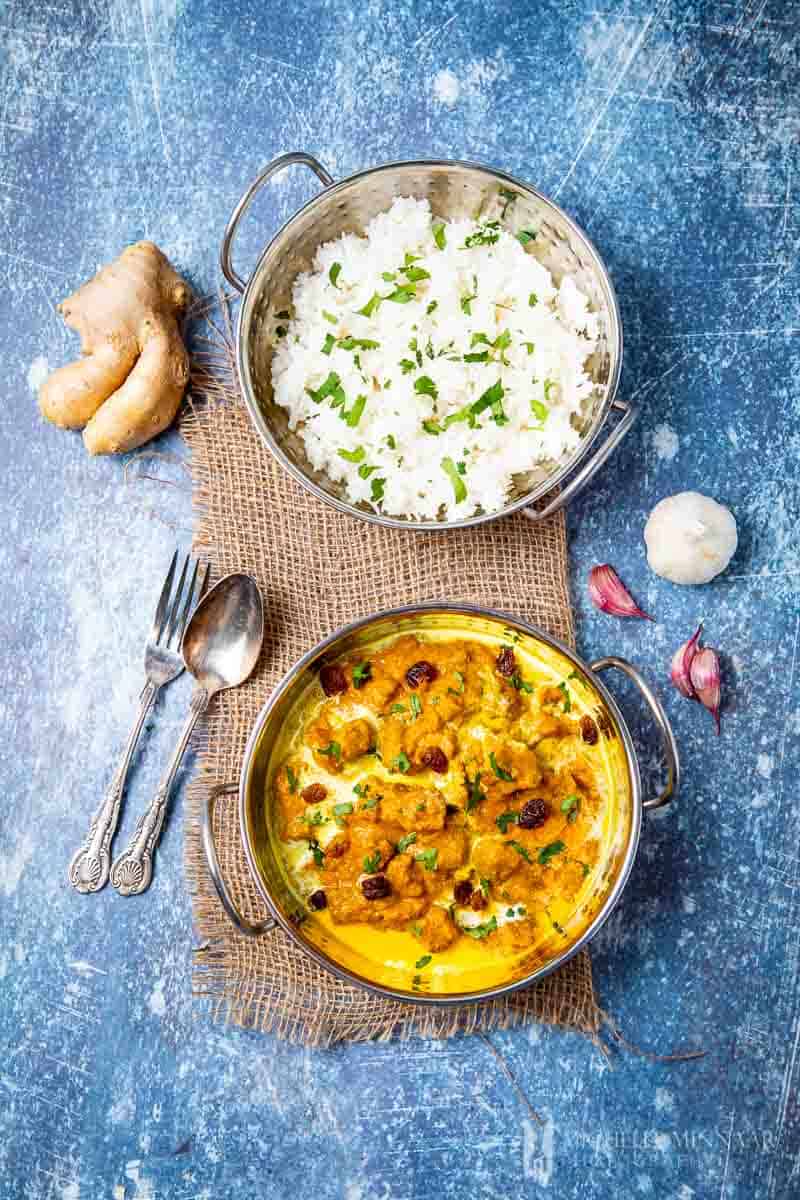 Above all, a lamb pasanda dish is very popular in North Indian, Pakistani and Hydrabadi cuisine. This lamb pasanda contains tender pieces of lamb meat, which are cooked in a mildly spiced marinade.
Generally speaking, the pasanda marinade consists of the traditional Indian spices, chilli powder, and garlic - in combination with yoghurt, cream or coconut cream. Traditionally, it is served with almond flakes or fresh tomatoes.
Since there are multiple versions of a lamb pasanda recipe, you too can put your own spin on it. First of all, you can make a pasanda recipe with other types of meat. For example, chicken pasanda is amongst the most popular versions.
For best results, don't forget to serve your lamb pasanda curry with the typical Indian side dishes such as white basmati rice, rotis, chapatis or naans. Enjoy!
lamb pasanda recipe
Originally, a lamb pasanda recipe was considered a dish which was served to Mughal emperors. The term 'pasanda' comes from the Urdu word 'pasande', which translates to 'favourite'. In short, it refers to the favourite cut of meat which was cooked in the pasanda curry.
Historically speaking, lamb pasanda was predominantly served. Apparently, the lamb pasanda was always made with leg of lamb. Typically, one would leave the meat to simmer until it became thin.
However, there are historical accounts of the dish being made with goat meat. In either case, the first mention of pasanda curry was made in the Manasollasa text, all the way back in the 12th century.
In other regions, such as Pakistan, the pasanda curry with made with strips of roasted beef fillets. Today, some popular versions also include chicken pasanda, or king prawn pasanda.
As is the case with any Indian curry, the meat is interchangeable. Hence, feel free to consider making the curry with beef, chicken, goat, turkey, shrimp, king prawns, fish, tofu, paneer (Indian cheese) and more. Or just stick to this delicious and authentic lamb pasanda recipe.
In either case, don't forget to use a good batch of curry base sauce for this recipe. I recommend making a large batch of it, so you can use it to make other types of curries. Moreover, the base sauce freezes well. So, if you need a pinch of extra flavour, simply defrost and add into your curry.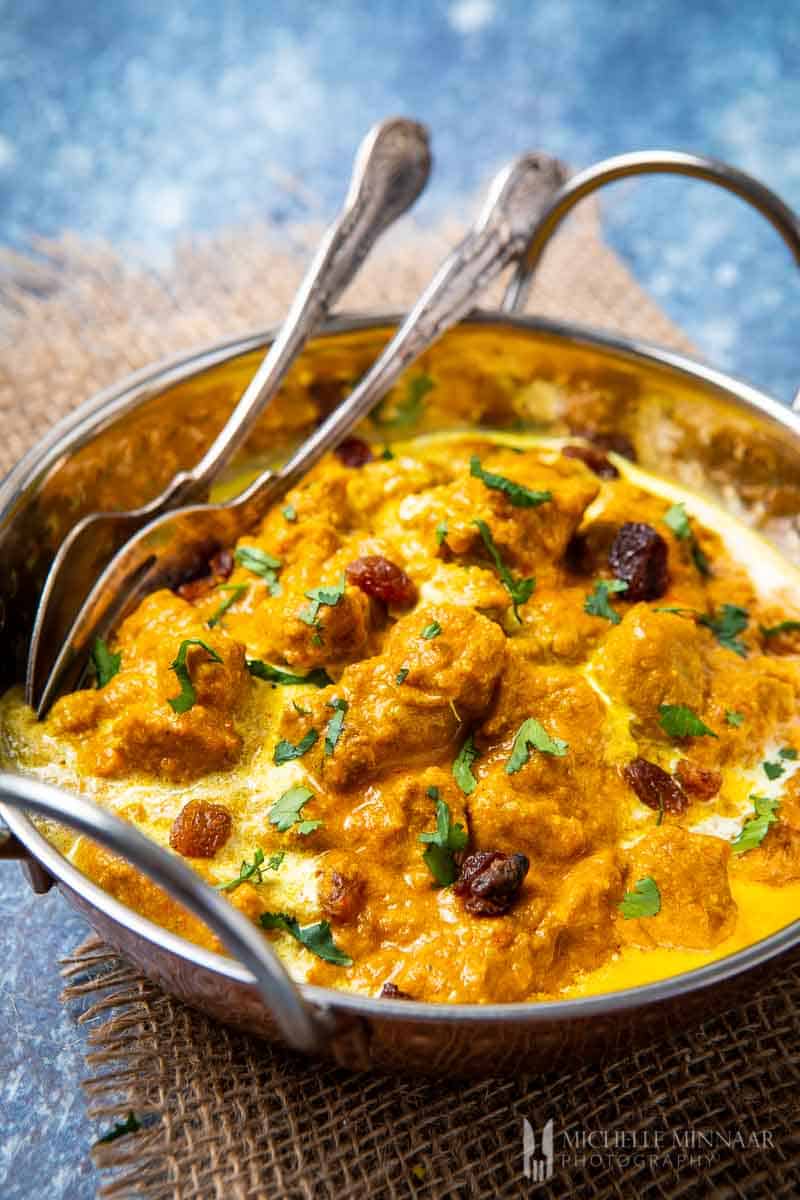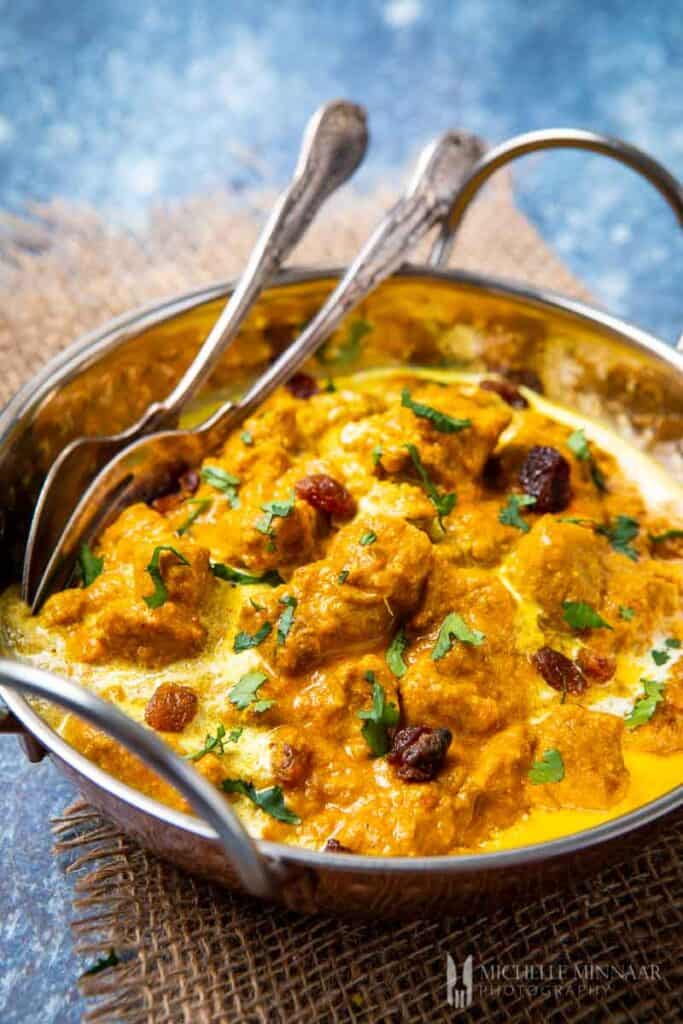 Products You Need
Here's a list of things you are going to need while making this lamb pasanda curry:
best lamb for lamb pasanda
For this recipe, I've used shoulder of lamb, a cut I've cooked with many times before. For example, I've made my infamous 7 hour slow-roast shoulder of lamb and sous vide lamb shoulder. However other cuts of lamb work very well with lamb pasanda.
For instance, you can also make this recipe with lamb neck fillets, lamb shanks, leg of lamb, and more. I love cooking with various cuts of lamb. For instance, try my lamb noisettes recipe or my easy lamb dopiaza. Lamb is so versatile!
If you've got leftover lamb, you can also try making these similar curries as well with any type of cut: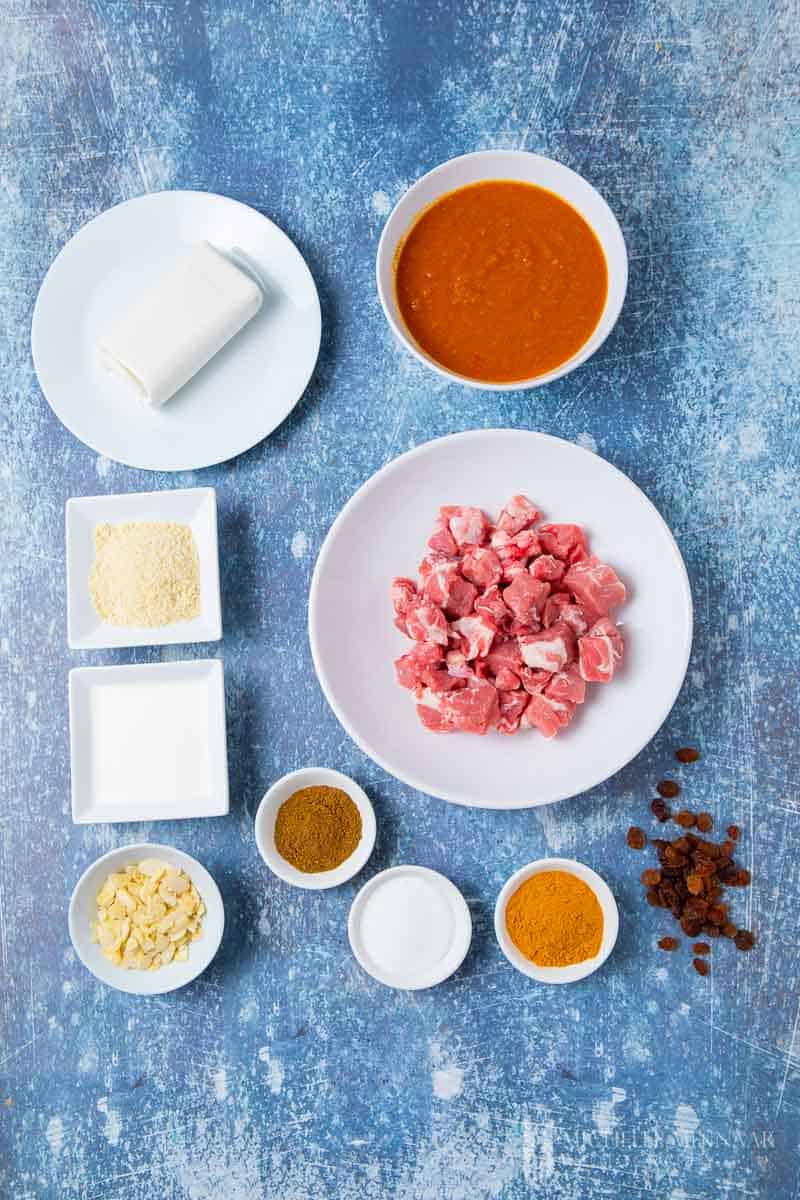 Otherwise, if you just love eating lamb, then instead of a lamb pasanda, you can try these recipes:
is lamb pasanda hot?
Generally speaking, lamb pasanda is not so hot, because it only contains a small amount of chilli powder. However, as with everything, lamb pasanda can be hot, if you want it to be. Personally, I love to enjoy a hot and spicy Indian curry.
However, for those who enjoy a milder curry, simply omit the chilli powder or the addition of fresh chillies. Instead, use cayenne pepper. Generally speaking, it's not as hot as chilli powder.
lamb pasanda vs korma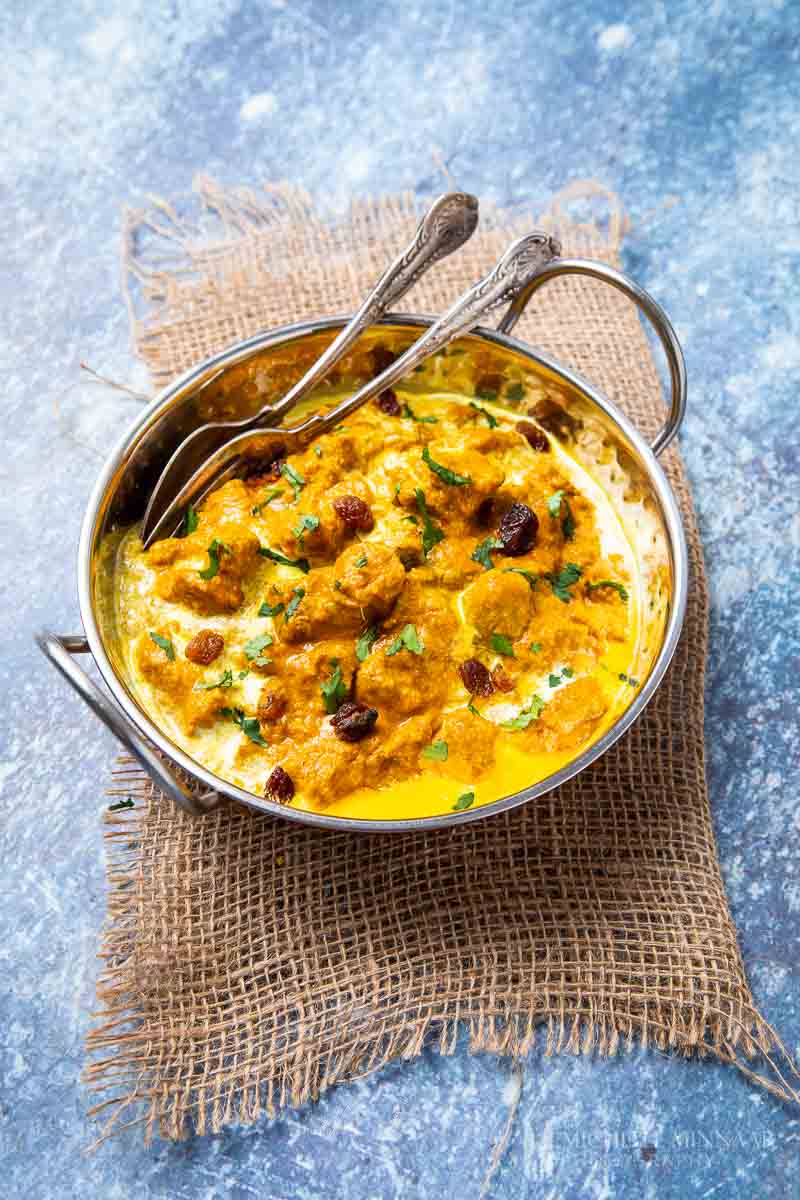 Judging from the pictures, the fact that this pasanda resembles a lamb korma curry might have crossed your mind. A korma curry is known for its sweetness as well as its creamy texture.
Moreover, it has a distinct yellow colour, which is as a result of the turmeric powder. The lamb pasanda also contains turmeric, just not as much to give it that vibrant yellow colour. Also, the korma curry doesn't contain the curry base sauce.
If you love creamy and mild curries, then you should check these out:
Just make sure that you make them with homemade korma curry paste. It's really easy to master and you'll never purchase the jar stuff ever again.
lamb pasanda, with coconut
Some versions of the lamb pasanda call for the use of yoghurt while others call for single cream (known as half and half in the US). In addition, there are some versions made with coconut cream and coconut milk. These are excellent alternatives to the dairy ingredients, hence you can make a vegan pasanda (assuming you pair it with vegetables and not the meat).
what to serve with pasanda
Serve the pasanda with the usual Indian side dishes like white basmati rice, naan (like this peshwari naan) and rotis. Also, top the lamb pasanda with fresh coriander.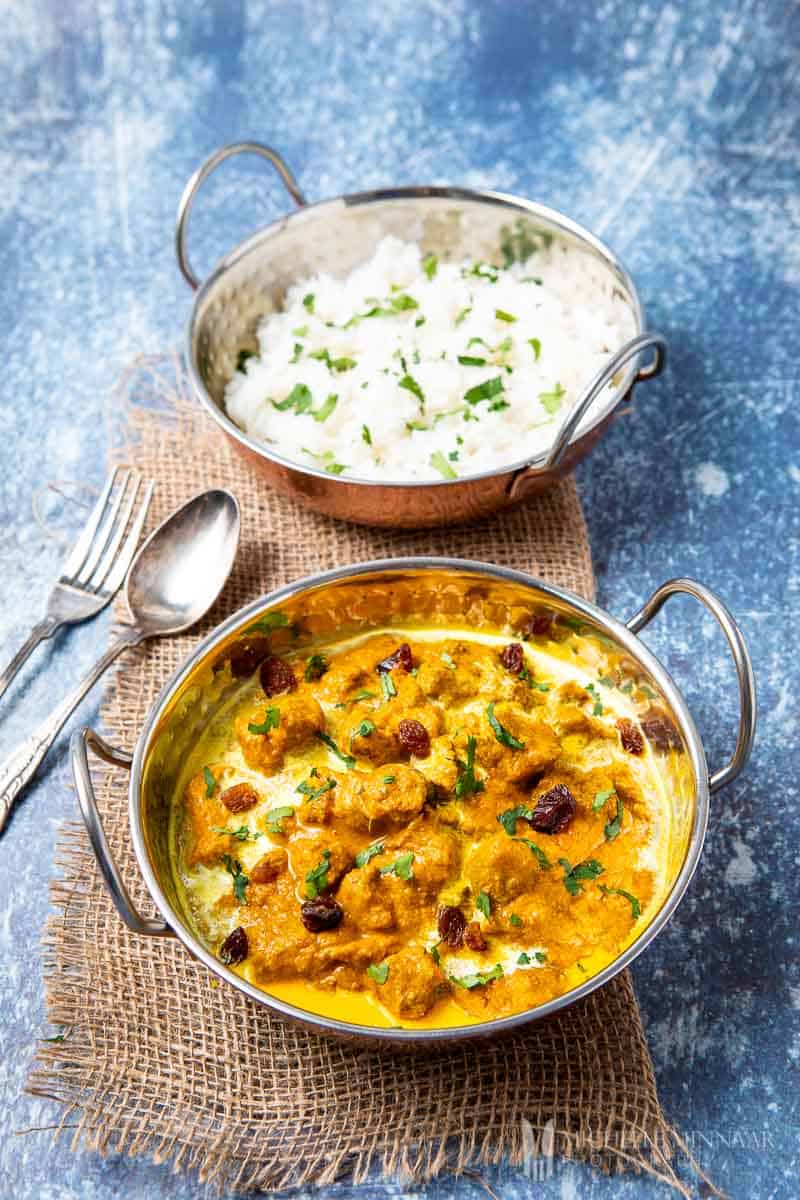 How would you make your lamb pasanda curry? Let me know.
Print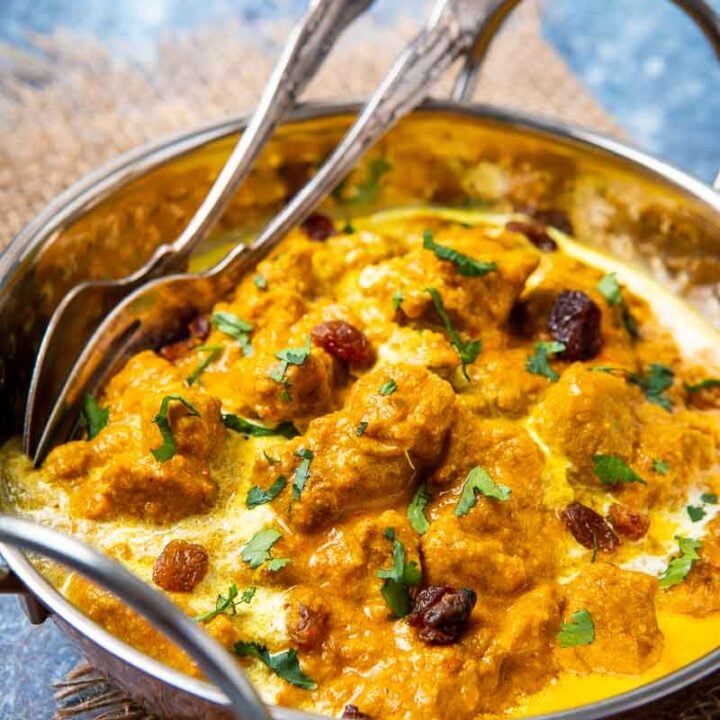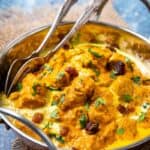 Lamb Pasanda
---
30

ml

(1 tbsp) ghee

800

g

(2lbs) lamb shoulder, cubed

30

ml

(2 tbsp) ground turmeric

500

ml

(2 cups) curry base sauce

50

g

(1/2 cup) ground almonds

30

ml

(1 tbsp) sugar

50

g

(1/3 cup) sultanas

100

g

(3oz) creamed coconut

15

ml

(1 tbsp) garam masala

125

ml

(1/2 cup) single cream

30

g

(1/3 cup) flaked almonds

60

ml

(4 tbsp) cilantro, for garnishing
---
Instructions
Heat the ghee in a large ovenproof casserole.
Cover the lamb with turmeric and brown on all sides in the casserole.
Pour in the curry base sauce, stir and cover with a lid.
Simmer on low heat until the meat is cooked and tender. In this case, it took about 90 minutes.
Add the almonds, sugar, sultanas, coconut, garam masala and cream to the lamb.
Stir and let the curry simmer slowly for 10 minutes.
Garnish with almonds and cilantro. Serve with rice, naan and your favourite Indian side dishes.
Prep Time:

15 minutes

Cook Time:

1 hour 45 minutes

Category:

Curry

Method:

Pan Fry

Cuisine:

Indian
Keywords: lamb pasanda, pasanda lamb curry recipe, easy indian lamb curry