How to cook authentic lamb tagine in the comfort of your own home.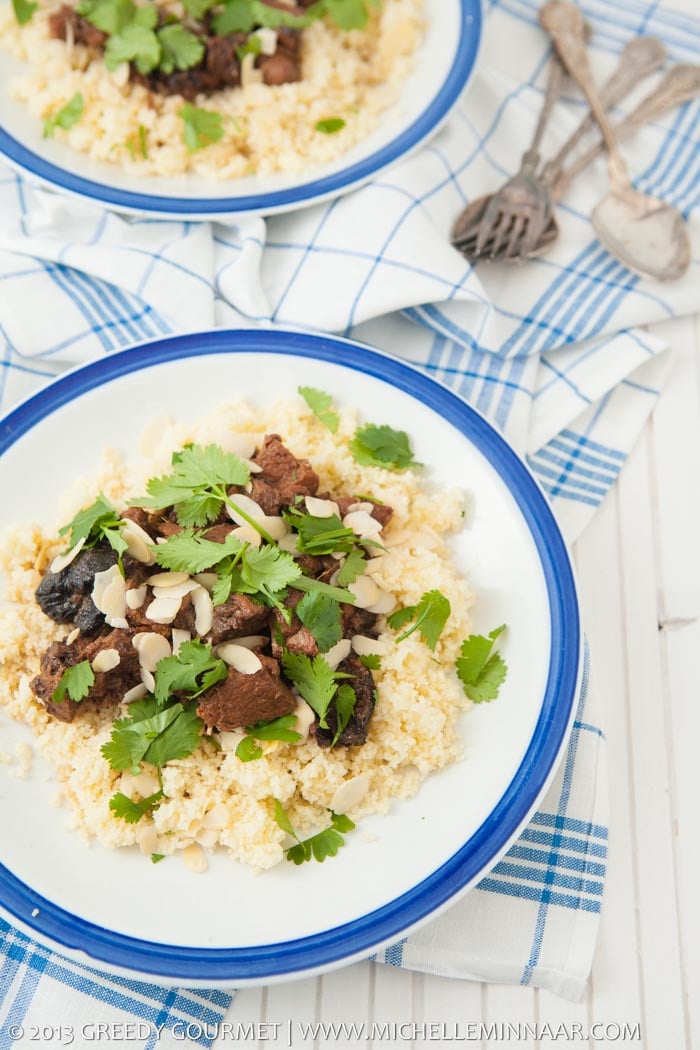 Over the past year I've read plenty of press releases about how many families don't enjoy mealtimes together anymore thanks to busy and conflicting schedules. It is sad.
After all, isn't sharing food around a table an integral part of family life? In this household we would have it no other way. You'll find us eating dinner at around 5pm each and every day.
The folks at Shloer have created a new campaign, called Enjoy Sunday Lunch, in an effort to bring families closer together and on the website you'll find money off coupons, advice from Phil Vickery and competitions too.
Of course, there's recipes as well! You'll find this recipe, Moroccan Lamb Tagine, on a smaller scale on the website, which was created by yours truly.
Recommended Middle Eastern Cuisine Cookbooks
If you're a fan of Middle Eastern cuisines, then you'll love The Jewelled Kitchen
and Comptoir Libanais
. The former was written by blogger friend Bethany Kehdy, who runs Dirty Kitchen Secrets.
The book features enticing Lebanese, Moroccan and Persian recipes and the photography is simply beautiful. Bethany also runs guided tours, called Taste Lebanon.
Comptoir Libanais is an affordable restaurant chain that has taken London by storm. The food is Lebanese and Middle Eastern as well and here you'll discover the restaurant's secret recipes
that keep their fans coming back for more and more.
What equipment do you need?
A tagine is a Moroccan answer to the British stew. It actually refers to the actual equipment used in the cooking process, which is called a tagine.
The funny looking cone-shaped lid of the container traps steam and returns the condensed liquid to the pot. That's why you don't need a lot of water to cook food and the meat still comes out tender.
There are some highly rated ones, in various sizes, available on Amazon
such as the Le Creuset
and Emile Henry
.
However, due to the quantities I cooked with this time round I opted for the biggest pot in the house, my beloved 12.4 litre Le Creuset pot. You can use a large pot
as well, and just need to add a little bit more water than you would in a tagine.
Which cut of lamb is best?
Now that you know what you'll need to cook this dish, let's talk about the cut of meat. The first rule of thumb is that the meat should be grass-fed, not grain-fed. If you'd like to read more about the subject, go here.
Secondly, although you can turn this recipe into a low-fat one, by reducing the mount of oil used and using lean cuts, it wouldn't be ideal and the meat will come out on the dry side, no matter how long you cook it for.
So you're ideally looking for marbled, stewing steak, such as lamb neck fillet and off-cuts. You can even use lamb shanks! The shanks will need a longer cooking time though, about 4-5 hours. Shoulder would work too.
Let's get cooking!
---
Peeling and chopping onions would be the only prep you'll have to do for this dish.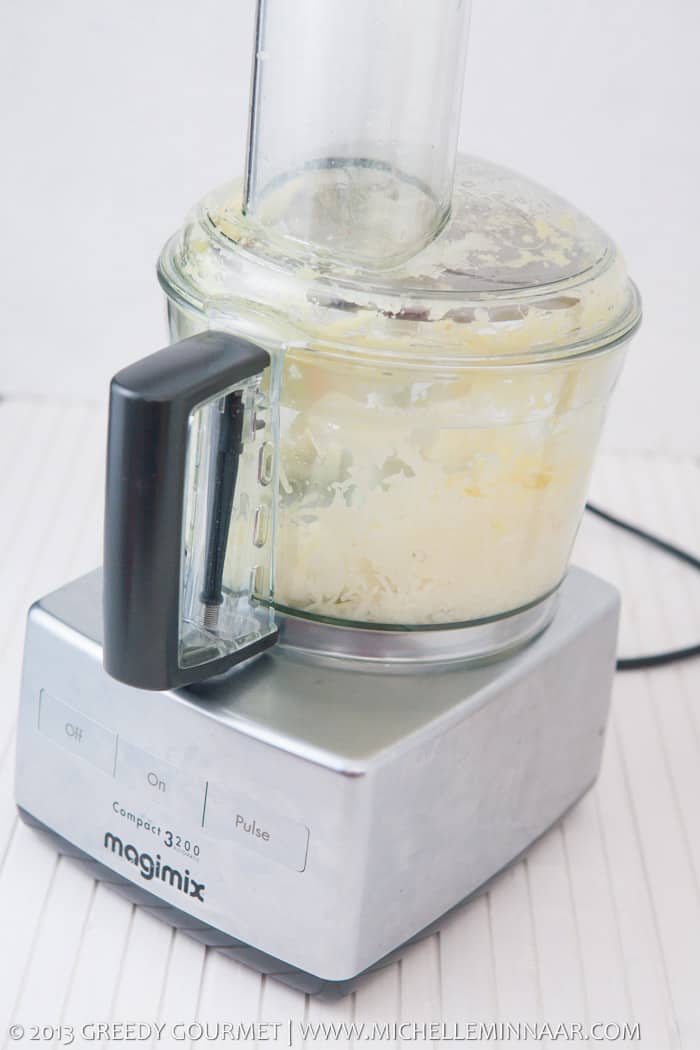 If you regularly practise batch cooking, buying a food processor is a smart investment which will literally save you from crying in this case. My trusty Magimix 3200
and its special accessories
have never let me down.
Grate the onions and ginger. If you don't have a food processor, chop the onion and grate the ginger by hand.
Heat the oil in the pot and add the onion and ginger mixture.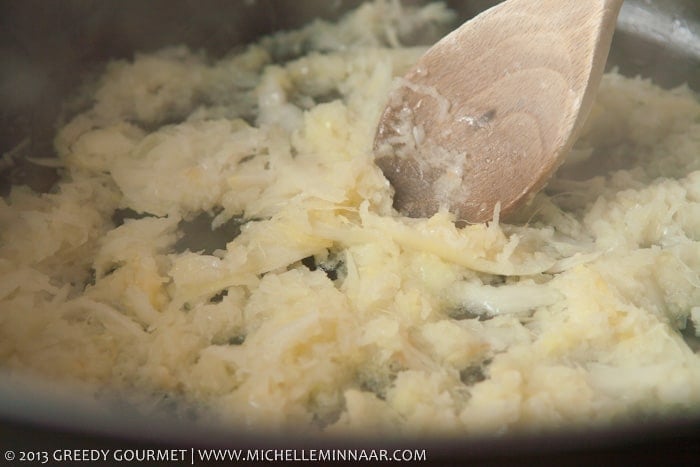 Continue frying the onion mixture gently until softened.
Add the lamb. Stir continuously.
Ultimately, all the lamb should get browned.
Add the coriander, cinnamon, cumin and saffron to the pot. Speaking of cinnamon, if you're only after the best of ingredients, Cinnamon Hill is well worth check out.
They sell two varieties: Ceylon and Saigon, each with its distinct character. I used whole Ceylon sticks in this recipe.
Did I mention Robyn, my three year old, was with me during this photo shoot? She got so excited by the whole process that she went to fetch her VTech Kidizoom camera
and started snapping away at the food. She's definitely following in her mother's footsteps!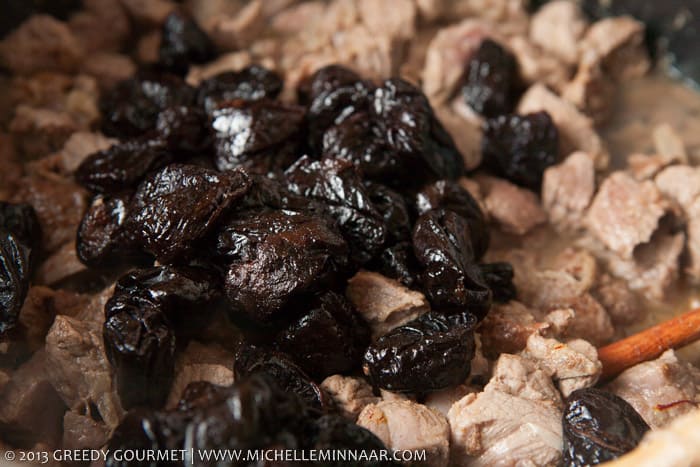 It's up to you when you add the prunes. Most recipes state an hour before the cooking time elapses. It also depends on the state of the prunes.
If you have hard, shriveled prunes on your hands, you can either faff about an leave them in hot water for around 10 minutes to hydrate and soften or you can put them earlier in the pot to cook with the rest of the ingredients.
Sometimes I can't be bothered because as sod's law would have it I'll forget to add the prunes at the last minute and end up with a pruneless dish.
That's why I added the prunes at the start of cooking. There is one downside to it though.
During the simmering process the prunes tend to disintegrate somewhat but it makes no difference to the flavour of the tagine whatsoever. Really, it's up to you.
You don't have to use prunes though. Dried apricots or figs are great alternatives!
After you've given the pot a good stir, add some water to it until all the ingredients are almost covered.
Don't add too much though because it will literally water down the flavour, plus you want some of the meat exposed so that a bit of browning can take place which will add depth to the tagine.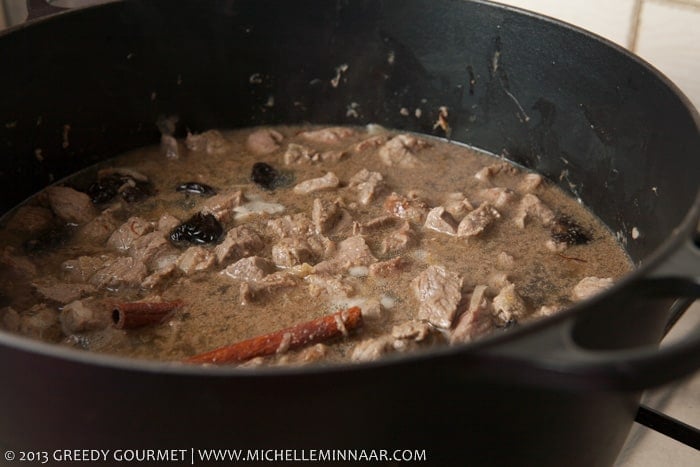 It's ready to cook, whether it's on the hob or in the oven, it's up to you. If you take the latter route, remember low and slow is the way to go.
Another great addition is cooked chickpeas, which you can add an hour before cooking finishes. It's a great way to bulk out the dish.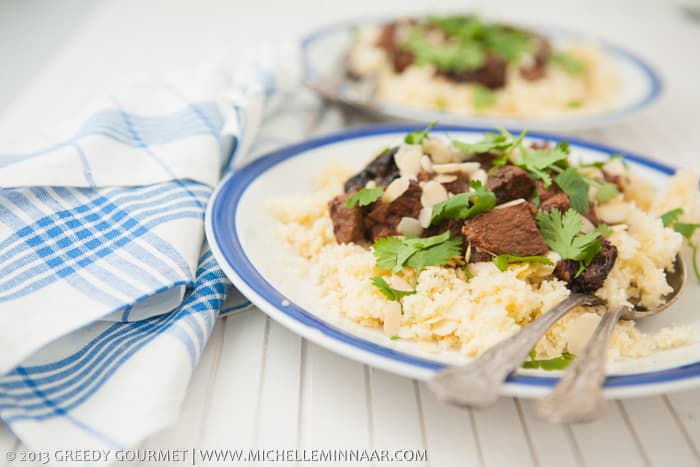 Before you serve, don't forget to add the honey and the Orange Blossom Flower Water
is optional.
There you go – a beautiful lamb and prune tagine. Serve with fluffy couscous and top with fresh cilantro and toasted, slivered almonds!
This pot of food feeds 16 people so it's ideal for lunch on a Sunday for a big family gathering. Otherwise, if you're like me, a tad lazy and like to do batch cooking, freeze the tagine into individual sized portions.
It reheats great it in the microwave, on the stove and covered in the oven. It stays good in the fridge for about 3 days and 3 months in the freezer.
Print
Lamb Tagine with Prunes & Almonds
---
240

ml (1 cup) olive oil

4

onions, chopped

10

cm (4 in) fresh ginger, peeled and grated

4

kg (9 lbs) stewing lamb, diced

5

ml (1 tsp) salt

10

ml (2 tsp) ground coriander

10

ml (2 tsp) ground cinnamon

10

ml (2 tsp) ground cumin

4

cinnamon sticks
Pinch of saffron

500g

(

1

lb) prunes

240

ml (1 cup) honey

20

ml (4 tsp) orange blossom flower water
One bunch of fresh cilantro

250

ml (1 cup) slivered almonds
---
Instructions
Heat half of the oil in a large lidded pan.
Add the onion and ginger to the pot and fry until softened.
Add the remainder of the oil to the pot and add the lamb to the onion mix and cook until the meat is coloured on all sides.
Season the meat and add the coriander, two types of cinnamon, cumin and saffron to it.
Stir thoroughly and pour enough water over the meat to cover and bring the pot to the boil.
Turn the heat down, put the lid on, and allow the meat to simmer slowly for about two hours.
Add the prunes and simmer for another 30 minutes.
Stir in the honey and sprinkle orange flower water.
Serve on a bed of fluffy couscous, and top with cilantro and toasted slivered almonds.
Prep Time:

20 minutes

Cook Time:

3 hours

Category:

Dinner

Method:

Stew

Cuisine:

Moroccan
Nutrition
Calories:

731

Sugar:

Sugars

Sodium:

190 mg

Fat:

32.4 g

Carbohydrates:

39.5 g

Fiber:

Dietary Fiber

Protein:

71.7 g

Cholesterol:

225 mg
P.S. This post was sponsored by Shloer – Enjoy Sunday Lunch. Samples of Cinnamon Hill products were also accepted.