Nothing beats a creamy and comforting curry like this lamb tikka masala. Doesn't my lamb tikka masala look the part? This is the type of dish you'll find me ordering at an Indian restaurant, time and time again. Here is the good news. You don't need to go to a fancy Indian restaurant to enjoy a lamb tikka masala like this one!
With the right preparation in place, there is absolutely no need to order a takeout, when you've got this lamb curry fakeaway recipe. In addition, this lamb tikka masala contains rich flavours from the lamb. Combined with the bold flavours of the masala spice mix, it makes one balanced and memorable curry.
For best results, serve the lamb tikka masala sizzling hot in a traditional curry dish. You can pair it with steamed basmati rice, any type of naan, rotis and other traditional Indian side dishes.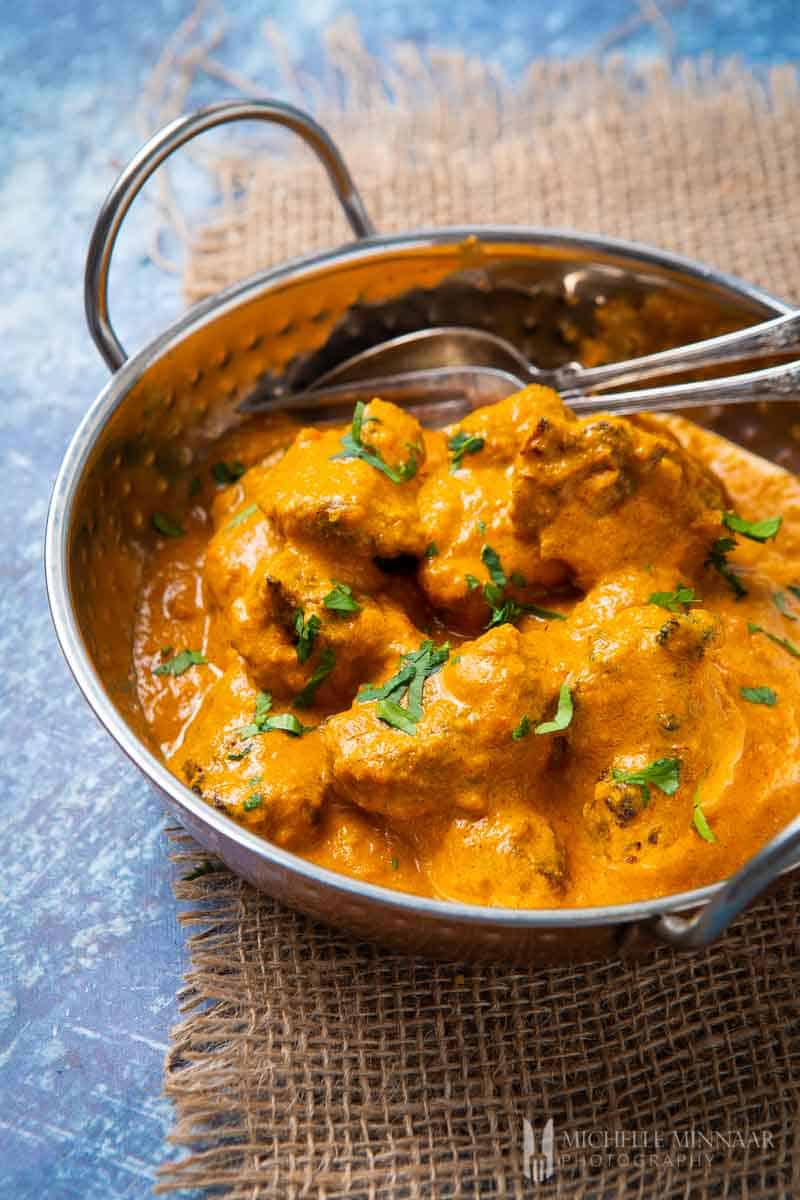 lamb tikka masala recipe on BBC
This lamb tikka masala recipe calls for delicious and inexpensive lamb neck fillets to be simmered in a delicious curry base sauce. You can make lamb tikkas from the lamb neck fillets as well and just toss them into the sauce at the end of the cooking process. Nevertheless, to make this lamb curry or any type of curry, the curry base sauce is a must.
What's best is that you can make a large batch of the curry base sauce and just flavour it according to the distinct flavour of the relevant curry. For instance, you can use the curry base sauce to make these amazing curries:
In either case, this lamb tikka curry recipe also calls for ginger, masala spice mix, garlic and tomato paste.
Now, when you look at BBC's version of lamb tikka masala, you can see that they've used a boneless leg of lamb. You can check it out here. I recommend sticking to my recipe as cooking with lamb neck fillets or lamb shanks is a much cheaper alternative. In addition, the leg of lamb usually carries bolder flavours of the lamb, which are not favoured by all.
how to cook lamb curry
You need the following equipment to make this curry a reality:

which lamb cuts are best for curry?
The best part of this lamb tikka masala recipe is that you can make it practically with any cut of lamb. In sum, there are a few cuts which work exceptionally well in an Indian curry recipe. These include:
lamb shoulder
neck fillets – the best option
fore shanks
hind shanks
sirloin
leg – also works well, but needs more preparation time
lamb mince – yes, even mince is often found in curries
If you've got leftover cuts of lamb, you can also try your hand at these similar recipes: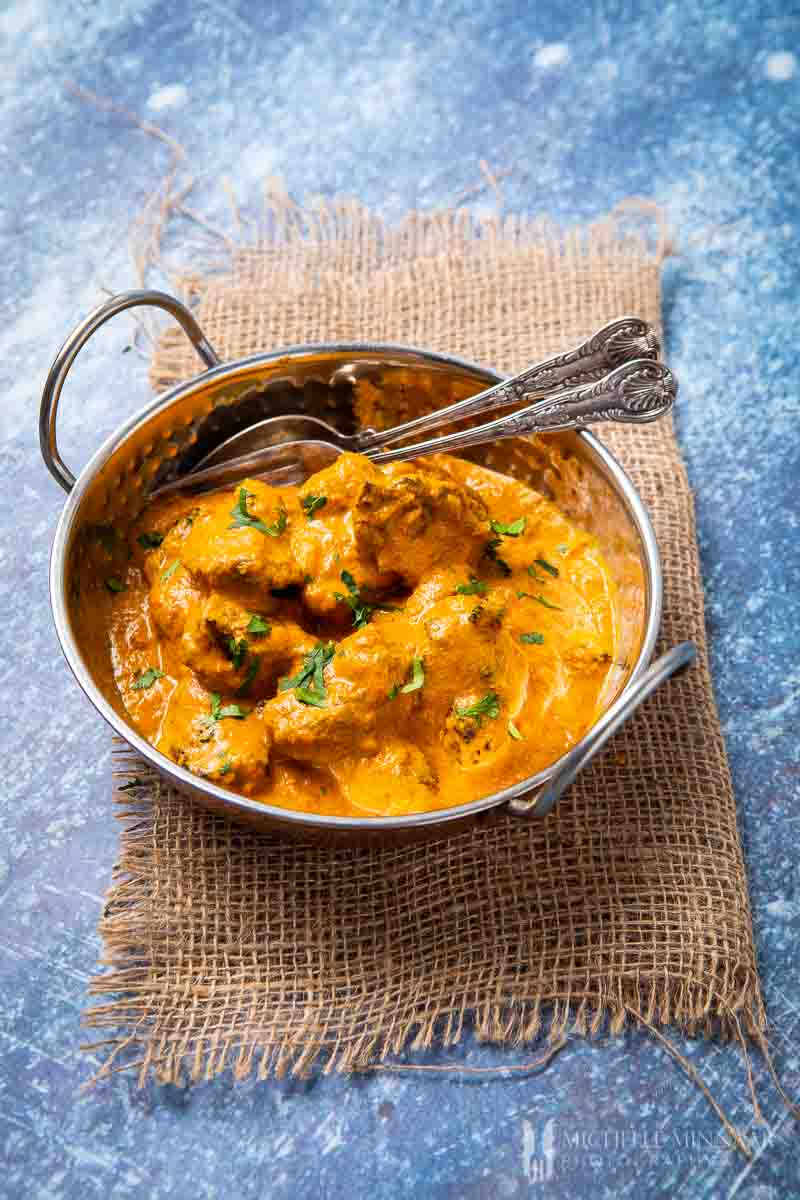 lamb tikka masala in the slow cooker
If you are using lamb shanks or lamb fillets, the best way to ensure that they are tender is to use a slow cooker. A pressure cooker will also work but you need to get the timing right.
lamb tikka masala recipe using paste
In a way, I love cooking with tomato paste or tomato puree. First of all, it adds a lovely sweetness as well as an acidity to the lamb tikka curry. Second, it is a perfect ingredient for consistency control. Let's say you are in the middle of your cook and you discover that your curry is runny. Tomato paste comes to the rescue!
A spoonful of tomato puree or tomato paste will thicken your lamb tikka straightaway. I recommend adding small amounts systematically, so that you can maintain control over the consistency. Remember to stir it on so the paste dissolves. Once it's properly mixed in the lamb tikka masala, it will thicken up.
On the contrary, if you add a little too much of tomato paste into your lamb tikka masala curry, then dilute it with some water. Or better yet, some stock if you have it at hand.
If you're feeling particularly lazy and don't want to cook from scratch, you can use ready-made tikka masala paste.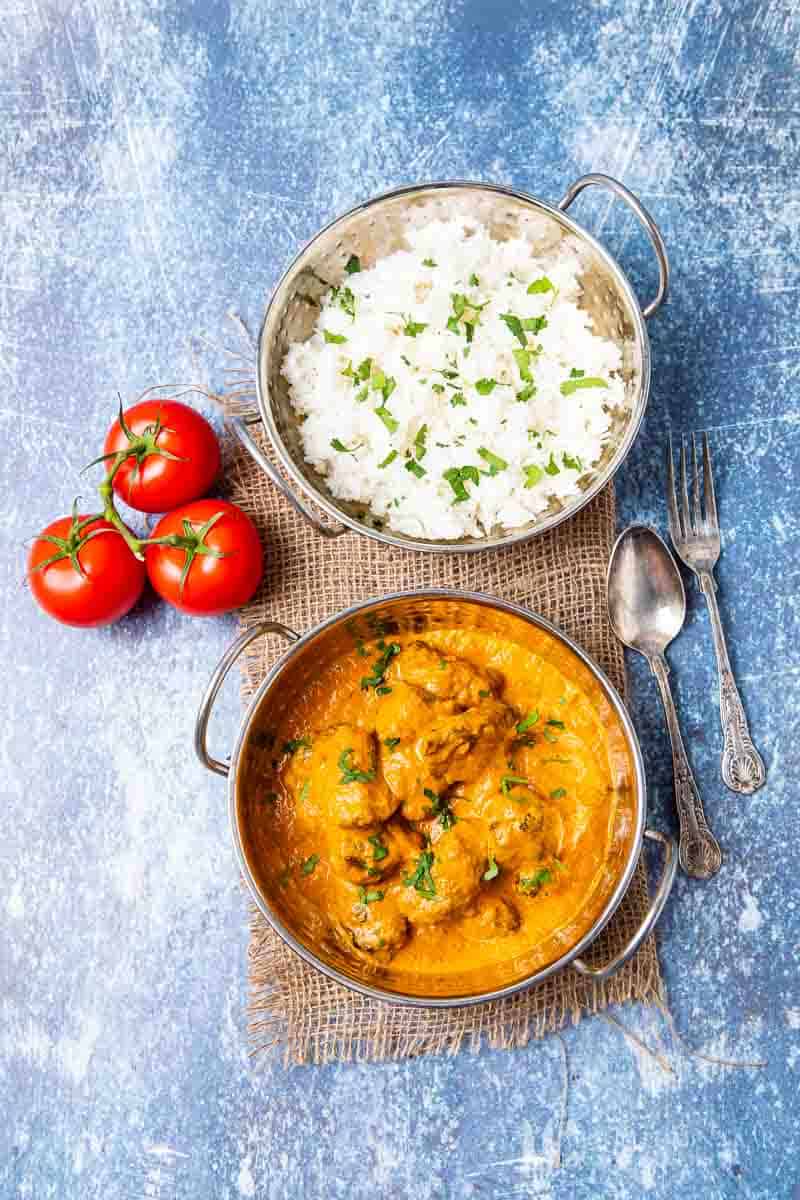 lamb tikka masala calories
Look away, look away! Not always though. Restaurant versions are much heavier in the calories than this recipe. Single cream is used in this recipe and if you want to make it a bit more slimming you can use a low-fat yogurt to lend creaminess to the dish.
Although many people associate lamb as a fatty ingredient, it is not. Lamb is rich on protein and other nutrients. Hence, you shouldn't worry about the calorie count about the meat.
In addition, there are no extra ingredients in this lamb curry that should cause concern. In fact, ginger contains anti-inflammatory properties and is known to speed up your metabolism.
If you are really concerned about the calorie count, then avoid enjoying the lamb tikka masala with a filling side dish. This means, you should be careful about your portion size when it comes to the rice or rotis. This is the best way to control the amount of calories you consume.
Another thing you can easily control is the level of heat. As any Indian curry, this lamb tikka masala contains a bit of a kick. You can limit the amount of chilli you put into the lamb curry recipe. Personally, I like my curries hot. So, it is no surprise that I add a batch of fresh red or green Indian chillies to my curries whenever I can. You can do so too, if you wish.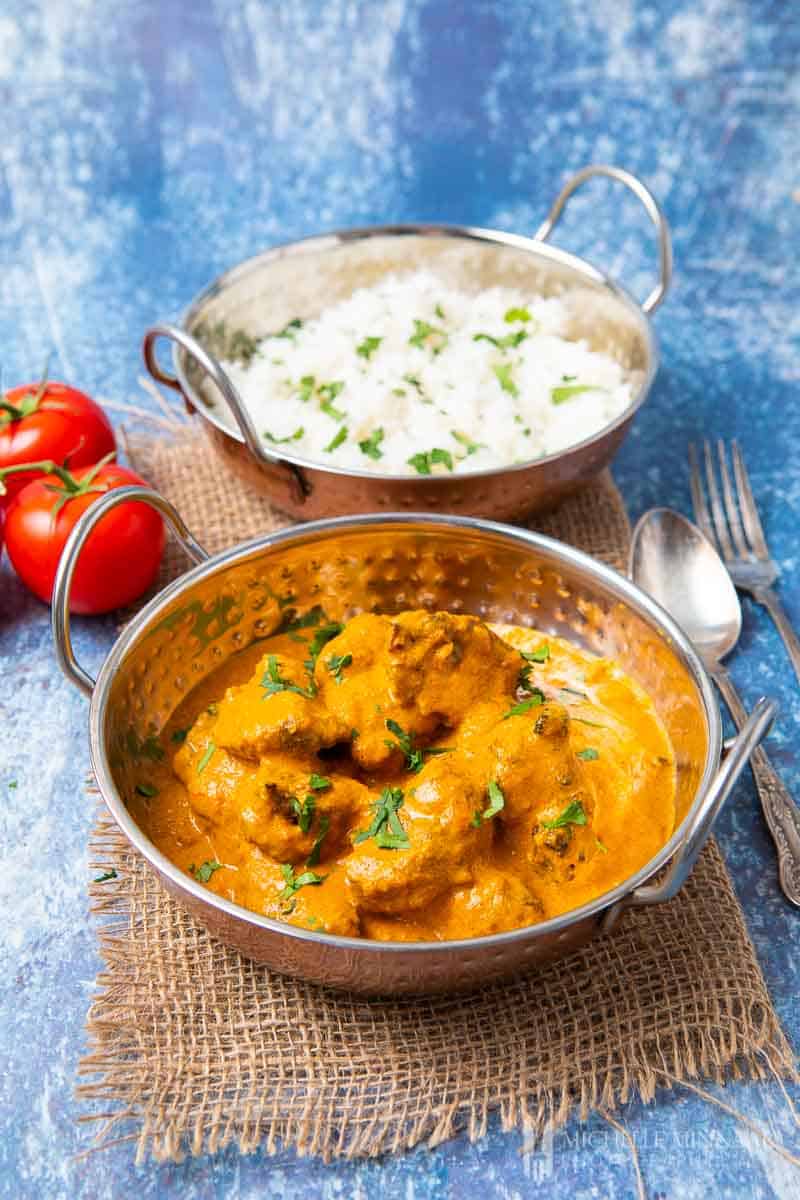 chicken tikka masala
If you are not so big on the lamb, you can also substitute with chicken, beef, turkey or even paneer, which is an Indian cheese. You can start off by making this chicken tikka recipe and make this incredible chicken tikka masala. You can also make this paneer tikka recipe and make paneer tikka masala with the same sauce.
Naturally, shellfish such as prawns and fish work too!
how to serve curry
First, you should always serve any type of Indian curry and as well as this lamb tikka masala with the following toppings:
chopped fresh coriander
fresh red chillies
In addition, have these side dishes at hand if you are planning an Indian feast:
Over to you – which cut of lamb would you put into your lamb tikka masala? Let me know!
Print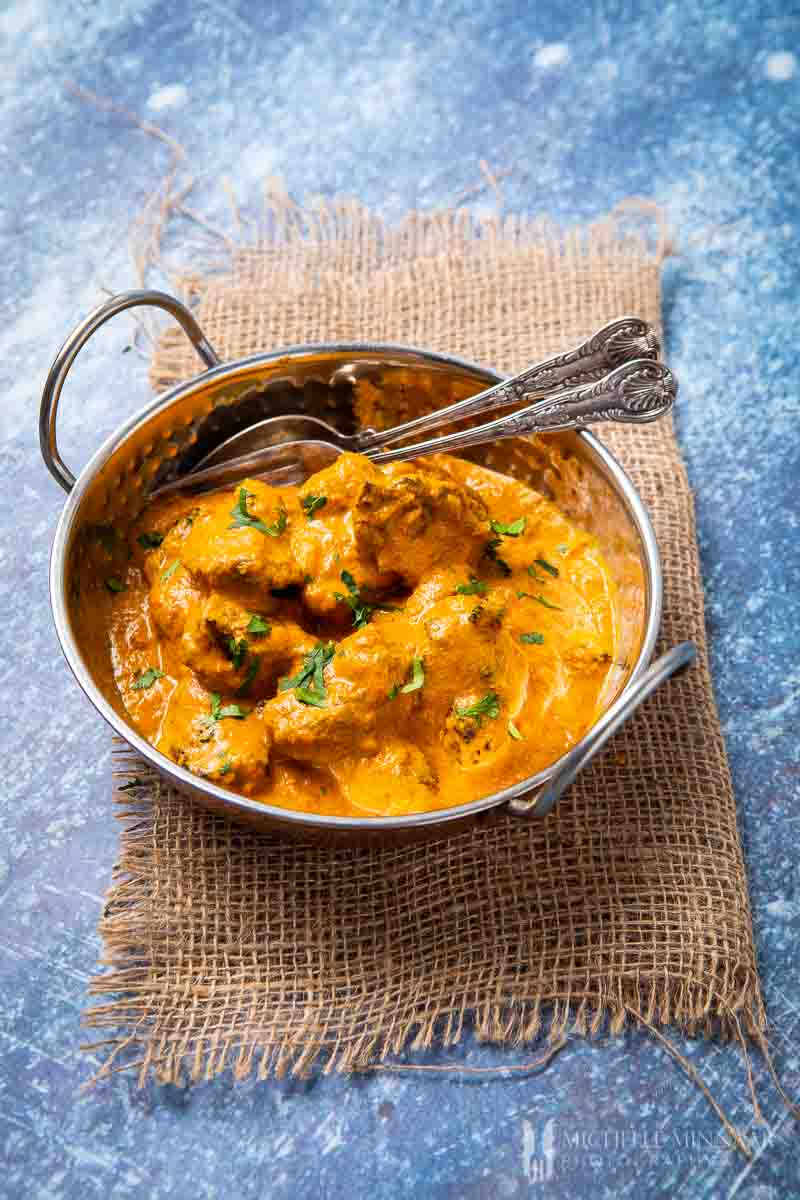 Lamb Tikka Masala
---
Author:

Michelle Minnaar

Prep Time:

15 minutes

Cook Time:

2 hours

Total Time:

2 hours 15 minutes

Yield:

6

portions

1

x
Description
This lamb tikka masala recipe is the essence of Indian comfort food. You can easily make it with any cut of lamb. In fact, the recpie works with other meat.
---
30

ml (1 tbsp) ghee

800g

(2lbs) lamb shoulder, cubed

30

ml (2 tbsp) ground turmeric

500

ml (2 cups) curry base sauce

30

ml (2 tbsp) vegetable oil

3

garlic cloves, peeled and crushed

2.5

cm (1in) fresh ginger, peeled and finely diced

5

ml (1 tsp) dried onion powder

5

ml (1 tsp) ground cumin

5

ml (1 tsp) ground coriander

5

ml (1 tsp) paprika

10

ml (2 tsp) curry powder

5

ml (1 tsp) dried fenugreek leaves

90

ml (6 tbsp) tomato paste

60

ml (4 tbsp) ground almonds

15

ml (1 tbsp) brown sugar

5

ml (1 tsp) garam masala

250

ml (1 cup) single cream

90

ml (6 tbsp) cilantro, washed and finely chopped
---
Instructions
Heat the ghee in a large ovenproof casserole.
Cover the lamb with turmeric and brown on all sides in the casserole.
Pour in the curry base sauce, stir and cover with a lid.
Simmer on a low heat until the meat is cooked and tender. In this case, it took about 90 minutes. Set aside.
Heat the oil in a large frying pan.
Fry the garlic and ginger at a low heat for 1 minute.
Pour the cooked lamb and its sauce into the pan and stir.
Add the onion powder, cumin, coriander, paprika, curry powder, fenugreek, tomato paste, ground almonds and brown sugar to the lamb. Stir and let the curry simmer slowly for 10 minutes.
Pour in the cream and garam masala. Stir well and let it simmer for another 5 minutes.
Garnish with cilantro and serve with rice, naan and your favourite Indian side dishes.
Notes
If you're wondering why this Lamb Tikka Masala isn't quite as red as what British Indian restaurants serve, it's because red food colouring wasn't added. Do so at your own discretion but personally, it's something I avoid doing at all costs because it's unnatural.
Category:

Dinner

Method:

Pan Fry

Cuisine:

Indian
Keywords: lamb tikka masala, tikka masala recipe, lamb curry recipe, indian lamb recipe, creamy tikka masala