Lamb tikka is a lamb variation on the famous chicken tikka masala recipe. I am sure that we all have that favourite Indian recipe in mind that we love eating over and over again. There is no reason why this smoky lamb tikka shouldn't hit the top of your list, especially if you are thinking about organising a barbecue for your friends. It is very easy to prepare and this filling Indian meal can be served as a starter or as a main course if you increase the portion sizes.
What's more, is that we get to cook with an exciting and healthy ingredient – lamb!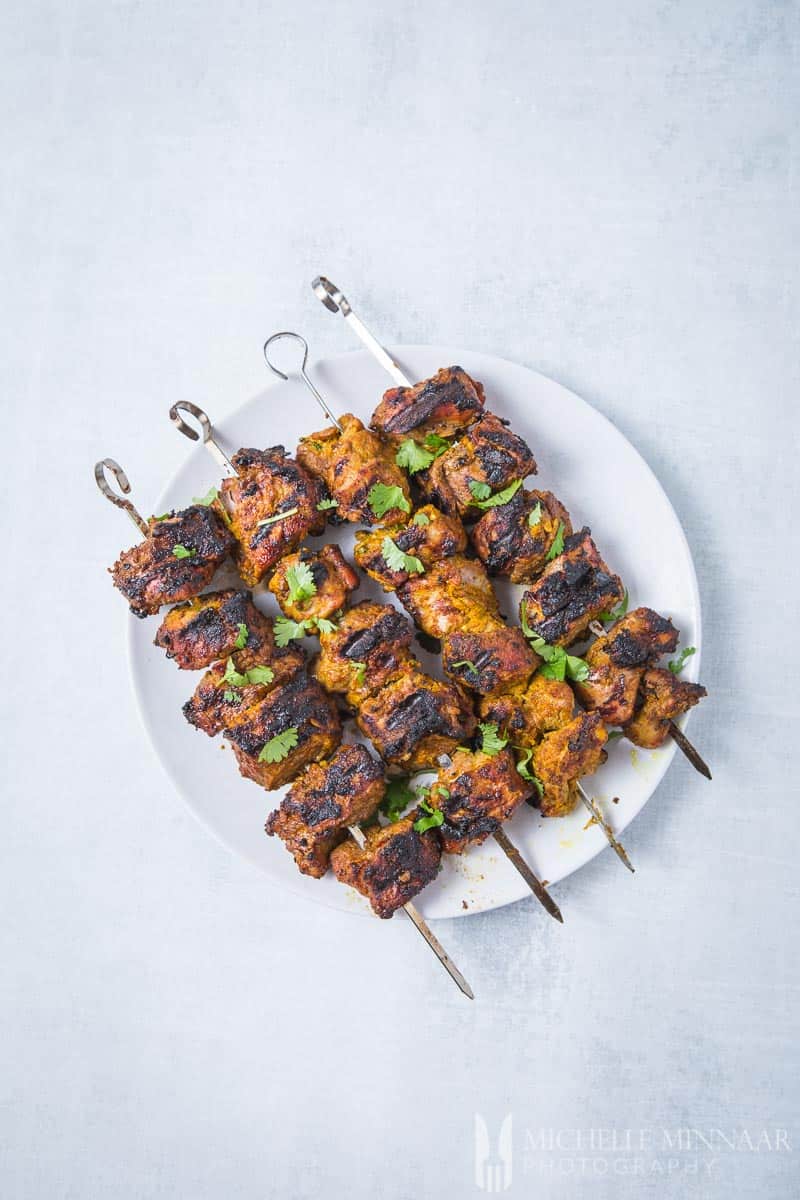 lamb tikka
Simply put, lamb tikka are pieces of lamb that have been marinated in a spiced yogurt marinade. Generally speaking, you'll come across tikka mostly in Punjabi cuisine, in India. It refers to any type of meat, so you can easily make chicken tikka, beef tikka and much more. For instance, try this amazing paneer tikka.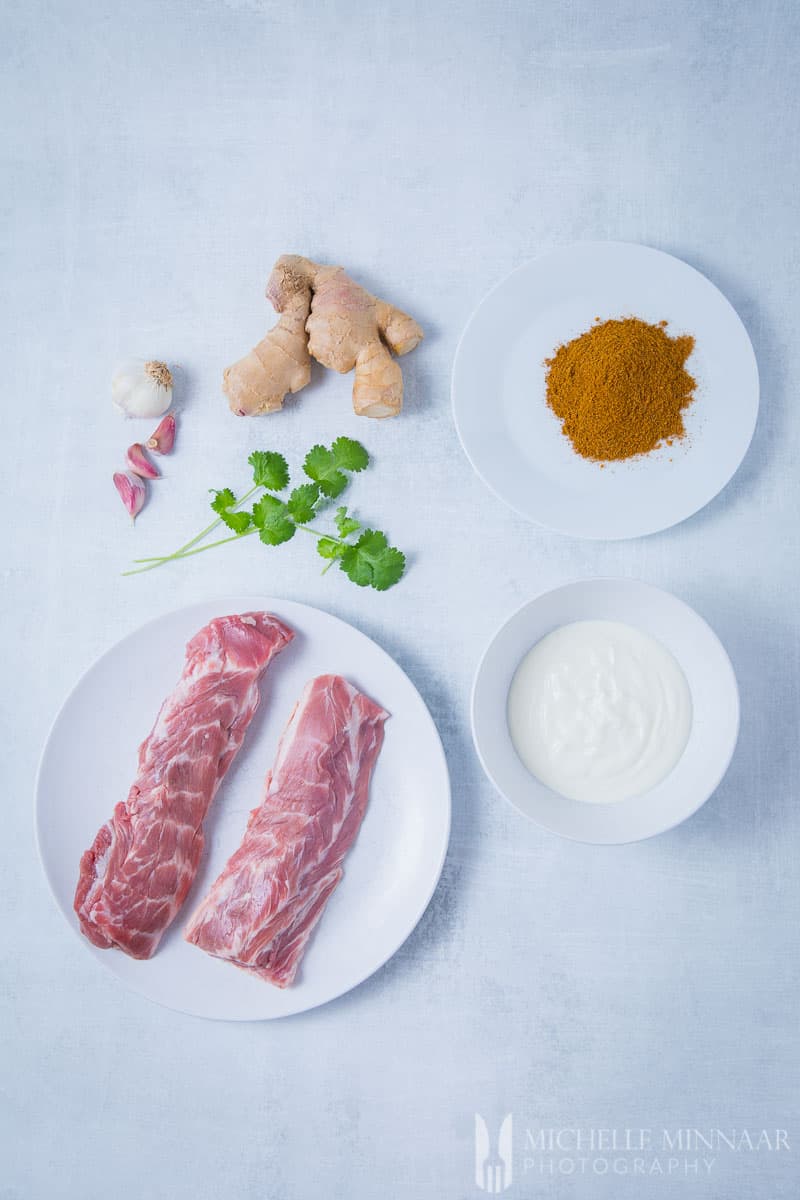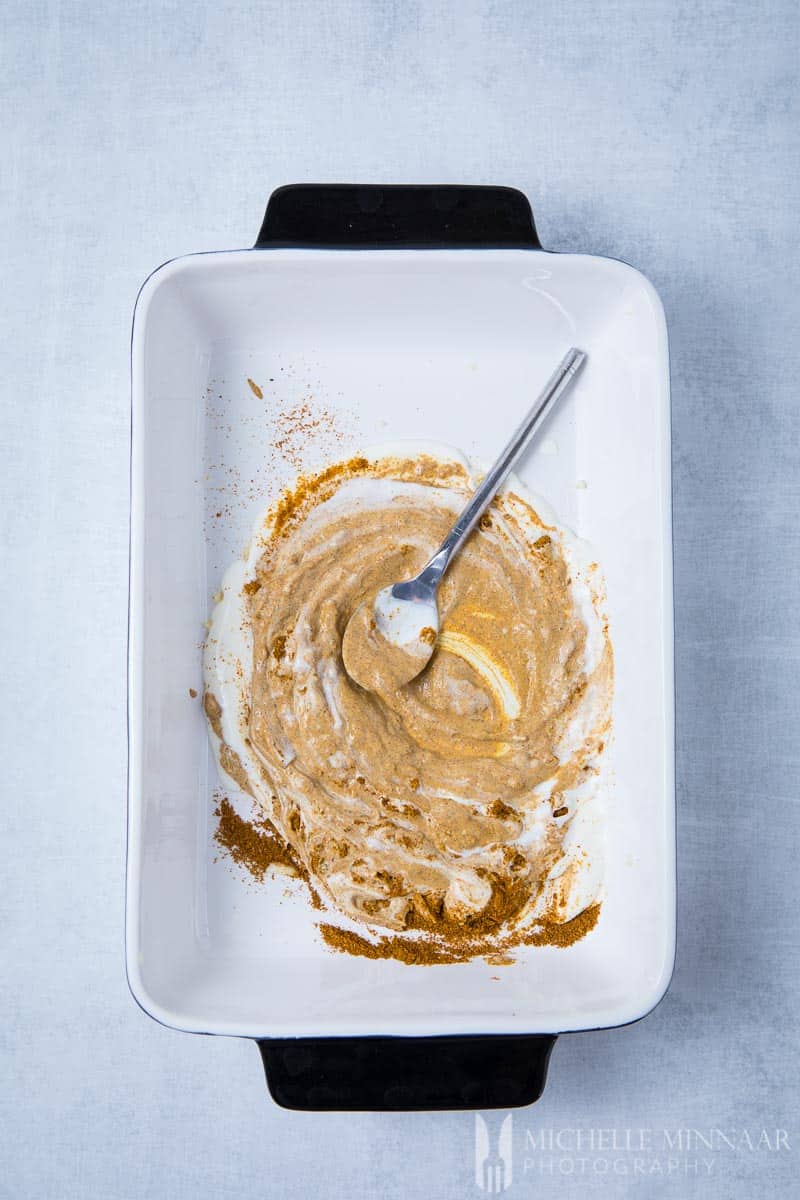 the lamb
When was the last time you cooked lamb? Did you know that people under 35 hardly purchase or cook lamb at all? Especially when it comes to the North Western European countries such as France or England. It seems like millennials and their new 'flexitarian' lifestyles are causing a slight decline in appetite for lamb, because sadly, they never even tried it. Such a missed opportunity!
lamb try it, love it
However, thanks to the EU-funded Lamb Try it, Love it campaign, people can now discover the convenience and unique flavours of lamb. As such, this lamb tikka will do lamb meat much justice, modernizing today's take on lamb as well as highlighting the bold umami flavours that make lamb so special.
In addition to that, European lamb is a premium and high-quality meat. It is produced at European farms in remote regions, which operate using sustainable practices. Ultimately, farmers are making an essential contribution to their local economies, as well as their consumers. There's nothing better than a fresh and tender piece of lamb! Such an exciting ingredient to cook with!
cuts of lamb
In essence, lamb is a versatile ingredient, which doesn't only produce a one-roast wonder with mint sauce, but can be used in a variety of cuisines. For example, you can make any of these incredible lamb recipes from various cheap cuts of lamb:
As you can see, you can use so many cuts of lamb, which enables you to make a plethora of different types of recipes. One of my favourites is a juicy piece of lamb leg! A lot of people associate lamb with being an expensive ingredient, but this couldn't be further from the truth. With a variety of cuts available, it's perfect for everyday meals which can be prepared in just under 30 minutes! Take these lamb neck fillets I've used for my lamb tikka. Easily affordable and available – and did I mention packed with flavour?
lamb health benefits
If you are one of those people who eat lamb regularly, I congratulate you for using this amazing and delicious ingredient. Another added value lies in the fact that lamb is very healthy and protein rich – providing all essential nutrients. So, in fact, you are keeping yourself healthy by eating high-quality lamb! Simply put, you should eat more lamb! More specifically it provides seven vitamins and minerals such as niacin and vitamin B12, contributing towards a healthy lifestyle and well-being.
Go out there, and try lamb today! Once you try it, you'll absolutely love it!
For more information on lamb and the Lamb Try it, Love it campaign, click here.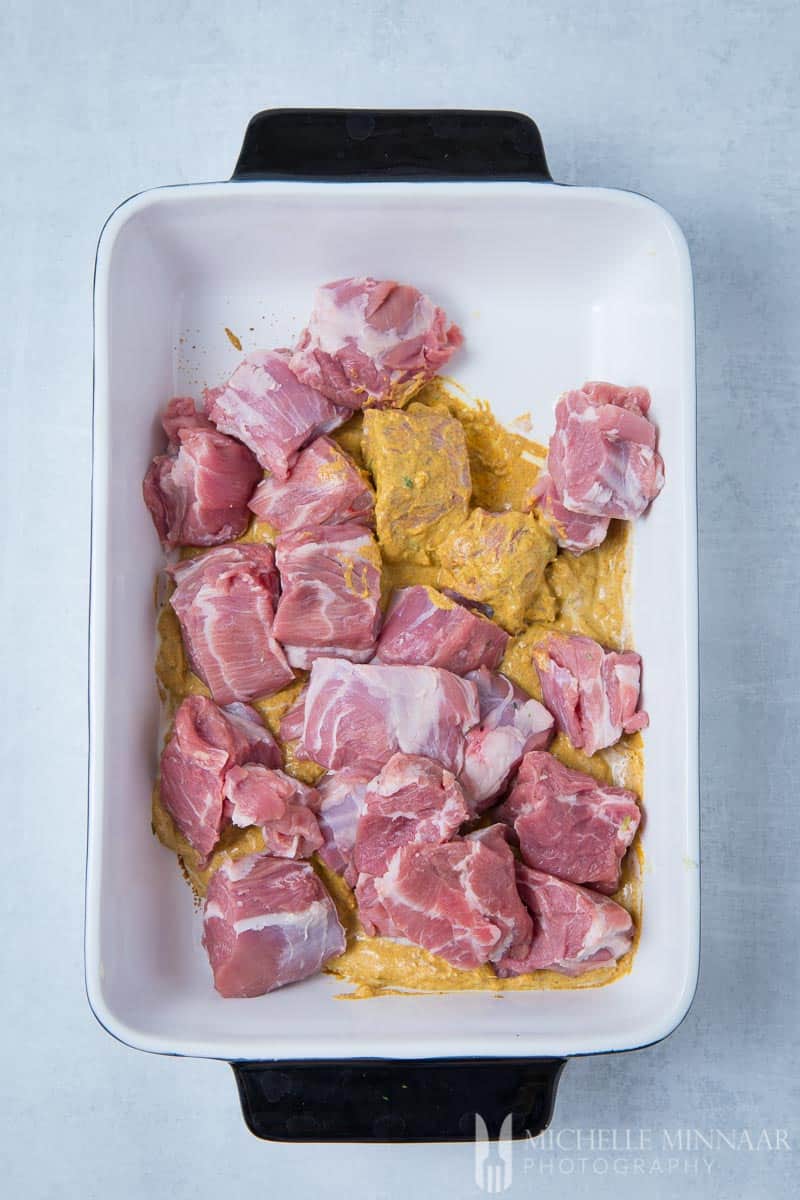 the yogurt
Yogurt or 'dahi' is a really important element for marinating your lamb tikka. Which yogurt is best to use for marinating meat? The answer is that there are different types of yogurt you can use. Do not use fat-free, low-fat or skim yogurt though! These types of yogurts will not bind the flavours as well in your marinade. Whatever you do, don't use flavoured yogurt. I recommend using plain or Greek yogurt. However, the latter can be expensive and you have to consider the fact that most of it will cook away.
So, is it really worth it? My advice is to stick to the plain natural white yogurt. Plus, you can use leftovers to pair with a delicious breakfast recipe.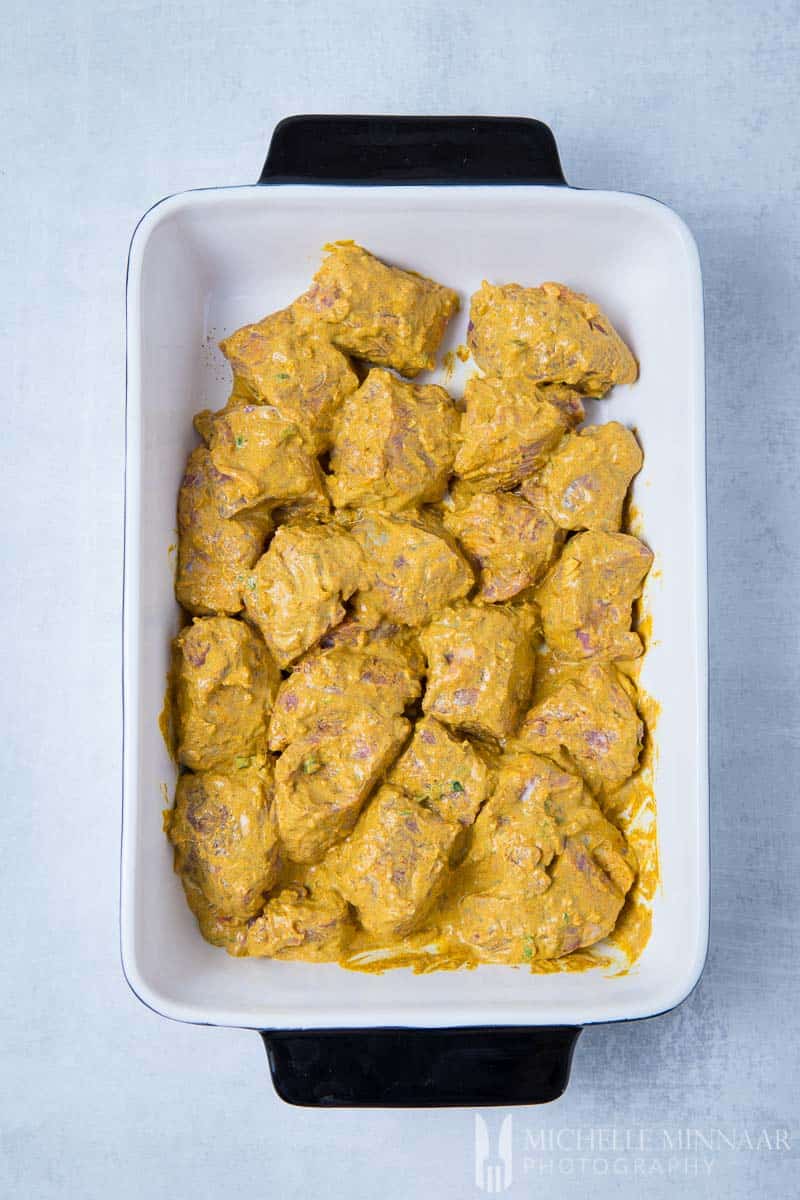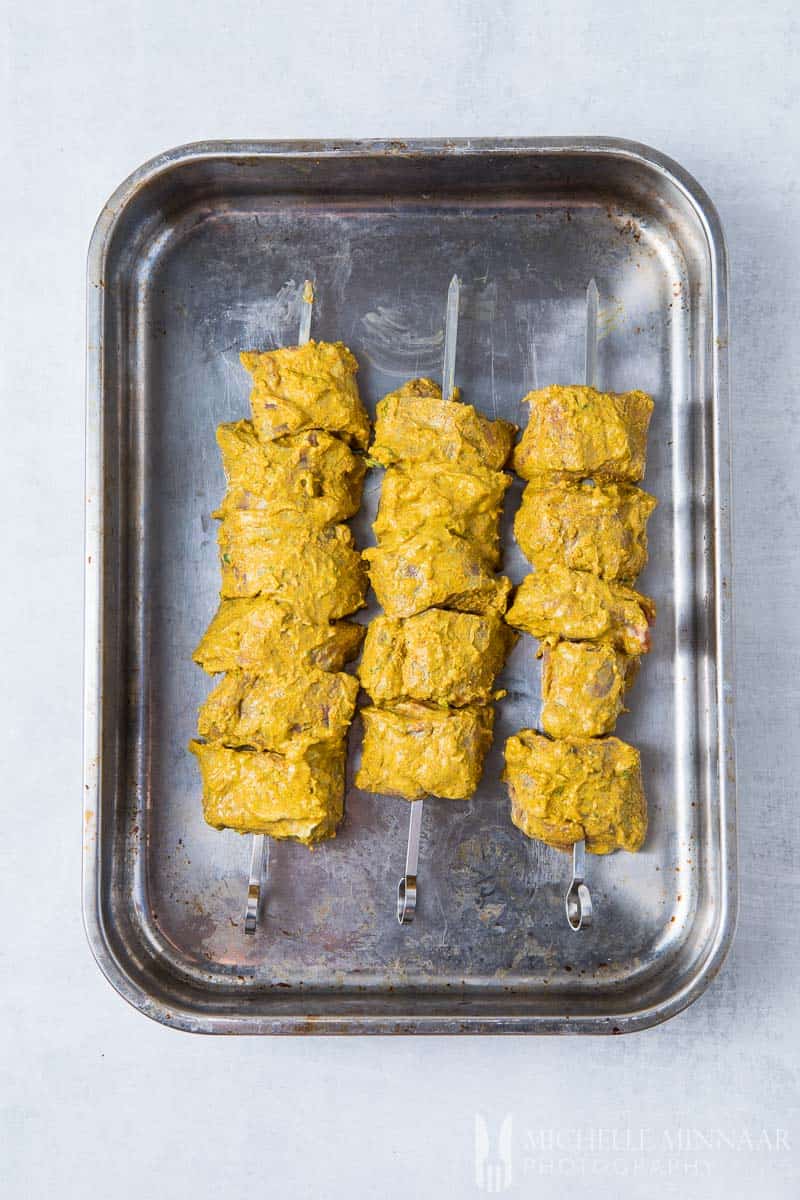 lamb tikka masala
I love learning how to make a fresh spice mix from scratch. The best part about masala spice is that you can make it your own. For this lamb tikka recipe, you'll need ground cumin, coriander, garam masala, turmeric, chilli powder and some salt. For more colour and a better kick, you can substitute the cumin powder with vadouvan. Vadouvan is a French curry powder which is yellow in colour and that has subtle onion flavours running through it. It works perfectly in yogurt marinades for lamb chops or lamb shoulder.
You might also want to include a touch of 'sumac' or 'sumak' for hints of the Middle East. Sumac is like adding a citrus element to the dish, which will counter the heaviness of the lamb. The best part is, you can reuse the sumac in a delicious fattoush salad for a fresh and zesty side dish. For those who love chilli, set some lamb tikkas aside and top them with harissa. It is a sort of chilli paste from North Africa. It will certainly add punch of flavour, let alone heat. The paste also works very well with seafood such as prawns. Check out my harissa prawns recipe here.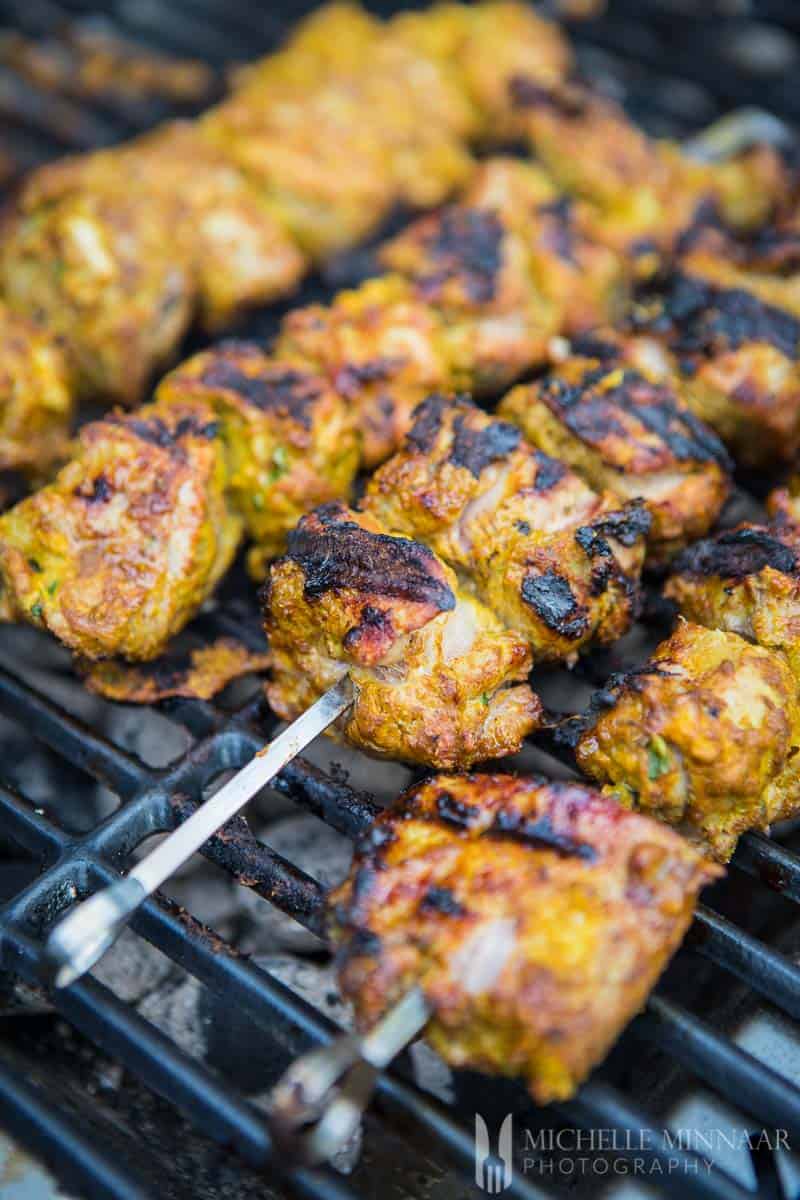 skewers
Skewers can make or break any lamb tikka recipe. Believe it or not, but there is a huge difference whether you use steel or wooden skewers. In professional kitchens, it's very common to use stainless steel skewers for quick cleaning purposes as well as to promote sustainability. Also, stainless steel skewers are better when it comes to grilling at home in your garden because you'll avoid worrying about the skewers burning. I prefer using the stainless steel ones for these two reasons. If you haven't got any of these skewers at home, you can inspire yourself with these: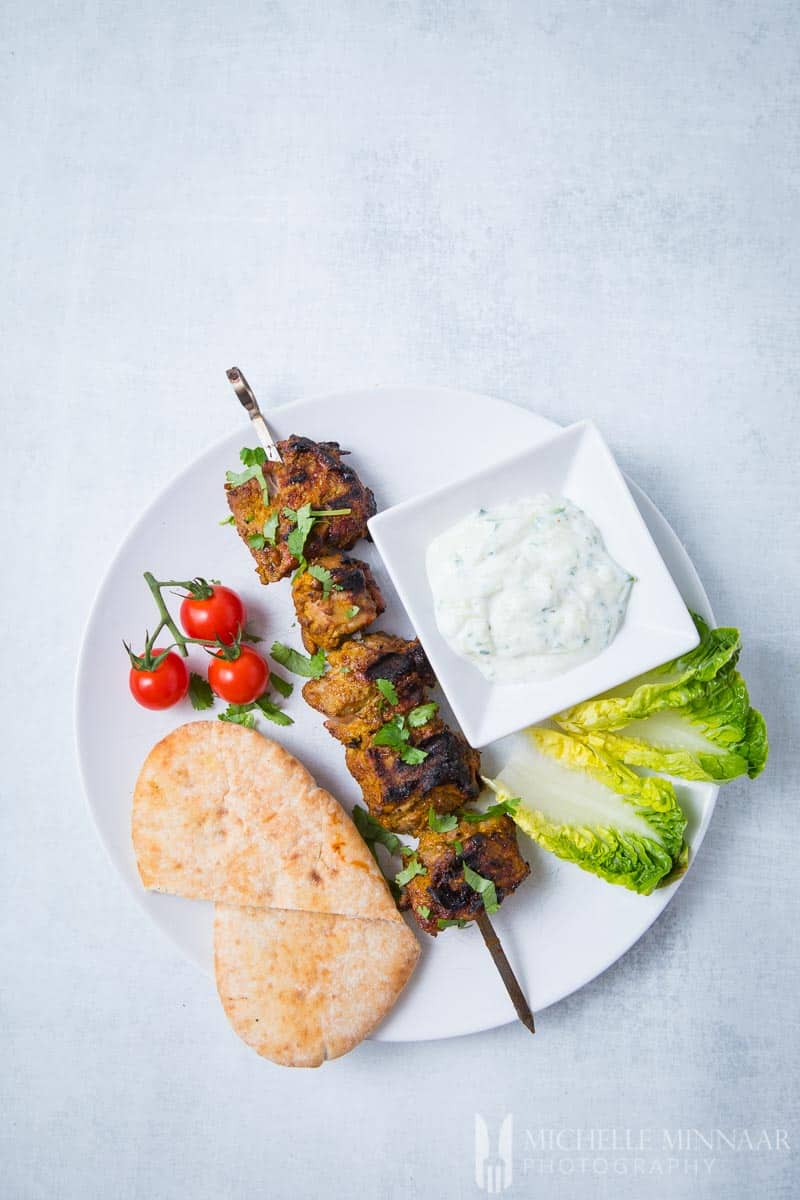 Again, you never know whether your wooden skewers because you can lose control of the fire at any given point. Remember, it's a temperamental element. That's why if you use wooden skewers, it's always a good idea to soak them in water first because if they catch fire, you risk burning the lamb. I recommend doing this step for a minimum of ten minutes. Apart from the risk of burning the lamb, you might incorporate too much smoky flavour into the lamb tikka, making it too intense. I recommend testing your lamb on a single skewer and see how it goes!
So, which ones will you be using for your lamb tikka?
Print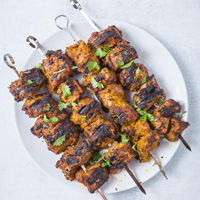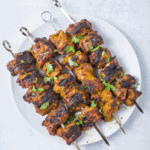 Lamb Tikka
---
Description
Lamb tikka is a fabulous idea when you are in need of a quick lamb recipe. Mixed with traditional Indian spices and yogurt, it is a memorable combination.
---
100

ml (3fl oz) yogurt

4

garlic cloves, crushed

2.5

cm (1in) ginger, peeled and grated

5

ml (1 tsp) ground cumin

15

ml (1 tbsp) coriander

5

ml (1 tsp) garam masala

5

ml (1 tsp) turmeric

5

ml (1 tsp) chilli powder

2.5

ml (1/2 tsp) salt

500g

(1lb) lamb neck fillets, cut into 2.5cm (1in) cubes
---
Instructions
Combine all the ingredients, except for the lamb cubes, in a large bowl.
Add the lamb to the yogurt marinade and leave in the fridge for at least 4 hours, but preferably overnight, to marinate.
Thread the meat on metal skewers.
Cook the lamb kebabs 7 minutes on each side for medium-rare to medium, or cooked to your preference.
Serve with a fresh, green salad, cucumber raita and, naan or pita.
Notes
If using wooden skewers, soak them in water for at least 10 minutes, to help prevent them from burning on the barbecue.
Cooking time depends on how large the lamb pieces are as well as how cooked you prefer your meat. If all else fails, use a meat thermometer.
Prep Time:

30 minutes

Cook Time:

15 minutes

Category:

Main Course

Cuisine:

Indian
Nutrition
Serving Size:

1 serving

Calories:

329

Sugar:

1.9 g

Sodium:

305 mg

Fat:

22.8 g

Saturated Fat:

10.7 g

Carbohydrates:

4.8 g

Protein:

25 g

Cholesterol:

2 mg
save the recipe to your pinterest board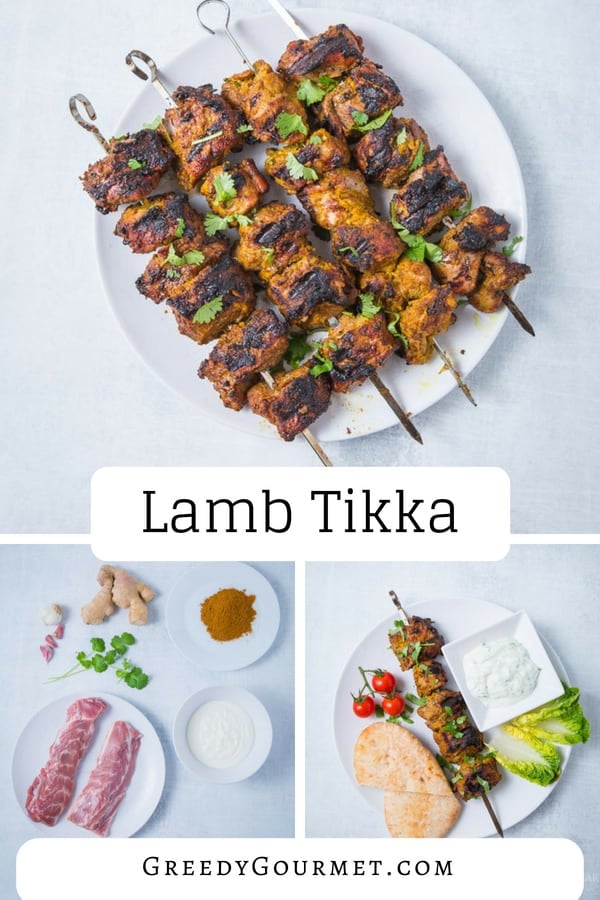 P.S. This is a sponsored post.