The beauty of cooking with such a humble and common ingredient like chicken is that you can use it in practically any cuisine. That being said, you can use any type of spices, sauces, jams, herbs – you name it, to jazz up the meat. So, forget a simple roasted chicken recipe. Try out these marinated chicken drumsticks instead and see how exciting a piece of chicken can actually be. You don't need much for this marinated chicken drumsticks recipe. All you need is a couple of your regular kitchen spices and some oranges – and you're good to go. What's best, is that this marinade practically works with any type of chicken pieces. Whether it be wings, breasts, drumsticks or thighs. However, you can also use this simple marinade recipe for other poultry like turkey for example. I bet once you start to marinate your chicken, you'll never go back!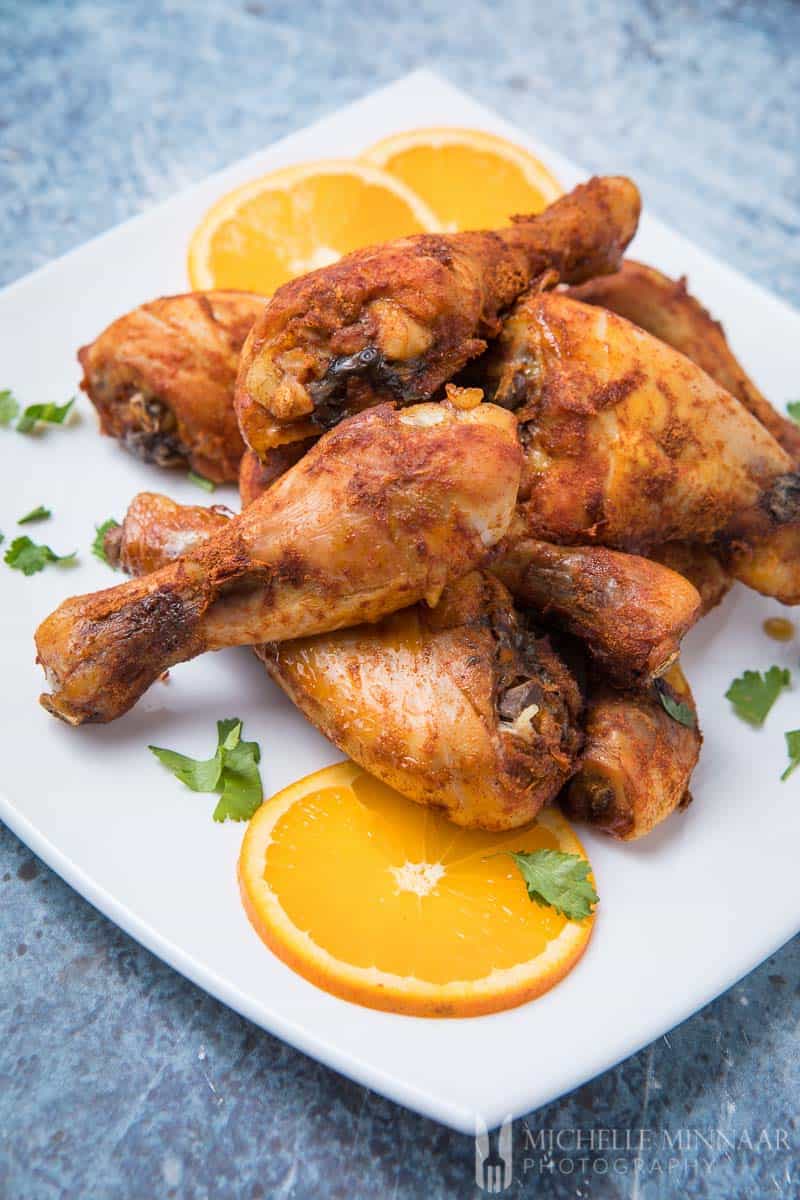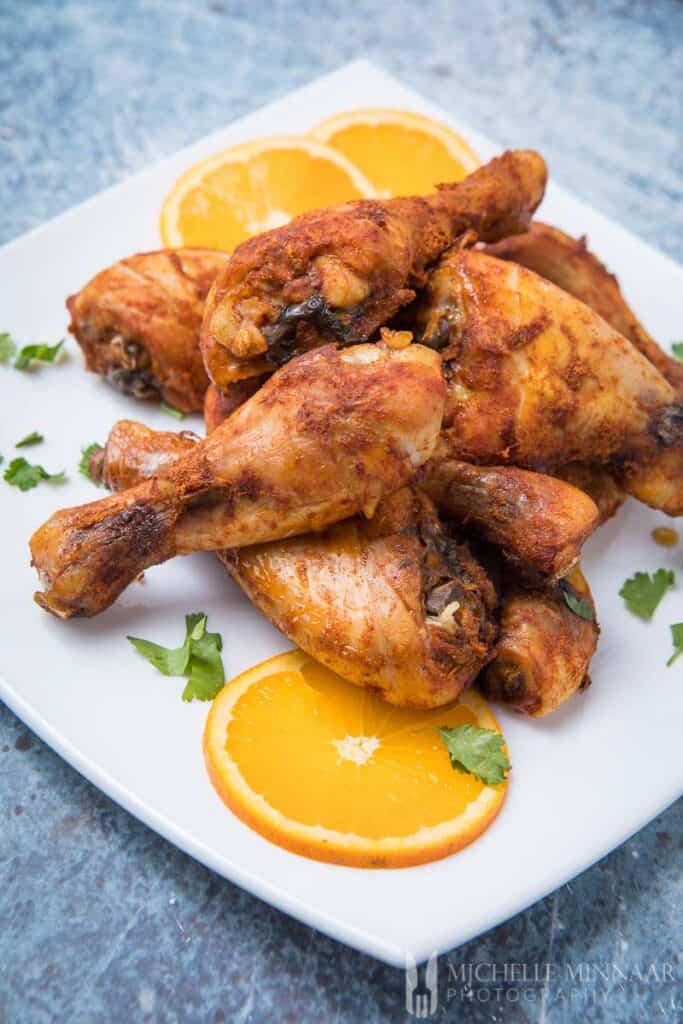 easy marinated chicken drumsticks recipe
Again, this marinade is extremely simple to make and yields excellent results. I know some cooks are not so fond of waiting for the marinated chicken drumsticks to finish marinating.
However, the wait is definitely worth it. The longer you marinate the chicken or any type of meat, in general, the more chance that the flavours of the marinade infuse with the meat. Naturally, you can also opt for marinating your chicken for a shorter amount of time. Even two hours could potentially bring out the desired flavours.
However, the longer you wait, the more powerful the flavour will be. My recommendation is to make these marinated chicken drumsticks in parallel with another delicious chicken recipe. A great option is to deconstruct an entire chicken and save the drumsticks for tomorrow's dinner. Just let the marinated chicken drumsticks sit in the refrigerator overnight.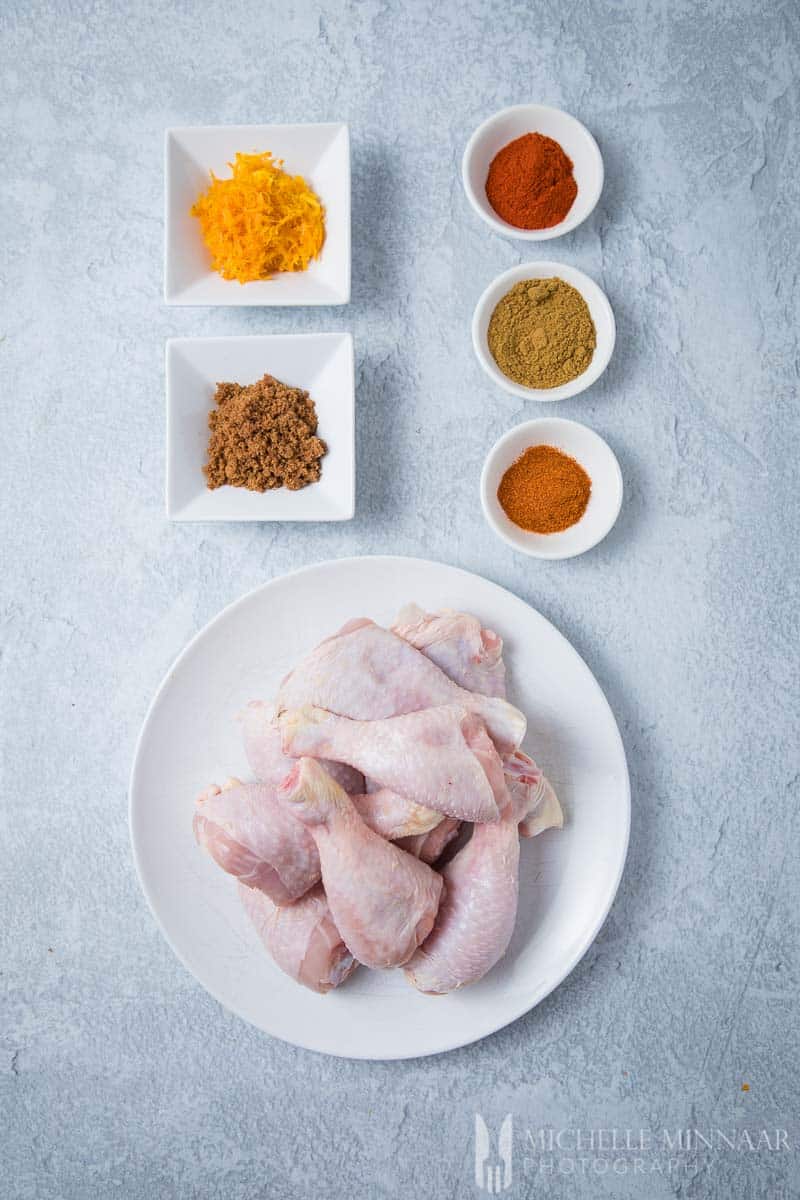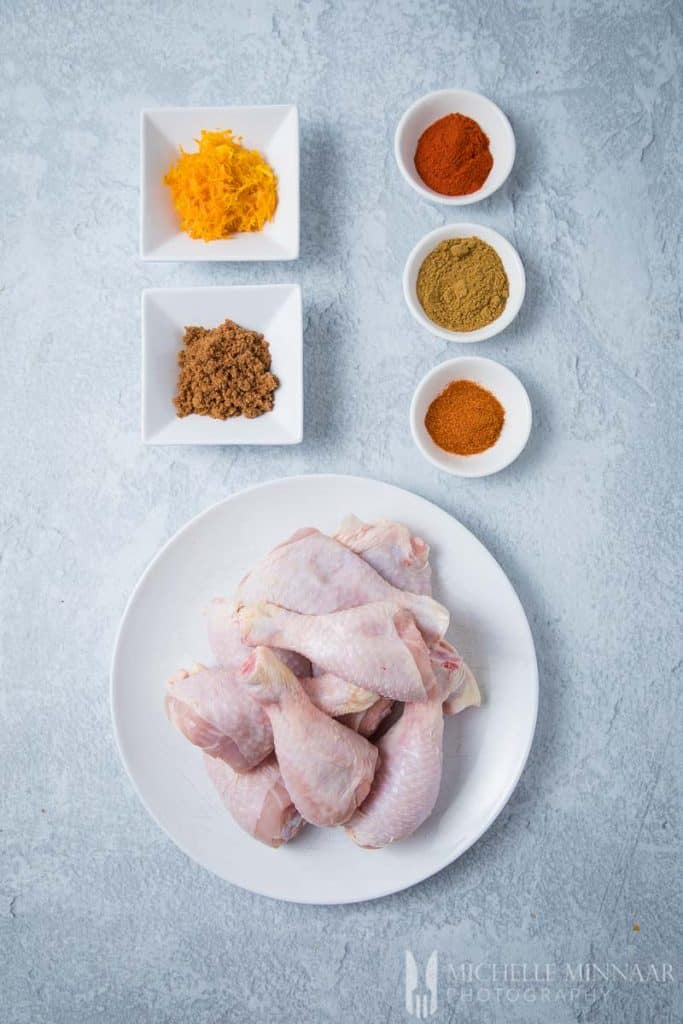 marinated chicken vs brined chicken
So, before we start, let me explain to you the process of marinating. First of all, the process of marinating is different to the process of brining. Generally speaking, the process of marination involves soaking the food (meat, cheese, vegetables, etc.) into a seasoned liquid or sauce before cooking. Many times, the liquid also includes some form of acid. This could be from vinegar, lemons or wine. Marinating meat for example has always been used for two purposes: to tenderise the meat as well as to flavour it.
Comparatively, brining usually involves less acid but also serves the above-mentioned purposes. In fact, there is nothing better than brined chicken. The results are extremely juicy and tender chicken right out of the oven. Check out my ultimate guide to brining chicken and learn how to brine chicken in no time. Not only will you be able to find out how to brine different cuts of the chicken, but you can also make these brined chicken drumsticks and compare!
As such, you are welcome to use other parts of the chicken for this recipe. You can go for chicken wings, thighs or breasts instead. Take note however, that you will need a longer cooking time if the pieces are bigger – bake for longer at 140°C/fan 120°C/285°F/gas mark 1 but keep the browning/glazing stage at 20 minutes at 180°C/fan 160°C/350°F/gas mark 4.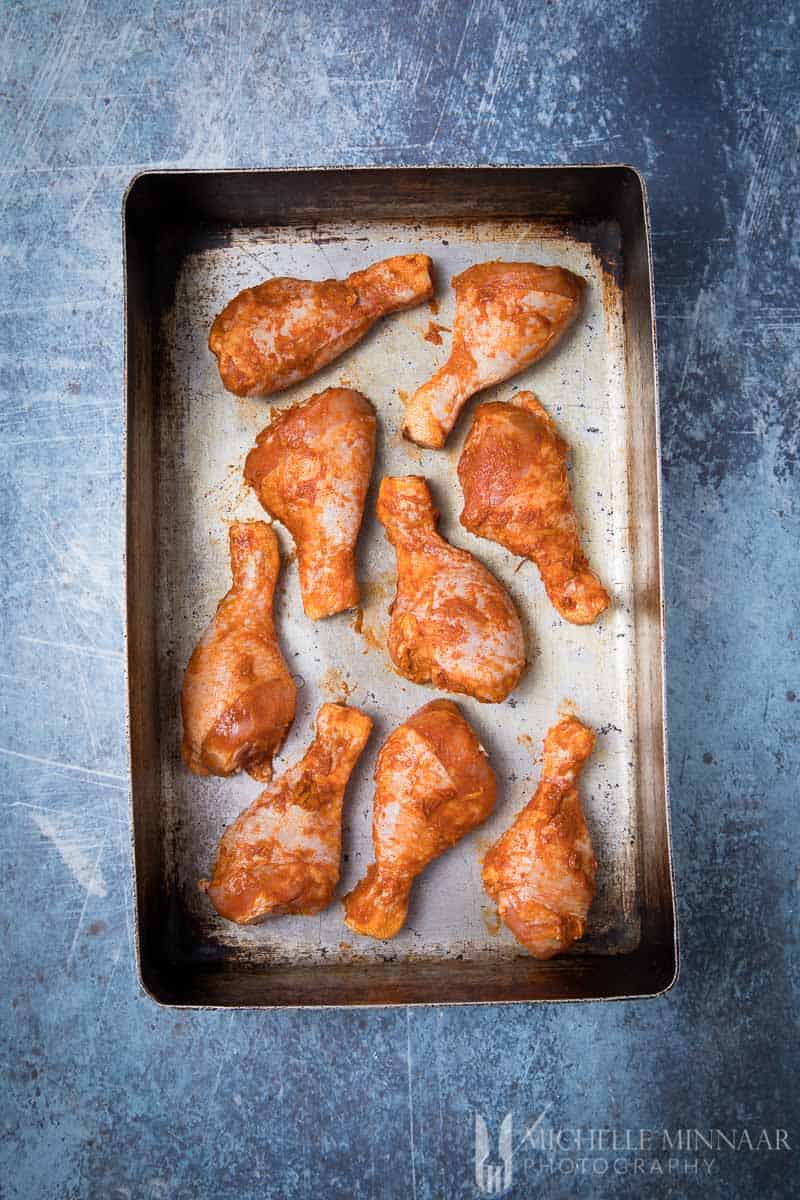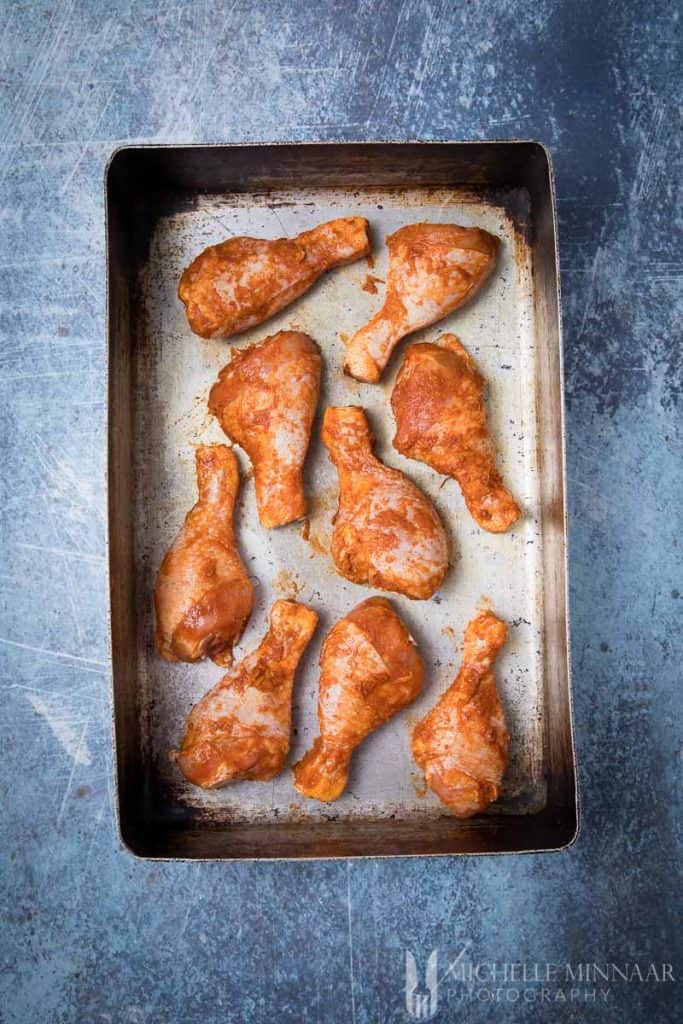 healthy chicken drumsticks marinade
These marinated chicken drumsticks use simple ingredients that deliver a maximum zesty punch of flavour. You'll need paprika, ground cumin, cayenne pepper, brown sugar, oranges, salt and pepper. If you haven't guessed it yet, not only are these marinated chicken drumsticks healthy, but they contain elements of Spanish cuisine. I highly recommend also trying out spicy smoked paprika powder to give the chicken drumsticks an extra punch of flavour and intensity. In fact, if you add a large amount of the smoked paprika powder, you might even think that you are eating smoked chicken drumsticks instead!
easy chicken drumsticks marinade for bbq
I love making marinated chicken drumsticks, because instead of baking the chicken in the oven you can barbecue them, too! What better way to enjoy the marinated chicken drumsticks than charring away on the BBQ, absorbing those rich smokey flavours. However, you will need to continuously glaze them with the marinade. So don't toss the marinade out when you remove the drumsticks. Keep it for extra glaze and extra flavour!
Another method of how to cook these marinated chicken drumsticks without the bbq yet still get that char is to par-cook them in the oven first. This means, par-cook them for a couple of minutes and then finish them off on the grill. The skin will crisp up, but it won't jeopardise the moisture of the chicken. The last thing you want is to overcook it, especially if you've had the chicken marinating in the fridge all night!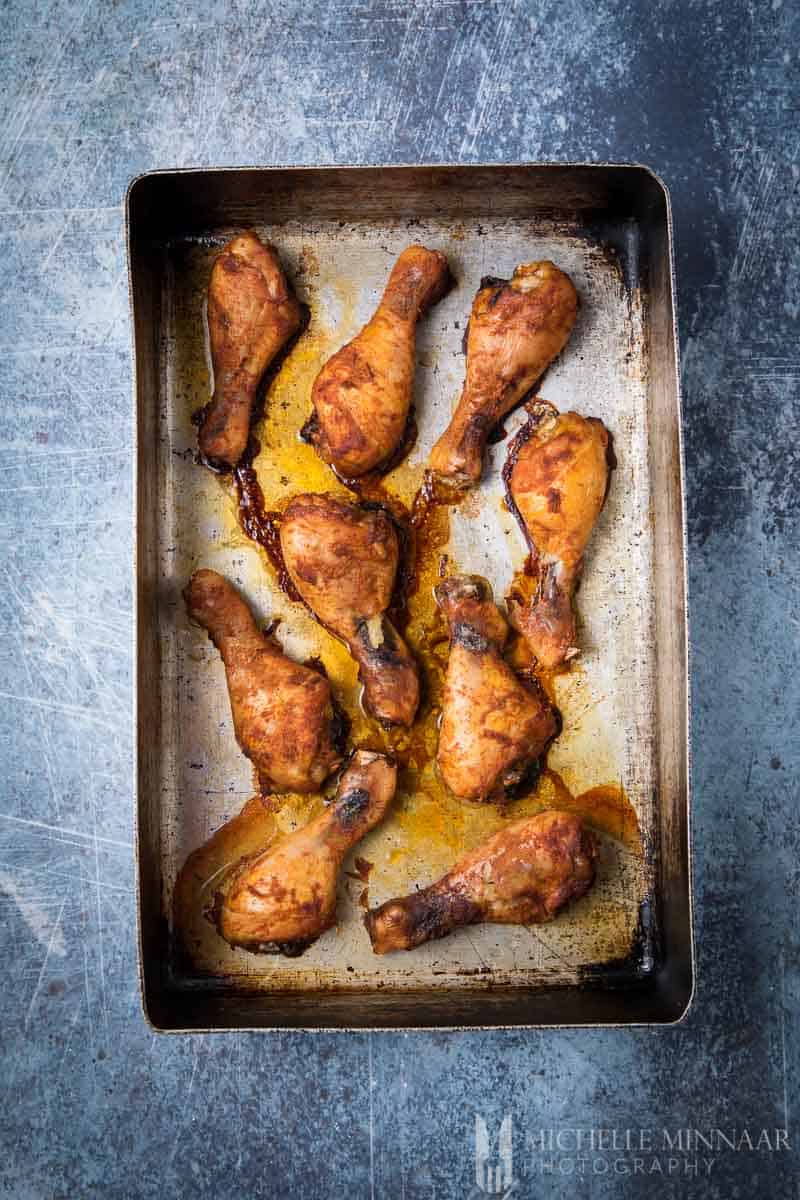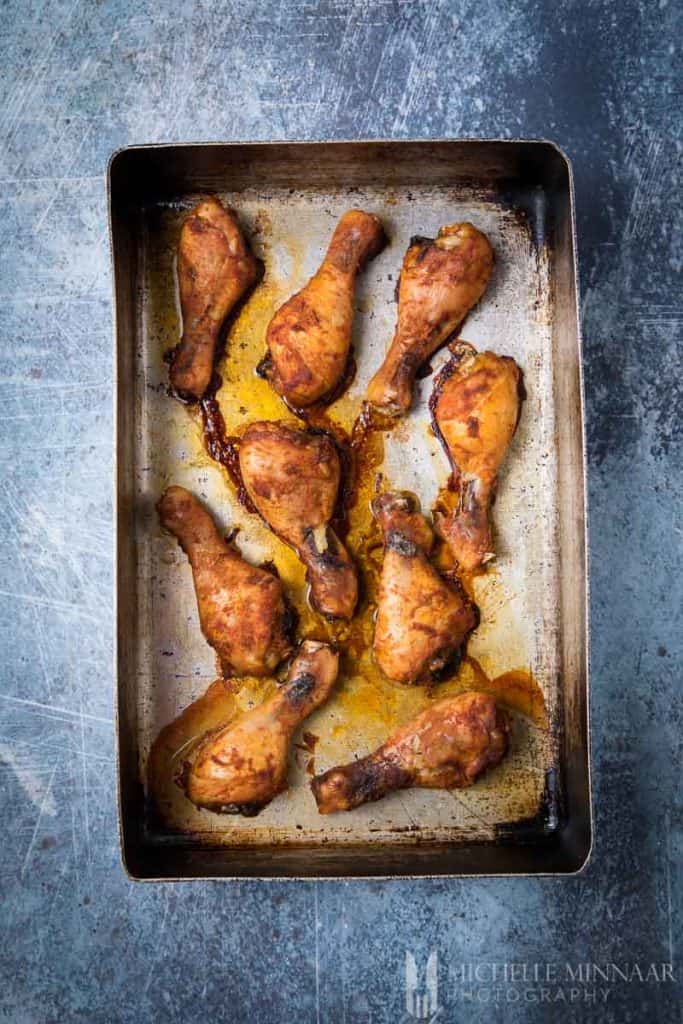 variations of marinated chicken drumsticks
If by some chance you happen to find out that you are out of paprika, you needn't worry. Here is a list of top paprika substitutes that you can use to retain the theme of the cooking style.
Next, here's some interesting variations of my marinated chicken drumsticks that you can inspire yourself with. Depending on what your taste buds prefer on any day, you can spin this marinade in any direction you want. See below and tell me which one you prefer the most!
chicken drumstick recipe – Indian
If you feel like eating Indian, why not marinate your chicken drumsticks in a tasty Indian inspired sauce? Use olive oil and combine your favourite traditional Indian spices like turmeric, cardamom, coriander, garam masala and more.
If you can't get your hands on coriander, check out these handy coriander substitutes. Similarly, look at these cardamom substitutes.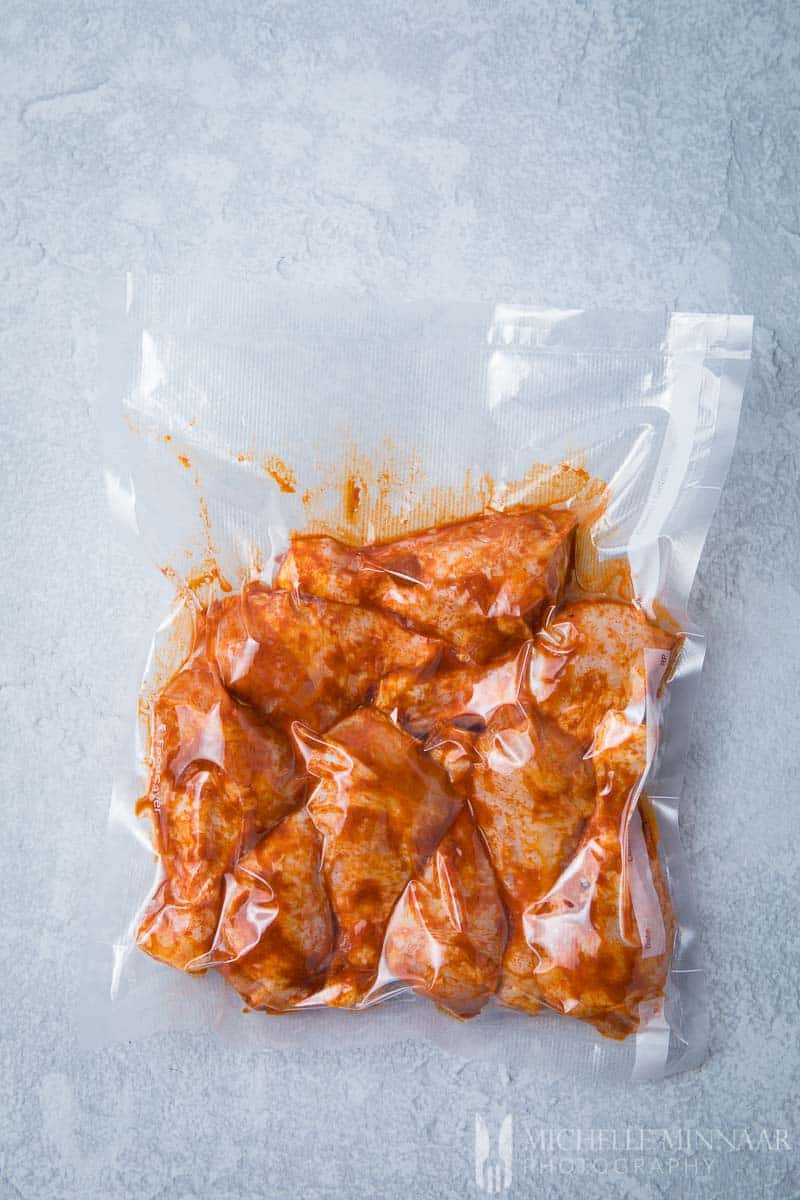 chicken drumstick marinade with soy sauce
This is the Chinese version of my marinated chicken drumsticks. Take out paprika powder and add lime juice, soy sauce and a dash of honey. You may also opt for adding a few pieces of raw ginger. Don't forget a bit of brown sugar for sweetness. Perhaps complete with garlic powder and onion powder. Oh so good!
You can also try these Asian-style chicken drumsticks!
lemon garlic roasted chicken drumsticks
For Mediterranean flavours, just combine lemon juice and garlic. You can't go wrong with that. You can also add oregano, basil or rosemary. The choice is yours!
sticky sesame chicken drumsticks
Possibly one of the best finger-licking recipes for chicken marinades ever! Again, take out the paprika and use teriyaki sauce, lime juice, sesame seeds, honey and chilli. These Japanese-style chicken drumsticks are amazing and you can easily serve them with a small seaweed salad or plain rice.
Print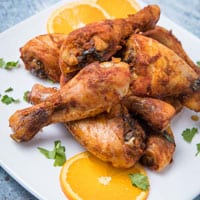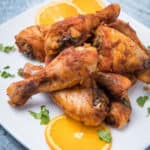 Marinated Chicken Drumsticks
---
Author:

MIchelle Minnaar

Prep Time:

10 minutes

Cook Time:

60 minutes

Total Time:

1 hour 10 minutes

Yield:

4

1

x
Description
This marinated chicken drumsticks recipe is very easy and uses very simple ingredients while obtaining the best results. Make this chicken Spanish-style.
---
15

ml (1 tbsp) paprika

5

ml (1 tsp) salt

5

ml (1 tsp) ground cumin

2.5

ml (½ tsp) black pepper

1.25

ml (¼ tsp) cayenne pepper

10

ml (2 tsp) brown sugar

1½

oranges, zested and juiced

8

chicken drumsticks
---
Instructions
Mix all the ingredients in a plastic bag and marinate the chicken overnight. It helps to knead the bag every now and then to make sure the chicken is completely covered.

Preheat the oven to 140°C/fan 120°C/285°F/gas mark 1.

Arrange the drumsticks in a dish in a single layer. Drizzle a bit of marinade over them to keep them moisturized. Cover with foil and bake in the oven for 40 minutes.

Take the chicken out of the oven and increase the temperature to 180°C/fan 160°C/350°F/gas mark 4.

Remove the foil and pour a bit more marinade to the chicken and make sure the drumsticks are well-coated.

Return the chicken to the oven and bake for another 20 minutes, turning several times, until the chicken is tender and nicely glazed.

Let the chicken rest for a few minutes before serving.
Notes
Instead of baking the chicken in the oven you can barbecue them while continuously glazing them with the marinade. Another method is to par-cook them in the oven first, then finishing them off on the grill.

Drumsticks were used in this recipe to ensure even cooking. You are welcome to use chicken wings, thighs or breasts instead. Take note that you will need a longer cooking time if the pieces are bigger – bake for longer at 140°C/fan 120°C/285°F/gas mark 1 but keep the browning/glazing stage at 20 minutes at 180°C/fan 160°C/350°F/gas mark 4.
Category:

Main Course

Cuisine:

Spanish
Nutrition
Serving Size:

1

Calories:

287

Sugar:

25.3g

Sodium:

389mg

Fat:

5.9g

Saturated Fat:

1.5g

Carbohydrates:

32.5g

Fiber:

6.8g

Protein:

28g

Cholesterol:

81mg
save the recipe to your pinterest board