Classic comfort food doesn't get better than Greek moussaka!
Creamy, rich and utterly irresistible, this hearty layered lamb and aubergine dish is surprisingly easy to make. It's all about simple ingredients with flavours that work together in harmony, to create a dish that dances on the tips of your tastebuds with every single mouthful.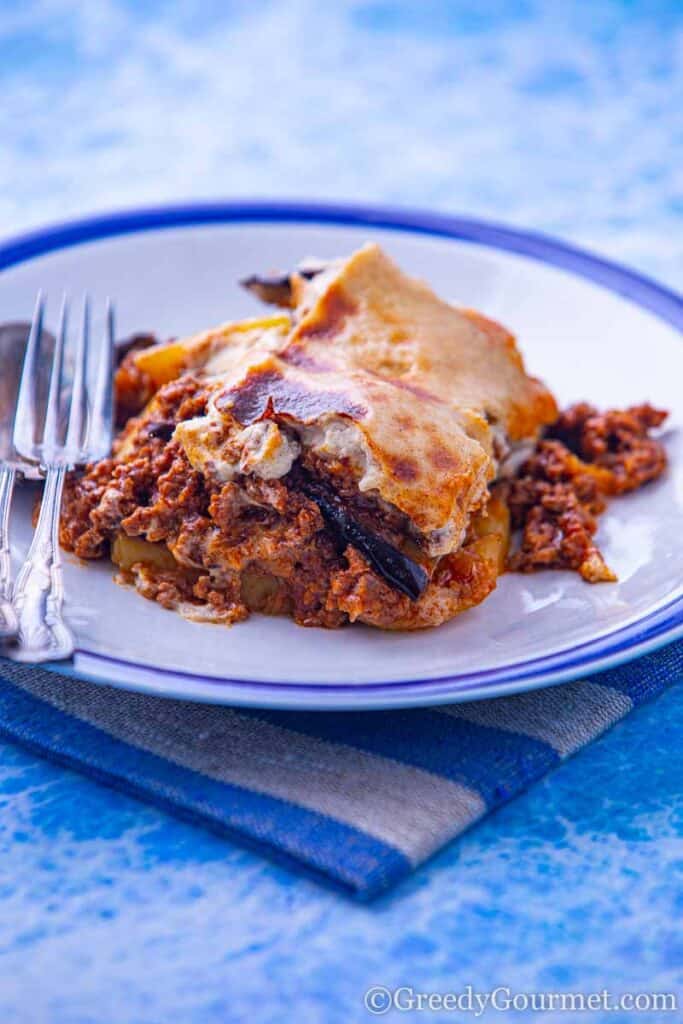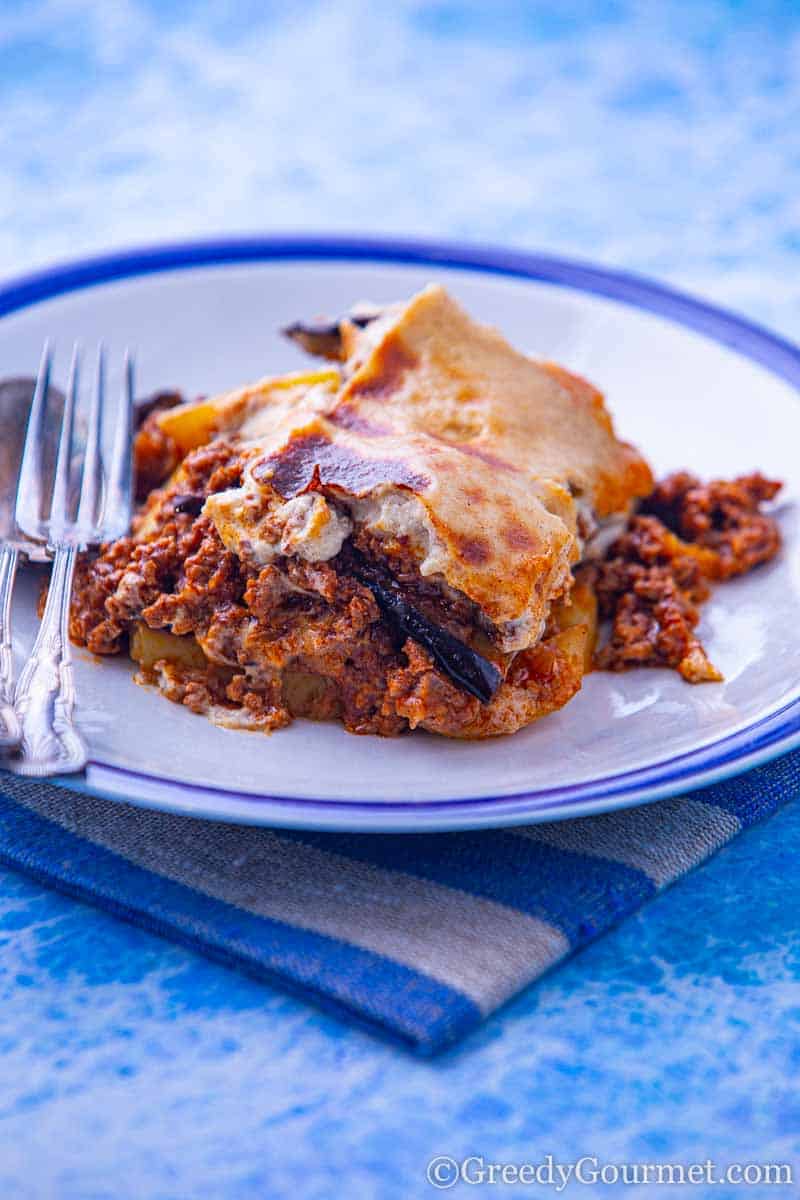 Products you need for this recipe
Here are the kitchen items you'll need for this moussaka recipe:
Large frying pan – invest in a quality frying pan, if you haven't already got one
Baking dish – a quality baking dish is essential for this moussaka recipe
Cooking brush – it may seem like a trivial thing, but a cooking brush is a godsend when it comes to roasting vegetables, especially aubergines. Too much oil and it'll turn into a sloppy mesh. Not enough and it'll be dry as a bone. Brush a thin layer to get it just right
Moussaka recipe
The famous Greek physician Hippocrates said "Let food be thy medicine and medicine be thy food."
The Greeks certainly know all about feel-good food. Those dishes that lift your spirits and bring comfort and joy in equal measure. The kind of food that's best eaten on a big dinner table, shared with the ones you love.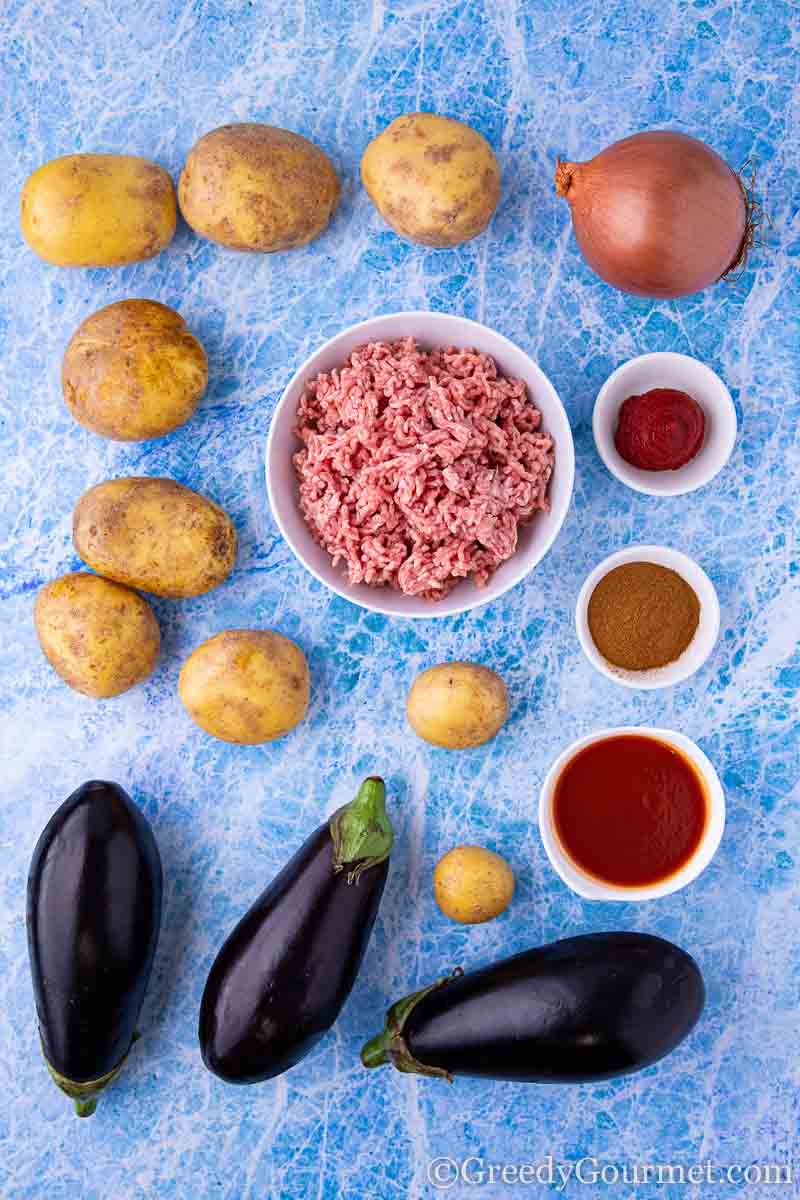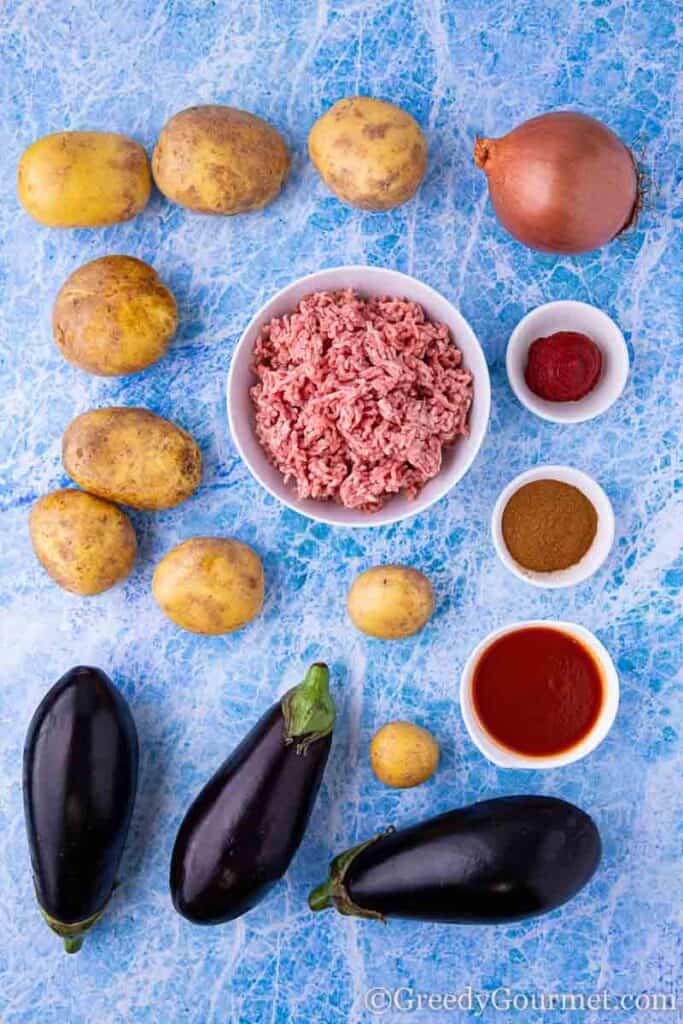 Much of Greek cuisine is based on simplicity and quality, where fresh ingredients take centre stage and harmony of flavour is key.
When it comes to traditional Greek food, no dish better sums up that elegant simplicity than moussaka. In the same way that lasagna is the ultimate Italian comfort food, for the Greeks, moussaka is the sacred dish to bring the family together.
So, whether you're a sucker for moussaka, or a curious first-timer, this recipe has something for everybody. Faithful to the time-honoured traditions, yet with my own personal tweaks, it's sure to be a big hit with the whole family.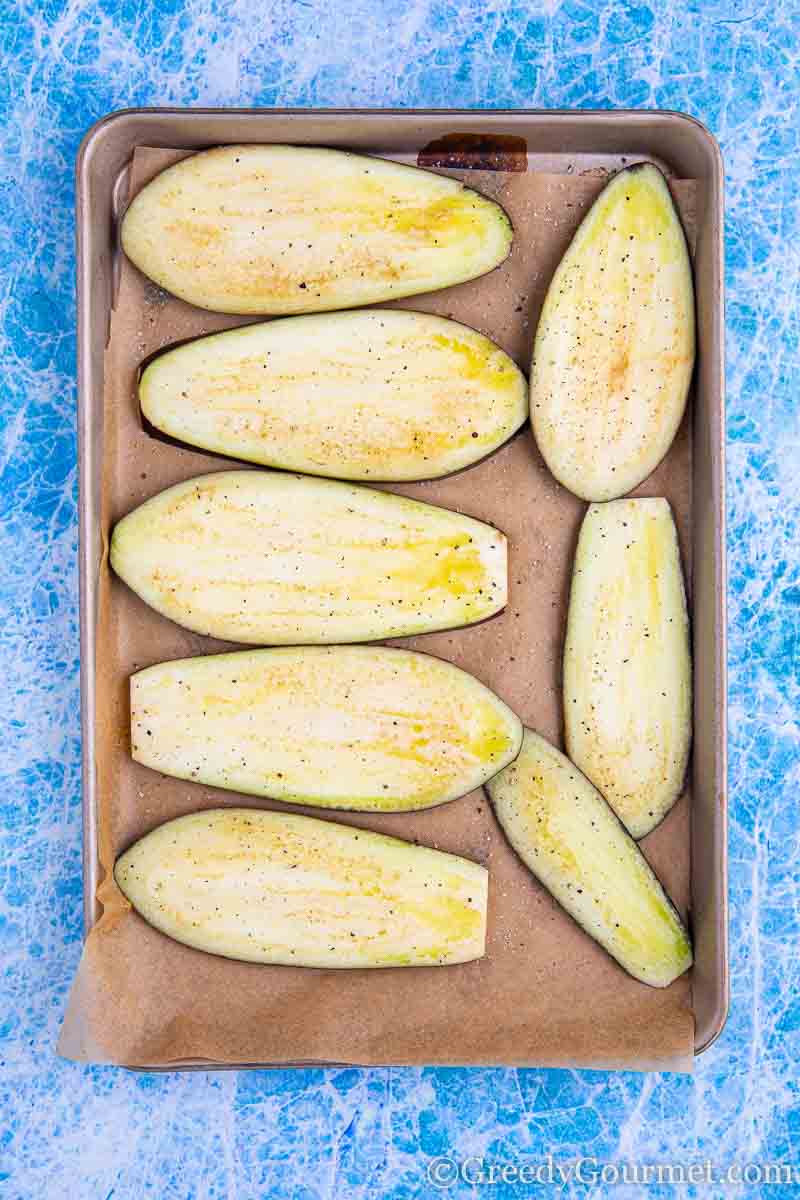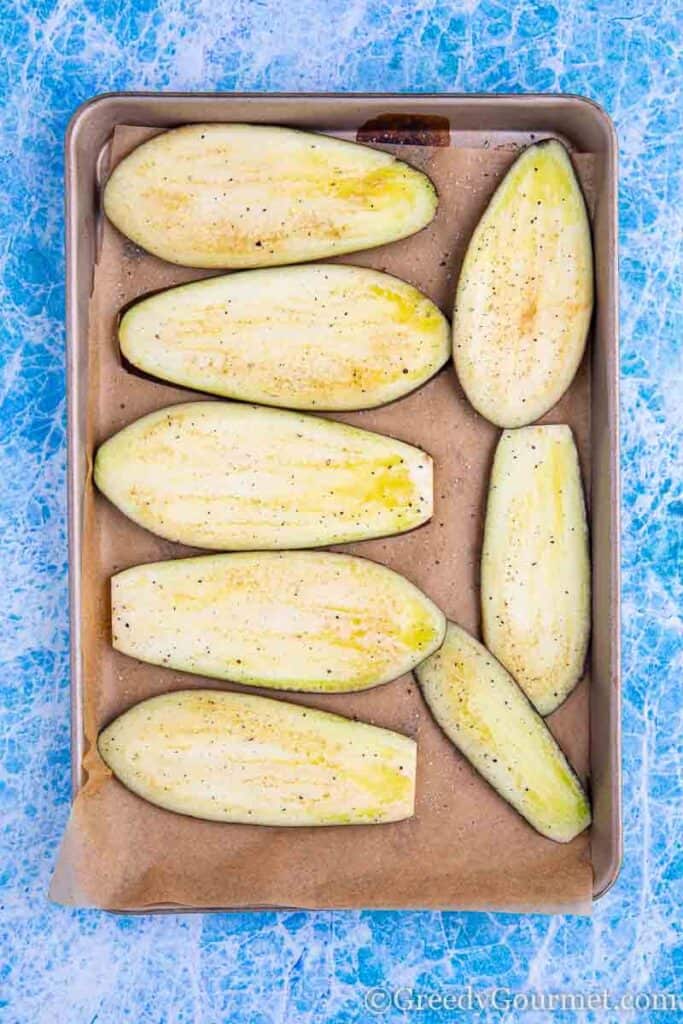 Potatoes and aubergine
The base layer for a Greek moussaka recipe is traditionally sliced aubergines (sliced eggplants for you American folk out there).
For me, doubling up with a slice of potatoes makes sense. It gives the rich meat sauce and the delicious bechamel sauce a thicker, more stable base to sit upon and creates a better consistency throughout the dish.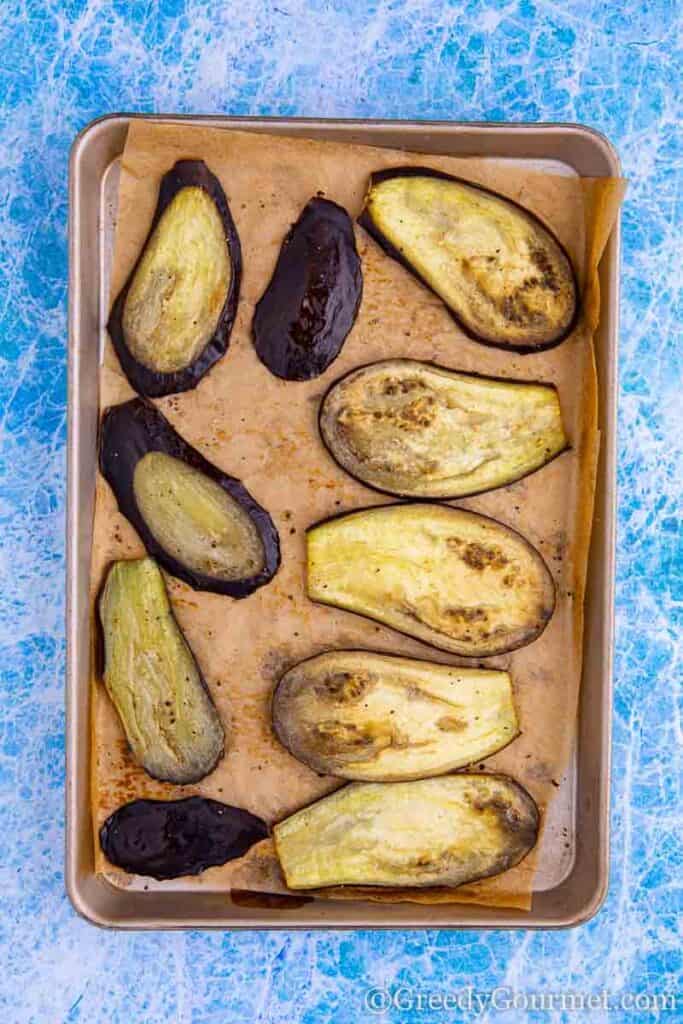 The meat sauce
What kind of meat is traditionally used in Greek moussaka? Well, it's a debate that has raged in Greece for many years.
Most would say lamb, although there's a strong case for beef. Some Greek cuisine experts even make a case for a mixture of pork and veal being the true traditional meat of choice for moussaka.
For this recipe, I'm sticking with lamb. It's the meat that works best when spiced with cinnamon, which really sets it apart from other meat-based dishes such as lasagna and bolognese sauce.
The minced lamb is cooked in a tomato-based sauce, traditionally a passata – known as perasti in Greece – which gives the meat a melt in your mouth texture. I've also gone with tomato puree, for an extra intense tomato taste. You could also use tomato paste.
Cinnamon is an absolute must. A subtle sweet spiciness is a key component to this recipe. Without it, it's just not the same. You could also use a hint of nutmeg.
Some recipes call for oregano – a favourite herb among the Greeks, who use it in many classic dishes.
You can also add a splash of red wine after you've browned the lamb. I don't find it necessary with this recipe though, as it's already quite rich.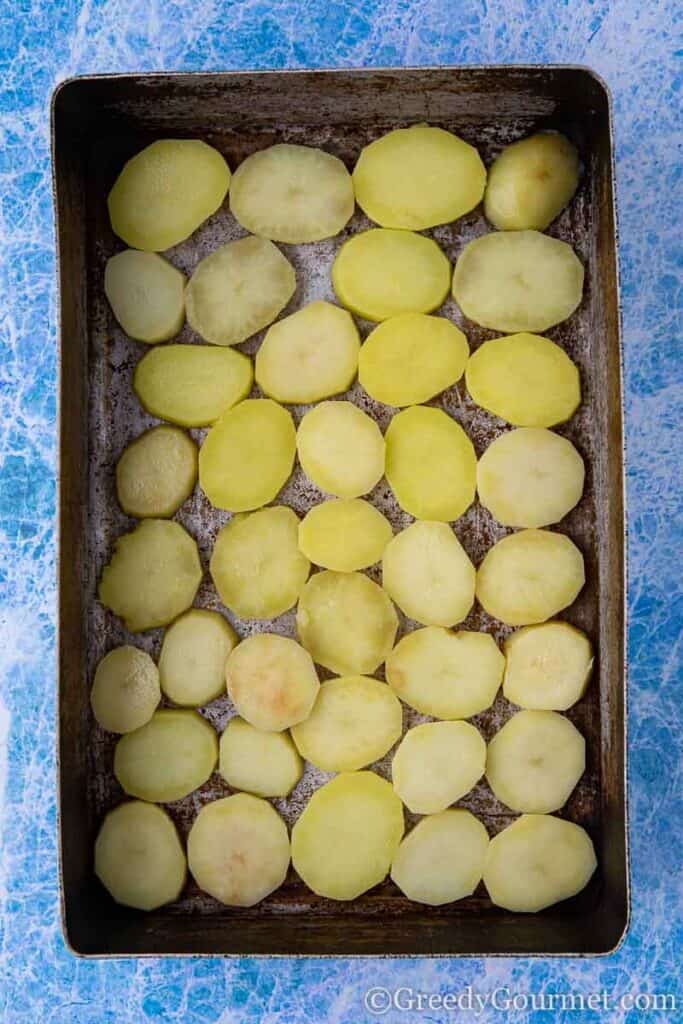 The bechamel sauce
The sauce is what sets this Greek classic apart from its Italian cousins. Unlike lasagna or similar meat and cheese sauce based dishes, the béchamel sauce in moussaka contains eggs.
This means it sets when cooked, creating a more solid, puffed up topping, rather than a creamy sauce.
To make sure you get a nice smooth bechamel sauce, heat the milk before adding it bit by bit to the flour and butter.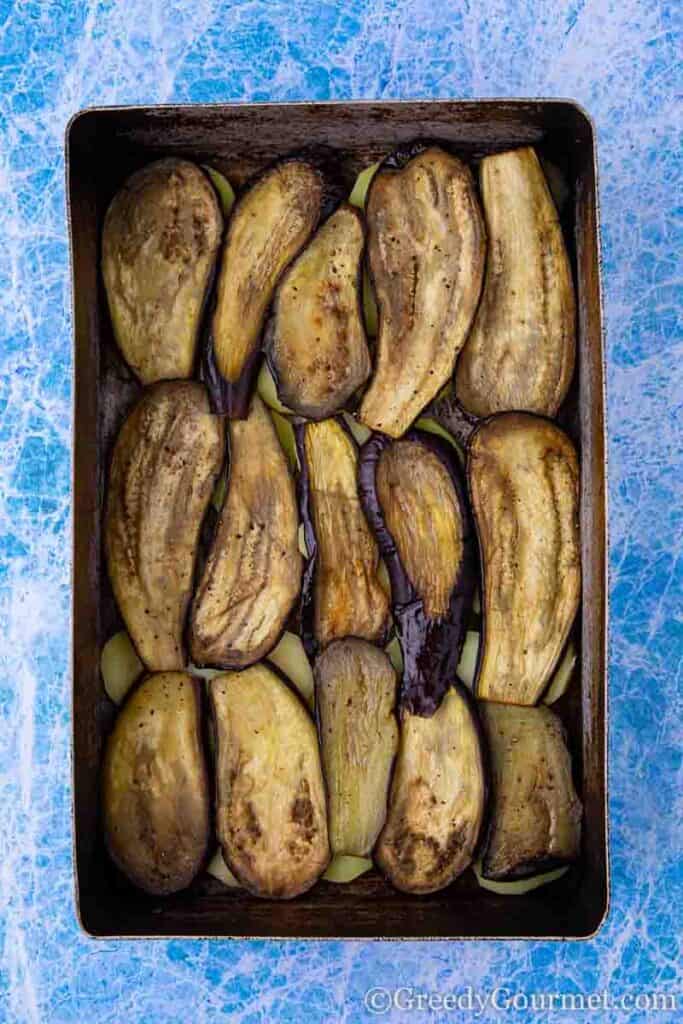 How to layer moussaka
Layering a moussaka is a lot like layering a lasagna. First, start with the sliced roasted aubergine and par-boiled potatoes. This layer forms the base of the moussaka and helps to contain the meat sauce.
The meat mixture comes next. Spoon it evenly over the aubergine and potato, making sure you spread it into each corner.
Once you've added the meat sauce on top of the layer of eggplant/aubergine and potato, you can add another layer of eggplant/aubergine, followed by a second helping of meat sauce.
Finally, the moussaka is then topped with the all-important béchamel sauce, then a final sprinkling of grated cheese, for that wonderful golden brown finish.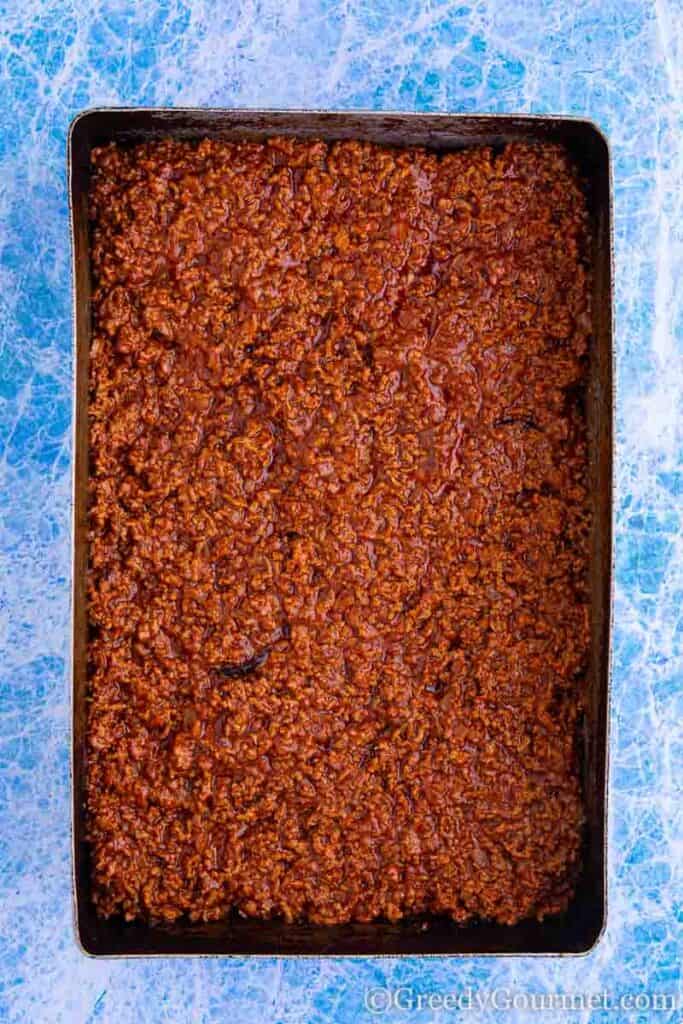 The history of moussaka
While moussaka is known as a classic Greek dish, is it actually a Greek invention?
Well, no. Moussaka was almost certainly introduced to Greece by the Arabs, way back when they brought aubergines to the shores of the Mediterranean. In fact, the word 'moussaka' is thought to originate from the Arabic word 'musakhkhan' – meaning something that is heated.
Today, moussaka is commonly enjoyed throughout the Middle East, particularly in Lebanon where it's known as maghmour. Maghmour, unlike Greek moussaka, is 100% vegan. It's made with eggplant, chickpea and tomato with a big helping of garlic and spices.
The addition of the all-important béchamel sauce in Greek moussaka is thought to have come from influential Greek chef Nikolas Tselementes in 1910.
A full-on Francophile foodie, he decided to add the extra layer and, in the process, created a national dish that has well and truly stood the test of time.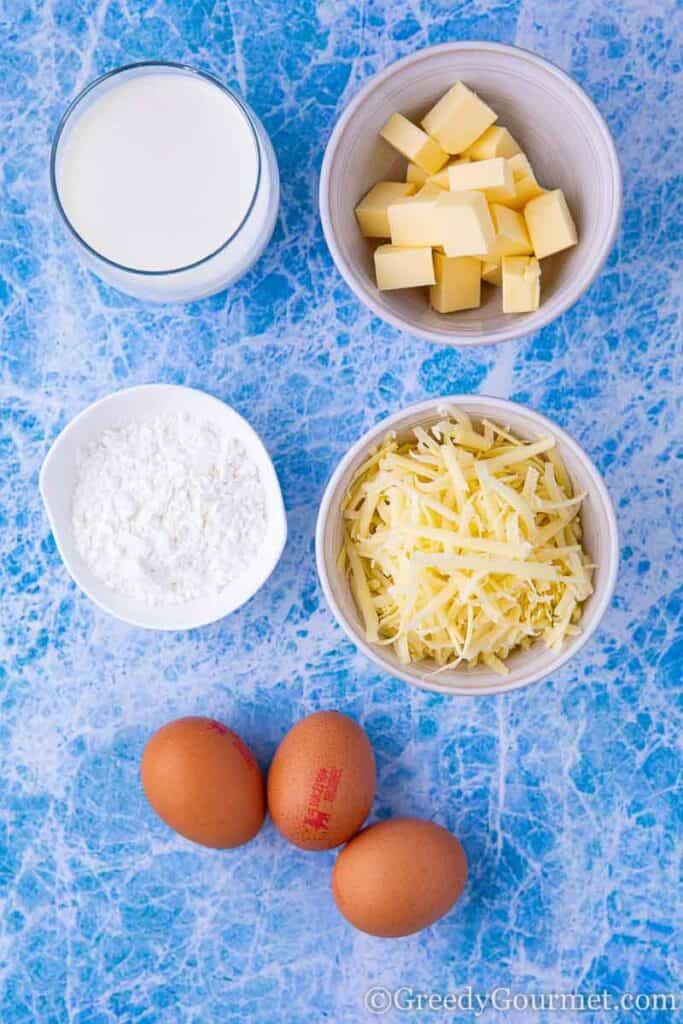 What's the best cheese to use with moussaka?
To really complement the flavour of the minced lamb, a sheep's cheese will work wonders. Something like kefalotiri, which is a 100% sheep's cheese, or kasseri or haloumi, which are a blend of sheep's and goat's cheese, would be ideal.
If you prefer your cheese with a bit more of a deep, salty taste, a strong extra mature cheddar would also be a good option for this Greek moussaka dish.
How do you cut aubergine for moussaka?
When making a moussaka, you want the vegetable layer to be thick enough to act as a base, but not too thick to dominate the taste of the moussaka.
So, chop your aubergines and potatoes at a thickness of about 1cm or ½ inch.
What's the best way to cook aubergines?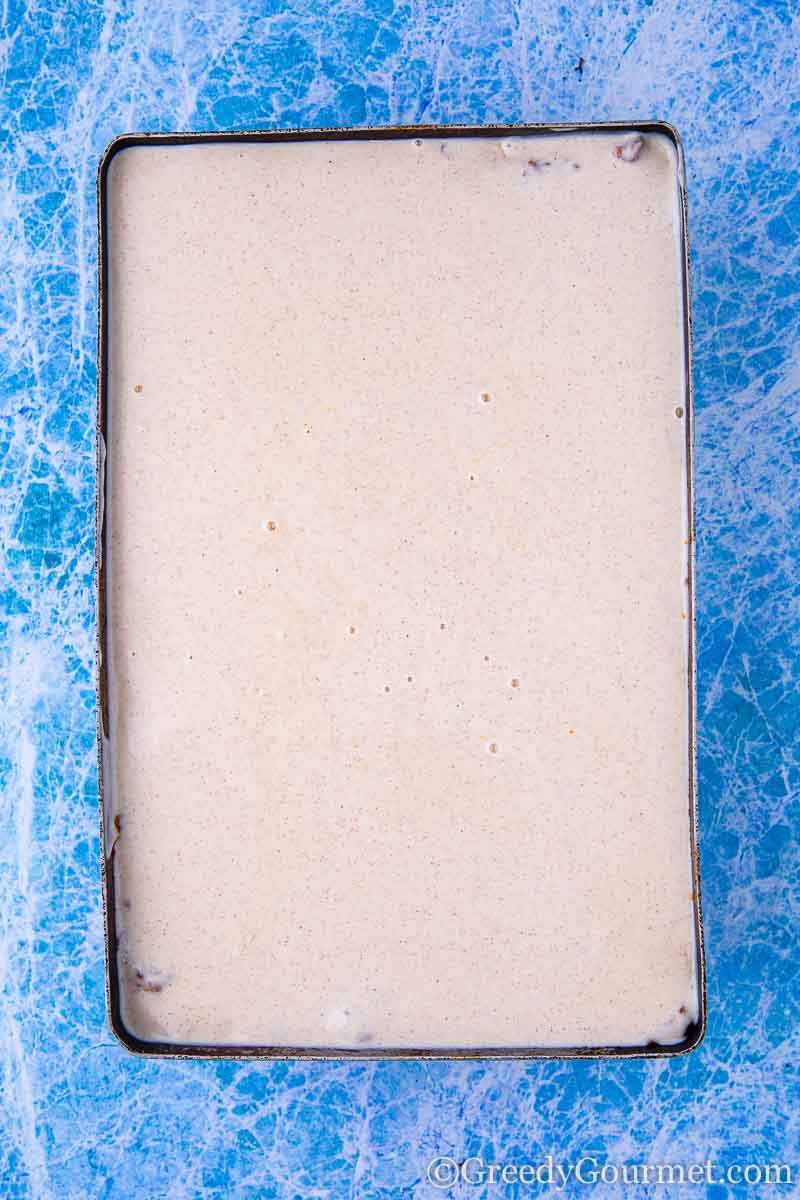 If you've ever cooked a recipe with aubergines, you'll know that they act like a sponge. This can be a problem when cooking them with oil, which is why it's always a good idea to brush them with oil to make sure you get a thin layer.
My method is to roast them, rather than fry them. This is a healthier way to cook them, although your aubergines can end up too soggy.
To prevent your aubergines becoming soggy, season them with salt before you roast them. The salt will draw the moisture out as they roast and will also tone down the naturally bitter flavour. 
If you've got the time, go one better and let the aubergines sit for up to an hour before placing them in the oven. This way, even more moisture will escape and you'll end up with roasted aubergine with the perfect texture.
Can you use red wine in the meat sauce?
Adding red wine to any recipe brings such a fantastic depth of flavour. I often use wine with hearty dishes in this way – there aren't many other ingredients as effective when it comes to bringing that extra level of richness – but for this recipe it's not necessary.
For me, moussaka doesn't need that extra heavy rich taste that you'd expect from a ragu or a slow cooked stew. I think it's rich enough as it is.
Of course, feel free to add wine to the meat sauce if you wish. If you do add wine, be sure to cook away the alcohol on a medium high heat.
Can you prepare moussaka in advance?
Yes, you can! It's one of the delights of this kind of recipe, especially if you're making a big batch for a family get-together.
You can make both the béchamel sauce and the meat sauce up to 2 days in advance. Make and store them separately in airtight containers in the fridge and layer your moussaka on the day of cooking.
Before layering your moussaka, bring the meat sauce to room temperature, otherwise it will be too watery.
How do you store moussaka?
Dishes like moussaka often taste better the second time round. That's why making a big batch of moussaka and keeping the leftovers for another day makes perfect sense.
If you do find yourself with more moussaka than you can eat in one sitting, simply store it in an airtight container and keep it in the fridge. It'll keep fresh for up to 5 days.
Can you freeze moussaka?
If you want to store your moussaka for even longer, you can easily freeze it. Again, pop it in an airtight container (make sure it's freezer friendly) and store it in the freezer for up to 3 months.
Can you reheat moussaka?
To reheat, for best results cover the Moussaka with foil and place in the oven for 30 minutes at 160°C. There you have it! Perfectly reheated moussaka.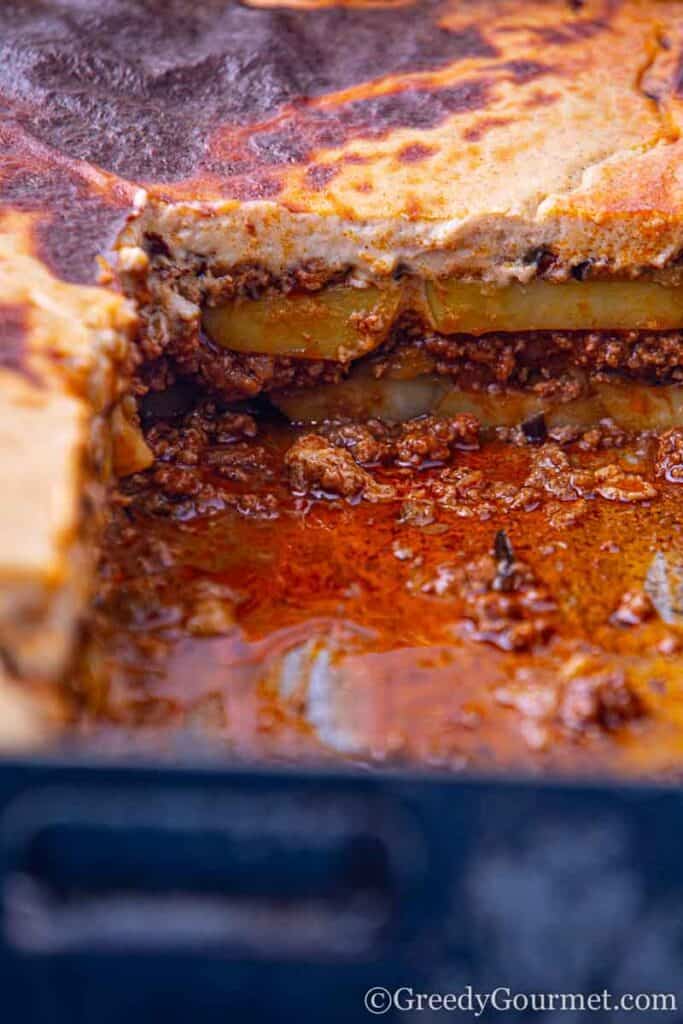 Wine pairing for Greek moussaka
The best wine to pair with a moussaka is a rich, full-bodied red. Go for a Shiraz or a Tempranillo, something to cut through the creaminess of the béchamel sauce and to complement subtle spiciness of the cinnamon.
A final tip...
Let your moussaka sit for 10 minutes after you take it out of the oven. It'll allow the ingredients to settle. Plus, the Greeks never eat their food piping hot – it masks the flavours.
More Greek favourites
Get with the Greek
Want to learn how to cook authentic Greek food? Here's some great Greek cookbooks to inspire you:
GIVEAWAY
This week one winner will receive 1 x mini gift set of 4 chosan baobab jams + 1 x large gift set of baobab jams (1 winner of the 2 sets)!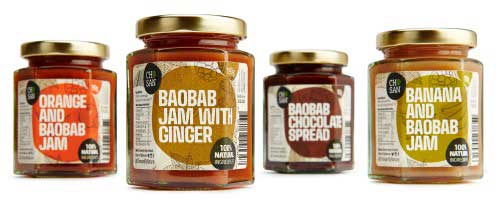 Something exotic for the morning toast... vegan friendly, gluten free & free from artificial sweeteners and additives, the new Chosan collection of four organic jams offer an intense and zesty alternative to the traditional breakfast spread.
Made with love in small batches, the super-food enriched baobab jams are perfect for also serving on scones for afternoon tea. Baobab is known for its health-giving properties, including antioxidants which boost the immune system.
Normally only sold in health food shops in powder form, fans can now enjoy this recognised super-food in Chosan's gorgeous new range of jams.
All the jams are made without any additives or artificial sweeteners and definitely no palm oil. Raw cane sugar is used in the production of the jams because it is less processed and happens to be organic.
Fresh bananas, oranges and ginger are also used to enrich the jams naturally - no extract or essence is added.
- Suitable for vegans and gluten free.
Entering is easy, just follow the instructions below.
a Rafflecopter giveaway
HELP
Here you can find a tutorial on how to enter with Rafflecopter.
If your form is not showing, try refreshing the page.
Complete the form, otherwise your entries will not count.
Make sure the mandatory entries (e.g. leave a blog comment) are completed first.
Don't forget to come back daily for extra entries via Twitter.
If you're viewing this post by email, please come to the actual webpage to enter.
Competition Question: What is your favourite Greek dish?
Print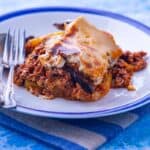 Moussaka
---
Description
Moussaka is a traditional Greek recipe comprising layers of potato, tomatoey lamb mince, aubergine slices and béchamel sauce. Pure comfort food!
---
Aubergine Layers
3

aubergines, washed and cut into 1cm (

1/2

inch) slices

45

ml

(3 tbsp) olive oil
salt and pepper, season to taste
Meat Filling
30

ml

(2 tbsp) olive oil

1

kg

(2lbs) lamb mince

250

g

(1/2lb) onions chopped

15

ml

(1 tbsp) ground cinnamon

2.5

ml

(1/2 tsp) sea salt

30

ml

(2 tbsp) tomato puree

400

g

(1lb) passata
Potato Layers
1

kg

(2lbs) potatoes, cut in 1cm slices
Vegan Bechamel Sauce Topping
50

g

(2 oz) butter

50

ml

(4 tbsp) corn flour

600

ml

(1 pint) warm milk

2

eggs

60

g

(2oz) grated cheese, such as haloumi, kefalotiri, kassari or strong cheddar

3

g

(1/2 tsp) ground cinnamon
---
Instructions
For the Aubergine Layer: Preheat the oven to 200°C / fan 180°C / 350°F / gas mark 4.

Brush both sides of the aubergine with olive oil and season.

Place the slices in a single layer on a baking tray.

Roast for 25 minutes, turning them halfway through.

For the Meat Filling: In a large pan add olive oil & onions & sauté until translucent.

Add the lamb and cook until browned on a low heat.

Add the cinnamon and season to taste.

Add the tomato puree and passata. Optional: add a splash of red wine. Simmer with lid on for 20 minutes.

For the Potato Layers: While the meat is simmering, blanch the potatoes.

Place lukewarm, salted water in a pot. Tip the potatoes in and turn up the heat until a simmering point is reached. Immediately, reduce the heat to the lowest setting. Continue to cook for 2 more minutes then drain the potatoes and plunge them in an ice bath. Pat dry with paper towels and set aside.

For the Bechamel Sauce: Warm 3/4 of the milk with the butter.

Mix the remaining milk with the corn flour, and then beat in the eggs and add the grated cheese and cinnamon.

Take some of the warm milk and mix with the egg mixture, then slowly stir it all into the pan on the heat. Stir till it thickens to a custard mixture.

Place the potatoes at the bottom layer of an ovenproof dish, then layer the aubergine slices.

Top the vegetables with mince. Repeat the process if necessary. Finish off with a layer of béchamel sauce. Sprinkle with some cheese if you like.

Bake in the oven for 40-45 minutes.

Serve as is or with a green salad. Enjoy!

 
Prep Time:

30 minutes

Cook Time:

1 hour

Category:

Dinner

Method:

Bake

Cuisine:

Greek
Keywords: moussaka, lamb moussaka, how to make moussaka, easy moussaka recipe, greek lamb recipe, lamb and aubergine layer bake